Anderson Sweeps AUS-X Open; Brayton Clinches Title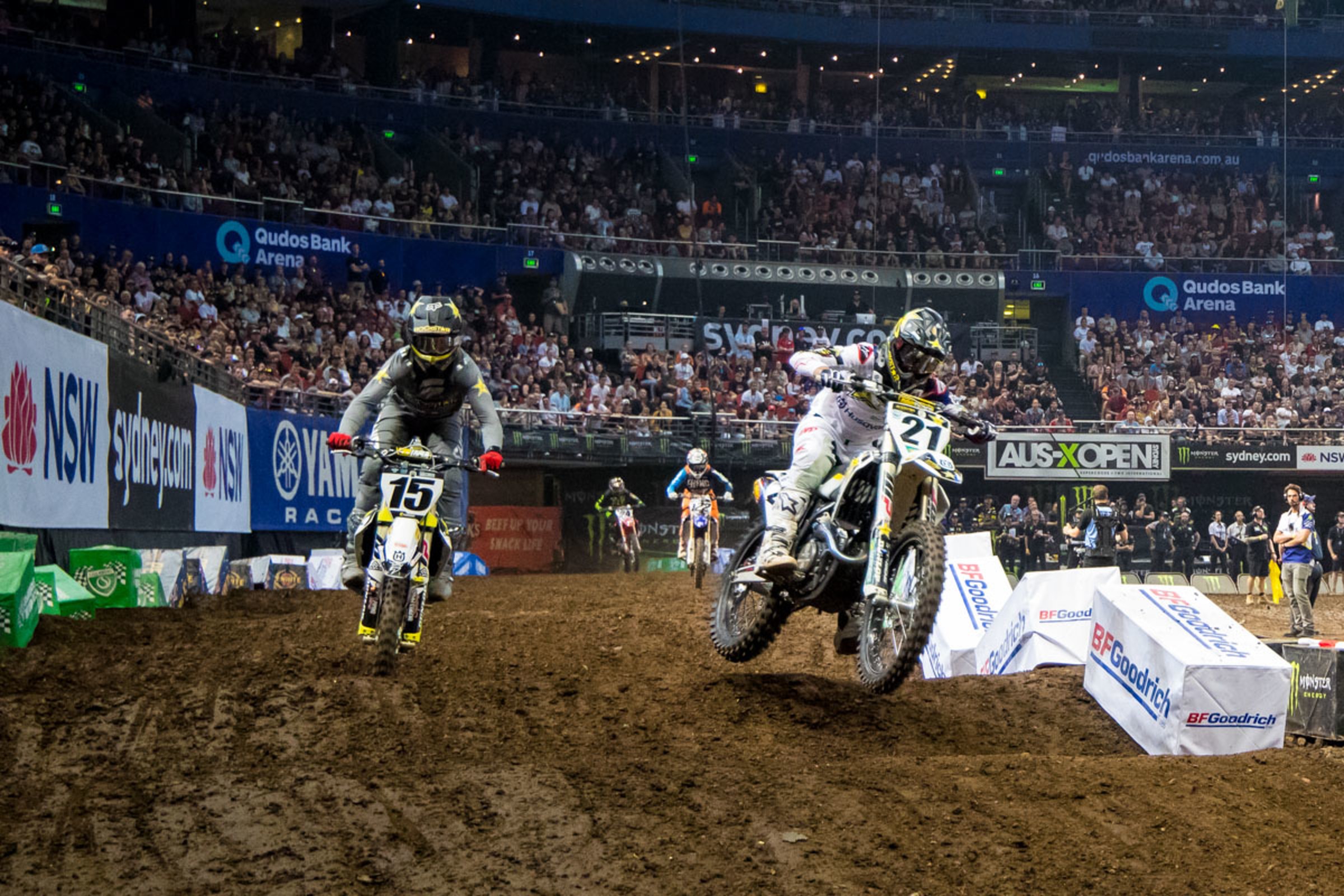 Rockstar Energy Husqvarna's Jason Anderson swept all three main events at the AUS-X Open in Sydney to capture the overall. Dean Wilson and Dan Reardon rounded out the podium.
Justin Brayton finished fourth to secure a third straight SX1 Australian Supercross Championship.
Chad Reed finished fifth in his return to Australia.
In SX2, former GEICO Honda rider Cameron McAdoo captured the overall in his first appearance in the championship. McAdoo went 2-2-2 in the three main events.
Jackson Richardson won the second and third main events to take second. Hayden Mellross rounded out the podium.
Jay Wilson finished sixth and secured the SX2 title.
SX1 Overall Results
| | | | |
| --- | --- | --- | --- |
| 1. Jason Anderson | 25 | 25 | 25 |
| 2. Dean Wilson | 20 | 20 | 22 |
| 3. Dan Reardon | 18 | 22 | 20 |
| 4. Justin Brayton | 22 | 15 | 16 |
| 5. Chad Reed | 14 | 18 | 15 |
| 6. Brett Metcalfe | 15 | 16 | 13 |
| 7. Luke Clout | 16 | 14 | 12 |
| 8. Dylan Long | 11 | 11 | 18 |
| 9. Jace Owen | 13 | 12 | 14 |
| 10. Lawson Bopping | 12 | 13 | 10 |
SX2 Overall Results
| | | | |
| --- | --- | --- | --- |
| 1. Cameron McAdoo | 22 | 22 | 22 |
| 2. Jackson Richardson | 15 | 25 | 25 |
| 3. Hayden Mellross | 16 | 20 | 20 |
| 4. Dylan Wills | 20 | 18 | 15 |
| 5. Jacob Hayes | 18 | 11 | 16 |
| 6. Jay Wilson | 13 | 16 | 14 |
| 7. Josh Osby | 9 | 15 | 18 |
| 8. Aaron Tanti | 14 | 13 | 12 |
| 9. Tomas Ravenhorst | 12 | 14 | 11 |
| 10. Kaleb Barham | 11 | 12 | 13 |