"Red, White and Blown Away" is featured in the January 2019 issue of Racer X Illustrated. Subscribe now to read the entire article in full. You can pick up the digital edition and read this story right now—and the cost is just $9.98 for the whole year.
When the motocross world extracted itself from the mud that swamped RedBud and the highly anticipated 2018 Monster Energy FIM Motocross of Nations, it left traces of that muck at every gas station, restaurant, hotel lobby, rental-car return, and airport terminal between Chicago and Cleveland. There was also a trail of tears leaking from the eyes of Team USA fans who came to Buchanan, Michigan, expecting to see Eli Tomac, Aaron Plessinger, and Justin Barcia conquer the motocross world one more. What we they instead was a mud-in-the-eye beatdown on their own soil. It was a fantastic and crowded event despite the weather, but Team USA was never really in it, despite the home-track advantage. What the hell happened?
We were beaten (for the fifth year in a row) by France, who didn't have two of their best riders, Marvin Musquin and Romain Febvre. We were beaten by an Italian team with only one rider we've ever heard of (Antonio Cairoli). We were beaten by a Dutch team that only had two guys finish (and win) the three motos. We were beaten by an Australian team without Chad Reed or Dean Ferris. We were beaten by a British team with two guys—Max Anstie and Tommy Searle—who returned home after they couldn't make it on the AMA circuit.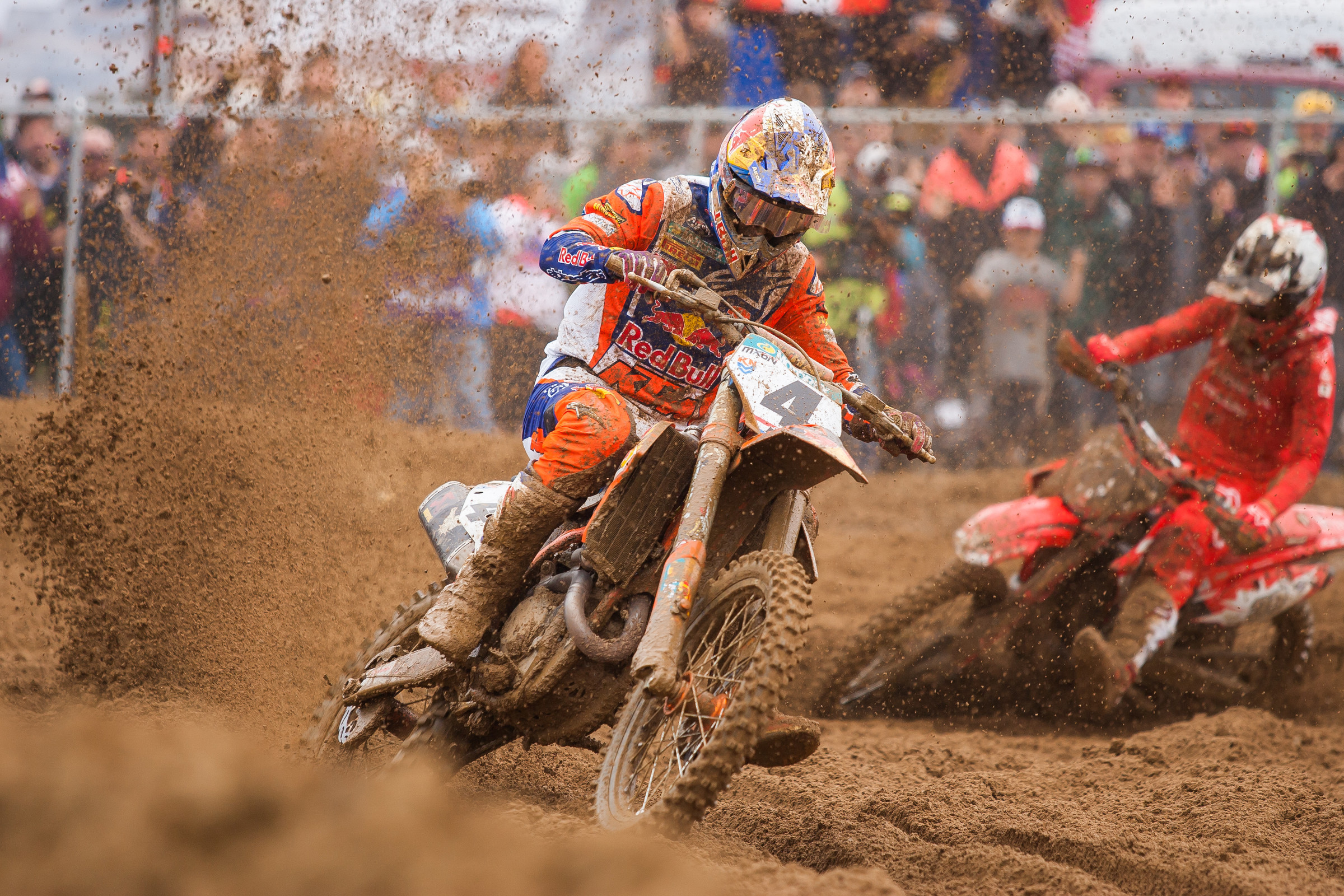 Our lineup included our current AMA 450 and 250 Pro Motocross Champions in Tomac and Plessinger, as well as a seasoned, revitalized Barcia. They didn't reach the podium in any of the three motos. None of them crashed in the first turn; none of them broke down. Our high-water mark was Tomac's fourth-place finish in the first MXGP/MX2 moto, where he was beaten by the youngest rider in the whole race, who was on a 250. In the second moto, five guys on 250s beat our Open rider, the 450-mounted Barcia.
In order to find the last time Team USA did this poorly at the Motocross of Nations, you have to go all the way back to . . . well, last year. But that was a truly rotten day in Great Britain, with double DNFs for Cole Seely, a knee injury for Thomas Covington, and a mixed day for Zach Osborne. This time, at RedBud—in our home country, where we are 3-0 going back to 1987—we were truly outclassed and outhustled in a race we were heavily favored to win. Instead, we got sixth behind all of those countries mentioned above. It was a stunning turn of events.
The reasons we lost are complex and difficult to pin on any one thing. There's no magic bullet or elixir that will make things right for Team USA in an event we once practically owned. The rest of the world, focused almost entirely on outdoor motocross, has gotten faster, without a doubt. Our guys, as well as others on the AMA circuit riding for different countries, like Ken Roczen, who went 25-9 in a race that he and Germany won back in 2012 while he was still a teenager on a 250, just looked much slower than they normally do.
It goes without saying that riders like recently crowned 2018 FIM Motocross World Champions Jeffrey Herlings of the Netherlands and Jorge Prado of Spain are extraordinary talents. As we found out at the Ironman National with Herlings last year, they are formidable anywhere. So is the great Cairoli, the French captain Gautier Paulin, and, apparently at RedBud more than any other track on the planet, Glenn Coldenhoff, who has won exactly one moto in his MXGP career, was back in 2015. Coldenhoff's 1-1 dominance at RedBud was as baffling as the Americans' utter defeat. After all, he also beat his Dutch teammate Herlings, and Cairoli and Paulin and everyone else. The KTM rider's performance was a masterpiece that will be talked about for years to come. On the other hand, Team USA's was a mess which will likely haunt us for years to come, or at least until we win again—and that's not going to be easy.
"First of all, I want to say, as a team, we don't have any good excuses," Team USA manager Roger DeCoster said after the race. "The Europeans were clearly better than us. How did we end up here when we used to be the dominant country? I think it is a combination of several things. . . ."
Subscribe now to read the entire article in full.
Digital edition costs just $9.98 per year and you can read it right now.