One of the more interesting riders to watch in 2019 is Red Bull KTM's Cooper Webb. Just two years ago he was the "hot" kid who got a (justifiably) huge contract from Yamaha, but now he's changing things up in many ways next year and beyond.
Webb absolutely crushed it his last season in the 250 Class with a 250SX and 250 MX title to go along with his 2015 250SX title, as well as some strong 450 rides at international races. Webb was everything you'd want in a racer—outgoing, rode hard, a tad cocky in interviews, and looked like he was the real deal. The industry was ready (and did) bet a good chunk of change that he would be a consistent 450SX and MX podium contender.
But that was then, this is now. Webb has scored a few podiums but only completed one out of four possible series in his time with the Monster Energy Factory Yamaha squad. Injuries and ineffectiveness squashed the hopes and dreams of his supporters and Webb himself. The jump up to the big class isn't easy and Webb got a bit of a reality check. There was a podium at Daytona, Oakland, and a bunch of fourth places but that's not what Yamaha or Webb expected. However, when you asked around the team and people close to Webb, no one was saying that he had taken the money and slacked off. By all accounts he was doing the work off the bike, testing, and trying hard. It's just a series of injuries left him missing too much time, which is tough on a racer.
One of the teams that was hot after him out of the 250 Class was Red Bull KTM. Red Bull, in fact, had a long relationship with Webb in the amateur ranks, but the brand lost him when it couldn't find a team for him when he graduated—and Star Yamaha was there to take a chance on him. Based on his past Red Bull connections, and KTM obviously wanting a shot at the hottest graduate from the 250 Class of 2016, he received an offer and a deal was close to happening before Yamaha came in with a two-year deal that swamped all other offers. KTM and Joe Gibbs Racing MX were interested in Webb, but if the numbers that we hear are correct, we can't blame Webb for staying with Yamaha.
Times have changed. His two-year Yamaha deal is over, but the brand was still interested in keeping him. Webb made the switch to KTM, though, and last week on the PulpMX Show he said one of the main reasons to switch was because KTM offered a two-year deal as opposed to one with Yamaha. Once he began to unpack all KTM could offer, the other pieces—the motorcycle, training program, staff, and more—began to fall into place.
"I had an opportunity to work with Roger [DeCoster], which I've always really been interested in, especially after doing the des Nations and stuff like that, and seeing his success," said Webb. "I had great success with Yamaha and I was happy with everything. I'd been with them for a long time. It's just the results weren't quite where I wanted them to be, so when the appropriate time came… It was a unique situation. I had only gotten offered a one-year deal for them [Yamaha]. So one of the things that brought me towards the KTM thing was guaranteed two years, which kind of made more sense to me. They had showed interest really for a long time. Even my first 450 contract, they were right there in the mix. They had been in contact for a long time to try to make this deal happen. I at first really didn't want to leave Yamaha, but like I said, when it kind of came down to logistics career-wise, it kind of worked out that way."
Webb raced the Monster Energy Cup on the new ride and while a crash in one of the mains sort of ruined the night for him he did feel like racing was a good first step even with minimal time with the team. So how does the steel-frame, conventional motor design KTM feel after years with the opposite?
"For me, I felt like it [the KTM] being a lot lighter was nice. Being a lot skinnier, a lot nimbler, it was nice to ride. A lot of people were telling me that. It's a different feel, it's a different this. Really maybe little different vibrations, but that's about it," said Webb kind of dismissing the radical difference between the machines.
We suggested on the PulpMX Show that the KTM seemed to look lower and smaller than the Yamaha. Webb agreed.
"The seats and foot pegs for me just felt a lot more comfortable and a lot lower, like you said," he explained. "There is quite a bit of difference. I feel like there's some great things about the Yamaha that I really like, and then there were some things that I didn't. With this new bike, I feel like it's really kind of quite a bit different all around. Chassis, weight, even engine package and all that. But yeah, that was definitely one of the things I noticed right away. Even seeing some of the photos and videos of me riding, I feel like I actually look somewhat bigger on the bike, to where the videos and stuff and how I felt I looked on the Yamaha was pretty small."
Another huge change with Webb is the move to Clermont, Florida, to work with Aldon Baker and his crew that includes current Monster Energy Supercross Champion Jason Anderson, Zach Osborne, and Marvin Musquin. That's the same Marvin Musquin that he battled hard with during his 250 days, to the point where the on-track action seemed more than a little personal. Let's face it, we're all interested in how this dynamic was going to work. For Webb though, he made it clear that all beef had been buried and that after two years of sub-par results, he's not in the same position as Marvin. It's a sign of maturity that Cooper was able to deal with this the way he did.
"Yeah, we're good," says Webb on his relationship with Marvin. "I think obviously with our past and stuff, racing hard in the Lites class, it was a concern. I think the way maybe I portrayed myself in the past and being aggressive and being outspoken, or whatever you want to call it. The first day after riding, we were both in California, and Aldon had sat me down too and kind of just asked how I'm going to take it.
"I think for me, I'm in a situation where it was all new, all change. I am coming to a team that he's been on for a long time. I'm coming to train with a guy he's trained with a long time. I'm sure even if we were best friends beforehand, that's something to be concerned about. So I think he was [concerned], and the team. It all crossed everybody's minds. For me, I felt like it was something that I'd really never gotten to know Marv, besides from Saturday racing. Because we had gotten in such heated battles, I think right away we both kind of had an opinion of each other. I think for me, like I said, we talked first day. I just told him, 'Obviously I'm sure it's something that you didn't want to see happen, honestly.'"
Pretty honest talk from Cooper and he went on to say that this heart to heart with Marv went even deeper.
"I just said, 'I'm going to respect you. I'm not in a situation where I'm 'the guy' right now.'" I said, 'If anything, you're the championship contender. Sure, I want to be there, but right now it's a situation for me to learn from you, on and off the track, and be the best teammate I can be. I hope that me and you are battling at supercross and going for wins, but you've won a lot of races. You're a championship contender.' I said, 'For me, I need to get to the point of winning the races first.' I'm here to learn. I'm sure there'll be days that are going to be tougher than others, and who knows? I might beat him and he might beat me.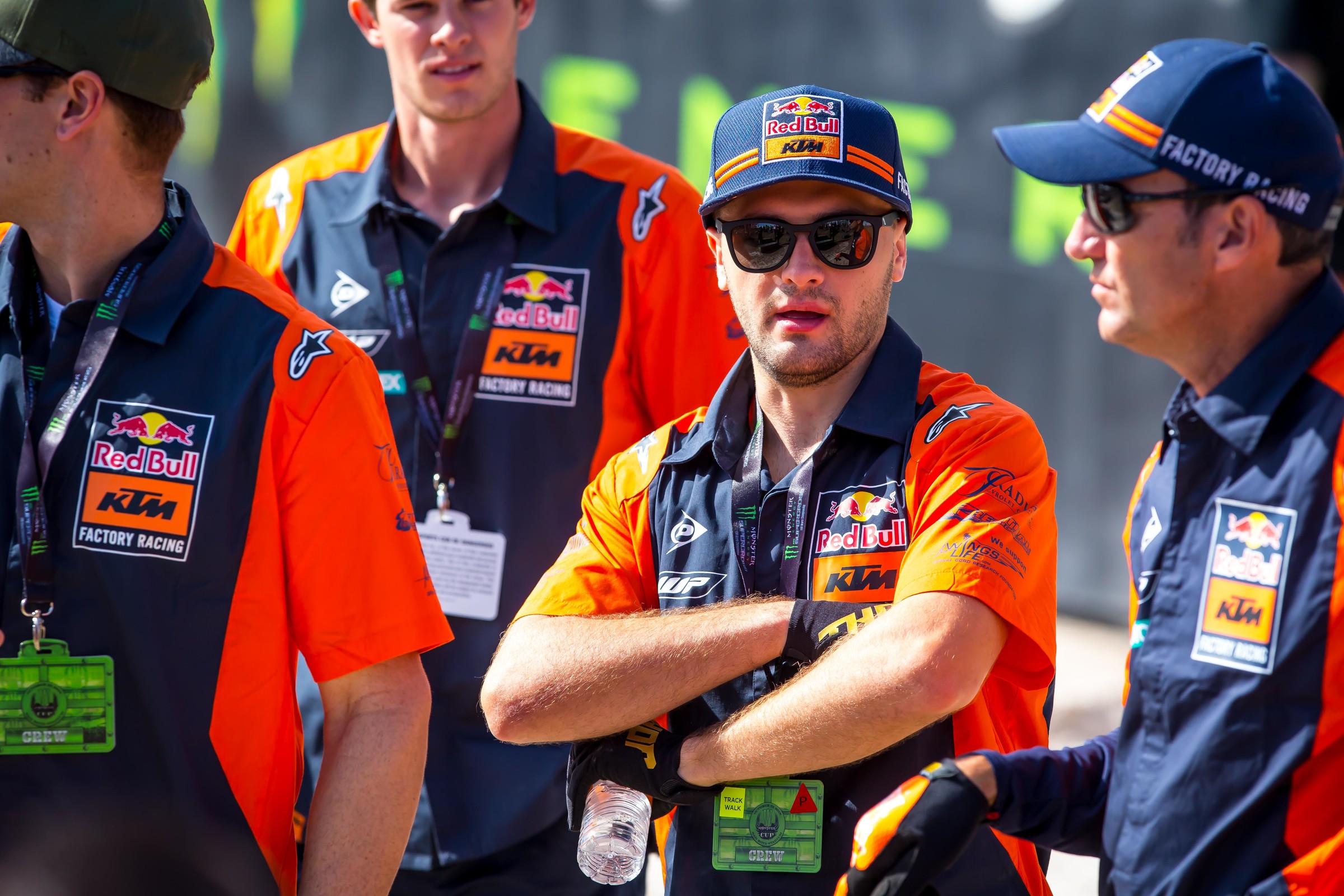 "For me, I think it was time for me to step back and mature a little bit and take it as another tool, because he is a really great rider. I think there is a lot that I can learn from him as well. I think it all worked out. Obviously not only teammates, but I'm sure we're going to be with each other just about every day. I just kind of felt like we can either butt heads all year or we can become friends and enjoy the process. It's good. I think obviously if it was two years [ago], that probably wouldn't have came from my mouth."
So Webb's all good with Musquin now, and that's symbolic of someone who is starting a brand new life. New place to live, new team, new bike, new trainer, new mechanic (Carlos Rivera, who last wrenched for Ryan Dungey, will now be at Webb's side). The only constant is he is staying with his old gear sponsor, Thor, but with all the changes, it should make Webb one of the most intriguing riders coming into the new season. Can he now become the 450 contender so many thought he would be?
"That is the goal," he says. "For myself, I think that was a big reason. I felt like, put me on arguably the best bike with arguably the best team, with the best trainer, one of the best mechanics, riding with the best guy… I feel like it's going to be hard to not do well."
Seems like it's all a hard reset for Webb. Stay tuned.