Photo Finish: Thompson Edges Facciotti In Quebec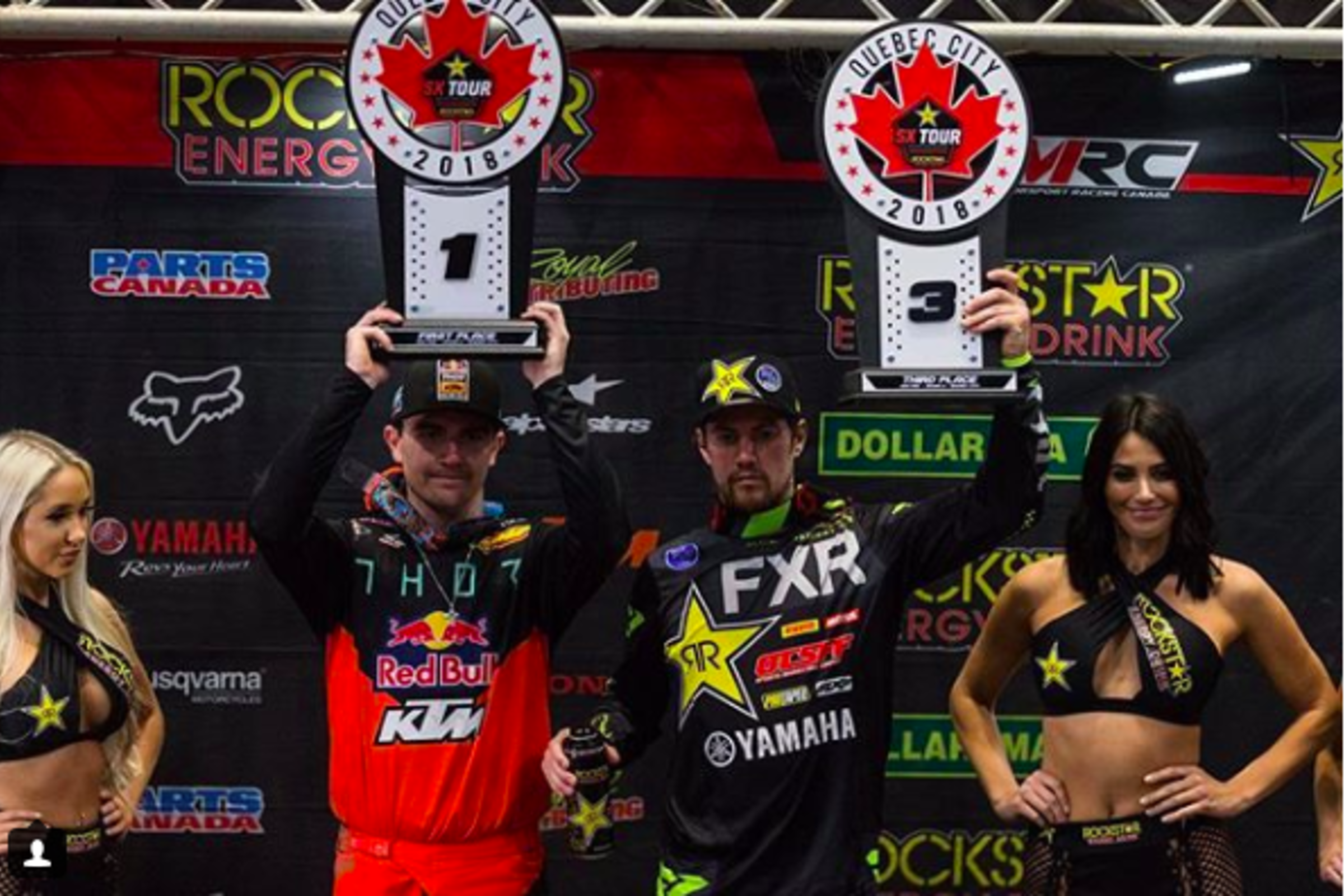 Round 3 of the Rockstar Triple Crown Championship took place in Quebec last night and featured a controversial finish between title contenders Cole Thompson and Colton Facciotti.
Facciotti held the lead over Thompson going into the final corner when Thompson came in hot and the two made contact going over the finish line. Facciotti went off the side of the finish line jump and landed on his back. Thompson was credited with the win, with Facciotti taking second.
Facciotti did not attend the podium celebration after the race. We'll update this post once we know more. Phil Nicoletti finished third.
[Update on Facciotti via Direct Motocross]
Colton Facciotti Update: He was kept in the hospital overnight with a lung and back injury. Derek Schuster confirms Colton is out for the remainder of the season. More details when we have them.

— Direct Motocross (@directmx) November 4, 2018
In SX2, Jess Pettis captured the win over Logan Karnow and Shawn Maffenbeier.
450 Overall
| | |
| --- | --- |
| POS | RIDER |
| 1 | Cole Thompson |
| 2 | Colton Facciotti |
| 3 | Phil Nicoletti |
| 4 | Cody VanBuskirk |
| 5 | Tyler Medaglia |
| 6 | Daniel Herrlein |
| 7 | Cheyenne Harmon |
| 8 | Matt Goerke |
| 9 | Keylan Meston |
| 10 | Eric Jeffrey |
250 Overall
| | |
| --- | --- |
| POS | RIDER |
| 1 | Jess Pettis |
| 2 | Logan Karnow |
| 3 | Shawn Maffenbeier |
| 4 | Tanner Ward |
| 5 | Marco Cannella |
| 6 | Dave Blanchet |
| 7 | Chad Saultz |
| 8 | Sam Gaynor |
| 9 | Richard Jackson |
| 10 | Quinn Amyotte |
450 Championship Standings
| | | |
| --- | --- | --- |
| POS | RIDER | POINTS |
| 1 | Cole Thompson | 83 |
| 2 | Colton Facciotti | 74 |
| 3 | Phil Nicoletti | 65 |
| 4 | Matt Goerke | 58 |
| 5 | Tyler Medaglia | 58 |
| 6 | Cody Vanbuskirk | 57 |
| 7 | Dillan Epstein | 33 |
| 8 | Cheyenne Harmon | 33 |
| 9 | Malcolm Stewart | 30 |
| 10 | Davey Fraser | 28 |
250 Championship Standings
| | | |
| --- | --- | --- |
| POS | RIDER | POINTS |
| 1 | Jess Pettis | 90 |
| 2 | Logan Karnow | 79 |
| 3 | Shawn Maffenbeier | 77 |
| 4 | Marco Cannella | 65 |
| 5 | Tanner Ward | 59 |
| 6 | Chad Saultz | 53 |
| 7 | Jack Wright | 49 |
| 8 | Wyatt Waddell | 37 |
| 9 | Quinn Amyotte | 34 |
| 10 | Sam Gaynor | 34 |
---