Welcome to Racerhead, on a somber Friday in the SX/MX world. What started as just another week in the off-season took a sharp drop on Wednesday with the sudden, tragic passing of Dan Villopoto, father of multi-time AMA Supercross/AMA Pro Motocross Champion Ryan Villopoto. Dan, who was with his son for most of his career, was out riding at Cahuilla Creek in Southern California with friends like former pros Kurt Nicoll and PJ Larsen when he collapsed. Despite the best efforts of emergency medical personal (including David Pingree, who was there filming with Simon Cudby), the heart attack was fatal.
Dan Villopoto was a lifelong motocross enthusiast, and he and his wife, Kristen, sacrificed a great deal to help Ryan reach the very top of the sport. They were there supporting him throughout his rise to the top of the amateur ranks, crisscrossing the country to make it to as many big amateur races as they could afford while also raising Ryan's brother and sister, Tyler and Kylie. And when Ryan went professional in the fall of 2005 with Monster Energy/Pro Circuit Kawasaki, Dan was right there with him. Things started happening fast—Ryan was on the podium in his third professional race, and he was the 250 National Champion in his first full season.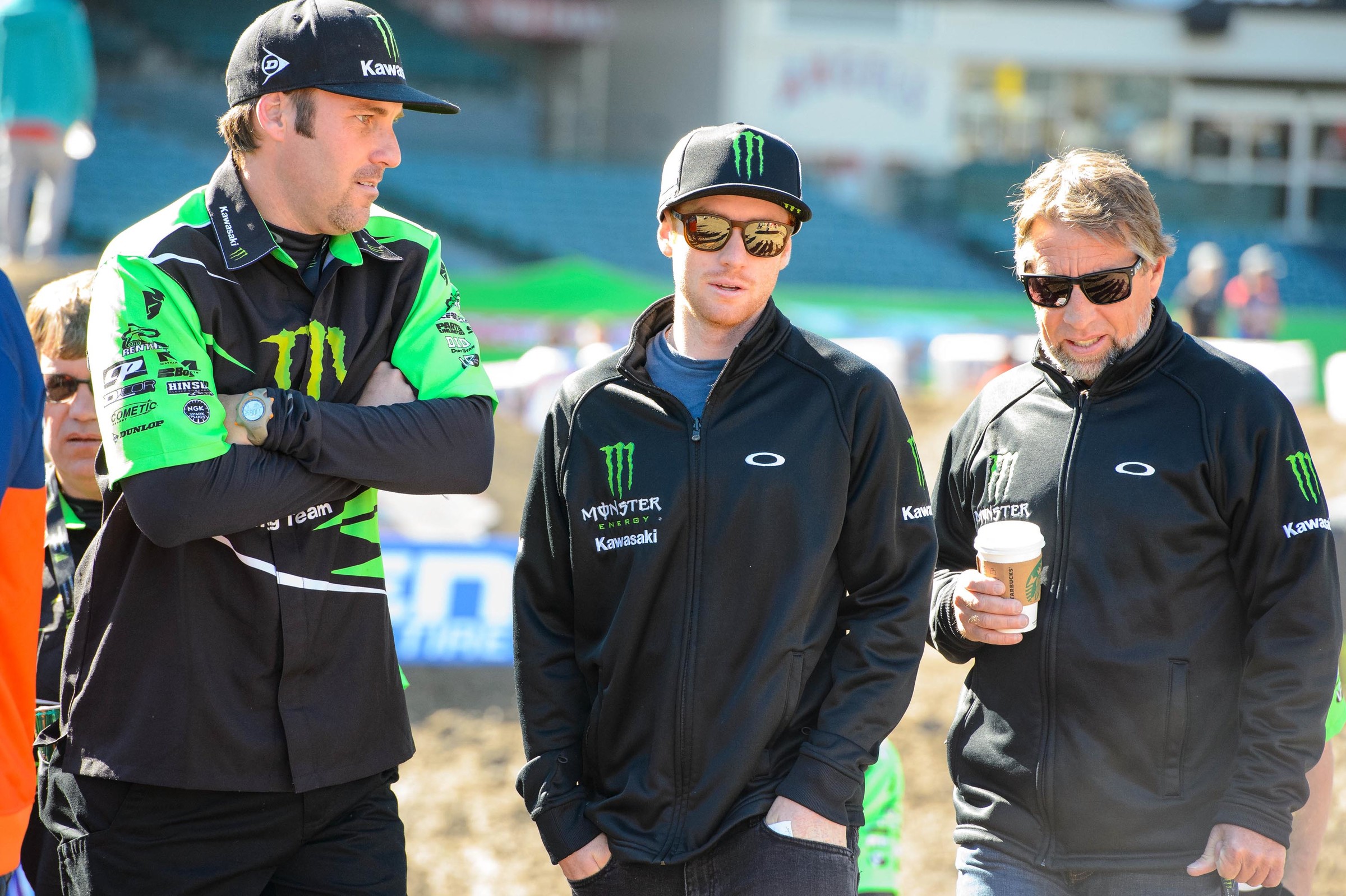 As everything progressed and Ryan's star rose, things weren't always easy between father and son. They were both strong-headed and strong-willed, and they didn't always agree. But by the time it was all said and done, Ryan ranked among the very best ever, and Dan and Kris and the whole Villopoto family could take pride in Ryan, who soon became a husband and father in his own right. More recently, Ryan even got to start going back to the staging area for fun races like the 125 All Star races at a few nationals, and Dan was right there with him again. Last month, RV was the only guy who raced the Pitbike of Nations at the RedBud MXoN, the Monster Energy Cup in Vegas, and Red Bull Straight Rhythm. The Villopotos were truly having fun again just riding dirt bikes and being at the races together.
On Thursday, the day after he lost his dad, Ryan broke the sad news himself on Instagram:
This world we live in is a giving place but at the same time it can be cruel. I spent the last six weeks with my dad day in and day out working and training for the upcoming races overseas. For the first time in a long time it was real again, like when I [was] young. But yesterday god called him home with a massive heart attack. Words can not express the depth of my emotion. He was a great man and an even better father. He's with the lord now so I know he's in great hands. Love you Dad! You will be sorely missed by all. #youmadewhoiamtoday
Dan Villopoto got to raise his family, help a son become a racing legend, then he became a grandpa, and he spent the last day of his life at a motocross track riding with his buddies. He went way too soon, of course, but I'm guessing he went just the way he wanted. He will be sorely missed around the races. On behalf of everyone here at Racer X Online, my sincere condolences to Kris and the entire Villopoto family.
Godspeed, Danny.
(We wanted to help the Villopoto family collect photos of Dan and the family together at the races. If you have pictures you would like to share with Ryan and his family, please send them to online@racerxonline.com and we will pass them along.)
Rise of Team Phoenix (Jason Weigandt)
A new team quietly debuted at the High Point National round of Lucas Oil Pro Motocross last June—Phoenix Racing Honda. On that day, the team's main rider was longtime journeyman Ben LaMay, who finished 18th overall. The morning of the race, I talked with Justyn Amstutz, who had been a principal over at the old RCH Suzuki team and was now a part of the new Team Phoenix. Justin said at High Point the team was just going racing, low-key, but the squad had big plans for the future. Back in June, the hope was to show up with a big announcement by the Monster Energy Cup, but the release date of a title sponsor and all the other details for 2019 have been pushed back slightly. Look for more news in early December, and from everything I've heard, that news will be big. I've also heard the team has set up shop in NASCAR country, just outside of Charlotte, North Carolina.
For now, Team Phoenix Racing has confirmed to me that Justin Bogle and Kyle Cunningham will play the lead 450 roles for the squad in 2019, and Jace Owen will race 250SX East. The team will also race in the Kicker Arenacross Series with Owen, Isaac Teasdale, and Fredrik Noren. There are plans to also run a team in Grand National Cross Country and ATV Motocross. I don't think any team has ever competed in all of those series at once, so this should be interesting.
We will know by December, but for now it's good to know veterans like Bogle and Cunningham have found 450 landing spots. Nothing bums out the fans and industry more than seeing teams fold and good riders search for work. When a new team shows up, it's good all around. Let's hope for the best when Phoenix Racing reveals itself in full next month.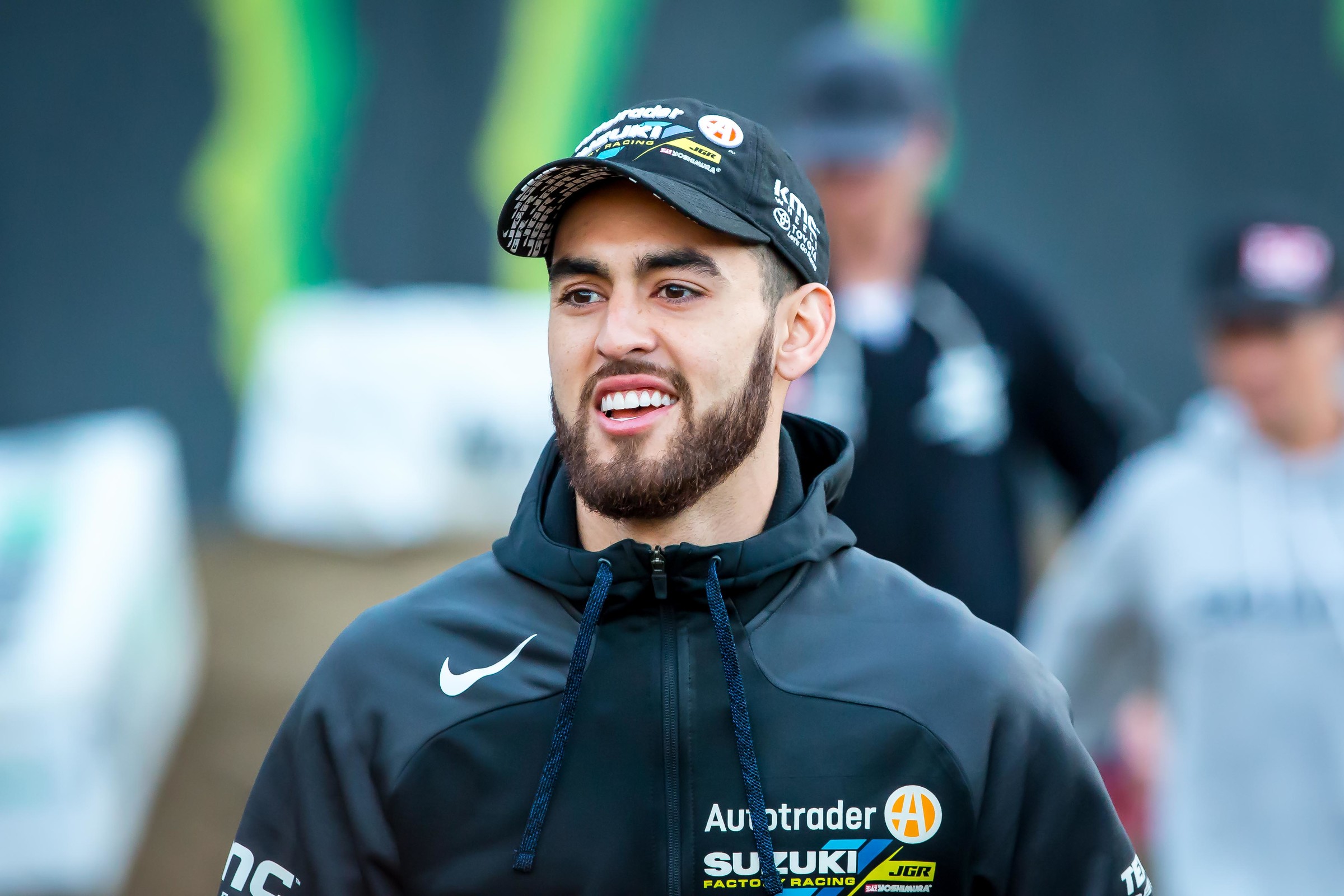 WADA (Chase Stallo)
According to a report in The Guardian this week, athletes have told the World Anti-Doping Agency that "public confidence in the organization is at an all-time low." Seventeen national anti-doping agencies—including the UK and US anti-doping organizations—are supporting the announcement and have promised to stand "shoulder to shoulder" with the athletes, according to the report.
A petition was started by Paralympian powerlifter Ali Jawad and states that athletes were appalled by WADA's decision to readmit the Russian Anti-Doping Agency last month.
"With WADA increasingly out of step with majority public and athlete opinion, it is now incumbent on the athlete community to drive forward logical, pragmatic and positive solutions to improve WADA and make it fit for purpose in the modern world," Jawad told The Guardian.
The FIM enlists WADA to assist with testing procedures in Monster Energy Supercross and the FIM Motocross World Championship. Lucas Oil Pro Motocross enlists USADA for their testing. WADA and the FIM have come under fire for their handling of positive tests in the sport, including most recently the cases of Cade Clason and Broc Tickle—and, most notably, James Stewart. At this time, the FIM and WADA have yet to announce official suspensions in the cases of Clason and Tickle. Clason's provisional suspension was announced on June 21, 2017; Tickle's was announced on April 13, 2018.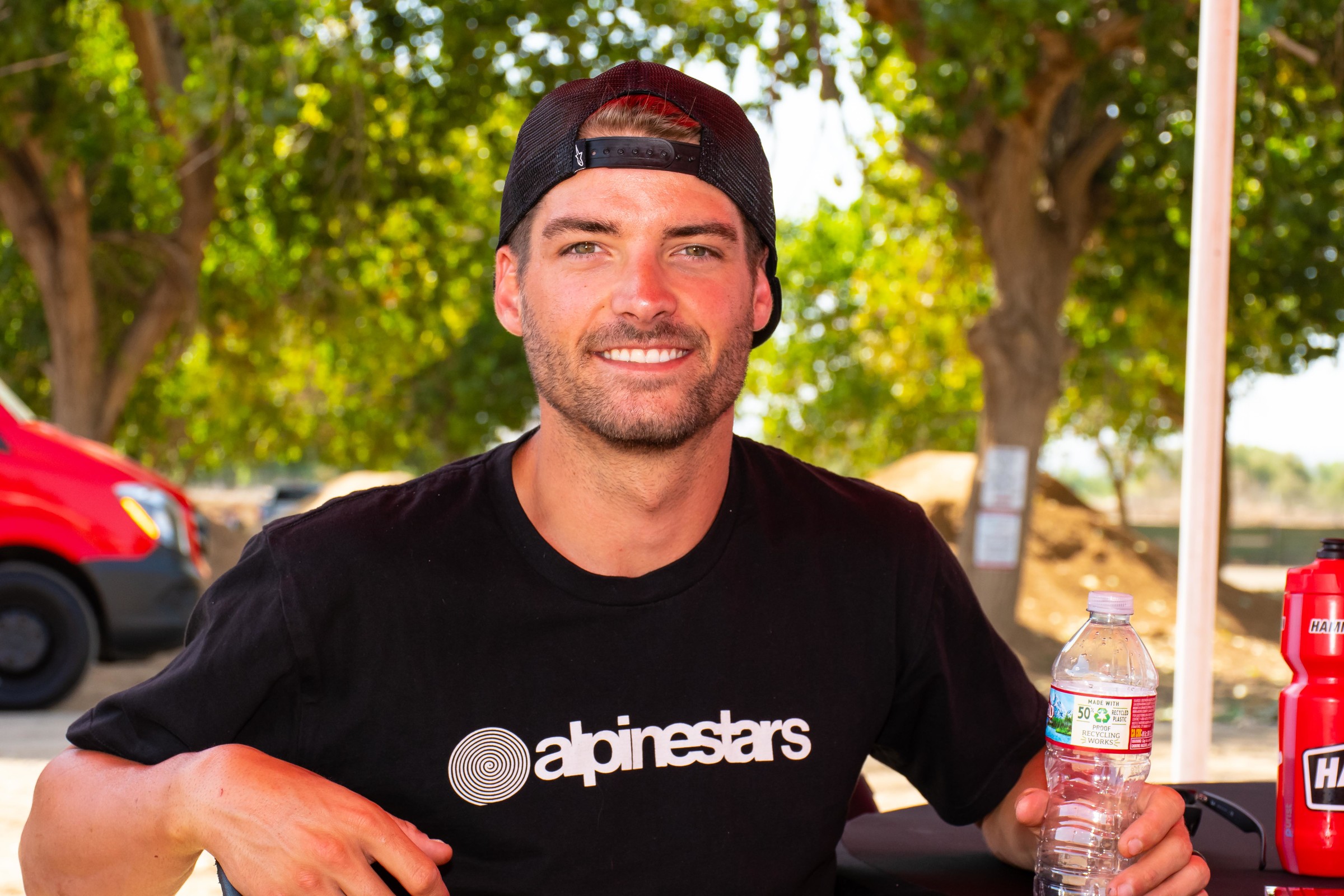 Off-Season (DC)
For riders on the AMA circuit, the rather short off-season is a time for changes big and small. Not all of it is newsworthy enough to merit a full entry on our site or any of the other moto pages, but some seem a little bigger than a Random Note entry like we run farther down. For instance, AMA Supercross #1 Jason Anderson announced on his Instagram that he was parting ways with Dragon, his longtime goggle sponsor, which isn't really a big story unless you're with Dragon. Then @elhombre21 popped up on Instagram today wearing Oakley, which isn't really a big story unless you're with Oakley.
Monster Energy Factory Yamaha's Justin Barcia just married longtime girlfriend Amber and drove away in a custom-painted kidnapper van. GEICO Honda's RJ Hampshire, winner of the last 250 national of the year in Indiana, is also getting married. Chad and Ellie Reed are downsizing, selling their home and their 63-acre ranch in Dade City, Florida, which includes two SX tracks, an outdoor track, a go-kart track, and a whole bunch of toys and equipment to maintain it all.
Justin Hill put out his first music album as Jr. Hill (see below). Over in Europe, both Gautier Paulin and Max Anstie are switching teams. Several riders are making moves from one training facility to another. Rich Simmons, the longtime wrench for Cole Seely, is hanging up those wrenches. Over in Italy, Jill and Antonio Cairoli opened a pop-up store with their RACR brand in the Rinascente shopping center in Rome. Steve "PulpMX" Matthes got Ralph "Supercross TV" Sheheen into his Vegas studio/living room. Justin Bogle thanked Answer Racing for three awesome years together….
PARIS (Steve Matthes)
The DubyaUSA.com World Vet Championships kick off this weekend at The Helen, so if you're in the area and want to see some fast guys, go check that out. Doug Dubach will probably be going for his 784th World Vet title—so there's that.
Coming up in two weeks is the annual Paris SX. Of course it was in Bercy forever, moved to Lille for a couple of years, but last year it was back in Paris at a brand-new arena with great amenities all around. Should be great racing with Jason Anderson, Marvin Musquin, Justin Brayton, Zach Osborne, Dylan Ferrandis, Tyler Bowers (if his fingers are healed from MEC), and Vince Friese. That's a good lineup. Obviously, Marv and Jason seem like they would be the best two guys, but none of you have forgotten Brayton's skills at these off-season races, plus the fact he's been racing in Australia, right?
Either way, with Osborne now ready to see what he's got on a 450 and Friese's penchant for great starts, I think the racing will be fantastic. I'll be heading over there, so stay tuned for updates on Racer X Online and on Twitter.
BULLFROG (Steve Matthes)
This past Monday Smartop/Bullfrog Spas/MotoConcepts Honda team owner Mike Genova and manager Tony Alessi were in-studio on the PulpMX Show and … wow. Yeah, the guys who at one time banned me from their truck were now in my house! It was weird for sure, but all of us have mended fences over the years, and they've done a great job the last few years. Heck, the team won the Daytona SX this year! Both Genova and Tony were great interviews for the couple of hours there were here (there was a giant hot-tub convention in town, so Mike's real business was well represented there). We talked about the sport from a team owner's side of things, how long he wants to keep owning a team, how the IRS told him he's crazy for spending what he does on a race team, and much more. Great stuff—go grab the archive at PulpMXShow.com.
Jr. Hill's Bitter (DC)
We have a small music library here of motocross-related songs and artists. We've got the impressive Justin Lucas album We'll Be Fine (Justin Lucas is Justin Bogle's stage name), as well as past gems by Stefan Everts (Try to Beat Me), Blake Wharton (The Rogue Locusts), and the late Eric Geboers (Discipline). There's an Evel Knievel spoken record here somewhere that may be the single funniest/strangest thing you've ever heard, as well as an 8-track by "Jammin'" Jimmy Weinert, and more.
Now we can add Jr. Hill's Bitter, the first album by the rider better known as Justin Hill of JGR Suzuki. He's self-taught as a guitarist, and his music is straight out of the early Seattle grunge scene of the nineties, which makes sense, since that's near when and where he was born. Look for it on Spotify—it's pretty good! You can also purchase here on Apple Music.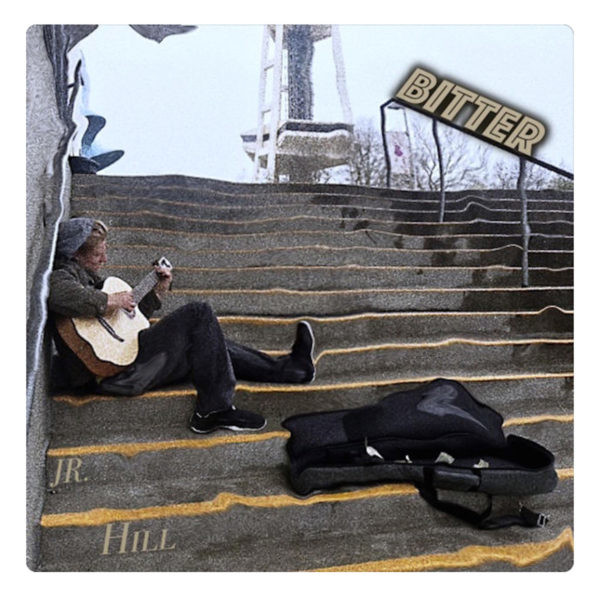 Rally-Crosser (Andras Hegyi)
As usual, nine-time FIM World Champion Antonio Cairoli has got a very busy off-season. On November 13, his autobiography is coming out. The book— Velocità, Fango, Gloria: La mia vita per il motocross (roughly Speed, Mud, Glory: My life for motocross)—is 267 pages, plus it has 16 pages of inserts and is Cairoli's first complete autobiography. The book is being published in Italy, Cairoli's homeland.
And during every off-season, TC222 always finds time to go rallying in his car. Rallying is the second most important passion in Cairoli's racing life after motocross. Despite not having enough time to properly test rally cars, Cairoli has long taken part in rally events in the off-seasons, and he raced his car last weekend at the Tindari Rally.
The two-day event was an asphalt rally that partly passed through Cairoli's hometown of Patti. In the past, Cairoli drove Citroen and Hyundai rally cars, but last weekend he debuted with Skoda, a famous Czech brand. Cairoli used a special Skoda Fabia R5 rally version. In the first two stages—Tindari Rally had eight stages in all—Cairoli finished seventh. He was consistent, but at the third stage he had bad luck and had to retire because of an accident. Luckily, Cairoli did not get injured, and for sure he will be rallying again soon.
BLUE MONDAY (DC)
Earlier this week, in On This Day in Moto (October 28), we made a slight mistake. In discussing that day in 1984, we said: "Yamaha's 15-year-old sensation Eddie Hicks was once again dominating the minicycle ranks at the last round of the 1984 CMC Trans-Cal Series, to no one's surprise. But what was surprising was the fact that Hicks and Yamaha factory support rider Jim 'Hollywood' Holley, who won the 500 class, were riding on the 1985 YZ pre-production bikes, which for the first time were white, not the yellow color Yamaha's in America were made with since the early seventies. For the next decade Yamahas in America would be white, before changing again (this time to blue) in 1995."
Turns out we were off by a year on the second change, from white to blue, in 1995, as longtime reader and Team Dynamic legend Mike Kolar explained in an email:
"Always enjoy the racer X 'This Day in Moto" column. Slight correction in the color of Yamaha YZs—the productive bikes went blue in 1996. In '95 they were still white plastic with a purple seat and frame. My brother bought this bike new and was so frustrated that Team Yamaha bikes were blue that year. In fact, in 1995 Team Yamaha had their race frames changed from purple to blue and had all blue plastic that year. By 1996, all production YZs were blue with white front and rear fenders. Finally in 1997 they were completely blue (fenders too). Yamaha certainly liked to experiment with their colors… So glad the white with day glow pink seats of the early 90s are gone!"
More from Mike: "I, too, had a small error—the 1997 YZs came with white rear fenders. They FINALLY got all blue in 1998. Better late than never….."
PulpMX (Matthes)
Got this little site called PulpMX where you should read Kris Keefer's Straight Rhythm Yamaha YZ250 RAM IT Edition test here or go listen to the Privateer Podcast I did with Lane Shaw. Lane was a rookie last year and was in the mix for a lot of mains, trains with the great Tim Ferry, knows the great Andrew Short, and switched to KTMs for 2019 here.
Hey, Watch It!
Head-scratching headlines of the week
Woman who had sex with 20 ghosts is now engaged to a spirit - New York Post
And just like that, Kanye West appears to be over politics - CNN
WHITEY BULGER: KILLERS ATTEMPTED TO REMOVE HIS TONGUE ... TMZ

(This happened at the Hazleton Prisoner here in West Virginia, about 20 miles from our office)
Drunk Baggage Handler Falls Asleep in Hold, Flies to Chicago - Bloomberg
Florida mayor solicited sex for speed bumps, ethics panel finds - NBC News
Random Notes
MXGP Album 2018—Preorder Now at a Special Launch Price!
The 10th volume of MXGP Album is now available for preorder on motocrossgpalbum.com, with a special launch offer until November 4. MXGP Album will again offer you a look back to the MXGP season. Apart from the traditional action pictures, MXGP Album strives to make you breathe the atmosphere and emotion of the Grands Prix around the world, through its 200+ laminated pages—and the Motocross of Nations also has a chapter! Place your preorder at the book's official website.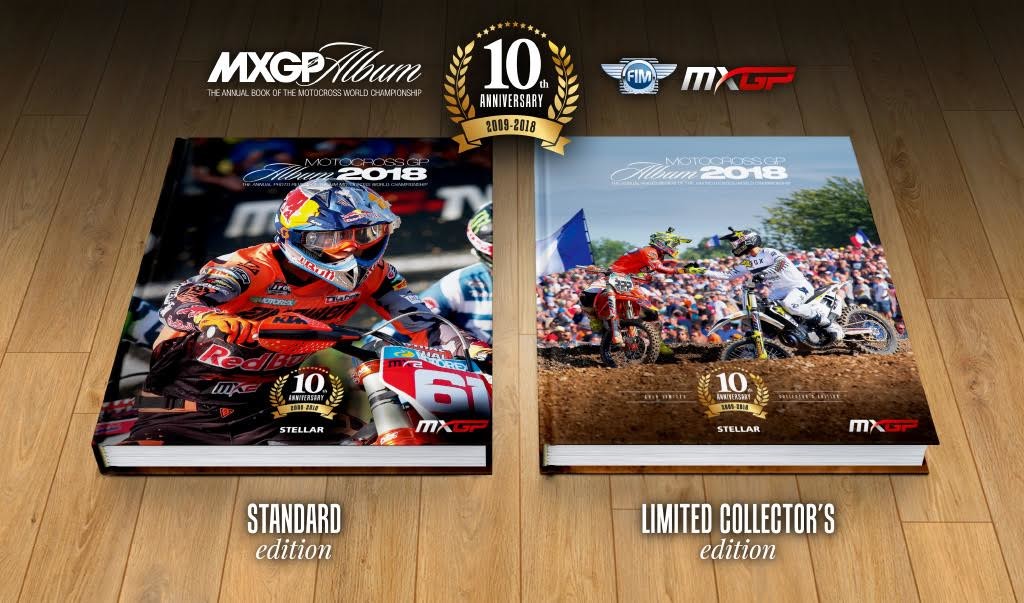 Passion for Grand Prix Motocross?
Racer X contributor Roddy MacLeod, who captured the amazing Jeffrey Herlings cover, has a new book out. Will To Victory features unique photography from the 2018 season, interviews with legendary world champions, and stories from the road. And to celebrate landing his shot on our cover and at the top of our poll for favorite covers of 2018, Roddy wants to offer a free print of the Herlings cover for the next 100 preorders. That means the first 100 preorders after Racerhead goes up will get a free, signed print of Namur plus the Herlings cover photo. Order Roddy's book here.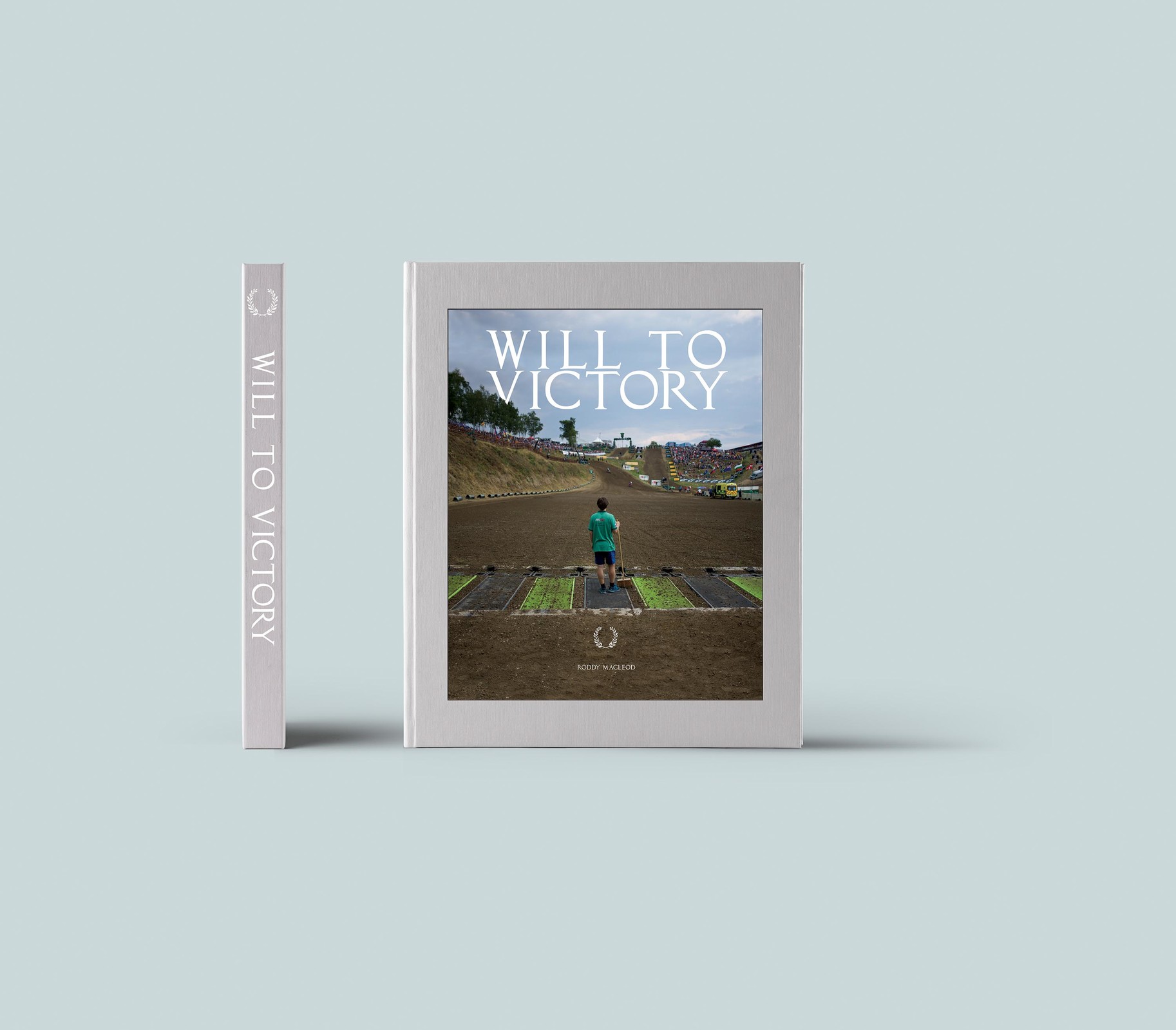 Racer X Brand Fall '18 Collection Now Available
Racer X Brand just released their 2018 Fall Collection! Shirts, hoodies, jackets, socks—they've got it all. Head over to Racer X Brand now and get geared up!
If you ever find yourself in Milwaukee, check out the Fuel Café (@fuelcafemilwaukee on Instagram). It's a motorcycle-inspired bar and restaurant with tons of cool moto memorabilia and art, as well as specials on Two Wheel Thursdays. It's a clean, well-lit place for a beverage and some bench-racing.
Subscribe or Renew Now and Get a FREE Set of 100% Moto Socks
Subscribe now for as low as $9.98 and receive a FREE set of 100% Moto Socks, plus immediate access to our current digital edition.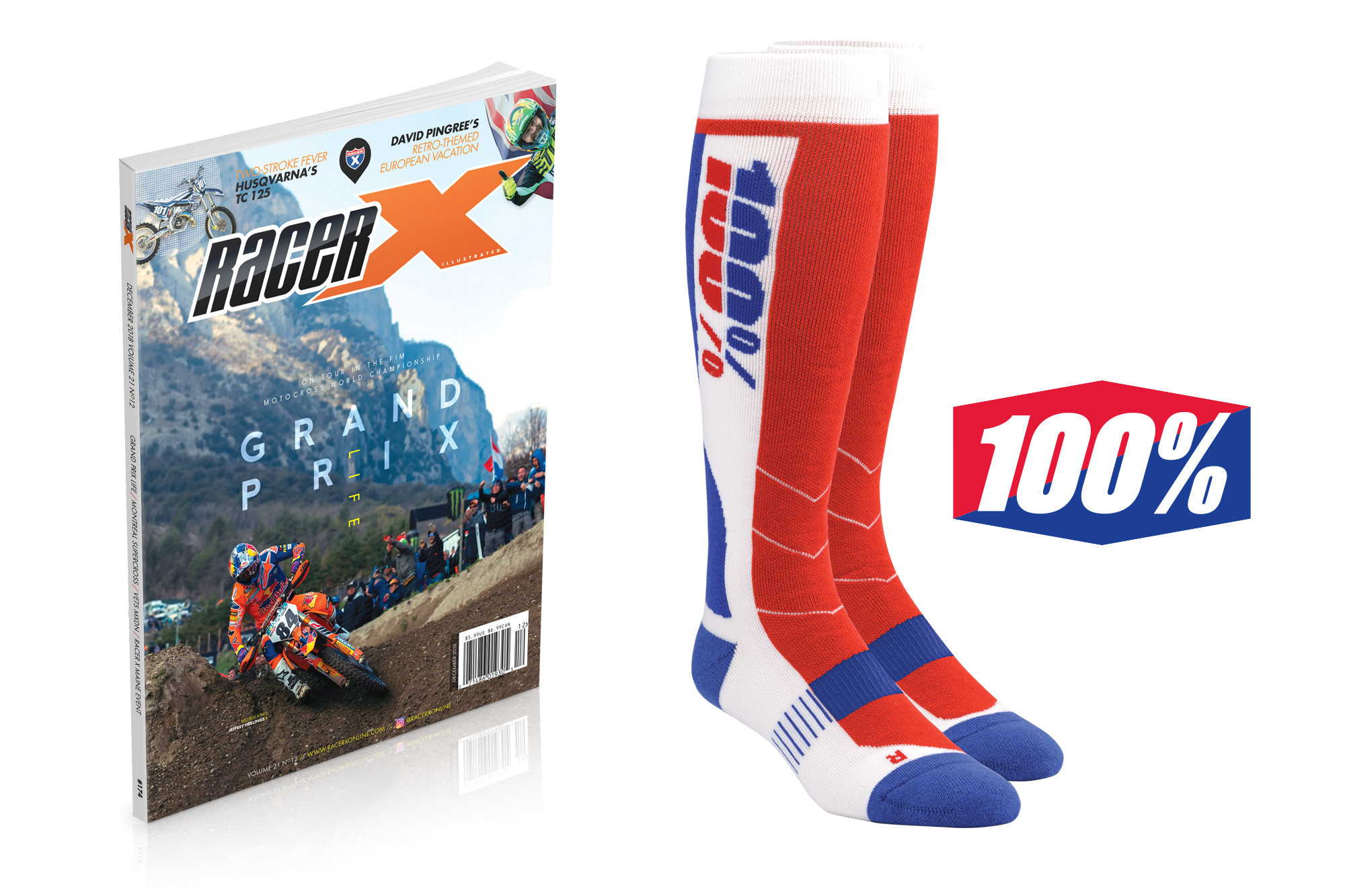 That's it for this week. Thanks for reading Racerhead. See you at the races.