Seasons are now winding down for the off-road set, with the Amsoil Grand National Cross Country Series completing last weekend with the Ironman GNCC, the EnduroCross Championship coming to a close this weekend in Boise, Idaho, and the Kenda National Enduro Series wrapping up with the Gobbler Getter Enduro this weekend in Alabama.
We dialed up three off-roaders for their views on the end of the year. First, Colton Haaker and Cody Webb, who are dueling for the EnduroCross title (Haaker leads Webb by six points), and then Stu Baylor, who won the Ironman GNCC over the weekend and will go for his third AMA National Enduro Series Championship this weekend.
We'll start with Webb and Haaker. These two have been at each other's throats for the EnduroCross Championship for the last four years, after they finally ended Taddy Blazusiak's long run of dominance. What's crazy is they both grew up riding trials and both hail from Northern California, so they have known each other for a long time. They just both ended up becoming the two dominant players in a completely different series.
1. What was your preparation like coming into the season?
Colton Haaker: My preparation was pretty solid but I was coming off of two seasons (one year, but a season of U.S. and international indoor racing) of injury setbacks and for the most part winless. I had to get prepared for a comeback season. The team and I did just that finding comfort in my setup again. But I still had to prove that it was better and that I was back.
Cody Webb: My preparation was not great coming into the season. I was just making my return to riding after getting married, honeymooning, and then an injury. So I only had just a few days of EnduroCross under my belt before the series started. I felt lucky to win that first round with the little time I had to prepare.
2. The intensity has been so high at the races this year. What are these battles like?
Haaker: The intensity is awesome. I mean, the racing level is really high and Cody and I both have our strong points. It's motivating to have such an equal competitor. It has pushed me to dig deep and be as good as possible. The battles have been tactical and we both want to win badly. That just makes the winning so much more rewarding!
Webb: The intensity is insanely high. We keep raising the bar each year. I thought we were pushing hard a few years back, but now we're hitting and jumping lines we never would've dreamed possible two years ago.
3. You two somehow still seem to avoid major bad blood even though you're at each other's throats for the title and race wins each season. How do you keep the emotions from boiling over? (Or do they?!)
Haaker: The two of us have been at this for a while. I have respect for Cody's skills on the bike and appreciate his rivalry because it has made me better. At times things get touchy because of this head-to-head all-out war, but for me it's just dirt bikes and dirt bike racing. I'm having fun and I have to remember that if I'm not, then it's probably not worth it.
Webb: I just love riding motorcycles. So if I have to deal with intense battles here and there, it's not so bad in the grand scheme of things. I just go out there, focus on myself and ride to the best of my abilities.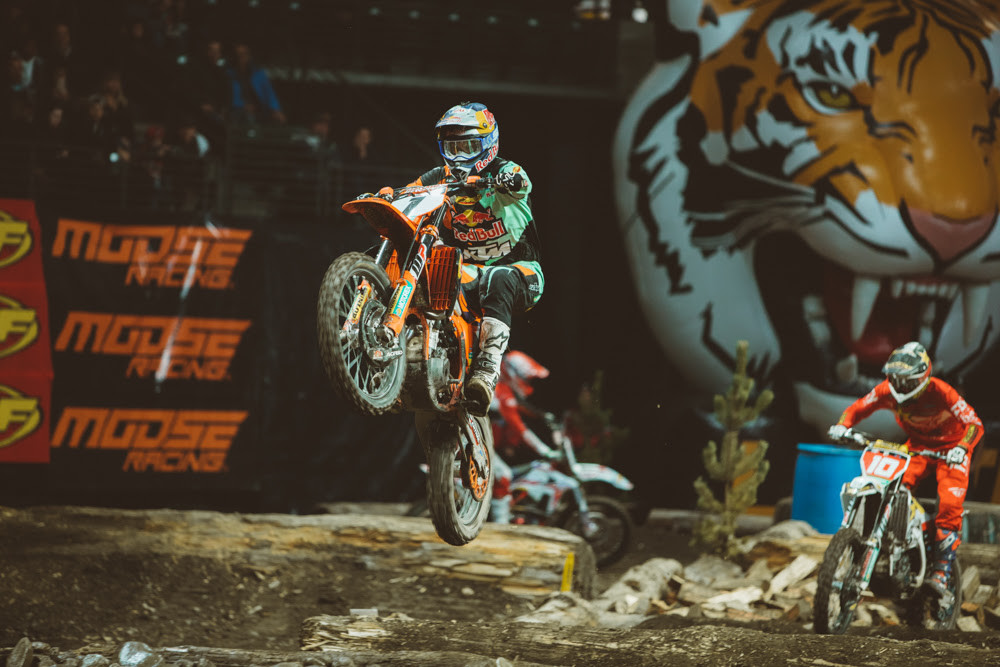 Ironman GNCC winner Stu Baylor
With both Kailub Russell and Thad Duvall out for Ironman with injury, the door was open for a different winner, and Baylor, who ended the year third in points and led a bunch of laps throughout the season, outdueled Trevor Bollinger through the early laps, and then held off XC2 (250 class) rider Josh Toth on adjusted time to snag the overall. It's Baylor's first GNCC win since last year's season opener.
Baylor also leads the points in the AMA National Enduro Series; he won the title in 2017.
1. How was the team situation this year and what was it like being teammates with your brother Grant?
The new team (Tely Energy Racing KTM) was awesome. I was pumped to have the opportunity to work with a team that I had say so in and it made it really easy to do my job with a relaxed environment at the races. Being back with Grant on the same team was awesome, especially at the events where we were either battling for wins together or both on the podium. I think it happened three times this year in the National Enduro Series. That was a lot of fun.
2. Did you put extra pressure on yourself to win Ironman or did you treat it like any other race?
I definitely didn't have any other mind set or expectations going into Ironman. Obviously I wanted to win it but I wanted to win every race I lined up for. Honestly Ironman was just a very successful test day for me. I was on a 450 that I didn't have much time on—I had raced a 350 all year—I spent all week out west and to come away with a win was just icing on the cake. I think I made my mind up on what I will be racing for next year! I need the 450 pull my big butt around!
3. What did you think of your season overall?
My season was a little tougher than last year, I think. We had some minor issues early in the year that took me off my game in the GNCC side of things. I learned a lot and saw the strategy side a little more. The Full Gas Sprint Enduro and National Enduros went a little smoother, but I know there is still room to improve there as well. All said and done I can't wait to take what I've learned and add it with a new bike for 2019 and hopefully give Thad and Kailub a run for their money!
---
Main image:
Haaker - Tanner Yeager / Husqvarna Images
Webb - Shan Moore / KTM Images
Baylor - Ken Hill