Las Vegas, NV
Monster Energy Cup
Monster Energy Cup
"Ryan Villopoto looks really good out there," pointed out former AMA Supercross and 125cc National Champion Johnny O'Mara while watching what was a 20-minute practice session for Saturday's Monster Energy Cup. "I definitely saw a few of those old RV characteristics that won him many races and many championships. Ryan is a multi-time champion, so I wouldn't be surprised to see him try to go for the win here."
Although Ryan Villopoto officially retired from professional racing in 2015, here he was at Sam Boyd Stadium in Las Vegas on Friday afternoon, aboard a Yamaha YZ450F and out bashing practice laps for Saturday night's three main event motos. Preparing for the AUS-X Open in Australia next month, Villopoto has felt good and up to speed, and for those two reasons, decided to show up in Vegas to roll the dice and see just where he lands.
Half an hour after the practice sessions, we caught up with RV in the grassy Vegas pit area and asked him exactly what he was up to. Relaxed, smiling, and in good spirits, RV watched on as his dad and friend Tanner Ellingsen gave his 450F the once over, twice.
Racer X: Ryan, the last time I saw you was behind the starting gate at the Motocross of Nations at RedBud and you were standing in ankle deep mud. You obviously made it out of that slop in one piece, eh?
Ryan Villopoto: Yeah, man, it was muddy. I think my rental car was hammered. I don't know if I got a cleaning fee on that or not. Yeah, it was a rough weekend for clothes, shoes, and Team USA.
Ex post facto, what did you make of the Motocross of Nations?
We struggled, you know? I mean somebody said something today, like, Team France won the race averaging seventh overall. We should have won, or even podiumed, but our guys rode bad. We didn't ride well. I think conditions were tough and guys just straight-up struggled.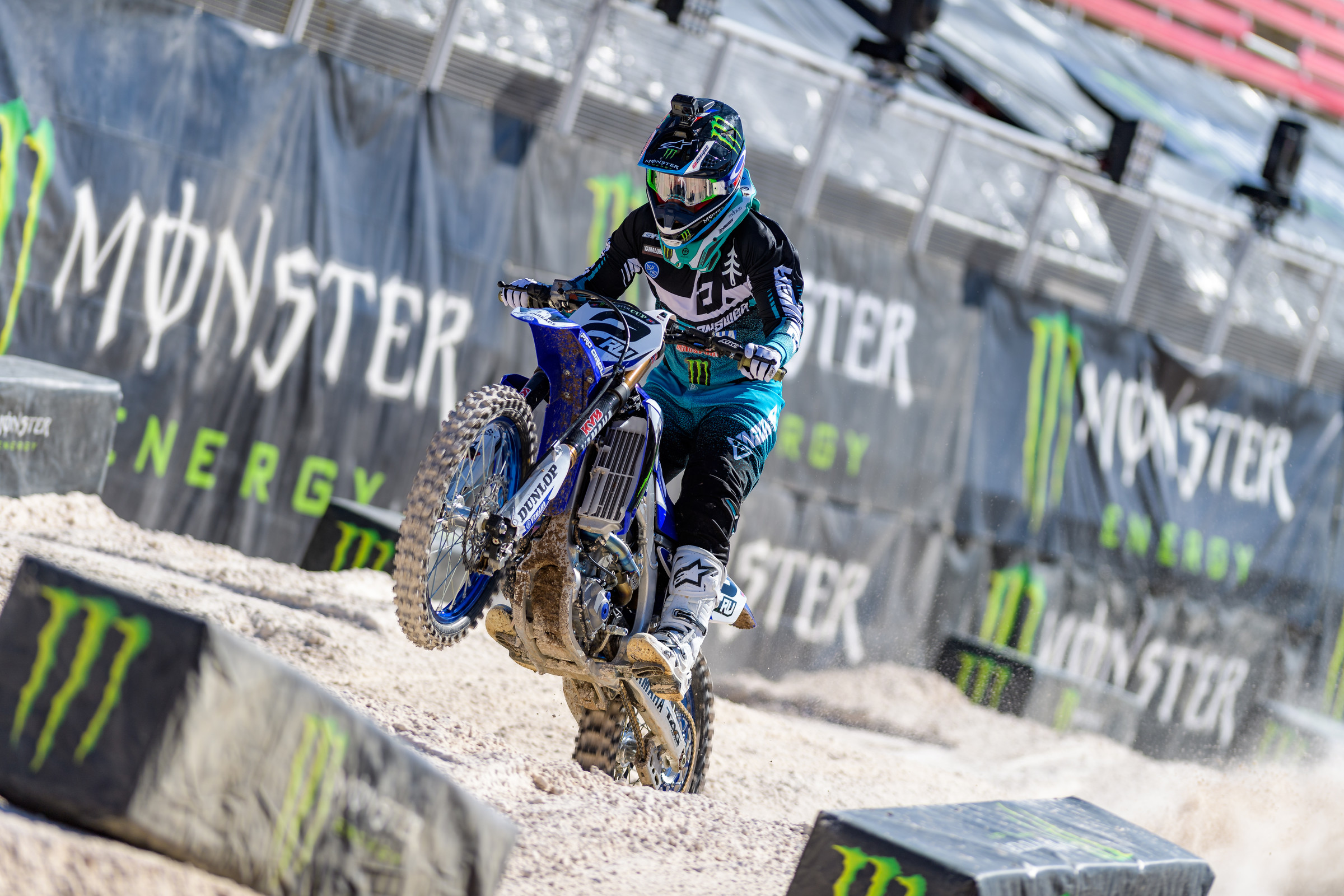 When did this idea of making a run at this year's Monster Energy Cup find a place in your mind?
I had this idea about three weeks ago. Then it sort of went quiet and then I said, "You know, I'll just do this on my own. Maybe I will do it, maybe I won't do it." I'm getting ready for the AUS-X Open and I've been riding and riding well and if there is ever a time to do it, then this is the race because it's whatever. It's not a full supercross track and three 10-lap motos, so I decided to do it. We scrambled all this together and came out here in our van.
Who built your Yamaha YZ450F for you?
So as you can see, it's kind of a…
A Frankenstein-type deal with all sorts of bits and pieces and what-not?
No, not that, but I would definitely say it is obviously different from the Yamaha race team bikes. This is my bike, so I have my own personal sponsors and it's my deal. This bike has a race team pipe, race team suspension, and a good linkage from the race team. Other than that, it's stock. It also has Mitch Payton's piston. My plan is to race Australia and it's a long flight down there and it's tough to ship stuff, so a piston is very easy to drop in a motor. I didn't want to get too crazy and try to do stuff that wasn't really needed. This is just a very easy set-up to bring down there in Australia and then come home.
So when exactly did you take the plunge and say, "Okay, let's load up the van. I'm racing the Monster Cup"?
I had a meeting at Monster in Corona on Wednesday and the big cheese over there, Mitch Covington, he was all into it.
How did you feel out there during practice?
I felt good. Well, you know, my arms got a little tight, but we'll get those worked on. Other than that, I felt fine. The bottom line is that I have zero to prove. I've proved that enough to everybody in these pits. It's just kind of cool to be back out here. I'll be a part of opening ceremonies and everything. Realistically, this is just kind of a power play with the internet to get people talking and to get people all fired up.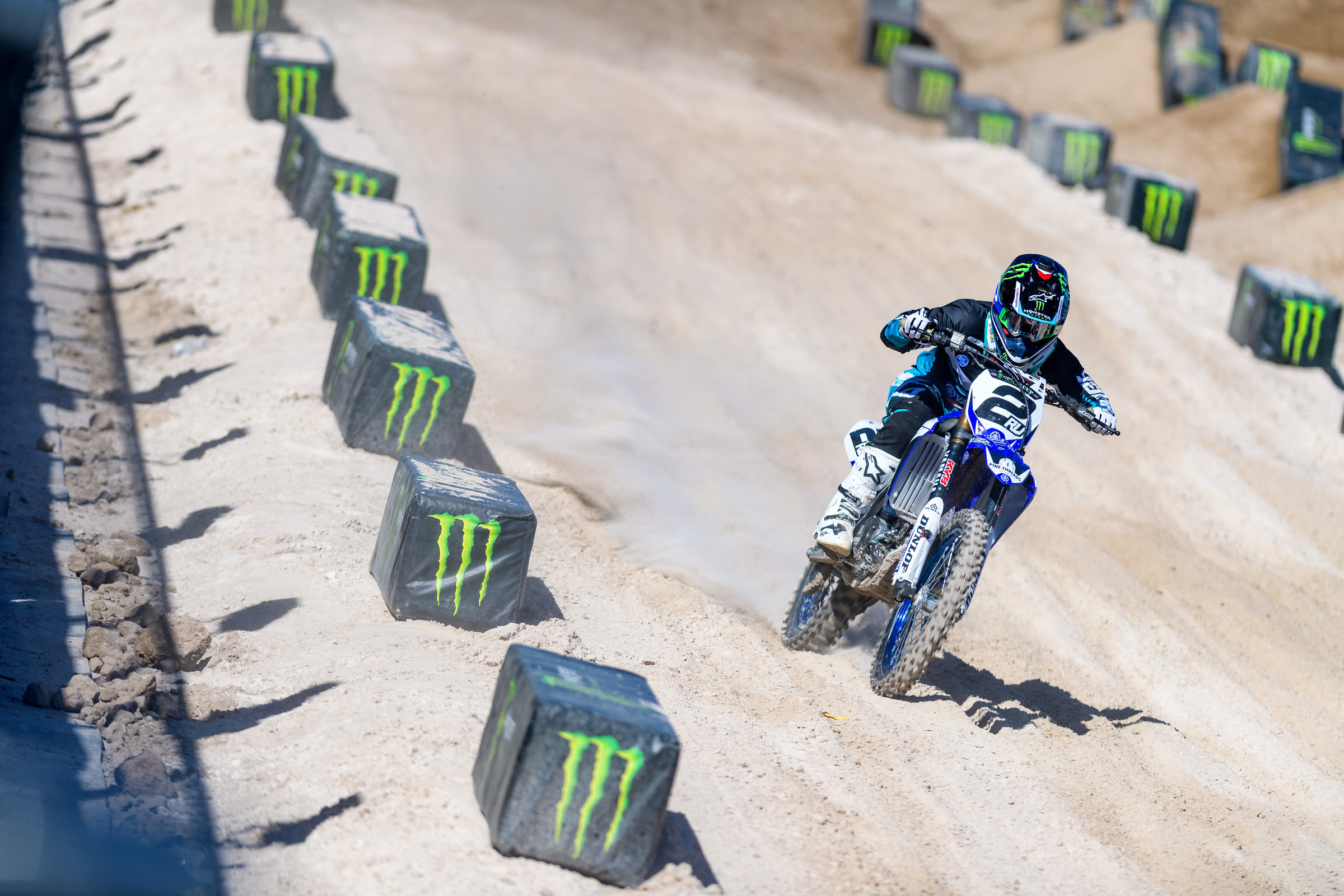 How did it feel to be out there riding around this track with all the guys? I mean there were world class guys out there you were mixing it up with.
Yeah, it was good. With this basically being a stock bike, we might struggle a little bit on the line or in the sand off the grate and all of that, but speed-wise and all, I should be okay. I don't want to go out there or win or anything or have to prove anything. I just want to go out and fun.
What are you hoping to achieve tomorrow?
If I was top five and raced with some heavy hitters, it would be awesome. Jason Anderson is racing now and Cooper Webb is racing and some bigger guys have showed up and added to the pile. So if I can get out there and race with those guys, the fans are going to love it.
What if it all goes real well for you Saturday night?
I don't know…
Come talk to me later?
I guess, you know? [Laughs]