Jorge Prado sits down to talk almost with a sigh. It is Sunday morning at Imola and less than an hour from warmup and the final round of 20 in the MX2 series that he has ruffled with 16 podiums and 11 wins (bumped up another digit by the end of the day). He is only a few hours from beginning the celebrations that have been iced since he learned the news on Thursday that Pauls Jonass had undergone knee surgery, this making his (and Spain's) first world title was a formality.
From that phone call, the 17-year-old (who still has another three years to go with KTM) has hardly stopped talking. He's answered inquiries from a range of national press, all curious to know about his—and his family's—sacrifice to move to Belgium and follow a dream and talent that has been both lengthy (hyped since he was 11) and rapid (he's champion in his second season equalling Jeffrey Herlings, Christophe Pourcel, and Marvin Musquin, faster than Ken Roczen, Pauls Jonass, Jordi Tixier) in gestation. Maybe if they had dug deeper, then they'd also want to know about his style, his starts, his happy-go-lucky demeanour, and about how the boyish smile hides a streak of ruthlessness that is bound to develop further.
Thankfully #61 is a big fan of Racer X, so his second chat for the website, which follows his first recent magazine feature, is something he's happy to make time for. When he leaves after the conversation, he walks into a "wall" of friends and extended family and a production crew constructing a mini documentary series for Red Bull. He'd barely get a quiet moment again until Monday.
Racer X: How has life been in the last three days?
Jorge Prado: Quite busy! I found out about the championship on Thursday, and the rest of the day was about interviews and answering messages as word got around. I was really busy and I was feeling tired before practice even began at the Grand Prix. The good thing was getting on the bike—it was like I found some peace! I felt really good while riding the track, and this made things fun. To get a world title, then I guess it is normal to do all this stuff.
Is it like you imagined? Or has it hit you like a big wave?
Honestly, yes. I had the call Thursday morning and I almost didn't have time to eat that day because of all the calls. I started out from Rome to Imola and was talking all the time to Spanish newspapers, websites, and TV stations. It was busy, and next week will be the same.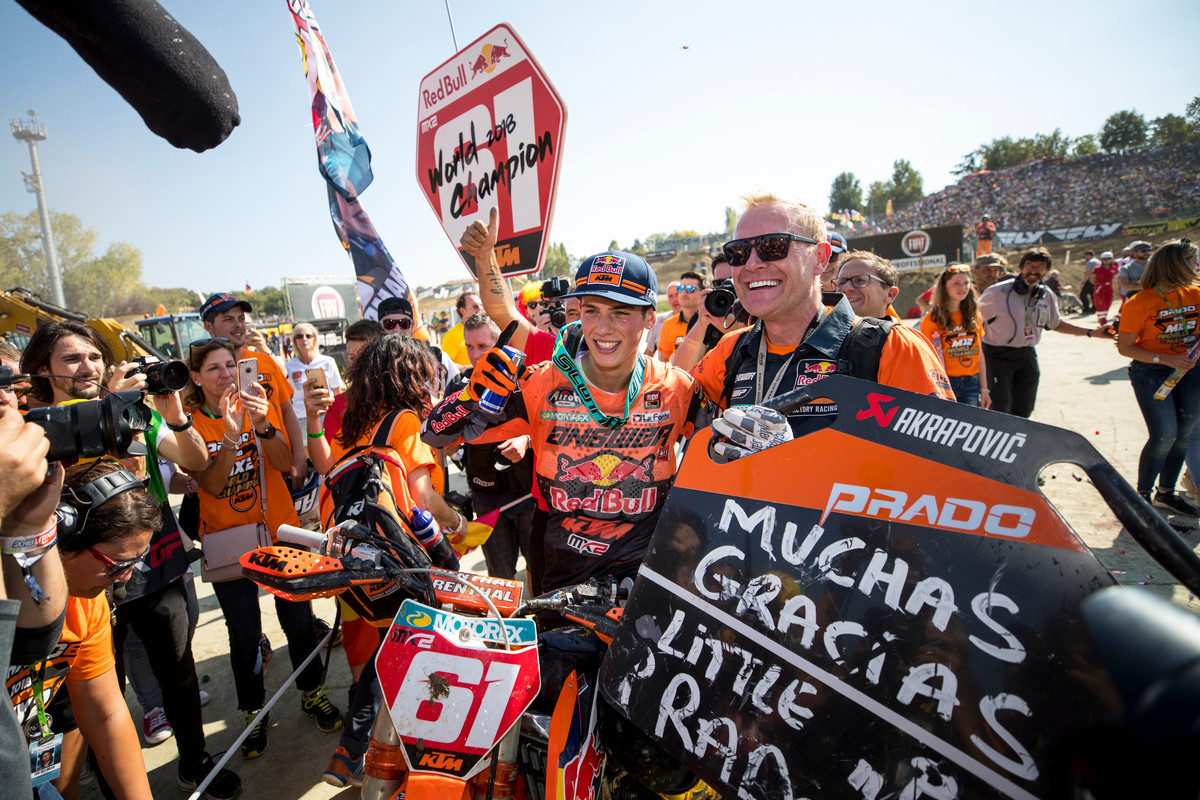 Who made the call?
Claudio De Carli. I didn't know anything [about Pauls Jonass' surgery]. I was preparing everything for Imola. I remember I was sitting in the kitchen and Claudio called saying, "Good morning, world champ," and I was like, "Come on! Stop joking. Anything can still happen this weekend…" but I immediately knew something was different because he normally doesn't do those kinds of jokes or makes those comments. He knows the importance of getting the race done and then celebrating the job. So it was weird, and then he said he wasn't joking because he knew Pauls was 100-percent out of the GP.
So what was your reaction?
I didn't do anything. It was really unexpected. Weird. For sure I was happy, but it didn't hit me. Everybody started saying congratulations, but I somehow had the feeling that it still wasn't "done."
Were there any calls or media interest where you thought, wow?
Yes, a couple, and I think I am really lucky. A couple of newspapers and TV broadcasters. I immediately thought, This is great for motocross in Spain, so it was good to have that opportunity. Overall I've been really busy and it is taking a lot of time, but I think it's definitely worth it.
All year you've been trying to catch Pauls or been looking over your shoulder, and today he won't be here. Will that feel strange?
Yes… but of course, everybody is racing. Pauls was my main rival, but there are others to worry about. Pauls isn't the only guy that can win—maybe just the one who can do it more frequently. Pauls was always there, and I was always looking for him. If I started first, then my thoughts were, Where is he? Is he behind me or further in the pack? It was like that at pretty much every round, even when I had the red plate. I was either trying to catch him or trying to pull away. He's not here this weekend, but overall I don't feel that different about the races still. Perhaps more relaxed.
Talk about the Grand Prix in Turkey. The collision between you both that led to the crash and ultimately his knee injury—what do you think about that now?
I had one goal when all that happened, and it was to pass him. Two lines came together and I didn't close the throttle, and he didn't either. I was in front and he hit me from the back, so I think he should have braked. He should have thought a bit more… Turkey did change the championship.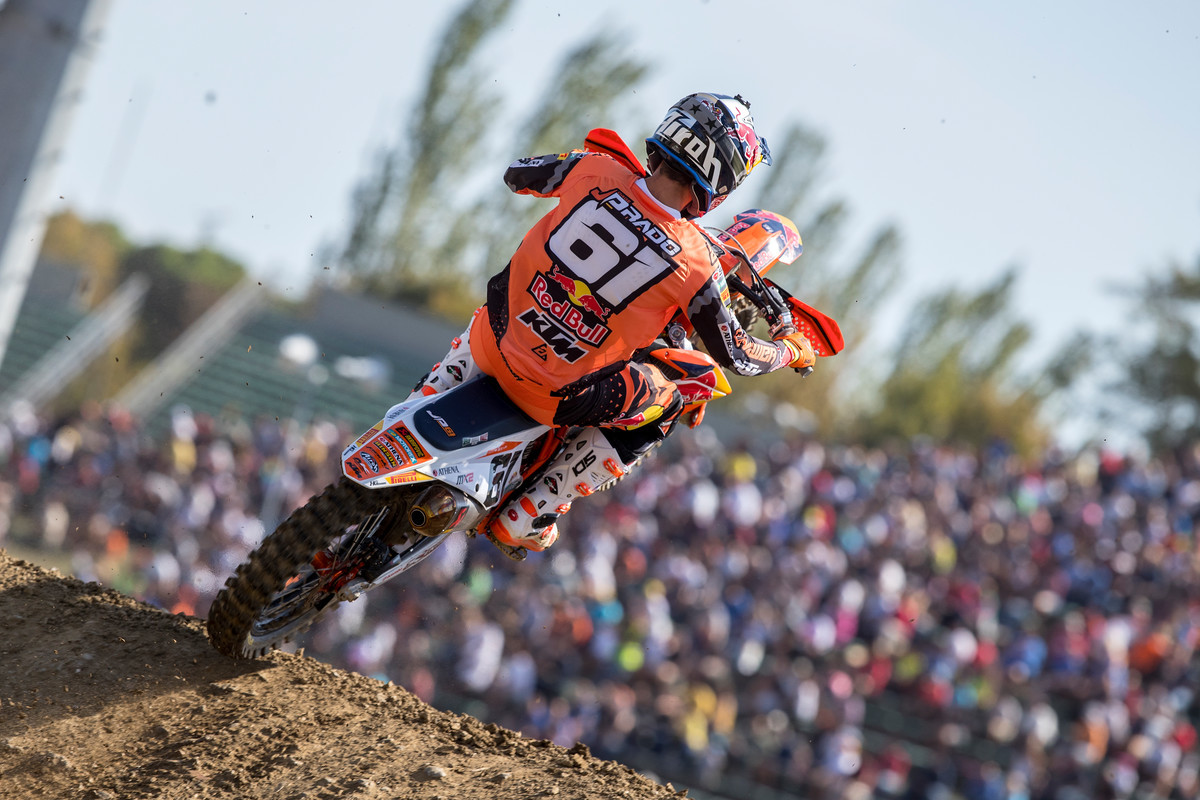 Thomas Kjer Olsen said you ride the bike almost like you are not using any energy, and I think a lot of people see that. It's impressive. Is it something you worked on? Something natural?
I've always pretty much been like this. When I watch myself riding, I also think it looks like I'm not pushing or losing energy, but when I'm on the bike, I feel I am! Maybe other riders are using more than me, but I think it is just my style and the way I am handling the bike. The way you think on the bike changes a lot as well—the lines. I stand up a lot. Last year I was riding like this, but I didn't have the strength, so now it is a [good] combination. You need a lot of strength to ride smooth, and that seems stupid to say. If you have a small movement and you are not strong enough to handle it, then everything becomes complicated, whereas if you have strength, then you can hold the bike and keep the flow around the track. It is a lot of hard work physically, and this year I have been training a lot and I think you see that in my riding also.
Was there a change mentally as well? After pulling out of the motos in Portugal last year you said you went home to Spain and forgot about the bike for two weeks. You needed that. In 2018 there was no such episode…
Yeah, it's all about training. Last year I was still in school and didn't have time to train 100 percent. This year I am fully professional. I rest when I need to rest, and in 2017 I couldn't because I was in the classroom and I wanted to do well in school; it was hard to do well at both things! This is the world championship. The level is very high and it is not a joke. All these guys are pros and they also all want to win, so to match them and beat them, you also have to give everything to this sport, and this is what I did. I think you can see the difference. Mentally? I think that came also from being better physically and not suffering so much. Fighting for the title is also different to fighting for fifth. I had some really good races last year, but my speed and conditioning was not the same. This year, I had the full package.
How many holeshots do you have now?
Well, 25 in races, but they don't count the qualification heats. Otherwise, I'd have way more.
That's quite a weapon in your arsenal.
Sure. Having that advantage of starting first, especially on a track like Imola here, where it is tricky to pass, is so useful.
You were already excellent out of the gate last year. Have you improved further?
Yes, last year was good, but now I am even better. For sure it is about confidence, and this season my qualifying races have been better so I have a nicer gate pick for the motos. Claudio and I also study the position quite a lot. We go for a sure gate where we know I can make the start.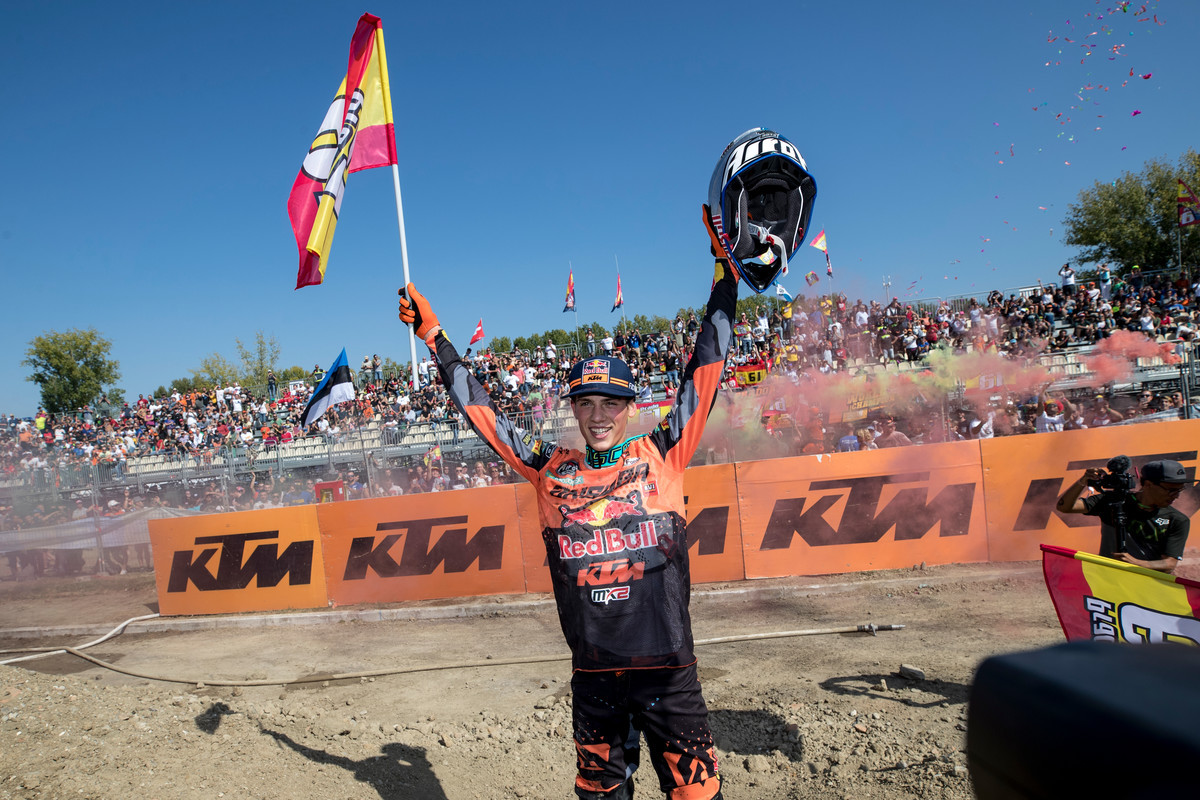 You mentioned racing Aaron Plessinger at the Nations. You've been to the Nations before, but now going as world champion and facing the double AMA 250 champion, this must be one of the biggest events of your career so far…
Sure! I think it will be good already from Saturday [MX2 qualifying race]. I'll do my best. I think RedBud looks like a cool track that will be good for me. I've never been there, but it looks soft. I think the Americans will have the advantage this year, but if you know how to ride, then you can adapt quickly. We'll see how it goes. I know he [Plessinger] is really strong and has won everything this year. I won't take any risks, even though the championship is done. I've got a lot [going] on before leaving to America so I won't get any time on the bike, but I know the work I've done this year means I'll be fine to go there and ride.
Lastly, if you are in this same situation next year, then it means the end of the road in MX2. Robert Jonas [KTM vice president of off-road] has already said he thinks you'll be a good 450 rider. What about the 350? Could that be a learning tool for MXGP? Or maybe the USA beckons?
The 350 is not an option. The other two? It's difficult to say because I don't feel I am ready to move onto a 450. Some riders move, and... well, it's a tough class. I've been working with a nine-times world champion this year [teammate Antonio Cairoli], and I see how good you need to be. I'm not at his level. I need to get stronger, faster. Everything needs to be better, and if I move up, I don't want to fight for fifth. It will be tough but for sure with Claudio, we'll make the right program and the bike will be good. I'm not worried about that side of it. If I had to move out of MX2 now, then I think the U.S. would be my only option because I don't feel ready for the bigger bike. It is a weird situation, but I think one more year of riding and improving, training, and hopefully injuries are good to me and I can move up a level. I can improve in many aspects, still on the 250 even, and we'll see when the 450 time comes.