Welcome to Racerhead, where we're counting down the days to RedBud just like everyone else in the world… Well, almost. The riders on the MXGP tour have one more weekend of racing, as the final round of the 2018 FIM Motocross World Championship take place this weekend at Imola in Italy. It's the 20th round of their extended series, the longest ever. It will give Jeffrey Herlings another chance to add to his record totals for Grand Prix wins and moto wins, and it will give young Jorge Prado the chance to properly claim the MX2 title that's already his—the last man with a chance, defending champ Pauls Jonass, is out with a knee injury.
Add it all up and it shows that while riders based in the USA have the challenge of staying in shape through the month of September, the MXGP guys have the challenge of staying fresh and healthy as they keep racing right up until six days before the MXoN qualifiers next Saturday. And in the case of French teamster Romain Febvre and the aforementioned Jonass, their late-season injuries have knocked them out of the event (though Latvia was not going to come anyway). The late date of the race cuts both ways.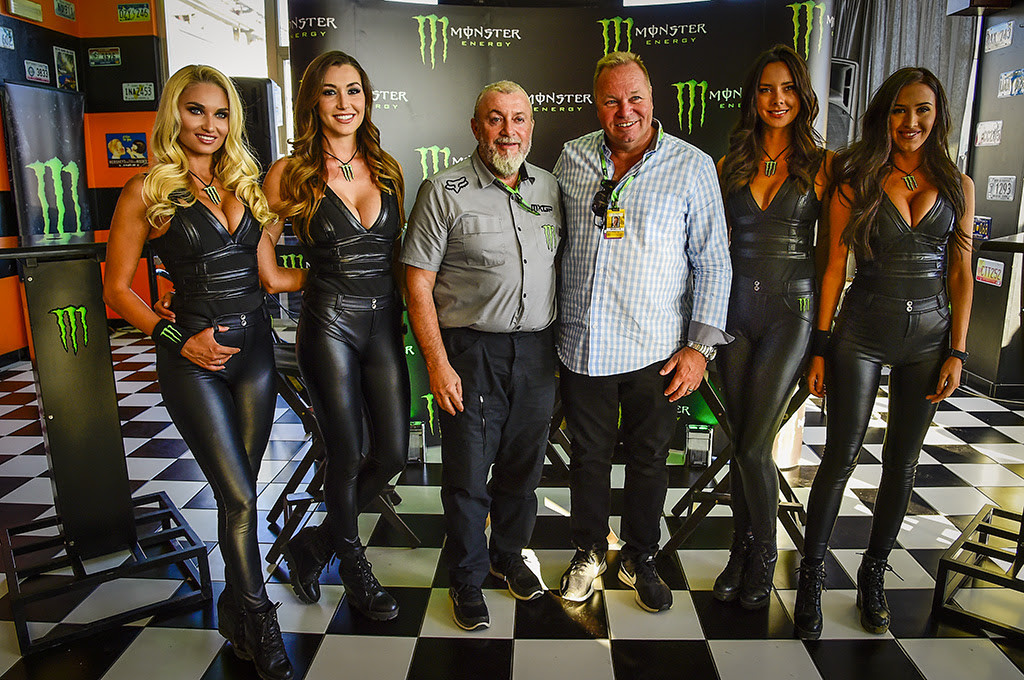 My hat is off in the meantime to the Youthstream staff that produces MXGP, because they will pack that whole circus up on Sunday in Imola after this race and fly to Michigan on Monday and start setting up on Tuesday. I worked with those guys at the MXGP of the USA at WW Ranch in Jacksonville last year and was impressed by their dedication, as well as the hours they keep. Just like the Gear Race Services crew that does all of the nationals here and the Feld Motor Sports crew that builds out supercross every week, they know how to get a lot done in a little bit of time, and next week they will be working overtime throughout. It's a good thing that Tim and Amy Ritchie and the whole RedBud crew already have the place looking amazing as always, as you can see by this Instagram preview:
All next week we will, of course, be talking about the event, the looming showdowns between Team France and Team USA, Eli Tomac and Herlings, Prado and Aaron Plessinger, and much, much more. That's bench racing. Right now, let's talk about all of the other cool things that are coming up surrounding the MXoN at Red Bud.
For starters, there's the Team USA MXoN Experience that Jeff Stanton put together. On Friday night, the alumni of Team USA who make it out to the race will enjoy a banquet with 250 fans, all in support of Road 2 Recovery and the International Foundation for Research in Paraplegia. It will be one giant reunion of fast American men like Ricky Carmichael, Ryan Villopoto, Johnny O'Mara, Ryan Dungey, "Bad" Brad Lackey, Ricky Johnson, David Bailey, and just too many legends to mention here. It should be an epic night of bench racing and a rare chance to rub shoulders with so many motocross legends.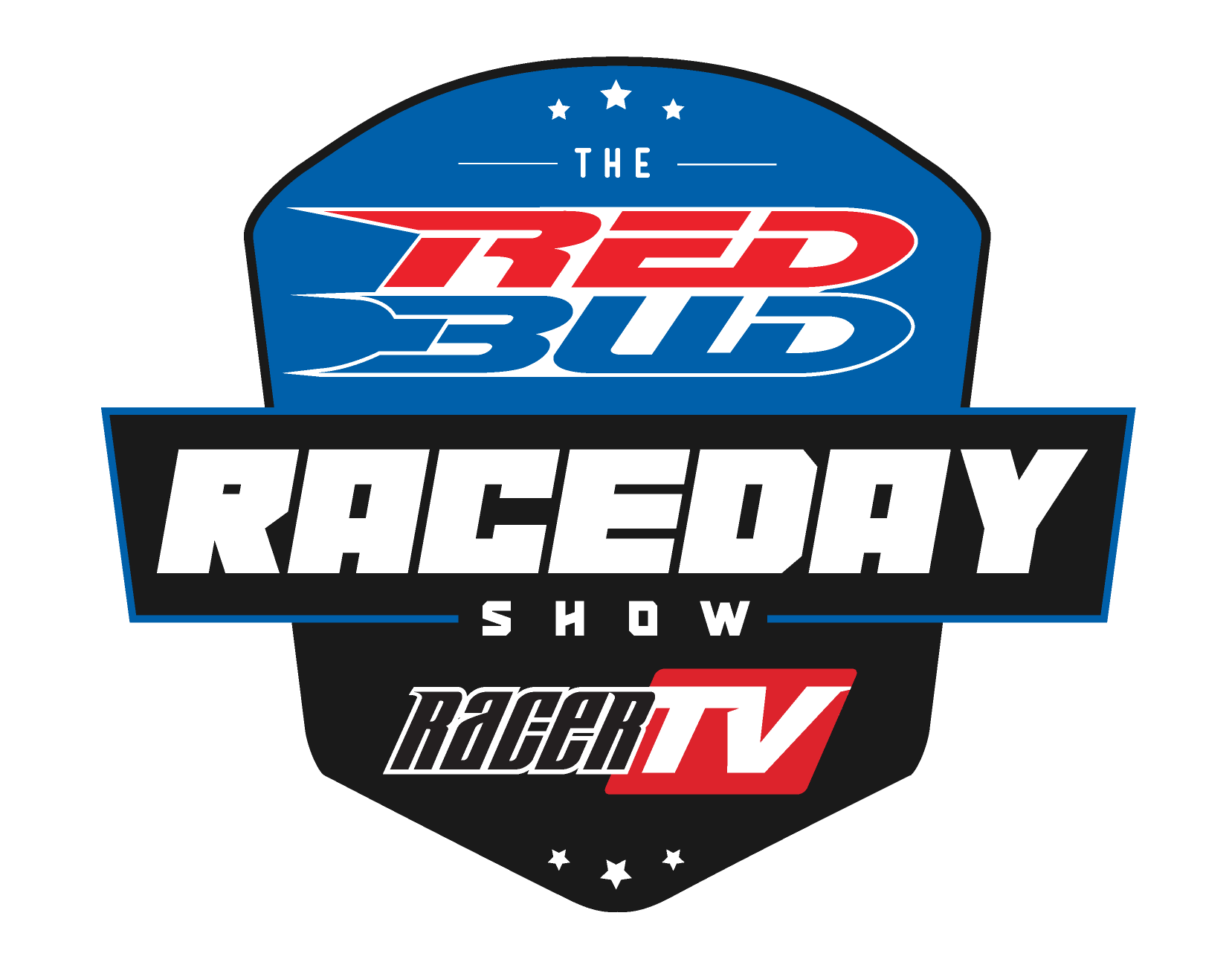 The good news for R2R is the fact that the dinner is completely sold out, which seems like bad news for everyone who did not get a ticket. The good news is the dinner will be covered on the RedBud Race Day Show, which will stream live next Friday night and Saturday night on www.racertv.com. We are bringing in a stage and the same TV talent that brings you GNCC Racing every weekend, as well as the Loretta Lynn's coverage, every day of that week. RedBud Race Day will be hosted by Jason Weigandt, Rob Buydos, Steve Matthes, MegaWatt, and myself, and the plan is to spend Friday and Saturday previewing the MXoN, breaking down the qualifiers and all of the events of the weekend, interviewing as many moto celebrities as we can, and just trying to share the Motocross of Nations experience with all of the people that can't make it to RedBud, which promises to be one of the biggest motocross races ever!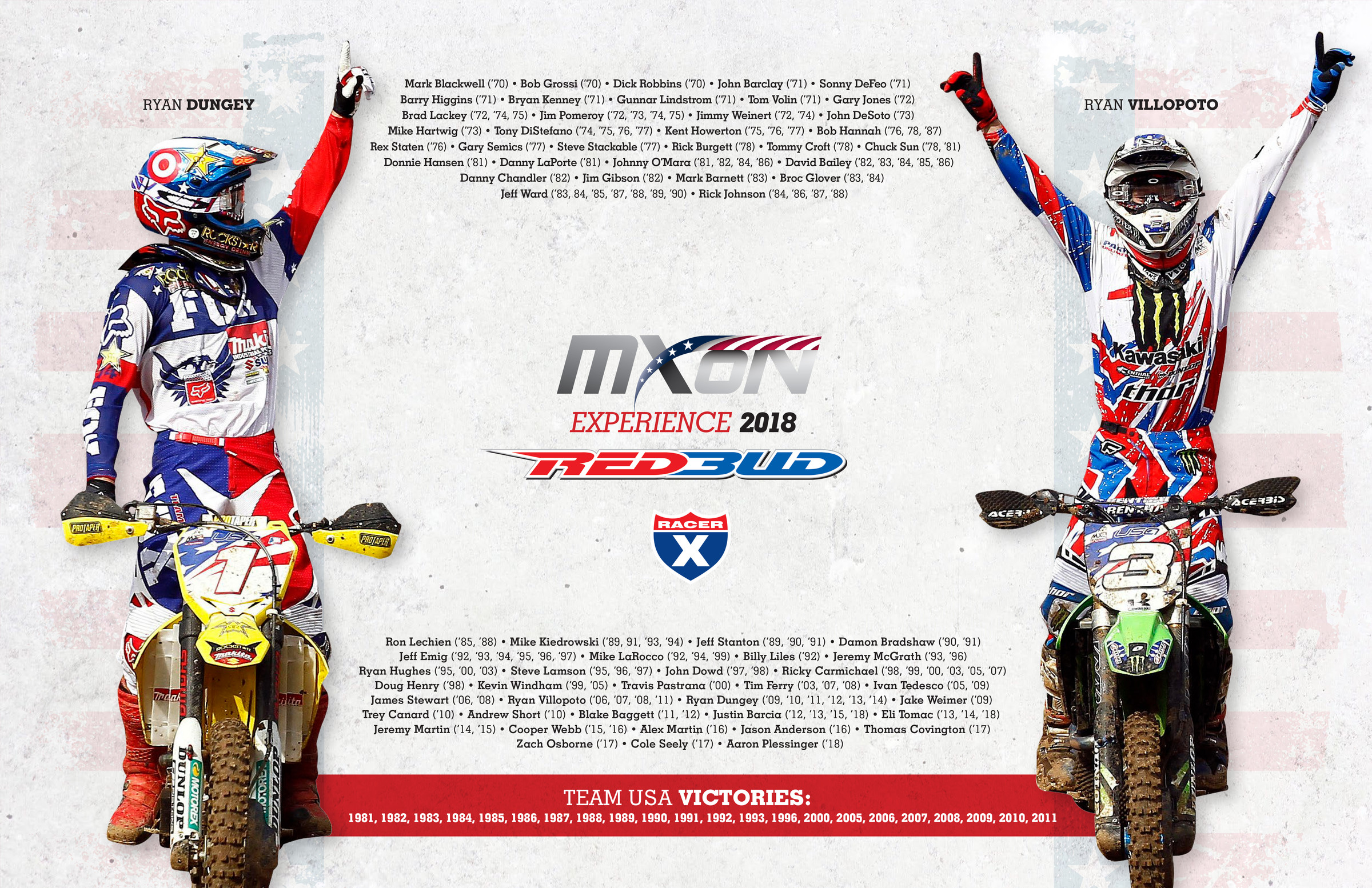 We will also be covering the THOR Pit Bike of Nations, which will take place Saturday night and promises to be a lot of fun, with a lot of very fast guys (and Sweet, Sweet Lou Lopez) on pit bikes. How fast? Team USA is Willy Browning, Ivan Tedesco, and Ryan Villopoto!
Here's all of the nations signed up so far:
| | | |
| --- | --- | --- |
| Country | Ranking | Riders |
| USA | #2 | Ryan Villopoto + Ivan Tedesco + Willy Browning |
| Canada | #3 | Ryan Gauld + Tanner Ward + Austin Watling |
| New Zealand | #4 | Lee McLean + Brook McDonald + Luke Henry |
| Holland | #5 | Wilfred Van Mill + Frank Grolleman + Thom Piels |
| Sweden | #6 | Lars Lindstrom + Jorgen Nillson + Patrick Erlandsson |
| Italy | #7 | Massimiliano Lenti + Andrea Camattini + Christian Ravaglia |
| South Africa | #8 | Gareth Swanepoel + Kerim Fitzgerald + Slade Smith |
| Belgium | #9 | Kevin Mertens + Valentin Lacasse + Eddy Seel |
| France | #11 | Yannick Coquard + Nicolas Paulmier + Anton Hafekost |
| England | #12 | Jordan Booker + Elliott Banks Broenw + Carl Nunn |
| Ireland | #14 | Rory O'Neill + Paul O'Cawsey + Neil Thompson |
| Australia | #15 | Connor Rice + Dylan Hickling + Connor McNamara |
| Mexico | #32 | Lou Lopez + Pat Lopez + Erick Vallejo |
Finally, be on the lookout for an epic Racer X Podcast that Jason Weigandt and I did about the long, strange history of Team USA at the Motocross of Nations. It's just a long conversation/history class on America's fortune in the Olympics of Motocross, and it might be a fun listen for you while you're on the way to RedBud. Here is Part I, check out Part II next week.
It's going to be quite a weekend in Michigan for motocross, and we'll let you know more of what else is going on as we find out ourselves. We are headed out on Monday to get up there to pitch in and help out as best we can!
Dean Wilson's Run With Rockstar Husqvarna is Complete (Jason Weigandt)
It's too familiar of a story for Dean Wilson—a two-year deal with a prominent 450 factory team has come to an end after injuries robbed him of his potential. Wilson announced today that his contract will not be renewed by Rockstar Husqvarna for 2019. There were hopes the squad might be able to find room for Dean even with Zach Osborne graduating to the 450 ranks next year (alongside Monster Energy Supercross Champion Jason Anderson), but it was not to be.
"I thought there was going to be a chance I was going to stay but unfortunately the 3 man 450 team got shut down," said Wilson in an Instagram post today.
Wilson, the 2011 AMA 250 National Motocross Champion, had a deal with Red Bull KTM in the 450 class for 2015 and 2016, but both of those seasons were cut short through a pair of torn ACLs. He entered the 2017 season as a full privateer riding a Yamaha with his dad as his mechanic. A few races into the '17 campaign, though, Rockstar Husqvarna called with a replacement ride after Christophe Pourcel decided not to race supercross any longer, citing difficulties with a neck injury.
Wilson's main goal for '17 was to make it through the season healthy, which he did. He hurt his shoulder on opening night at Anaheim 1 in 2018, though, and then suffered another torn ACL when a rider cut him off while testing for Lucas Oil Pro Motocross at Glen Helen.
What's next for Dean? In his post, he jokes about getting back to the races in his dad's old Sprinter van again....
THE ITALIAN CONNECTION (Andras Hegyi)
The Spanish teenager Jorge Prado has built a special connection with Italy. It was in that country where the 17-year-old Prado got his maiden Grand Prix win in the FIM Motocross World Championship in 2017, when he won the MX2 class at the GP of Trentino. Italy is also the country where Prado has taken the most GP wins so far; Prado has collected 14 GP wins, and three of them were on Italian soil. And since the beginning of this season, Prado has lived in Italy, as he is racing for the Italian De Carli team inside the Factory KTM team, and that fact means that he has the Italian legend, nine-time world champion Antonio Cairoli, as his training partner and mentor.
The Italian connection will deepen for Prado this weekend, as this Sunday in the last round of the '18 MXGP tour, and he can celebrate his maiden world championship title right in Italy. Prado will be the second Spanish world champion ever, though the previous one came in the lower-tier MX3 racing from Carlos Campano. Prado will also be the second-youngest world champion ever in the history of the championship behind the German superstar Ken Roczen.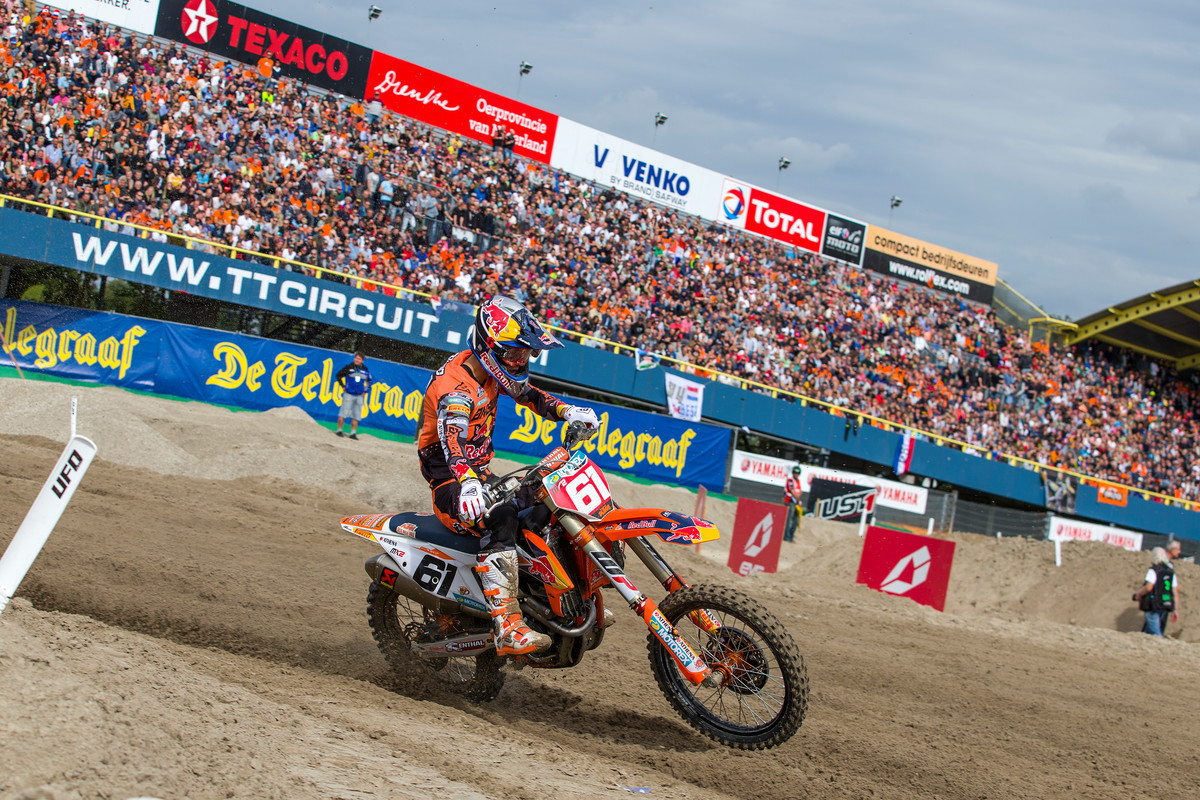 Going into the Italian GP this weekend at Imola, Prado has a 46-point advantage ahead of his main rival, the reigning MX2 world champ Pauls Jonass. But earlier this week, it was announced that Jonass underwent surgery for a damaged knee and will not race this weekend. That means Jorge Prado is already the 2018 MX2 World Champion, and he will put on the crown for the first time in Italy.
STRAIGHT FUNNY (DC)
Let's skip ahead past the Motocross of Nations at RedBud and even the Monster Energy Cup in Las Vegas to that other off-season get-together, Red Bull Straight Rhythm, which will be held October 20 at the Fairplex in Pomona, California. If there was ever a medal given for clever, fun marketing, the people behind this year's event would get it. From the taunting, back-and-forth tweets of two-stroke riders like Ryan Villopoto and Ryan Sipes to the "Al Bundy" video of Ryan Dungey getting called out on his couch (and, of course, Ronnie Mac), they've been having too much fun. But when we got a Fed-Ex package this week with a full-blown issue of Cycle News, #redbullstraightrhythm went to the front of the pack. They built a full-blown issue of the once-weekly printed newspaper with defending Two-Stroke champ Gared "Stank Dog" Steinke on the front.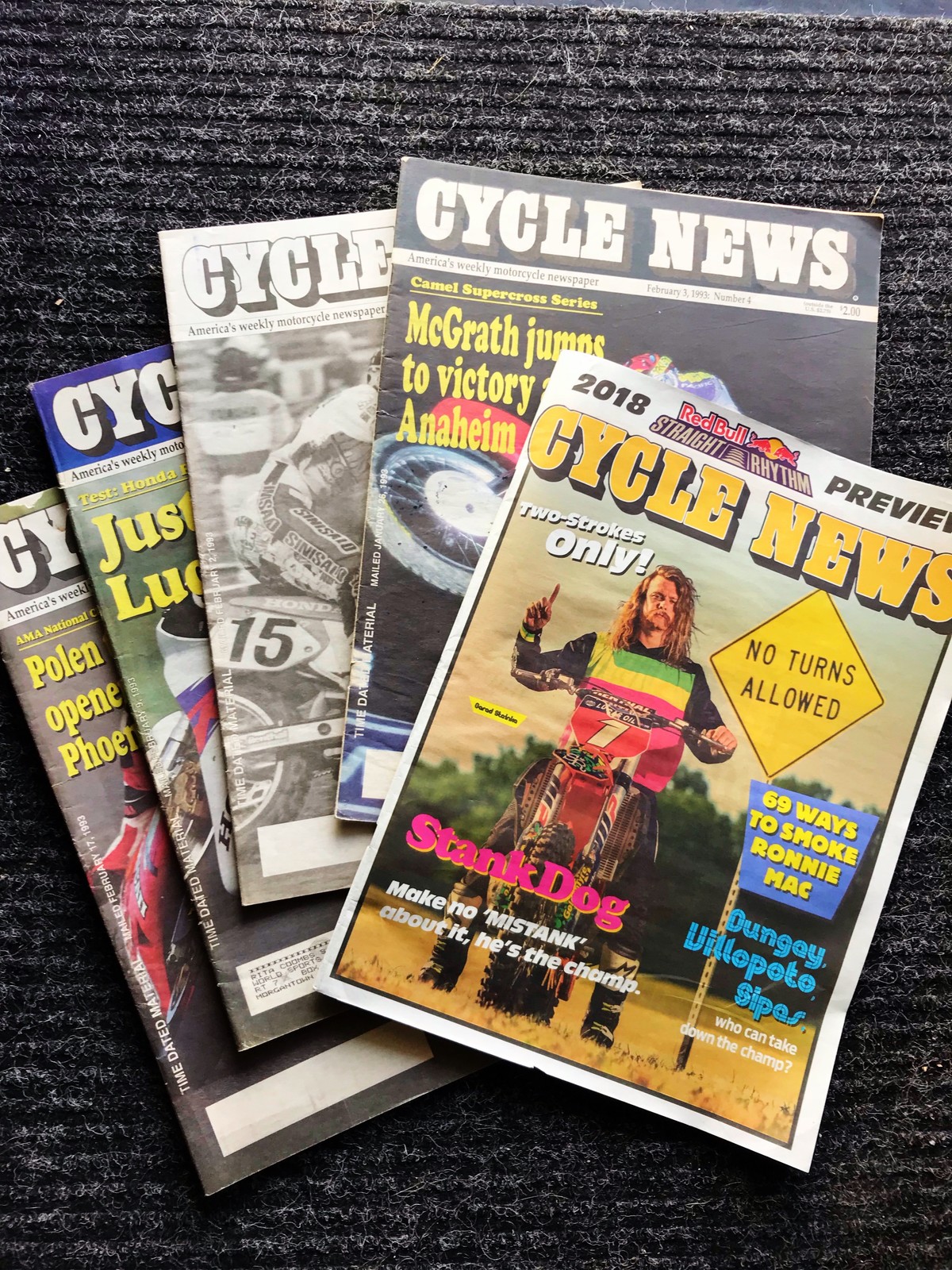 The paper was conceived by Red Bull's Jeremy Mallott and Dave Szych and published by CycleNews.com's Sean Finley and Kit Palmer, with contributions from true Cycle News alumni like Donn Maeda and Jean Turner and contributor Steve Matthes. The 64-page paper is a not only something of a program for the event, but also a fun trip down memory lane right to the nineties, which is the theme of the whole two-stroke event at Red Bull Straight Rhythm. Keep your eyes out for this newspaper; it's definitely a keeper if you're into moto memorabilia like we are—and you'll just love getting all of that ink on your fingers, just like it's 1993 or so!
STRAIGHT FUNNY PART 2 (Matthes)
As DC mentioned, grab a copy of the Red Bull Straight Rhythm Cycle News at the event or at some local SoCal shops. I've written a ton of features for magazines like Racer X, Racer X Canada, TWMX, and a bunch of European magazines, but nothing I've done professionally holds as much weight to me as when I got to (thanks to Kit Palmer) write something for the back page editorial of Cycle News when it was still around in paper form. It was so cool that there was my name was there where guys like Palmer, Abrams, and Coombs wrote. I thought that was so cool the four or five times my column showed up there. So, I was all in when asked to interview Stank for the cover for this rebirth. I also talked to Chad Reed for the issue, but it doesn't sound like CR22 is going to be at the event although he was trying to make it work. Speaking of....
REED (Matthes)
When I was in Montreal a couple of weeks ago, it seemed like the guys there for Alex Martin's debut ride on the Autotrader/Yoshimura Suzuki team thought that the Reed-to-race-supercross-for-JGR thing would get done. No specifics, but just a confidence that the three sides (Suzuki, JGR, and Reed) would find a way to get a deal done. And it sounds like Chad's all in on the process.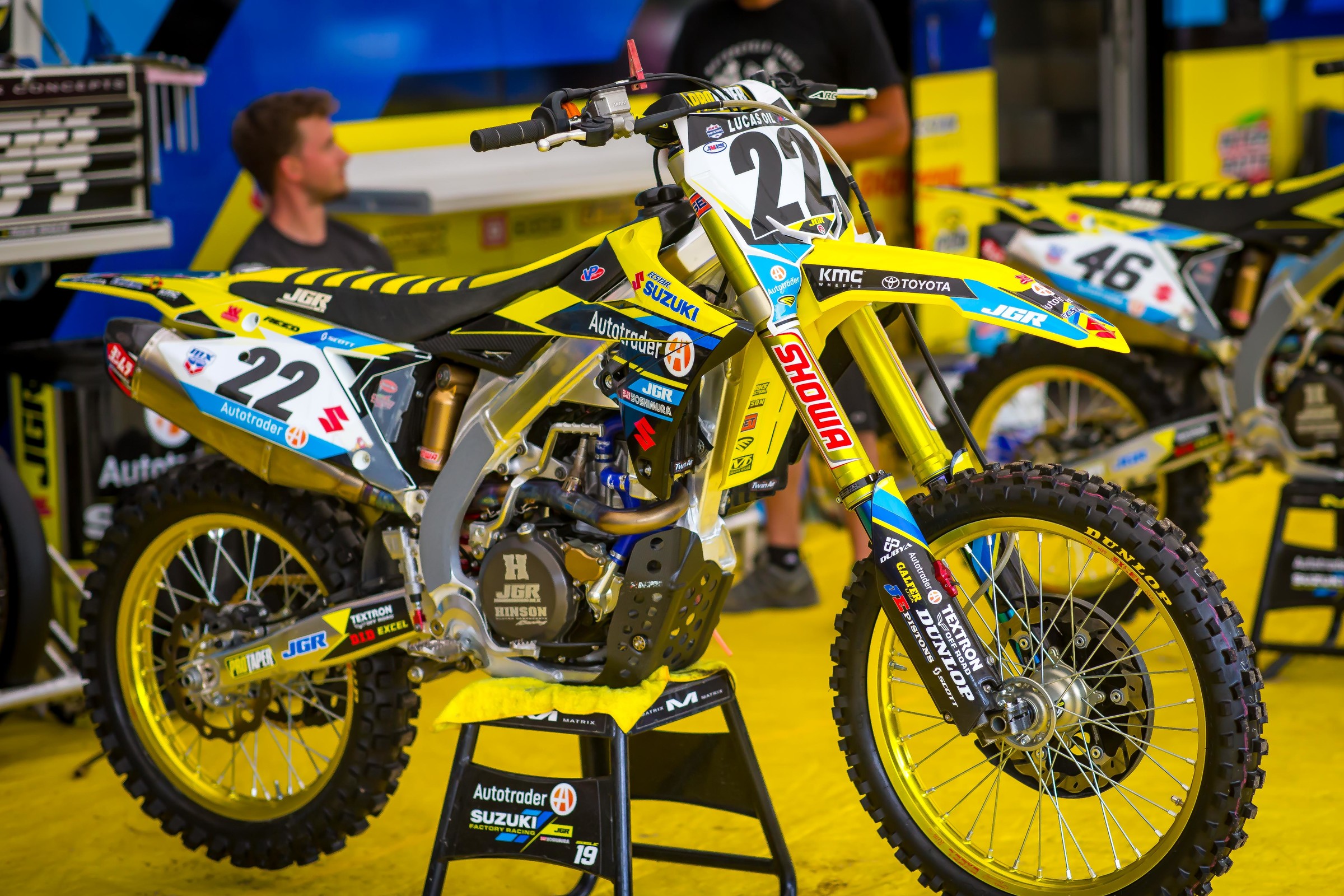 By the way, all the Chad Reed haters were probably, well, hating even more when Feld Motor Sports put out a PR about the band Pennywise playing the Monster Energy Cup pit party and specifically mentioned Reed in the headline racing the event. Not current champion Jason Anderson, not Monster Energy rider Eli Tomac (both of those riders and more were mentioned later on in the text), but it was Chad Reed. As in: "Two-time World Supercross Champion and international superstar Chad Reed leads cast of all-star invitation-only event."
I just thought it was interesting, that's all. I hope it works out for everyone to get #22 on the Suzuki for SX 2019.
BLOSS (Matthes)
What a week for Benny Bloss of the Rocky Mountain ATV/MC-KTM-WPS team, as first he's honored with a Pulpy for scoring the most points all year in PulpMX Fantasy, then is awarded #29 for 2019. Of course, Bloss was a teammate with Andrew Short, who held #29 for a long time, and because that's all related, PulpMX.com's Cory Moser had to "interview" both Bloss and Short about the responsibility of holding #29 here.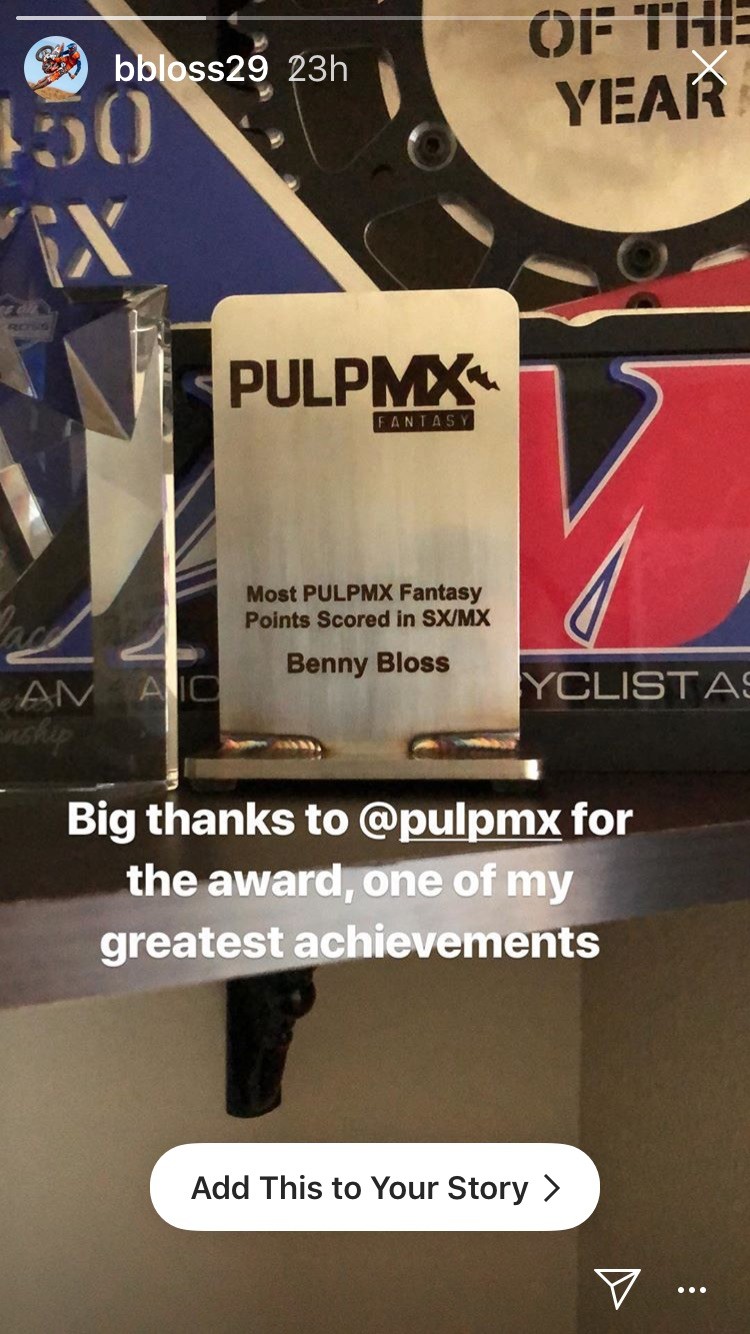 STEVE McQUEEN (DC)
As you've probably noticed over the years, I love collecting motocross- and dirt bike-related memorabilia. I have pretty much every magazine since the late sixties, and I would put my sticker collection up against just about anyone (sorry, Throttle Jockey). I also collect books and mainstream magazines that have cool motocross articles, and I recently came across a Sports Illustrated-published paperback book that included a collection of stories about auto and motorcycle racing from the weekly magazine.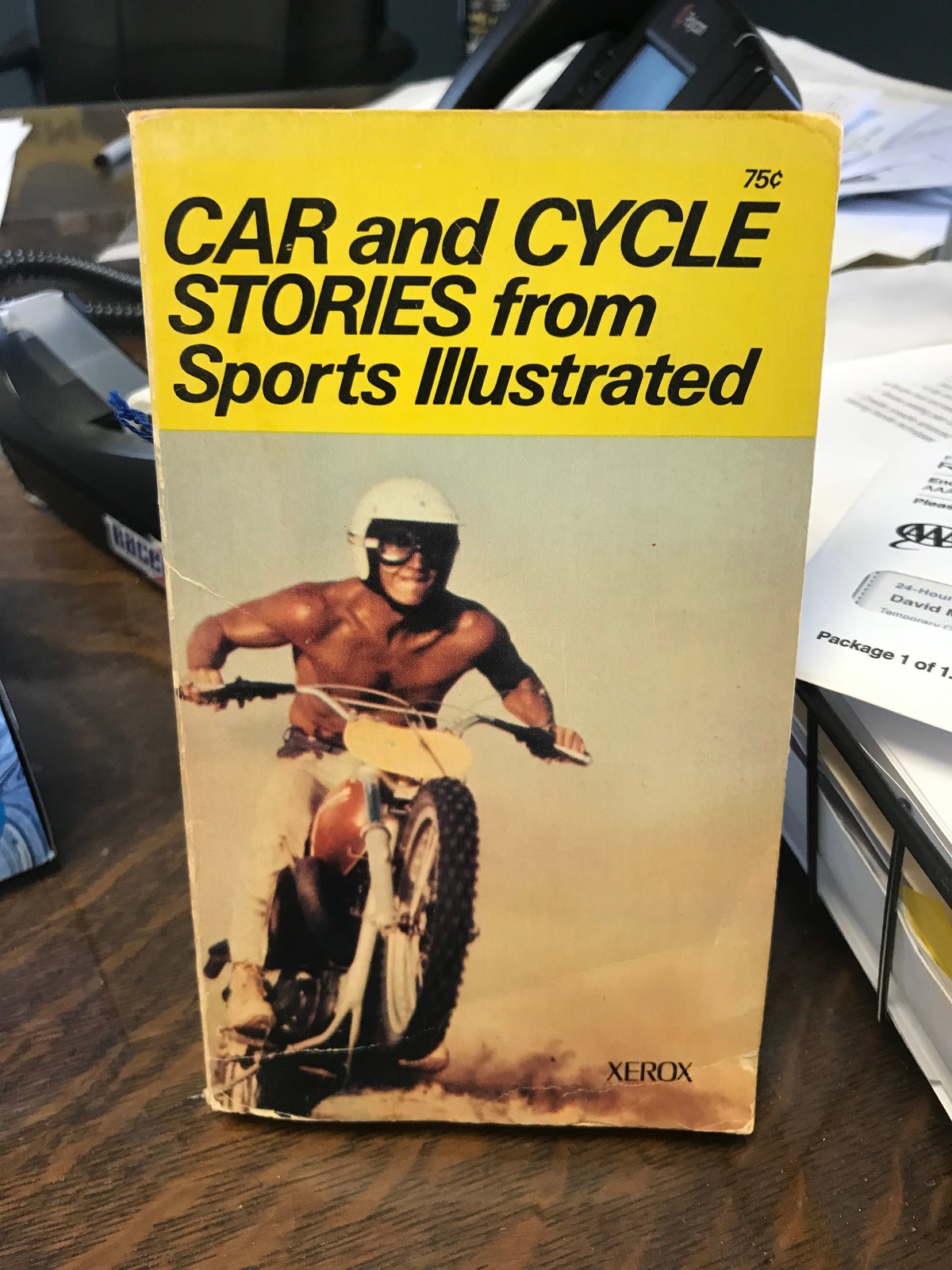 The motocross story included was about the 1971 Inter-Am Series at Saddleback Park, which was called "Riders on the Brink." However, the photo on the front of the book was not from the Inter-Am, but was rather a legendary shot of Steve McQueen riding a Husqvarna, shirtless, in the California desert. The photo first appeared on the cover of Sports Illustrated in 1971, a time when McQueen was one of the biggest stars in Hollywood. He was a well-known motocross and off-road enthusiast, even starring in his friend Bruce Brown's epic motorcycling documentary On Any Sunday.
McQueen's SI cover was one of only three times in the history of the weekly sports bible that a motorcycle appeared on the front of the magazine. The other two were Evel Knievel just before his Snake River Canyon Jump and Kurt Henrickson on a minicycle in a shot from the '73 World Mini Grand Prix. (I don't have all three, but my mom does!)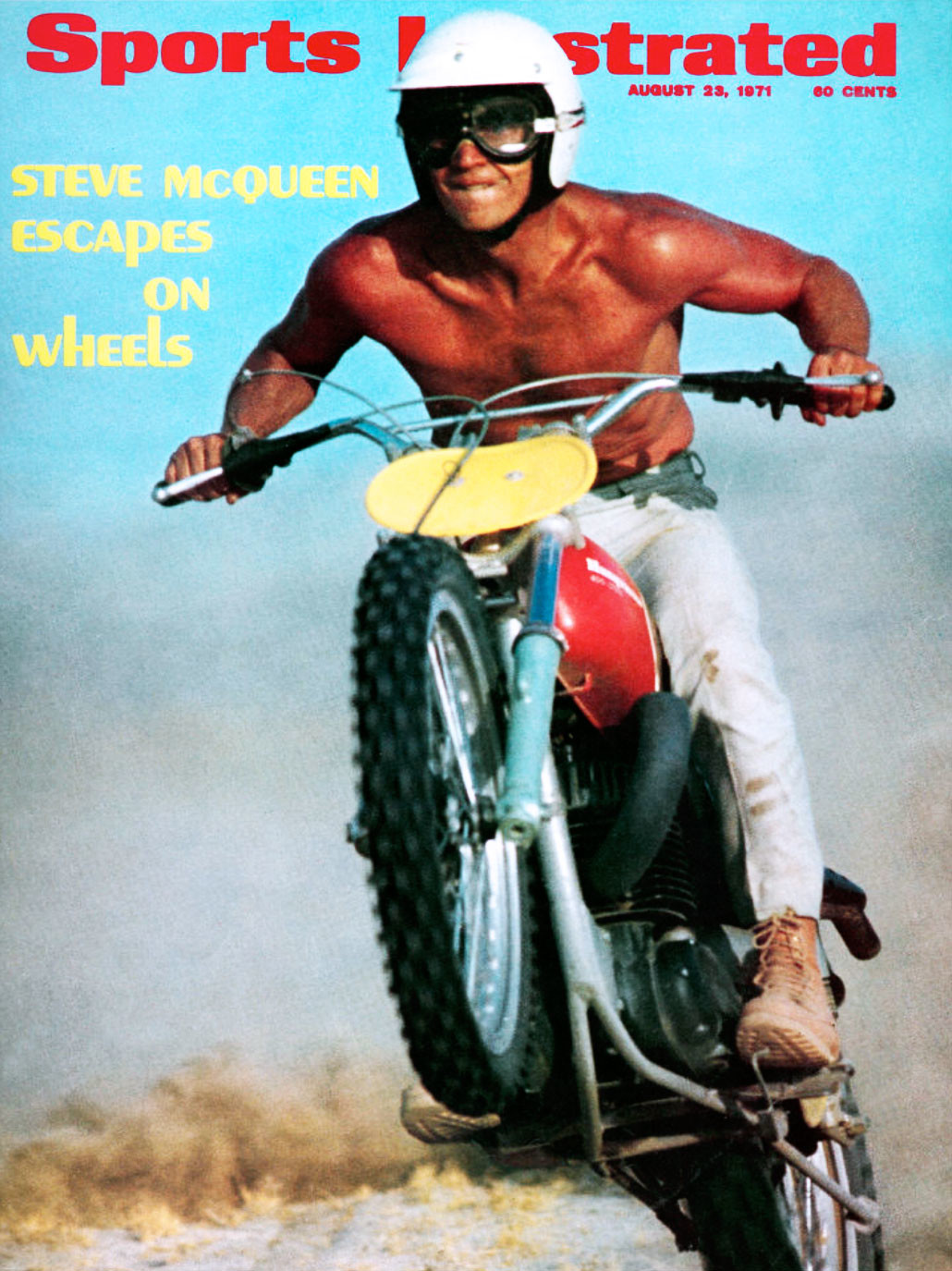 Here's the funny thing: The shot of McQueen that also appeared on the cover of the magazine and also on the book had one flaw: The book designers ran the photo backwards.
Hey, Watch It!
Racer X Films: 2018 Racer X Maine Event All Stars
Racer X Films: 2018 DC Vet Homecoming Highlights
What's scarier than a haunted house in October? Missing Chaparral Motorsports' Annual Monster Parking Lot Sale. On Saturday, October 6, as they've done for 31 years straight, Chaparral Motorsports will have its largest sale of the year. Commonly referred to as the MPLS for short (or just PLS if you want to make it really brief), this is the one time of year where you can find insane deals on a huge inventory of motorcycle, ATV, and UTV tires, as well as gear and accessories. To put it in perspective for those who have never been to the Chaparral Motorsports Monster Parking Lot Sale, the event is so big and there are so many vendors that it can't fit inside Chaparral's massive 160,000 square-foot store and must be held in the parking lot behind the store.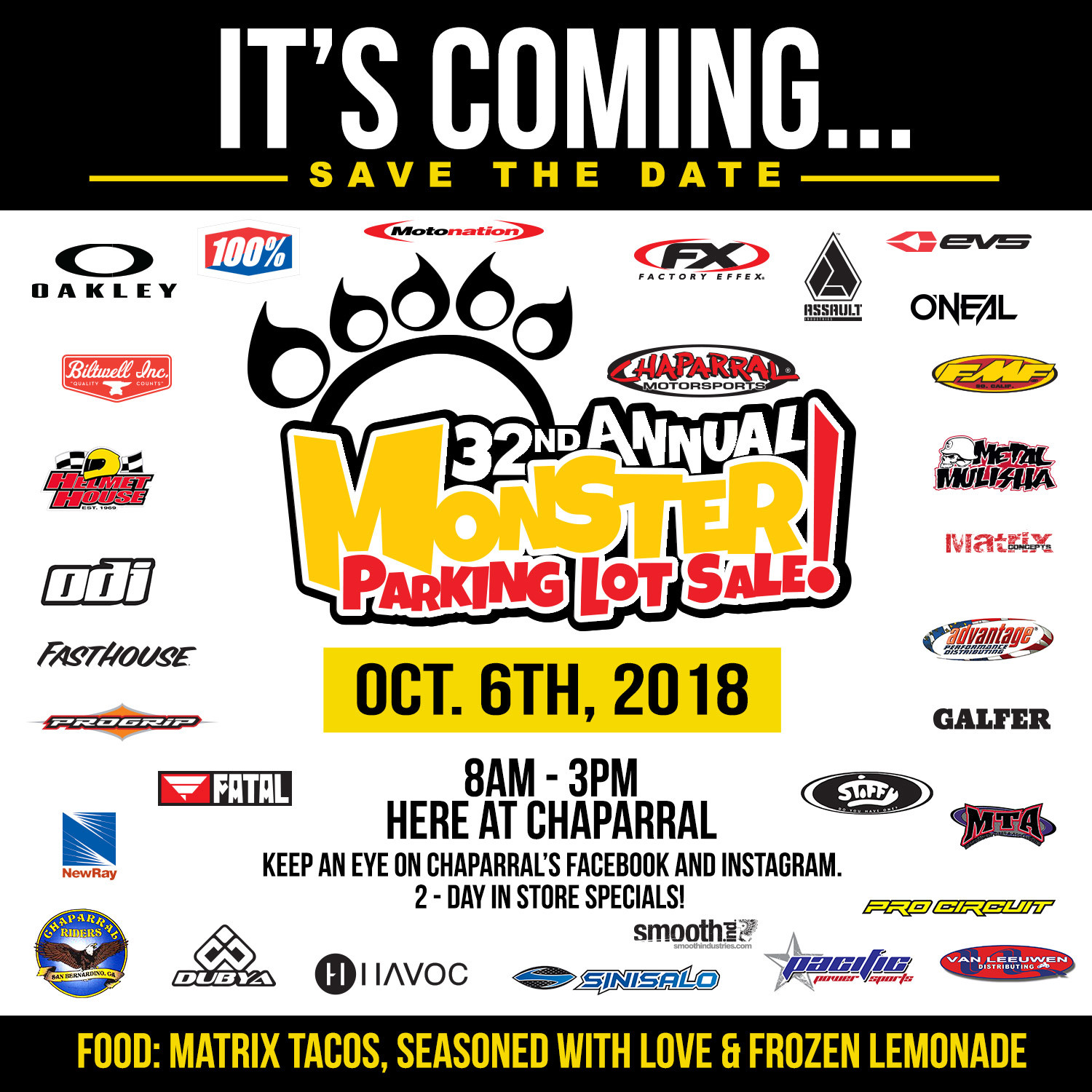 Here are a couple of flyers for a few upcoming races: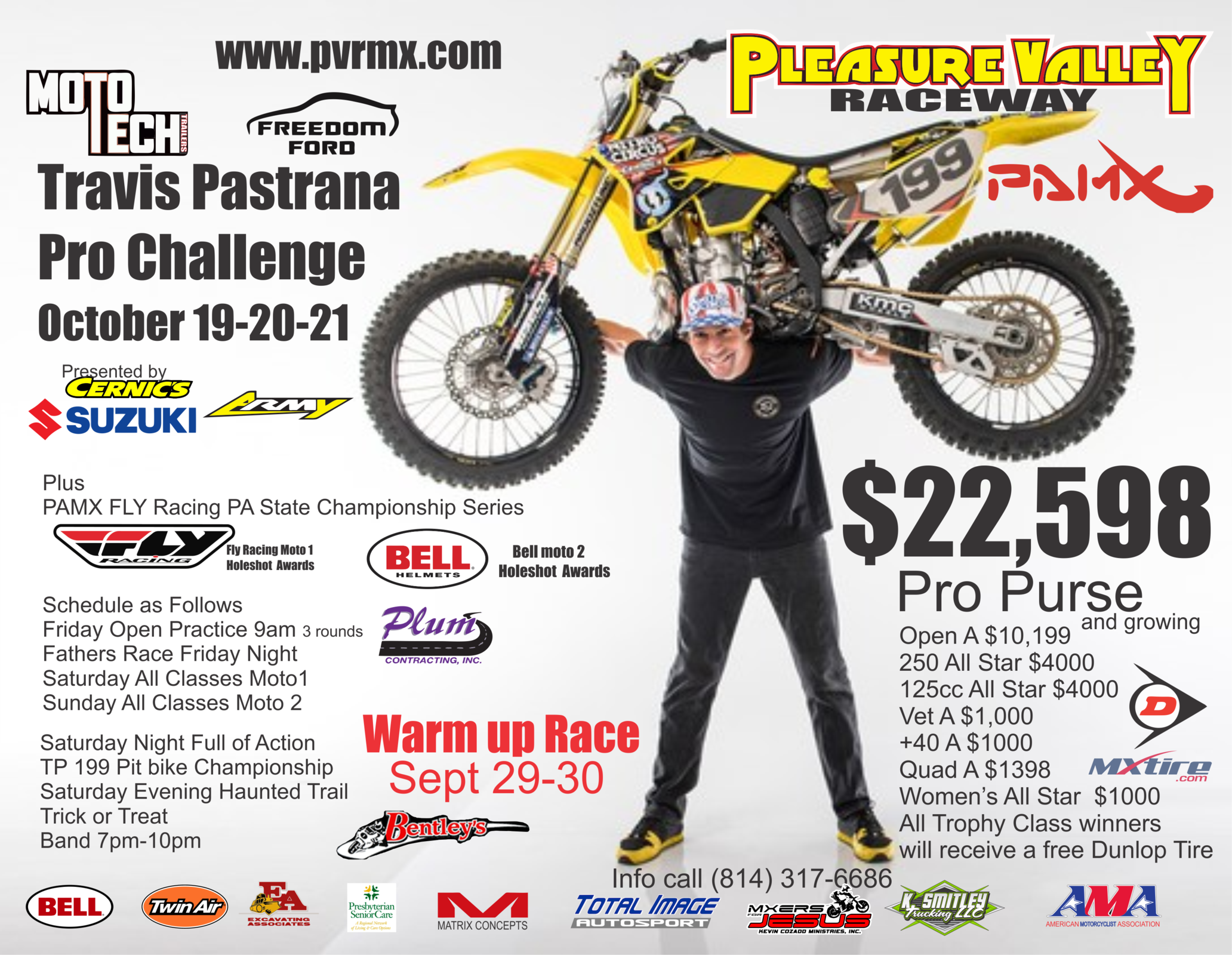 And this race at Glen Helen: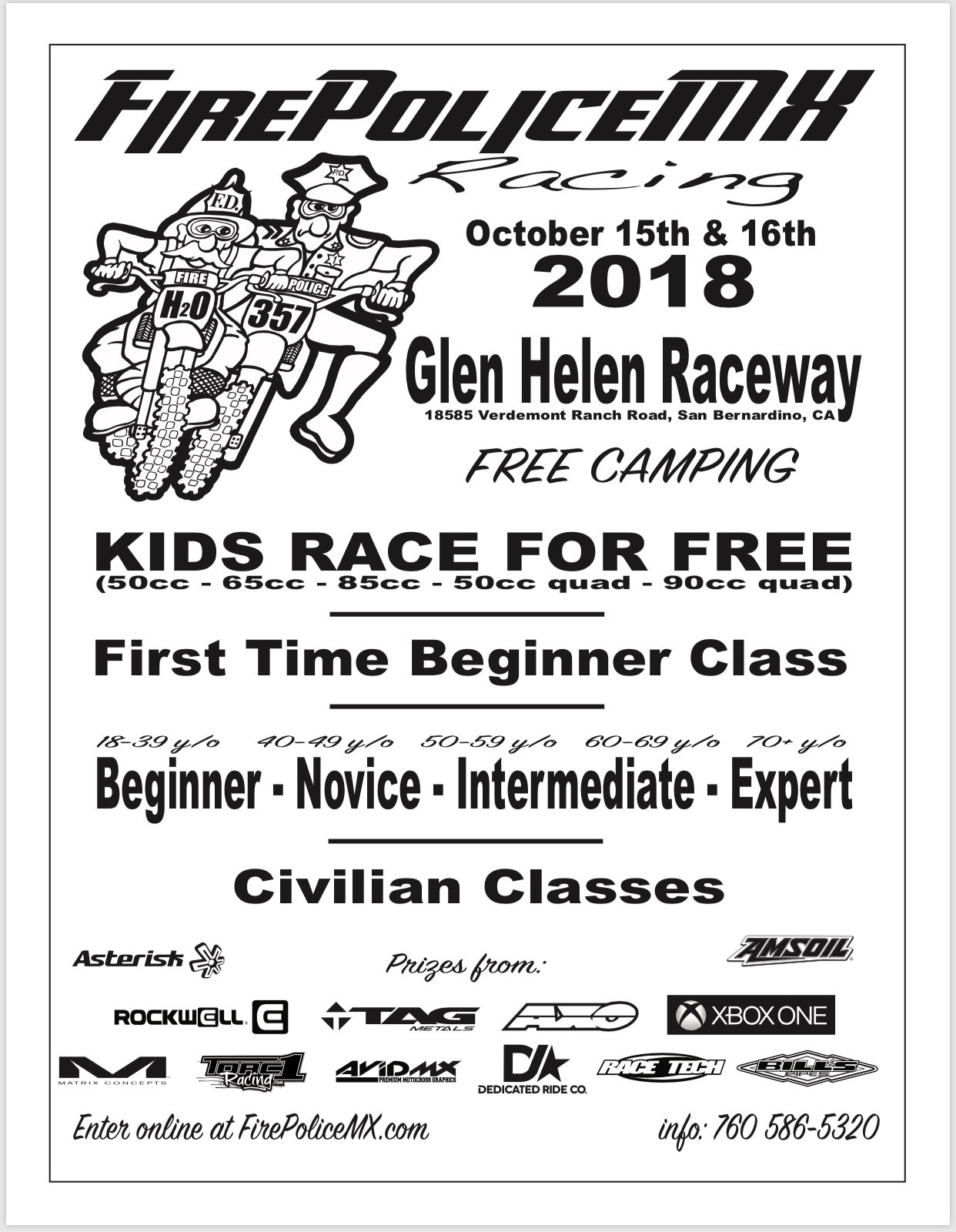 Subscribe or Renew Now and Get a FREE Set of 100% Moto Socks
Subscribe now for as low as $9.98 and receive a FREE set of 100% Moto Socks, plus immediate access to our current digital edition.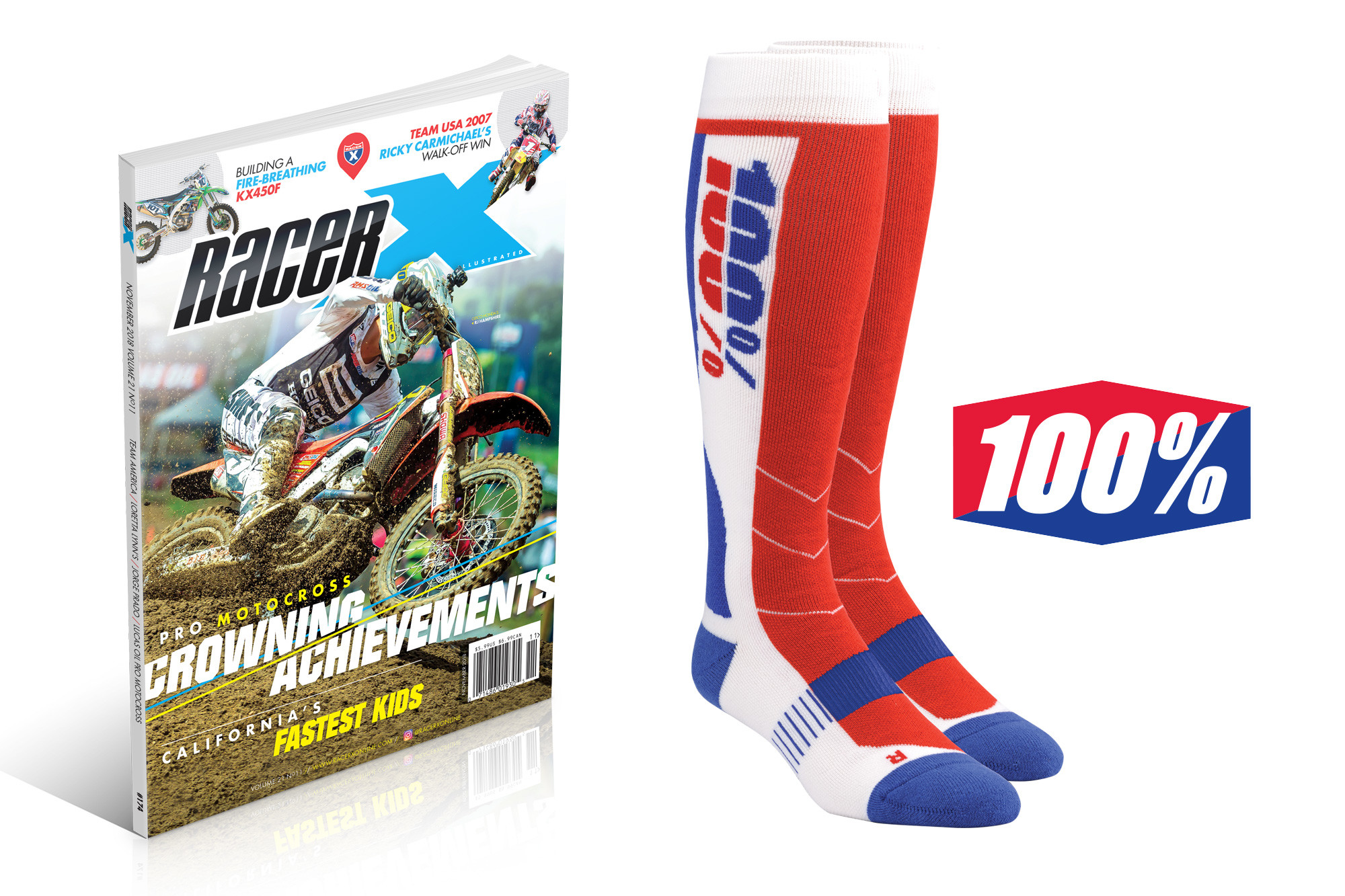 All-Weather Soft Shell Jackets available for Pre-Order!
Racer X Brand is releasing All-Weather Soft Shell Jackets. Pre-Order yours now at a discounted rate to ensure you get yours before they sell out. Pre-Order option is only available until October 2. Upon purchase, please allow 4-6 weeks for shipment arrival. You will be notified once your order has been shipped.
See below for details!
Patriotic Collection Available at RedBud
If you are thinking to yourself "Man, I really to want buy one of those awesome Racer X Brand Patriotic Collection tees to wear at RedBud for MXoN next weekend, but i'm worried I won't receive it before I leave for the race." Fear not! They will be available to purchase at the event in the Racer X Booth, which will be set up on vendor row. Make sure you stop by and get yours before they sell out.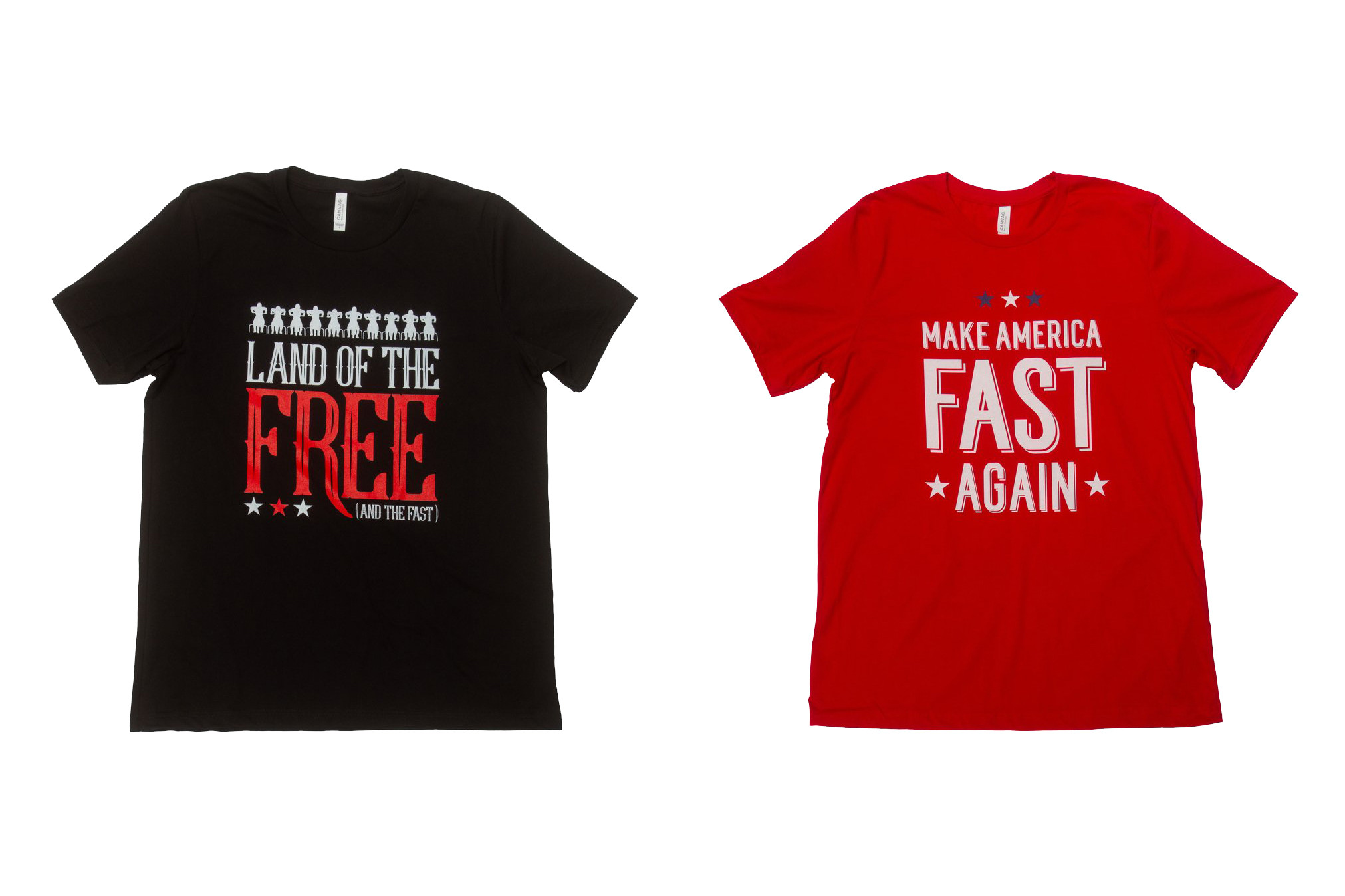 That's it for this week. Thanks for reading Racerhead—we'll see you at the races.