Cody Webb Rebounds to Win Reno EnduroCross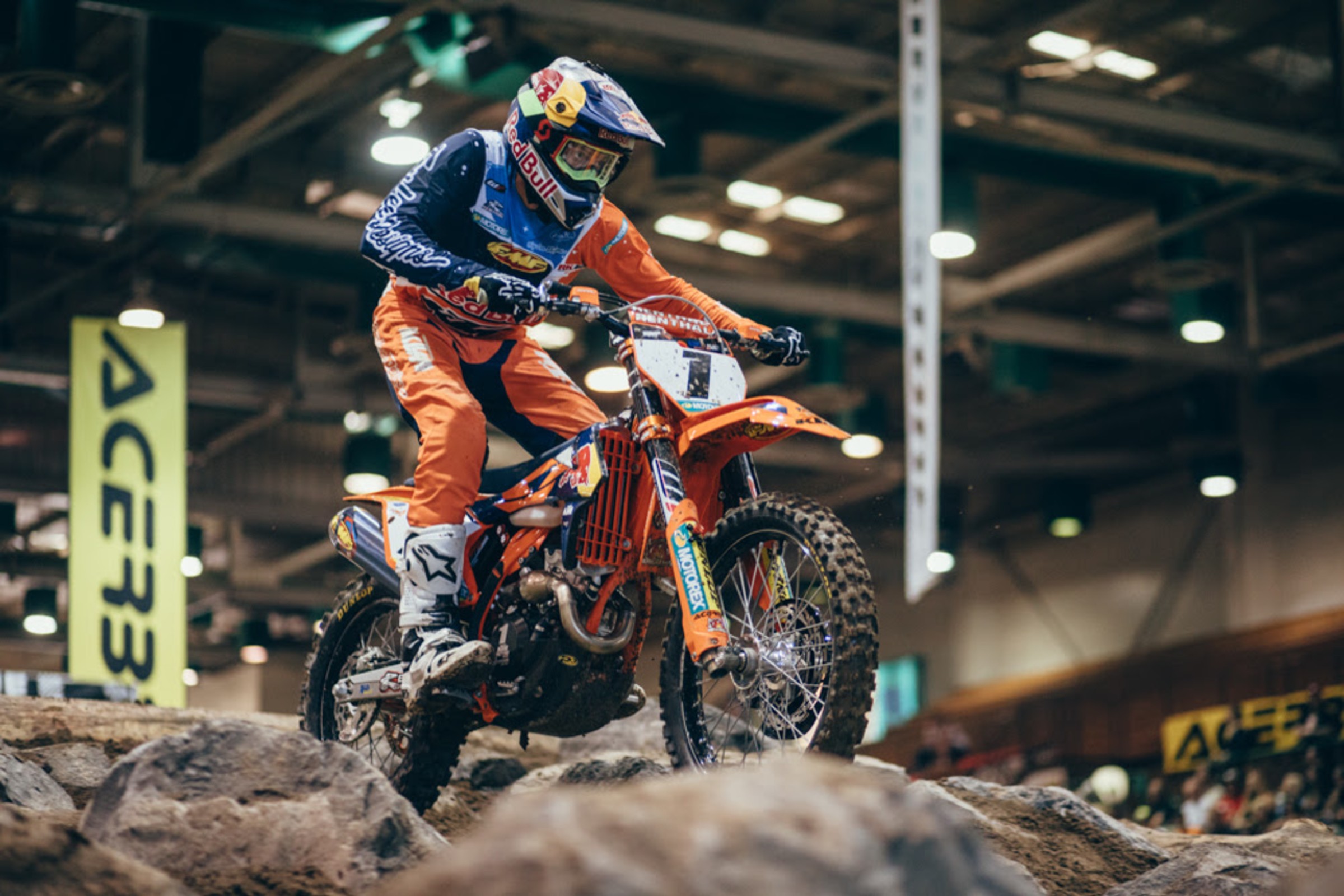 RENO, NEV. – FMF KTM's Cody Webb rebounded from a disappointing round two to win the Reno EnduroCross. Rockstar Husqvarna's Colton Haaker, Webb's primary championship rival, finished second to keep the championship points lead by a single point. Ty Tremaine rounded out the podium on the Alta Redshift electric bike to earn the first-ever AMA professional podium for an electric powered motorcycle.
Haaker started the day strong by edging out Webb for the fastest hot lap time. SRT-Husqvarna's Kyle Redmond set the third fastest time with his teammate, Trystan Hart, fourth. Cooper Abbott rounded out the top five on the RPM KTM.
Haaker dominated the first of the two pro class heat races but forgot to take the No Joke Lane and, therefore, had to go to the Last Chance Qualifier instead of the main event. GasGas backed Noah Kepple moved up to take the heat one win, the first of his career. Redmond, Ty Cullins, Cristobal Guerrero, Abbott and Ryan Wells finished second to sixth respectively to earn main event spots.
In the second pro heat race, Webb took the win over Tremaine. Dustin McCarthy, Geoff Aaron, Giacomo Redondi and Mason Ottersberg finished third through sixth respectively to earn slots in the main event.
The top four riders from each of the above heat races faced off in head-to-head bracket races. The winner earns a bonus point and first gate pick for the main event. With the points leader Haaker not in the brackets, it was Webb's opportunity to gain a point. But Tremaine, who is from nearby Gardnerville, Nevada managed to beat Webb when they faced off in the final.
Cody Webb
"Reno was much better than last weekend. With the injury earlier in the year, I was behind and trying to rely on talent and that wasn't enough. So I spent all week with Trystan Hart, Cooper Abbott, and Cody Miller riding motos to get my intensity back and that helped. I hope Trystan is okay since he was riding so good, so it is a bummer to see him hurt his wrist or arm."
Colton Haaker
"The mistake I made in the heat race (missing the No Joke Lane), it was easy tonight and I was so focused on the track that I just forgot to hit it. In the main, I got an okay start and got to second pretty quick and tried to close on Cody. He was so good in the Matrix and jumping into the rocks that he was putting a couple of seconds on me there. I think I was making up time on the rest of the track but not enough."
Ty Tremaine
"I didn't get the best start so I took the No Joke Lane right away, and then from there, I just started picking guys off one by one. I got into third and then rode my own race. We made history tonight with the Alta, which is crazy. And I did it with all of my family and hometown crowd here, which was so great.
Results
Cody Webb, KTM
Colton Haaker, Husqvarna
Ty Tremaine, Alta
Geoff Aaron, GasGas
Kyle Redmond, Husqvarna
Noah Kepple, GasGas
Cristobal Guerrero, Yamaha
Ty Cullins, Beta
Benjamin Herrera, Beta
Cooper Abbott, KTM
Giacomo Redondi, KTM
Dustin McCarthy, Yamaha
Mason Ottersberg, Beta
Ryan Wells, KTM
Shelby Turner took her second consecutive Women's class win on her KTM. FMF KTM's Kacy Martinez put up a good fight but ultimately finished second. Allie Dorsey rounded out the podium on another KTM.
Destry Abbott won the Vet class on his KTM. Craig Thompson finished second on a Husqvarna and Dan Hayakawa rounded out the podium on another Husqvarna.
James Flynn rode a GasGas to win the Open Amateur main event. David Kamo and Anthony Johnson rounded out the podium.
Dan Hayakawa earned his second podium of the night with a win in the Amateur B main event. Cole Wilton finished second and Jacob Kinkel finished third.
Josh Mouzakis won the TrialsCross main event. Coleman Johnson and Allie Stambaugh rounded out the top three.
Round four will be in Denver, Colorado on October 20.
You can watch all six 2018 AMA EnduroCross events on beIN Sports on the Thursday following the event at 9 pm EST. Get more details at www.beinsports.com.