Nitro World Games To Take Place This Weekend, September 22-23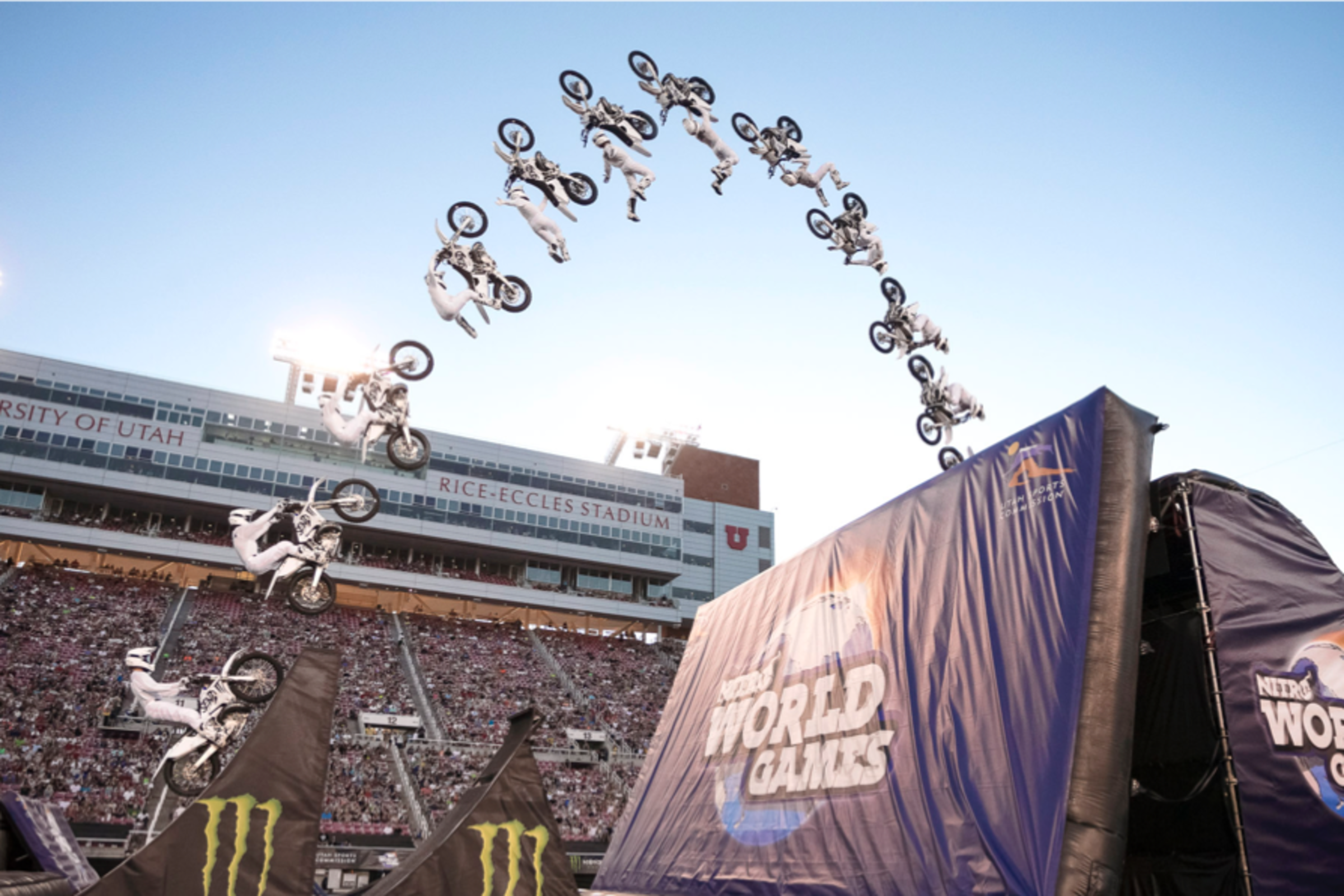 Salt Lake City — The world's best Rallycross drivers and FMX athletes have arrived in Salt Lake City for the planet's premier action sports competition. With the weekend's action forecast calling for high speeds, record-setting heights, and an increased chance of excitement, fans can expect a high-adrenaline weekend thanks to the third annual Nitro World Games. Tickets are still available at www.NitroWorldGames.com.
The flag drops on Saturday, September 22, with the inaugural Nitro Rallycross qualifying races going down at Utah Motorsports Campus. Top drivers including Ken Block, Tanner Foust, Scott Speed, Travis Pastrana, Mattias Ekstrom, Chris Atkinson, Steve Aripin, Patrik Sandell, and Timmy Hansen will go head-to-head on their journey to the first ever NRX podium. Nine renowned drivers each with their own unique style plan to do whatever it takes to make it to the finals. Of the initial nine, only three drivers will make it straight to the semifinals while the remaining six will be left to battle it out in Last-Chance Qualifiers (LCQ). Of the six LCQ drivers fighting for a spot in semifinals, three will make it through putting the semifinal field at a solid six.
Moving into Sunday, six elite drivers will go head-to-head in an intense semifinal where two drivers will be eliminated from the field. From there, the final four will battle it out on the one of a kind rallycross track that features one of the largest jumps in Rallycross history. Click here for an exclusive interview with Travis Pastrana on Nitro Rallycross.
NRX — Saturday, September 22
Nitro Rallycross qualifiers and heat races will air live on Velocity and the Motor Trend app at 1 p.m. PDT/ 4 p.m. EDT.
NRX — Sunday, September 23
FMX Quarterpipe
The Nitro World Games FMX Quarterpipe is a one-of-a-kind, innovative beast that stands 32' tall, 70' wide, and is the largest mechanical moto quarterpipe in the world. With such a massive field of play, fans can expect the moto world height record to be shattered. Only six riders were brave enough to step up and attempt to conquer the beast in its Nitro World Games debut. Fan favorite Axell Hodges looks to carry his success from X Games into this year's Nitro World Games while Colby Raha and underdog Corey Creed know they have what it takes to pull off an upset. Rounding out the field is a highly talented group of riders that include X Games step-up champ Jarryd McNeil, Kohl Denney, and Elijah Aldoff.
Formatting will be simple. Riders will have two attempts to make it over the starting height. Once all riders have made it over the baseline height, Nitro World Games officials will raise the distance to clear by six feet. Any rider who fails to clear the set height with their two attempts will be knocked out of the competition. Finally, when the field is down to two riders, they will go head to head, trading turns on the ramp as they raise the bar, but the riders will always have one last chance to one-up the other rider until a rider misses the set height twice or declines to attempt the set height.
FMX Quarterpipe — Sunday, September 23,
FMX Best Trick
Back by popular demand, the record-shattering Nitro World Games FMX Best Trick competition returns to Salt Lake City for its third year. During the inaugural 2016 Nitro World Games, fans witnessed Gregg Duffy take home gold by landing an unbelievable double front flip on a motorcycle. In 2017, we saw Australian madman Harry Bink land the world's first front flip rock solid on a motorcycle, and as we head into the 2018 Nitro World Games, only time will tell what we'll see accomplished this year.
Each athlete will be given two attempts to execute the best trick of their choice with judges scoring on degree of difficulty in real-time.
FMX Best Trick — Sunday, September 23