The Racer X Maine Event, presented by Uni Filter, is an AMA Pro-Am event on September 14-16 at MX207 in Lyman, Maine. MX207 has joined forces with us (Racer X) and the AMA to make this an official Pro-Am and take it to the next level.
With the pro purse ($15,000) and selected All-Star riders to run bibs as the "riders to beat" in their respective classes, this is shaping up to be the race with the most competition, the most track prep, and the best of times. MX207 has brought in 30 truckloads of dirt for this race. The season is coming to an end in the Northeast, and what better way to send it off than this race?
This is the biggest stage in the Northeast to prove yourself and see how you match up against the best of the best. This is the race you need to get to; this is the race that matters. This is "The Maine Event."
The Racer X Maine Event is a Saturday/Sunday race (four-moto format) with an open practice on Friday from 9:00 a.m.-3:00 p.m. Gates open for the weekend on Thursday at 9:00 a.m. Visit www.MX207.com for more info.
Here are a few more reasons you should attend.
Barrel Racing
Friday night we will be holding head-to-head figure-eight barrel races. These head-to-head match-ups will be double-elimination rounds.
We will be starting at 5:00 p.m. by the barn. It is $5 to enter.
There will be six classes:
50s
65s
85s/ Superminis
125+
Pitbikes Under 18 y/o
Pitbikes 18+
Pro Purse
If you are racing the pro classes this weekend, you can earn some cold hard cash. Thanks to a great group of sponsors, the pro purse has reached $15,000!
The total amount will go to the top ten of both the 250A and 450A classes.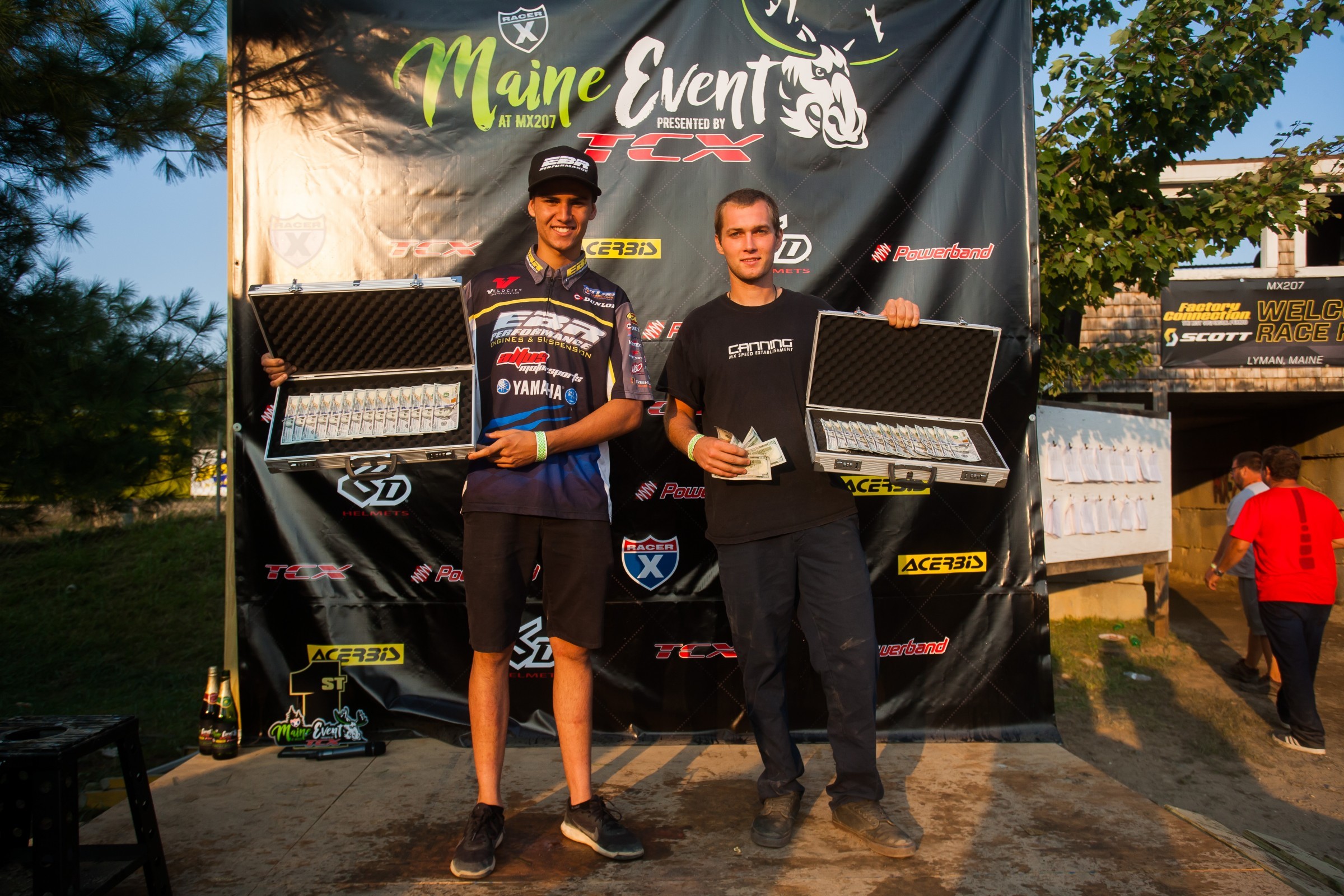 Saturday Night Whips
Saturday night after the racing, we are once again hosting the JBR Best Whip Contest, presented by Race Tech. If your whips are big enough, you'll even have a chance to earn some money. The event starts at 7:30 p.m. by the barn. For about an hour, we'll have big sound, big lights, and big whips.
Sunday Won Day
We'll hand out our own unique awards on Sunday. Besides the pro class winners getting their cut of the big purse, we'll be watching the races all weekend to determine winners in the following categories:
King of the Maine Event
Unsung Hero
Young Gun
Comeback Kid
Lit Kit (to be judged by the Seven Deuce Deuce Adam Enticknap!)
High Mileage
We've got bad-ass trophies to hand out. This will be fun, old-school racing, and if you're anywhere near the New England area, grab your bike, come on out, and hang with us—day and night.
All-Stars
On of the cooler aspects of the race is the All-Star riders. Selected riders—picked by Racer X and MX207—have been chosen to be All-Stars for the event and wear a bull's-eye on their bibs.
Nate Thrasher | Schoolboy
Canyon Richards | 65cc (7-9)
Justin Allen | Supermini
Hunter Calle | 450 B
Kevyn De Pinho | 51cc
Joe Tait | College
We will be keeping a close eye on practice Friday and may be handing out two more bibs, so stay tuned.
To learn more about the All-Stars for this year, check out this article. (FYI: Unfortunately, Nick Romano won't be able to make the event this weekend.)
The Coverage
So where does Racer X come in? We're bringing in a bunch of full-time staffers to shoot videos and photos, write stories, and even announce (Weege is coming, too). If you race here, there's a very good chance a photo or video clip of you will show up on this website, on our social media, or even in Racer X Illustrated. Like you folks, we'll work during the races but get in on the good times and good vibes at night. Be there and hang out with us!­
For more information on the entire event and to sign up, visit MX207.com.