Sevlievo, Bulgaria
MXGP of Bulgaria
FIM Motocross World Championship
A late arranged trip back to Sevlievo in Bulgaria marked round 17 of 20 of the 2018 MXGP Championship. Hot, hard-packed and dusty, the steep inclines of the former award-winning circuit was a throwback to the track prep of former years in MXGP and had words like "old-school" being thrown around in the paddock. The layout was fast and pushed lap times together, meaning outstanding race action was in short supply, but the results were again significant towards the culmination of the MXGP and MX2 championship stories.
1. Touching distance
The Jeffrey Herlings saga is reaching something of a conclusion—mercifully, you could say, for the other riders in MXGP. The Dutchman's 12th 1-1 of 2018 drew his win tally to 14 from 17 rounds, he maintains a 100 percent podium record, and has only dropped seven points from a maximum total the whole year (the Grand Prix of Ottobiano and his absence due to a broken collarbone the main sole blot). If further proof was required that Herlings is the complete racer and without doubt operating at peak performance, then consider that the last five rounds have all been 1-1 and have encompassed such diverse circuits as Loket (marble hard-pack with few overtaking opps), Lommel (the deepest sand test), Frauenfeld (rutty, soft soil), and now the dusty, bumpy, steep hills of Sevlievo. "I feel I am in a good rhythm right now and everything is clicking," he almost understated on Saturday after his tenth qualification heat win. "We'll just try to keep that rhythm going."
Herlings has pulled away from Red Bull KTM teammate Tony Cairoli again in the points and the standings show a gap of 73 with 150 remaining. The tantalizing possibility of Herlings being crowned in front of a home crowd at Assen now makes the Dutch date almost unmissable for the majority of fans in the Netherlands and anyone with a passing interest in the creation of another motorsport legend for the small country.
"For a Dutch guy [to win] on a track like this…? One of my first races outside Holland was here actually in 2004 and I was beaten," he said, referencing Sevlievo. "Now it is 14 years later and we are winning at one of the highest levels in motocross racing. It is quite amazing."
Cairoli holeshotted and rode well for second place in the second moto, but his bad luck in being held up by a falling Max Anstie (rumoured to be considering an AMA 250SX and MX berth for 2019) was detrimental, and the defending #1 missed the podium for the second weekend in a row. The #222 was nursing a slight concern with his right knee after his prang in Switzerland seven days previously, but it seemed to barely inhibit his style and perhaps had more of an impact mentally and in his sense of preparation for Sevlievo, a track where he triumphed on the last visit in 2014.
Although the next race, round 18 in Turkey, is a mystery, it could be a happier hunting ground for Cairoli—he is now rattling the dice considerably for a last throw at a tenth championship.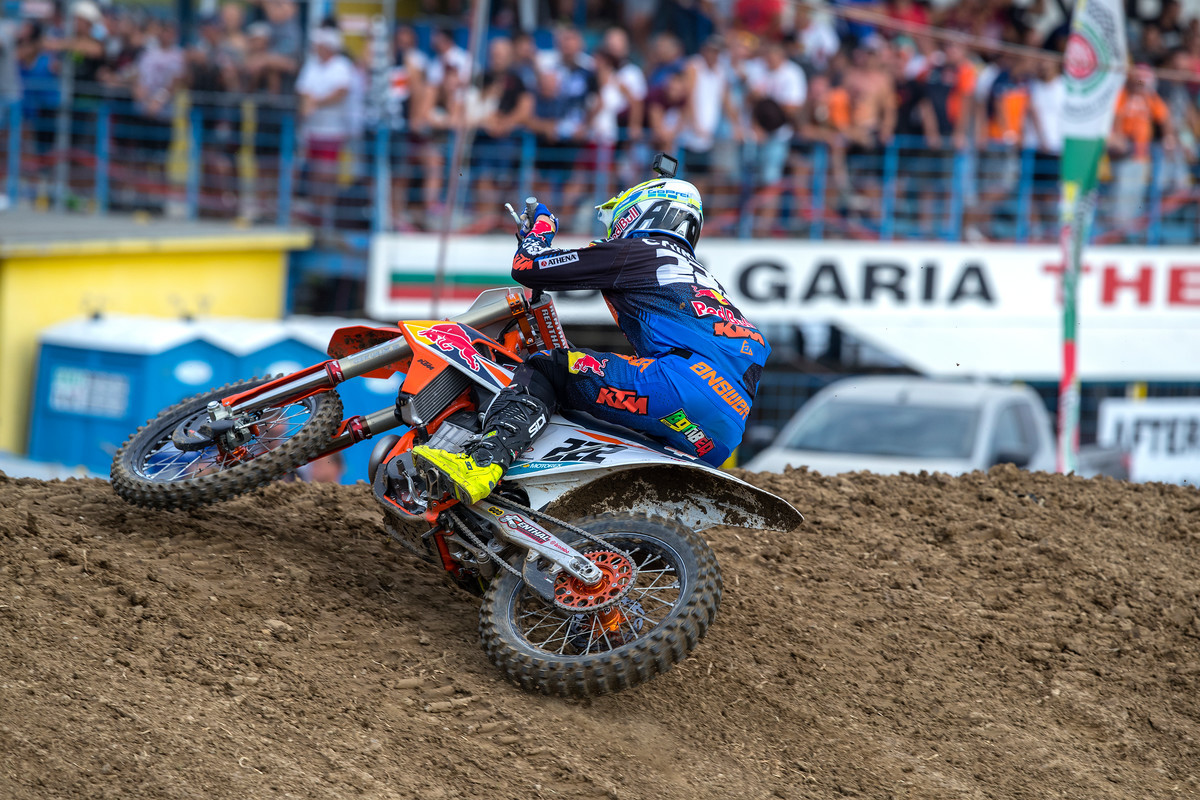 Herlings is barely resisting the temptation to talk about his fate. Although he has been bitten on two separate occasions with margins of more than 140 points in the standings in 2014 and 2015, it is hard not to feel that everything is flying his way. "You have to put a 'safety mode'…but if you think too much, then it affects your results because you are just thinking about the championship and maybe too much," he admitted. "You then get among the other guys…and if you are out front and leading, you can do your own thing and you are safer there. The risk is smaller.
"Obviously with racing, anything can happen, and it can be my fault or a race incident," Herlings continued. "I gave away 50 points already once and I am not planning on doing it again. We just try to stay safe. It is three weeks until Assen, and it would be a dream come true to wrap up the championship there. If not, then Imola, and that's only five weeks away, so I just have to stay out of trouble for five more weeks."
2. Getting closer
If Herlings practices some hesitancy while trying to safely lock the title, it could mean prime opportunities for other athletes to join the surprisingly short list of winners this year. Only Cairoli and Monster Energy Kawasaki's Clement Desalle—third in Bulgaria for his seventh podium finish and battling with HRC's Tim Gajser and Monster Energy Yamaha's Romain Febvre for the bronze medal—have interrupted Herlings' trajectory.
In Bulgaria, it was again Gajser who looked the feistier. "Two good starts, and we made some changes on the bike that worked well," the Slovenian, two years younger than 23-year-old Herlings, said. "We are working hard to beat Jeffrey, but he's really fast this year. I'm just trying to improve myself everywhere."
In MX2 world, champion Pauls Jonass seemed keen to narrow the title duel with Red Bull KTM teammate Jorge Prado, and his overtaking move (a rare sight for the lead in Sevlievo) led to a first-moto win. It was a clutch win--a gauntlet dropped near the feet of Prado. It didn't last. Prado had dug out four second-moto victories on the bounce to claim overall wins in the previous four rounds, and he did so again on this occasion, Meanwhile, Jonass fell foul of the zealous watering and did well just to guide a damaged KTM back to third place.
From what should have been a statement of intent by Jonass to recover some points ended up with more advantage for Prado (now on ten wins and 15 podiums from 17) and a split of 30 with 150 left. The pair also have the likes of Rockstar Energy Husqvarna duo Thomas Covington and Thomas Kjer Olsen, as well as 114 Honda Motorsports' Hunter Lawrence, wanting a say. Lawrence in particular has impressed and recorded two top-three results in succession for the first time in his career. Such a shame that early-season injury and time to get the most out of the Honda dropped him firmly out of the frame for the bigger picture. "I'd love to get on the podium and try to win one before we go…but I'm not super motivated about a seventh overall," he confessed with regards to his dwindling MX2 opportunities before America calls.
Another outgoing racer for 2019, Covington, should have interfered in the KTM dynamic again after winning qualification, but was slightly off-song in the first moto to fourth. Later, a crash at the start of the second moto put him back to seventh overall.
3. Someone's fancy
Sevlievo enjoyed a decent attendance for the first visit by MXGP in four years. The facility opened in 2002 and was mired by Pit Beirer's accident for the 2003 Grand Prix, but has since gained acclaim for the practical and functional setup and investment by the local club. The plaudits led to the vast adjacent sign proclaiming Sevlievo as "the best motocross track in the world."
"For the best motocross track in the world, it is a little bit dusty and slippery," Lawrence deadpanned for what was his Grand Prix debut at the course. "I don't know about that!" Herlings said, "but I like the track and have enjoyed being here."
Sevlievo may have its limitations and has been frugal with memorable races—it is simply too wide-open and suffers through strange watering in an attempt to contain the dust, which means the opening laps are a process of cagey caution from riders instead of all-out attack—but it has undeniable character. "It is one of the few old-school hard-pack tracks left on the calendar," Jonass said.
"It is a fun track and the layout is cool with fun jumps," offered Covington.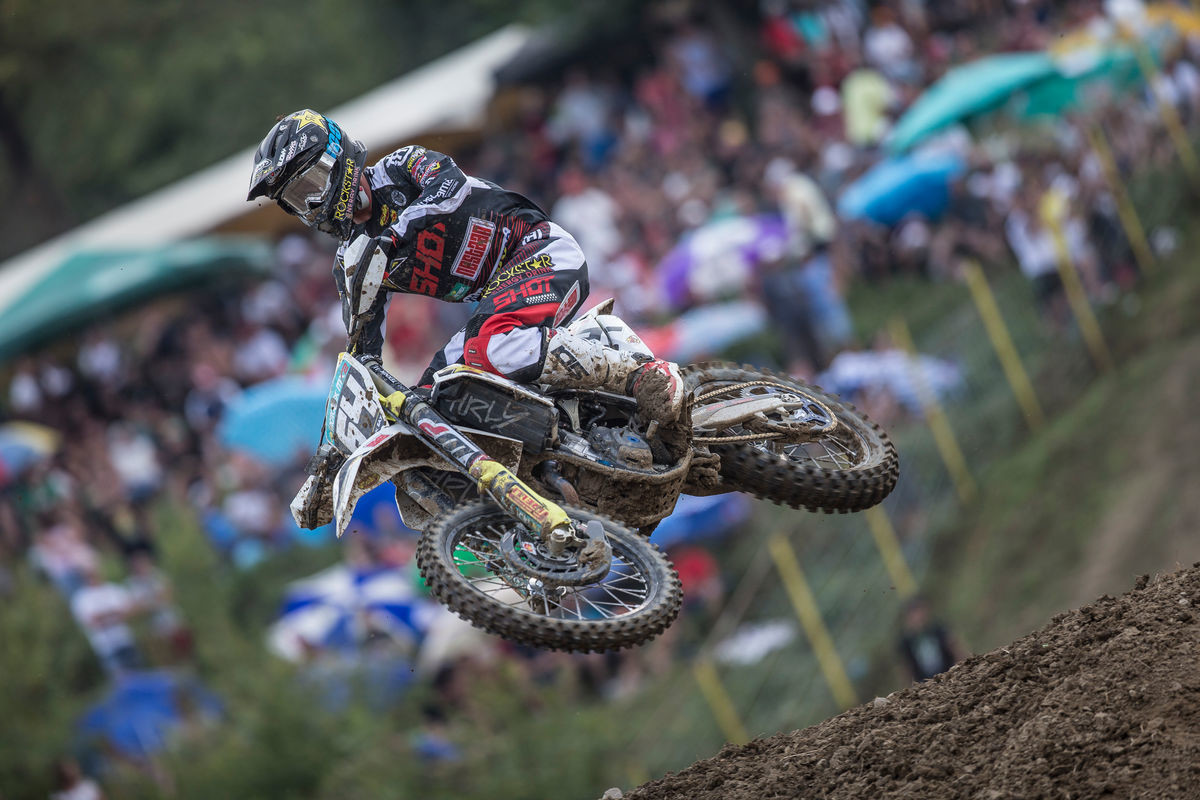 "This track could be one of my favorites," Prado said. "I really like the design, even if I am not the fastest on this type of surface. I enjoyed it a lot and it was something totally different to what we had last week when there was no elevation. Here there were a lot of uphills and downhills. It was fun and really challenging."
Sevlievo was costly. A crash ruled HRC's Calvin Vlaanderen out of the second moto and has dented his hopes of joining Olsen and Kemea Yamaha's Ben Watson in the tussle for third place in the MX2 championship, and Jonass was also a victim. In MXGP, Romain Febvre tucked the front end at the bottom of the hill and was ruled out of podium contention while a bright first moto from Monster Energy Kawasaki's Julien Lieber was ruined by a trip into the fence in the second.
Bulgaria came into the calendar as a hasty replacement fixture, but there were signs and a positive enough reception that it could surface again for '19. Next up, MXGP will now have a fresh discovery in Turkey for the third Grand Prix on the bounce.