Ironman Raceway
Crawfordsville

,

IN
Ironman
Lucas Oil AMA Pro Motocross Championship
Welcome to the Race Day Feed, coming to you from Ironman. Round 12 of Lucas Oil Pro Motocross is set to play out today, and right here is where you can keep track of all the action. We'll be posting updates right here on Racer X Online all day, so be sure to check back often. Posts are in chronological order, so scroll to the bottom for the latest info.
Morning Report
Welcome to Ironman Raceway in Crawfordsville, Indiana, and the final round of the 2018 Lucas Oil Pro Motocross Championship. The bad news: it has been raining throughout the morning and qualifying has been delayed until 9:30 a.m. local. The good news: the rain is expected to pass by the start of the first motos.
Qualifying has been cut to one 20-minute session due to the weather. The Consolation races are expected to go as scheduled. There is a possibility that the 125 All Star race could be moved to the end of the day, but that will be determined later in the morning.
Unfortunately, this isn't the first time the venue, which has been on the Pro Motocross circuit since 2014, has had to deal with inclement weather. The first year the race was held at the venue, rain pounded the circuit early in the morning and there was an epic mudder. Due to rain earlier in the week, the track already had water built into the soil. Usually the track would be dug deep, but the track was sealed in hopes that the water would bounce off. So the soil is hard packed and muddy.
Rain is probably the last thing Eli Tomac wanted to see this morning. The Monster Energy Kawasaki rider enters today with a 20-point lead over Marvin Musquin in the 450 Championship. If Tomac wins the first moto and Musquin finishes third or worse, he will clinch his second straight title. Mud will certainly throw a wrench in the title equation today, but Tomac certainly has the most chips stacked in his corner.
In other news, Chad Reed makes his return to Pro Motocross. When Reed lines up in the 450 Class, it will have been 1,169 days between Lucas Oil Pro Motocross starts for the 2009 450 champion. Since shutting down his TwoTwo Motorsports team after High Point in 2015, Reed has been on a supercross-only deal (although he did race a few MXGPs in the last three years). Reed said he wasn't planning on being in "race shape" for another six weeks, but that it was a great opportunity with Autotrader/Yoshimura Suzuki and a chance to do what he loves: race.
Reed rode press day yesterday and Racer X's Jason Weigandt said he looked good. Weege also talked to Chase Sexton, who witnessed Reed's motos this week:
Talked to Chase Sexton, the only source who witnessed Reed's motos at home this week. The world is relying on his account. "He's top ten for sure." Chase also says Chad must be tough because he didn't seem to get tired doing 30 Plus 2s. Says 22s lap times were good too!

— Jason Weigandt (@JasonWeigandt) August 24, 2018
In other JGR news, Weston Peick is out after undergoing surgery earlier this week to repair torn tendons in his hand. The team will get Justin Hill back after he missed Budds Creek due to a knee injury. Monster Energy Kawasaki will once again be without Josh Grant, who continues to deal with a leg injury. For a complete injury report, go here.
Nothing on the line but pride today for the 250 Class, as Aaron Plessinger wrapped up the title last weekend at Budds Creek, adding it to his 250SX West Region title from earlier this year. This will be the last Pro Motocross race on a 250 for Plessinger, as Yamaha announced this week that he's signed a multi-year deal with Monster Energy Yamaha to move to the 450 Class for 2019 and beyond. Plessinger will race the 250 in the Motocross of Nations at RedBud in October.
Qualifying will get underway shortly. You can watch coverage all day on NBC Sports Gold app. MAVTV will have coverage of the first motos at 1:00 p.m. EST. NBC Sports Network will air delayed coverage of the second motos on Sunday at 3:00 p.m. EST.
Qualifying | 250 Class
The first, and only, qualifying session of the day has wrapped up at a muddy Ironman Raceway, and we have some surprises in the 250 Class. The B session, which was first on the track, was far and away the fastest, so we have some new faces at the top of the charts.
Hunter Sayles was the fastest qualifier of the day with a 2:31.149. He was followed by Cody Vanbuskirk, Michael Hand, Maxwell Sanford, and Jeffrey Walker. Joey Savatgy was the fastest in the A session, but just 11th overall.
Of course, this means we will see some factory riders not in the motos, as the Consolation races have been cancelled.
Here is what the rulebook states:
The current top 10 riders in points will be automatically seeded into the national motos. For Round 1, the top 10 riders from the previous year's final standings will be automatically seeded. Provided, however, that seeded riders must have at least one time posted or complete one lap during timed qualifying sessions in order to compete in the national motos.
The next 26 riders will be determined based on the top 26 qualifying times (excluding seeded rider times).
A Consolation Race will be held to determine the last 4 positions for the national motos. Riders with the next 40 qualifying positions will be eligible for the Consolation Race.
With no Consolation race, the next 30 riders will be determined based on the top 30 qualifying times (excluding seeded times.)
So, Mitchell Harrison, who is not top ten in points and qualified 62nd is out for the motos today. Same for Jimmy Decotis, Sean Cantrell, Hayden Mellross, Enzo Lopes, Ryan Sipes, and more.
Ironman - 250 Group A Qualifying 1
Full Results
Ironman - 250 Group B Qualifying 1
Full Results
Ironman - 250 Combined Qualifying
Full Results
Here is the starting lineup for the first 250 moto.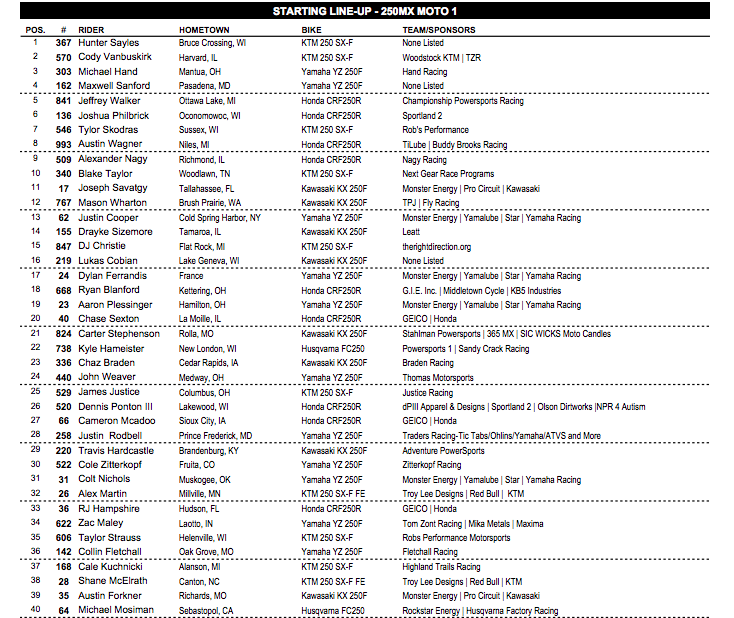 Qualifying | 450 Class
The A session was out first in the 450 Class, so no surprises up front. Eli Tomac was the fastest qualifier with a 2:41.816. He was nearly two full seconds faster than Justin Barcia, who put down a 2:43.059.
Marvin Musquin was third fastest, followed by Ken Roczen, Phil Nicoletti, Jason Anderson, Chad Reed, Kyle Cunningham, Benny Bloss, and Joey Crown.
Cooper Webb was just outside the top ten in 11th. He was followed by blake Baggett, Cody Cooper, Justin Hill, and Valentin Teillet.
Rain is still coming down as of noon (local), so the motos will definitely be muddy.
Ironman - 450 Group A Qualifying 1
Full Results
Ironman - 450 Group B Qualifying 1
Full Results
Ironman - 450 Combined Qualifying
Full Results
250 Moto One
The first 250 moto was all about survival of the fittest. Except for maybe Aaron Plessinger. He seemed to be enjoying himself, using his long legs to navigate through the deep, muddy ruts en route to the first moto win.
The holeshot went to Justin Cooper over Chase Sexton and Plessinger. Cooper opened a decent gap early, stretching his lead over Sexton to around four seconds. But no lead is safe in these conditions and Sexton began to chip away. On lap six, Sexton took over the lead for the first time on the day. He had company, though, as Plessinger was starting to find his form in the mud after stopping to get a fresh pair of goggles.
Even with his clutch smoking, the next lap Plessinger made his way into the lead and began to open a huge gap. By the final lap, Plessinger had built his lead to more than 20 seconds—and he actually needed it, as he tipped over on the final lap and only won by 4.9 seconds.
"It was gnarly. It was fun," Plessinger said on MAVTV.
The battle for second was between Sexton, a charging Dylan Ferrandis, and Cooper. Ferrandis had worked into second and was trying to get Sexton for second but he suffered a mechanical with two laps to go. He had lapped all the way up to tenth, so despite the mechanical, he finished inside the top ten.
Sexton also went down with two laps to go, but he was able to remount and still take second over Cooper.
RJ Hampshire took fourth, 2 minutes and 30 seconds behind Plessinger. Shane McElrath, Michael Mosiman, Austin Forkner, Colt Nichols, Alex Martin, and Ferrandis round out the top ten.
Ironman - 250 Moto 1
Full Results
450 Moto One
The 450 title will come down to the final moto of the year, as Marvin Musquin put in a late charge to pass Phil Nicoletti for fourth and keep the gap at 24 points behind Eil Tomac entering the final moto.
The holeshot went to privateer Dylan Merriam as he just edged Chad Reed. Justin Barcia, Nicoletti, Tomac, and more were up front early. Merriam nearly lead the entire first lap but was passed by Barcia with a few corners to go. Merriam crashed a few times after that and eventually pulled out of the moto.
Barcia made a mistake on the second lap and Nicoletti took advantage to grab the lead. Tomac was in third and charging as well. On the third lap, Barcia ditched his goggles, but it didn't seem to slow him down as he and Tomac both caught Nicoletti. On lap five, Barcia retook the lead and Tomac moved into second, but a lap later he went down in a turn and Phil took back over second.
With Barcia running away out front, Nicoletti began to lose pace. Tomac repassed him on lap eight and Musquin caught him with two to go. Reed also got him on the final lap for fifth.
Tomac nearly clinched in the first moto. He held enough points throughout much of the moto to clinch, but Musquin put in a huge charge late to grab fourth and push the championship to the second moto.
Barcia cruised to the moto win, his first since Washougal in 2015, by 21.3 seconds over Tomac, who will carry a 24-point lead into the final moto. Roczen finished third with Musquin and Reed rounding out the top five.
Ironman - 450 Moto 1
Full Results
250 Moto Two
Following a 30-minute delay to the start of the second moto due to track maintenance, it was GEICO Honda's RJ Hampshire grabbing the holeshot in the final 250 moto of the year. Teammate Chase Sexton and first moto winner Aaron Plessinger were second and third out of the gate.
Plessinger wanted to get in the clear as quick as possible and charged to the lead on the opening lap. By lap three he had built a 3.5 second lead. By lap 12, his lead had ballooned to 18 seconds over second.
Hampshire fell back to fourth early in the race after he crashed. Sexton suffered the same fate a few laps later and gave second away to Plessinger's teammate, Colt Nichols.
As Plessinger built his lead, the only battle to materialize was for third, as Dylan Ferrandis tried to make it a Star Yamaha 1-2-3 moto finish. He caught Hampshire, but the Budds Creek overall winner held strong late and took third behind Plessinger and Nichols. Ferrandis took fourth ahead of Sexton.
Sexton was penalized one position after he went down late and cut the track. He was credited with sixth behind Austin Forkner. Justin Cooper took seventh ahead of Joey Savatgy, Alex Martin, and Shane McElrath.
Plessinger ends his Pro Motocross 250 career with a 1-1 and the overall over Hampshire and Sexton. It's the second straight week the trio made up the 250 podium.
Ironman - 250 Moto 2
Full Results
Ironman - 250
Full Results
Motocross 250 Standings - 2018
Full Standings
450 Moto Two
Eli Tomac certainly didn't make it easy on himself, but for a second straight year he is the 450 Class Champion in Lucas Oil Pro Motocross.
Chad Reed took the far inside for the second time and pulled the holeshot. Meanwhile, Marvin Musquin started right beside Tomac and pinched off the points leader. Tomac started outside the top 20, while Musquin was around fourth.
First moto winner Justin Barcia took the lead on the opening lap. Roczen followed and Reed fell back to ninth (we're not sure if he crashed or not). By the end of the first lap Tomac had worked up to 15th, which was easily enough for the title, even if Musquin won.
As Tomac was making his way through the field and into the top ten, Musquin was catching Cooper Webb. The rumored future teammates at Red Bull KTM, and former 250 rivals, had a good battle with Musquin finally taking the spot. Musquin ran into a lapper shortly after and lost the spot, but he would eventually retake the position and finish third.
Up front, Roczen pulled close to Barcia a few times, only to see Bam Bam extend his lead. Late in the race Barcia pulled a gap and went on to the second moto win by 15.3 seconds—despite two tip overs with two laps to go. Roczen took second over Musquin, Webb, and Blake Baggett.
Canadian Tyler Medaglia finished sixth ahead of Phil Nicoletti and Chad Reed. Tomac finished ninth, which was more than good enough for the championship. Valentin Teillet rounded out the top ten.
The overall went to Barcia, his first overall win since RedBud 2015. Roczen and Musquin rounded out the podium with Tomac in fourth.
Ironman - 450 Moto 2
Full Results
Ironman - 450
Full Results
Motocross 450 Standings - 2018
Full Standings