Mechanicsville, MD
Budds Creek
Lucas Oil AMA Pro Motocross Championship
The penultimate round of the Lucas Oil Pro Motocross Championship took place at Budds Creek Motocross Park in Maryland this past weekend, and it was another good one. An unexpected winner and some Eli Tomac magic made the race pretty exciting. Well, maybe not for Marvin Musquin, but just about everyone else. Let's dive into the day that was at Budds, yeah?
GEICO Honda team manager Dan Betley is a motor guy at heart. Yeah, sure, he wears the team manager hat at the races and seems pretty official, but I'm pretty sure that Dan would rather be on a dyno than behind a desk most days of the week. Dan's been over at GEICO this year in the spot of longtime manager (and team legend) Mike LaRocco and he's been been working really hard to dial in the all-new Honda CRF250R. And at times this year (Southwick being one of them) Betley's been a bit frustrated at the team's performance while at the same time acknowledging the motor edge that the Star Racing Yamahas seem to have over everyone else in the 250 Class.
Dan's been hard at work and the bike's gotten better. This weekend RJ Hampshire delivered his first national win with great 2-1 rides. Hampshire always has been fast, but he either can't get starts, he crashes, other riders run into him, or has small injuries that hold him up. In a class where experience pays off, Hampshire should be consistently more up front than what he has been. They say the hardest win to get is your first one (apologies to his MX2 win at the USGP last year; that ain't the same) and I bet Hampshire gets to a new level now. He looked terrific at Budds.
Both RJ and second-place Chase Sexton credited the bike's improvement for their finishes:
Hampshire: "Our bikes came a long way. I don't know if you noticed, but we've definitely picked up the horsepower and stuff. The guys are working hard. We were behind, and they'll tell you that, too."
Sexton: "The chassis has been solid since we got the bike, but we've honestly struggled really bad with the motor. But we made a lot of progress at Washougal, I think, coming in. I actually went to California for a day to test and I was there from 9 to 5 at Glen Helen just trying to make the motor better. We found some stuff and it's been solid. Today I was really happy with the bike and could actually pull some of the Star bikes up the hill, which was nice. It feels good to have the bike—it's going to be really good next year, but we're making progress for sure."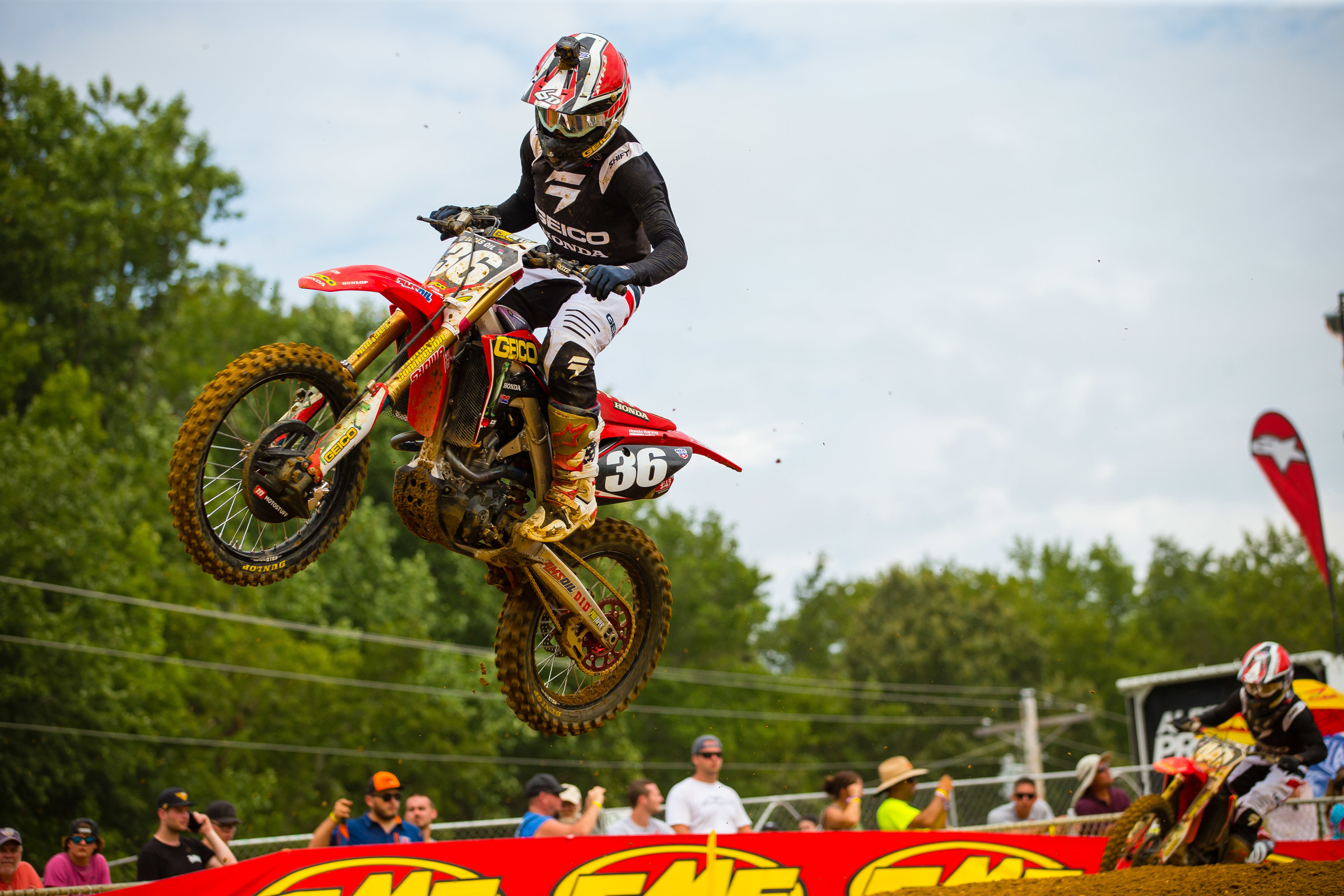 So congrats to the riders, Betley, Kibby, and everyone over there at GEICO Honda for working hard, and they were rewarded with a one-two day and with GEICO headquarters located in Washington D.C. It couldn't have come at a better place.
Aaron Plessinger clinched his first national championship in style, taking the first moto win and putting a stamp on his season. Plessinger's been a revelation this year, and when he's on, he's almost unbeatable. Here's something interesting. Last year's champion, Zach Osborne, wasn't really liked by the Pro Circuit guys; and the champion in 2016, Cooper Webb, had some enemies out there as well. Heck, Jeremy Martin, the two-time champion, was battling his own team at times during his title runs!
But Plessinger, man, he's liked by just about everyone. The "woods guy" is funny, he gets along with everyone, he laughs at just about everything you ask him, but underneath it all, he's got some serious skills. You never hear other riders talk about having beef with AP. What a season for him indoors and out, and if the rumors are correct, we won't see him defend either title in 2019.
Here's what I wrote about Plessinger in 2016 from the Unadilla National, where I talked about how he can be so fast at certain points in the race:
Here's the problem for Aaron: why can't he do this more often? After challenging for the 250SX East Region title (but seemingly riding worse when he was close to the points lead) Plessinger has now had an up and down outdoors (High Point was a good one) which includes some races where you don't notice him all that much. But then you get these races where he's amazing! So maybe he's the new Robbie Reynard? To me, if you can do it once, you can do it again. What a couple of rides by Plessinger.
Well, folks, he's not the new Robbie Reynard… he figured it out!
Ken Roczen started a stir in the pits when he showed up with a kickstarter on his 2018 CRF450R. Normally these bikes come with e-start, but as we've seen with Justin Brayton this year indoors, you can put the kickstarter back on and run it. The bike gets a little bit lighter, and according to Brayton, the motor feels a little snappier because you don't have a starter gear dragging off the crank. I asked Oscar, Roczen's mechanic, about it and he said that the points leader in the class (Tomac) had one, so they thought it could bring them luck. So, yeah, didn't get anywhere with that one.
I heard through some sources though that this was more of a Roczen 2017 setup than just putting on a kickstarter. I wasn't able to ask Roczen about it, but that would make more sense than just bolting on a kicker and calling it day. Considering some OEMs freak out about a suspension company change that's different from what comes on a bike stock, putting "older tech" on Roczen's current race bike had to probably be signed off by 73 different people at Honda. But hey, happy rider equals happy life, right? Roczen rode great all day long and almost pulled off the overall. Viva la kickstarter!
Something I thought would be fun to do is try and predict what I thought was going to happen at Budds Creek, so Friday night at 6:46 p.m., I sent Stallo and Weege an email with my predictions in it. [Ed: We can verify that Matthes did indeed send his terrible predictions to us prior to the races. —Stallo]
How did I do? Well, here goes nothing…
I predict that the weather will be fine all day, despite the call of thunderstorms.
We'll start off with a perfect score. The storms held off and it was a perfect day of racing with some cloud cover at some point. Super humid though, bro.
I predict that Austin Forkner will get a holeshot, maybe Joey Savatgy.
Ah, c'mon! Forkner was half a bike length behind Aaron Plessinger in the second moto when they hit the stripe. GIVE IT TO ME! What's that? No? Well, whatever. Screw you guys.
Mitchell Falk, in his debut national, goes 12-14.
I don't follow amateur racing that much, but I do know that Falk didn't set the world on fire like he was supposed to at the Ranch. We've seen 64 different rookies come out from Loretta's and grab great results, so I gave Falk a bump for that. And early on in moto one, it looked like the kid might be a real surprise. He crashed (got off lucky on that one), looked like he got a bit tired (understandable), and went 18-17 on the day. Great starts, though, and I bet he'll get those 12-14 scores this weekend as the nerves dwindle.
Starts hold Eli Tomac back and Marvin wins the 450 overall.
Well, starts DID hold Tomac back on the day. But I forgot about Animal Eli showing up. At one point in moto two, the gap going into Ironman was going to be down to three or four points, but then Tomac caught fire, bonsaied his way past Marv in moto two, and took off with the win. Blake Baggett pushed Eli into the overall when he passed Roczen late in moto two. It looked like a 3-3 kind of day for Tomac until he caught fire. He amazed us all again.
Austin Forkner gets his first 250 overall on the year.
WRONG. Well, I'm still a believer in this kid's speed for sure, and he had an easy podium in hand before getting caught in the second moto by Mitchell Harrison, getting passed, then seemingly losing his composure as he dropped further back. On the podium after moto one, he said he was sick all week.
Maybe Joey Savatgy….
Oh man, this one, like Savatgy's entire season, went bad. He fell in the second moto and then never got it going again. In the first moto, I'm not sure who was on the bike out there. Another bummer day for the #17, who I thought was going to use the Washougal moto win to turn his season around. This might've been his worst race of the year.
Dylan Ferrandis ends up with one great moto, one not so great.
Well, I got this half-right, I guess. Ferrandis was great at Budds, but he had a first-turn crash that left him way back in moto one. Once again, his fitness was impressive and he passed a bunch of riders late in the race. He was very fast and had very bad luck. The fifth in the first wasn't "great" like I said, but the tenth qualifies as "not so great."
Jason Anderson, back from injury, goes 5-6 on the day.
Nope, swung and missed on this one also, but you can see where I was coming from. Anderson's an elite rider, and what elite riders do is come back and immediately run the pace of the leaders, which, to me, gets him fifth in each moto at least and then with a lack of fitness he gets passed by someone he shouldn't in moto two. Well, #21 rode great to get a fourth in moto one (not that far behind Tomac bro) and then DNS the second moto. He was definitely right back on the elite pace, though.
"Filthy" Phil Nicoletti gets into with someone in practice and then goes 9-8 on the day alongside Anderson.
Yeah, missed this one too—well, part of it. Filthy didn't get into it with anyone in practice, but he did yell and scream at a lapper in moto two that he felt held him up and allowed Justin Barcia to pass him late. "I'm not going to say the reason why Barcia got me, but had a little mishap with something, kind of lapper. But it is what it is. We apologized. We moved on," he told me after the race. As far as 9-8 on the day, try 7-6 with a holeshot!
Kenny Roczen holeshots one moto, maybe both, finishes third overall.
I was SO close to a holeshot in moto one! Marv officially got it, but Roczen passed him 30 seconds later. Basically, I couldn't have gotten any better with the holeshot pick. However, he didn't officially get it, and here I am- wrong on that and wrong on third overall. Roczen was in fact three laps away from winning the overall on the day.
250 podium is Forkner, Savatgy, and Plessinger.
Eeesh, got the third-place guy right. Moving on….
450 finishing order is Marvin, ET, KR, and Barcia.
Not that bad, really. Just mixed up the order a tad. And I didn't know Musquin had crashed last week and was struggling with something. And Barcia was fast but crashed twice in the second moto. If ifs and buts were candy and nuts….
Alex Martin's slide continues at Budds as he's out of the top five.
Got it, although Martin rode very well in the second moto with only a very fast Justin Cooper getting by him. Still, Troll Train got sixth overall, and last time I checked, that was out of the top five, so high five for me.
Toshiki Tomita does good. I don't know what that means, but he does… something.
Tomita, the Japanese rider riding under the factory Honda tent, got 11th in the second moto! That's something! He's been getting better all outdoor season, and Gothic Jay at Honda arranged an interview with me and Tomita after the race. His English isn't great, but we made it work.
AP clinches the 250 title.
Yep, got this one right. Truthfully, I thought he'd just manage the race enough to beat A-Mart and not worry about winning. Well, he showed me in grabbing the holeshot and then taking off with a rather easy moto win. The Star Racing Yamaha guys are a good team for sure; they've come a long way and they just clinched their fourth 250 title in five years—time to give Yamaha some credit for their engine design as well, yeah? Congrats again to Aaron and the whole Star Racing Yamaha team on this accomplishment—except for Wil Hahn.
Blake Baggett is very fast, but doesn't get starts and comes from the back.
Yeah, kind of got this one. Eighth and a fifth off the start for BB4, and I definitely got the "very fast" part right as Baggett caught fire midway through the second moto. El Chupacabra was back, and back in a big way, baby! He was even catching Tomac there for a bit—it was remarkable. When I asked him what happened to make him turn it on, he told me, "I just been out in the ocean looking for that sinking ship with all the treasure on it. It's just been sitting on the bottom of the ocean floor." Whatever the hell that means. In the first moto, he got brake-checked by his buddy Jason Anderson while he was trying to pass him, then made a move (probably out of anger) that he shouldn't have and went down. He's not sending Anderson any Christmas cards anytime soon as their rivalry continues.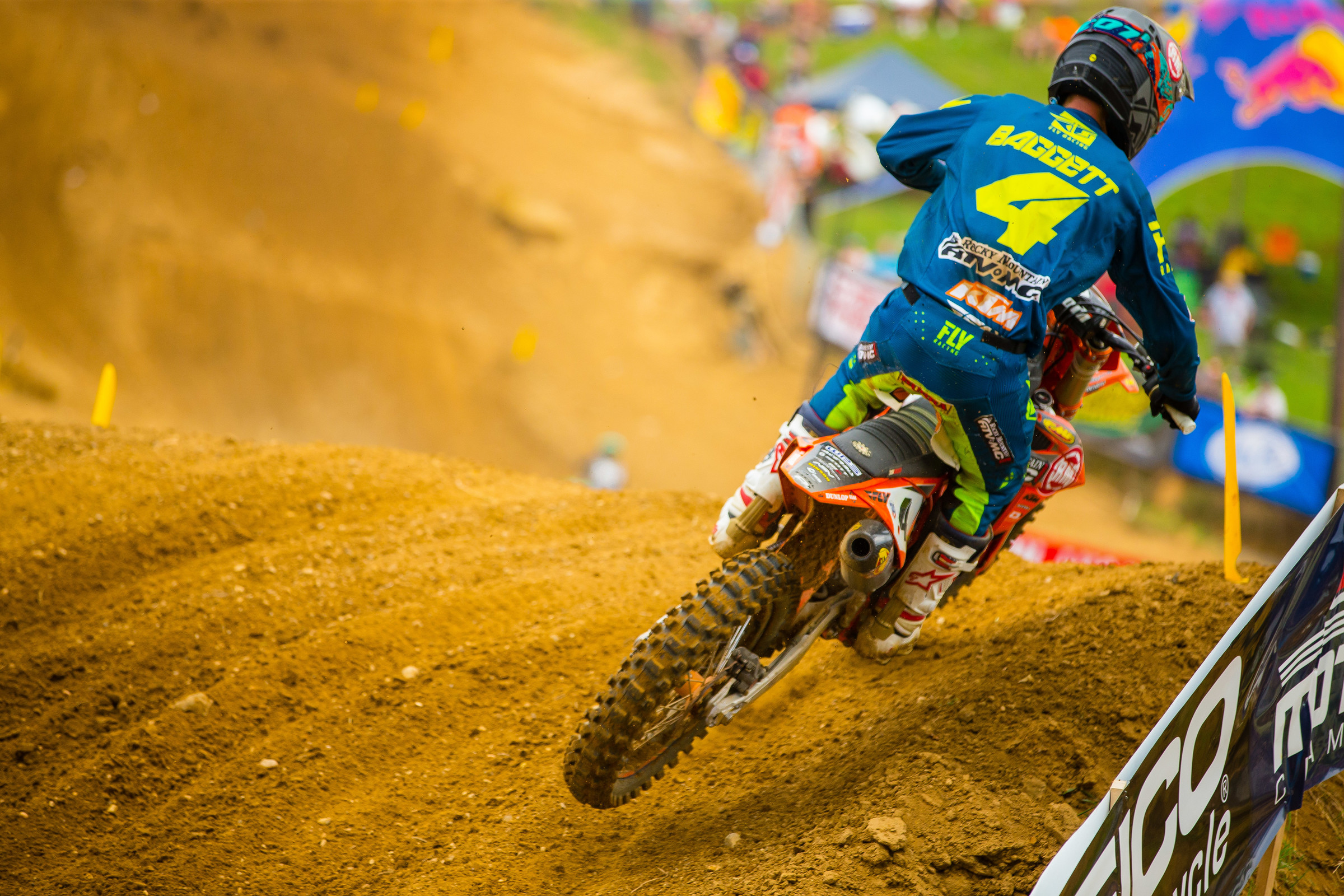 Someone tells me that the track is tough to pass on.
Didn't really get this from anyone I can pinpoint. I know there were a few guys saying it was too hard and slick to do much of anything out there. Weston Peick told me, "This is probably the shittiest Budds Creek I've ever raced, other than a mud moto." So there's that.
J-Bone tells me a story of how funny everyone is to deal with in silly season.
Well, I'm not sure I got this one right. Unless you count heavy Chad Reed talk about his JGR test and the possibility of Chad riding for the team in 2019. So Albrecht didn't tell me about these agents and their ridiculous demands like normal, but there was silly season talk. So can I get half a point here?
I get coffee from Kawasaki at least once.
C'mon, this one was easy. Two cups!
I complain about the Budds start to someone.
Someone? Try "I complain about the Budds start to 40 different people." Nailed it.
I never saw Weigandt at Unadilla, but I DO see him at Budds.
Yes, saw Weege in the morning and we talked for a bit about some different stuff before he wandered over to grab some free food from the AMA. Then saw and talked to him after his Racer X post-race video with Plessinger (hey, where's the Unadilla one?) and Grant Langston told me he's got some gold on his GoPro of Weege crashing on some single track that I NEED to see.
Someone does NOT side-swipe my rental in the parking lot and take off like last year.
Yes, success. Although Budds Creek continues to be a complete clown show when it comes to parking and pulling out for people who have season credentials.
I do NOT get a post-race interview from Anderson.
WINNING.
Thanks for reading, good times indeed at The Creek. Remember, you can always email me at matthes@racerxonline.com if you want to chat about this race or anything else.