Ferris Earns Tenth Win At Australian Motocross Season Finale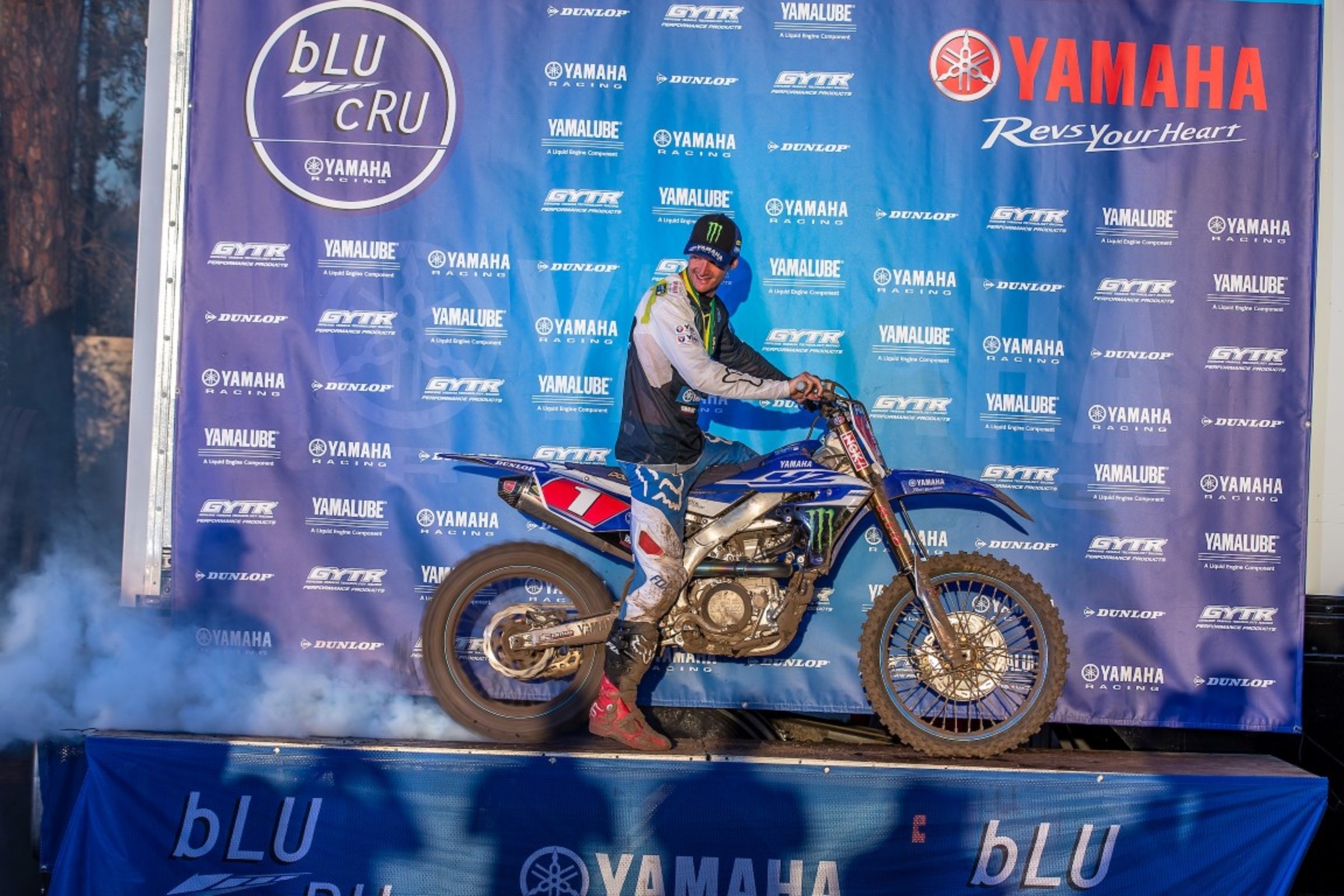 MX1
CDR Yamaha Monster Energy Team's 2018 Australian Motocross Champion, Dean Ferris, finished his domestic campaign with the most dominant ride of the year at the final round of the 2018 Pirelli MX Nationals at Coolum, Queensland, today.
Ferris, who wrapped up the championship last weekend, put the field to the sword in both motos, winning both races by more than 30 seconds and completing a perfect clean sweep of round victories this year. Raceline Pirelli KTM's Mitch Evans finished the day in second and Davey Motorsports Husqvarna's Caleb Ward finished the season strongly with his second top three in as many weeks.
Evans grabbed the holeshot of the opening Thor MX1 moto and led for six laps before a charging Ferris strode past and disappeared into the distance. By the end of the race he'd lapped up to fifth place, with a margin of 37.4s over second-placed Evans. Ward put in a gritty ride to pass eventual non-finisher Brett Metcalfe (Penrite Honda Racing) for third with two laps to go. Rhys Carter (Complete Parts Kawasaki Racing) and Callum Norton (DPH Husqvarna) finished fourth and fifth.
In the final 450cc moto of the season KTM Motocross Racing Team's Luke Clout snatched a brilliant holeshot, but was overhauled by Evans before the end of the lap. It was shortlived though, as Ferris moved into the lead on the second lap and again put daylight between himself and the pack, finishing with a 34.4s buffer over Evans. A consistent ride from Ward saw him place third, with Metcalfe fourth and Norton fifth.
The top three positions in the Thor MX1 championship were filled by Ferris, Evans and Clout.
MX2
Serco Yamaha's Wilson Todd claimed his first Pirelli MX2 championship with a smart, calculated ride around the sandy Coolum circuit, while Penrite Pirelli CRF Honda Racing's Kyle Webster finished the year on a high by claiming the round win.
Webster took the Coolum victory on countback after splitting moto wins with Yamalube Yamaha Racing's Jay Wilson in second overall, while Kiwi Hamish Harwood (Davey Motorsports KTM) picked up third overall.
Todd claimed the championship title in the opening race with a reserved ride to sixth, as Wilson hunted down and passed early leader Harwood on the second lap. Wilson was never headed, although a hard-charging Webster closed in before a small crash saw him have to settle for second, ahead of Harwood. Yamalube Yamaha Racing's Richie Evans finished fourth and Jayden Rykers (Raceline Pirelli KTM) in fifth.
Complete Parts Kawasaki Racing's Aaron Tanti scored the final holeshot of the season in the MX2's second outing, but Wilson attacked quickly to claim the lead, with Webster on his heels. On the third lap Webster seized an opportunity to overtake Wilson, eventually leading him over the finish line by 8.4 seconds. Harwood claimed a consistent third, with Todd fourth and Jy Roberts (Husqvarna) fifth.
The top three positions in the Pirelli MX2 championship belonged to Todd, Harwood and Tanti.
Australian MX Nationals
Round 10 — Coolum Beach — Coolum, Queensland
MX1 Results
| | |
| --- | --- |
| OVERALL FINISH | RIDER |
| 1st | Dean Ferris |
| 2nd | Mitch Evans |
| 3rd | Caleb Ward |
| 4th | Callum Norton |
| 5th | Rhys Carter |
| 6th | Luke Clout |
| 7th | Dylan Long |
| 8th | Zak Small |
| 9th | Charlie Creech |
| 10th | Joben Baldwin |
MX2 Results
| | |
| --- | --- |
| OVERALL FINISH | RIDER |
| 1st | Kyle Webster |
| 2nd | Jay Wilson |
| 3rd | Hamish Harwood |
| 4th | Wilson Todd |
| 5th | Jy Roberts |
| 6th | Kaleb Barham |
| 7th | Cooper Pozniak |
| 8th | Aaron Tanti |
| 9th | Kale Makeham |
| 10th | Cody Dyce |
MX1 Final Standings
| | | |
| --- | --- | --- |
| OVERALL FINISH | RIDER | POINTS |
| 1st | Dean Ferris | 629 |
| 2nd | Mitch Evans | 501 |
| 3rd | Luke Clout | 498 |
| 4th | Brett Metcalfe | 455 |
| 5th | Dylan Long | 454 |
| 6th | Caleb Ward | 446 |
| 7th | Rhys Carter | 417 |
| 8th | Joel Wightman | 337 |
| 9th | Kade Mosig | 321 |
| 10th | Zak Small | 311 |
MX2 Final Standings
| | | |
| --- | --- | --- |
| OVERALL FINISH | RIDER | POINTS |
| 1st | Wilson Todd | 558 |
| 2nd | Aaron Tanti | 501 |
| 3rd | Hamish Harwood | 498 |
| 4th | Dylan Wills | 457 |
| 5th | Jay Wilson | 452 |
| 6th | Jy Roberts | 390 |
| 7th | Kale Makeham | 380 |
| 8th | Kyle Webster | 369 |
| 9th | Cody Dyce | 313 |
| 10th | Egan Mastin | 308 |