Atlas Releases 2019 Brace Lineup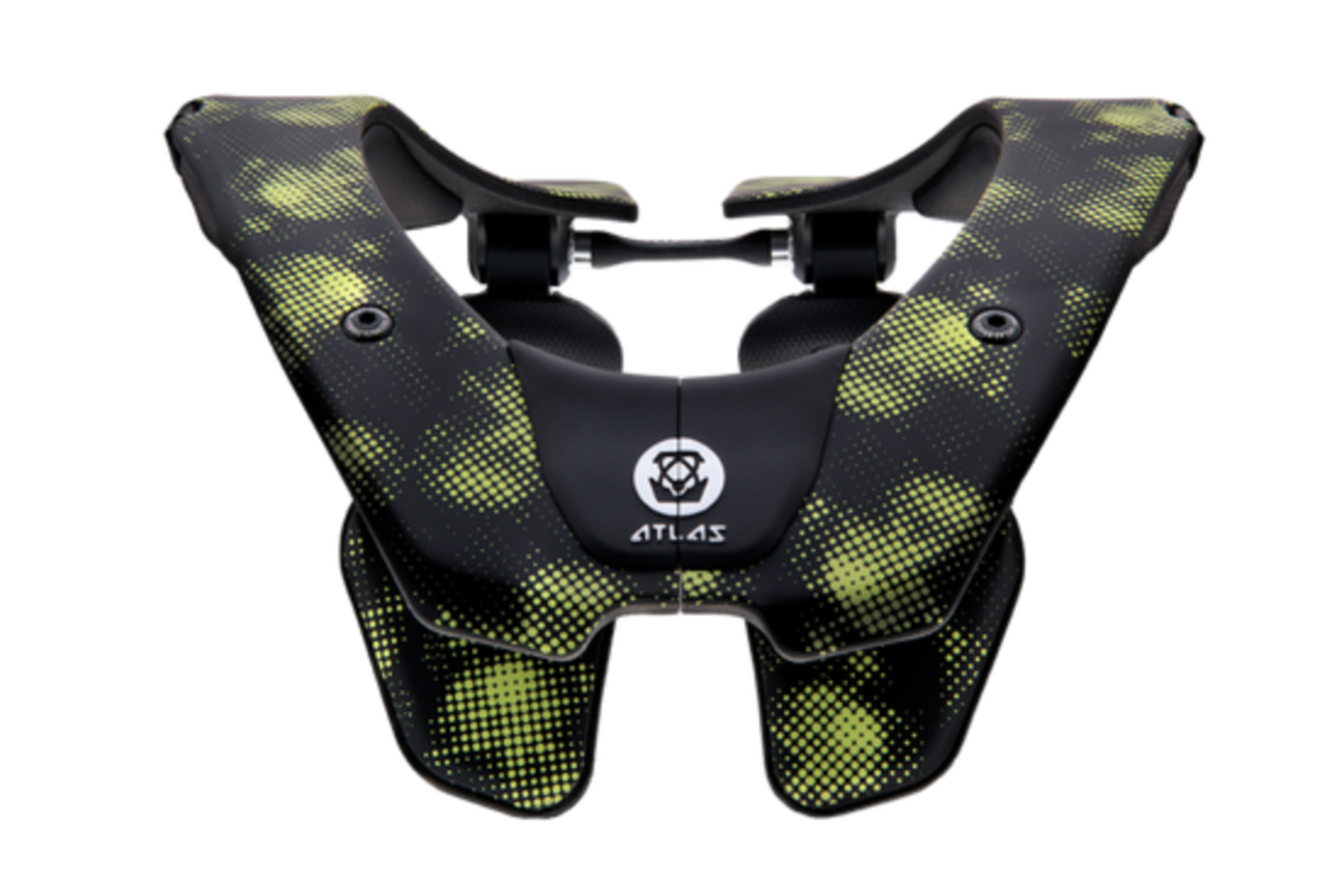 New for 2019, Atlas introduces four new colorways, including full tonal "Aqua" (teal) and "Fire" (red) braces featuring full color polymer construction with matching padding. "Virus" and "Tundra" full-frame water-decal designs add flare for customers looking for more, and carrying over from 2018 are the "Nightshift" (black) and "Ghost" (white) for those looking for a clean slate that can match any gear. All colors are available in Tyke, Prodigy, and Air models/sizes ranging from $199.99-329.99.
In addition to the brace lineup, Atlas is also introducing a new "Fire" (red) Broll colorway, available for $99.99, in addition to the Darkside (black), White, and Pumpkin (orange) from 2018.
Atlas Neck Braces are known for their patented flexible design, providing maximum comfort and mobility. Combining a simplistic minimalist design with flexibility, suspension, and the largest brace-to-body contact ratio (in the smallest overall package) makes the Atlas family of braces a clear category leader across the entire range.
Atlas is trusted by more supercross pros than all other neck braces combined and is used by many championship-winning professionals across various platforms:
Ryan Villopoto and Jason Anderson (MX/SX)
Colton Facciotti, Kaven Benoit, and Matt Goerke (Canada)
Daniel Milner (Australia)
Gavin Faith (AX)
Walker Fowler (ATV)
Brett Turcotte and Paul Thacker (Sno-X, X Games)
Along with Evgeny Bobryshev, Darian Sanayei, Rui Goncalves, Martin Davalos, Chase Sexton, Kyle Chisholm, Carson Mumford, Jordan Jarvis, Ethan Mann, and many more.
Atlas Innovations
Weightless Minimal Design

Everything you need, nothing you don't.
Flexible Polymer construction
Tough, impact-resistant polymer construction is ideal for multiple impacts. The flexible nature of the material is designed to slow down violent impacts in an effort to spread out and reduce impact forces.
Split-Flex Frame
The Split-Flex Frame design allows the rear of the brace to mimic the natural movements of your shoulders to provide the ultimate comfort and mobility while cornering, scrubbing jumps, etc.
Spine- and Sternum-Free
Each Atlas Neck Brace sits around your spine and sternum, transferring impact forces to the bigger muscle groups rather than directly on the spine and sternum
Chest Suspension
Chest suspension keeps the head in motion during a longer period of impact, while promoting tuck-and-roll ability during an accident.
27 percent More Body Contact
Each Atlas Brace is the smallest overall size compared to the competition, but contacts your body 27 percent more than the competition—making it both smaller and bigger. Increased surface area contact with the body helps spread out impact forces.
Wireless Tether *NEW
Previously, our rear tethers used an internal braided steel cable for strength. After three years of development, we have gone wireless!
Easy Open
Super-strong 7075 Aluminum Easy Open release system makes removing an Atlas Brace effortless, reliable, and tough.
Height Adjustment
Each Atlas Air neck brace features two height adjustments.
Smart Mounts
Aluminum Smart Mounts of the back of each Atlas Brace provide six possible settings to find tune the fit around your chest and back.
For more info, please go to www.atlasbrace.com/braces, or contact us at info@atlasbrace.com. Now accepting team riders at the email above.