Lommel, Belgium
MXGP of Belgium
FIM Motocross World Championship
It would be easy for Red Bull KTM's Jeffrey Herlings to talk big. He is not only prolific in MXGP in a variety of conditions and on diverse tracks but is also beating one of the greatest riders in the modern era of the sport. Herlings has 12 wins from 15 rounds, with nine of those 1-1 doubles. Antonio Cairoli has been hanging on and making a contest of the dispute with 13 podium finishes.
A broken collarbone while training in June sent major reverbs around the international MX community, but 17 days after surgery, Herlings won back-to-back Grands Prix in Indonesia and his streak in MXGP was back on course. At Lommel—the hardest race of the year—he was again unassailable.
The gap in the MXGP standings is only 36 points between the KTM stars, but Herlings is looking to be unbeatable. In nine weeks the racing campaign will be over, and he is nearing the crest of a truly remarkable season of achievement. With all this swirling around and more adulation coming in waves at Lommel, Herlings is still a curious mix of confidence and humility. His English is near-perfect but remains his second language, and some thoughts and assertions sometimes come out stronger than he means, or the comments do not reveal some of the tongue-in-cheek tone with which they are made. Still, he's earned the right to be judgmental and cast his analysis.
Racer X: The successful return in Indonesia—was that a key point of the season?
Jeffrey Herlings: I don't think so. I had been leading by 62 points and had been winning race after race, moto after moto, qualifying after qualifying. If that injury had not happened, then I think we'd be in a different situation now and the other guy would have less hope, and I might have been leading by more than 80. But it's all "if this" and "if that." It's a shame that it happened, but better it was a collarbone rather than a leg, foot, or arm. It would have been game-over. This way, I just missed two and a half weeks on the bike and had one race really sore and the other one less so. We're still leading.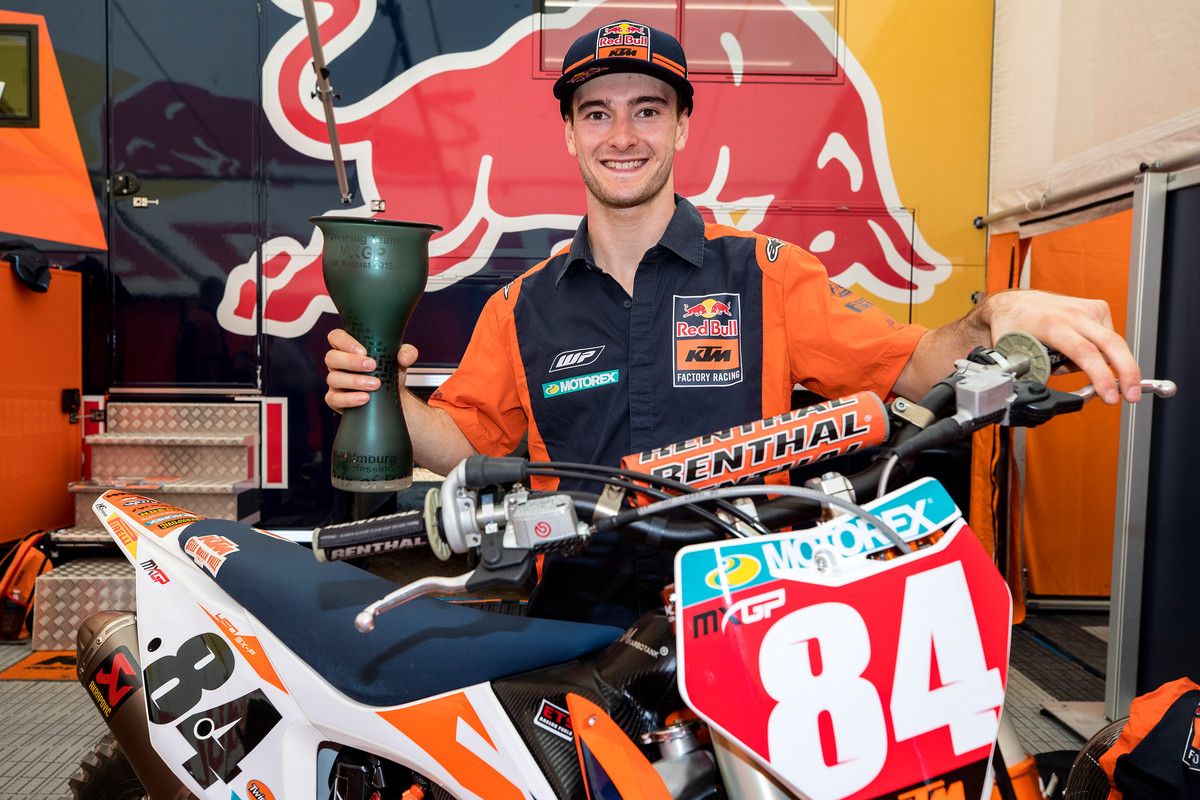 Last year at Lommel, you were charging and Cairoli was protecting a points lead. It is almost a reverse scenario now—he needs to charge, but will you protect at all?
I'm not in the place to protect. Last year he was leading by something like 100 points. With 30 points you can protect a bit with two races to go… but with five races, then it's not a time to protect, to think, to count, or do the math. It is just time to go.
It would be hard to imagine you protecting anyway, I guess if you get a sniff of a win then you're going for it….
It depends. If this was the final round and it was for the championship, I'd be happy to say, "You go after the win, I'll get the big one." We still have two months of racing and it is not the time to calculate. I think after the triple—Switzerland, Bulgaria, and Turkey—and when there are only two races to go, then we can look where we are. There are still so many things that can go wrong or could possibly happen.
You clashed with Tony at Matterley Basin for the British Grand Prix and beat him in the chase. Do you think he looks at you differently after that?
If I'm on his rear wheel with two laps to go, then he knows he has to push to the wire! That's something for sure. I think he has respect for me, and I have a lot of respect for him as well. But we both want to win. He's coming near the end of his career and I'm just starting in the premier class. I want to take over his role, and it is going to be tough for him that someone is knocking on the door or trying to knock him out of the king's chair, let's say. This year he has been fit, but we've both been injured. Sometimes he has been better, and many times I have been better. Beating him for the championship this year would be like a dream come true. He's been strong this year, which wasn't the case in 2015 and 2016, when he wasn't like the Cairoli he used to be.
You're attacking Lommel for the second time on a 450. Would you prefer an outcome like Lierop 2012, where you won by over a minute, or a last-lap thriller like in Argentina this year?
By a minute, 100 percent. You don't have to ask me again! Argentina was cool, but going into the moto thinking, "I'm going to win. I cannot lose," like I did in Lierop? I mean, I would have needed to run into a tree or break the bike to lose that day. I know I need to be good through the first turns here and be with Cairoli because he is fast, fit, and strong. I need to be there. Whilst in Lierop I was like, "I've got this."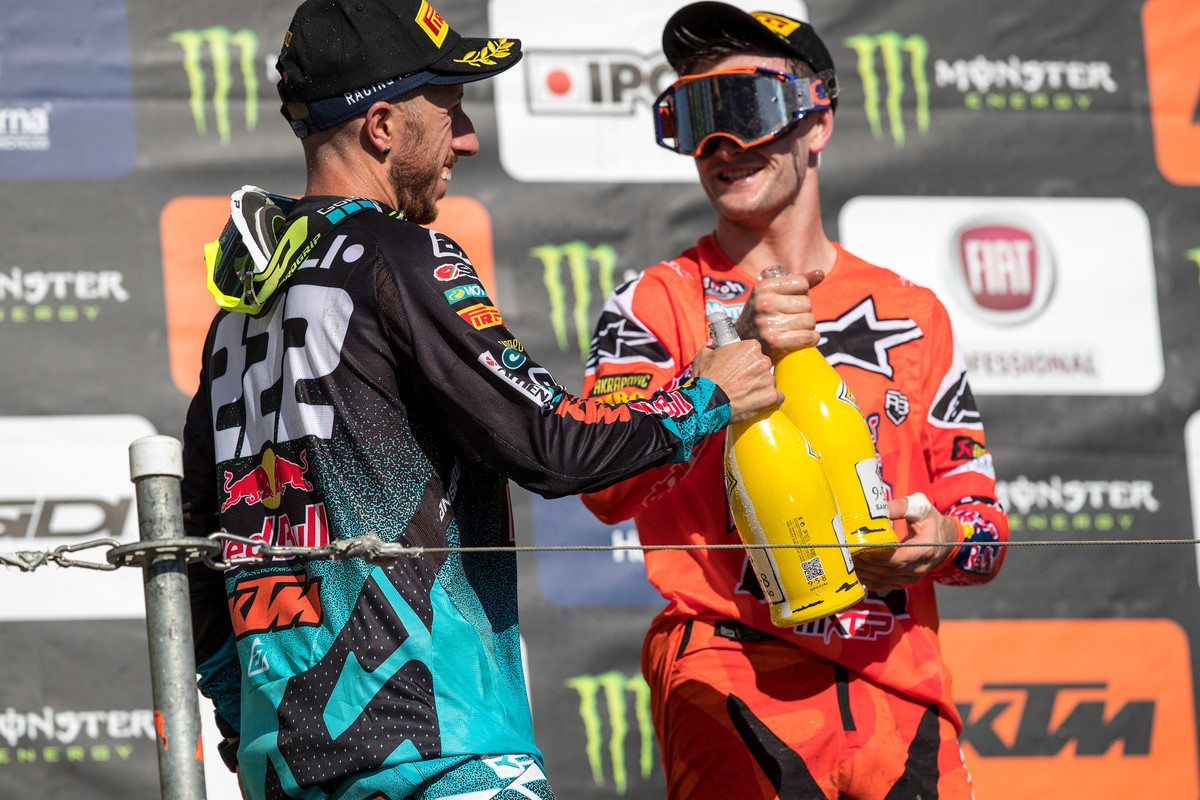 You made a photoshoot about your scars on Friday. How did you feel about that?
The best guys in the sport all have them. Riders like Cairoli or [Ryan] Dungey might not have had many [injuries], but they had to live with them as part of the sport. I've been racing motocross for 18 years and I think I am not doing too badly. Okay, I did break a femur, dislocate a hip, and break my collarbone three times and ripped my pinkie finger pretty bad, but the scars? I only have a small one on my leg and on the collarbone and that's it. I don't think it is that bad for what is quite a dangerous sport. My brother has a few scars, and he doesn't even race bikes!
You seem so monastic about racing. You have total dedication to it and the sacrifices that need to be made, but do ever look at yourself and crave another lifestyle? Even another diet?
Yeah! I gain weight very quickly, it seems. I only have to look at a salad and I start growing. It's hard, and physically very hard, but I get to the point where I count down the days now. I know it is two months until the end of the season, so I go, "Eight weeks, seven weeks, six weeks…." I'm counting down already. I might not have had chocolate or fast food or French fries; all those nice things that taste so good. Just drinking water or eating salad, potatoes, rice, and chicken.
Changing subject, how do you feel about the fuss around Calvin Vlaanderen riding for the Dutch team at the Motocross of Nations?
No problem. Basically, I almost picked the guy together with the people from the Dutch Federation. I said: "We need that guy on board. He's the best option we can possibly have and has been winning motos and GPs in MX2." There is currently nobody better. He's a nice kid with a good bike and team. He has joint nationality, and if we can take him, then we should. I think he's the best MX2 option. Obviously, nobody sees him as a "Dutch" rider because he grew up in South Africa, but still, I don't think we care. If he's the best for our team, then he's the best.
With the Nations on the horizon, the prospect of you versus Eli Tomac is huge. Perhaps two such motocross heavyweights haven't matched up since Cairoli against Chad Reed in '09 in Italy. Thoughts?
At the moment, I'm not thinking about it. I just want the championship. If I go there, then I'll definitely want to win, but the MXGP title is the only goal in my head. The Nations is the weekend after the last GP, so I should still be in good shape from the season. I'll look forward to racing against Kenny [Roczen], Marvin [Musquin], and obviously Eli if he'll race. It'll be nice. The whole "European versus America" thing will come up again, but you cannot escape the fact that it is just one event and one day. It is hard to judge who is better over one day. It will at least nice to battle.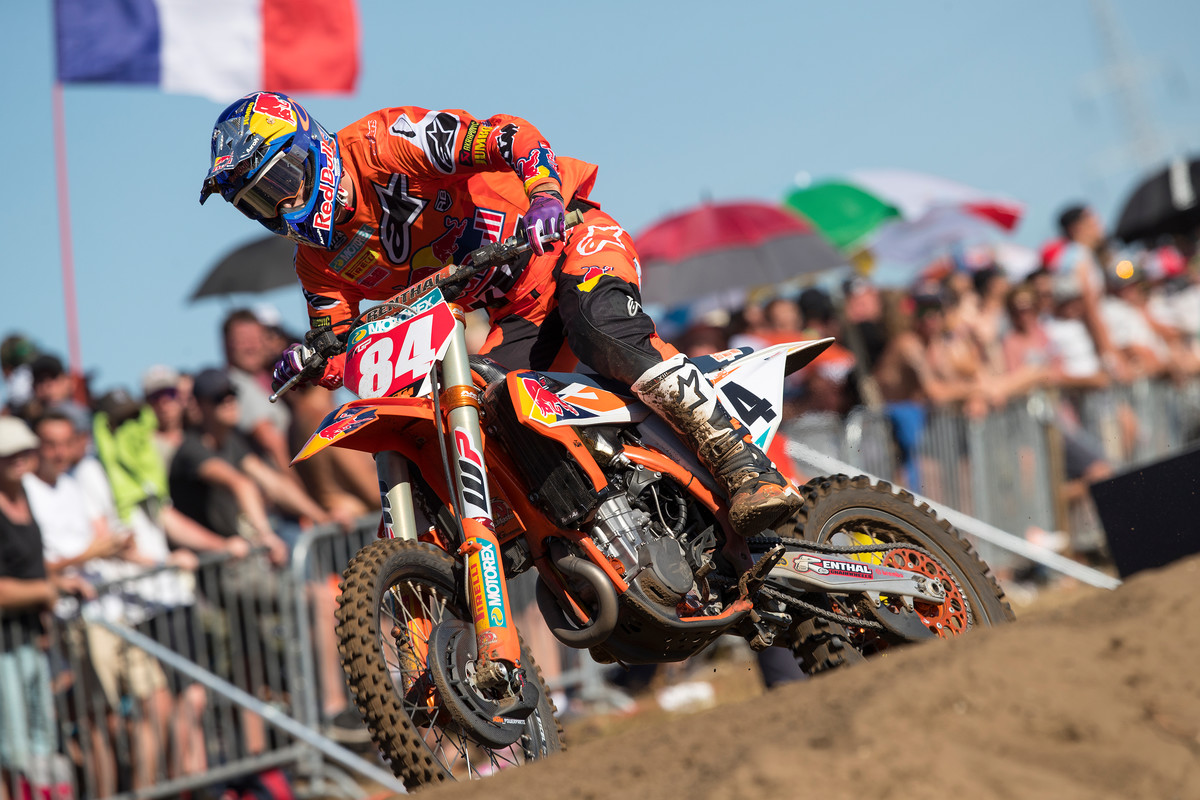 Well, you're beating a nine-time world champion, and if you defeat potentially a back-to-back American champ, then that's quite some distinction.
Last year in the second part of the season, I almost won everything, and I also went to Ironman and won. At the USGP I went 1-2-1 with the qualification heat so I beat him four from five, but it's still so hard to say. I mean, if it happens and the championship comes and the Nations goes well, it will feel really nice to go to bed on October7 and think, "I'm the fastest on the planet right now."
Or think about it while at Burger King.
Yeah! I'll go straight for the big size! Seriously though, so much stuff can still happen this year. I have tons of respect for Kenny and the injuries he's dealt with and to keep coming back strong. It would be a dream come true to firstly win the championship, and then to be able to battle guys like Tomac. It would be the cherry on the cheesecake, let's say.