July 28
1974
The final round of the Inter-Am Series is held at Zoar Motorsports Park in Springfield, New York, and Czech CZ rider Zdenek Velky takes the win and the title after Yamaha rider Mike Hartwig suffered a DNF on his prototype Monoshock Yamaha. Velky's Czech teammate Jaroslav Falta was the only man who had a chance to beat him in the standings but he had to miss the last round in order to return to the 250cc Grand Prix circuit, where he was locked in battle with Russian KTM rider Gennady Moiseev.
The 125cc race at Zoar was dubbed the World Cup and it was a trial-run for a possible 125cc U.S. Grand Prix in 1975. Everyone expected Team Honda's newly-crowned 125cc AMA National Champion Marty Smith to win, but Yamaha's Tim Hart got the victory instead.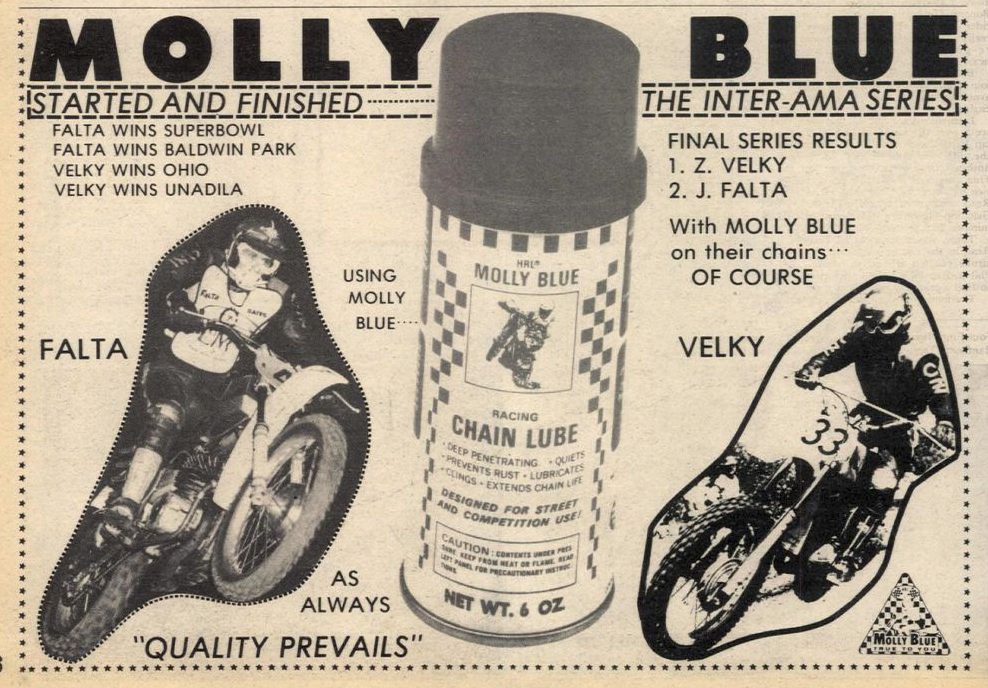 2008
The 2008 AMA Amateur National Championships at Loretta Lynn's gets underway. Among the big winners will be Pennsylvania's Darryn Durham and South Carolina's P.J. Larsen, as they split the 250 and 450 Pro Sport classes. The AMA could not figure out which one to award the prestigious Horizon Award (now the Nicky Hayden Horizon Award) so they decided to split the award.
1984
Team Honda's David Bailey, the reigning Wrangler/AMA Grand National Champion, wins the Foxborough Supercross for the second year in a row. Bailey betters Yamaha's Rick Johnson, Kawasaki's Jeff Ward, and Honda teammate Johnny O'Mara. The four of them will team up together to win the 1984 Motocross des Nations in Vantaa, Finland.
1985
Team Honda wins two of three classes at the 1985 Broome-Tioga National, as Ron Lechien tops the 125 Class and Johnny O'Mara wins the 250 Class. Lechien tops a trio of Suzuki riders for his win: George Holland, Erik Kehoe, and AJ Whiting. O'Mara goes 1-1 in the 250 Class to better Kawasaki's Jeff Ward and defending 250cc National Champion Rick Johnson. And in the 500 Class Broc Glover gets another overall win on his big white Yamaha over Team Tamm's Alan King. Following were Yamaha support rider Eric Eaton, fast Texan Ron Dunfee, and my big brother Tim Coombs (his career best pro finish).
Over it Portugal the 125cc Grand Prix saw Cagiva's Pekka Vehkonnen and 16-year-old Honda rider Davey Strijbos split moto wins and runner-up positions, with the Dutchman Strijbos taking the overall win based on second moto scores.