Spring Creek MX Park
Millville

,

MN
Spring Creek (Millville)
Lucas Oil AMA Pro Motocross Championship
Welcome to another Racer X Race Day Feed, this time coming to you from the La Crescent Wine and Spirit National at Spring Creek in Millville, Minnesota. Everything you need to know from today's National can be found right here. From practice reports to moto summaries and everything in between, we're bringing it all to you. Check back frequently for updates and be sure to scroll to the bottom for the latest info.
Morning Report
And we're back! After a weekend off the Lucas Oil Pro Motocross Championship is back in action at Spring Creek Motocross Park, and there couldn't be more anticipation in the air. At the last round there was a dramatic shakeup in the 450 Class, as Eli Tomac suffered a mechanical DNF in the first moto, had issues in the second, and finished ninth. As a result he now trails Marvin Musquin by three points. It's the first time Tomac hasn't held the championship lead this season, so it's going to be extremely interesting to see how that situation plays out today.
In 250 action, today could prove pivotal for Alex Martin. With ten motos remaining he trails Aaron Plessinger, who was perfect two weeks ago at RedBud, by thirty-five points. That's a large margin, but as we've seen so far this year, anything can happen. If there was ever a place for Martin to make up points, it's his home track here at Spring Creek. And when we say home, we mean it literally—his parents own the place!
As far as the track goes, the layout is mostly the same as usual, which is a good thing—Spring Creek is considered one of the best, if not the best, tracks of the circuit. Signature elements include a very long start stretch, two back-to-back sets of big sand whoops, and Mount Martin, which is a long and extremely steep hill the riders ascend before streaking back down. There was some rain during the week, but the track is looking great this morning. No rain is expected today either, so the track should stay good. Practice is set to begin shortly, so check back soon for a report on who's fast.
Qualifying - Round One
The first set of qualifiers is in the books here at Spring Creek and if your name is Aaron Plessinger or Eli Tomac, you've got to be happy with how the day is going early on. Both topped their respective qualifiers, Tomac by 1.222 seconds over Marvin Musquin and Plessinger by .986 seconds over Joey Savatgy.
Elsewhere Alex Martin, on his home track, was off Plessinger's pace by roughly three seconds, but that gap could easily shrink in the second practice. It might be worth keeping an eye on the mercurial Justin Hill today. His lap times from the first practice weren't great, he was ninth fastest and about seven seconds off Tomac, but he looked like he was having fun. He was throwing some style over the jumps and even pulled at least one no-footed whip for the fans. We'll see if that translates into one of Hill's signature eye-popping performances once the gate drops later this afternoon.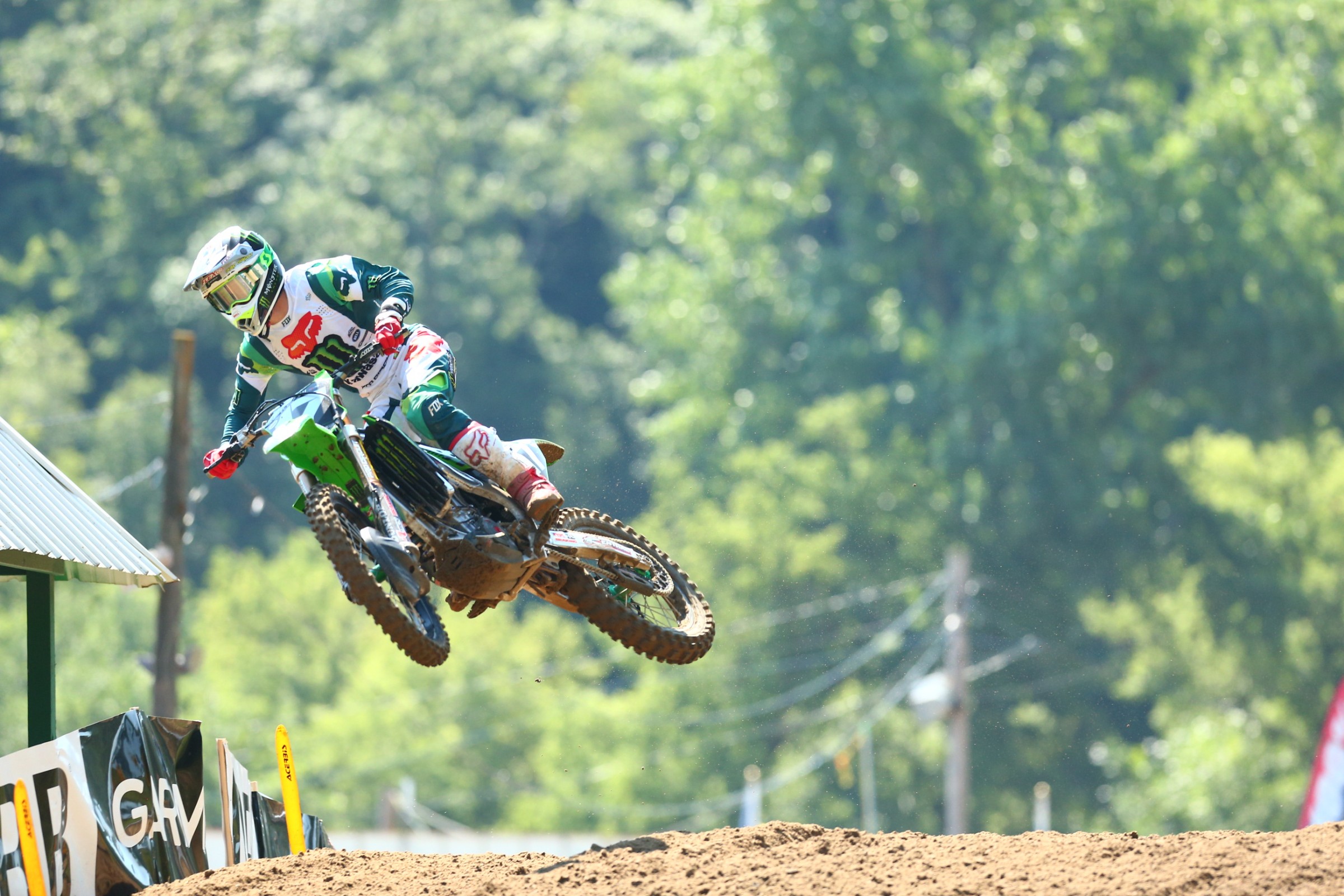 The track looked slick in some places, which probably limited speed, but it didn't stop a bunch of the 450s from clearing the uphill triple on Mt. Martin. A few of the 250s were even able to clear it, which is a testament to just how fast today's machines are. There's very little run up to that jump, and it's incredibly steep.
Spring Creek (Millville) - 250 Group B Qualifying 1
Full Results
Spring Creek (Millville) - 250 Group A Qualifying 1
Full Results
Spring Creek (Millville) - 450 Group B Qualifying 1
Full Results
Spring Creek (Millville) - 450 Group A Qualifying 1
Full Results
Qualifying – Round Two
There were some different faces up front in the second set of practices. After setting the fastest time in the first qualifier Aaron Plessinger found himself third fastest in the second, roughly a second behind second-place Joey Savatgy and a little over a second behind Justin Cooper, who was fastest. The 250 laps were faster in the second qualifier than the first, which is good for Cooper, whose bike broke before he could set a fast lap in the first.
Marvin Musquin squeaked in the fastest lap this time around, .037 seconds faster than Tomac, but Tomac's best time from the first session held up to be the fastest overall, which hands him the first gate pick in the first moto. Justin Hill looked like he was having fun again, and he stepped his speed up too. This time he was sixth fastest and just under three seconds off Tomac and Musquin.
Gates are scheduled to start dropping soon, so be sure to check back for summaries of today's motos.
Spring Creek (Millville) - 250 Combined Qualifying
Full Results
Spring Creek (Millville) - 450 Combined Qualifying
Full Results
250 Moto One
Joey Savatgy got things going in the best possible way by grabbing the holeshot, but half a lap later, in a perfect microcosm of how his summer has gone so far, he went down and lost about ten spots. He got up quickly but was never able to recover and ended up tenth. Back up front, Jordon Smith had benefitted from Savatgy's crash and was doing his best to sprint away from Austin Forkner and Justin Cooper. But then Aaron Plessinger came roaring in behind Smith after coming from several spots back. Smith hung in there for a few laps, but Plessinger was packing his A-game and made his way into the lead after a few laps. From there the battle for the lead was all over, as Plessinger steadily stretched his lead, eventually winning by a little over seven seconds.
Cooper was on the move early and held second for a while after getting by Forkner, but after Plessinger got by him Forkner started turning the heat back up too and brilliantly scrubbed a downhill to gain the inside advantage and make the pass. Later in the race he zapped Smith for second. Smith eventually finished third.
Behind the top three it looked like a tremendous battle between Cooper, Chase Sexton, Shane McElrath, RJ Hampshire, and Alex Martin would erupt. At one point they were all starting to bunch up, but it never happened. Martin was trying hard to get Hampshire and he got pretty close once when Hampshire missed the uphill triple, but after yo-yoing back and forth for much of the race Martin ended up having to settle for seventh behind Hampshire.
Spring Creek (Millville) - 250 Moto 1
Full Results
450 Moto One
Ken Roczen kicked off the first 450 moto of the day with a holeshot, with Marvin Musquin and Eli Tomac in tow. Things stayed that way for a few laps, but then Musquin made a small mistake and lost traction, which allowed Tomac to blow by. Tomac then gobbled up the four seconds between himself and Roczen in about a lap-and-a-half, but once he caught Roczen he didn't seem interested in pushing the issue. He rode patiently behind Roczen and almost seemed to give him space. Lap after lap went down without Tomac making any sort of obvious attempt to pass Roczen. Then with about five minutes remaining, Roczen got hung up behind a lapper in the sand whoops, which opened the door for Tomac to zip by. Roczen hung with him for a couple laps, but after that Tomac disappeared, winning by about thirteen seconds. The win, and Musquin's fourth place finish, gives the points lead back to Tomac.
Behind the lead duo Musquin had made another mistake, this time crashing, which handed third to Blake Baggett, who rode all by himself to round out the podium. Musquin finished the race all by himself in fifth, while Justin Barcia, also all by himself, took fifth. Peick was sixth, and not too far behind him a great battle for seventh played out between Phil Nicoletti and Cooper Webb. Nicoletti temporarily surrendered the spot, got it back, then lost it again at the end of the race.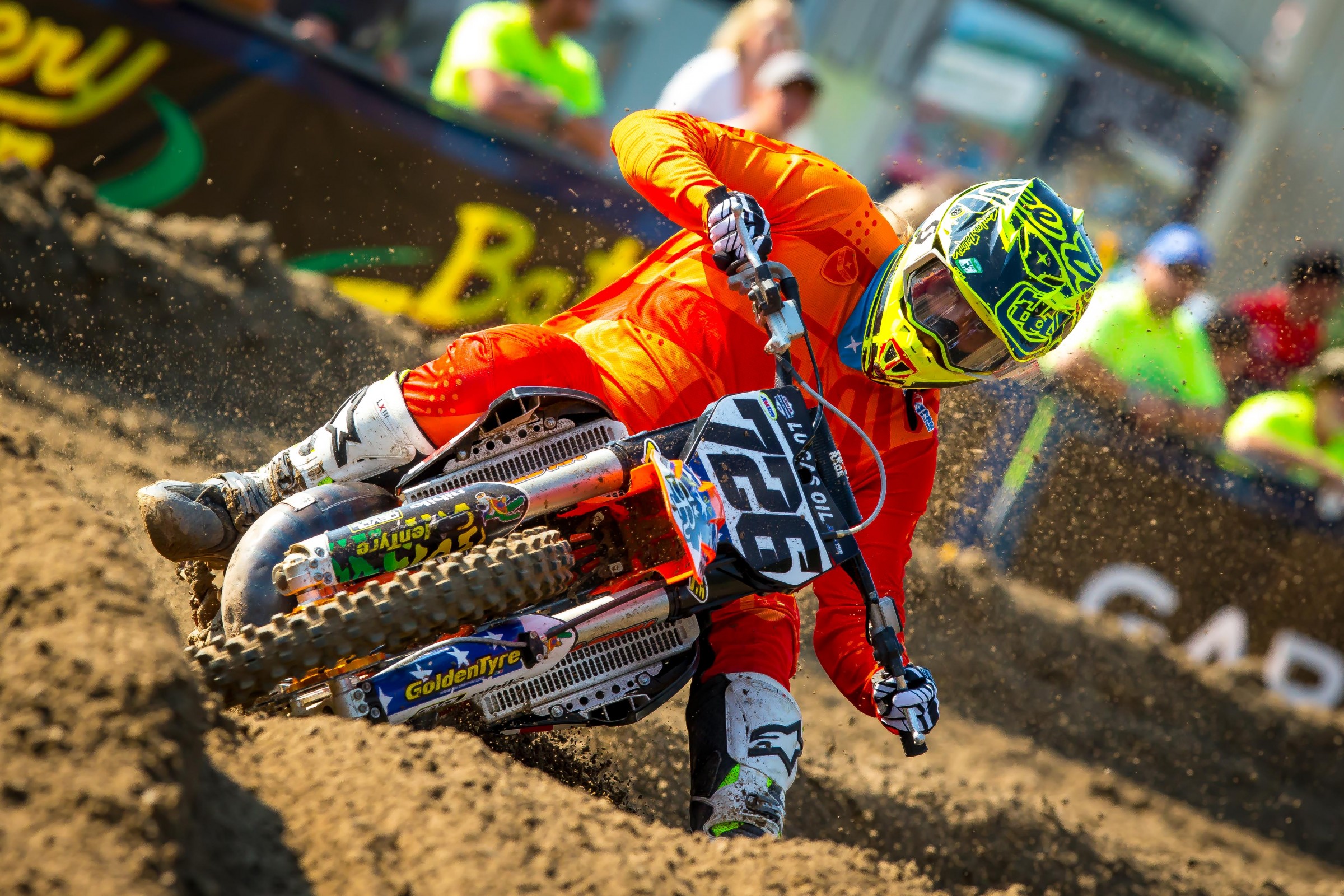 Spring Creek (Millville) - 450 Moto 1
Full Results
250 Moto Two
To the delight of the local fans, hometown hero Alex Martin shot out of the gate to nail down a decisive holeshot. The lead didn't last for long though, as Aaron Plessinger was right behind him. About half a lap in Plessinger made a move going down Mt. Martin, took the inside, and just like that, it was over. Martin did his best to keep Plessinger honest, but Plessinger was just too strong and started stretching out his lead. He took a comfortable win to go 1-1, his second perfect weekend in a row.
Later in the moto Martin had to deal with a charging Justin Cooper, but was able to hold him off and eventually get away to finish second. Cooper rode to a strong third followed by Joey Savatgy, with Chase Sexton rounding out the top five. Nice rebound ride from Mike Mosiman for sixth after going down in the first turn of the first moto. Dylan Ferrandis didn't start well at all but was able to make his way back up to eighth, nearly nipping Jordon Smith for seventh at the end of the race.
Bummer of a race for Austin Forkner. He was running fourth before jumping into the back of a lapper and going down. His radiator sustained damage in the crash and Forkner was forced to visit the mechanic's area. He ended up eighteenth.
Spring Creek (Millville) - 250 Moto 2
Full Results
Spring Creek (Millville) - 250
Full Results
Motocross 250 Standings - 2018
Full Standings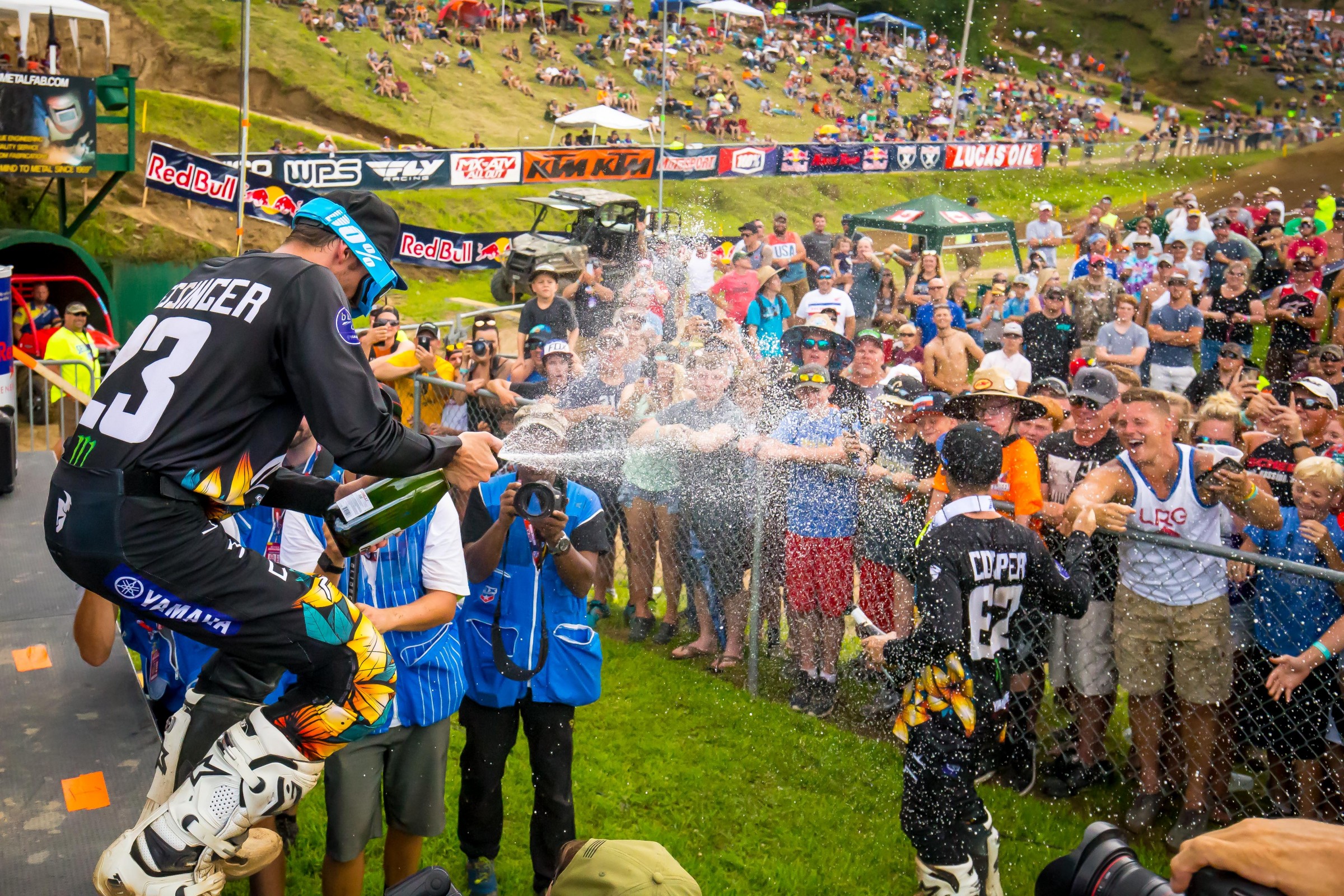 450 Moto Two
Justin Bogle started the final race of the day with a holeshot, but it wasn't long before Marvin Musquin and Ken Roczen went by. Tomac, meanwhile, didn't get a good start and found himself in about seventh. He went to work quickly though and it wasn't long before he was up to third, roughly six seconds behind Roczen and eight seconds behind Musquin. Just like in the first moto Tomac closed on Roczen quickly, but once he caught him wasn't able to make anything stick. Lap after lap Roczen successfully fended off Tomac's attacks, with Musquin maintaining roughly four seconds over them up front. With about five minutes left Tomac was finally able to get by Roczen right before Mt. Martin. He then set his sites on Musquin.
As the race started winding down Tomac was steadily catching Musquin, and the pair crossed the finish line four seconds before the clock expired, which meant they'd have three laps left instead of two. Tomac didn't need the extra lap though and just over half a lap later he knifed his way around Musquin as the two entered the run up Mt. Martin. Tomac then absolutely dropped the hammer and incredibly, logged a lap four seconds faster than Musquin. Tomac would go on to win the moto to log a perfect weekend and will leave Spring Creek with the red plate. Musquin took second with Roczen rounding out the podium.
Spring Creek (Millville) - 450 Moto 2
Full Results
Spring Creek (Millville) - 450
Full Results
Motocross 450 Standings - 2018
Full Standings