Java, Indonesia
MXGP of Asia
FIM Motocross World Championship
MXGP riders and machinery popped, crackled, and burned under high temperatures for second time in a week around a very different Indonesian circuit, with the Grand Prix of Asia witnessing a successful and busy inauguration for the Semarang facility—a steaming, hard pack clay surface east of Jakarta.
The journey to Semarang meant a week of further acclimatization for the riders to the heat and humidity they would face for the second time after the swelter of Pangkal Pinang. The sun bore down for round 13 of 20, and although the expansive and somewhat epic layout promised more ventilation in terms of speed and airtime, the wide new build was also tricky through the continual watering that made sections inconsistent in terms of grip. It was not uncommon to see bikes snaking through vital areas for traction (some even spinning out). Semarang was a quick and inviting terrain and unsurprisingly favored the brave, as well as those more delicate with the throttle.
Here are four talking points for the last non-European jaunt for the series this term.
1. Telling signs: Herlings' most important 2018 double
A moto where he stalked and passed Honda HRC's Tim Gajser and then one where he assumed a more familiar position at the front of the field looked a lot more like business as usual for Jeffrey Herlings, just over three weeks from lying on an operating table to have a fresh collarbone plate inserted into his body. Not so, apparently. While conceding that his tenth win of 2018 and eighth 1-1 (which represented a 97-point haul from 100 through the Indonesian double and a period where the wheel was supposedly to wobble from his dominance) was "absolutely amazing," the Red Bull KTM man was swift to claim this was still not "normal service." Honestly, it seemed hard to concur and scary again for the other protagonists of MXGP, if he isn't exaggerating.
Herlings said, "I really had to fight for it," and he also showed the narrow margin for error by claiming he was due a doctor's visit right after the race once back in Holland. "The plate got bent too early last time…so I need to see what the doctors says and work from there." Herlings rode with aplomb and screwed more pressure onto world champion Antonio Cairoli, who raced with an injured left thumb.
Cairoli performed brilliantly at Ottobiano for round 11 to machete the points margin from 62 to 12, but mistakes in Pangkal Pinang and a dodgy digit as a consequence meant the 32-year-old confessed to being surprised at his fourth overall at Semarang with a 3-4. He competed with a painkilling injection and yanked the thumb again in the second race. In missing the MXGP podium for only the third time this year, he conceded 12 points to Herlings.
Irrespective of Tony's efforts, this race felt like another omen. First, we had the pursuit and dramatic last lap demotion and victory by Herlings in Argentina; it was too quick to mention "guard changing" and "mantle passing," but it was a big statement from the Dutchman. He then repeated the "sack" of Cairoli on home turf at Arco di Trento, scene of the Sicilian's heroics in 2017. Tony could have stood toe-to-toe with a weakened and rattled Herlings in this Indonesian double. Semarang might be regarded as a game-saving episode in his camp, but Pangkal Pinang was certainly a missed chance. He'll now want that two-week break before the Grand Prix of Czech Republic to drag out as long as possible while Herlings will be looking to hook another two gears in terms of returning to his normal level of preparation. His confidence is restored. Now it's time to wind up the wick once more.
Loket, up next, could be a curious one, actually. MXGP is expecting a layout change after the sadness and controversy 12 months ago, but neither Red Bull KTM title contender (Clement Desalle in third place is some 136 points adrift) particularly likes the place. The stony hard pack has provided lean pickings for Cairoli over the years and has been the scene of collarbone and hip dislocations for Herlings. He won his 2013 MX2 title there, but has failed to appear on the podium since and was absent altogether in '14 and '16.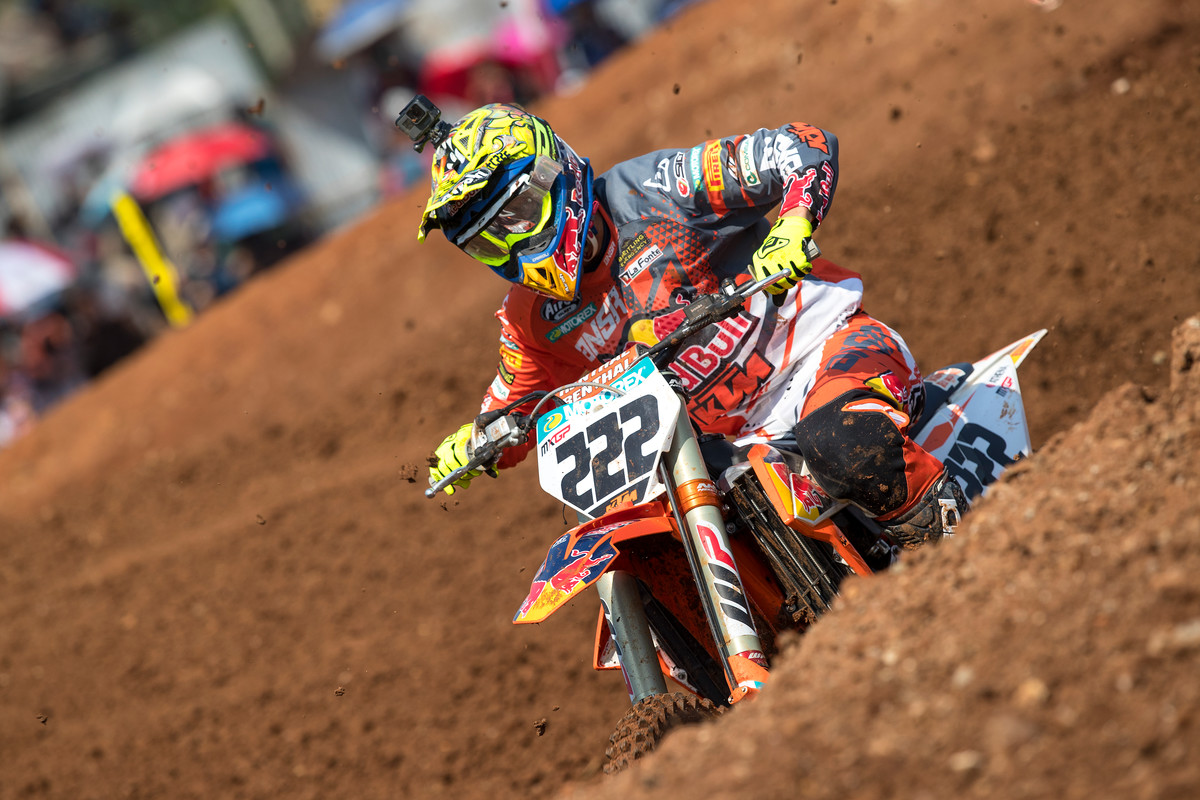 2. At last! A non-orange challenger
"What if" for Tim Gajser. If the 2016 World Champion and one of the youngest riders in the class had not suffered that horror-crash at Mantova, Italy, in pre-season (his jaw is still not quite right), he could easily be the HRC baloney in the KTM sandwich. The Slovenian has taken the better part of half a season to find his bearings and continue work with the factory CRF450R to be able to be considered a frontrunner once more. He already has three podiums this term, but the oh-so-nearly rally in the first Semarang moto almost delivered a first (and overdue) checkered flag. Herlings was again his nemesis and 1.5 seconds was the difference.
"The track was amazing," the 21-year-old said. "Jeffrey got me and passed me, but I tried to stay with him until the end and it was a good moto." Ironically, Gasjer's regular threat, as most likely of the rest, has been Monster Energy Kawasaki's Clement Desalle, and the pair battled for second spot in the second race. "I was pushing hard to pass Clement but got to the point where I decided to settle for third and second overall," the Honda man said.
At a venue where the speed and rhythm felt similar to Orlyonok in Russia—the place where Desalle emerged as the sole non-KTM victor of 2018—it was encouraging to see Gajser showing this kind of form. Neutral MXGP fans can only hope he gains momentum now and doesn't suffer the type of regression that hit Monster Energy Yamaha's Romain Febvre; the Frenchman crashed in both motos and was out of podium contention in Semarang.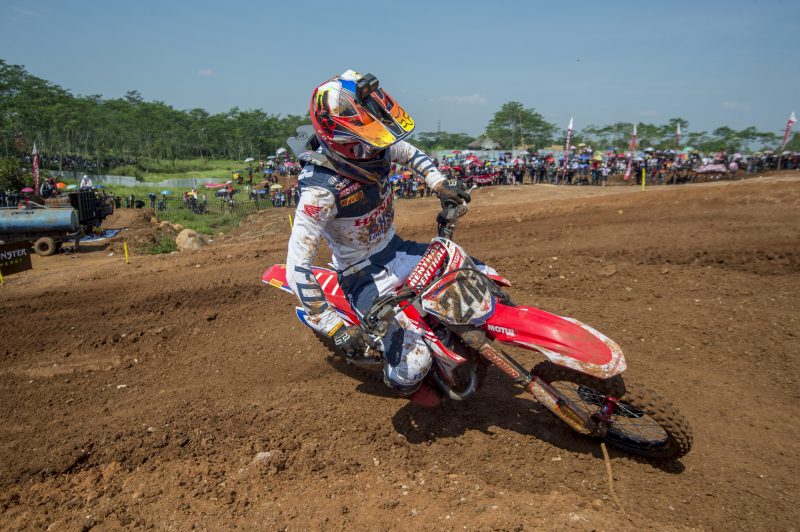 3. Don't forget the old guard
Desalle's third place was a welcome return since his last silverware in Russia (and the Belgians are still looking strong in the country, judging by their formidability in the FIFA World Cup), but there were some other names hovering around the top ten with significant results at a time where the paddock is trying to shake itself into shape for 2019. Bike it Dixon Racing Team Kawasaki's Tommy Searle provided a reminder that a catalog of physical problems and setbacks have not dented the Englishman's skill or appetite to achieve. After so much early career success, particularly on 250s, it would somehow be criminal if the 29-year-old did not at least grasp a premier-class podium. Searle's fifth overall hinted that it might still happen this year.
Max Nagl pushed the new TM 450 FI to new boundaries in the top-ten mix, and Standing Construct KTM's Kevin Strijbos was also up there. Jeremy Van Horebeek's sixth position in the first moto was his best classification for six rounds. Wilvo Yamaha's Shaun Simpson was forced to fly home on the eve of the Grand Prix after failing to recover sufficiently from a urinary tract infection that left the Scot down on energy and strength. Like fellow Brit Searle, Simpson has had a tough run since earning the satellite Yamaha team's first ever win in Indonesia last year: a broken hand, arm and ribs in three separate incidents have largely wrecked the better part of 18 months for the formerly consistent frontrunner.
4. Get me closer: MX2 all square after 13 Grands Prix & 26 motos
Injuries and absences and the sheer cost of almost a two-week period in Indonesia meant that the second MX2 moto looked sparse, but all attention in this class is focussed at the front of the field, where the friendly dice between Red Bull KTM teammates Jorge Prado and Pauls Jonass continued with verve. Jonass has 12 moto wins, five GP wins, and nine podiums. Prado now has eight motos, six GPs, and 12 trophies after running to a 2-1 at Semarang, and they both share 550 points at the top of the pile. As in MXGP, third-place Thomas Kjer Olsen is well over 100 points away. Jonass retains the red plate by virtue of his 12 checkered flags, and it could have still been a numerical advantage if he hadn't slipped off on the opening turn of the second moto. He dashed all the way back to sixth position in what was his best Grand Prix day for three rounds and demonstrated that the world champion had his head back on the job of a worthy title defense.
MX2 might have some bright young names coming to the fore, like Honda HRC's Calvin Vlaanderen, Rockstar Energy Husqvarna's Olsen, perennial fourth-placed Kemea Yamaha's Ben Watson (his teammate Jago Geerts also quick but crashing here, and Seva Brylyakov's replacement, Anthony Rodriguez, took time to shine), but Red Bull KTM are providing the spectacle, and Prado was sensational in his dash to a second moto triumph. The teammates are very different in terms of styles and approaches to their craft, but they are hard to split for effectiveness and are close not only in points, but in their ability to upstage the other. Injury permitting, this duel could run all the way to the closer at Imola.
Alas, Thomas Covington's bid to join the winner's party took a tumble with his spiralling 250 FC in the first moto. He just lost out in a tussle with Pangkal Pinang conqueror Vlaanderen for second place in the next sprint and was fifth overall, but continues to stir and sample variations of the magical elixir to put two premier moto results together. Some wizardry is bound to come soon, judging by the way #64 is riding.