Welcome to Racerhead, coming to you from the very quiet (for now) press tent at RedBud in Buchanan, Michigan. We're here for the biggest race of the summer, and over the hill in the massive camping area, we can already here people shouting Reddd Buuuudddd! and shooting off fireworks. They've been at it since early yesterday, and it's a truly awesome event on an awesome track, with what is shaping up to be perfect weather.
Of course, July Fourth is past us, but this is still a celebratory weekend, especially here at RedBud. And what a time to become patriotic, because right now, American motocross needs a boost. Last weekend, French riders Marvin Musquin and Dylan Ferrandis swept the overalls at The Wick 338, marking the first time since RedBud back in 2000 that French riders have swept an AMA Pro Motocross event. Back then it was Yamaha of Troy's Stephane Roncada and Team Honda's Sebastien Tortelli, and it happened right here at RedBud.
This isn't the time for anyone to hit the panic button, as both Red Bull KTM's Musquin and Monster Energy/Yamalube Star Racing's Ferrandis got gifts in the form of crashes from primary competitors Eli Tomac (450) and both Austin Forkner and Alex Martin, who went down together at the front of the second 250 Class moto while battling for the overall. The Frenchmen were in the right place at the right time.
Now, with the Red Bull RedBud National giving something of a preview of what to expect for the 2018 Monster Energy FIM Motocross of Nations here at RedBud and France riding a four-race winning streak there, the world will be watching closely to see how Marvin and Dylan do here at the mecca of American motocross (and mecca for the world, come October 6-7). Neither was on last year's winning French team, though both have played a part in the winning streak (Musquin in '15, Ferrandis in '16). With both Musquin and Ferrandis living here and situated with excellent teams, it would be hard not to look to them rather than just MXGP-based riders like the country has had the last couple of years (Gautier Paulin, Romaine Febvre, Benoit Paturel, and the ISDE-racing Christophe Charlier).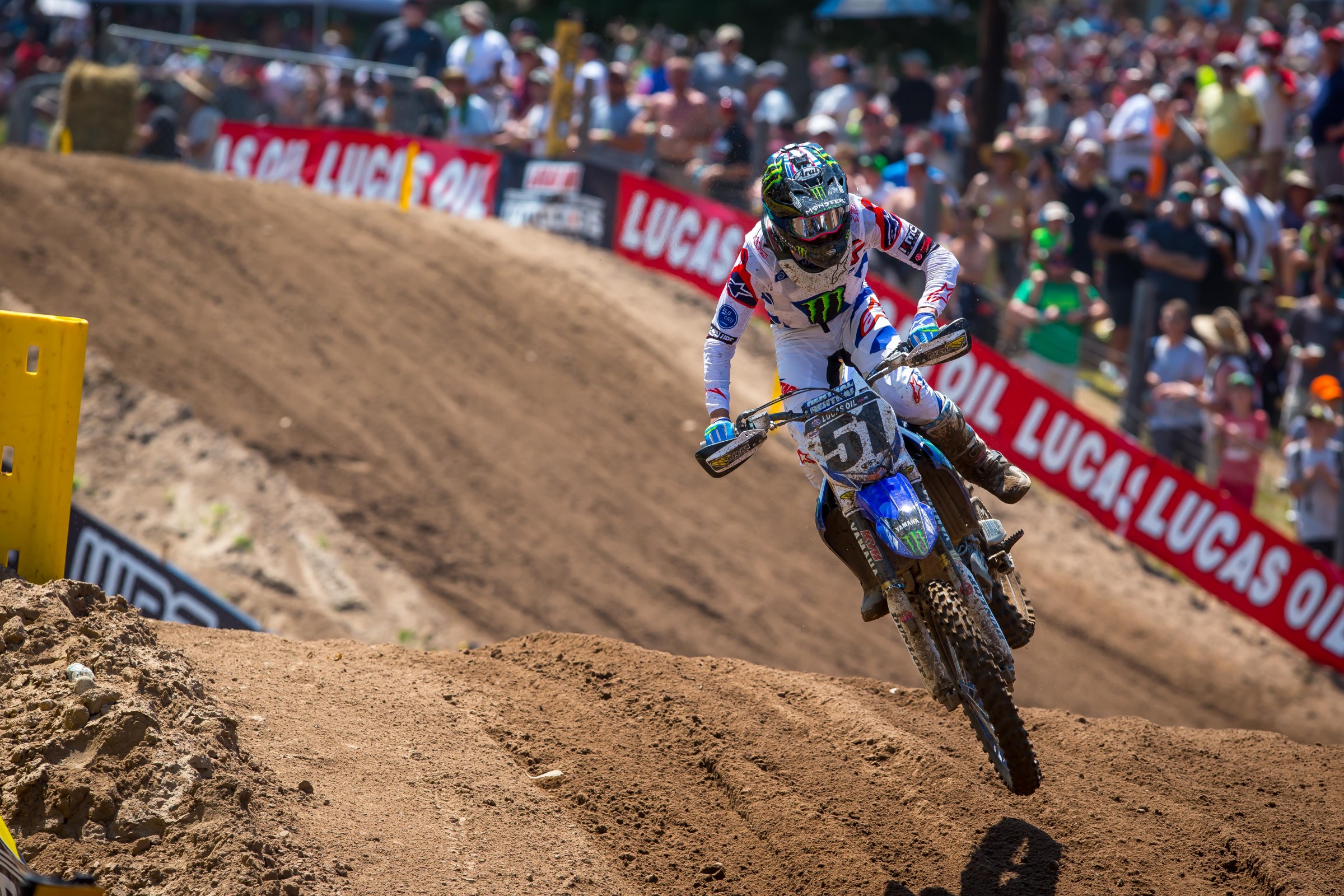 And since America hasn't won since 2011 and expectations are extremely high for a home win this time, it will be very interesting to watch not only the Frenchmen here, but Team USA candidates. Monster Energy Kawasaki's Tomac is a lock, but who else? Yamaha's Justin Barcia is looking very good, and he's done well here at RedBud under the pressure of the MXoN in the past. AMA Supercross Champion Jason Anderson will be back at some point, but how will his outdoor speed be? Rocky Mountain ATV/MC-KTM-WPS rider Blake Baggett also rips here at RedBud and could be on Team USA manager Roger DeCoster's short list. And while Aaron Plessinger has the red plate in the 250 Class, he's not necessarily a lock here—though with the veterans Zach Osborne and Jeremy Martin hurt, he's certainly at the top of The Man's 250 list. British team manager Marc Chamberlain is here this weekend for a look around as well.
Both classes tomorrow will have a lot more than just Lucas Oil Pro Motocross points on the line. Some riders' futures on the red-white-and-blue of Team USA (not to mention the same colors for Team France) will be on the line as well!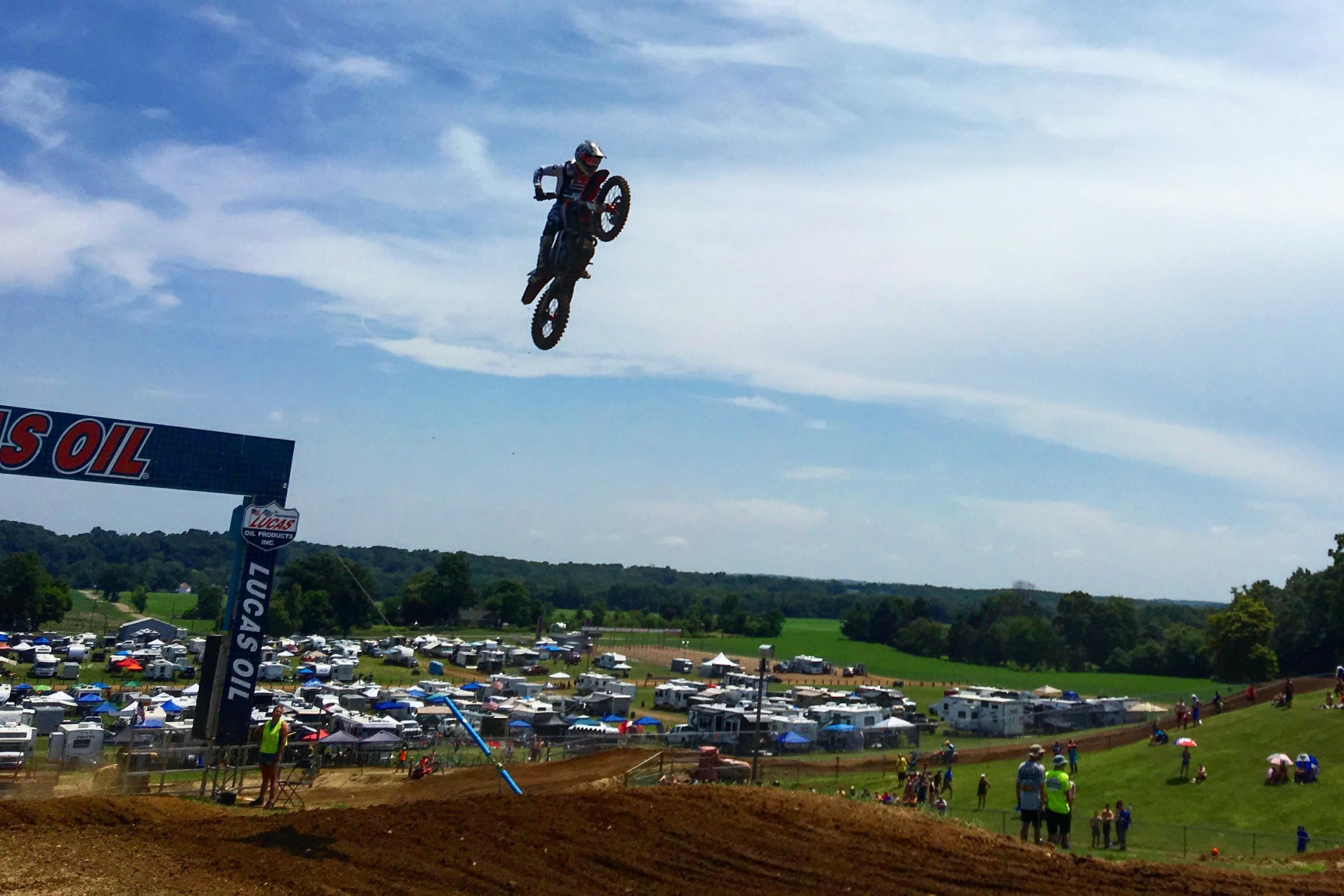 GAVIN TRIPPE (DC)
Before we get into all the racing stuff going on all over the world, motorcycling in general lost a great man when Gavin Trippe passed away this week in an automobile accident. Trippe was a British expat who moved to America right about the time motocross was starting to catch on. He was a journalist and a businessman, and he came up with the idea of bringing a round of the FIM Motocross World Championship to America and getting it on TV. The Carlsbad 500cc U.S. Grand Prix of Motocross soon became the biggest race in America, and it was featured annually on ABC's Wide World of Sports.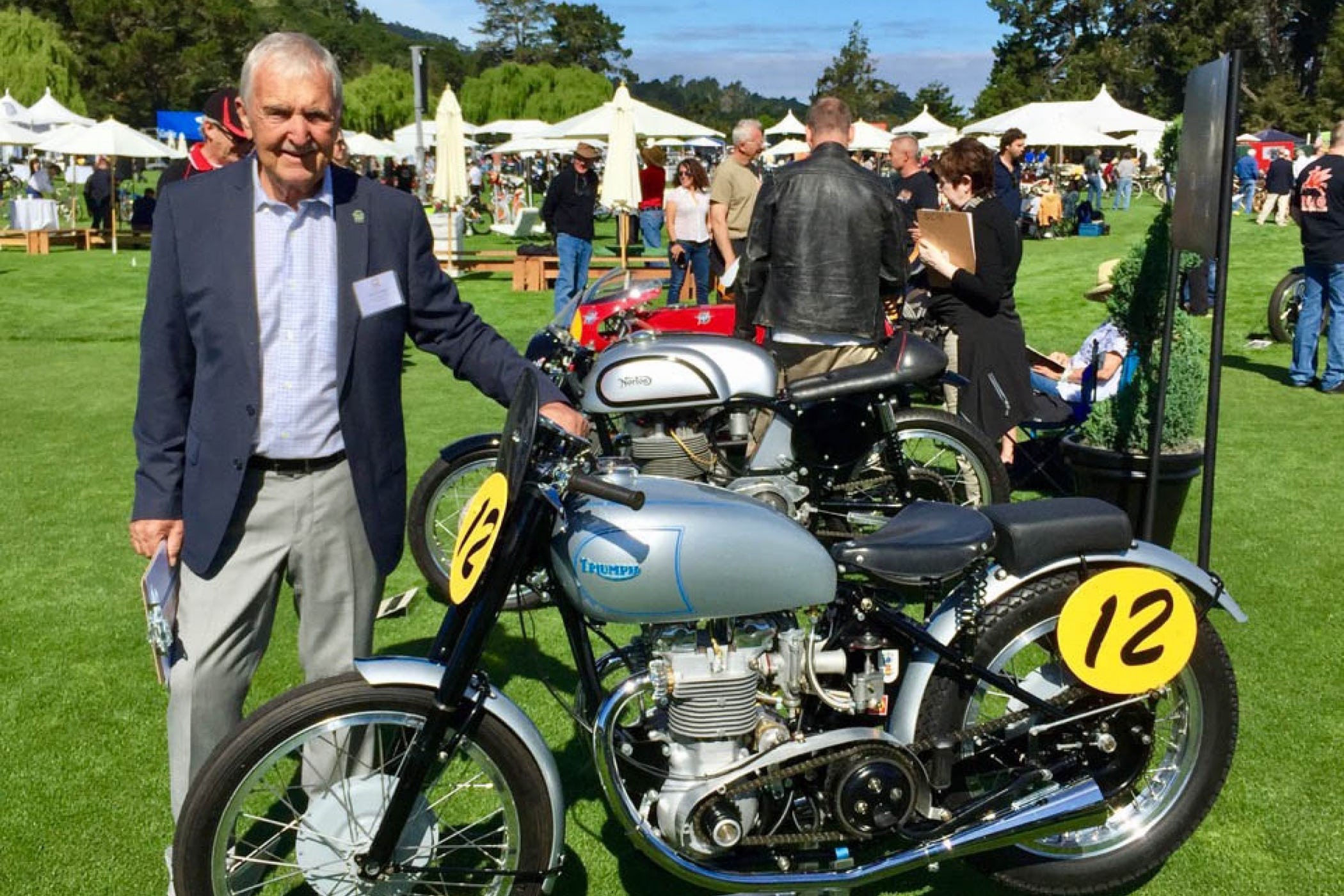 Trippe also came up with the made-for-TV ABC Superbikers, which was also held at Carlsbad Raceway and effectively marked the birth of Supermoto as a sport. He promoted many other successful races, then found a second career as a curator for exotic cars and motorcycles. He was inducted into the AMA Motorcycle Hall of Fame in 2005, but his fingerprints remain all over the sport today. In fact, the very notion that all four motos will be on live TV tomorrow—including the second 450 moto on NBC—would never have happened had it not been for the risks and work of Gavin Trippe. He was 78 years old. Godspeed, Gavin.
MXGP OF ASIA (ADAM WHEELER)
Topical (or is that tropical?) times for MXGP lately, with the second Grand Prix inside a week taking place in Indonesia and the slightly drier (and distinctly Brazilian-looking—thus hard-packed red soil and a high level of presentation) Semarang circuit invites a different kind of prospect compared to Pangkal Pinang. The site of the Indonesian Grand Prix last weekend was again hit by pre-event showers that produced another rough, muddy, and very technical surface. Semarang (the GP of "Asia") will again be a sizzler and a soup of humidity, but the standard of the setup and organization shows the variety of conditions that MXGP can find between the islands and locations in one of the motorcycling and passionate racing zones on the planet.
On the track, the Red Bull KTM duels are sliding left and right rather than advancing strongly in favor of one athlete or the other. The MXGP and MX2 classes might be a firm shade of orange, but the fact that 12 points divide Jeffrey Herlings and Tony Cairoli and just seven between Pauls Jonass and Jorge Prado indicate how close, tense, and significant every single moto result actually is at this stage, and with eight rounds and 16 races still to go.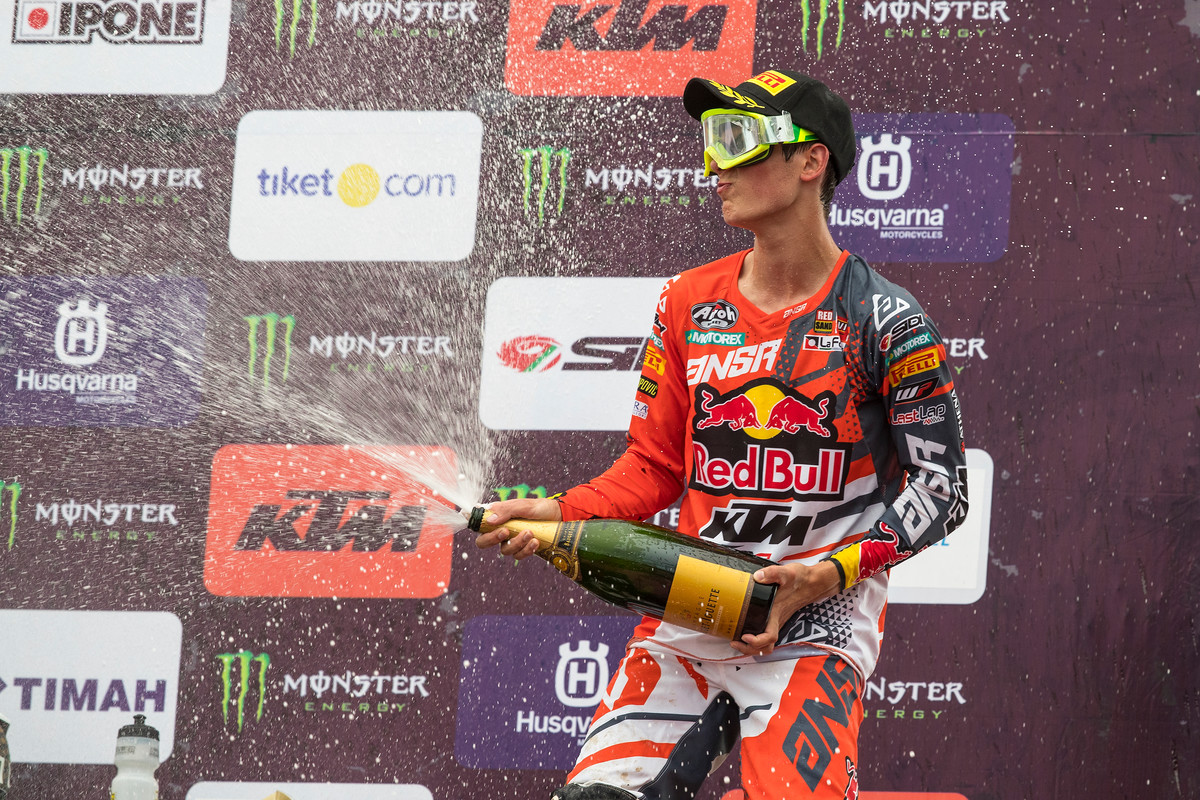 The significant narratives involve Herlings' continued recovery from the broken collarbone that saw his 62-point cushion chopped to 12, even if the Dutchman was able to return to claim Pangkal Pinang, as much through his conditioning, stubbornness, and determination as some of the errors by Tony Cairoli that made his job only slightly easier in the mud. Cairoli himself comes to round 13 nursing a sore left thumb. The real state of the complaint will be known only to his inner circle, but the defending champion is definitely in a position where any mind games or slightest advantage against Herlings might be of some use. Jonass has missed the MX2 podium twice from the last three rounds and needs to arrest that form and refocus on the job of guarding the red plate, while Jorge Prado is arguably the hottest starter and athlete on the charge at the moment.
Spoilers to the party could well be a resurgent Tim Gajser and Romain Febvre (with Clement Desalle always lurking), and in MX2, watch out for Thomas Covington aiming to reverse that streak of nailing one moto and just missing out in the other. HRC's Calvin Vlaanderen is now a Grand Prix winner—can he repeat the feat?
Off the track, the unveiling of the 2019 provisional calendar raised a few eyebrows. The fact that the roster remains at 20 events is not a surprise, but there are some long hauls with another Indonesia double. Hong Kong and China also provide two new and uncharted territories for MXGP. The circuit in Argentina is TBA, with Neuquen jostling with another alleged site near Cordoba; the opening slot of the championship is also vacant, although the inauguration of a massive state-of-the-art motorsport complex near Kuwait City is allegedly pending. It's puzzling to see the British Grand Prix in at round three for a date at the end of March—talk about rolling the dice with the weather—and that could have repercussions for the popular annual Hawkstone Park International, one of the staple preseason fixtures for GP riders. As expected, the Motocross of Nations has been confirmed for Assen and the Dutch sand for the first time since 2004.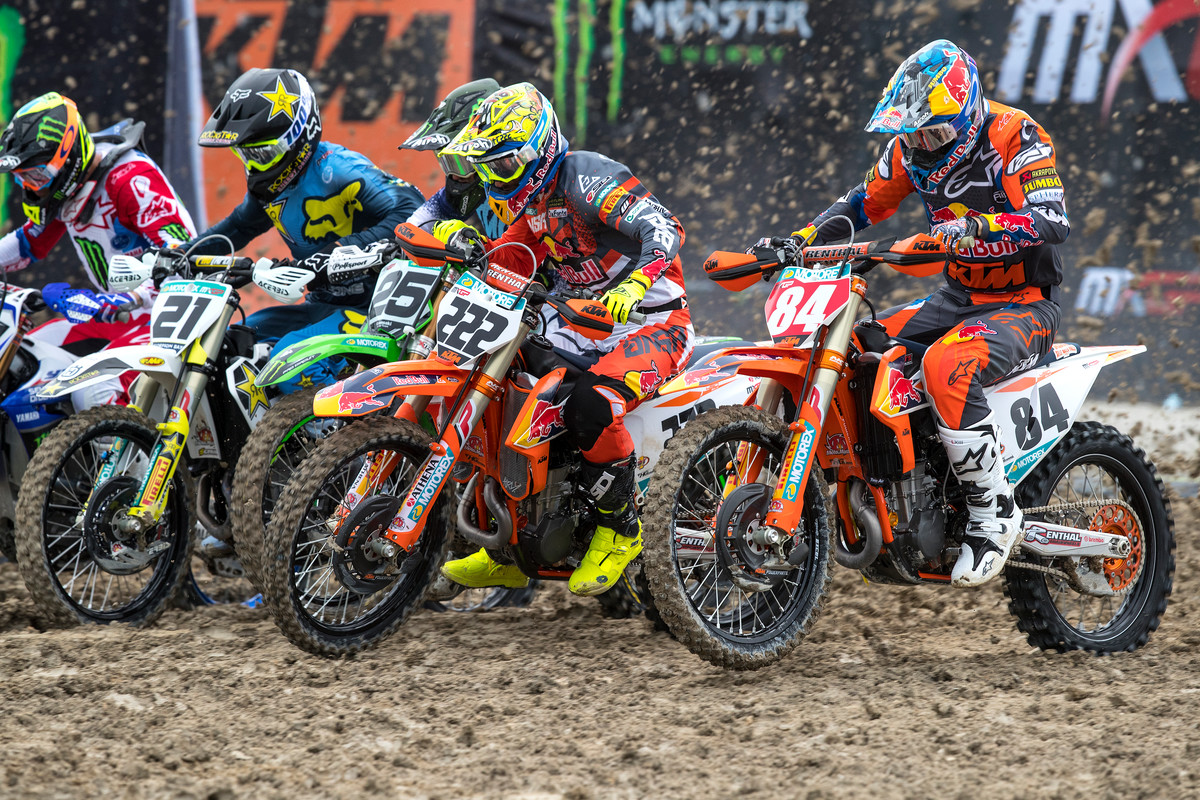 The flyaway MXGPs mean plenty of airport and hotel time for rumors and extra chats between teams to take place, even if the job of preparing contracts and finalizing offers will be happening in the respective European hubs of the main brands. What's the gossip to date? How about Max Anstie filling a spot at HRC next to Gajser, his IceOne Husqvarna saddle being occupied by Arminas Jasikonis? Jeremy Seewer is set for a factory Yamaha saddle for his second term in the premier class, Glenn Coldenhoff has already signed with the Standing Construct KTM team (meaning Kevin Strijbos could end his GP days this year), and Pauls Jonass could take that third KTM 450 SX-F in the Red Bull setup (no special word on who can borrow the other 250 with Prado). Question marks currently hover over the likes of Jeremy Van Horebeek, Shaun Simpson, Tommy Searle (although he could stay with Kawasaki), Evgeny Bobryshev (who is linked with Yamaha), Valentin Guillod, and even Gautier Paulin.
And on the subject of MXGP in the future, Cairoli and Herlings could replicate this tussle for the next two years, according to their current contracts, while Prado will almost certainly be an MX2 rider in 2019. Jonass might be forced out anyway if he can overthrow Prado's threat and own the division for the second time. The KTM hegemony might be around for a while yet.
Also over in Indonesia is our friend Roddy MacLeod, and he sent us this note and a few photos:
A few quick snaps from Semarang. In the first one I was looking for an interesting place to shoot when the military chopper flew overhead. It felt like a scene from Apocalypse Now, so I had to shoot it. The second pic is of the track where they kept some of the local foliage and the last photo is of the pits. The teams are still setting up this morning.
The Semarang track is in a far better location than last week and the track is designed accordingly. Much larger, longer and definitely faster. The soil is hard pack clay but its been hot and dry here on Java, so they will lay down lots of water making it slippery especially during the opening laps. I spoke with Harry Everts while he and Pauls Jonass were walking the track and he said the same things, so it must be true! :)

Check out some of Roddy's excellent work from last week's Indonesia race right here.
TEN YEARS (ANDRAS HEGYI)
South Africa has produced some outstanding motocrossers over the years who were very successful in both America and the FIM Motocross World Championship. Greg Albertyn got three world championships, then moved to America and won an AMA 250 Pro Motocross title in 1999. Grant Langston was 125 World Champion in 2000, then took four AMA titles in SX/MX. Also, Tyla Rattray was FIM MX2 Motocross World Champion in 2008, then was two-time runner-up in the U.S. and won multiple nationals. But in the past few years, the South African motocrossers were pushed into the background. Since 2011, there have been no wins in America for a South African, while their last win in the MXGPs came in 2008. But this winless streak for South Africans is now over after last weekend's race in Indonesia, where 22-year-old Calvin Vlaanderen won the MX2 overall.
Vlaanderen got some junior motocross titles in his homeland and has lived in Europe since 2012. The Honda rider was third in the 125cc European Championship in 2013, and in '14 he finished second in the German 250cc series, one of the most important championships in Europe. Vlaanderen debuted in the FIM Motocross World Championship that same year and has been a regular there since 2015. Between 2015 and '17, he was a KTM rider and made only one podium. Vlaanderen joined the factory HRC Honda team this year and was faster immediately. In the first 11 rounds, he got two podiums, finishing third in both Germany and Great Britain. But last Sunday in Indonesia, he became the fifth GP winner from South Africa in the history of the world championship—going back to 1992, when Rob "The Fish" Herring moved from South Africa to England to compete.
Motocross GP winners from South Africa
| | | |
| --- | --- | --- |
| RIDER | WINS | CLASS |
| Tyla Rattray | 15 | MX2 |
| Greg Albertyn | 12 | 125, 250 |
| Grant Langston | 7 | 125 |
| Rob Herring | 1 | 250 |
| Calvin Claanderen | 1 | MX2 |
SEVEN ORANGE (ANDRAS HEGYI)
Since 2012—the season in which KTM won its first victory in the AMA 250/450 Nationals, thanks to Ryan Dungey—the Austrian brand has been able to win in every season. Last Saturday at Southwick, Marvin Musquin got KTM's 38th victory in the 450 Class, and this fact means that KTM has won in its seventh consecutive season. The record holder is Kawasaki, which has been victorious in 14 straight seasons.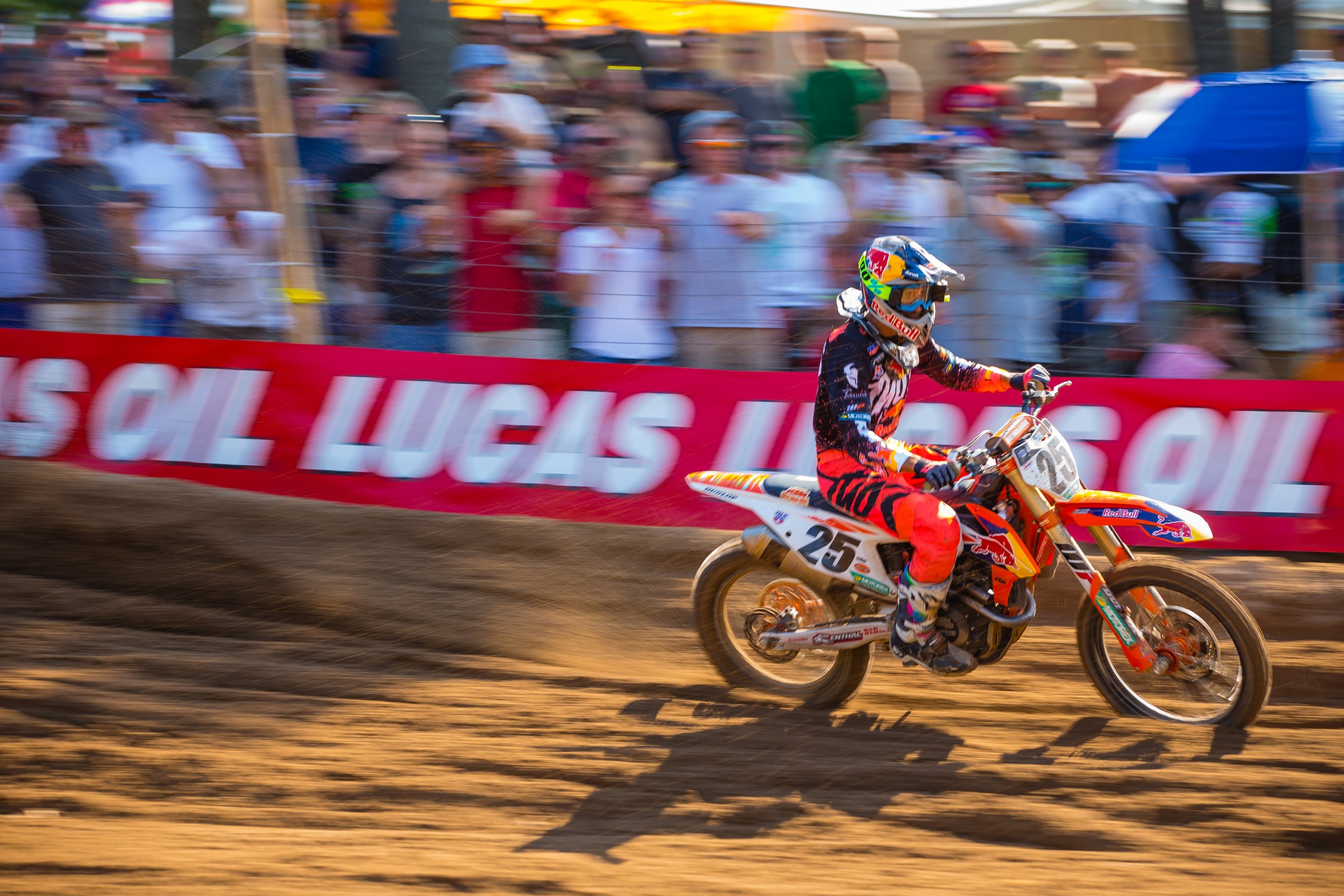 Brands that won in at least seven consecutive seasons in the 250/450 Nationals
| | | |
| --- | --- | --- |
| BRAND | WINNING SEASONS | YEARS |
| Kawasaki | 14 | 1985-'98 |
| Honda | 11 | 1982-'92 |
| Honda | 10 | 1995-'04 |
| Suzuki | 9 | 2009-'17 |
| Suzuki | 7 | 1975-'81 |
| Yamaha | 8 | 1972-'79 |
| KTM | 7 | 2012-'18 |
HEY, WATCH IT!
GEICO Honda's RJ Hampshire put on the Vital MX Garmin for this One Lap Around RedBud:
Check out Kyle Scott's very cool edit of last week's 125 All Star race at Southwick, which was won by Billy Ainsworth after a great but brief battle with young prospect Ty Masterpool. (You can check out helmet cam footage from the race here.)
And check out the awesome trophies The Wick had, complete with premix and a Ratio Rite!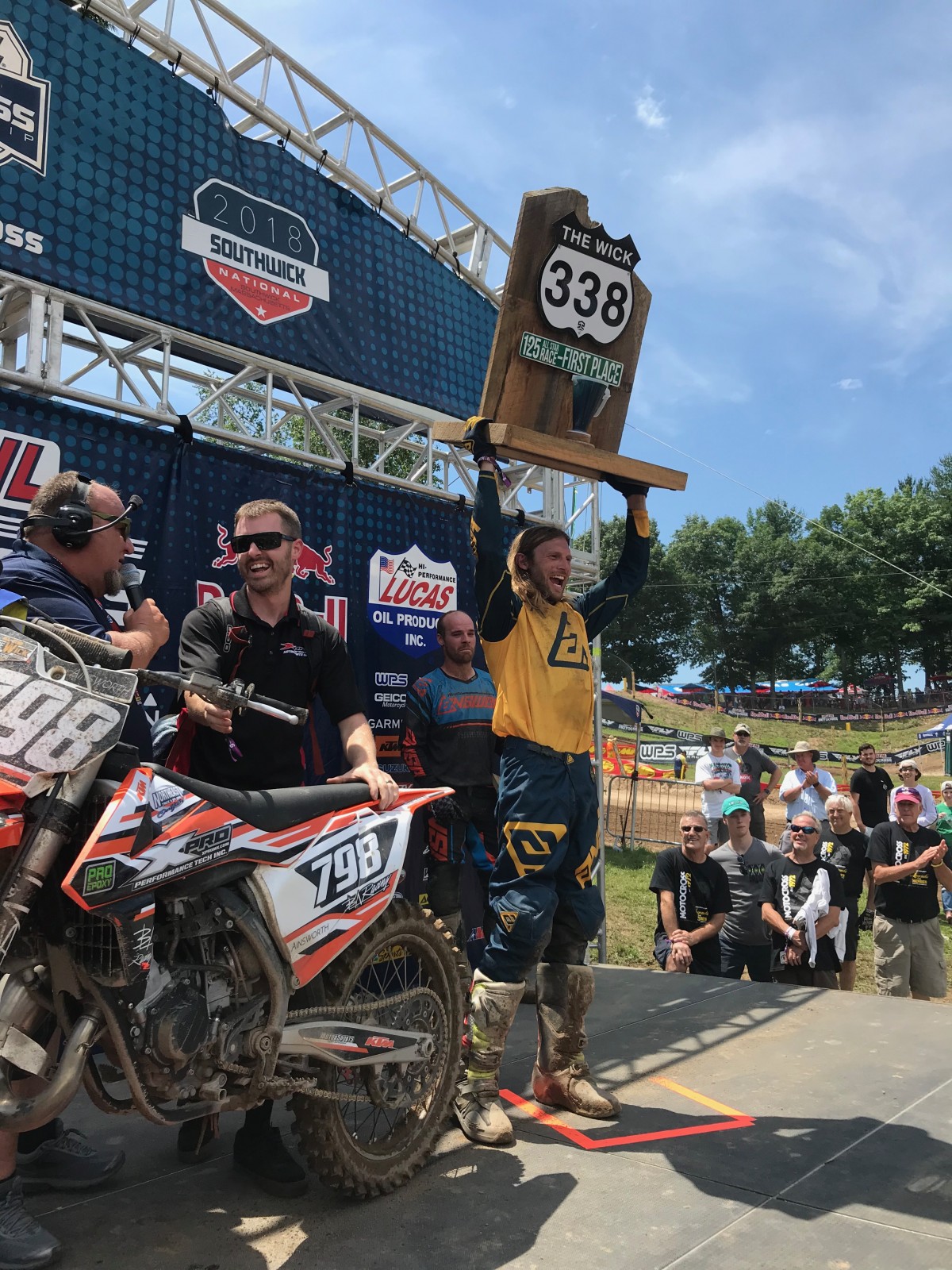 GARAGE BUILD: 2018 SUZUKI RM-Z250
RACER X FILMS: MAMMOTH MX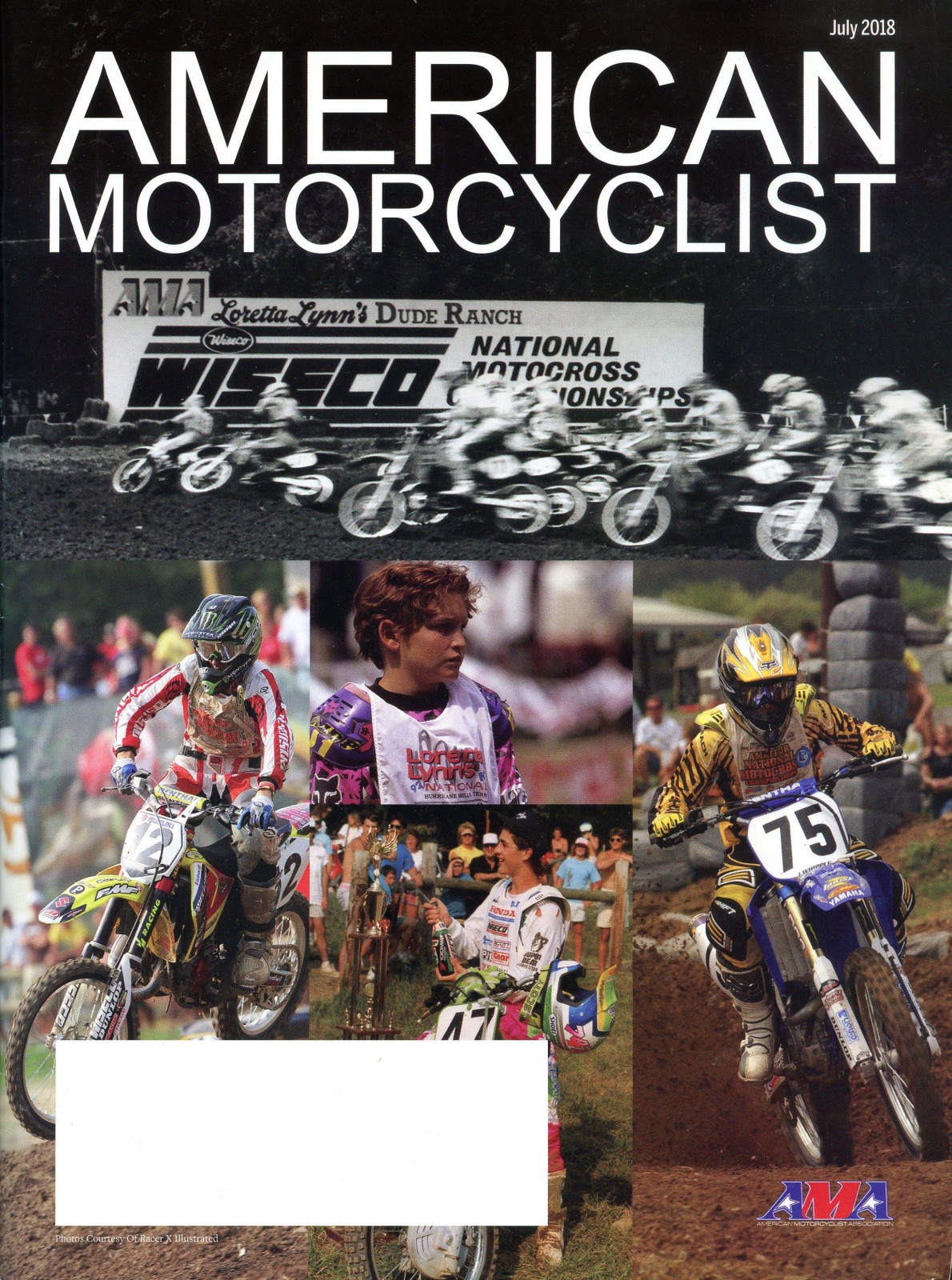 This weekend at the RedBud National, Throttle Jockey is celebrating 20 years as the official graphic sponsor for American Honda's motocross and supercross race team. Red Riders Ken Roczen and Toshiki Tomita will be riding their CRF450Rs with a throwback graphic to 1998. This '98 replica graphic will be available for purchase soon only at www.throttlejockey.com.
TJ will also be displaying a Team Honda 1998 CR250 Ezra Lusk replica in their booth. Check them out on vendor row for a free commemorative sticker and have a chance to when a free T.J./Honda 20-Year hat. For now, watch the video provided to see and hear more about Throttle Jockey's historic Honda graphics.
SUBSCRIBE AT RedBUD AND RECIEVE A FREE SET OF ALL 12 OFFICIAL 2018 RACER X EVENT STICKERS
Are you headed to the RedBud National this weekend? Make sure you stop by the Racer X booth, located in Sponsor Village, and subscribe for as low as $10 and receive ALL 12 Official 2018 Lucas Oil Pro Motocross Racer X event stickers. You will also receive a complimentary magazine and free Racer X stickers. Be sure to check out our Racer X Brand items on display and grab some gear. See you at the races!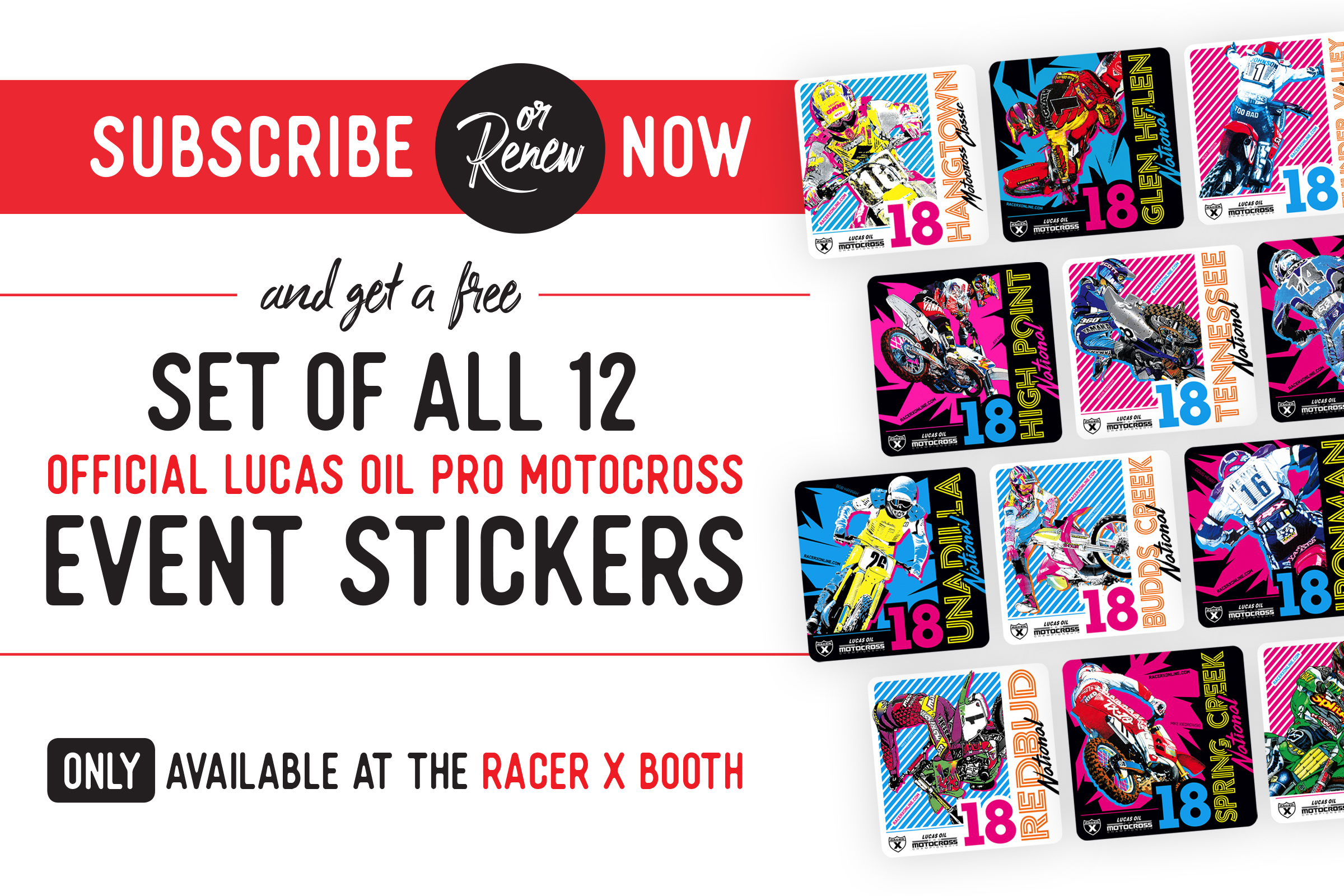 SUBSCRIBE OR RENEW NOW AND GET A FREE SET OF ALL 12 OFFICIAL 2018 RACER X EVENT STICKERS
Subscribe now for as low as $9.98 and receive a FREE set of all 12 official Racer X event stickers, plus immediate access to our current digital edition.
Going to the RedBud National this weekend? Want to be able to get into the pits all day?
The only way to cruise the pits whenever you'd like is with the Racer X All-Day Pit Pass, but quantities are limited! Make you stop by the Racer X Pit Pass Booth, located in Sponsor Village, and purchase your Racer X All-Day Pit Pass while they're still available and receive all-day pit access, plus a one-year subscription to Racer X Illustrated, for just $50.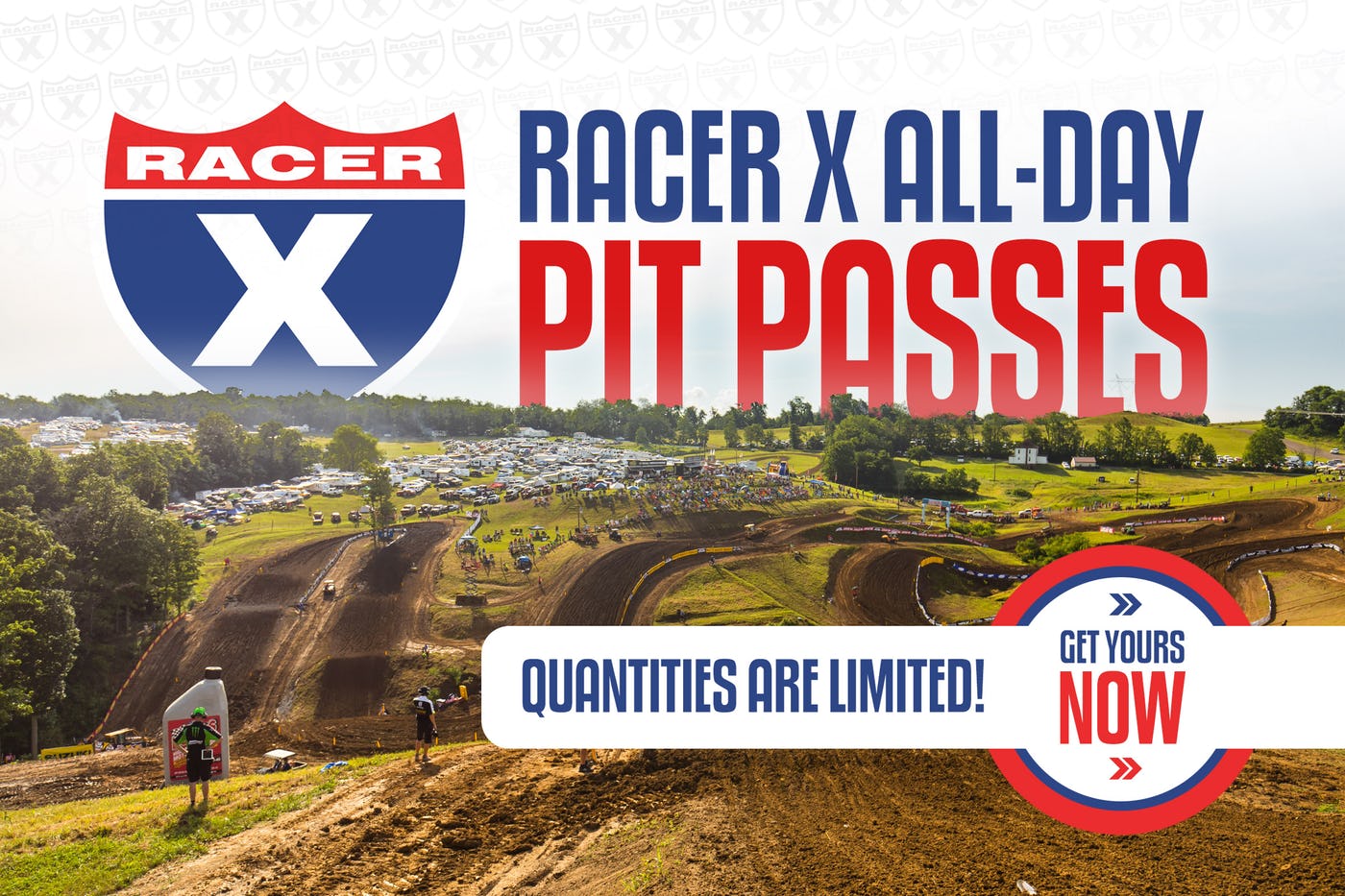 That's all for this week. Thanks for reading Racerhead. See you at the races.