Southwick, MA
Southwick
AMA Pro Motocross Championship
This 2018 edition of the 250 Class in Lucas Oil Pro Motocross has been a hot mess. Every time we think we have an idea of what to expect, we are thrown a curveball. With defending champ Zach Osborne leaving the series in Colorado, two-time champ Jeremy Martin exiting two weeks later in Tennessee, Alex Martin crashing in three out of the last four motos, Austin Forkner going down with him in the fourth, Justin Cooper crashing his way to a tough Southwick day, and Aaron Plessinger's 9-5-3-7 scores over the last two weeks, everything seems to be in flux. There just hasn't been any continuity or solid trends other than sheer chaos. If we are to expect anything at this point, it's the unexpected.
As these wild swings have been occurring, it made me wonder when we last saw such crazy variance at the front of the field. There is usually such a strong, dominating presence at the sharp end of the Lucas Oil Pro Motocross Championship—a couple of guys controlling the field and putting up big point totals. This year just hasn't panned out that way. I went back and researched how 2018 stacked up against other years and found some interesting trends. In fact, it's one of the lowest point totals at the halfway point that we have ever seen. Aaron Plessinger's 233 points are good enough for a 23-point lead over Alex Martin's , but let's take a look at how he would fare against past years.
| | | |
| --- | --- | --- |
| Year | Rider | points |
| 2017 | Zach Osborne | 254 |
| 2016 | Cooper Webb | 243 |
| 2015 | Marvin Musquin | 258 |
| 2014 | Jeremy Martin | 250 |
| 2013 | Ken Roczen | 265 |
| 2012 | Blake Baggett | 272 |
| 2011 | Dean Wilson | 258 |
| 2010 | Christophe Pourcel | 260 |
| 2009 | Christophe Pourcel | 255 |
| 2008 | Ryan Villopoto | 291 |
| 2007 | Ryan Villopoto | 263 |
| 2006 | Ryan Villopoto | 240 |
| 2005 | Mike Brown | 223 |
| 2004 | James Stewart | 275 |
As the chart shows, we would have to go back to 2005 to find a series with more turbulence at the top than 2018. That 2005 season was one of the wildest in history. There were six different winners that summer, including heavy hitters like Grant Langston, Andrew Short, Ivan Tedesco, Broc Hepler, Mike Alessi, and Mike Brown. Brown was a complete privateer that season, having left a dissolving ride in Europe, but started the year strong. He would struggle down the stretch, making way for Ivan Tedesco to win the 250 title. Tedesco's 412 points would also mark the lowest season total for a champion in that span as well.
Throughout that season, all of the riders had their moments, but also suffered big crashes and sporadic results. Langston's ankle dislocation in the opening round would prove pivotal, as would Brown's mid-season slump, Alessi's inexperience, and more. It seemed that every time someone would get momentum rolling, disaster would strike. Sounds like 2018, right?
The most important rounds of this series may be the next two on the calendar. Alex Martin finished second overall at RedBud in both 2016 and 2017. Aaron Plessinger, on the other hand, has struggled to 10-11-6-11 scores at RedBud. If that trend continues, things could be very tight as we roll into Alex Martin's home track (literally) of Spring Creek, Minnesota. Plessinger has fared slightly better in Minnesota than Michigan, but hasn't beaten Martin in a moto there since 2015. These next four motos all clearly favor Martin on paper. That 23-point lead could be erased quickly if that trend holds true. I am curious to see how the momentum swings between now and the end of Spring Creek's second moto.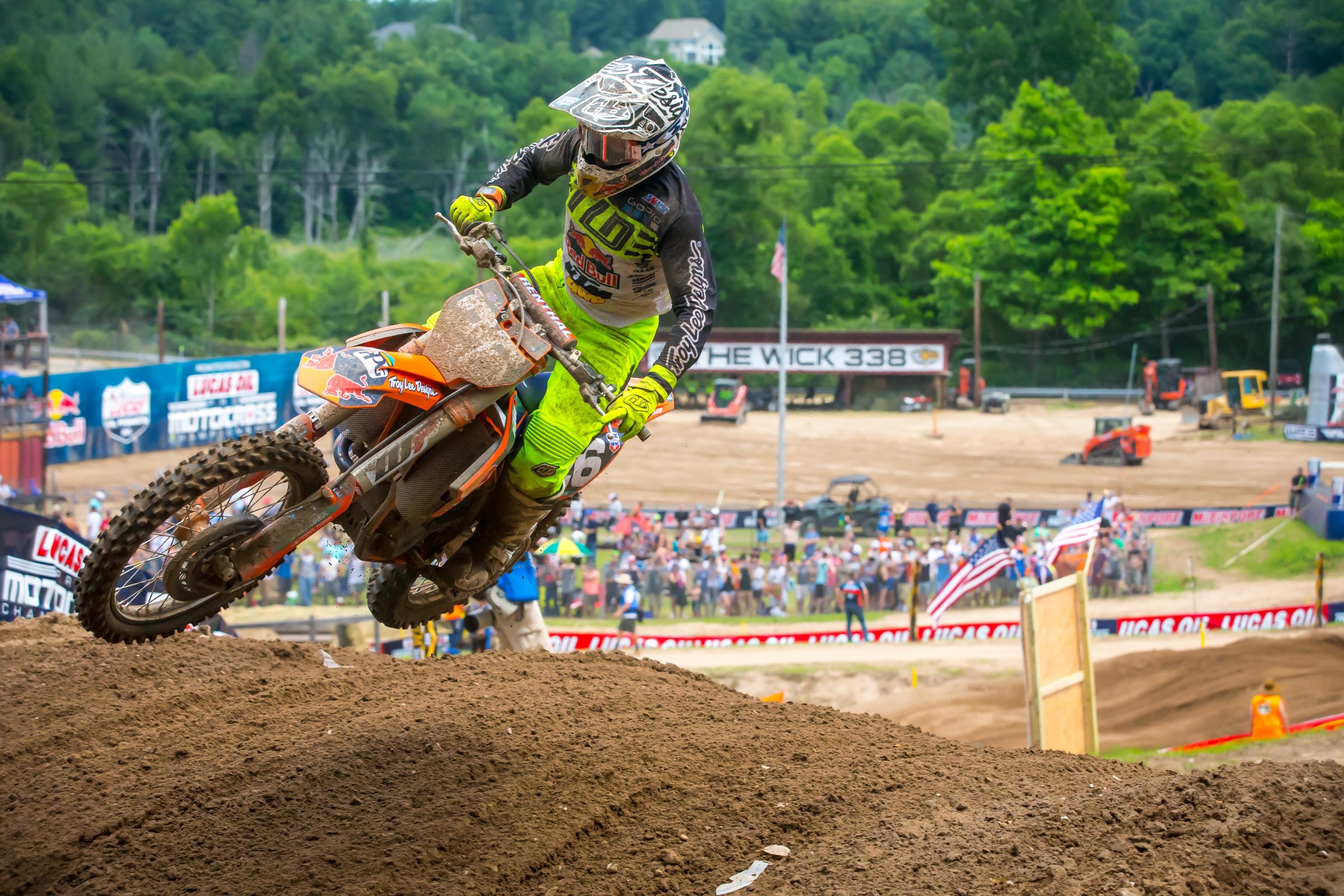 It's tricky to start picking apart individual tracks and races in a season like this, though. The real question is, who is going to step up and take control of this title? Plessinger has the edge even after two tough rounds. He has almost a full moto over Martin. Forkner looked like he was going to get back into the mix, but his crash really put a dent in that momentum. Justin Cooper suffered the same fate, losing big points to the lead duo. There just doesn't seem to be that dominating presence yet. This is the most wide-open series that we have seen in over a decade. Any takers?