Ottobiano, Italy
MXGP of Lombardia
FIM Motocross World Championship
For the second year in a row, the environmental issues and red tape that have looped firmly around the gates of the Maggiora circuit meant that Italy's second Grand Prix of the year took place in the sand of Ottobiano, a short distance southwest of Milan. Here are some of the talking points from a hot and very busy round 11 of 20 and the start of the second phase of MXGP.
1. Nightmares can come true
And so can dreams. Last weekend was a contrast of emotions for the outright dominators of MXGP thus far. Right collarbone surgery for Jeffrey Herlings on Wednesday prompted a ten-day break for the rider that had won eight from ten and with seven 1-1s. The Dutchman had perhaps tempted fate after his impressive victory in France the previous week by calling Ottobiano one of his favorite tracks, but "I haven't had much luck there: the first time I broke my hand and the second time I got cooked!" The 23-year-old didn't even make it this time.
The news that he'd miss the Italian sand after a practice crash and what could and should have been a firm 50-point banker became a shining gift in the lap of Antonio Cairoli. While Herlings was trying to animate himself with some determined and resolute messages on his Instagram feed, Cairoli set about maximizing the opportunity to snare just his second triumph of the year. Ottobiano was the scene of spoils in 2017 for #222 (when a sick Herlings toiled with heat stroke), and while the home ground played into his favor, it was also a vast stage where he couldn't fluff his lines.
"It is so hard to race in Italy," he said afterward. "[All] you hear for four or five days is 'you need to win,' 'you need to win,' 'you need to win,' and if you can handle the pressure it is nice, and it is very emotional if you can make it."
Cairoli crashed on Saturday but showed sharp form to blast back from last to seventh in the qualification heat. The reminder that he couldn't squander the possibility for a full loot led to a holeshot and total control of the first moto on Sunday, and then the urgency that helped him to pick up the 450 SX-F from a drop in the second race to overtake Honda HRC's Tim Gajser and post his first 1-1 since Spain and round three.
Mission accomplished, and (perhaps) vindication in one of the few possible strategies left in the 32-year-old's cupboard for a title defence against Herlings—patience. A widening chasm of 62 points at the top of the standings was slashed to just 12, and most of Herlings' hard work to build an advantage was lost in a matter of hours.
Nine rounds, 18 motos, and 450 points still to go. This one is just getting started again.
2. The confidence of assurance?
Rockstar Energy Husqvarna's Thomas Covington has sorted his future for 2019, and the pacifying effects on his mindset—coupled with growing esteem in the wake of recovery from a knee injury—is creating a very competitive and accomplished racer. The sharp bumps and pace of the Italian sand would have crushed a young #64 circa 2013-'14, but the 22- year-old showed form that was almost the finished article in Italy. A first moto blast represented a second checkered flag in the space of a week and just the fourth race all year that didn't fall to a Red Bull KTM.
Jorge Prado took the reigns in the second moto, and this was where TC faltered slightly. He had nothing for the stylish Spaniard. "I was expecting him to drop off… he didn't, and it got me mentally and as well as physically," Covington admitted. "Aside from the second half of that second moto, I felt awesome this weekend. Jorge was just jumping the bumps nicely and with some good lines."
A third podium for Thomas means he is rapidly gaining ground on the top five of the championship standings, but his numerical catch-up is not as ferocious as Prado's. The teenager has now won three from the last four Grands Prix and is just nine marks behind teammate Pauls Jonass. Prado has levelled on wins for the season with the champion (five apiece) and has more podium finishes (nine compared to the Latvian's eight). He also became the most successful Spaniard in Grand Prix history with this latest success. Sweetest of all, Prado conquered the sand and sweltering conditions that caused him to melt and pull out of the races 12 months earlier.
"It was an incredible weekend. I cannot say it was unexpected because I have worked so hard and waited a whole year to come back here and prove people wrong," he claimed. "At the end of the second moto, I was so happy because it was so, so tough. It was very physically demanding, so to win a race like this makes me happy. It gives me the motivation to keep training. This is almost the hardest conditions we can have, and if we can survive this, then other races will be easier."
If we thought the title picture was murkier in MXGP, then MX2 is becoming just as obfuscated. Exciting times.
3. Burning white again
The combination of the Rockstar Energy IceOne Husqvarna resources, organization, factory equipment, and line-up of Gautier Paulin and Max Anstie should have delivered much more than the three podiums that had arrived in 2018 so far.
The team are keeping a closed shop when it comes to some of their troubles being competitive, but finding starts to live with the KTMs out of the gate was one of their issues. In Anstie's case, the crash and concussion at round three in Spain had forced the Brit (in only his second season on the 450) into a horribly condensed period of "trying to catch-up, crashing and losing confidence. It has been a bit of a mess," he admitted.
There is already plenty of talk that Anstie's future lies away from white, but Ottobiano was a stark reminder of his capabilities and across difficult ground where he obtained his very first MXGP podium one year before. "I've had a terrible first half of the year. I've turned the page, hopefully. The track was intense—not crazy bumpy, but just so fast with kicker-jumps."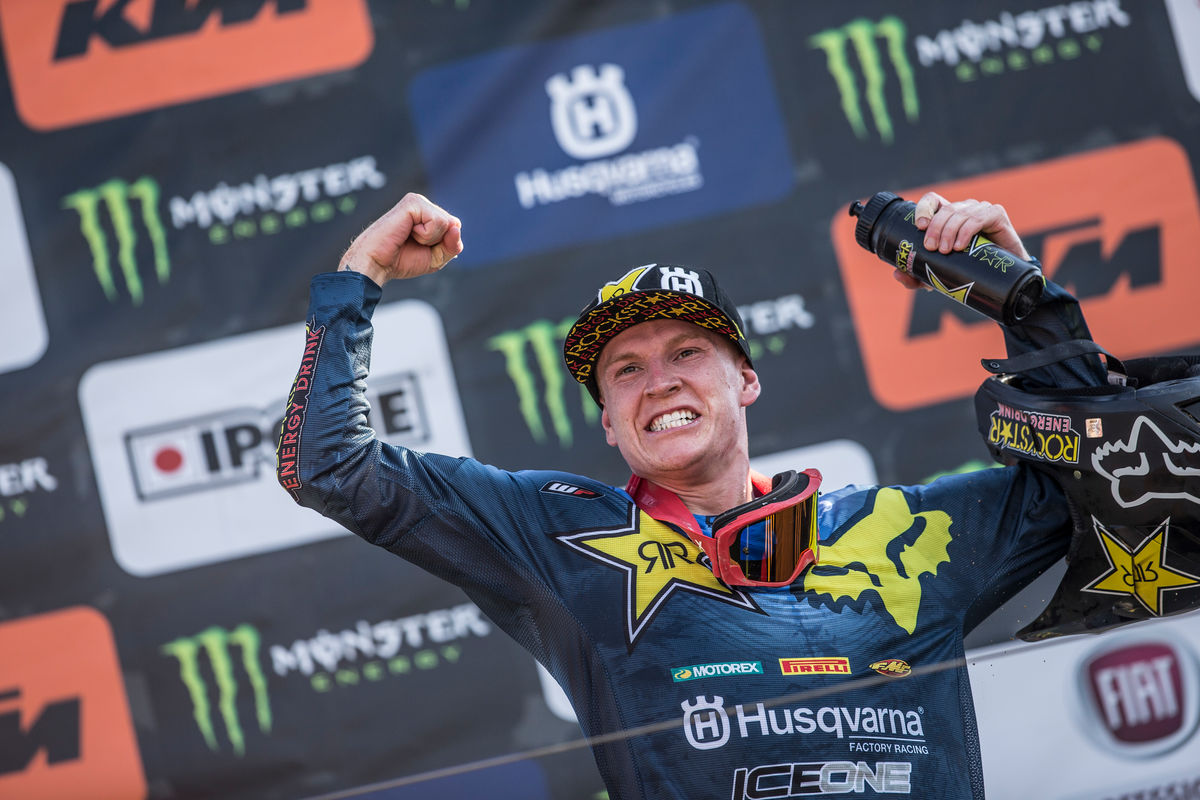 Paulin, as runner-up, was more consistent than Gajser and Monster Energy Kawasaki's Clement Desalle, who had a fall and some run-ins in a troublesome second moto after circulating behind Cairoli earlier in the day. "I did a job and the bike was working awesome, both the engine and the suspension. Coming back through was tough," the Frenchman admitted.
Paulin successfully signed off a three-week spell of three staple events in the MXGP calendar with Great Britain, France, and now Italy (again). The series heads into mystery once more in two weeks with the first of back-to-back Grands Prix in Indonesia. Pangkal Pinang was horrifically rain-hit in 2017 and it remains to be seen what the riders will face on this occasion. Humidity and peaking mercury for sure.