St. Jean d'Angely, France
MXGP of France
FIM Motocross World Championship
Jeffrey Herlings is the fastest motocrosser on the international stage. Seventy-five wins, eight from ten in 2018, 16 moto wins from 20, and a 62-point lead in the FIM Motocross World Championship are just the numbers. The Red Bull KTM ace has also dominated from the front, charged from the mire of the top ten, and figuratively "assaulted" world champion and teammate Antonio Cairoli on the last laps of three Grands Prix this term.
This year has become an authentic duel between the 23-year-old Dutchman (a three-time MX2 title holder and in his second year in the 450s) and 32-year-old Sicilian (nine crowns overall and now a tenth year in the premier class with seven championships) that now seems to be tipping in one direction.
The thermostat in the KTM awning went a little haywire with contact that dumped Cairoli to the ground at Matterley Basin last week, but Herlings has always insisted on a close, competitive, and clean dispute. Herlings talks loud and confidently, but there is also a humility in his words born through maturity and some hard injury knocks that don't always filter through the lines of text. He frequently grins and almost laughs sometimes in his answers. He is confident, knows he is good, but also doesn't want to take himself too seriously. Uniquely, Herlings is one of the very few riders who can talk about being on top of the world and with full justification for doing so.
Racer X: When things are going well and your form is this good, is there some fear of losing the momentum?
Jeffrey Herlings: There is. But I'm pushing every single day, you know. I was tired after last Sunday [British Grand Prix], and there is a part of you that thinks, "Let's do the same intervals and speed on Monday," but you end up doing it a bit slower or you cycle a bit slower. You aren't always going to be able to improve, and it is what you save for the weekend that counts. Some of my worst tracks on the calendar have passed and places where I thought, "Let's see what we get here," or "Let's try not to lose many points," and now I really like many tracks in the second half like Ottobiano, Lommel, Assen, and plenty more. I feel that we have a solid base now, and we are halfway though.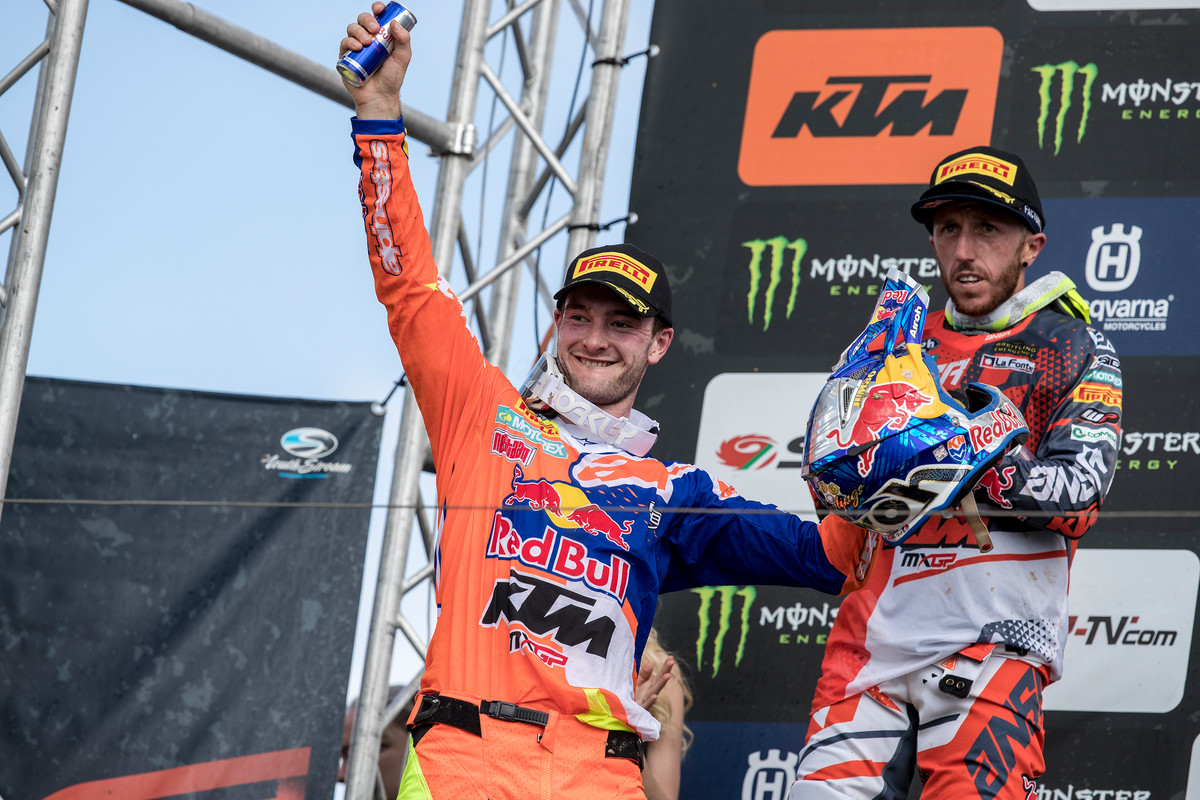 Will it be difficult to accept some of the adversity that is likely to come? Such as weekends with a small injury or illness where you'll have to accept a result you don't want?
I've put myself in a position where I am able to lose a few points. If I would be in Tony's position now—where we are halfway through the season and he is 60-odd points behind—then I know I'd have to start beating me. Our plan is not to lose points. It is to fight for race wins, but I am capable to accept that if I miss my start, then I can come home fifth instead of first, second or third and maybe "yard sale" and crash. Our plan is to be consistent and not look at the championship too much while keeping it in mind.
There must be a moment soon where you'll have to start looking at the points table more, like Tony Cairoli did last year.
Yeah, it depends on the situation. A last lap fight between me and Tony might be different compared to say pushing on the second lap of a freshly-watered track and the pack being all close together. We'll have to look where we are and what we can do.
Are you enjoying this duel? Or do you wish some of the other riders could somehow step up to join you?
Yeah, and I think Tony is riding better than ever at the moment. I wouldn't say he is old for this sport, but he is also not 19, 20, 21. To see how fast, sharp, and motivated he is, then to beat him eight out of the first nine rounds, is pretty amazing. The guy has been in this position a few times, so he will not get stressed yet. It is nice to battle with him. He knows all the ins and outs of the sport, so you have to be aware of that.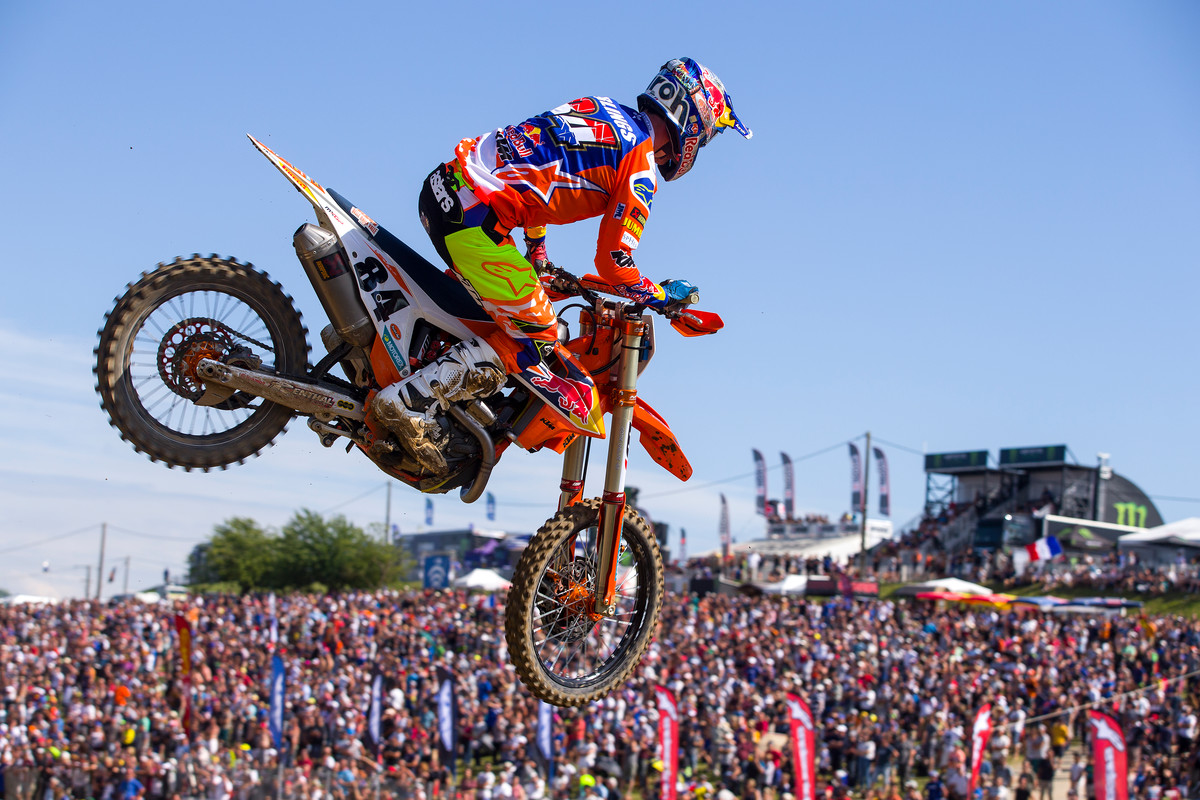 You're on the top of the world at the moment, but you don't mind posting Instagram videos of you bouncing around in the van leaving a Grand Prix still kitted up, and it must be harder to walk through the paddock now. How does that feel?
It gets difficult, but it is enjoyable. I think it is a little kid's dream to be where I am now. When I was little—15 years ago—I remember going to Lierop and seeing Joel Smets, Stefan Everts, and Mickael Pichon and how they couldn't get through the paddock, and I thought, "I want to be like them…" and make a living racing dirt bikes. I'm in the position now where I am one of the best in the world and fighting the best in the world in the premier championship in MXGP, so it is pretty amazing to be here, and I want to enjoy it because I know it can be over in no time.
There is a mirror image of you in the U.S. with Eli and his speed and results this year. Ever imagine going head-to-head?
I really like Eli. He is a really normal, down-to-earth guy from Colorado. I raced there last year, but the situation was a bit different because my championship was pretty much over. I don't believe I will do a national this season… but we still have time to go head to head at the [Motocross of] Nations. I don't feel that the competition level on Europe is necessarily stronger, although Eli at the top of his game and on a good day would probably beat me and Tony, but if you look at places from 5-10, I believe it is stronger here than there.
Is the rivalry with Tony still in a good place? Especially after that moment at the British Grand Prix last week?
It's tough. We are both racing for the same brand and the same team and already for a long time and there is kinda "a wall" between the two trucks, let's say, but we are still part of the same family. We are both racing for the same goal. It is tough at times and is starting to get a bit personal. He wants to win, I want to win. He wants to show he's better and I want to show that as well. He is after a tenth world title. It's getting a bit more personal… but that's also good because it is elite sport and racing.
Max Nagl [TM Racing] said earlier that you are in a place where everything is going right for you at the moment. Is that the kind of form and circumstance you fantasize about as a pro racer?
I left England and got home in the early hours of Monday. I got into bed and lay there thinking, "Today was a good day," and I felt proud just lying there. Sometimes you let yourself enjoy those accomplishments, but then Monday morning comes quickly and you start the week again; more road bike, more training, more bike days. You put in the work and when the results come back, then that's the best bit. Everything is clicking right now, but everything can change in the blink of an eye.