Welcome to Racerhead, coming to you from the announcer's tower at High Point Raceway, where I'm helping MX Sports' Tim Cotter and my nephew Tanner line up fences, plot out ingress/egress, and spend some hours with the Racer X Junior Varsity Mowing Crew (Maggie, Vance, Cade, Chloe, Carson) as they cut their teeth working on track crew. (It's not free labor, but it does come cheap when they have the same last name.) I hope you enjoy the off-weekend from Lucas Oil Pro Motocross as much as the riders and teams almost certainly will.
Motocross in America, which comes after 17 rounds of Monster Energy AMA Supercross, has always been about survival—or at least it has since the two series stopped overlapping in 1998. Ours is a rough-and-tumble sport, indoors and outdoors, and the combined grind of 17 SX races in 18 weeks is mercifully followed by a few off weekends here and there during the "summer season." It will give everyone a chance to take it a little easy, get some things done around the house, and rest and heal up a little.
Unfortunately for 250 Class Pro Motocross Champion Zach Osborne of the Rockstar Energy Husqvarna team, the break is only a week and not several months, which is what he'll need to heal up from surgery following that big chain-reaction crash in the first turn of the second moto at Thunder Valley, which left him with a shoulder injury that's going to take him off the track for the rest of the season. It was a terrible blow for a guy who has had the biggest career turnaround I can ever remember—Zacho may be the ultimate late bloomer—and also his team, which already lost newly crowned AMA Supercross Champion Jason Anderson to a practice crash at Glen Helen (as well as Dean Wilson, also to a practice incident at Glen Helen).
Those latter two issues led us back at the office to wonder why the teams don't get together and pool their resources to rent tracks for specific hours so the riders aren't out there with traffic when it's the busy season in SoCal. Osborne started out the summer like he might win them all, but now it's all up in the air as to who will be the next 250 Class Champion.
Though, obviously, the next 250 Class champ may very well be a previous one—or his brother. Jeremy Martin has the red plate for the first time in several years, as our man in Hungary, Andras Hegyi, will explain later, and his brother Alex isn't far behind. They went 1-2 in that order, which had to make their parents proud. And right there with them is Aaron Plessinger, who had an off-weekend in Colorado but is coming back east to some of his favorite tracks. What a coincidence that the three top riders in the 250 Class right now are the sons of a GNCC/hare scrambles-racing dad, with moms who were right there with them when they were racing in their heydays.
And then there's Eli Tomac, the son of a mountain bike racing legend and the runaway points leader in the 450 Class. Monster Energy Kawasaki's Tomac hasn't lost a moto yet, which is great news for him and his fans. However, the fact that HRC Honda's Ken Roczen is keeping him close, and also speeding up, is even better news for his fans. K-Roc said before all of this started that he was going to have to race himself back to top speed and shape, and it appears to be working. And with Yamaha's Justin Barcia and Rocky Mountain ATV/MC KTM's Blake Baggett showing signs of growing confidence and speed, well, that's a good thing too. But so far, Eli has been impossible to beat.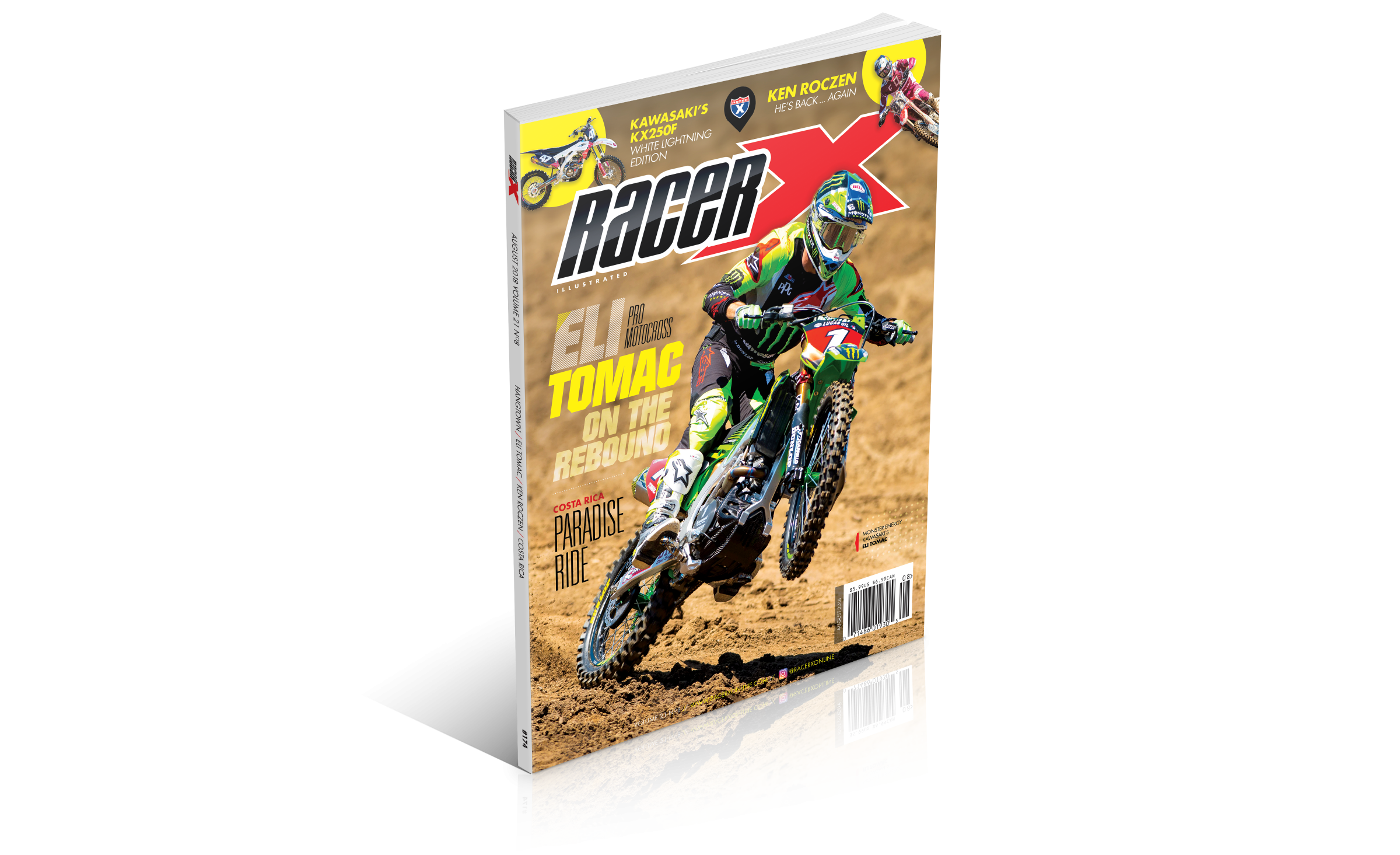 Beyond that, the first three rounds have shown us some things we already knew (Justin Cooper is really, really fast, but also a rookie) and things we didn't know (Joey Savatgy and the rest of the Monster Energy/Pro Circuit Kawasaki team are having an unlucky summer). The tracks have been a little different in prep, feel, and speed, and though the racing hasn't always been close, it's been good to watch, with potential to heat up even more beginning with High Point next weekend.
And on the horizon of this whole summer is RedBud and the Monster Energy FIM Motocross of Nations and the looming battle between our best (and that also includes you, Kenny and Marvin) and their best (the sensational Jeffrey Herlings, the ageless Tony Cairoli, and the rising Pauls Jonass and Jorge Prado and more). After watching that amazing MXGP duel at Matterley Basin between Herlings and Cairoli, our side of the world will have its hands full, even with the race on our soil!
Okay, time to get back on the mower. Here's the rest of Racerhead for your off-weekend.
GREEN BOXES (Andras Hegyi)
Monster Energy Kawasaki's Eli Tomac is climbing up Kawasaki's all-time list. By winning at Thunder Valley, he has become the seventh Kawasaki rider to get at least 20 podiums in the 250/450 Class in Lucas Oil Pro Motocross. Tomac has caught up with the legendary Ricky Carmichael, who rode the 250 Class for Kawasaki in 2000 and '01. He did 23 races on the Kawasaki KX250 and took 20 podiums. (RC switched to the 125 Class for the last round of 2001 to go after Mark Barnett's all-time record in the class, winning Steel City.) Tomac has raced with Kawi since 2016. The defending 450 Class Champion did his 27th 450 race with Kawasaki at Thunder Valley and got his 20th podium in the class.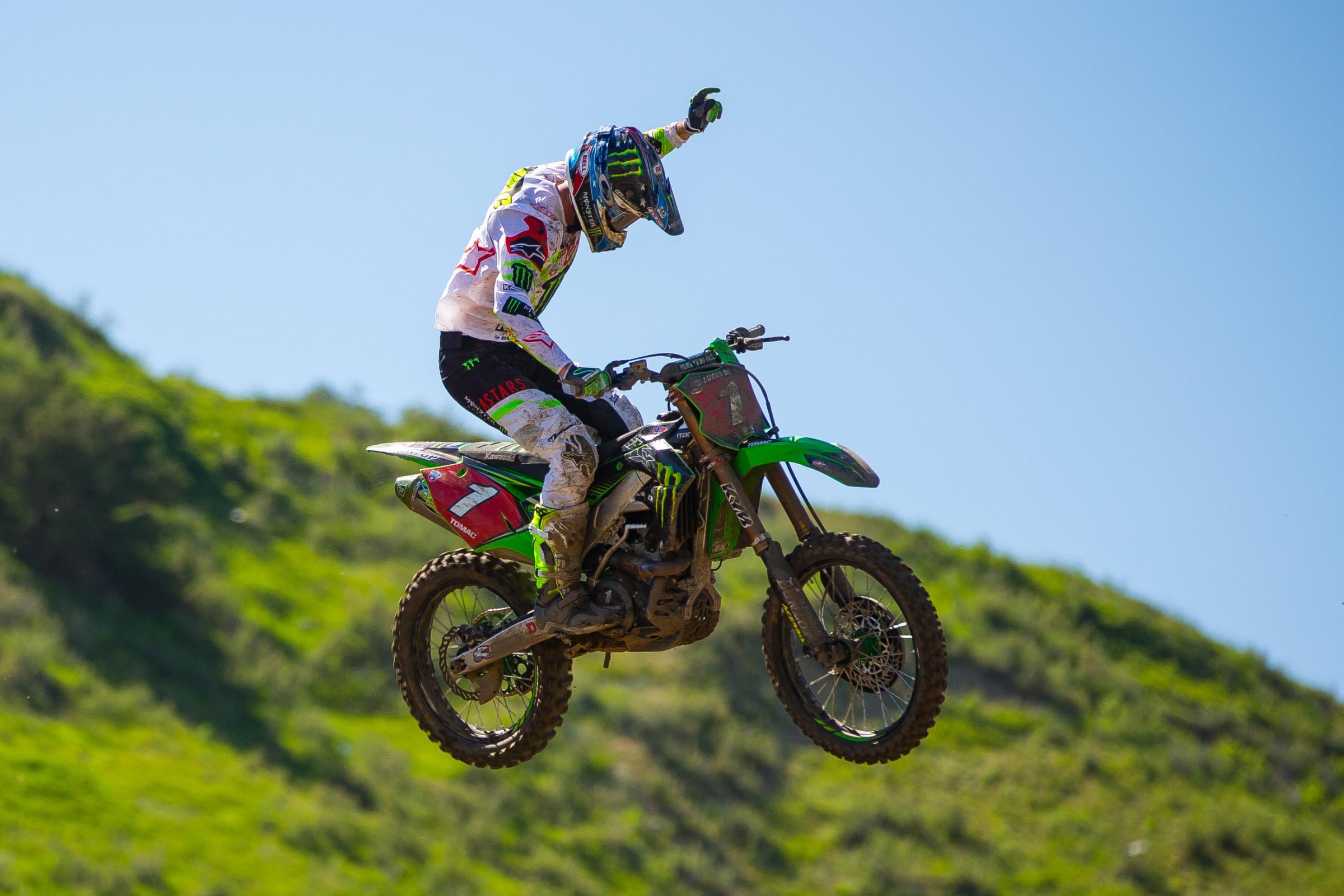 Kawasaki riders with at least 20 podiums in the 250/450 Nationals
| | |
| --- | --- |
| Rider | Podiums |
| Jeff Ward | 35 |
| Jeff Emig | 32 |
| James Stewart | 28 |
| Ryan Villopoto | 24 |
| Mike LaRocco | 21 |
| Ricky Carmichael | 20 |
| Eli Tomac | 20 |
THE OTHER LAKEWOOD (DC)
While working on the On This Day in Moto series, I mentioned the '82 National in Colorado where Rick Johnson lost what would have been his first 250 National Championship, but I said it was "the old Lakewood track," not the current Thunder Valley. Turns out I was a little off! Let me have Kendell Coniff explain it the way he did in a letter:
I just wanted to point out that the 1982 MX National where RJ collapsed his front wheel was not at the old Lakewood track, as stated in your article, it was at the CDR Tech Track in Castle Rock, Colorado. The Colorado National was held there in 1981 and '82, the only times ever for that track. I was taking photos when he waaaay overjumped and destroyed his front wheel. I have a great sequence of slides of his smashdown and subsequent tumble. Yes, the old Lakewood track was like concrete (that's why us locals referred to it as "Lakerock") but the CDR track was virgin grass and loam. RJ simply flew too far and his wheel couldn't take the landing. Us Colorado riders were lucky enough to get to race the same track the following weekend and also in 1983, and it was the most fun track I've ever been on. (I got second place in the open novice class!) I've attached a pic that I have on my computer of the same jump with David Bailey launching his Kawasaki, but unfortunately the RJ crash sequence is buried in a box somewhere.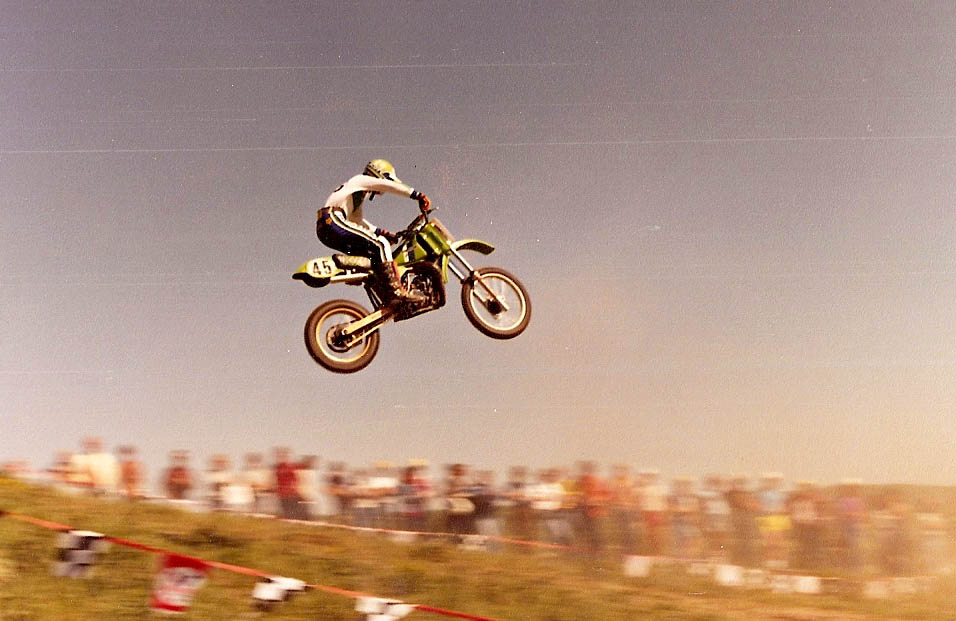 The original Lakewood track was south and east about one mile from the current track. There were two nationals at the original track in '79 and '80. The '81 and '82 nationals were at CDR, then they moved to the current Lakewood track. At least, that's how I remember it!
And here's one of Rick Johnson that day that he lost the 250 title to Team Honda's Donnie Hansen. RJ was 17 years old and would have been the youngest AMA 250 National Champion ever.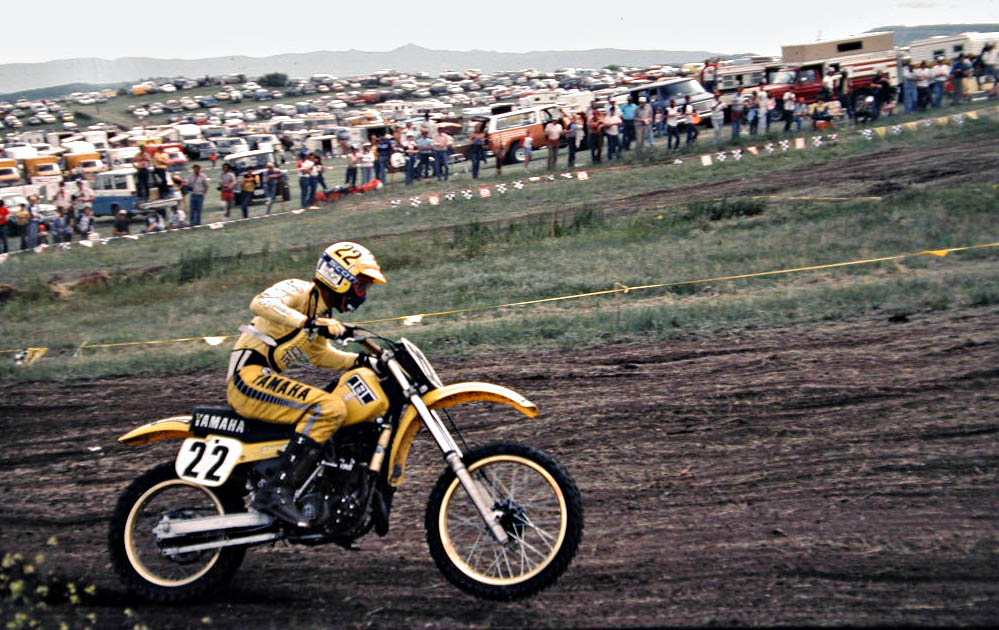 #6 for FIVE (Andras Hegyi)
The younger Martin brother, the two-time AMA 250 Class Champion, is one of the best riders in the history of the 125/250 Nationals. At Thunder Valley, he got his 14th national win, a very significant success in many respects. Thanks to Jeremy Martin, it is the first time since 2013 that a Honda rider has been able to become points leader in the 250 Class. In 2013, then-GEICO Honda rider Eli Tomac was the last Honda points leader. This is also the first time since 2015 that Jeremy Martin has held the points lead. And by winning, Martin could enter two very restricted companies: He is only the sixth rider to win in at least five seasons in the 125/250 Nationals, and Martin is only the fourth since the AMA 125 Nationals started in 1974 to win in at least five consecutive seasons in this class. Martin, who debuted as pro in 2012, has won at least one in every season since 2014.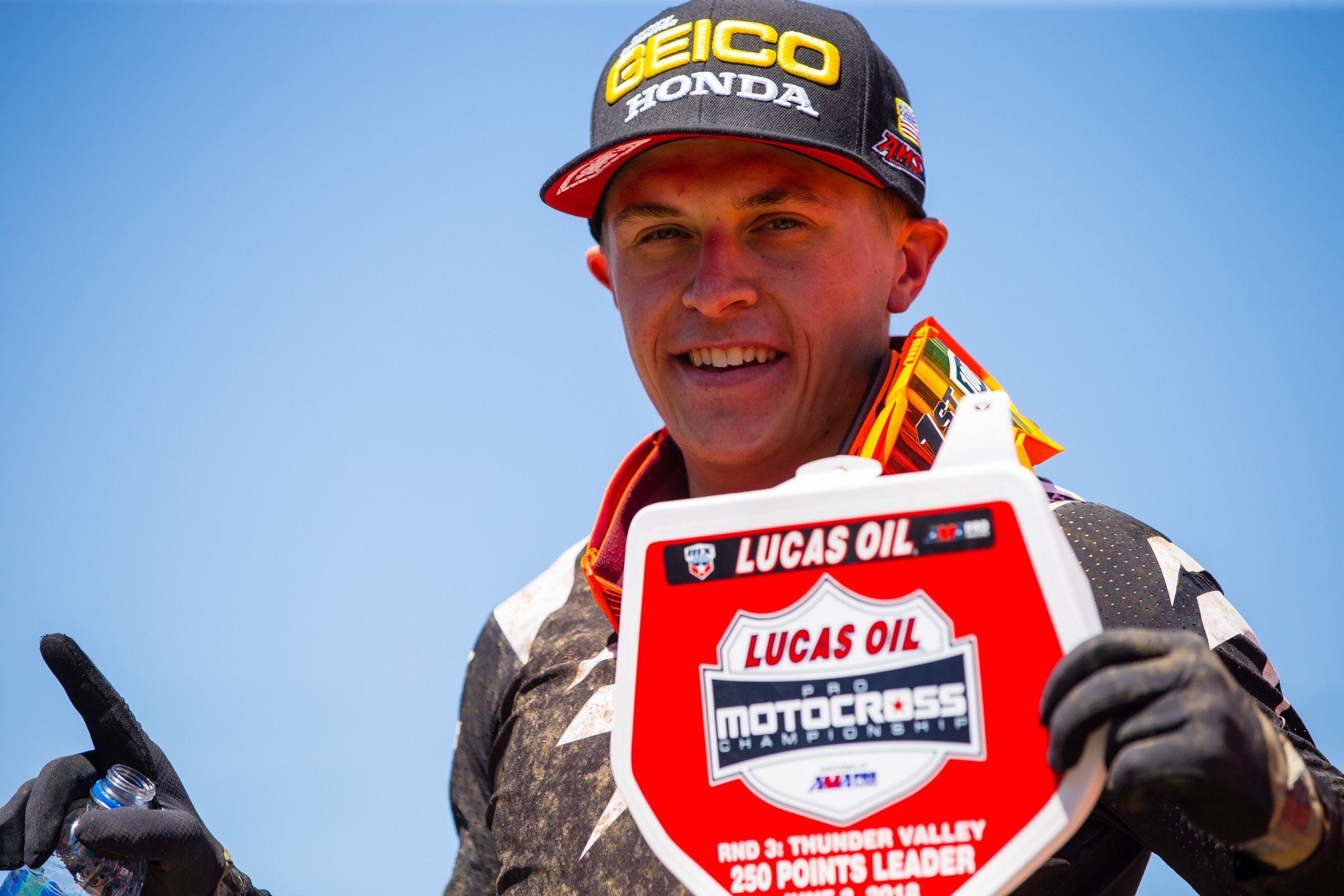 With the red plate back on his bike and one of his top rivals, defending champion Zach Osborne, out for shoulder surgery, Martin is also facing the chance of joining Broc Glover, Mark Barnett, Ricky Carmichael, and Ryan Villopoto as the one of the only three-time champions in AMA 125/250 Pro Motocross.
Riders to win in at least five seasons in the 125/250 Nationals
| | | |
| --- | --- | --- |
| Rider | Wins | Seasons |
| Steve Lamson | 6 | 1992, '94-'96, '98, '00 |
| Mark Barnett | 6 | 1978-'83 |
| Guy Cooper | 5 | 1987-'91 |
| George Holland | 5 | 1985-'89 |
| Mike Brown | 5 | 1995, '01, '03-'05 |
| Jeremy Martin | 5 | 2014-'18 |
ELI IS STREAKING (Andras Hegyi)
After the first three rounds, Monster Energy Kawasaki's Eli Tomac has three wins in the 450 Class. Before this, his best start was in 2015, winning the first two rounds in the 450 Class before crashing out badly at Thunder Valley in Colorado. Here are all of the riders who started a premier class season by streaking.
AMA 250/450/500 motocross seasons with at least 3-0 starts:
1978: In the first eight rounds, Yamaha's Bob "Hurricane" Hannah was unbeatable. Suzuki's Kent Howerton finally stopped him at the RedBud 250 National.
1979: Hannah once again was excellent in the first four rounds, then Howerton won at Southwick after Hannah crashed and tweaked his knee.
1980: Kent Howerton won the first four rounds in the absence of Hannah, who was out with a broken leg.
1984: The "Little Professor," David Bailey, reeled off the first eight wins in the 500 Nationals before Yamaha's Broc Glover finally tracked him down at Lakewood Sports Cycle Center in Colorado.
1986: The Bad Boy himself, Rick Johnson, in the saddle of a Honda CR250, won in the first four rounds of an abbreviated five-race series. Only Kawasaki's Jeff Ward stopped him.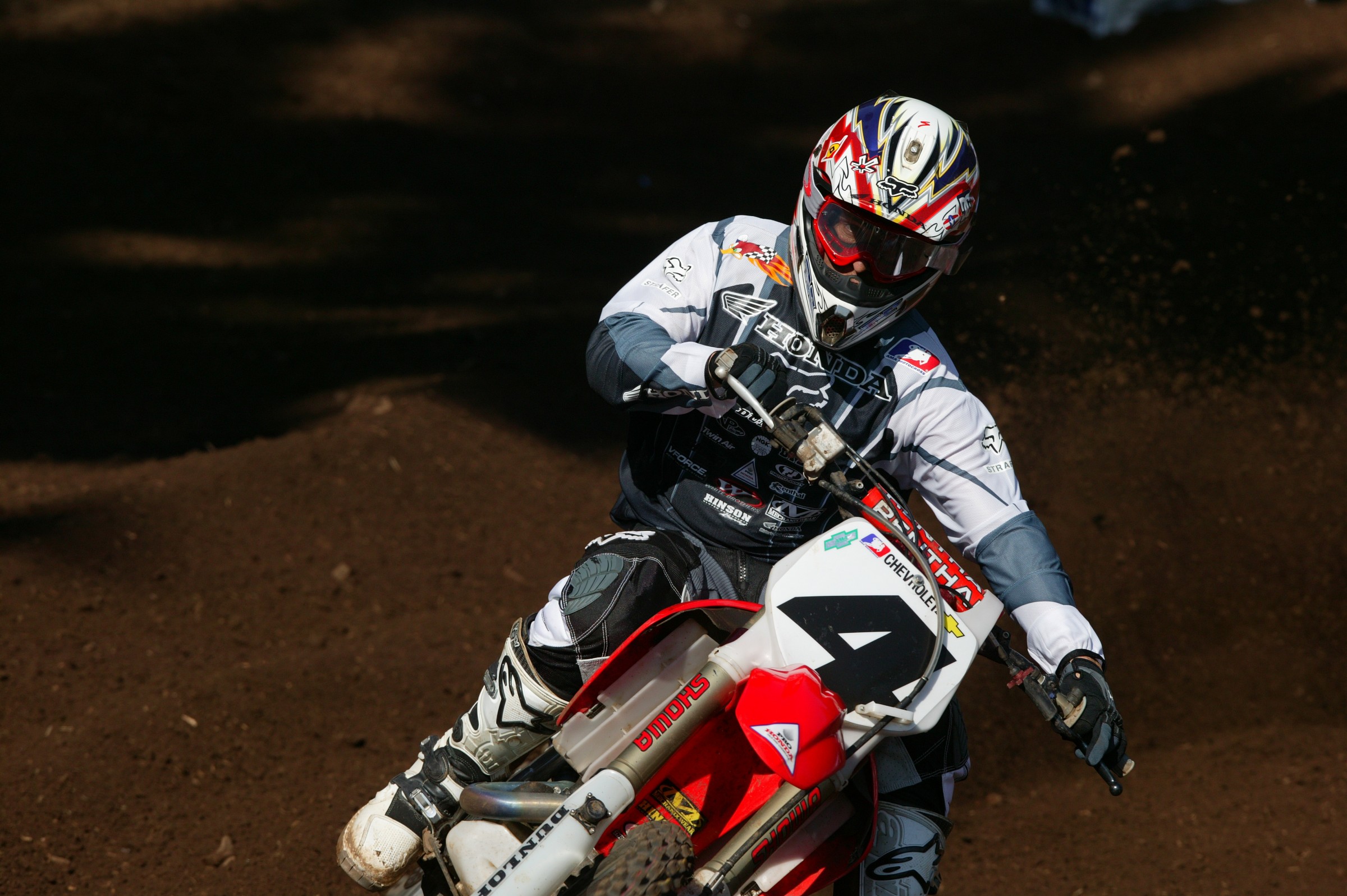 1987: Honda's Johnson started out 3-0 in the 250 Nationals, only to be beaten by his longtime nemesis and rival (and neighbor) Ron Lechien of Team Kawasaki.
1987: Johnson, on a CR500, won the first three in the 500 Nationals. Kawasaki's Ron Lechien was once again the one to stop him, which he did at Broome-Tioga in New York, the only race in the six-round series RJ lost.
1990: Jeff Stanton won the first three rounds of the 500cc Championship before Jeff Ward beat him at Steel City after Stanton crashed and was knocked out. Ward would end up winning the title.
1996: Honda rider Jeremy McGrath won the first three rounds before Kawasaki's Jeff Emig got the better of him at High Point.
2002: New Honda CR250 rider Ricky Carmichael became the first motocrosser in the AMA Pro Motocross history to win every round and every moto.
2003: The GOAT was victorious in the first six rounds while riding for Honda. His 18-race winning streak that began with the 2002 opener (21, if you count his 125 race win at Steel City and his last two 250 wins to end the '01 season) was finally ended by Kevin Windham at Unadilla.
2004: Carmichael repeated his 2002 Honda season by winning all 12 rounds and all 24 motos, only this time he was on a CRF450.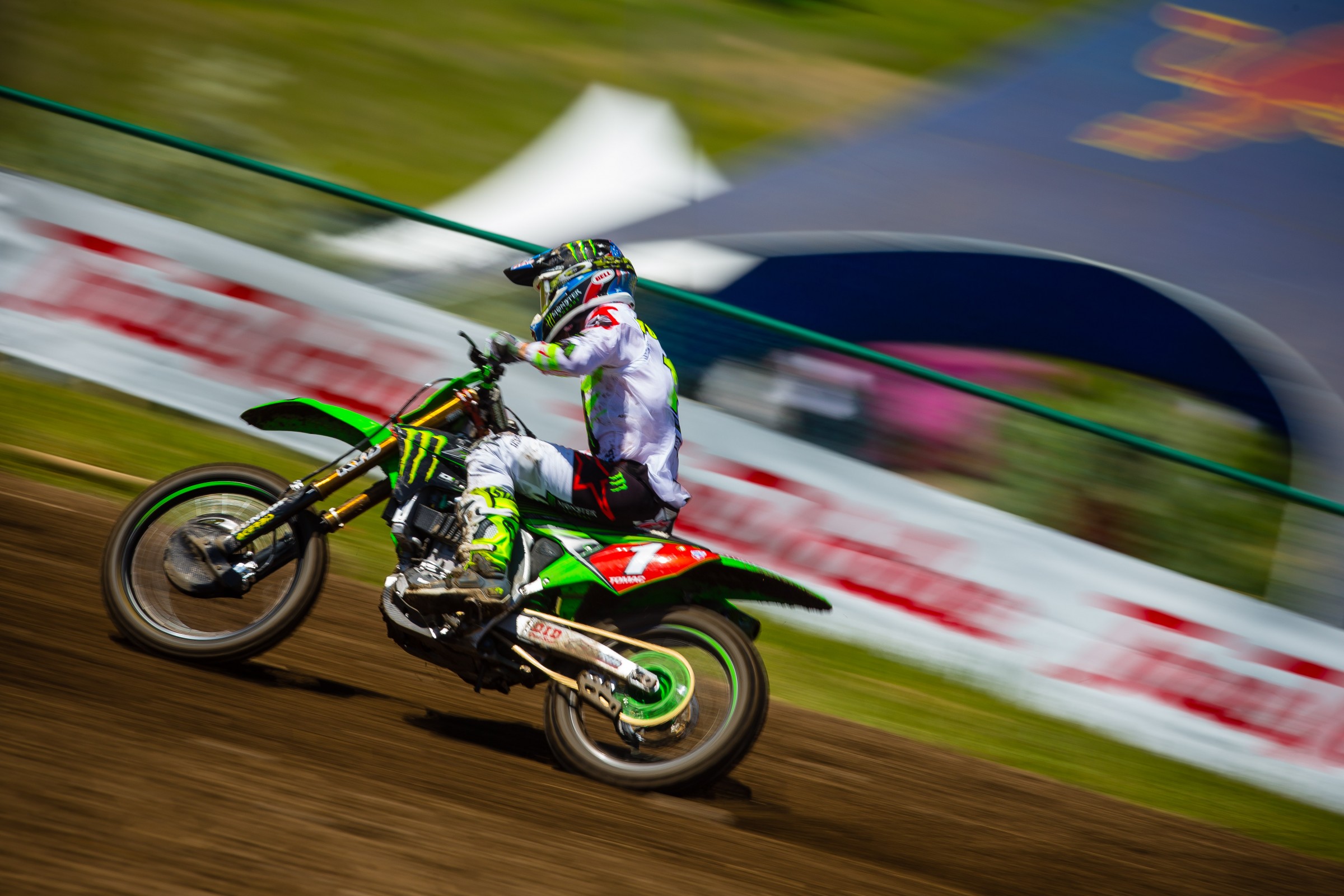 2005: Carmichael was also faultless with the Suzuki RM-Z450, seeing 12 overall successes in 12 rounds. Add those to '04 and his three'03 wins to close that season and you have 27 straight overall wins.
2007: In the first five rounds, Carmichael was unbeaten in the overall column while riding Suzuki. He began his retirement after winning RedBud, only to come back one more time for a Millville win.
2008: James Stewart became the second rider to do a perfect season. The Kawasaki 450 rider swept all 12 rounds and 24 motos.
2018: Monster Energy Kawasaki's Eli Tomac is the first rider since Stewart a decade ago to begin a 450 Class season by getting three wins in the first three rounds.
Hey, Watch It!
Roddy McLeod set up this excellent look at the Matterley Basin MXGP in the UK. Give him a follow on his Instagram page @roddy409 or visit his website at www.roddymacleod.com.
Racer X Films: Thunder Valley 125 All Star Race
For a collection of helmet cam footage from the race, go here.
Racer X Films: Garage Build 2018 Kawasaki KX250F Big Bore
Head-Scratching Headline of the Week
"Donald Trump Uses Patriots, Cubs… to Attack Eagles" — TMZ.com
Be sure to check out our Headline of the Week on Exhaust, which involves the European Union, a wandering bovine, and one distraught farmer.
Random Notes
Help Wanted at High Point National
Attention Racers,
The 2018 Red Bull High Point National is Saturday, June 16, and Racer Productions is looking for flaggers and other event staff opportunities. This is the 42nd year hosting an AMA National at High Point and we're back on Father's Day weekend, so expect an extra special weekend!
Flaggers
This is your chance to get up close to the fastest motocross racers in the world and get some great perks for your time and effort. We are looking for capable and hardworking racers that understand the importance of flagging and on-track safety. Must be 18 or older and experience is preferred.
You will need to arrive to the track and meet at the Announcer's Tower at 6:30 a.m. on Saturday, the day of the race. In consideration for your services, the following items will be redeemable at the front gate for a total value to you of $240.
Free weekend admission and pit access for you and two guests ($140 for guests)
Free weekend camping ($60 value)
Free race entry to your next GNCC event ($40)
Gate Guards, Ticket Takers, and Trash Pickers
$10 per hour. Multiple shifts available through the weekend.
Contact Jessica Coombs at jessica@racerxonline.com or 304-284-0084 for the positions detailed above.
MotoTees
MotoTees is looking for reliable staff to work Saturday. Please see below for more information.
7:30 a.m.-5:30 p.m.
Report to Rider Services/Will Call for ticket, then report to MotoTees trailer in Sponsor Village. Bring ID and a lunch. Contact MotoTees at office@gearracewear.com to make arrangements.
We got this note from Guy Cooper earlier this week—make sure to check it out: "June 11 is the American Pickers show with the story about my dad's collection (9:00 pm EDT/8:00 CDT) on the History Channel."
During a special welcome dinner at the popular Smoky Mountain Crawl rally, American Honda announced this evening that the Monkey and Super Cub C125 ABS models will be made available to U.S. customers for the 2019 model year. First unveiled in concept form last September at the Tokyo Motor Show, both models are closely based on iconic motorcycles from Honda's past and are the latest examples of the company's aptitude for developing pocket-sized motorcycles that capture the fancy of enthusiastic subcultures. Preceded by cherished models like the Mini Trail, the Z50, and more recently the Grom, the Monkey and Super Cub C125 are set to honor Honda's heritage and define new lifestyles while appealing to a broad spectrum of riders.
August 2018 Issue of Racer X Illustrated Digital Edition Now Available
Pick up your copy now and read features on the Dirt Diggers North Motorcycle Club, Husqvarna's first premier class championship by Kent Howerton, and Eli Tomac's thoughts on the new outdoor season. Also read about Ken Roczen's return from yet another injury, the ultimate riding vacation in the jungles of Central America, and much more exclusively in the August 2018 issue of Racer X Illustrated.
Media Blackout Shirt Now Available on Racer X Brand
Let your braaap be heard! Other bikes are louder, but you can drown 'em with screams for purity and parity. Put an expansion chamber on your love for pre-mix by telling everyone your bike is better. Anyone saying otherwise is just blowing smoke—and pushing a conspiracy theory. Two-strokes, one love. No smokescreens here. Buy yours today on Racer X Brand.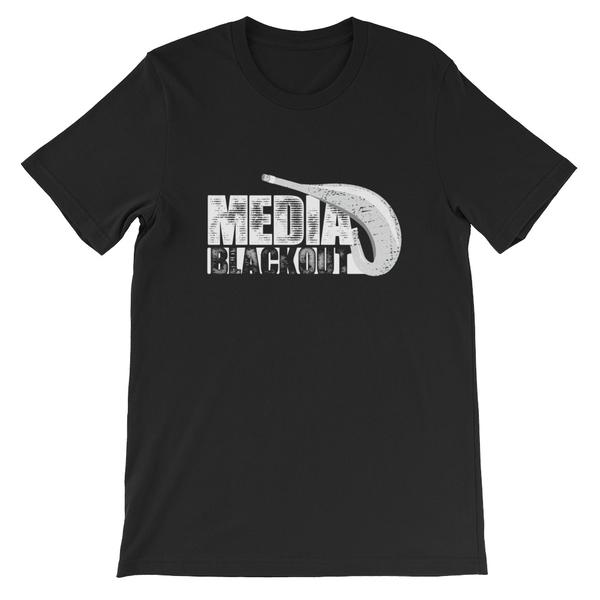 Subscribe at High Point and Receive All 12 Official 2018 Racer X Event Stickers
Are you headed to the High Point National next weekend? Make sure you stop by the Racer X booth, located in Sponsor Village, and subscribe for as low as $10 and receive ALL 12 Official 2018 Lucas Oil Pro Motocross Racer X event stickers. You will also receive a complimentary magazine, free Racer X stickers, as well as extra event stickers. Be sure to check out our Racer X Brand items on display and grab some gear. See you at the races!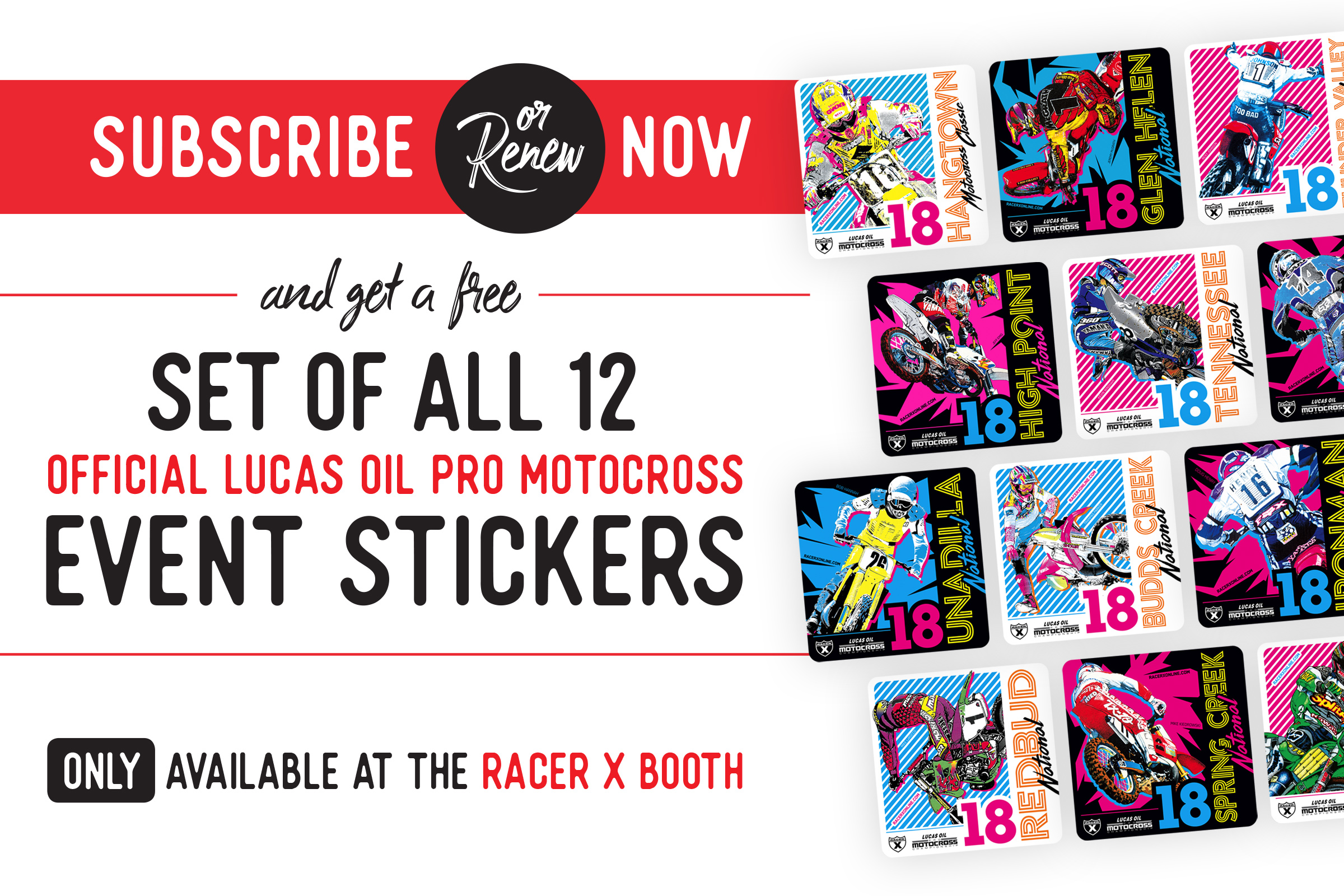 Racer X All-Day Pit Passes for Sale
Going to the High Point National next weekend? Want to be able to get into the pits all day?
The only way to cruise the pits whenever you'd like is with the Racer X All-Day Pit Pass, but quantities are limited! Make sure you pre-purchase yours now while they are still available and receive all-day pit access, plus a one-year subscription to Racer X Illustrated , for just $90. Racer X All-Day Pit Passes purchased ~$90 include the cost of General Admission.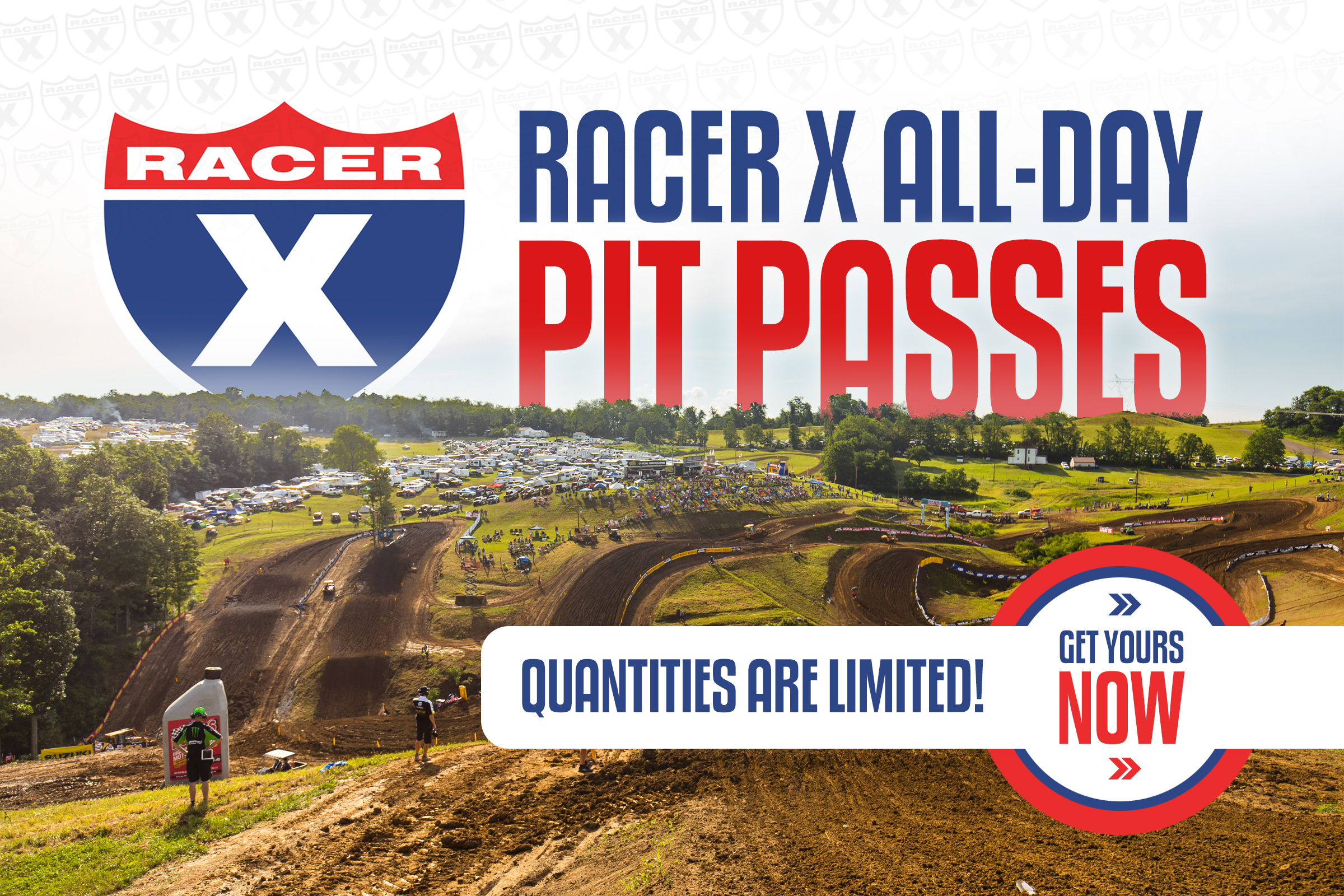 If you already pre-ordered online for this event, you'll need to pick up your Racer X Pit Pass at Will Call (located outside the main entrance to the track), where you'll also receive an extra copy of Racer X, the official event sticker, and Racer X stickers.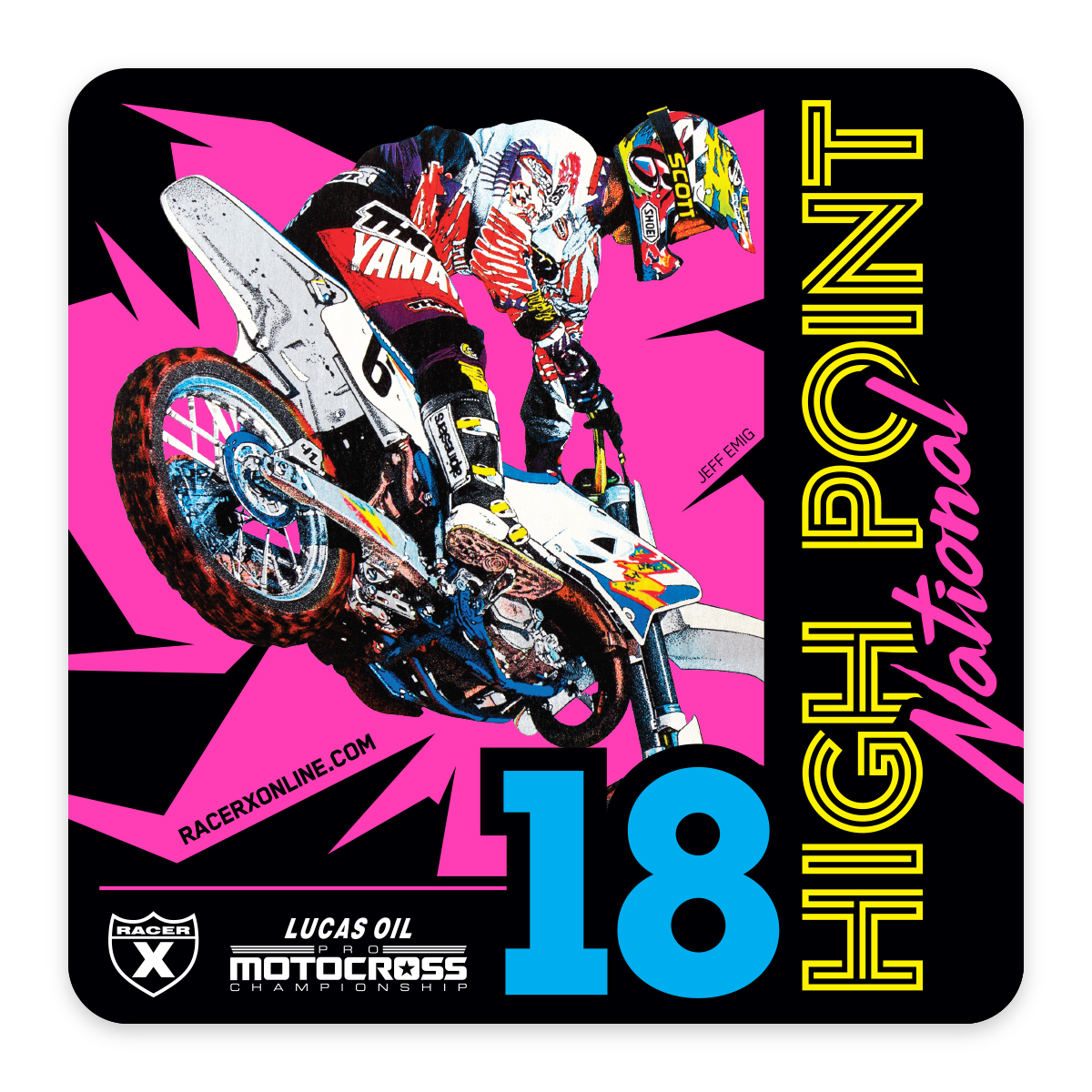 And here is Kendell Coniff himself in 1983 at CDR Tech in Colorado: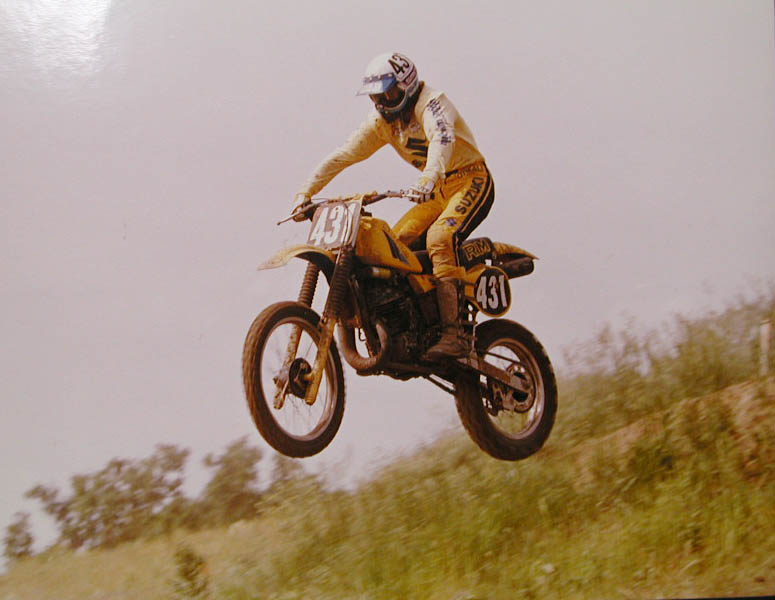 That's all for this week. Thanks for reading Racerhead. See you at the races.