Winchester, United Kingdom
MXGP of Great Britain
FIM Motocross World Championship
MXGP inched toward the halfway marker with the ninth of 20 rounds at Matterley Basin in south England, close to the ancient capital of the country, Winchester. Red Bull KTM are almost "time-honored" rulers of the series now; at the British Grand Prix, they filled four of the six podium positions in both classes with 1-2 results for the fifth time in 2018. Jeffrey Herlings and Antonio Cairoli, plus Pauls Jonass with Jorge Prado again, had the rule of MXGP and MX2 with crushingly familiar superiority and a cumulative race-winning margin of two minutes and 20 seconds. Here are a couple of observations from under the British sun.
1. Herlings-Cairoli hEATs up
Cairoli leads, Herlings charges, a brief skirmish ensues, and the younger Red Bull KTM rider prevails only minutes before the checkered flag—this has been the narrative for at least three Grands Prix this year. Herlings' numbers are now towering: seven wins from nine, 14 moto wins from 18, nine podiums (and career tallies of 74 wins and 100 podiums by the age of 23). His double-demotion of Cairoli at the fast and reasonably well-groomed Matterley was as demoralizing for #222 as it was emphatic, and he now has 54 points over the Sicilian—a one-round cushion.
The rivals have banged bars on the track and also out of the gate so far this season, but an air of respect and cordiality has existed. Herlings has repeatedly stated his desire to race clean, and Cairoli has very, very rarely had to resort to roughshod tactics or gamesmanship to press an advantage (he normally has been too good to worry). The contact initiated by Herlings in their first moto battle for the lead that sent Cairoli to the deck and out of contention for the win was labelled as "unpleasant" by the world champion. It came at the end of a gripping pursuit and tussle in the final stage of the first moto, and it is well worth revisiting on the MXGP YouTube channel:
It was the first flashpoint of a face-off that will only bubble and boil. Uncharacteristically, Cairoli skipped the post-race press conference due to an early flight out of the U.K. (and for a brief trip home before he tests an F1 car in Austria on Wednesday) and didn't give his side of events, but it was clear from his reaction and evident disappointment while peeling off the track in the second moto (where he had been similarly debunked) as they rode to the podium area—he didn't acknowledge Herlings at all—that this was a heavy defeat to take. His words in the KTM press release illustrated as much: "It's a shame to lead 25 of the 28 laps without winning the Grand Prix."
Herlings gave credit. "I don't think there is anyone on our level in the world at the moment," he remarked. "He is a nine-time world champ for a reason. You can win one title with a bit of luck, but never nine! He is one of the best riders in the sport. He is still at the top at 32 and I don't think he has ridden better than he has now. Luckily I was able to pull it off today. I didn't want to ride the whole second moto in his roost.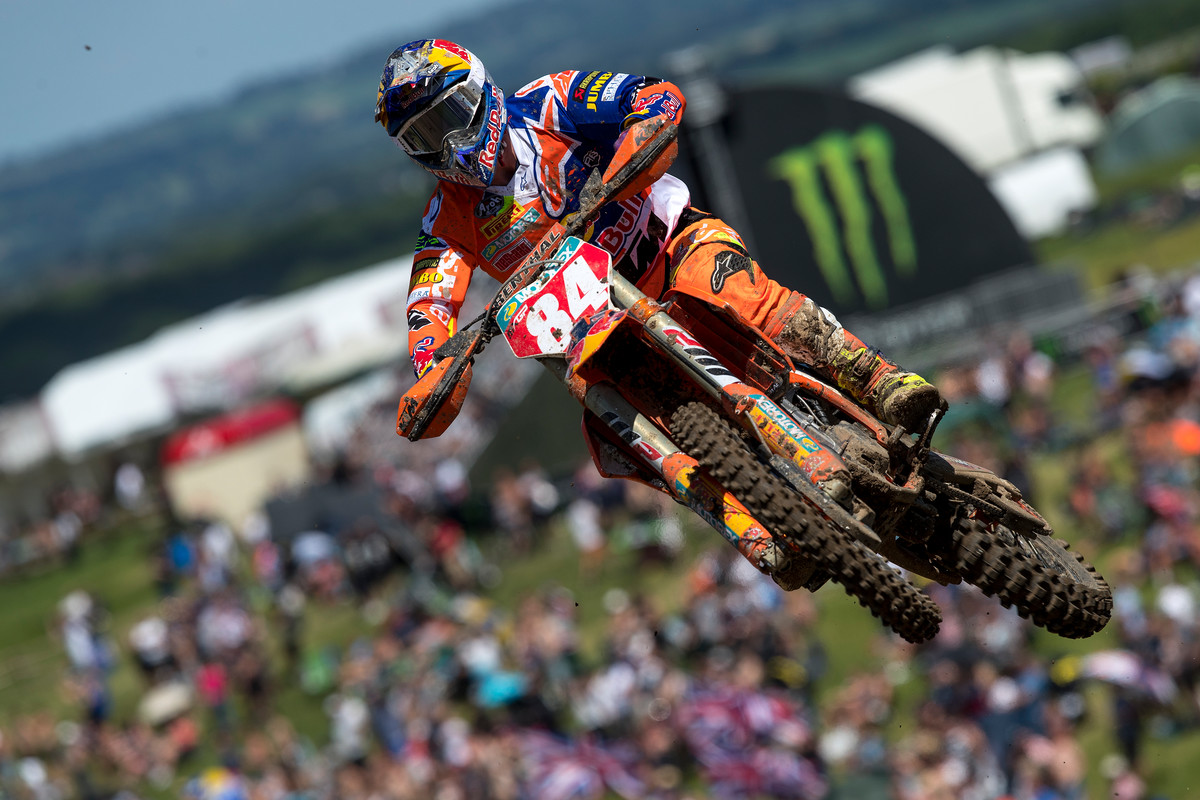 "I wanted to go for the pass on the inside and we touched with elbows and then we touched once more," he said of the first race incident. "It was definitely not my intention to touch… but I think they watered that part. I was really sliding. It was a small touch, almost nothing."
Instead, Herlings was glowing with the feat of another MXGP success and the humbling of a fast and experienced set of peers. "Don't ask me how, but we did it today," he said. "It was an amazing fight and a great way to get to 100 podiums. He [Cairoli] started to lose the pace three or four laps before the end of the first moto and I thought it would be worse [for him] in the second moto, but… the guy is in good shape. We kept going to the last lap, and I had to catch a gap of three or four seconds. I think it was an amazing race to watch."
MXGP might be a heavy shade of orange, but thanks to the very different styles, approaches, and characters between the two most decorated world champions this decade, it is still unmissable action.
2. KTM deadlock
KTM's diversity of athletes and the same impossibly tight grip on a glass was again evident in MX2. FIM Motocross World Champion Pauls Jonass and Jorge Prado are separated by only four years compared to the nine that divide Herlings and Cairoli, but both steer that smoking 250 SX-F in a very different way while being equally effective. More holeshots for Prado only highlighted the Spaniard's ridiculous talent for starts—a skillset that will always ensure his competitiveness. But Jonass was invigorated by the way he had to eat Prado's dust two week's previously in Germany, and his defeat in the second moto caused the champion to lose the Grand Prix. This time (and having led a 1-2 to the line by just 0.8 of a second in the first moto,) he gunned his #1 like crazy to latch onto the rear of the #61 and pounce later in the sprint to make sure of his 1-1.
Jonass' strength, experience, and confidence is almost matched by Prado's starts, outrageous talent, and burgeoning race craft (which he credits the influence of Claudio De Carli—indeed, many believe Prado is the Italian team owner's next Cairoli). It is quite a matchup, but without the potential to spark like their MXGP teammates. Crashes for Hunter Lawrence and double mechanical troubles for Thomas Kjer Olsen (a 0-0 represented a disastrous weekend for the likeable Dane) and mediocre starts by Kemea Yamaha's Ben Watson mean the threat to KTM was rather low-key. Credit to HRC's Calvin Vlaanderen for another podium appearance.
The gap at the top of MX2 is far narrower, just 28 points.
3. Little surprises
Matterley Basin was mercifully rain-free during the weekend. This was a marked contrast to the incessant downpours that turned the 2017 Motocross of Nations into such a mudder. The course was quick and hard-pack, deeply rutty in some corners. Some riders frowned at the speed (thus close lap-times) and the watering needed for Sunday; others loved the freedom to quickly change lines and explore options for overtaking—the battle for third place in the second MXGP moto was entertaining, and credit goes to Monster Energy Yamaha's Romain Febvre for scoring his first podium finish of the year and only third in the last nine months despite a sore left foot after his second moto crash in Germany.
Matterley saw Bike It DRT Kawasaki's Darian Sanayei back in MX2 contention for the first time in two months, but the American crashed out of possible points and is favoring a ligament-less knee. Rockstar Energy Husqvarna's Thomas Covington was back near the front of the class. His 3-9 scorecard (fifth overall) was achieved despite a hard fight with Olsen in the first moto and a small crash in the second. It was his best classification since round four at Arco di Trento, and ironically came at the track where he broke his ACL at the Nations. Matterley also witnessed a breakout ride for American Marshal Weltin. The Michigan native went 5-13 for eighth overall—by far his best result of the 2018 season.
Speaking of the Nations, the hero that day was clearly Rockstar Energy IceOne Husqvarna's Max Anstie. The Brit's difficult season did not surge out of trouble on this appearance, and so-so starts could only lead to tenth position. "People were saying to me, 'Do the same!' Yeah! It's hard," #99 half-smiled on Saturday. "I set the bar pretty high. This race has come at a good time for me and it has been tough to catch back up, and I am not where I want to be on the track. It's a tough class and everyone is riding great. I'm trying to get back to it [that level]."
Matterley was an improvement of sorts for Anstie, but it was not a strong enough showing to arrest rumors that the IceOne team could be looking at a replacement for 2019. British fans were at least appeased by EMX European Championship wins by Steven Clarke and Brad Anderson.
Another Nations figurehead on the FC 450, Gautier Paulin, also had a wretched day (as did riders such as Monster Energy Yamaha's Jeremy Van Horebeek with tumbles proving final) with a 18-15 and not a result to buoy the thousands of hopeful fans expected to crowd the slopes of St. Jean D'Angely next weekend for the Grand Prix of France and the next episode of MXGP.