Lakewood, CO
Thunder Valley
Lucas Oil AMA Pro Motocross Championship
When it comes to racing, there is no such thing as a good weekend for everyone, or a set definition of what's good and what's bad. One rider's misfortune becomes another's gold, while others find a silver lining in an otherwise undesirable situation. This was especially true at the True Value Thunder Valley National.
First off, Eli Tomac. He was perfect at the first two rounds, but Thunder Valley has rarely been kind to the Monster Energy Kawasaki rider. Before today, he'd only won here once, and that was back in his 250 days, and since then things haven't exactly been great for him in his home state. He finished off the podium here last year, and in 2015 he crashed hard while leading the moto, and the series, and watched the rest of the season from the sidelines. Well, Tomac now finally has a win in the 450 Class at Thunder Valley, and he even kept his perfect streak alive by going 1-1. And, like the first two rounds, he didn't do it with holeshots either. His starts weren't bad, but he still had to go through guys like Justin Barcia, Blake Baggett, and Ken Roczen to get to the front. The battles with Roczen were especially good, and reminiscent of the epic duels we've seen them stage in the past. In both motos Tomac was forced to try to find a way around Roczen, lap after lap. He ended up making the pass in the same place, some rollers just before the start straight, in both motos. It's enough to make you think he had the spot picked out ahead of time, but when asked about it afterward he said that wasn't the case. In fact, he he couldn't even remember where he passed Roczen! Tomac now leads the series by twenty-eight points over Marvin Musquin.
Speaking of Roczen, there was a time when second place wouldn't have made him happy. That's probably coming in the future, but for now being on the podium is reason to celebrate for Roczen, who, before Hangtown, didn't even know if he was going to be ready to race the first round of the season. Afterward Roczen said his thumb is still giving him plenty of pain, and that his recent gains have come from having more seat and race time than anything else.
"My hand has been kind of the same for the last couple weeks," Roczen said. "When you have inflammation like I have in the thumb, I aggravate it pretty much on the daily. It doesn't really go away. Today, after practice and everything, it didn't really feel that great. I've had days where my thumb, I didn't feel it too much in the beginning. At the end of the moto it usually gets a lot worse, but it was kinda crappy from the beginning today. But I just kind of stayed right there and it almost felt better in the second moto than it did in the first. It's so weird, I don't even understand why. But I've been getting stronger and stronger, more so with racing fitness and getting back on the bike, and now with having a couple of races under out belt. I've been getting some good starts and I've always liked this track. Overall I'm more than stoked to be back on the podium."
Blake Baggett rounded out the podium in third with 3-3 moto scores, although after winning this race last season, you know he had to be hoping for more. Still, he found something to be positive about afterward.
"I've definitely had some good luck here in the past, but to go 3-3 and end up on the podium is good," Baggett said. "I'll take anything I can get at the moment, the first two rounds were not pretty. Just plugging away, and we're doing a lot of testing trying to get comfortable. KTM's been helping us a lot and from the first round to now, we've made some big improvements. I can actually see the guys who are winning the races now instead of almost getting lapped by them."
Another rider who seemed like he was trying to find the good in a bad situation was Justin Barcia, who was oh-so-close to having an incredible day, but saw it get ruined partly by things that were out of his control, and party by crashes. Barcia was on fire in the first moto after getting the holeshot and holding down the lead over Tomac. The two were setting a ridiculous pace and gapping the field big time. Barcia wasn't getting away from Tomac, but Tomac wasn't totally all over him either. In short, Barcia looked better than he'd looked all season. Then came the red flag, on account of Kyle Chisholm who went down hard. Luckily Chisholm was okay, although he did hit his head pretty hard, but the damage was done for Barcia, who didn't get another holeshot on the restart then went down shortly after the second gate drop, ruining his chances of getting back in the mix up front.
"It was frustrating, to say the least," Barcia said. "I was fast in practice, holeshot the first moto, led, red flag, didn't get a great start, tried to pass some guys and fell down. Rode it out. Second moto I holeshot, led some laps, crashed, crashed again, so it was frustrating. There are some good positives though. I'm definitely very happy with my riding, it's good. And we're taking steps with the bike too. It's not fully where we want it to be. I'm taking the positives. I led quite a few laps and honestly I felt like I could have won the first moto. I'm being honest, I'm not blowing smoke. At least I would have diced it up with him [Tomac]. Coulda, woulda, shoulda. I was riding good, we pulled almost a ten-second gap, so I wasn't going slow. It was awesome."
Barcia wasn't the only guy who was negatively affected by the red flag. Phil Nicoletti was putting in his best moto of the season, running third, when the race was stopped. The good news? He still put it in the top ten (8-8 for eighth overall) for the third straight week in a row.
Motocross
Rider
Hometown
Motos
Bike
1
Eli Tomac
Cortez, CO

United States

1 - 1
Kawasaki KX450F
2
Ken Roczen
Mattstedt

Germany

2 - 2
Honda CRF450R
3
Blake Baggett
Grand Terrace, CA

United States

3 - 3
KTM 450 SX-F
4
Marvin Musquin
La Reole

France

4 - 4
KTM 450 SX-F
5
Benny Bloss
Oak Grove, MO

United States

6 - 5
KTM 450 SX-F
Full Results
Motocross
| Position | Rider | Hometown | Points |
| --- | --- | --- | --- |
| 1 | Eli Tomac | Cortez, CO | 527 |
| 2 | Marvin Musquin | La Reole | 511 |
| 3 | Ken Roczen | Mattstedt | 445 |
| 4 | Justin Barcia | Monroe, NY | 444 |
| 5 | Blake Baggett | Grand Terrace, CA | 391 |
Full Standings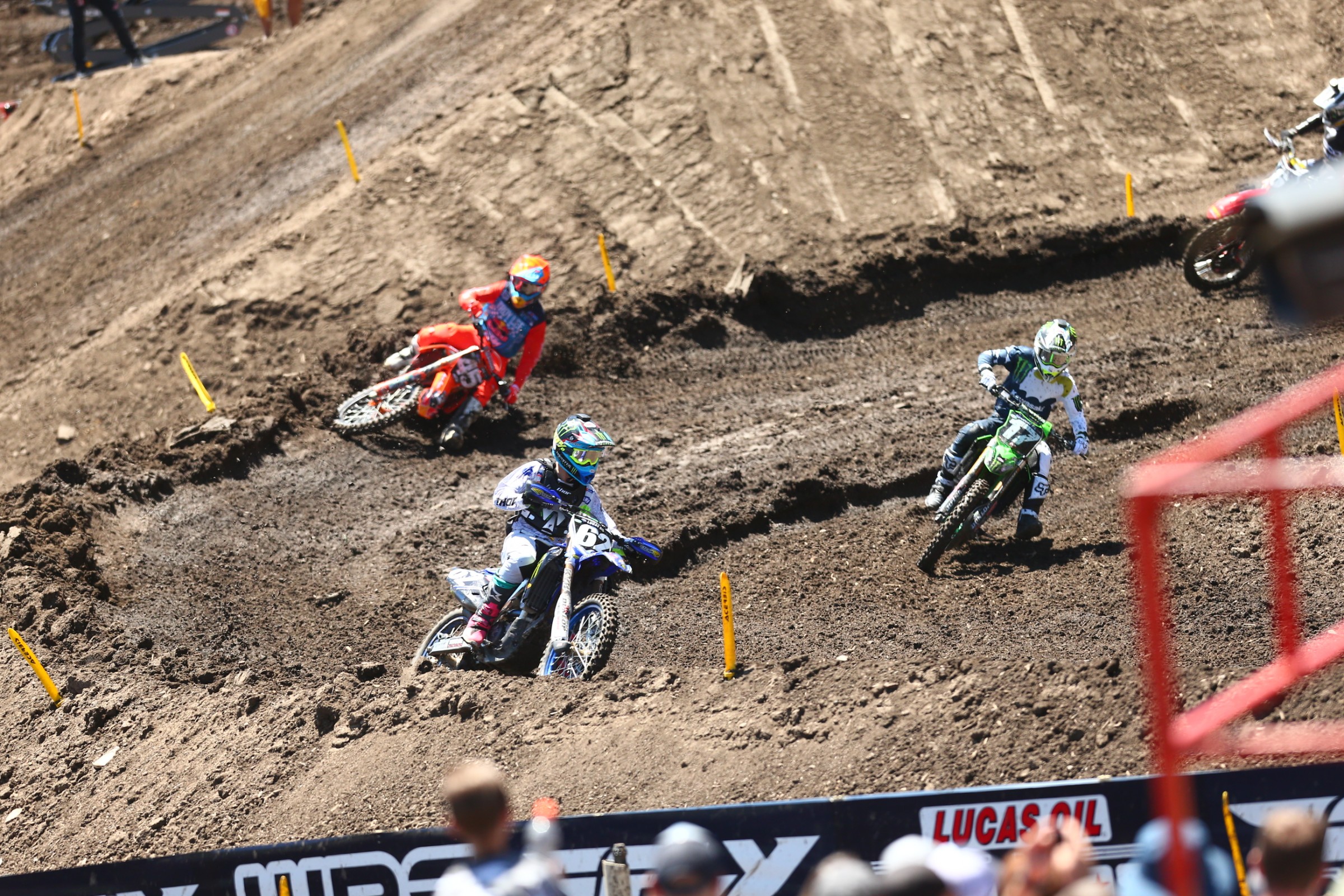 While a positive can be found in most situations, there were a few today that'd put even the world's best hype-men to the test. Zach Osborne falls in that category, as he re-aggravated a thumb injury, suffered during the week before Glen Helen, during practice on Saturday morning. He conducted pretty good damage control in the first moto, finishing fifth and holding off Aaron Plessinger, but things went south immediately in the second moto when Joey Savatgy got a little crazy and caused a first-turn pileup that claimed Osborne. It took forever to get Osborne's bike free, and Osborne looked like he was in some serious pain before he got back on the bike and rejoined the race. Credit to Osborne for gutting it out, but he's probably wishing he'd been able to earn more than the single point he was awarded for twentieth place in the moto.
We just mentioned Savatgy's first-turn pileup so you already know his second moto wasn't great (he ended up twelfth) but his first moto was even worse. Savatgy was running second behind Justin Cooper early before taking over the lead and checking out in the first moto. We know, that sounds great, but with the race all but over, disaster struck when Savatgy's bike simply quit working and he had no choice but to pull over and watch Cooper steal a moto win that belonged to Savatgy. A tough day for Savatgy, who will have two weeks until the next race to think about it.
Of course, one man's despair is another's jubilation, and Cooper taking his first professional moto win after Savatgy's DNF is a perfect example. Cooper's been great this season, especially for a rider who's just beginning his first full season of Lucas Oil Pro Motocross. He still has yet to follow up his excellent first moto results with second moto results of equal or greater value, but that'll come with time, and as Cooper said afterward, more conditioning. He was also quick to point out that he's been sick for a few days, and even after his first moto victory at Thunder Valley he was running a fever.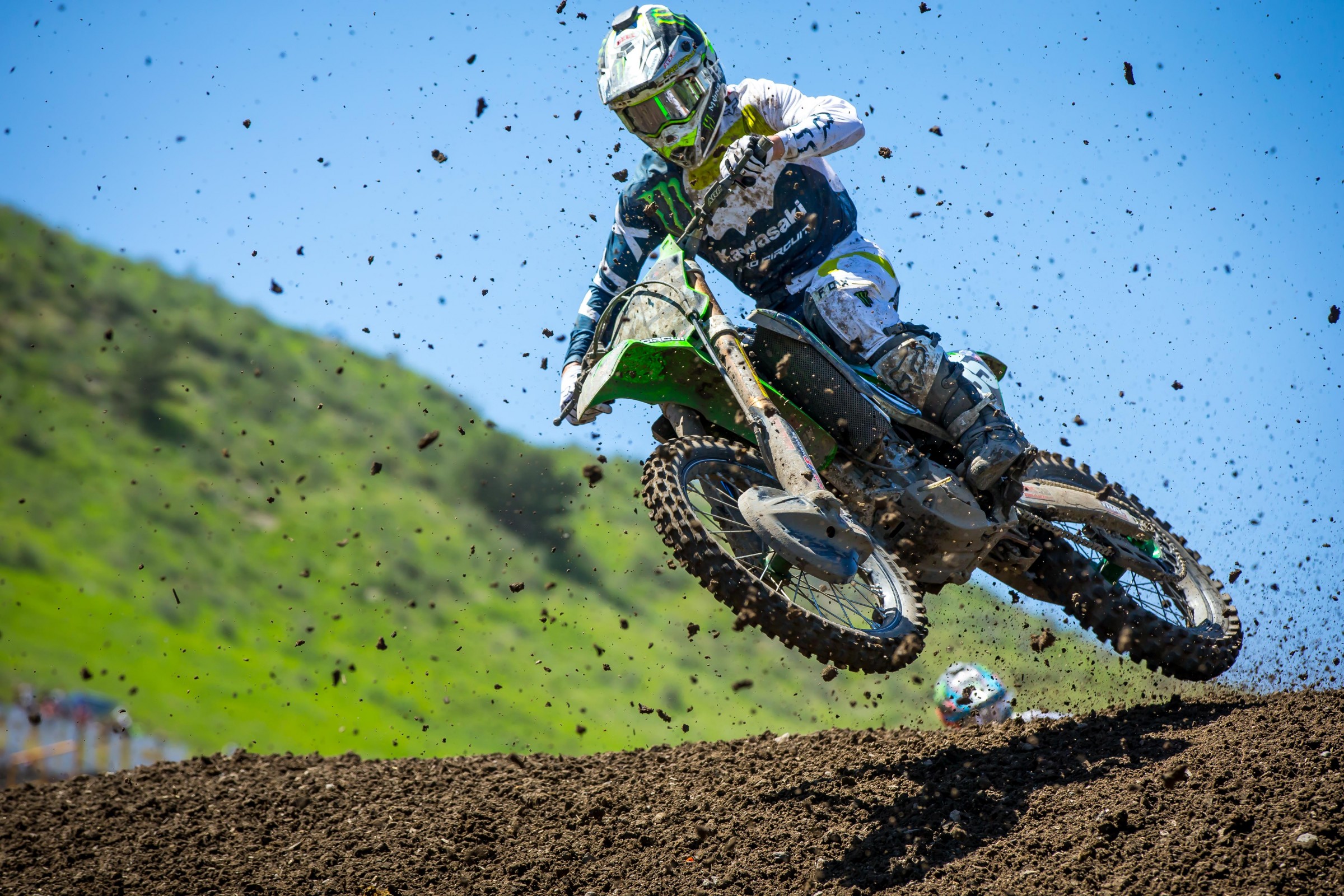 The Martin brothers were excellent today. Jeremy went 2-1 for the win and Alex went 3-2 for second overall. They even had a pretty good battle in the second moto, which was brought up in the post-race press conference. Alex mentioned that he physically beat up Jeremy many, many times when they were kids and Jeremy beating him at the races now is probably just karma. Jeremy countered by reminding Alex of what he said in last week's press conference when he said Jeremy was terrible at passing.
"We battled today. He said I couldn't pass very well but I blew his doors off around the outside," Jeremy joked. "It's pretty cool to have two brothers battling like that. Out of everyone I like to battle with he's probably my favorite."
Martin's win, combined with Osborne's troubles and Aaron Plessinger's 6-4 for sixth performance, earned him the points lead, which makes him the third 250 red plate holder of the season. Not surprisingly, Martin was happy about having the points lead for the first time in a very long time.
"It's a pretty cool feeling, it's been three year's since I've had a red plate," Martin said. "I had goosebumps after that, and I'm really enjoying the moment. I've had a lot of struggles since I won my last title in 2015."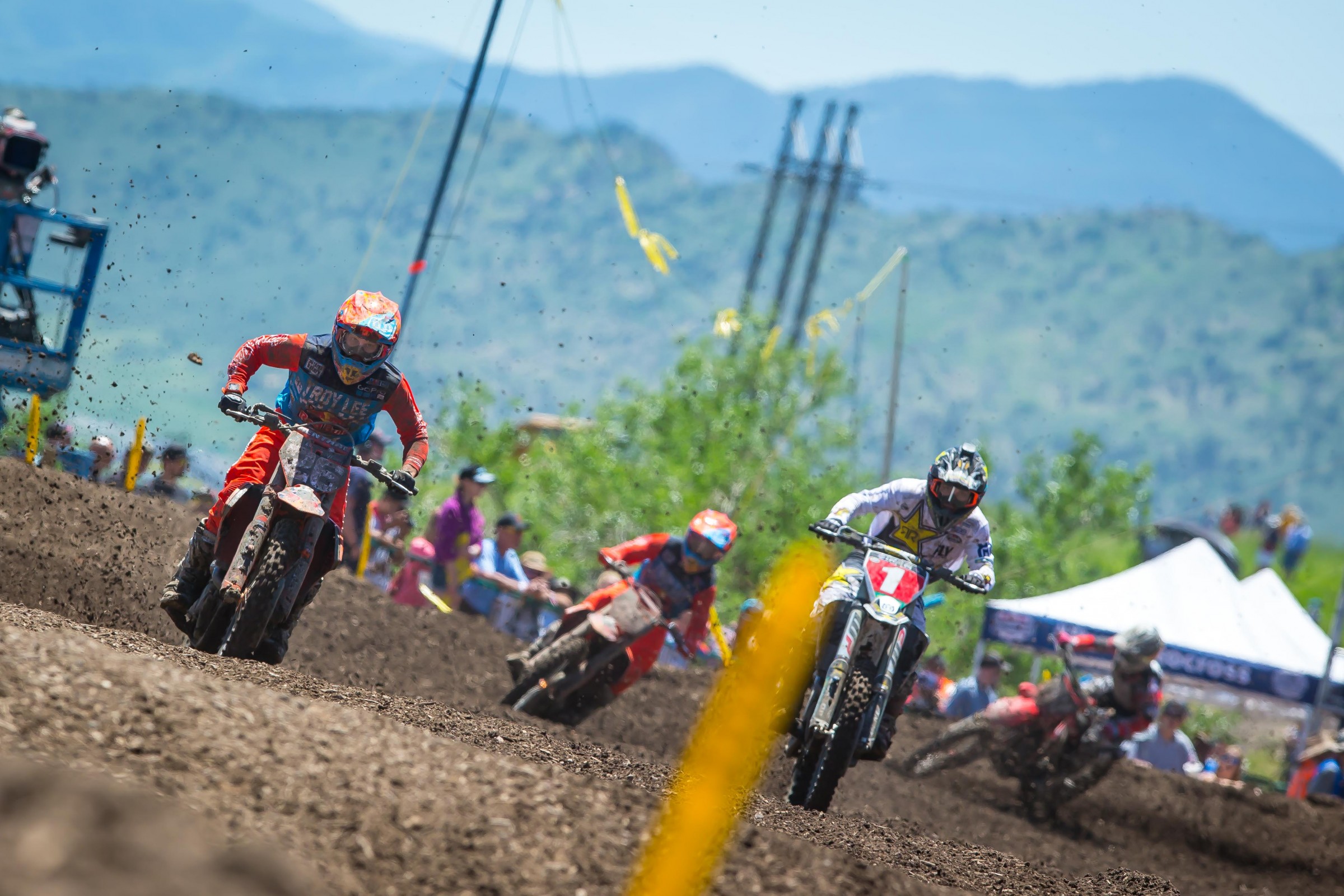 Speaking of Plessinger, he may not have the points lead anymore but he's still in second place and only trails J. Martin by eight points. Plessinger didn't get the best starts, which was part of the reason he wasn't able to get back on the podium, but he also didn't seem like the same guy who dominated Glen Helen last week. We'll see how he rebounds when the series resumes at High Point in two weeks.
Lastly, Jordon Smith was great today. His 4-5 for fifth isn't the stuff legends are made of, but he was able to stay strong late in both motos under immense pressure. After losing spots he battled back, and even though he ended up on the short end of the stick when Austin Forkner and Plessinger both got by him in the second moto, he didn't roll over for them and even traded spots several times before the checkers flew. If he brings that same fight to the remaining rounds we're going to see plenty more of him up front.
Motocross
Rider
Hometown
Motos
Bike
1
Jeremy Martin
Millville, MN

United States

2 - 1
Honda CRF250R
2
Alex Martin
Millville, MN

United States

3 - 2
KTM 250 SX-F
3
Justin Cooper
Cold Spring Harbor, NY

United States

1 - 8
Yamaha YZ250F
4
Austin Forkner
Richards, MO

United States

7 - 3
Kawasaki KX250F
5
Jordon Smith
Belmont, NC

United States

4 - 5
KTM 250 SX-F
Full Results
Motocross
| Position | Rider | Hometown | Points |
| --- | --- | --- | --- |
| 1 | Aaron Plessinger | Hamilton, OH | 500 |
| 2 | Alex Martin | Millville, MN | 391 |
| 3 | Justin Cooper | Cold Spring Harbor, NY | 353 |
| 4 | R.J. Hampshire | Hudson, FL | 338 |
| 5 | Shane McElrath | Canton, NC | 332 |
Full Standings