Thunder Valley Motocross Park
Lakewood

,

CO
Thunder Valley
Lucas Oil AMA Pro Motocross Championship
The True Value Thunder Valley National took place today just outside of Denver today, and everything you need and want to know regarding race day, from practice reports to moto summaries and everything in between, went up right here. To read about everything that happened, start at the top and work your way down. If you all you're interested in is moto summaries, scroll to the bottom, as posts are in chronological order.
Morning Report
The biggest news of the week doesn't even come from the races. After losing Christian Craig, Kyle Cunningham, and Josh Mosiman to injury at Glen Helen, the series lost more star power earlier this week when Jason Anderson had a collision while practicing at Glen Helen and broke his foot. He's had surgery and is out for the immediate future, but is expected to be back before the series ends. For more on the injury go here.
As far as the racing goes, Eli Tomac has been perfect through the first two rounds, and other than starts that haven't been great, has shown very little weakness. As a result, he's already sitting on a fourteen-point lead over Marvin Musquin. With this race taking place in Tomac's home state of Colorado, at elevation, things aren't going to be any easier for the competition. In 250 action Zach Osborne, who swept the first round, and Aaron Plessinger, who swept Glen Helen, are tied for the lead and will both be sporting red number plates today.
Like the first two rounds, the weather today is beautiful and is expected to remain so throughout the day. Morning temperatures are brisk and a high of eighty degrees Fahrenheit is expected. It should be a superb day for racing on a track that's looking great. And speaking of the track, it features one of the more unique starts of the series. It's not extremely long but it is uphill, which will test the horsepower of the bikes that are already down on power (roughly fifteen to eighteen percent), thanks to the elevation.
Practice is just getting underway, so check back soon for a report on who's quick in Colorado.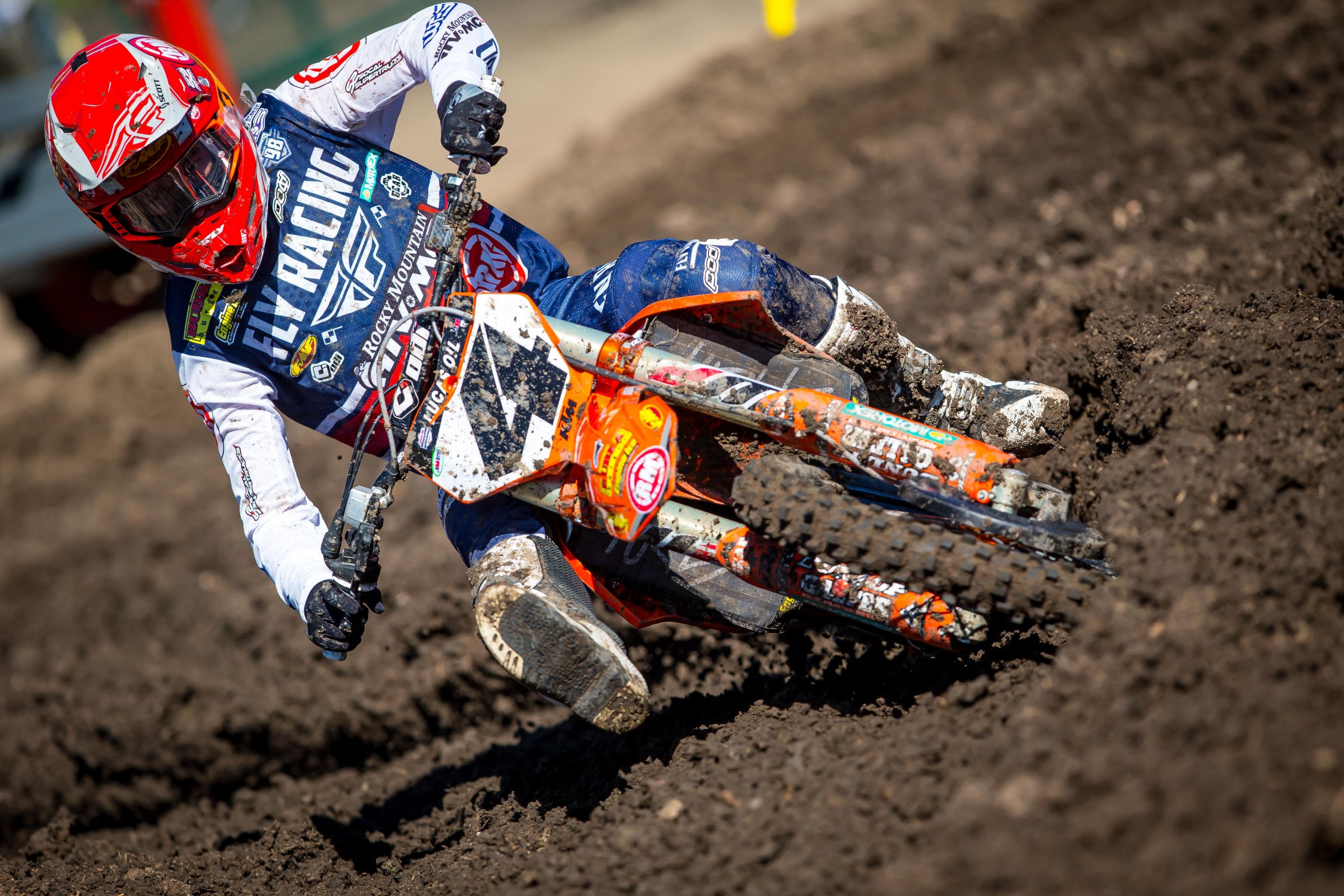 Practice – Session One
Justin Cooper has been packing some pretty heavy duty speed so far this season, especially during qualifying, and things were no different at the first round of qualifying here at the True Value Thunder Valley National. The Monster Energy/Yamalube/Star Racing/Yamaha rider quickly set a 2:10.129 early, which was good for the fastest lap, then a few laps later beat his own time by dipping into the 2:08 range. Joey Savatgy logged a heater late in the session, a 2:09.520, but it wasn't enough to knock off Cooper. Not a great session for Osborne, who was way off the pace in ninth place. He took a little spill during practice and afterward it looked like he was holding his left hand.
Thunder Valley - 250 Group A Qualifying 1
Full Results
Thunder Valley - 250 Group B Qualifying 1
Full Results
When the 450s hit the track for the first time there were no surprises. Tomac was immediately fast, clicking off a 2:09.601 in his second timed lap. Justin Barcia, Blake Baggett, and Weston Peick would all eventually log faster laps, but none of that mattered because Tomac threw down another serious heater on his fourth timed lap. It was so blisteringly fast the Alpinestars medical crew had to treat several minor burns sustained by fans who happened to be too close to the track when Tomac blasted by. Okay, not really, but it was still pretty fast, over two seconds faster than Barcia's fastest time. We'll see what kind of times the riders turn in the second session on a track that's broken in.
Thunder Valley - 450 Group A Qualifying 1
Full Results
Thunder Valley - 450 Group B Qualifying 1
Full Results
Practice – Session Two
Lap times decreased for most riders in this session, but it wasn't Justin Cooper topping the boards this time around. Instead it was Joey Savatgy leading the charge with a 2:06.926. His teammate, Austin Forkner, wasn't far behind with a 2:07.269, but it didn't come without a minor amount of drama. He and Jordan Bailey looked like they were racing each other pretty hard out there on the final lap, with Forkner making several angry gestures toward Bailey as the two rounded the final turn. As they were pulling off Forkner had more words for Bailey. It wasn't clear what happened, but these type of disagreements frequently take place when one rider interrupts another while he's trying to log a fast lap.
The biggest news of this session came from a rider who wasn't even going fast. Zach Osborne, who had a little crash in the first session, never logged a fast lap and ended up thirtieth fastest. His time from the first session was better, and he ended up twentieth overall. Osborne had a little tip-over in the first session and appeared to be holding his hand in pain afterward. Remember, he jammed his thumb during the week before Glen Helen, so this could be related. We haven't been able to confirm anything just yet, but we'll post when we we find out more.
[Update: Turns out Osborne didn't hurt his thumb in the first practice session, but did re-aggravate it in the second session, which explains the lack of any fast laps. We'll see how it affects him in today's motos.]
Thunder Valley - 250 Combined Qualifying
Full Results
In the second 450 session Eli Tomac was extremely fast yet again, although Ken Roczen was able to put in a time on his final lap that put him within a second of Tomac. Barcia, Benny Bloss, and Marvin Musquin rounded out the top five in this session.
Thunder Valley - 450 Combined Qualifying
Full Results
250 Moto One
Justin Cooper got the action going with a holeshot in the first 250 moto, only to go off the track a few turns later. No harm no foul for Cooper though, as he managed to retain the lead ahead of Joey Savatgy. It didn't take long for a battle to break out, and before you knew it, the two were distancing themselves from the field. Cooper held strong for about twenty minutes, but at that point Savatgy was able to make a move stick and immediately started gapping Cooper. The two-lap board came out and just when it looked like Savatgy was home free, his engine let go, leaving him helpless and frustrated on the side of the track.
Jordan Smith ran third early before dropping spots to Jeremy Martin, Alex Martin, and Zach Osborne. Osborne would run as high as third after getting by Smith, but started losing positions late in the race. Both Martins got him, and Smith was able to get back by him as well. Aaron Plessinger, who started in roughly tenth, applied heavy pressure to Osborne on the final lap too, but Osborne was able to hold him off. Osborne is likely dealing with pain in his thumb. He jammed it during the week before Glen Helen and re-aggravated it during practice this morning.
Thunder Valley - 250 Moto 1
Full Results
450 Moto One
The first 450 moto could not have started better for Justin Barcia, who nabbed the holeshot and held the lead over Eli Tomac for a good ten minutes. The two were absolutely flying and had dropped the rest of the field. Barcia was holding pretty strong too—Tomac wasn't totally all over him. Unfortunately a red flag came out after Kyle Chisholm crashed hard, putting a halt to Barcia's brilliant run. We don't have an update on Chisholm just yet, but he was sitting up in the back of the Alpinestars Medical Mule on his way off the track, which is a good sign.
On the restart it was all Ken Roczen, followed by Blake Baggett and Tomac. Barcia wasn't roughly fourth, but a small crash on the opening lap of the restart ruined his chances of getting back in the mix up front. You'd think a holeshot following a restart would be the ticket Roczen, who has a limited amount of time on the bike due to injury, needed to get a moto win, right? After all, he'd had a little rest and didn't have a full moto ahead of him. Thing is, Tomac wasn't having it. After zapping Baggett one lap into the restart Tomac went after Roczen. To Roczen's credit, he maintained a gap for quite a while, but once Tomac got on him you know the pass was coming. Tomac had been stalking Roczen for a while so he knew where he was faster, and pounced in the rollers right before heading back up the start straight. From that point it was all over—Tomac disappeared and won by a, well, Tomac-sized lead. Roczen came under heavy pressure from Baggett late in the race but was able to hold him off for second.
Barcia wasn't the only rider hurt by the restart. Phil Nicoletti had a good race going and was running third when the red flag came out. He still managed to finish eighth, but that's probably not a big comfort after running so well in the beginning.
Thunder Valley - 450 Moto 1
Full Results
250 Moto Two
This one got underway with a first-turn pileup involving Zach Osborne, Joey Savatgy, Justin Hill, Gage Schehr, and several other riders. The bikes were pretty tangled up and when Osborne's bike was finally free it still wasn't clear whether or not he'd remount—he was in obvious pain. After everyone else had already rejoined the race, Osborne finally got going again. He was able to make it back up to twentieth place to earn one valuable championship point.
Up front it was the Jeremy and Alex Martin show. Alex led but Jeremy stalked him for about twenty minutes, not allowing Alex any breathing room. Alex did his best to hold off Jeremy, but the GEICO Honda rider had him covered like a comprehensive insurance plan and was able to get by and check out with about ten minutes remaining.
Behind them things got wild for third place. Jordon Smith held it down for quite a while, but Aaron Plessinger lit the burners at some point in this race and started moving forward. First he got his teammate, Justin Cooper, then went after Austin Forkner for fourth. The two battled hard, propelling each other up to Smith. Plessinger got Forkner, only to have Forkner come back, repass him, and go by Smith. Smith held strong though and not only refused to give into Plessinger, but took third back from Smith! The three were going at it hard, and in the end Forkner and Plessinger both got by Smith.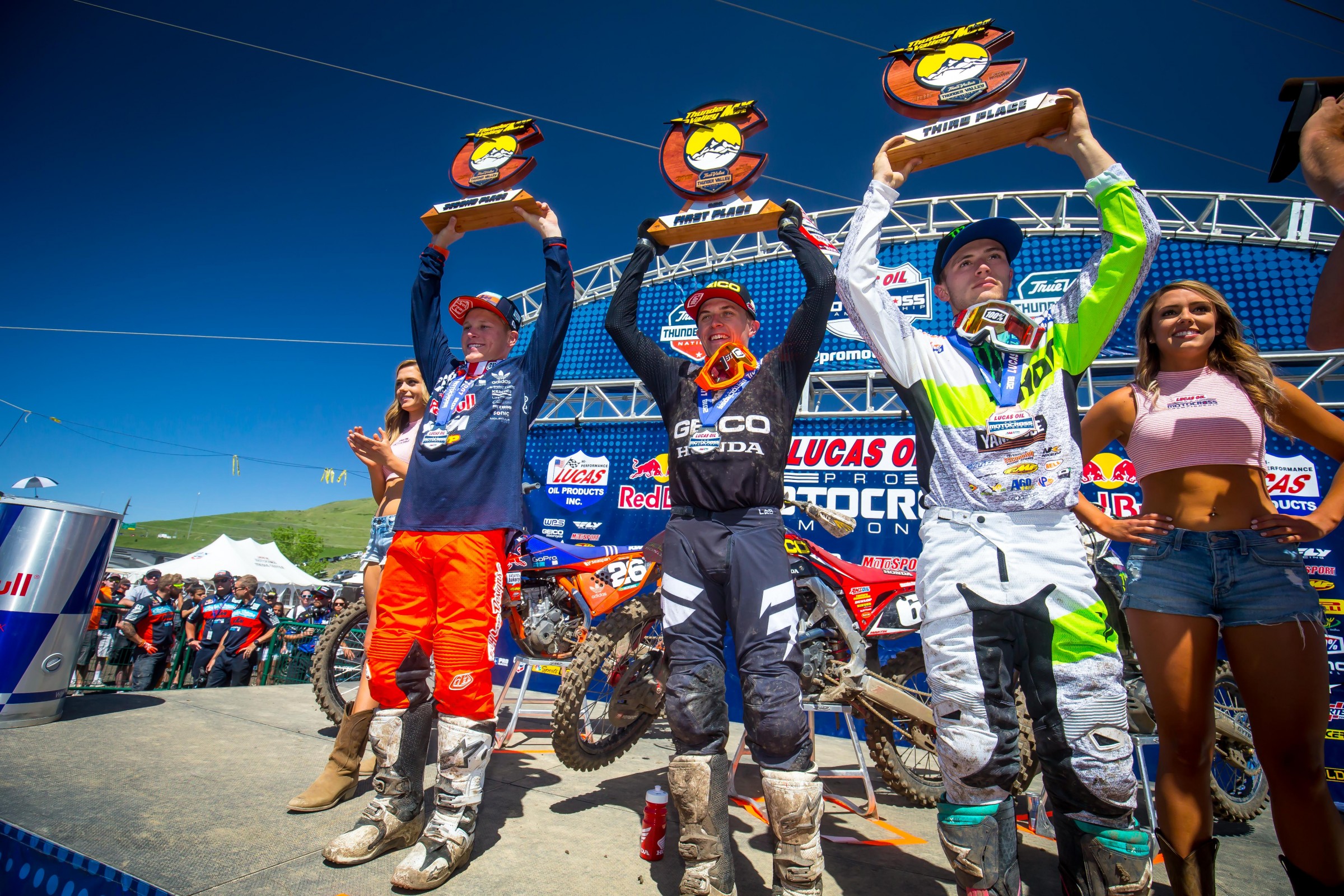 Thunder Valley - 250 Moto 2
Full Results
Thunder Valley - 250
Full Results
Motocross 250 Standings - 2018
Full Standings
450 Moto Two
Some wild moments to start out the first 450 moto. Justin Barcia led early but Ken Roczen and Eli Tomac were right behind him. Roczen attempted to put a move on Barcia in a turn but he bobbled and had to back off. Somehow he managed to hold onto second place and continued to give chase. Tomac rode behind them and waited for a chance to make a move, and when it came he went right by Roczen. But then Barcia went down and Tomac had to slow up, which allowed Roczen into the lead and Baggett into second. Tomac got back in shape quickly though, went by Baggett, and set off after Roczen. It wasn't long before Tomac was right on Roczen's rear wheel, but he wasn't able to just blow past. Finally, after about twenty minutes, Tomac started pushing the issue. He was scrubbing jumps and looking for places in turns to get it done. When he finally made a move stick it was in the same place he'd passed Roczen for the lead in the first moto. After that, he was gone.
Behind them there just wasn't much going on. Baggett rode all by himself to third, Musquin rode to a lonely fourth, Benny Bloss was all alone in fifth, and Barcia rode to an uncontested sixth ahead of Weston Peick.
Thunder Valley - 450 Moto 2
Full Results
Thunder Valley - 450
Full Results
Motocross 450 Standings - 2018
Full Standings