Welcome to Racerhead, coming to you from the airport in beautiful Milwaukee, Wisconsin. I am returning from the memorial service for a great friend and a damn fine man, Jeff Fox, the longtime boss of Parts Unlimited and the LeMans Corporation. He was a friend, mentor, inspiration, role model, entrepreneur, supporter…. There are too many accolades to list here, just as I'm sure all the folks on the West Coast who went to Jim Hale's memorial service yesterday must have also felt. Jeff was 62 when he passed, Jim 64. Unreal.
But the service really was a celebration of life, and there were so many industry people there with great, funny, and just downright Foxy stories to make it all a little better. My very good industry friend Hylton Beattie, Mike Buckley and Scott Dewey from Dunlop, Fred Bramblett, Kinney Jones, Don Emde, Sweet, Sweet Lou Lopez, Rob Buydos, Tim Murray and Ken Hudgens, Larry & Stephanie Little, Scott Link, Ron Heben, Ken Boyko and family, PJ Harvey, Terry Vance, and Bobby Nichols were all there, as were some really big hitters like Feld Motor Sports' Todd Jendro and Scott Mendel, Yamaha's Keith McCarty, and even nine-time SX/MX champion Ryan Villopoto, who didn't ride for Parts Unlimited/Thor anymore but came to pay his respects to his longtime sponsor. It was just an all-time bench-racing session, and I know that Jeff would have loved it, and his family—Charice, Justin, and Jamie—sure did too. Now I know I forgot some people to list up there, but man, was it a lot of fun. (And yes, Washougal, RV is coming to do the 125 All Star race!)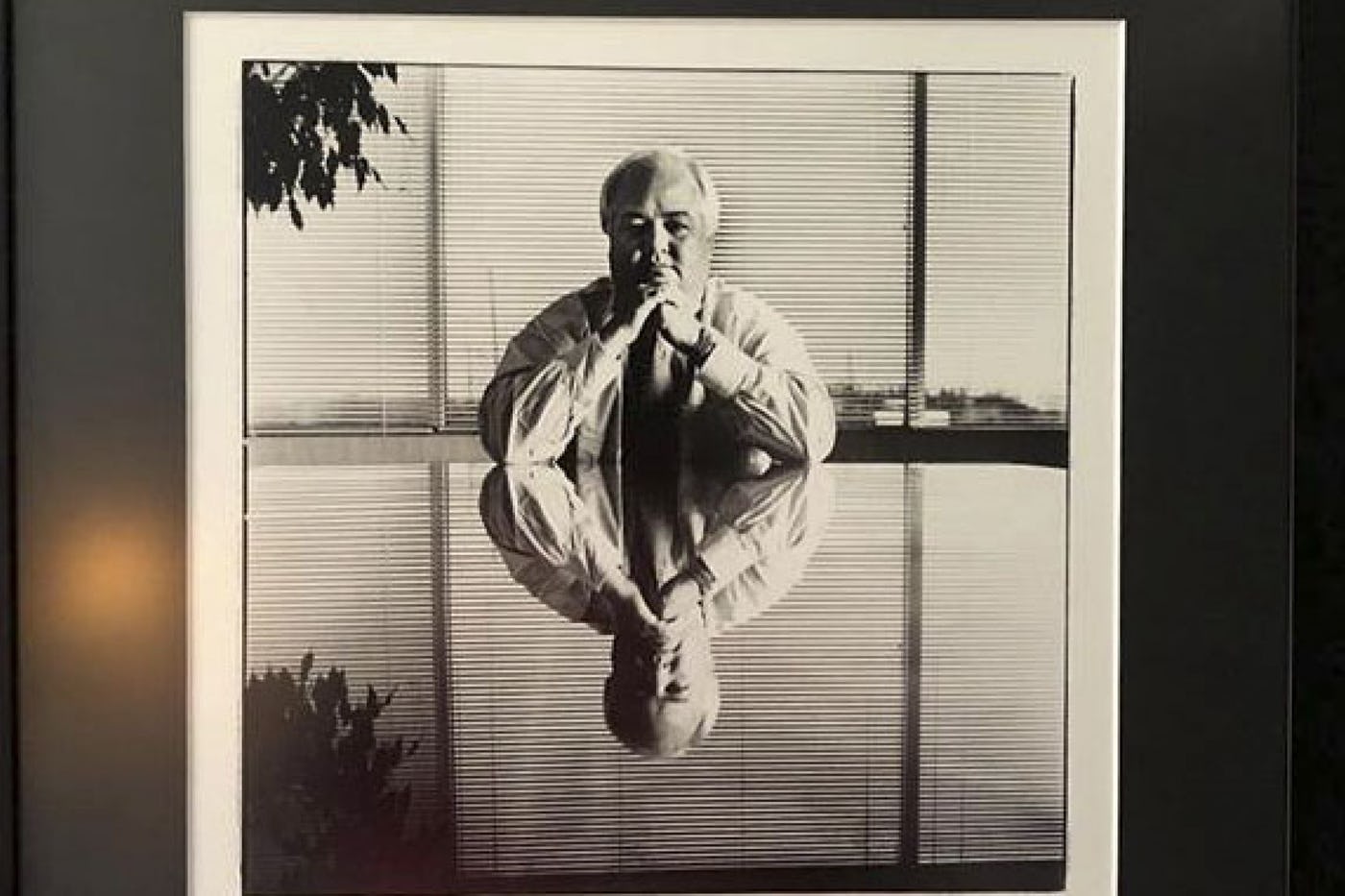 I hope that all the folks out west who came to celebrate the life of Jim Hale had themselves a similar, wonderful farewell.
Despite a few hiccups at the end and some real concerns going in, Jody Weisel and Karl Scanlon and Bryan Wallace delivered an excellent Glen Helen Raceway track for round two of Lucas Oil Pro Motocross. They worked all week long with the riders and the teams to find that sweet spot between rough and safe, challenging and competitive. The fastest guys on the day won, and that was a big happy crowd that came out to cheer them all on. Southern California is always a tough gig, given the proximity to the industry and the days gone by, but I really think we're two-for-two on this 12-round Lucas Oil Pro Motocross Championship, and I truly look forward to working with Jody and John Perry and Mr. Info and, of course, Lori Bryant, who has the toughest job of all at these SoCal races. There was a bit of a mix-up at the end of the podium, but mark my words, that will never happen again.
I do thank all the fans who came out and the riders who put on a good show and Jody for his hard work and dedication. He could be doing a lot of other things rather than going out and dragging hay bales around, but I really appreciate that he's there, and I already can't wait for next year—unless you want to come help out at the MXoN at RedBud!
Anderson Goes Down (Jason Weigandt)
Thursday at Glen Helen was scheduled to be Jason Anderson's last day riding in California this season before heading east to train in Florida. In fact, he actually planned to head to Florida last week, but bad weather there led Anderson and most Florida-based riders to stay in California one extra week. In his last session of riding on his last day out west, it all went awry.
At the public tracks in California, they hold open practice, which means riders off all ages and skill levels can ride together. According to Rockstar Husqvarna team manager Bobby Hewitt, who I talked to today, a rider had crashed hard after accidentally launching a wall jump. The rider suffered severe ankle injuries, and it was actually Rockstar Husqvarna's own Steve Westfall who got to the downed rider first. They don't have yellow flaggers out on open practice days, so someone else ran to the top of the wall jump and motioned for the riders to go around it so they would avoid the downed rider on the backside. One rider who went around the wall jump then saw that the downed rider was his friend, so he hung a hard turn to get over to his buddy and check on him. It just so happened that Anderson was right behind this rider, and he had nowhere to go. They collided and Anderson went flipping over the bars. His foot came down right on the other rider's footpeg, and that's what did the damage.
Hewitt showed me pictures of Anderson's X-rays today and they're pretty gnarly. He basically mangled the two bones connected to the two outer toes on his right foot, as well as the toes themselves. The doctors say last night's surgery went well, though, and Jason is expected to be off his feet for four weeks. After that, he should be able to begin working out, and then he could be cleared to ride after the six-week mark, or possibly eight. He is aiming to be back racing at Unadilla, which is about ten weeks out.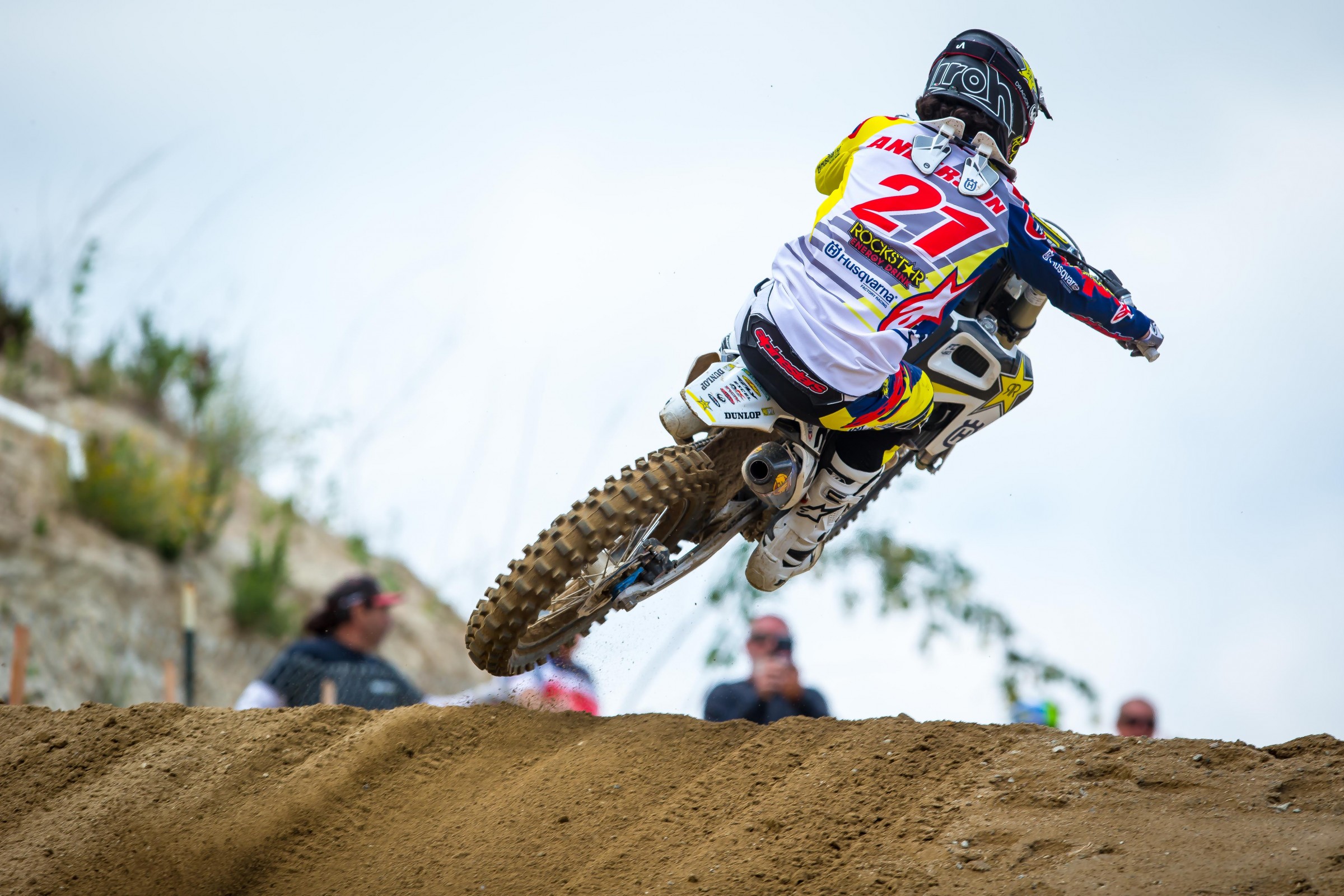 Anderson wants to come back because he's super determined to be part of Team USA at this year's Motocross of Nations at RedBud. He wants it really, really badly. So he told Hewitt to keep talking to Roger DeCoster and keep his name in the mix for the team. Pretty cool that he wants to be on the squad this badly. Hewitt himself told me he would love to have both Anderson and Zach Osborne on the team—they're all-in on this event if their riders get picked.
Keep in mind that Anderson pulled this off once before. He broke his collarbone in 2016 but raised his hand when Team USA selections came out, then came back for the final national of the season to get some racing in.
By the way, fellow Rockstar Energy Husqvarna rider Dean Wilson was also injured in an open-practice incident at Glen Helen. He got cut off by a rider on the jump near the start stretch, put his leg down to save it, and tore his ACL. So Hewitt is now going to talk to other factory teams about trying to set up some set "pro only" riding times at these public tracks during the three weeks between the Las Vegas supercross and this Thunder Valley National.
With both of the team's 450 riders now out with injury, Hewitt says the team will have to find some fill-in riders for the rest of the summer. There are some options out there, but it's too early to nail anything down yet.
Press Day (Weigandt)
While the Hangtown and Glen Helen press days were loaded with nearly all the factory teams and riders, today's event in Colorado returned to the more traditional setup with only a handful of teams on the list. Monster Energy Kawasaki, Monster Energy/Pro Circuit Kawasaki, GEICO Honda, and CycleTrader.com/Rock River Yamaha were on hand today. Most eyes were on Eli Tomac, the Colorado native riding with the red background behind his number-one plate. I talked to Tomac's father, John, though, and he explained that they live seven hours from here and fly to the race. Eli also only raced this track as an amateur a handful of times. This isn't quite the same home track advantage, as, say, the Martin brothers, who have logged probably a thousand laps at Spring Creek. Speaking of that, Jeremy Martin is now stationed in Colorado with the Tomacs, and while he doesn't think he has any advantages with the track or dirt here, he thinks acclimating to the elevation might be a slight advantage. Jeremy told me that when he first moved to Colorado last fall, the elevation really was noticeable when riding supercross laps. He says it's not quite as notable doing outdoors, which is slightly lower intensity.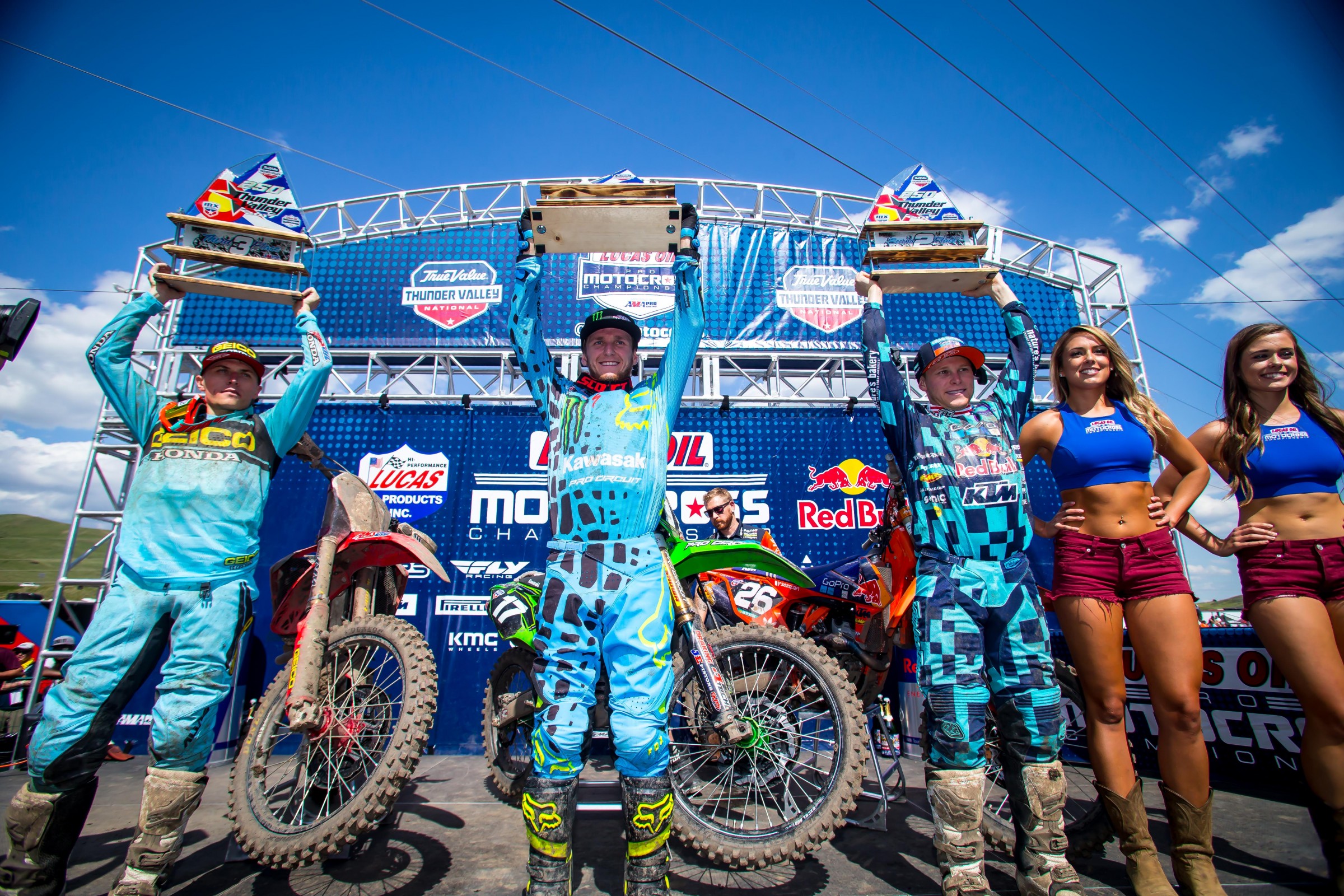 Joey Savatgy has won the 250 Class here for the last two years. Joey says he likes tracks that require momentum, and this one does because the bikes run so much slower at elevation. Joey also told me the team made some big changes this week. He rode okay in the second moto at Glen Helen, but he just wasn't quite able to close the gap on the lead ground. Joey says the results this year have been okay, but not quite up to the team's usual standards. He's going to be pushing hard tomorrow.
OLD MILWAUKEE (DC)
In Wisconsin for Jeff Fox's service, I decided to take a side trip to Milwaukee because I had somehow never really been there. I was at a two-day AMA board meeting once, but we never left the hotel (and that was two days of my life I will never get back). Milwaukee is the home of Harley-Davidson, of course, and I decided to check out their new museum. It's a MUST-see, whether you like Harleys or not. The whole "roadside Americana" feel to it is exceptional, and Harley's long and varied history in the sport is well covered. They had old jerseys, old hillclimbers, old advertisements, old everything! They also had Larry Roeseler and Bruce Ogilvie's 1975 Baja 500-winning dirt bike, some Evel Knievel stuff—but alas, nothing of the Harley-Davidson motocross experiment of the mid-seventies with "Rocket" Rex Staten, Marty Tripes, Rich Eierstedt, and more. Still, well worth the visit if you ever make it to the home of Laverne and Shirley.
ANDO'S ACCIDENT (DC)
Rockstar Energy Husqvarna's Jason Anderson's unfortunate tangle with a rider on the infield likely cost him any shot at adding the Lucas Oil Pro Motocross 450 Class crown to his 2018 Monster Energy Supercross title, but at least it wasn't as devastating an injury as we've seen in the past in non-racing situations. The most infamous tangle of the eighties took place in practice at the Gatorback 250 National opener, when privateer Honda rider Danny Storbeck tangled with Team Honda's Ricky Johnson, who had won all but one of the first six AMA Supercross rounds that year. The navicular bone he broke in his wrist effectively cost him his career, not to mention the '89 AMA Supercross and likely '89 AMA 250 National Championship. In 2009, Suzuki's Mike Alessi was in control of AMA Motocross after two rounds, but broke his kneecap practicing at High Point Raceway. We've seen numerous 125/250 SX champs get hurt before the Las Vegas SX East-West Shootout as well. And Travis Pastrana ruined his 2002 intro to 250 supercross with a crash while jumping a fence at Castillo Ranch.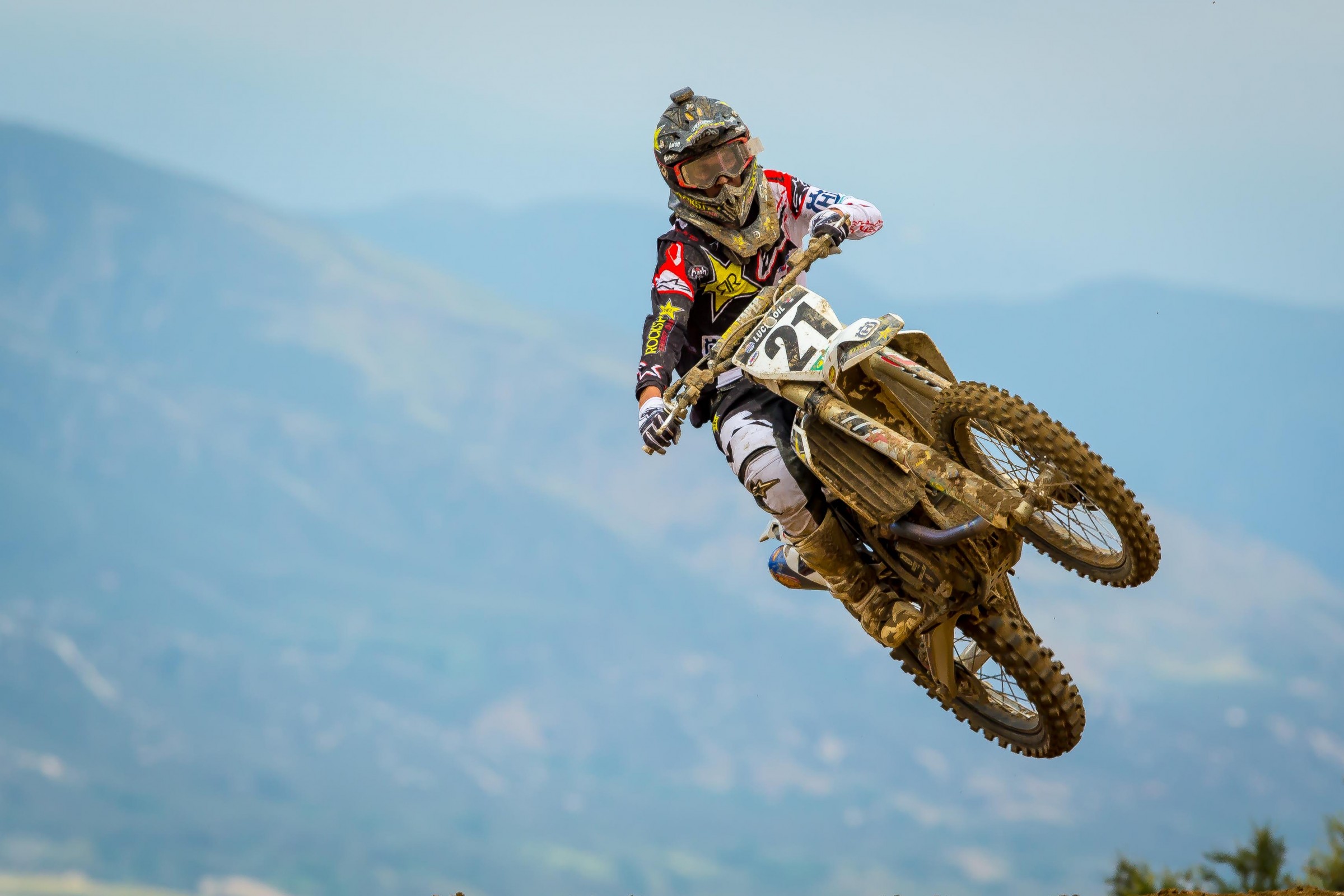 However, the worst of these came in 1984, when Cagiva rider Corrado Maddii was set to not only became Italy's first FIM Motocross World Champion, but also stop Suzuki's 125cc title-winning streak that went back to 1975. Maddii was practicing at the last GP in Luxembourg when another rider practicing starts torpedoed into him, breaking his leg. Suzuki's Michele Rinaldi, another Italian, went out the next day and finished 1-4, snatching the title from the helpless Maddii by three points.
Eric Johnson wrote an amazing feature about it, "To Have And Have Not," that's worth a weekend read!
You can read a PDF of the story here.
5 Things to Watch at Thunder Valley (Aaron Hansel)
Dueling Red Plates
Just two rounds in and we've already got a tie for the lead in the 250 Class. Zach Osborne, who swept Hangtown, is tied with Aaron Plessinger, who swept Glen Helen. They've both got 88 points to Jeremy Martin's 82, but odds are they're not going to leave Thunder Valley still tied. Will one of them take sole ownership of the red number plate at Thunder Valley, or will Jeremy or Alex Martin make a move and take over the lead?
The Philthy Phil-In
Phil Nicoletti started the season on a 450 filling in for Justin Bogle at Autotrader/Yoshimura Suzuki, but at the first two rounds, he's gotten results that aren't far off from what you'd expect from a primary guy. With 9-9 finishes for ninth and 10-7 for eighth, and he sits eighth in points. That's pretty good! There hasn't been any official word from Nicoletti's team on whether he might earn a permanent ride for the summer, but he's not hurting his case with rides like these. We'll see if he keeps it going at Thunder Valley.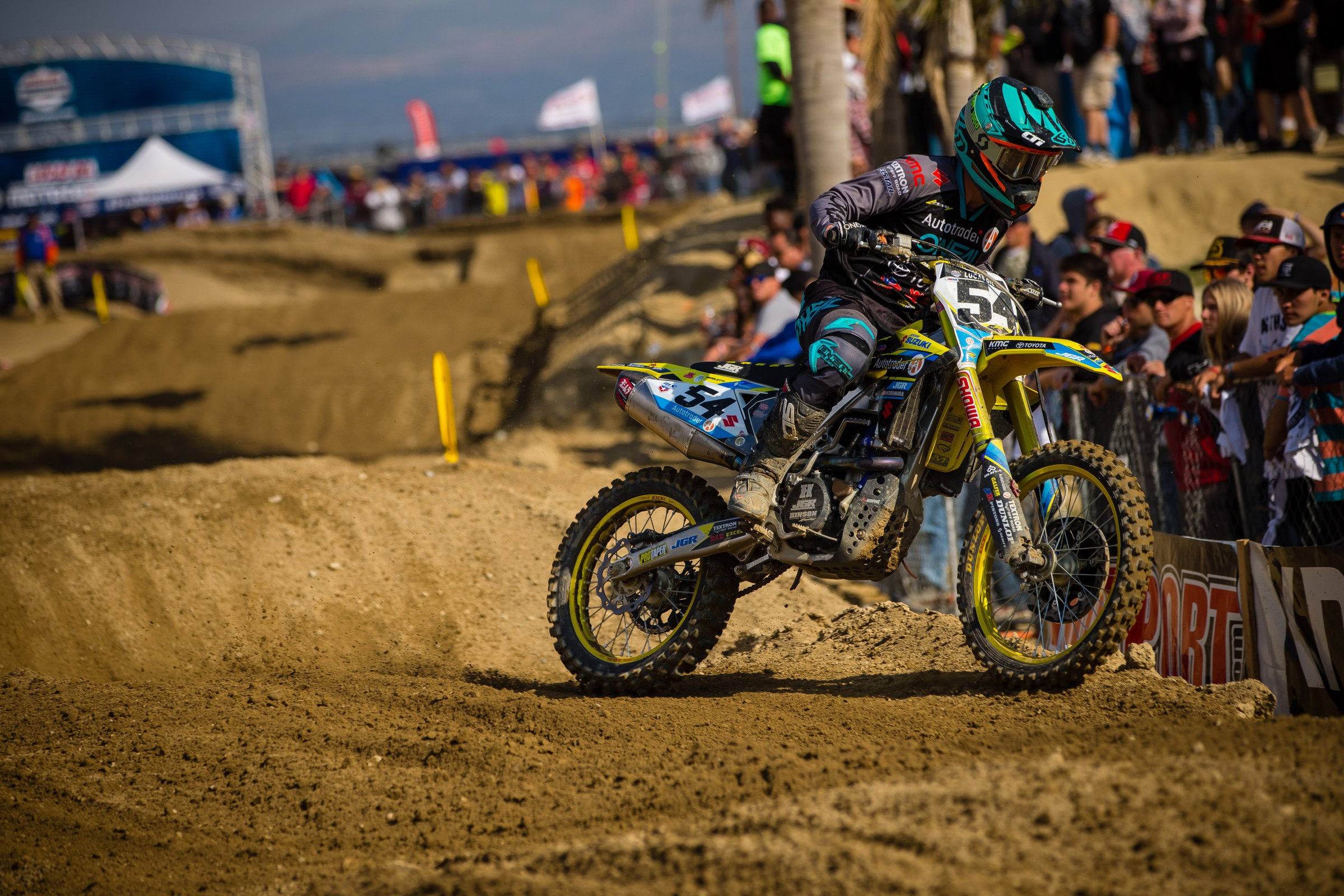 The Streaker
So far, Eli Tomac has been very good. Perfect, actually, and it's not like the wins have been handed to him. His starts weren't great at Hangtown, where he even had a little tip-over in the second moto, and at Glen Helen he had to come from behind to catch Jason Anderson, who at one point had a pretty massive lead. With rides like these, it sure seems like nobody can stop him from taking the checkers, although it's bound to happen sooner or later. Will he extend his perfect record at Thunder Valley, or will someone step up?
Rapid Improvement
After Hangtown, Ken Roczen told us he was expecting some big improvements in the coming weeks. Turns out we only had to wait a single week for him to make that prediction come true. After taking over the lead on the first lap of the first moto, Roczen held it for roughly 20 minutes before Tomac and Marvin Musquin were able to slip by. A rock jammed between his chain and front chain guard in the second moto forced him to come from nearly dead last, but even after that he was able to rip back to eighth for fifth overall. That's not just better than Hangtown, where he went from third to 16th in the second moto, it's a night-and-day difference. Roczen is probably owed a podium from Glen Helen. Who thinks he'll pick it up in Colorado?
The Rebound
The results might not show it, but Blake Baggett was very good at Glen Helen. After going down on the first lap of the second moto and getting run over by Justin Barcia, Baggett found himself at the very back and without a left-side grip. But, in true El Chupacabra fashion, he put his head down and charged back up to ninth for seventh overall. Baggett is no doubt looking to get on the podium, and what better place than Thunder Valley? It's one of his favorite tracks, and it was the site of his first 450 Class win just last year.
MAN DOWN (Matthes)
Riding at Glen Helen on a Thursday can be a tough deal for everyone who's not a pro. The SoCal track is a popular stop for the top riders, and when I lived in SoCal, I would hit it up on my YZ250 every now and then for some fun. But then it became obvious that I was just a speed bump for pros, and honestly, I stopped going there because it was too gnarly with Ryan Hughes pulling in his clutch and revving his bike to 15,000 rpm for me to get out of the way. It just became no fun for me, a local spode.
Well, the Thursday practice sessions at The Helen have bit the Rockstar Husqvarna team twice now this year. Before the nationals started, it was Dean Wilson who collided with a slower rider and tore his ACL. And yesterday, 2018 450SX Monster Energy Supercross Champion Jason Anderson also went down with a broken foot after hitting a rider who had turned in front of him to exit the track (at least as far as I can tell from the people I spoke to). He's had surgery and will be out for—I would guess—four to six weeks.
It's a unique thing to motocross where you can go out and ride with the world's best racers at a local track. It's something Anderson's trainer, Aldon Baker, has told me a few times drives him crazy. It's a variable that you can't control and can hurt you. The speed difference between a Jason Anderson and a dude like me is gnarly. These guys come up on you so fast, you don't even see them coming. And that's dangerous. Think about it: you don't go to the local racetrack and get to hop in a car and see what you have against one of the Busch brothers. You don't go to the local hockey rink and Sidney Crosby's just rifling pucks at you. It's bizarre, but that's motocross in Southern California.
For Rockstar Husky to have its two star 450 riders get hurt hitting slower riders at Glen Helen on a Thursday is also bizarre and a blow to the team. So I know where you're going next—what's the team going to do for fill-in riders? Well, there wasn't going to be one for Wilson according to people I talk to, but now with Anderson down, you gotta think they'll put someone on a 450, right? Bradley Taft went out and bought a Husky for that reason, he told us, and you gotta think he's a logical candidate, right?
And by the way, the 450 Class did NOT need another rider to disappear right about now. With Anderson's injury, we're missing six factory riders right now. Yikes!
Pro Perspective
Jason Thomas: Racing at altitude presents a few challenges. The worst of those would be the altitude sickness that Jason Anderson often suffered, but for most, it's more of a nuisance than debilitating. With Thunder Valley on the schedule since 2005, I learned to make subtle changes and preparations that helped make race day easier.
The first thing riders notice is the lack of available oxygen. Walking the track on Friday, I noticed being short of breath on some of the uphills. At sea level, walking around would be an afterthought, but that extra 5,500 feet was noticeable. It was the first sign that the workload would be a bit different. During the actual qualifying and racing, the only way I found to help this was in my conscious breathing. On some of the bigger jumps and smooth sections, I would purposely take a deep breath. Forcing in extra oxygen seemed to reset my breathing rhythm and helped focus my mind on what I was doing. It's a small thing, but it's effective.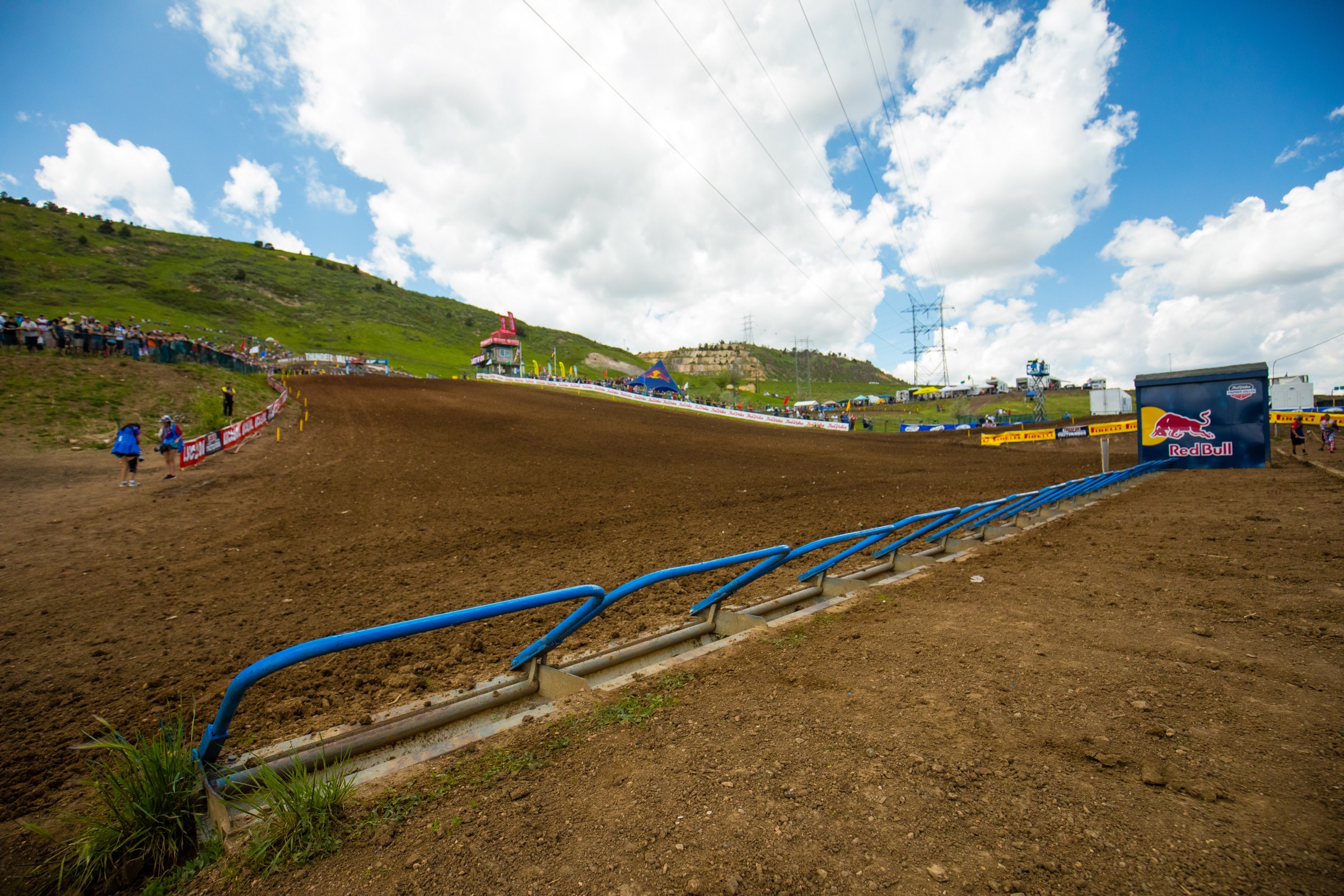 The night before the race, many find it hard to sleep, regardless of the elevation. That lack of oxygen certainly makes sleep a bit tougher, though, and I found myself tossing and turning. To help with that, I tried to squeeze in an extra hour every night during the week leading up to the race. I am a believer in sleep being cumulative, so coming in extremely well-rested can help with a not-so-great night of sleep on Friday. Riders will be taxed heavily on Saturday, so having an extra bit of energy can make a big difference.
The final adjustment I would make was in hydration. Altitude dehydrates humans more quickly than at sea level. Luckily, the high Saturday is only 78 or so, giving riders some relief. I have raced this event when it was 105 degrees (in 2005), and the field was dropping like flies in the second moto. Knowing I would need to be at my strongest, I force-fed myself Pedialyte, electrolyte supplements, paid a bit more attention to my effort level on Wednesday and Thursday, and always carried water wherever I went. Ideally, I would be having to use the restroom every 15 minutes because I was so hydrated. If I annoyed myself with my restroom usage, I knew I was in a good spot for race day.
GP Update (Adam Wheeler)
Nine months after Matterley Basin squashed and squelched under the weight of the 71st Motocross of Nations, the popular English course is again busy for the ninth round of MXGP. The 20-date FIM Motocross World Championship is in the midst of its most "traditional" period with races in Germany, Britain, and St. Jean D'Angely in France next week—all former MXoN hosts and some of the longest-standing fixtures on the Grand Prix trail.
The wide layout, uphills and downhills, vast jumps, and natural shallow valley setting mean that Matterley is one of the most epic locations on the MXGP scene. What seems like loamy and grippy terrain is often deceptive; the ground is extremely stony and requires a lot of work by Steve Dixon and his track crew to filter and screen the soil. The U.K.'s "ever-dependable" climate usually gives the south England venue a dowsing that determines how rough and bumpy Matterley will actually become.
Jeffrey Herlings might have stretched out a 48-point gap in the standings—courtesy of two wins on the bounce and four consecutive moto successes, as well as a 100 percent podium record—but Matterley is one of Tony Cairoli's preferred courses. The Sicilian celebrated World Championship glory there in 2013 and has four victories from six appearances. Herlings boasts just two in MX2 (Ken Roczen, Tommy Searle, Glenn Coldenhoff, and Valentin Guillod are other winners in the 250s).

Matterley skipped MXGP duty in 2017, courtesy of the Nations, and it was Tim Gajser who conquered in 2016 (in front of Max Nagl in what was one of his last Grand Prix podium appearances to date). Gajser also has good form. The HRC man notched his very first GP rostrum at the site in 2014 in his first term on a Honda, just one year after he crashed spectacularly on the hefty triple step-up and his KTM spiraled into the crowd. Thankfully, there were no major repercussions from the incident, but the public fences have been pushed back and further from trackside ever since.
British focus will fall firmly on Rockstar Energy Husqvarna's Max Anstie. The 25-year-old starred with aplomb at the Nations but has been struggling to reach anything like the same form or potential since. A heavy crash in warm-up for the Grand Prix of La Comunitat Valenciana in Spain for Round 3 means he has been playing catch-up. Fans will have high hopes and long, fresh memories of his 1-1 for Team Great Britain, and the spotlight is unlikely to be harsher at any point this season. Searle and Wilvo Yamaha rider Shaun Simpson will boost homegrown presence in the 450s (Simpson fully fit after his nasty crash in practice for the Russian GP, which led to a chipped hip and cracked ribs). Perhaps the brightest prospect will be Kemea Yamaha's Ben Watson. The nearly 21-year-old has shone brightly under Jacky Vimond's guidance in MX2 and has already bagged a maiden trophy in his first campaign as a factory rider.
HOT FRESH PIAZZA (Matthes)
I do a weekly Privateer Island Podcast with the help of FXR Racing and Race Tech Suspension, and this week I called up Pennsylvania's own Bobby Piazza to talk about his first two AMA Nationals (Glen Helen went much better than Hangtown) and how he and another privateer are living in a van and doing all the races. Last week I spoke with Kevin Moranz, who's also doing that, and man, these guys are heroes. I used to do that as a privateer mechanic, and that was rough enough, but for these guys to do it as racers, well, that's pretty cool. Trying to do bike maintenance between motos while eating and getting some rest, trying to score points each moto—that's what Privateer Island life is all about. I love hearing these guys' stories, so check them out if you can.
Go read PulpMX.com, please and thank you.
THREE-FOR (Andras Hegyi)
When 250 Yamalube/Star Racing heroes like Cooper Webb and Jeremy Martin concluded their 250cc careers on blue at the end of the 2016 season—Webb moved to the 450 Monster Energy Yamaha factory team while Martin moved to the 250 GEICO Honda Team—former off-road rider Aaron Plessinger got the promotion inside the Star Racing Yamaha rig as Yamaha's top 250 team rider. In '17, he won both supercross and motocross races. In fact, he was the only Yamaha winner in the 250 class. But it wasn't Webb or Martin's numbers; Plessinger finished third in supercross and fourth in the nationals. But now Plessinger has been climbing the ladder much higher.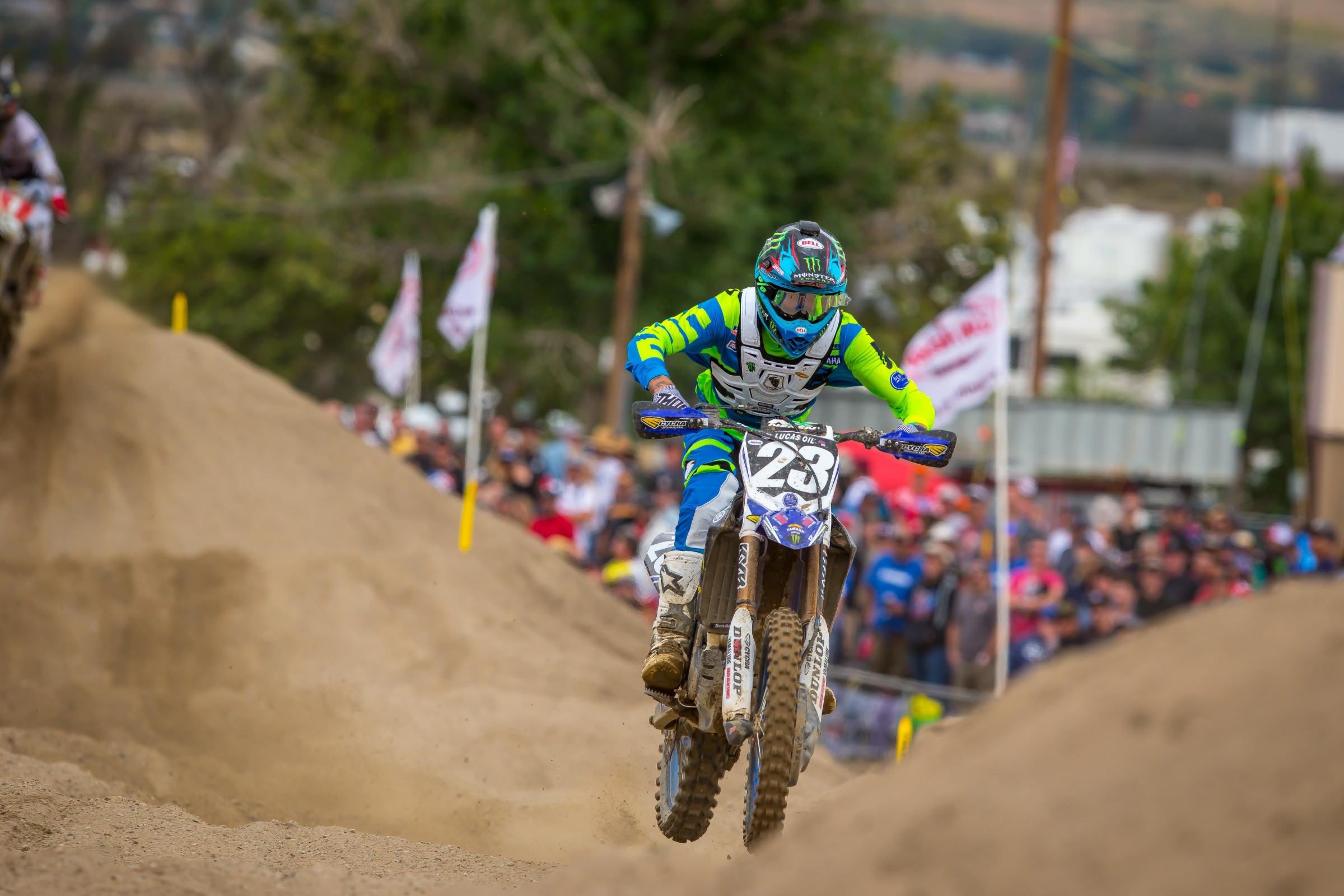 Aaron took his maiden AMA championship in 250 West Region Supercross. He also got his career-best performance in the first 250 motocross after two rounds, sharing the red plate going into round three this weekend with defending champion Zach Osborne. In 2015 he started 6-15, in 2016 4-5, in 2017 3-7, but this year he began 3-1. Moreover, he got his third 250 national win by sweeping both motos. It was the first time that Plessinger has been able to win both motos.
This is the third season where Plessinger was able to win an outdoor national, also winning in '15 and '17. Besides Broc Glover, Jeff Emig, Jeremy Martin, and Cooper Webb, Plessinger became the fifth Yamaha rider to win in at least three seasons in 125/250 motocross. Also, Glover, Emig, Martin and Webb were Yamaha champions in the small-bore nationals.
Yamaha riders to win in at least three seasons in the 125/250 nationals:
| | | |
| --- | --- | --- |
| Rider | seasons | years |
| Broc Glover | 4 | 1977, 1978, 1979, 1980 |
| Jeff Emig | 3 | 1992, 1993, 1994 |
| Jeremy Martin | 3 | 2014, 2015, 2016 |
| Cooper Webb | 3 | 2014, 2015, 2016 |
| Aaron Plessinger | 3 | 2015, 2017, 2018 |
Hey, Watch It!
RACER X FILMS: GLEN HELEN REMASTERED
RACER X FILMS: STANK DOG GLEN HELEN HELMET CAM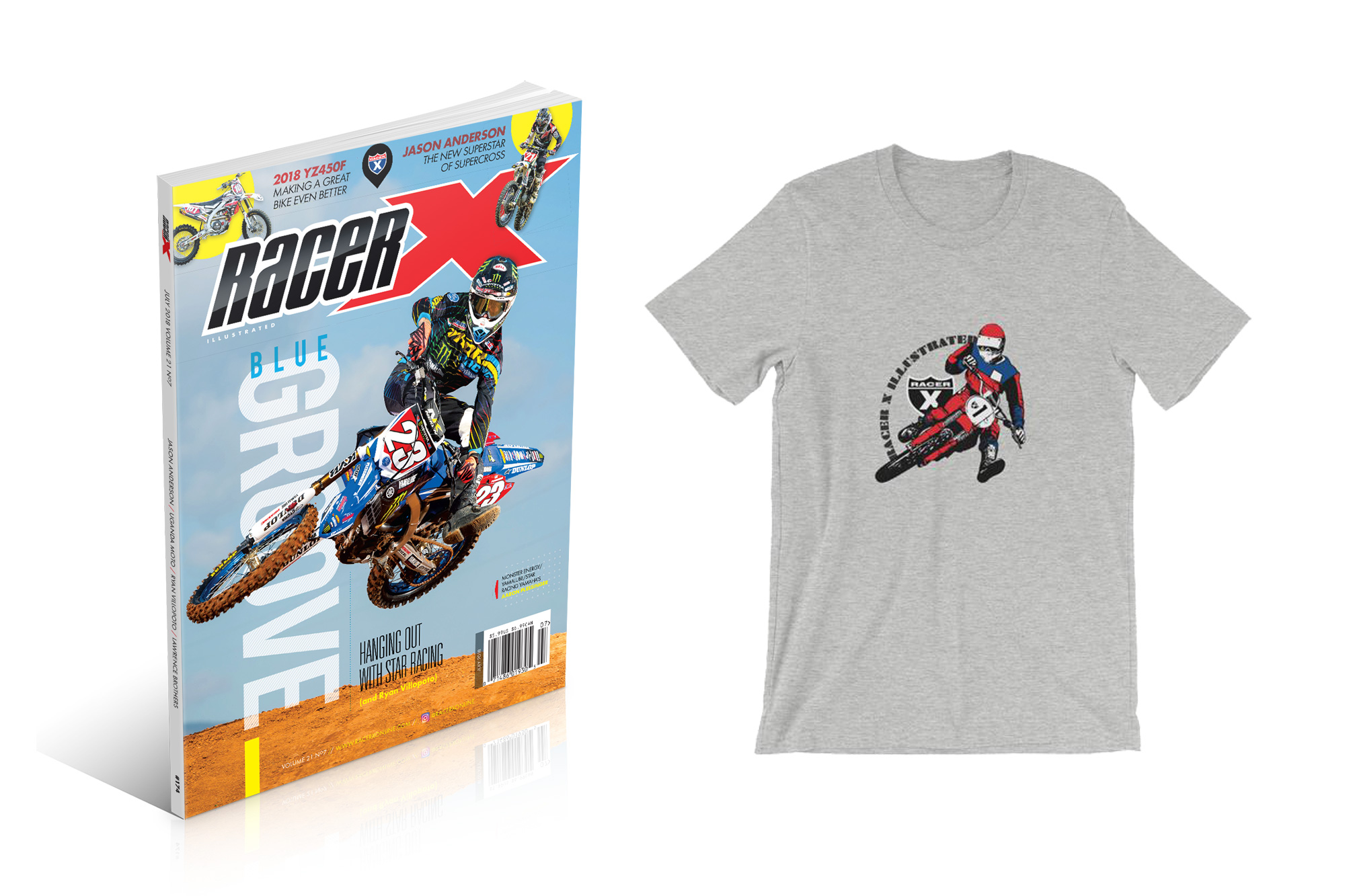 SUBSCRIBE AT Thunder Valley AND RECEIVE ALL 12 OFFICIAL 2018 RACER X EVENT STICKERS
Are you headed to the Thunder Valley National this weekend? Make sure you stop by the Racer X booth, located in Sponsor Village, and subscribe for as low as $10 and receive ALL TWELVE Official 2018 Lucas Oil Pro Motocross Racer X event stickers. You will also receive a complimentary magazine, free Racer X stickers, as well as extra event stickers. Be sure to check out our Racer X Brand items on display and grab some gear. See you at the races!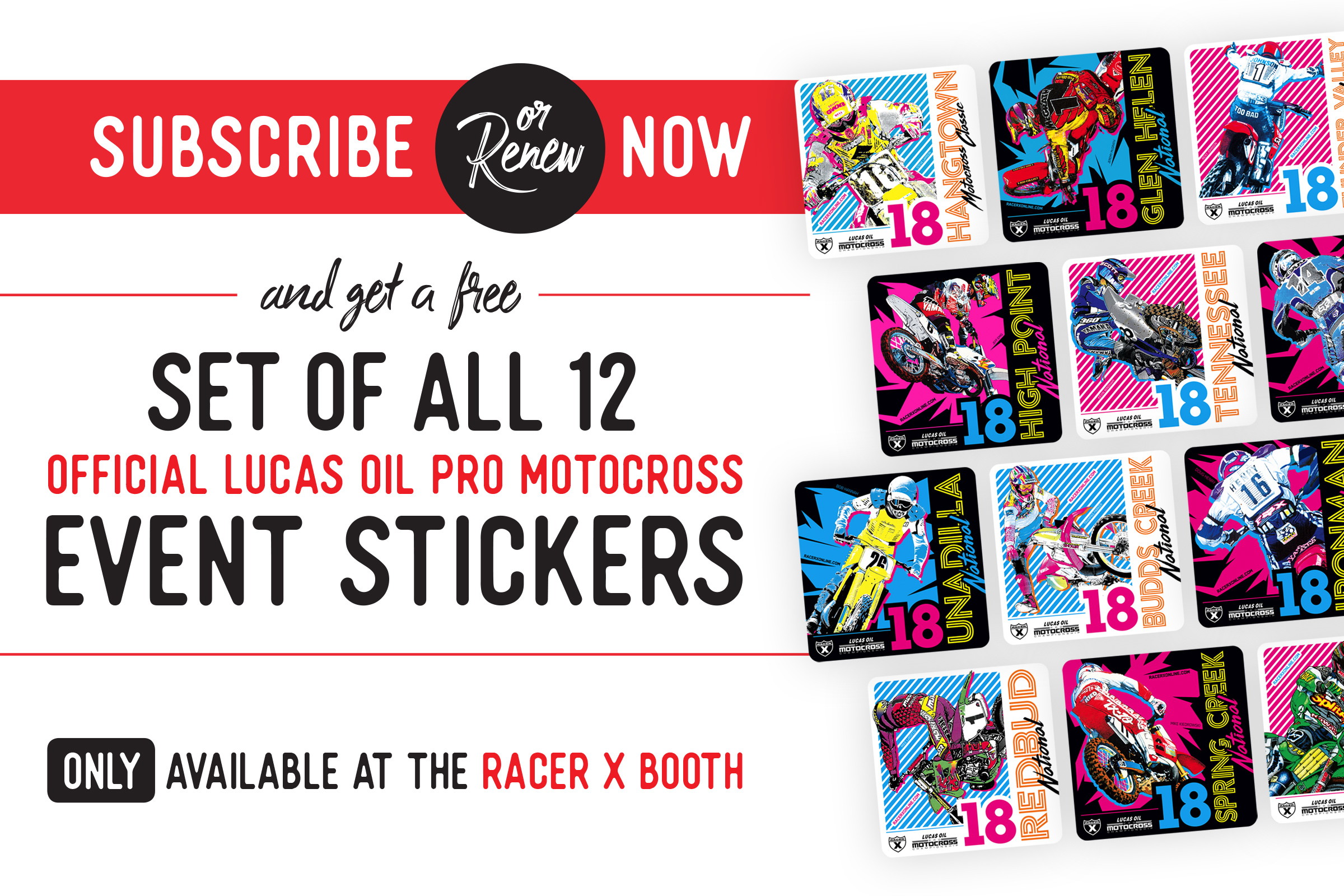 You will also receive a complimentary magazine, free Racer X stickers, as well as extra event stickers. Be sure to check out our Racer X Brand items on display and grab some gear. See you at the races!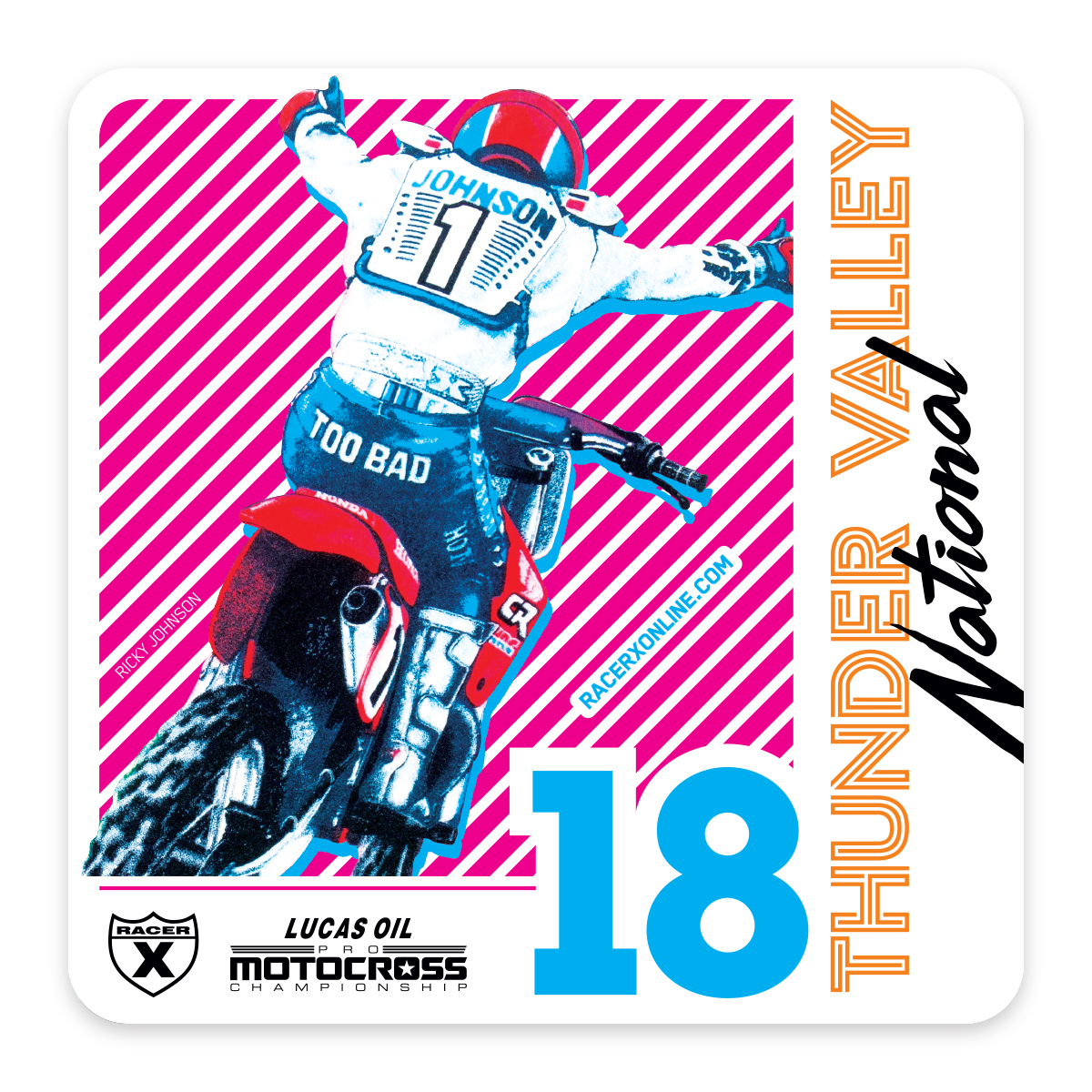 THUNDER VALLEY RACER X ALL-DAY PIT PASSES | LIMITED QUANTITIES LEFT!
Going to the Thunder Valley National this weekend? Want to be able to get into the pits all day?
The only way to cruise the pits whenever you'd like is with the Racer X All-Day Pit Pass, but quantities are limited! Make you stop by the Racer X Pit Pass Booth, located in Sponsor Village, and purchase your Racer X All-Day Pit Pass while they're still available and receive all-day pit access, plus a one-year subscription to Racer X Illustrated, for just $50.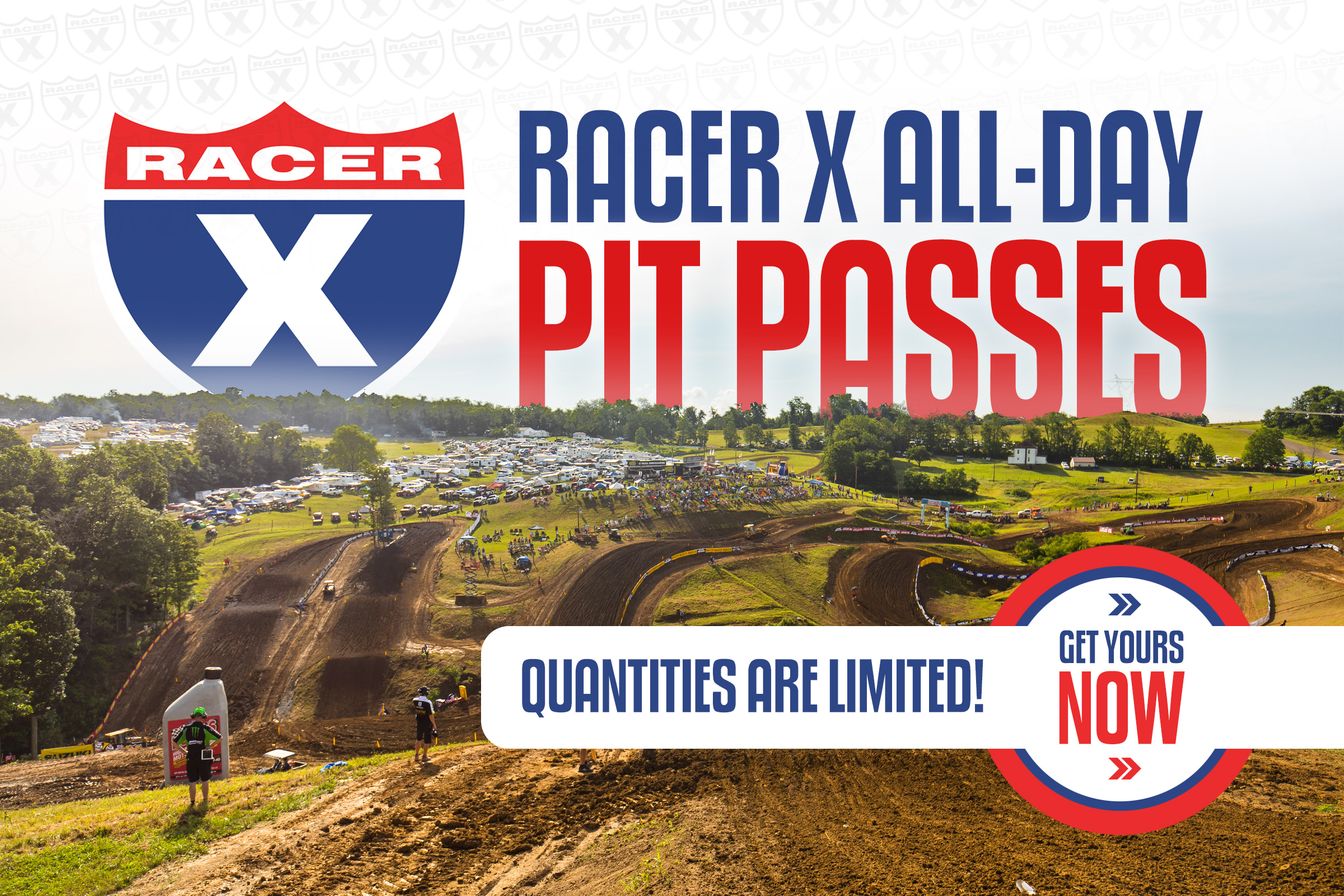 That's all for this week. Thanks for reading Racerhead. See you at the races.