San Bernardino, CA
Glen Helen
Lucas Oil AMA Pro Motocross Championship
The Lucas Oil Pro Motocross Championship descended on Glen Helen Raceway on Saturday, and with plenty of storylines to follow from the season opener in Northern California, the action promised to be good on many levels. Let's get right into this weekend's edition of Saturday Night Live for a closer look at what happened at the Giant RV Glen Helen National.
First, the green monster in the room—Eli Tomac. The dude is an absolute animal. His 1-1 ride doesn't come as a surprise, we've seen him do this plenty of times before and he is the National Champion, but the way he did it today was incredible, especially in the second moto. With just a few minutes left in the second moto, Jason Anderson had a good eight seconds on Tomac and he didn't look like he was struggling. With such a big gap and so little time left, it just didn't seem possible for Tomac to catch him, let alone make a pass. Apparently nobody shared this news with Tomac, who went after Anderson hard, dropping his lap time significantly and swallowing the gap in a hurry. Not only did he catch and pass Anderson, he was able to put sixteen seconds on him before taking the checkers. When asked about it afterward in the post-race press conference, Tomac said it wasn't a conscious decision to drop the hammer, saying that he simply felt good on the bike.
"I don't really know, I just kept going. I was feeling good, I was relaxed, had some good lines, and was flowing," Tomac said. "I found a few lines maybe later on in that moto, but was just feeling good and not fighting anything. Just going with the flow."
Marvin Musquin was second again, but for most part rode a quiet race, going 2-3. Afterward he didn't seem very enthused in the post-race press conference and spoke less than usual. When asked about next week, he said he was looking forward to racing at Thunder Valley.
"Thunder Valley is always a really good track and is always different with the altitude—the feeling with the engine and the power of the bike. I like the challenge, I had a good battle there last year, and it was a great race."
Jason Anderson wasn't bad last week, but he was much better this week. Before Hangtown he'd basically done no prep for motocross, but the little he and the team have been able to do since then seems to be working.
"I was so focused on the supercross deal I didn't ride much outdoors. I definitely had very few days, and I had a new bike too we were trying to get going," Anderson said in the post-race press conference. "I think we were a little bit behind, as far as bike setup, but even on press day we were working trying to get the chassis and suspension better. I think we went in the right direction, even from the first to the second moto. As you can tell, the motor is fine—that thing rips. We're just working on the chassis a little bit, trying to get it better."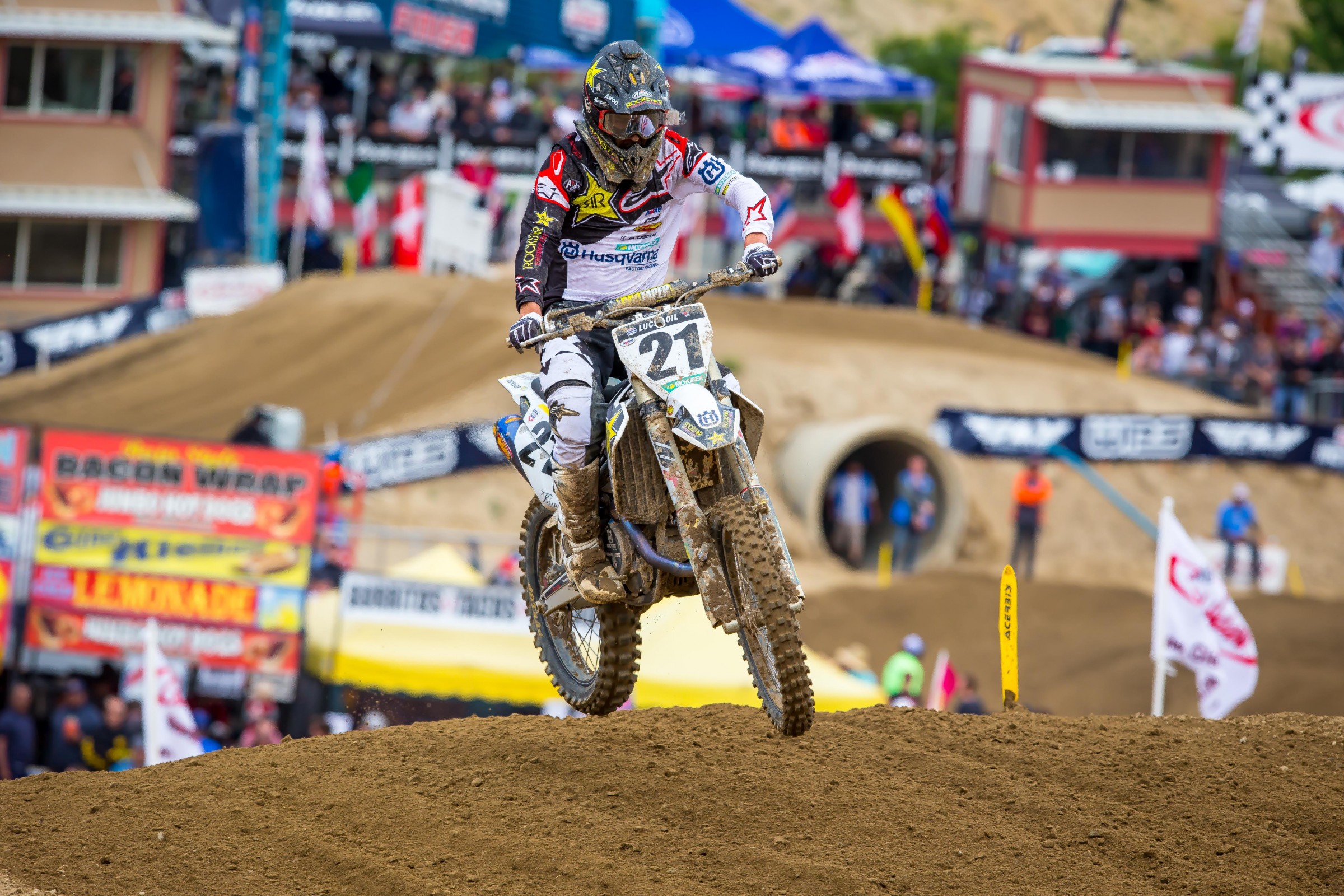 Judging by how well Anderson rode today, a marked improvement from Hangtown, whatever they're doing is working. Yes, he got caught by Tomac late in that second moto, but Jesus himself wouldn't have been able to hold off the incredible charge Tomac put on at the end of the moto. Nice job from Anderson to get on the podium—something tells us this won't be the last time."
Speaking of riders who were better at Glen Helen, go ahead and throw Ken Rozcen to the top of that list. He was fantastic! He led the first moto for twenty minutes before getting passed by Tomac and Musquin, and after pulling over early in the second moto to have his mechanic dig a rock out from between his chain and front sprocket guard, he came from just about dead last to eighth place for fifth overall. Last week he said he was expecting big gains in the coming races, and apparently he really meant it!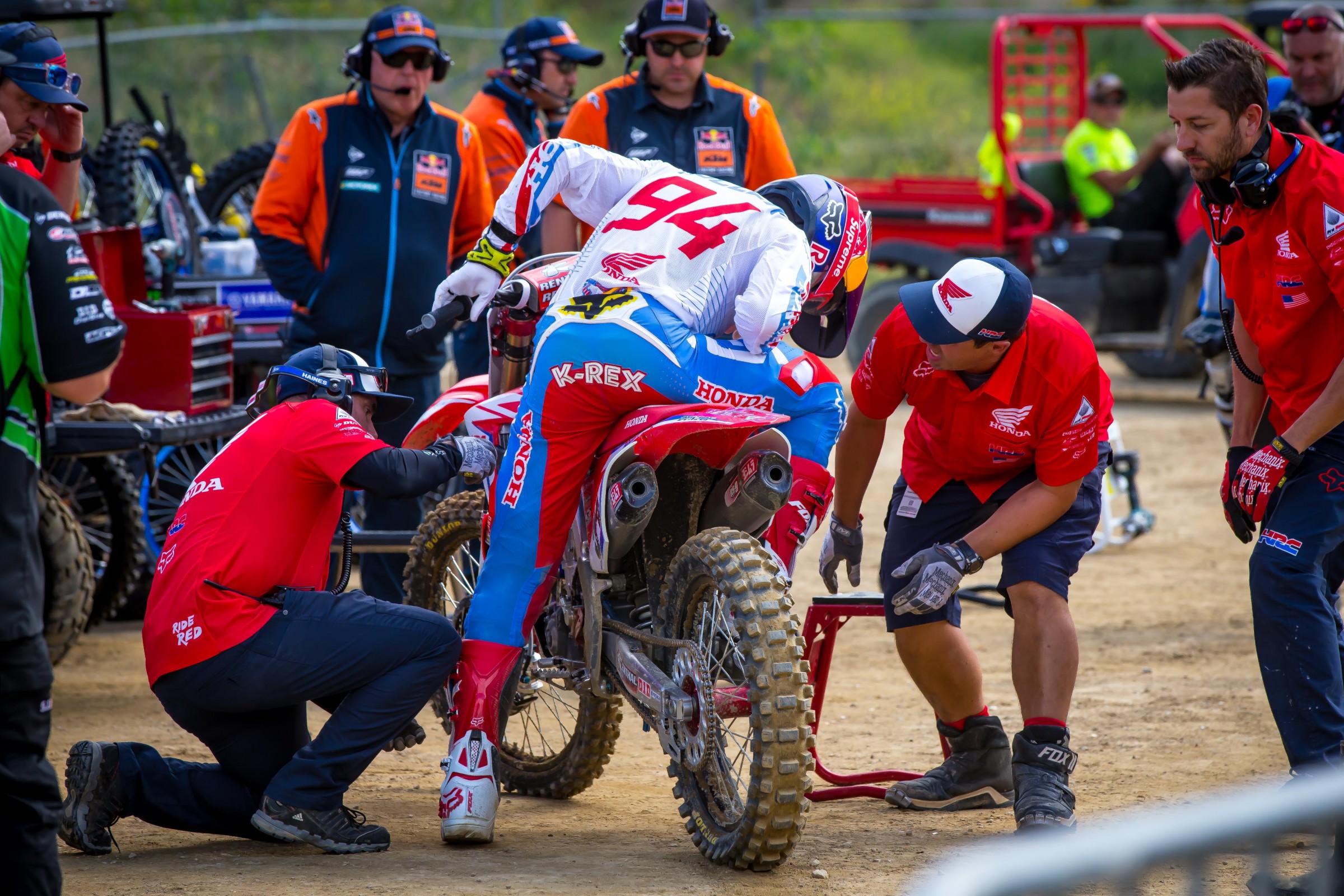 "Even having just one race under my belt, it made it all feel familiar," Roczen explained. "We've been working a lot on the bike and I'm not 100 percent happy yet, but we're working really hard. I think we'll get better results once I start having a good base where I can just ride. My hand isn't having it right now, I can tell you that much. The jumps were too big and the landings were too flat. It made it really tough for my hand and it's definitely sore right now. Today was our day to be on the podium for sure, but we had that little problem. But I never care about the result too much if I ride good and give everything I have. Sometimes things are out of your hands."
Even Tomac, when asked about Roczen's performance, seemed happy to see him riding more like himself.
"It was good to see him up there," Tomac said. "The guy has gone through hell on basically both arms and it's good to see he's got that speed back. I had a good battle with him there for, shoot, it felt like twenty minutes. It was good."
Of course, not everything was great for everybody at Glen Helen. Christian Craig crashed hard in the first moto and hurt his knee. The team isn't sure how badly he hurt it yet, but it was enough to take him out of action for both motos. Kyle Cunningham also went down hard in the second moto after scoring a solid eighth in the first. Word is he's okay, but he was taken to the hospital anyway just to be sure.
Cunningham was on his way to a solid top ten overall finish before crashing in the second moto

Kardas

Barcia was quick, but his starts didn't put him in a position to battle up front. He did catch Weston Peick in the second moto for four though, and ended up fourth overall. He's now tied for third with Jason Anderson

Kardas
Motocross
Rider
Hometown
Motos
Bike
1
Eli Tomac
Cortez, CO

United States

1 - 1
Kawasaki KX450F
2
Marvin Musquin
La Reole

France

2 - 3
KTM 450 SX-F
3
Jason Anderson
Edgewood, NM

United States

4 - 2
Husqvarna FC 450
4
Justin Barcia
Monroe, NY

United States

6 - 4
Yamaha YZ450F
5
Ken Roczen
Mattstedt

Germany

3 - 8
Honda CRF450R
6
Weston Peick
Wildomar, CA

United States

7 - 5
Suzuki RM-Z450
7
Blake Baggett
Grand Terrace, CA

United States

5 - 9
KTM 450 SX-F
8
Phil Nicoletti
Cochecton, NY

United States

10 - 7
Suzuki RM-Z450
9
Kyle Chisholm
Clearwater, FL

United States

11 - 11
Yamaha YZ450F
10
Cody Cooper

New Zealand

16 - 10
Honda CRF450R
Full Results
Motocross
| Position | Rider | Hometown | Points |
| --- | --- | --- | --- |
| 1 | Eli Tomac | Cortez, CO | 527 |
| 2 | Marvin Musquin | La Reole | 511 |
| 3 | Ken Roczen | Mattstedt | 445 |
| 4 | Justin Barcia | Monroe, NY | 444 |
| 5 | Blake Baggett | Grand Terrace, CA | 391 |
| 6 | Phil Nicoletti | Cochecton, NY | 311 |
| 7 | Benny Bloss | Oak Grove, MO | 298 |
| 8 | Weston Peick | Wildomar, CA | 290 |
| 9 | Cooper Webb | Newport, NC | 186 |
| 10 | Kyle Cunningham | Aledo, TX | 169 |
Full Standings
Before Hangtown some videos surfaced of some massive jumps here at Glen Helen, and many of the riders weren't too thrilled about the prospect of hitting them repeatedly in a race scenario. They said as much in the press conference last week, and race organizers listened, toning them down a bit to eliminate unnecessary risk. All the riders we spoke with after today's racing were quite happy with the track and seemed grateful their voices were heard. Credit to the powers that be for taking the riders' words into consideration and delivering a great track that made for some good racing and still had plenty of impressive jumps.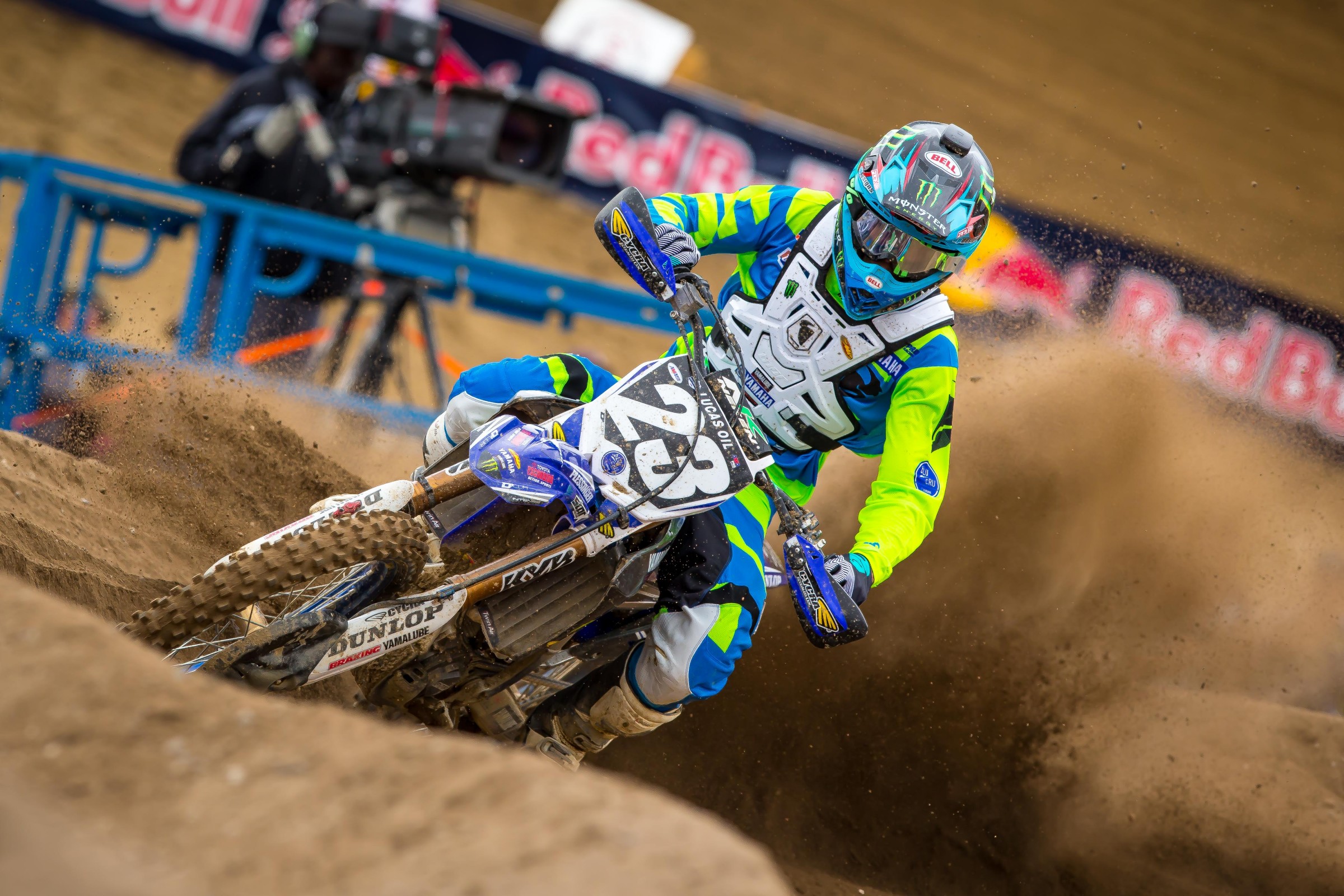 After saying Zach Osborne and Jeremy Martin were on another level at Hangtown, Aaron Plessinger found a level of his own at Glen Helen and destroyed everyone to sweep round two. Afterward he partially credited working on sprints during the week for his success at Glen Helen. His win solidifies him as a serious contender in a class in which many were expecting most of the action to come from the predicted Jeremy Martin vs. Zach Osborne slugfest.
Jeremy and Alex Martin rounded out the podium in second and third, respectively, and even put in an excellent battle for second in moto two. Afterward Alex said he tries even harder to not get passed when it's his brother hounding him, but then joked that he wasn't worried about his brother passing him for the moto because he doesn't know how to pass. But when Jeremy did pass, Alex, Alex wasn't able to retaliate!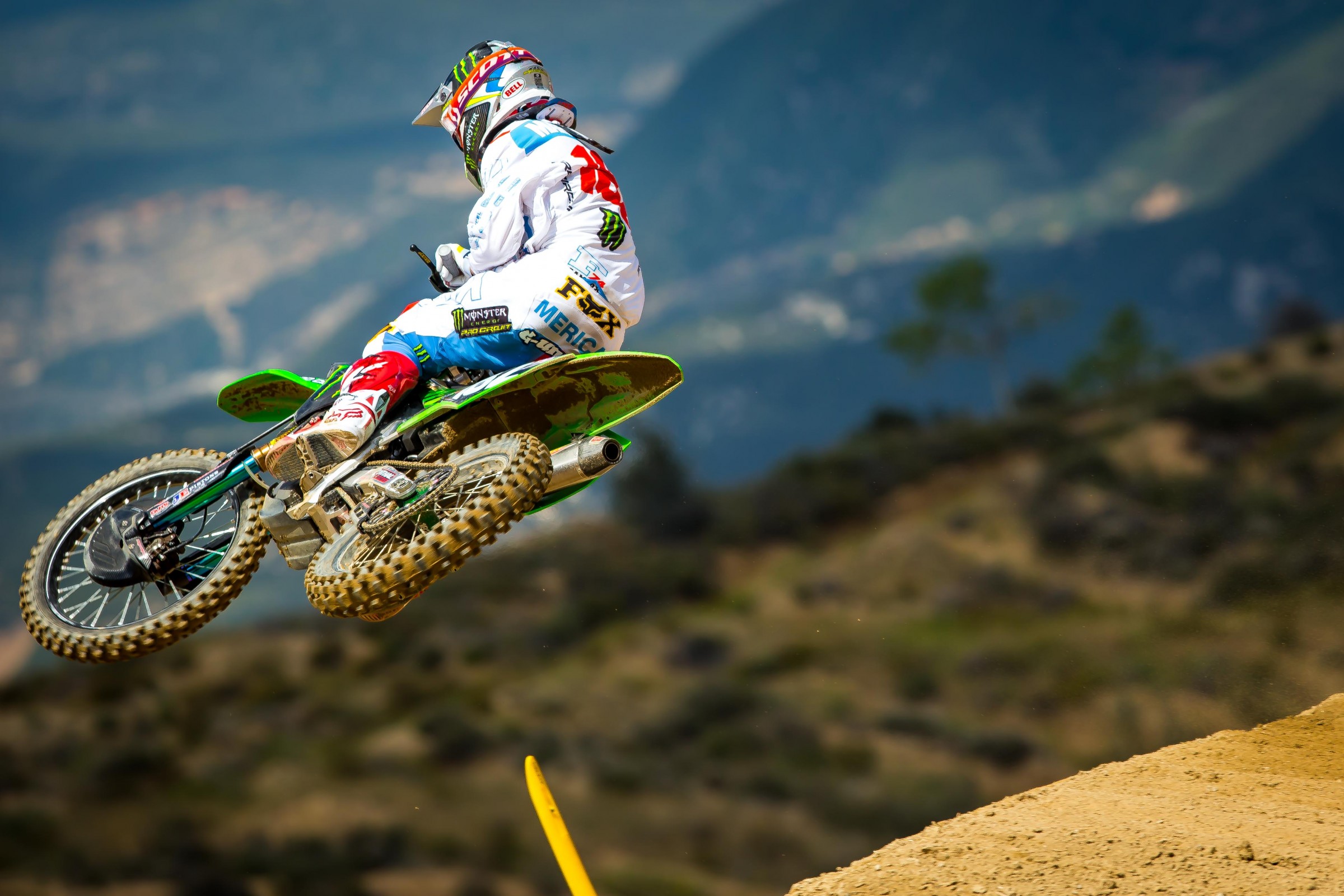 Zach Osborne's day wasn't as good as last week at Hangtown where he swept both motos, but it wasn't nearly as bad as it could have been. Earlier in the week Osborne crashed at Pala and jammed his thumb pretty badly, and even crashed during the second moto. It was pretty swollen afterward too. Osborne said he didn't think his hurt thumb hurt him on speed, but had it been 100 percent he may have been able to keep himself from crashing. After finishing off the overall podium he's tied for the lead with Plessinger.
"At the end of the first moto I was like, 'Oh, it's not that bad, I can push.'" Osborne said. "But at the end of the second moto it was really sore. I think maybe if I had been had full strength I wouldn't have gotten so wild so quickly when I crashed, but with what I have going on it was tough to hold on. I was really lucky to get up unscathed and get my bike out of the fence pretty quick. It should feel a lot better next weekend. I just jammed the crap out of it at Pala. Everything is structurally okay, we'll just keep pushing forward. I've won three titles straight now pretty blemish free in terms of injury, and I can't expect them all to be 100 percent pain free. I can't be too bummed about it."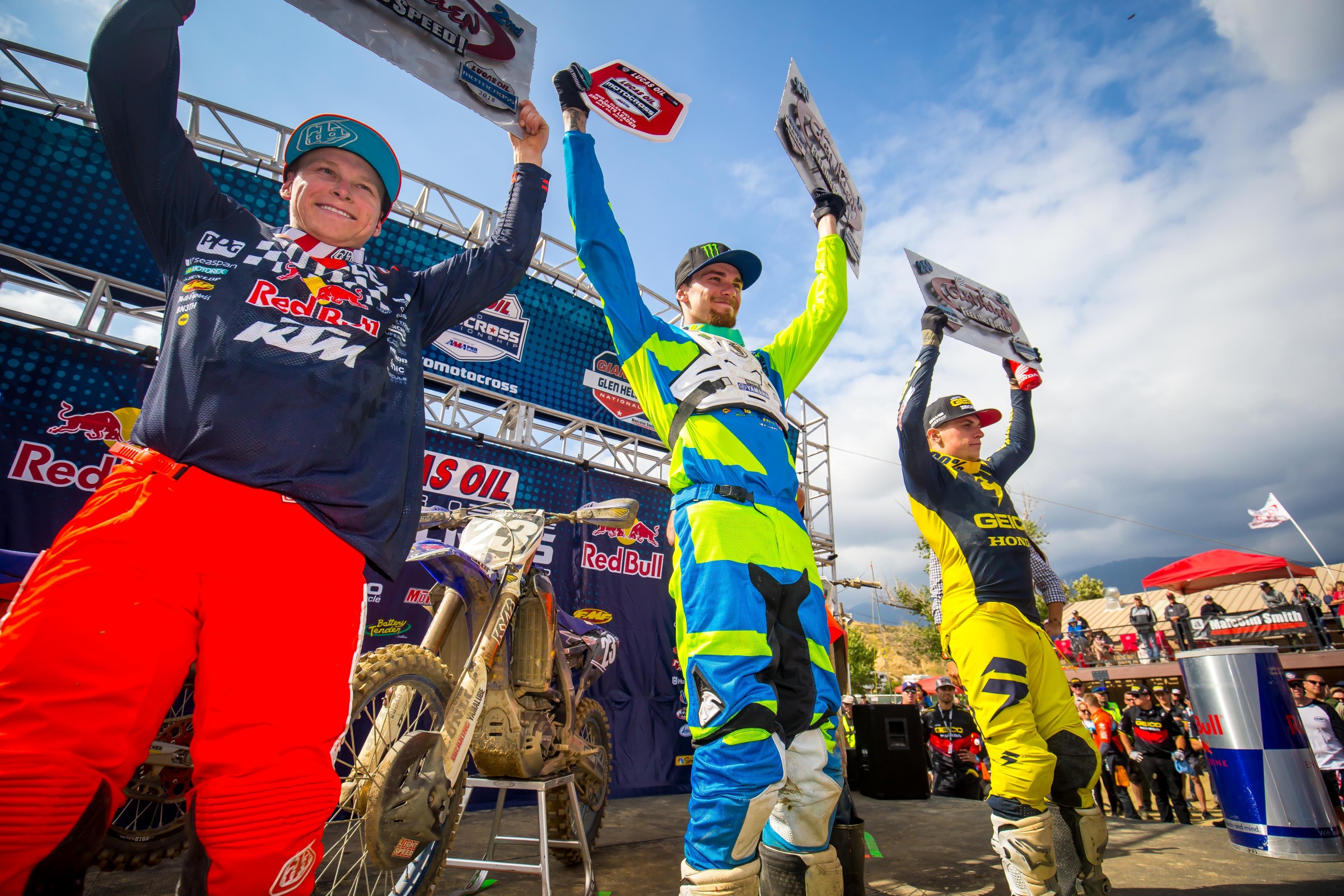 Motocross
Rider
Hometown
Motos
Bike
1
Aaron Plessinger
Hamilton, OH

United States

1 - 1
Yamaha YZ250F
2
Alex Martin
Millville, MN

United States

3 - 3
KTM 250 SX-F
3
Jeremy Martin
Millville, MN

United States

5 - 2
Honda CRF250R
4

Zach Osborne
Abingdon, VA

United States

2 - 5
Husqvarna FC 250
5
Joey Savatgy
Thomasville, GA

United States

6 - 4
Kawasaki KX250F
6
Justin Cooper
Cold Spring Harbor, NY

United States

4 - 7
Yamaha YZ250F
7
R.J. Hampshire
Hudson, FL

United States

8 - 9
Honda CRF250R
8
Garrett Marchbanks
Coalville, UT

United States

7 - 10
Kawasaki KX250F
9
Chase Sexton
La Moille, IL

United States

10 - 8
Honda CRF250R
10
Austin Forkner
Richards, MO

United States

13 - 6
Kawasaki KX250F
Full Results
Motocross
| Position | Rider | Hometown | Points |
| --- | --- | --- | --- |
| 1 | Aaron Plessinger | Hamilton, OH | 500 |
| 2 | Alex Martin | Millville, MN | 391 |
| 3 | Justin Cooper | Cold Spring Harbor, NY | 353 |
| 4 | R.J. Hampshire | Hudson, FL | 338 |
| 5 | Shane McElrath | Canton, NC | 332 |
| 6 | Chase Sexton | La Moille, IL | 324 |
| 7 | Austin Forkner | Richards, MO | 314 |
| 8 | Dylan Ferrandis | Avignon | 310 |
| 9 | Joey Savatgy | Thomasville, GA | 276 |
| 10 | Jordon Smith | Belmont, NC | 260 |
Full Standings