Rancho Cordova, CA
Hangtown
Lucas Oil AMA Pro Motocross Championship
Ken Roczen | Honda HRC | 6-16 for 11th in 450 Class
It was great. A couple of weeks ago, it was almost hard to actually make the decision. It was like, "Hey, is it worth it going here?" My hand was nowhere near being able to race a whole race at pace. We just came here and we were wingin' it, really. It's good to be back, and I think I showed I've got the speed. All in all, it's just not having enough time on the bike. It's been a year and a half since I've ridden outdoors, and it's definitely a different animal. We're searching a little bit with the bike, but I have a lot of faith in the team and we have a good plan moving forward from here. I think in the coming weekends my body is going to get back used to the intensity of the longer motos, and obviously I'm going to work during the week to get it all back. It's not going to happen tomorrow, but I had a lot of fun today. I had a big smile on my face just in practice this morning.
Racer X: How long have you been doing actual 30-minute motos?
I've probably done, I think four, five, something like that. A week-and-a-half ago, that was the first test I did with the team, and obviously you can't really do motos. After they left, I tried to do as many as possible, at least two every day, but again, my thumb has been holding me back. I can only ride for so long before it starts hurting me pretty bad. Then you have to back it off. These guys have been racing the last year and a half, and their bodies are there and they're used to the intensity. It's not an excuse, just something I have to deal with for right now.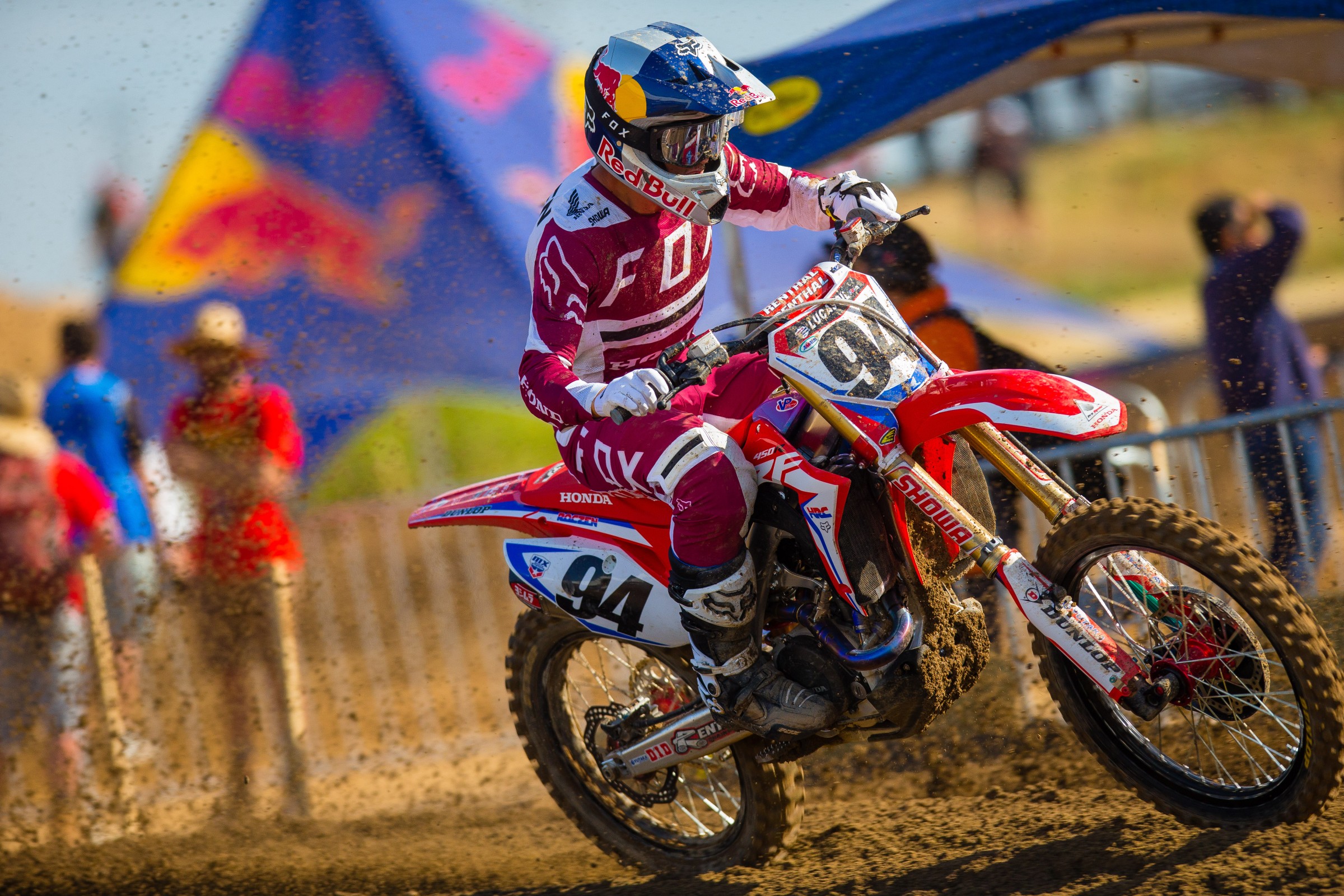 Did you feel pain today? Fatigue?
Yeah, definitely. My thumb gets worse, but it wasn't to the point where… I think when you're racing, you notice it, but not as much. I didn't let it bother or rattle me too much, I just tried to stay on the bike and make it through. I think we're going to see some pretty big steps forward in the next few weeks.
You were up there in the beginning, so yeah, it doesn't seem like speed is going to be the big issue.
Exactly. We did a change between the motos, too, and it wasn't what I really wanted, actually. When something is bad, you can do a start and do a few laps but eventually things get out of whack and you're going to have to slow down. The last thing I want to do is ride over my head and throw it away. I just wanted to make it through this one and make it out safe.
Happy, sad, or in between on your day?
I think I have to be happy, but I'm so competitive it's tough to leave saying this was awesome. I could have done better. But it's been so long since I've raced, five races in the last two years, and it's just not enough. The hard part is, I was used to winning before, and I still want to win. I'm far away from it right now.
Chase Sexton | GEICO Honda | 11-5 for sixth in 250 Class
I'd say it was a decent day. Wasn't great, wasn't bad. Qualified fourth but got eleventh in the first moto. I got a pretty good start but fell over twice and went off the track. It wasn't a very good first moto. But the second moto I got a good start, fifth or sixth, and passed Aaron [Plessinger] and was trying to pass Alex [Martin] and kind of got caught up, and Aaron got by me again and I got fifth. It wasn't too bad, sixth overall, and we're going to Glen Helen healthy and ready to go.
You haven't raced here before, right?
No, this is my first time here.
What'd you think?
It was pretty good. It was rough, for sure. I didn't really know what to expect. I knew it was going to be rough. But it was good. Pretty choppy. I was kind of struggling with my bike setup all day and trying to figure it out. I'm just excited to go to Glen Helen.