You may remember Cade Autenrieth as the relatively unknown 17-year-old who was granted a fill-in ride with Joe Gibbs Racing (JGR) for the last three rounds of the 2017 Monster Energy AMA Supercross season. With a full season of racing finally under his belt, we decided to catch up with Cade to talk about his experience with JGR, how things went this season, what he learned during those three weeks as a factory rider, and more.
(Note: The following interview was conducted via iMessage and has been lightly edited for clarity.)
Racer X: For those who may not be familiar, introduce yourself to the readers.
Cade Autenrieth: My name is Cade Autenrieth. I'm from Hemet, California. Been riding since I was five, I just turned 18 years old, and I'm currently racing the 450 class.
How'd the 2018 supercross season go for you? Give us an overall summary of the season in your words.
The 2018 supercross season went well for me. I didn't have much experience in supercross before this, only racing three rounds last year in the 250 class as a fill-in for JGR. I decided to ride 450 this year, so I had a bit of a learning curve with the transition to the bigger bike and the high level of competition in the class. There was a lot to learn on the track and setup for the bike. I had a shoulder separation before A1, which held me back, and I had a crash in San Diego SX qualifying and separated my other shoulder. Every week I learned a lot and improved at each race I attended. When I got to Vegas for the final round, I felt better than ever on the bike and qualified for the main out of the heat race, which was a big accomplishment for me.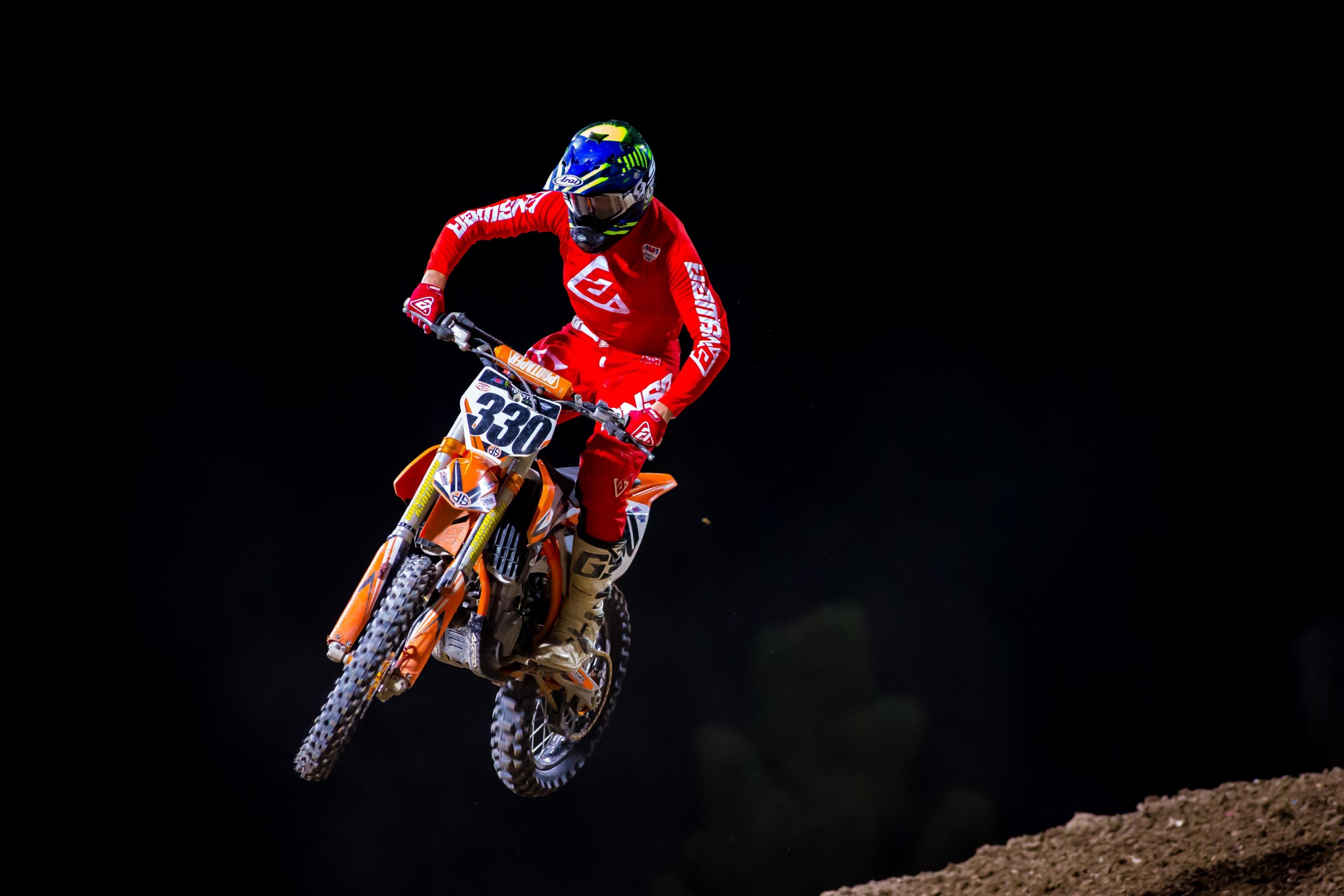 Let's talk about that experience riding for JGR. Those were your very first pro races, correct? And you were put on their factory bike right off the bat? Fill us in a bit on your fill-in role.
Yeah, those were my first pro races. I've been coached by Buddy Antunez since I was 11. I had been doing arenacross Road to SX and was planning on going 250 pro outdoor. Buddy called me and told me if I got all my points, JGR would give me a test ride for the fill-in spot. I was put on their bike right off the bat. It was an unbelievable experience, the bike was great, the team was great. I rode three rounds, and my best finish was 13th at Salt Lake SX.
Do you feel like maybe that opportunity came a little too soon in your career? Maybe you just weren't quite ready for a factory bike? Or if you could do it all over again, would you have done everything the same?
It was a little early and I didn't have much experience on supercross; I had only raced arenacross four times. If I was to change anything, it would've been to train more for supercross, but when an opportunity like that comes along, I had to work as hard as I could to make the best of it.
Were you able to parlay your experience with JGR into this season's racing? It's like playing catch with a Major League pitcher; you're bound to learn something you didn't know before.
Absolutely it helped. The experience from training with JGR riders at the test tracks is something you don't get as a privateer training at the local tracks. It helped me with getting up to speed faster. It had helped going into this season by knowing how hard I could push my bike and what to expect.
Getting back to this season. A bit of a struggle, but overall a positive year?
Yeah, for sure, there are definitely some ups and downs and struggles. But it was a positive year by gaining a lot of experience and by lining up with the best guys in the world.
As far as training, are you still working with Buddy Antunez? Still a connection there with JGR?
Yeah, I've been training a little bit with Buddy and still talk to the guys at JGR when I see them.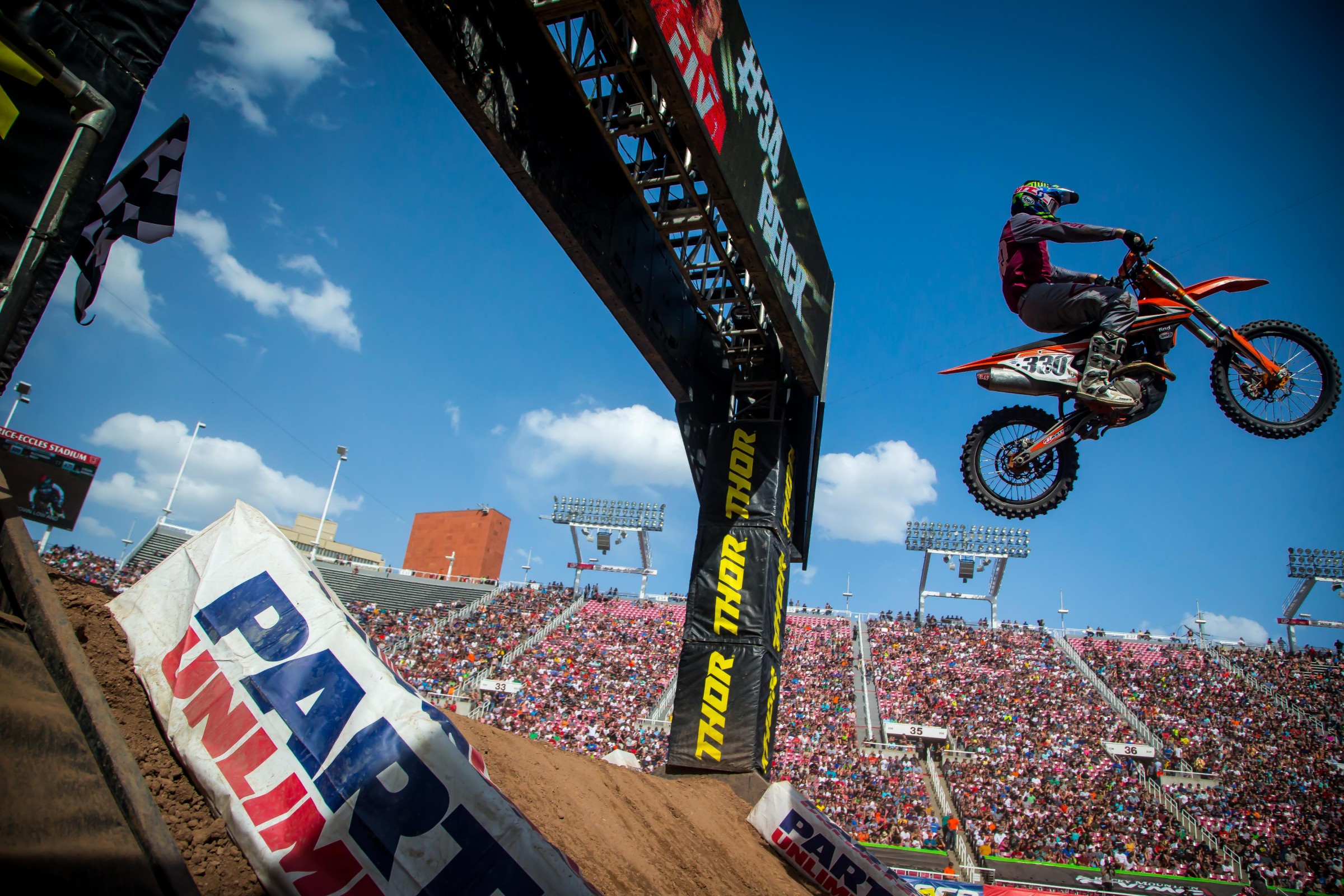 Riders often mention that they learned a lot or learned new things during the season. Can you give us something specific you learned during this season and how you plan on implementing that into your riding?
With the experience, I gained a lot of confidence that I can ride the bike well, and by being confident in my ability, I will be able to ride at a higher level because now I know I can do it.
Any plans for outdoors? Or what's your summer looking like?
Yes, I plan on doing the first three rounds, and I'll try to do as many as I can after that.
Complete this sentence: My favorite thing about being a professional dirt bike racer is…?
My favorite thing about being a professional dirt bike racer is the excitement and fun of racing with the best guys in the world, and not many people get to experience this.
Thanks for taking the time to chat. Anyone you'd like to thank?
I'd like to thank Scott goggles, Arai, Answer, Factory Connection, Maxima, and my mom and dad.