One more night…. The 2018 Monster Energy AMA Supercross Championship finally comes to a close tomorrow night on the outskirts of Las Vegas at Sam Boyd Stadium. Three champions will be crowned, though it's not quite as close and up in the air as last year's dramatic points battle. In fact, they are 13, 14, and 15 points apart, respectively. In the 250SX West Region, Aaron Plessinger is 13 up on Adam Cianiciarulo. In the 450SX division, Jason Anderson has 14 points on Marvin Musquin. And in the 250SX East Region, Zach Osborne is up 15 points on Jordon Smith. That's three #1 plates that will be handed out in the span of maybe 40 minutes at the end of the night, and a lot of champagne popping. It wasn't supposed to be like this, but we'll take it—chances are one of them could get thrown into a frenzy with a first-turn crash, a mechanical, a costly mistake….
Last week, we were all set to see Husqvarna win its first premier AMA Supercross Championship, but a funny thing happened on the way to the first turn. Series frontrunner Jason Anderson went down, and got his front wheel caught up in Eli Tomac's bike, spent two laps in the mechanics' area, and ended up 17th. It was the first truly bad race of the year for Anderson. Fortunately, he had such a sizeable points cushion that he's still in the driver's seat going into the Las Vegas finale tomorrow night, though Red Bull KTM's Marvin Musquin still has a chance. If Marvin, winner of the last two, wins a third in a row, Anderson has to get tenth or better to still clinch the title. And with only nine riders finishing on the lead lap at Salt Lake City, Musquin would likely have to lap Anderson to snatch the title away… But stranger things have happened. Here is a guide to how these title scenarios could play out tomorrow night.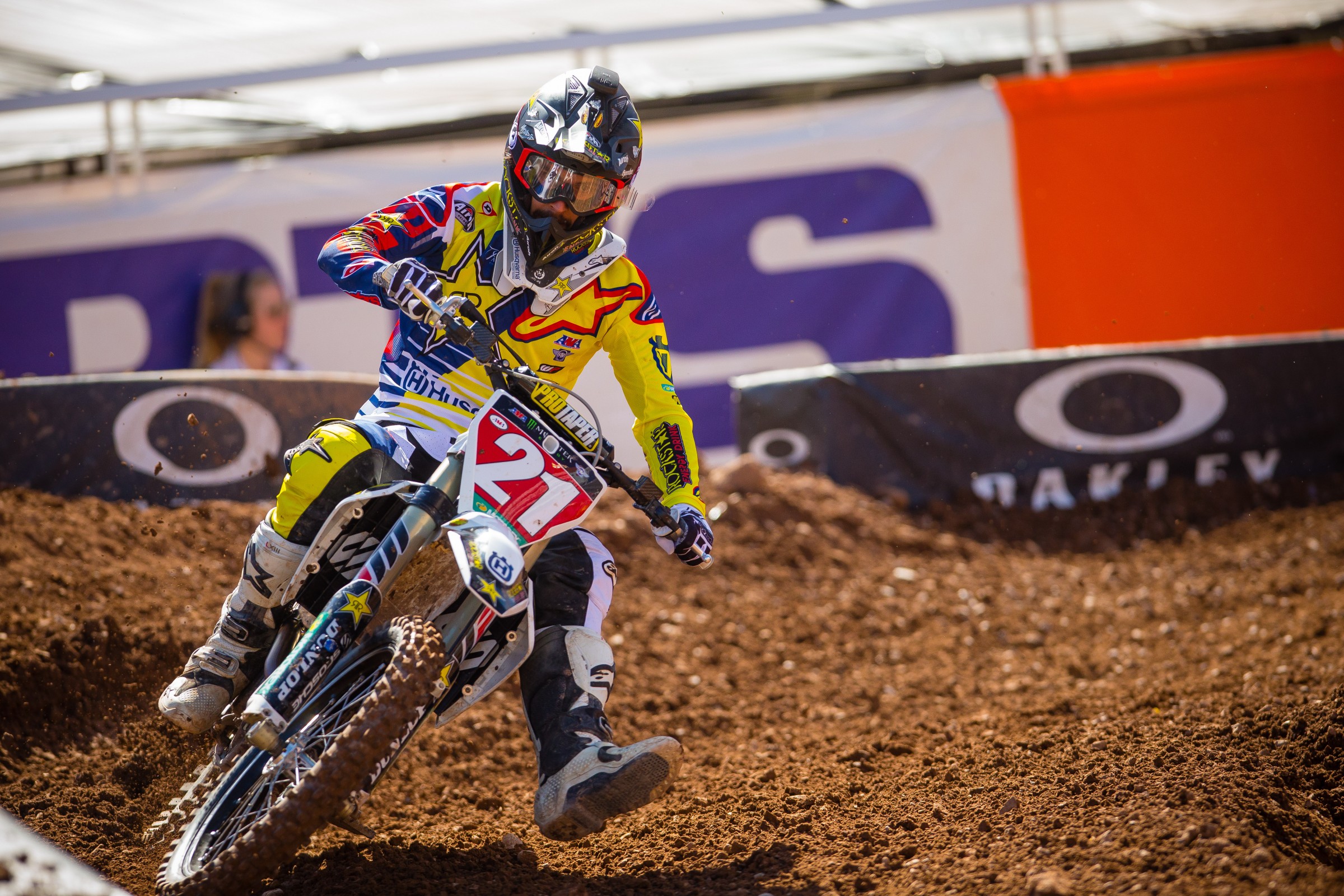 One thing that's never happened before is this: If Anderson claims the 2018 Monster Energy AMA Supercross Championship tomorrow night, not only will he be the first winner for Husqvarna, but he will also be the first rider in the history of supercross to win the championship without ever having won an outdoor National. Yes, ever since he turned pro back in 2011, Anderson has never managed to reach the winner's circle in Lucas Oil Pro Motocross. It's not because he's slow outdoors—he won a moto over Jeffrey Herlings at the Motocross of Nations in 2016—but rather that he's been racing with some impressively fast guys outdoors. Tomac, Musquin, the injured Ken Roczen, the retired Ryan Dungey, and more.
Before 1982, Donnie Hansen had never won an SX or a National, but he ended up champion of both. Same goes for Jeff Stanton in 1989. But back then the series overlapped, so they had AMA National wins before they clinched the AMA Supercross title. And in 1993, while on his way to dominating SX, Jeremy McGrath took the overall win at the Gatorback 125 National, which was held in February. And when Chad Reed won his first AMA Supercross Championship in 2004, he had a 125 National win from May '02 at High Point on the YZ250F. Incredibly, Reed would win a second AMA Supercross title (2008) before he finally won his second AMA National (also at High Point). Out of seven starts, Anderson podiumed five times in the 450 Class last summer before an injury forced to the sidelines early. In hindsight, considering how things have gone this season, that was a wise decision!
Here's another first that will happen if Anderson lands this title tomorrow night: It will mark the first AMA Supercross Championship for a rider wearing Alpinestars riding gear. Sure, the boots have won plenty of titles, but Anderson (like Tomac and Justin Barcia) wears the entire kit. And get this: Tomac already has the AMA 450 MX title, and over in Europe right now, Jeffrey Herlings is leading MXGP, and Pauls Jonass is leading MX2 (where he is the reigning champion). All are wearing Alpinestars, just like Anderson.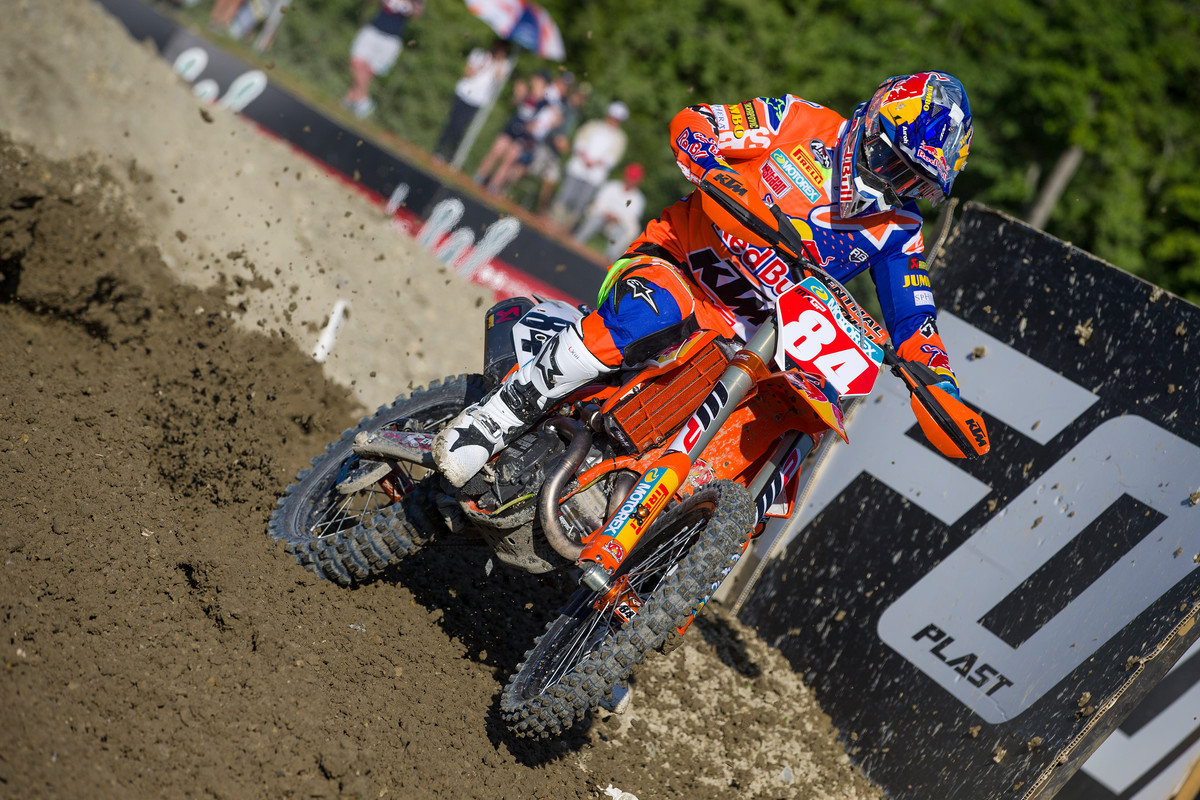 Of course, if he loses, there are some interesting bits for Marvin Musquin (the only man left with a mathematical chance). Marvin would become the second Frenchman and fourth foreign rider to win the AMA Supercross Championship, joining Dutch rider Pierre Karsmakers (1974), Frenchman Jean-Michel Bayle ('91), and Australia's Reed ('04, '08). Marvin winning would also mean that Red Bull KTM will have won for a fourth straight time, as the reigning champion, the retired Dungey, won the last three titles while riding for the same team.
Of course, Marvin has something else to maybe worry about besides just how he's going to win and how Jason is going to finish in the back half of the back. That run-in with Tomac from the previous race is still lingering in a lot of people's minds. Our own Aaron Hansel asked him about it after last week's win.
Racer X: Coming into this race, did you have any fear of retribution from Eli Tomac for what happened last week?
Marvin Musquin: Well, if he kills me over a berm, there are rules, so he'd get penalized. He's not going to kill me. But yeah, I definitely expected tonight, to battle with Eli and get aggressive. It didn't happen, and so maybe it'll happen next weekend, or at Hangtown, and maybe with Blake [Baggett] or with anyone. That's supercross, anything can happen.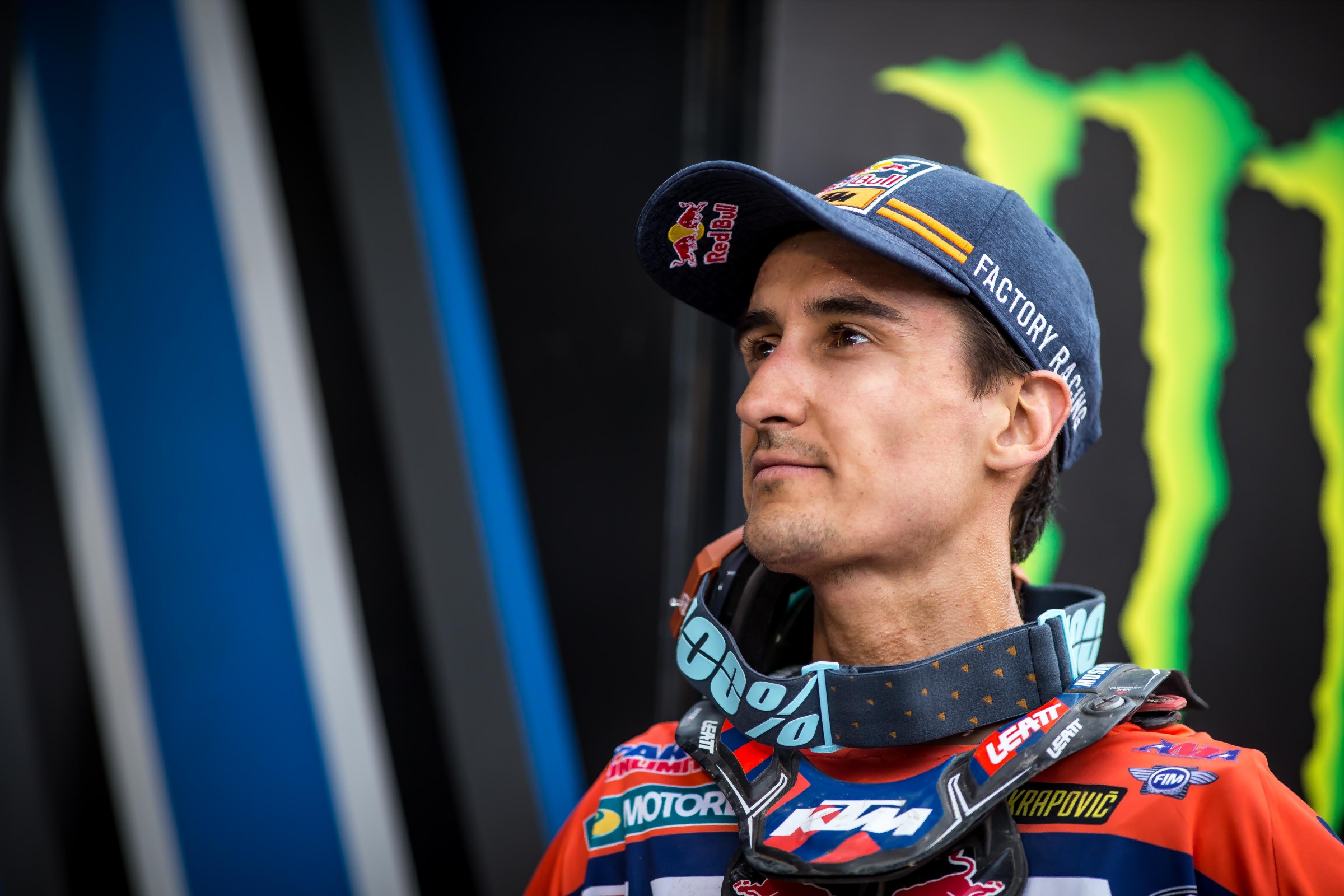 As far as the 250 classes go, Osborne could get a second, Plessinger should get a first, and all of these guys will be up for a season-ending race win and some bragging rights in the last East/West Showdown of 2018. It should be an epic night of racing.
Before we get into the week that was (and the weekend that will be), I would like to congratulate everyone at Feld Motor Sports on another great season of racing. Organizing dirt bike races in a giant sports stadium and televising it all over the world is difficult work. Each year us fans get to see not only every lap of racing, but also the whole Supercross Live! shows online. There is more amateur supercross than ever (and I do have some experience there from Daytona and know that can be like herding kittens at times) and just a lot of advances in the series that often get overlooked or go for granted. So a tip of the visor to Feld Motor Sports, all of the AMA officials, the FIM crew, the Fox Sports TV crew, the Alpinestars Mobile Medicw, and all of the sponsors and race teams, and, of course, the riders who are out there every Saturday night doing work so we can watch from the grandstands or our living room couches. I hope 2018 ends with great, safe racing and that it all gets even better come 2019.
Here's Racerhead.
A PC PC (Matthes)
The press conference for the final round of the Monster Energy Supercross Championship just wrapped here at the stadium, and as the title suggests, not much substance came out of it. Rockstar Energy Husqvarna's Jason Anderson, Monster Energy Kawasaki's Eli Tomac, Red Bull KTM's Marvin Musquin, Rocky Mountain ATV/MC-WPS-KTM's Blake Baggett and Smartop/Bullfrog Spas/MotoConcepts Honda's Justin Brayton were all up on stage and said the right things about tomorrow's race.
Tomac said yeah, he's got a lot of wins but without the title, it doesn't mean a whole lot. Baggett said that yes, his battle for fourth in the points with Brayton does mean something because he's number four—typical Blake, we're not sure whether he's serious or not. Anderson said that if he's able to take this title home, it'll be special because of how long he's worked with his team, for while Marvin mentioned that anything can happen in a race—just look at last weekend's wheel issue for Jason as proof.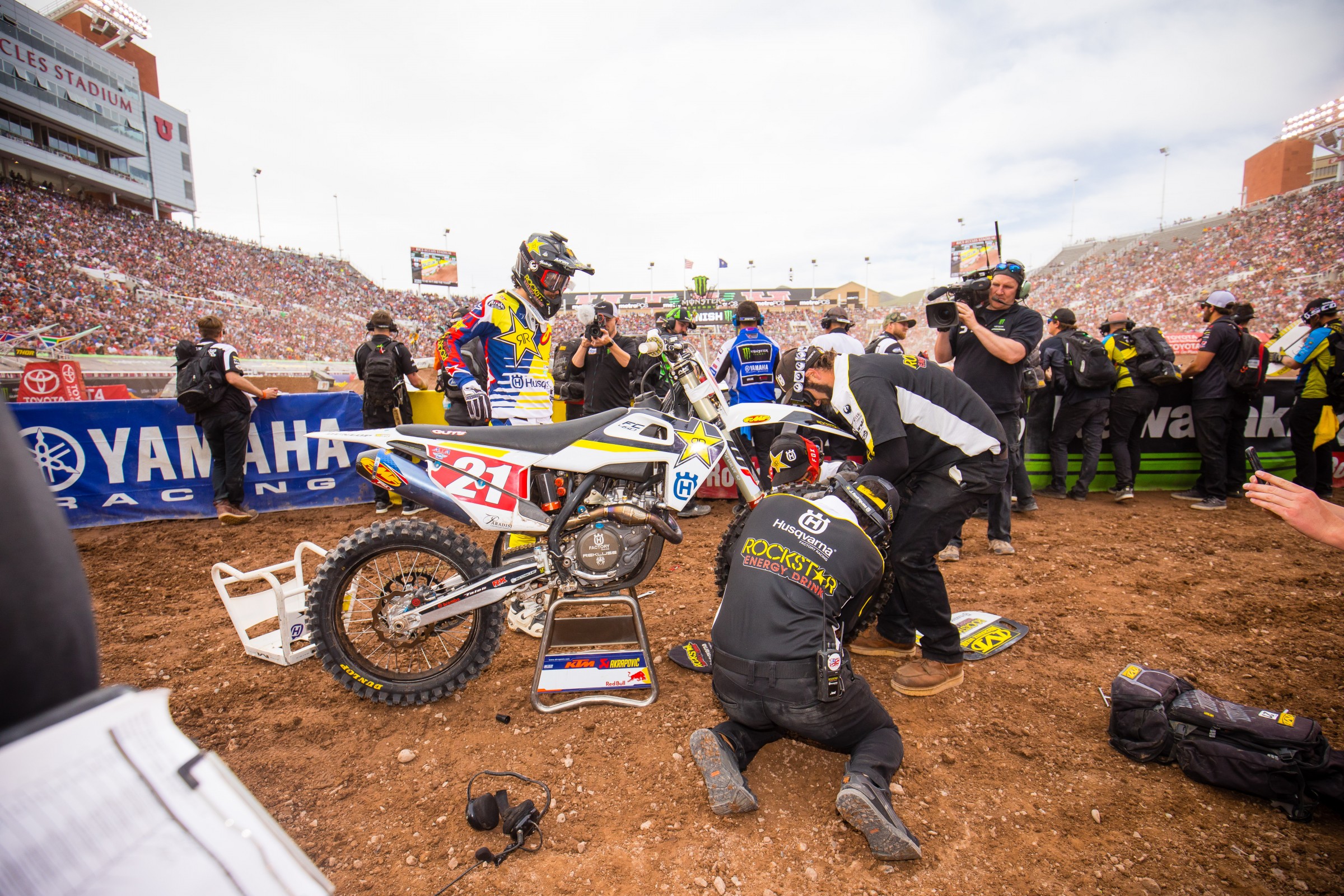 It was announced before the PC began that Honda has inked Justin Brayton to a new two-year deal to ride red and for the Smartop/Bullfrog Spas/MotoConcepts Honda squad at that. A little birdie told me that Brayton spent some time on the factory bike this week and was given a choice to ride it for this weekend's race, but elected to stay on the bike he's so familiar with.
The riders then hit the track afterward for some practice and everyone looked pretty good on a pretty basic Vegas track. The whoops are in and the guys are flying through them, and the rhythm section seems pretty basic. There is the traditional launch out of the stadium and it's into a sand section leaving, so that dynamic is pretty cool. It's going to be typical Vegas where it's hard, fast, and slippery.
Dungey Made It Look Easy. It's Not. (Chase Stallo)
With Ryan Dungey knocking off podiums at an all-time rate over the last three years, it became very easy to forget the difficulty in what he was achieving. Consider this: With Jason Anderson's 17th place finish in Salt Lake City, no rider in 2018 will have finished inside the top ten of every 450SX race. But in his eight years in 450SX, Ryan Dungey did it five times! Further, from 2015-'17, Dungey finished inside the top four (!!!) in all 17 rounds. Simply incredible.
Think about this. In his 450SX career, Dungey finished outside the top ten just TWICE! Just this year, Eli Tomac has four finishes outside the top ten. Dungey is one of those riders that in a few years, we'll all look back and remember just how efficient and incredible his career was.
| | | |
| --- | --- | --- |
| Year | Rounds Raced | Finishes Inside Top Ten |
| 2017 | 17 | 17 |
| 2016 | 17 | 17 |
| 2015 | 17 | 17 |
| 2014 | 17 | 16 |
| 2013 | 17 | 17 |
| 2012 | 12 | 12 |
| 2011 | 17 | 16 |
| 2010 | 17 | 17 |
Two Fathers (DC)
Last week, two well-known motorcycle racing families lost their patriarchs. The Hand family from Ohio and the Lojak family in Pennsylvania each bid farewell to the men who got their families into racing in the first place.
Al Hand was a lifelong racing enthusiast who moved from England to the U.S. to work as a tool and die maker for 41 years at the Chrysler Stamping Plant. His sons Carl and David got into racing in the seventies and both turned pro, as did their sons. Mr. Hand was a regular presence at all of the races his sons and grandsons competed in, and also ready and willing to help anyone else's kids who were racing. Al Hand was 88 years old.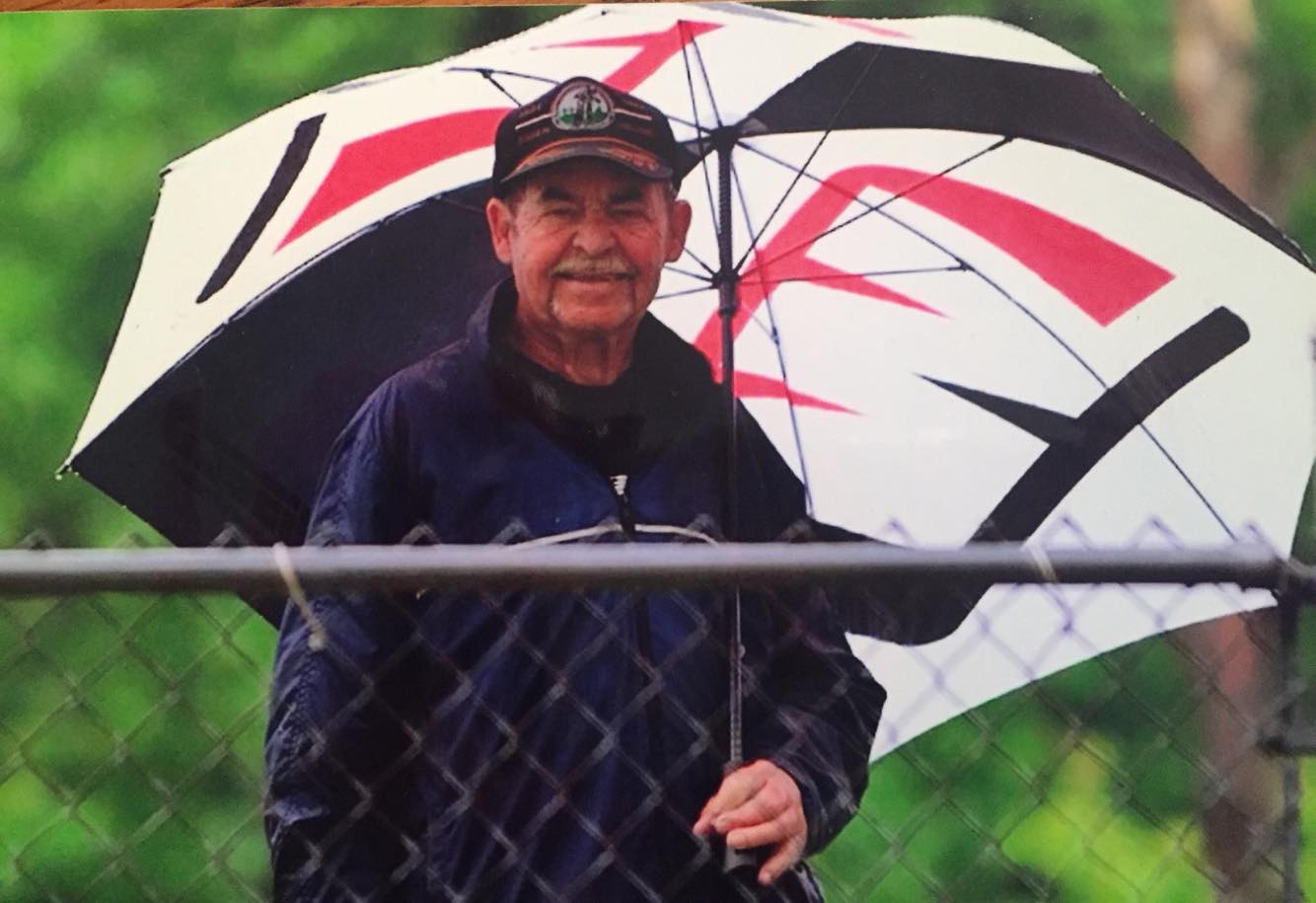 Stanley Lojak was a racer himself, and his family bike shop Lojak Cycles turned out some of the best off-road racers in the world. His son Ed Lojak was just inducted in the AMA Motorcycle Hall of Fame as a multi-time GNCC Champion, AMA Hare Scrambles Champion, and multi-time ISDE gold medalist. Old brother Stanley (III) was no slouch, either, nor were the grandkids. Just seeing the name Lojak on the front of someone's jersey would put fear in the competition, let alone when that name was on the back! They were a fast, fun bunch, and they still are. Mr. Lojak was 77 years old.
Godspeed to Al Hand. Godspeed to Stanley Lojak Jr.
First double (Andras Hegyi)
Marvin Musquin is riding in his best shape ever in his 450SX career. Musquin was the points leader for the first time ever after winning the opening round (but only for one race). He has also collected the most wins and the most podiums so far in his career: four victories and 11 podiums. And for the very first time, he has managed to take two consecutive wins. He became the 28th SX rider to get at least two successive wins in a season in the history of the 250/450 Supercross (there have been 62 winners in all). Among those 28, Jeremy McGrath and Ricky Carmichael share the longest winning streaks ever. Both riders were able to get 13 consecutive wins. McGrath won 13 consecutive races to start 1996; Carmichael won 13 straight to finish 2001.
Here are the best streaks for each rider with at least two consecutive wins:
Jeremy McGrath and Rick Carmichael (13 consecutive wins); James Stewart (7); Chad Reed, Bob Hannah, Ricky Johnson (6); Eli Tomac, Damon Bradshaw, Ryan Villopoto (5); Jimmy Ellis (4)' Ryan Dungey, Jeff Stanton, Jean-Michel Bayle, Mark Barnett, David Bailey (3); Ken Roczen, Jason Anderson, Ezra Lusk, David Vuillemin, Kevin Windham, Donnie Hansen, Marty Tripes, Mike Bell, Broc Glover, Darrell Shultz, Ron Lechien, Jeff Ward and Marvin Musquin (2).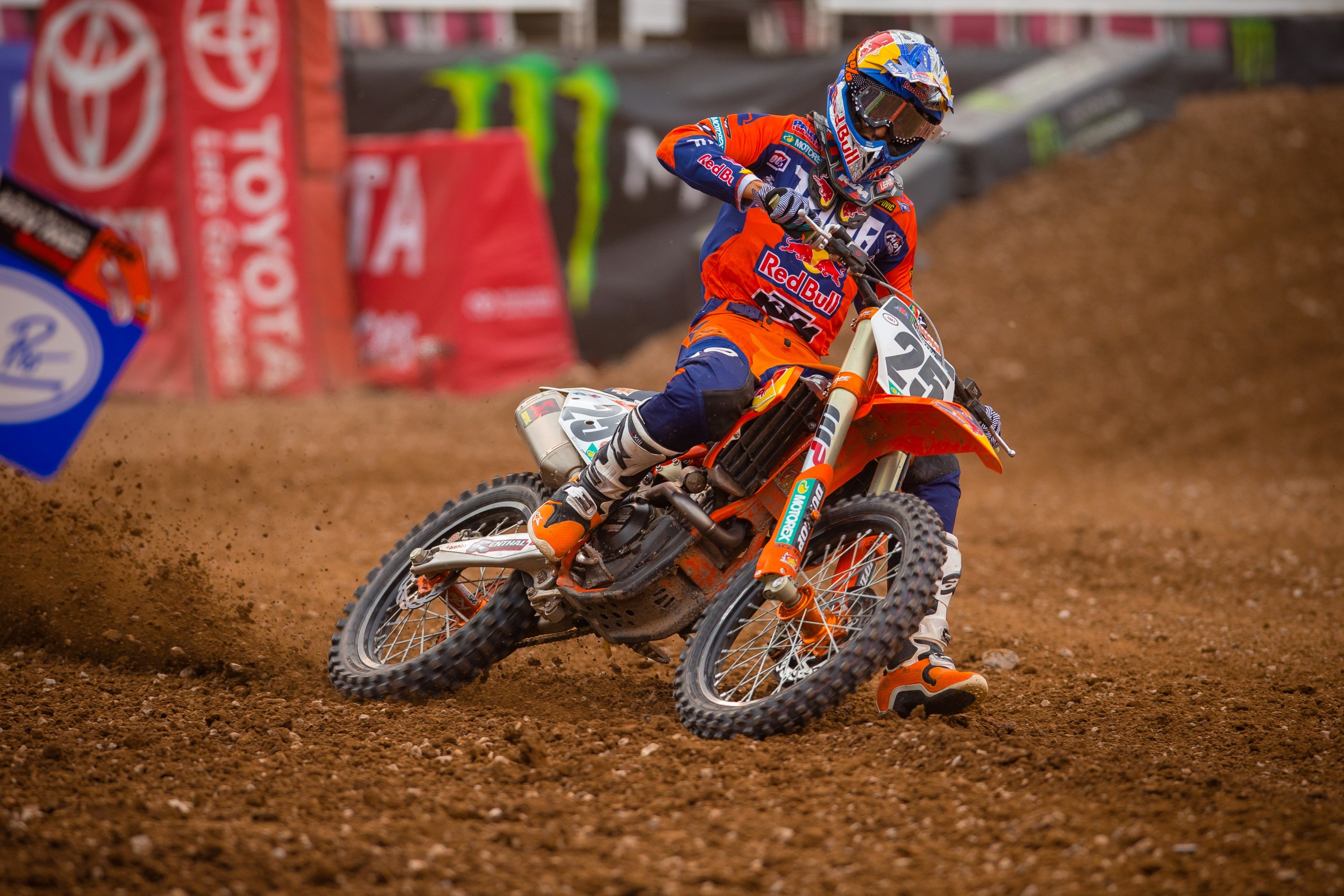 The Number: 23 (Andras Hegyi)
On Tuesday (Russia's Labor Day), Clement Desalle won the MXGP of Russia for the second year in a row. Last season the Belgian won in very muddy conditions, while this year he was victorious on an all-dry track. Reconquering Russia, the Monster Energy Kawasaki rider surprised many by proving that KTM's two superstars, Antonio Cairoli and Jeffrey Herlings, are not completely invincible. He beat them both in the first moto, then finished second to Herlings to take the overall. Both the moto win and the GP win were the first for someone other than Herlings or Cairoli.
In a somewhat dubious honor similar to Eli Tomac in AMA Supercross, the 29-year-old Desalle now has the most GP wins among racers who have yet to win any world titles. Desalle is a three-time runner-up and a two-time overall third-place finisher. In Russia, Desalle took his 23rd GP win. He has now caught up with the Italian Alessandro "Alex" Puzar, who is a two-time world champion, by getting 23 GP wins. In addition, Desalle has become the 17th racer to win in nine different seasons in the history of the FIM World Motocross Championship. Before 2018, Desalle could take GP-wins also in 2009-'14, '16, and '17. But Desalle is not the rider to win in the most seasons without being world champion. That rider is instead the Dutchman Kees Van der Ven. Riding for KTM, Van der Ven got 18 total GP wins and he won in ten different seasons without becoming world champion. Van der Ven's best overall result was a second-place in the 250 class in 1980.
Most seasons with Grand Prix wins:
| | | |
| --- | --- | --- |
| Rider | Nationality | GP Wins |
| Stefan Everts | Belgian | 15 |
| Antonio Cairoli | Italian | 15 |
| Yes Demaria | French | 13 |
| Roger DeCoster | Belgian | 12 |
| Joel Smets | Belgian | 11 |
| Eric Geboers | Belgian | 11 |
| Andre Malherbe | Belgian | 11 |
| Dave Strijbos | Dutch | 10 |
| Jeffrey Smith | British | 10 |
| Kees Van der Ven | Dutch | 10 |
| Alessandro Puzar | Italian | 9 |
| Georges Jobe | Belgian | 9 |
| Michael Pichon | French | 9 |
| Joel Robert | Belgian | 9 |
| Heikki Mikkola | Finnish | 9 |
| Jeffrey Herlings | Dutch | 9 |
| Clement Desalle | Belgian | 9 |
Hey, Watch It!
Las Vegas' 17's 450 SX finale is worth a reminder, so much going on at the end!
And even more unforgettable, the 250SX Final:
Here's some great Las Vegas moments from Toyota:
Red Bull had some folks weigh in on the Musquin/Tomac incident: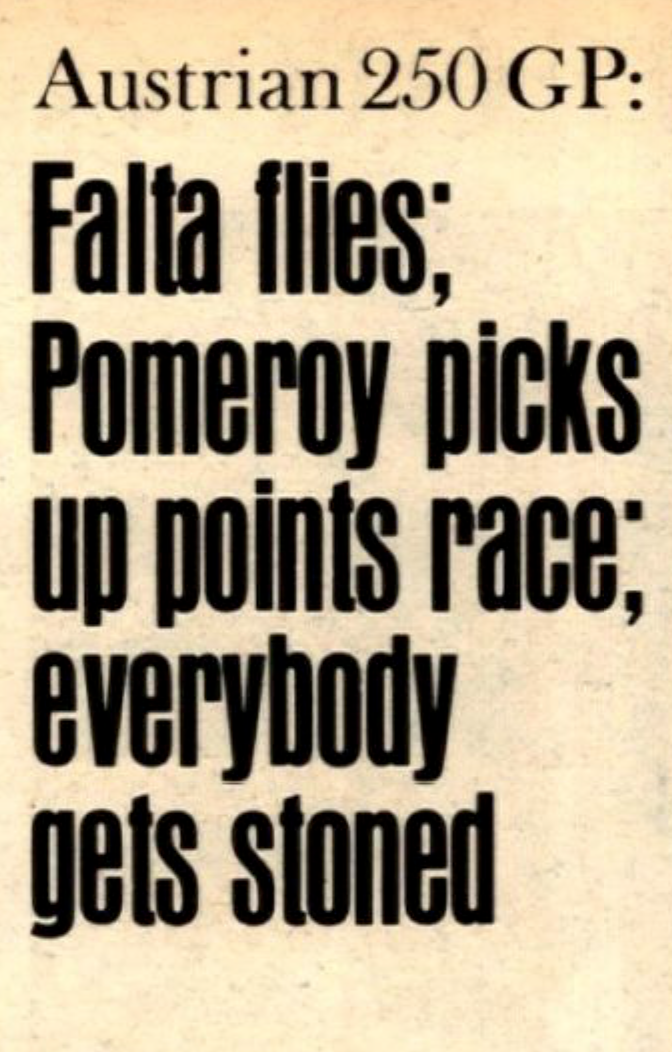 Random Notes
The Road 2 Recovery Foundation is excited to announce that it has teamed up with Team Honda HRC again for the upcoming 2018 Lucas Oil Pro Motocross Championship Series. Now live on eBay, fans have an opportunity to bid on an exclusive experience with Team Honda HRC. All proceeds will go to the Alpinestars Mobile Medical Unit. Check out how you can enter and win right here. You can find more details here.
The Autotrader/Yoshimura/Suzuki Factory Racing Team is happy to announce that Phil Nicoletti will be contesting select 450 rounds of the Lucas Oil Pro Motocross Championship this summer. The Cochecton, New York native will be filling in on the all-new Suzuki RM-Z450 while Justin Bogle heals from an upper arm injury sustained during the 2018 Monster Energy Supercross Championship. Nicoletti has been with the Autotrader/Yoshimura/Suzuki Factory Racing Team since 2014. Determined and tough, the 29-year- old has earned 27 top-ten finishes in the 450 Nationals during his career, including three overall top-five finishes. Nicoletti will compete on a race-by-race basis until Justin Bogle returns to action. Read more here.
Privateer Josh Mosiman made his third main event of the season in Salt Lake City and finished 19th in 250SX. He wrote up a report on his night on his website. Check it out here.
The Rocky Mountain ATV/MC Ticket To Ride took place this week in Moab, and five-time GNCC Champion Kailub Russell joined in on the fun. This is the fifth year that the Rocky Mountain ATV/MC team invited four lucky winners and a guest from the annual GNCC Banquets to join their team to ride the scenic trails of their home state of Utah.
And check out this giveaway from Renthal:
Subscribe Now And Get A FREE FXR T-Shirt
Subscribe now for as low as $9.98 and receive a free FXR t-shirt, plus access to our digital edition.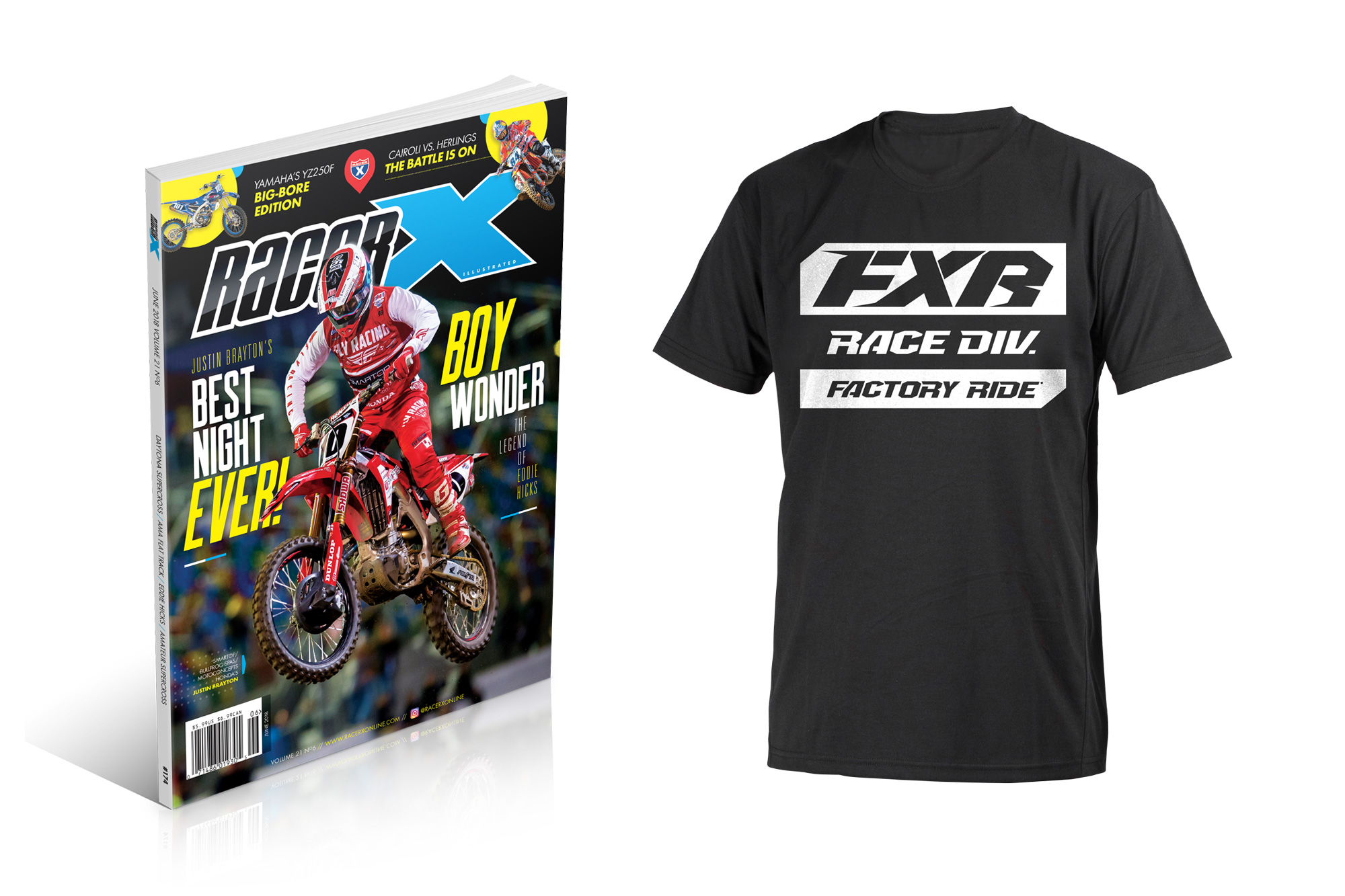 That's it for the last weekend of supercross 2018. Thanks for reading Racerhead, see you at the races.