Salt Lake City, UT
Salt Lake City
Monster Energy AMA Supercross Championship
Christian Craig | Honda HRC | Fourth in 450SX
Christian Craig tied a career-best fourth in the 450SX Class. He was in the hunt for the podium for most of the day as well.
Craig: Actually, a really good race for me. Got a good start, I think I came out third or fourth, and a couple guys got me, but I passed them back in the whoops and got into third. I think it was Baggett or Marv [Musquin], and I latched on. I was really happy with how I rode in the first 12 minutes. I rode with Baggett and stayed with him as long as I could. But Eli [Tomac] was just on a mission. He passed me, then fell, and I thought, maybe I can get this podium, maybe he stayed down long enough. Something, you never know. Obviously, I saw him coming again, so I decided to just do my laps and focus on myself. He blew by me, but it was a fun race. To get a fourth and back it up from Daytona—since Daytona, I've had a lot of up and down races, and there've been a lot of question marks, like, what am I doing wrong? Was that Daytona ride a fluke? A lot of people are going to say that, but then I go out here and start up front and stayed there. It's not like people fell or I got lucky. I worked for this one tonight, so I'm happy.
When you find yourself in that position, where you see Eli coming again and the race is winding down, is it tempting to drop the hammer and try to hang onto the podium?
Yeah. That third is right there. I had a fourth, let's try to go for the third! I went for a couple fast laps, just to see, and you just could not push on this track. I think Eli is the only guy who could really attack this track. I think everyone else was just letting it come to them.
Well, he went down too.
Yeah, it did bite some people. It was rocky, slippery, all of the above when it comes to sketchiness. I'm happy to put in, I don't even know how many laps that was, 27, 28 solid and consistent laps.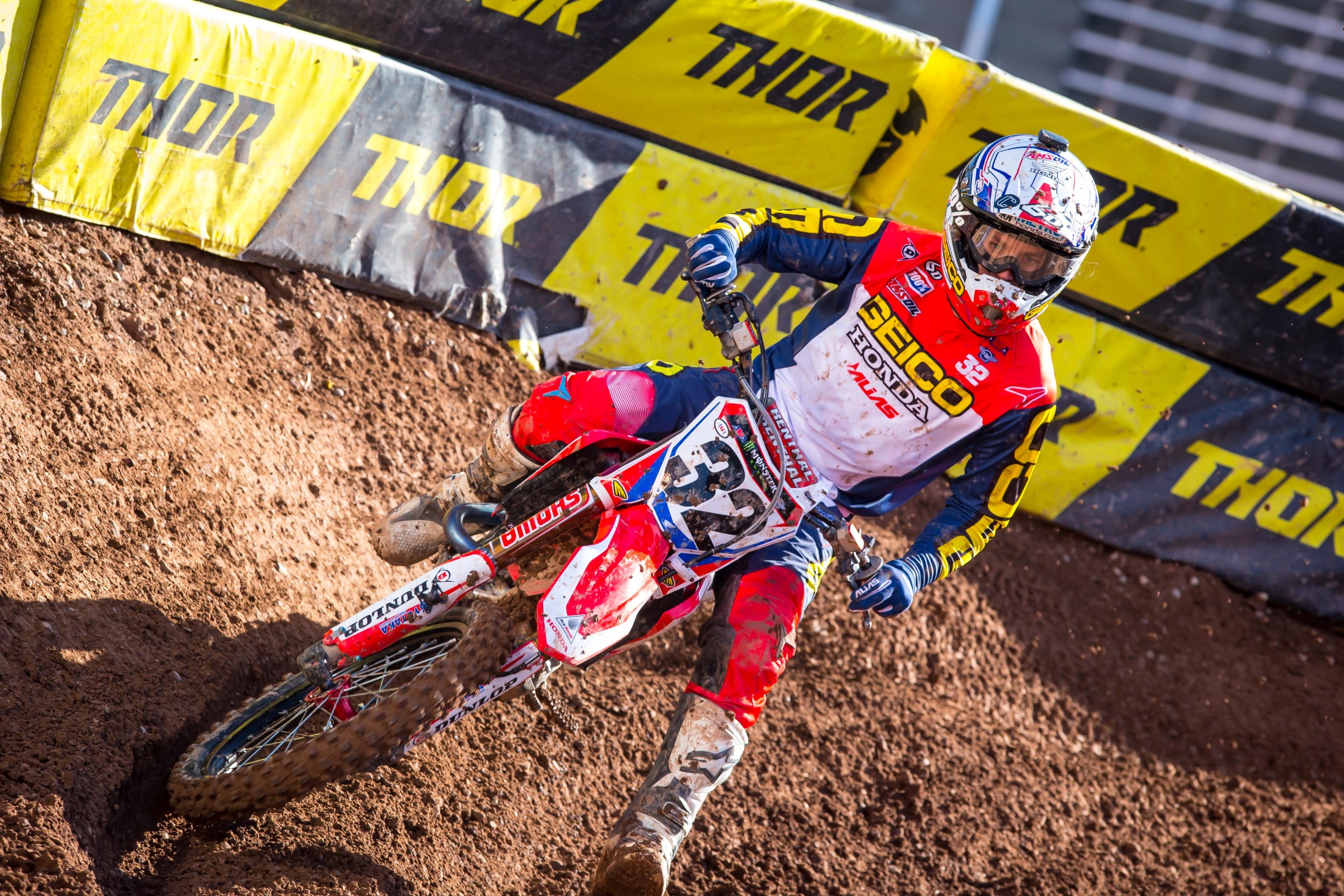 Justin Brayton | MotoConcepts/Bullfrog Spas/Honda | Sixth in 450SX
Justin Brayton didn't feel great, but he made it happen in the main and grabbed sixth.
Brayton: The whole day, I struggled. The whoops were big and steep, and I just didn't have much speed through practice and even through the heat race. I felt good about turning my night around in the main event, though. I got a good start, put myself in a good position, and my speed was solid. Sixth isn't my best result, but with how the day was going, I'm pretty proud to put myself in a good position and get some speed in the main event.
You and Blake Baggett are really close in points now heading into the final round.
Yeah, we're tied for fourth.
So how important is it to you to get that spot?
I think it's super important. My best ever in a series is tied for third, which actually put me in fourth because I was tied with [Ryan] Dungey and he had some wins, so he got the spot. So, yeah, it's always important. But it is cool, a top-five is always the goal in the overall championship for me, so to lock that up tonight was cool. But the goal is to get fourth in the championship and beat Blake next weekend.
Chase Sexton | GEICO Honda | Fifth in 250SX
Rookie Chase Sexton got more experience dealing with the varying track conditions of supercross.
Sexton: I'd say it was pretty good. I qualified fourth and I actually felt really good on the bike this weekend. Heat race, I got the holeshot, but hit neutral in the first corner and let Aaron [Plessinger] go by me. I just rode behind him and had a pretty good heat race. Felt good. Felt good going into the main, too, but I lined up a little bit too far outside and got pushed out. Probably started around 11th or 12th. Came from there to fifth and kind of wasted my energy getting there. I started closing on the guys in front of me and kind of fell backward and rode tight at the end. We got one more race to go, hopefully I can end on a good note in Vegas.
How was the track?
I've never ridden anything like that track. It was like riding, pretty much, in a gravel pit with supercross obstacles.
You're not the only rider to say that.
I've never ridden anything like it. The last five minutes, I was just trying to survive. With the wind and how dry it is here, I'm sure it was tough for those guys to get the track good. I'm looking forward to Vegas, it should be good.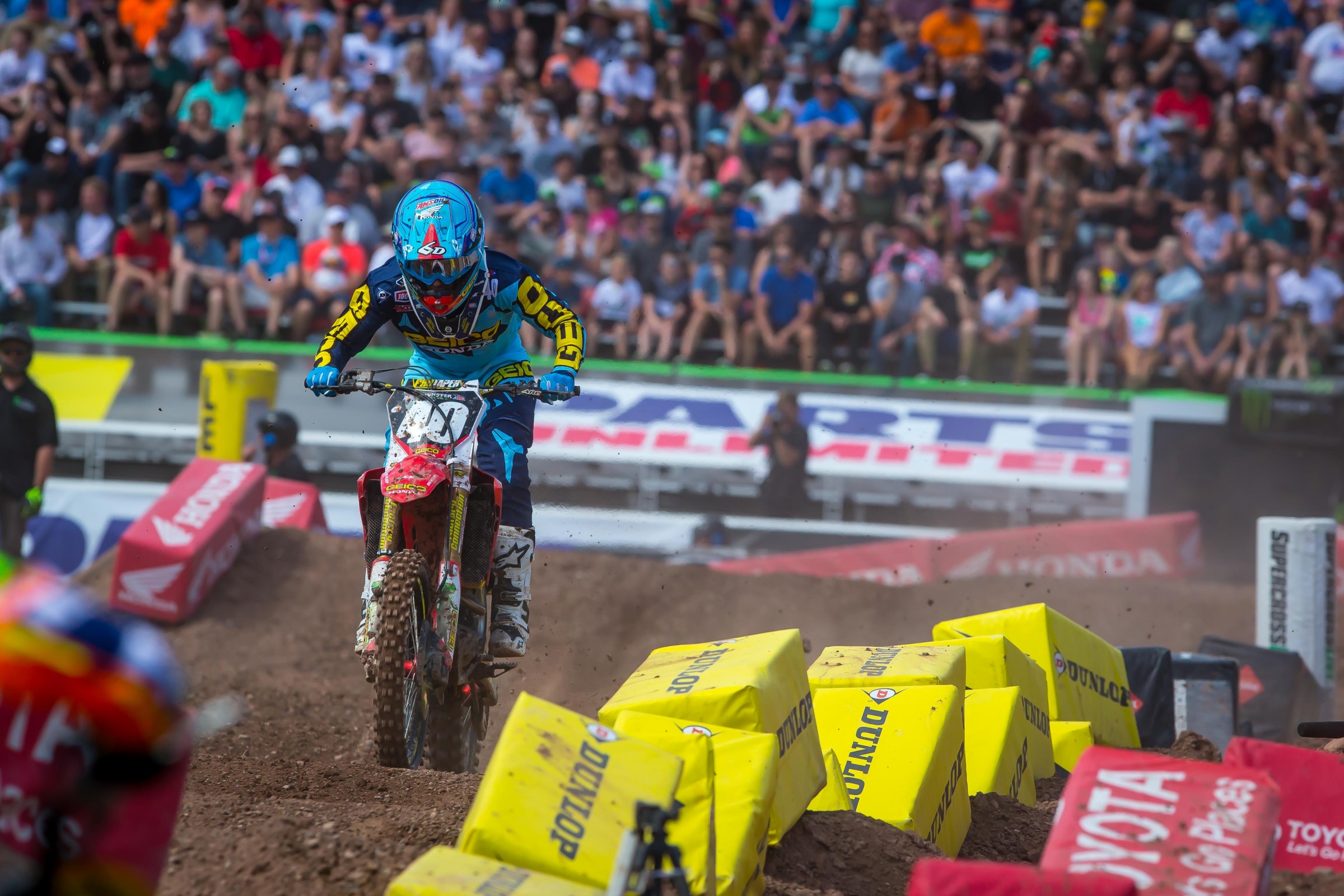 Kyle Cunningham | H.E.P. Motorsports Suzuki | 12th in 450SX
Kyle Cunningham battled. Because that's what Kyle Cunningham does.
The track today was tough. Started out super muddy and got really rutted. It was rocky and the soil was a little different, but I think it ended up good. Yeah, the track got tough and super hard-packed—the wind was blowing which made it dry out. The whoops were the separator. They were tough all day. But overall for me, today, it was good. I spent all week in therapy getting my back worked on, and my wrist and my shoulder. My tailbone is still sore, too. [Eds. note: Cunningham fractured his tailbone in St. Louis.] I'm battling some stuff and didn't ride all week, but I decided to show up and race anyway, which I think surprised some people. I had quite a few people ask me if I was racing; I don't think anyone thought I was coming this weekend. I survived through it and I felt like I rode good for ten minutes or so, but there at the end, I didn't feel as good as I did before the crash. But we ended up 12th after no riding and hardly any training, and I think that's the best result of the season so far.
Yeah, you beat Jason Anderson even.
[Laughs] Yeah, I did! Not straight-up, though. That's a bummer for him. But overall, it was a good day. I still want to do better, but I'm very fortunate to walk away from the crash I had last weekend and be able to be here this weekend.
All things considered, right?
Yeah, not bad.
You doing the Nationals?
Right now, I'm still working on a few things and trying to put something together. If I'm able to go racing, even if it's me and Pops in the truck, I will. I don't want to take that much time off. I just have to figure out travel, entries, stuff like that. I like the Nationals and I want to be there. Right now, the plan is to chase it.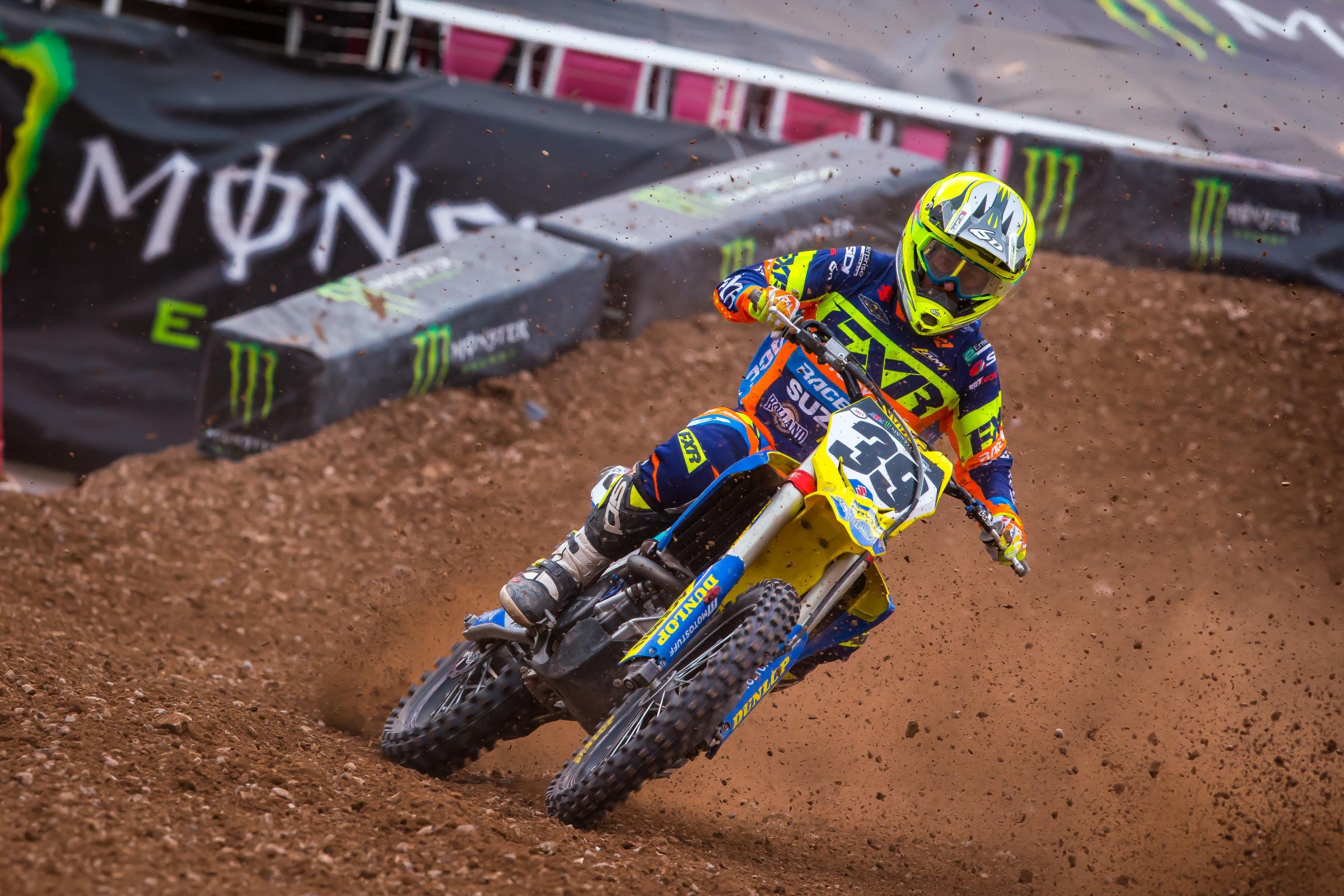 Bobby Hewitt | Team Owner, Rockstar Energy Husqvarna Factory Racing
Racer X: Did you guys take any special steps to deal with Jason Anderson's altitude sickness?
Bobby Hewitt: What we did last year seemed to work the best. We've tried coming in two weeks early, we've tried high-altitude training, we've tried quite a few different things over the years. The best is when he comes in as late as possible and gets out as early as possible. As long as he stays within 24 hours, he seems to be okay. He took the latest flight in last night, I think he got in around 10, and he's got an 8:00 p.m. flight to leave tonight.
I'd heard you wanted to fly him in the day of the race but couldn't because it was a day race.
Yeah, it's a day race. Last year, that worked out really well for us. He flew in in the morning, raced, and flew out. That worked the best. But with this being a day race, track walk at 7:00 a.m., it just didn't work out. Hopefully everything works out okay. [Spoiler alert: It didn't.]
Any special plans, or are you just taking it as it comes?
Just taking it as it comes. If we wrap it up here, great. If we go to Vegas, then we go to Vegas. [Spoiler alert: They're going to Vegas.]