Salt Lake City, UT
Salt Lake City
Monster Energy AMA Supercross Championship
Racer X: Through the season we've seen format changes, day racing, tracks with a lot of ruts, muddy races, kind of a little bit of a mix of everything. Today, at least from the floor, it seemed a little unique out there with the elevation, the temperature, and the track conditions. Can you just take us through your race and what the track looked like from your vantage point? It looked like maybe one of the tougher ones this season.
Blake Baggett: It was gnarly out there. The wind, it was like racing in a concrete gravel pit is basically what it was. It was hard. Behind lappers, you couldn't really see. We've had a lot of gnarly obstacles. I would say that this track was by far the mentally and physically toughest just because you'd be in a full drift around the first turn and then you'd catch a rock and the thing would just step out or straighten out on you. It was kind of an unknown. It was pretty mentally tough, but at the same time, everybody raced it.
Eli Tomac: It was a tough track just the way the conditions were early on. It started pretty wet from the morning and then it got dry in a hurry. It kind of reminded me of Vegas, but just like ground one, basically. It was marbly and seemed like it had some road base in it. So it was tough. We've had plenty of soft and rutted tracks, so the hard-pack was here and we just had to deal with it.
Marvin Musquin: Definitely a tough day, especially with the conditions being high-altitude. Like Blake said, with the wind, it could have been a little sketchy in some spots when you got wind. But the track conditions, obviously we rode press day yesterday and it was really dry, but the track crew did, I thought, a pretty good job. The heat races were really good, and obviously with all the wind and the heat and the sun, it dried out a lot. Obviously, some of the ruts that developed in the heat kind of got away for the main. It was really loose on top, so really easy to make mistakes. Really, really challenging, especially for 20 minutes like that.
Eli, what happened with you and Blake over in that corner when you went down? Man, you popped up quick.
Tomac: I just got a little impatient and tried to shoot up in the inside. I actually think I clipped the Tuff Block and then shot off to the right, and then maybe tapped Blake's rear tire or something, and then just dumped it over. Just tried to make a move happen and washed my front end a little bit.
Marvin, did you know Jason Anderson was over in the mechanics' area?
Musquin: No, I didn't know. Obviously towards the end, I was going through lappers and I knew Jason would have kind of taken it easy today and get the points he needed. I was looking if he was ahead of me. But no, I only knew when the race was over and Frankie told me.
Any of you guys that want to answer can go for it. Watching the water truck right before you guys are headed out on the track on the start straight, did that give you guys any pause about you picking your gate or where you had lined up?
Musquin: No, we were already on the gate, so it was too late to make a change or anything. When the conditions are hard and slick like that and you put water on, it's usually not a good idea. But for TV and the fans, obviously you don't want dust flying over the crowd and you don't want to see that on TV. For us it's definitely tough, but the good thing is, same as last weekend before the main, they put some water on the start line, but they worked it with the dozer afterwards so that wasn't too bad. The good thing is, they didn't put too much water to where it was really, really slick. Malcolm was next to me and we looked at each other and we were like, oh no, they're going to water it. But they try their best for TV and all that.
Baggett: Yeah, they're only given so much time and when you give them concrete dirt and pea gravel, you only can expect them to do so much.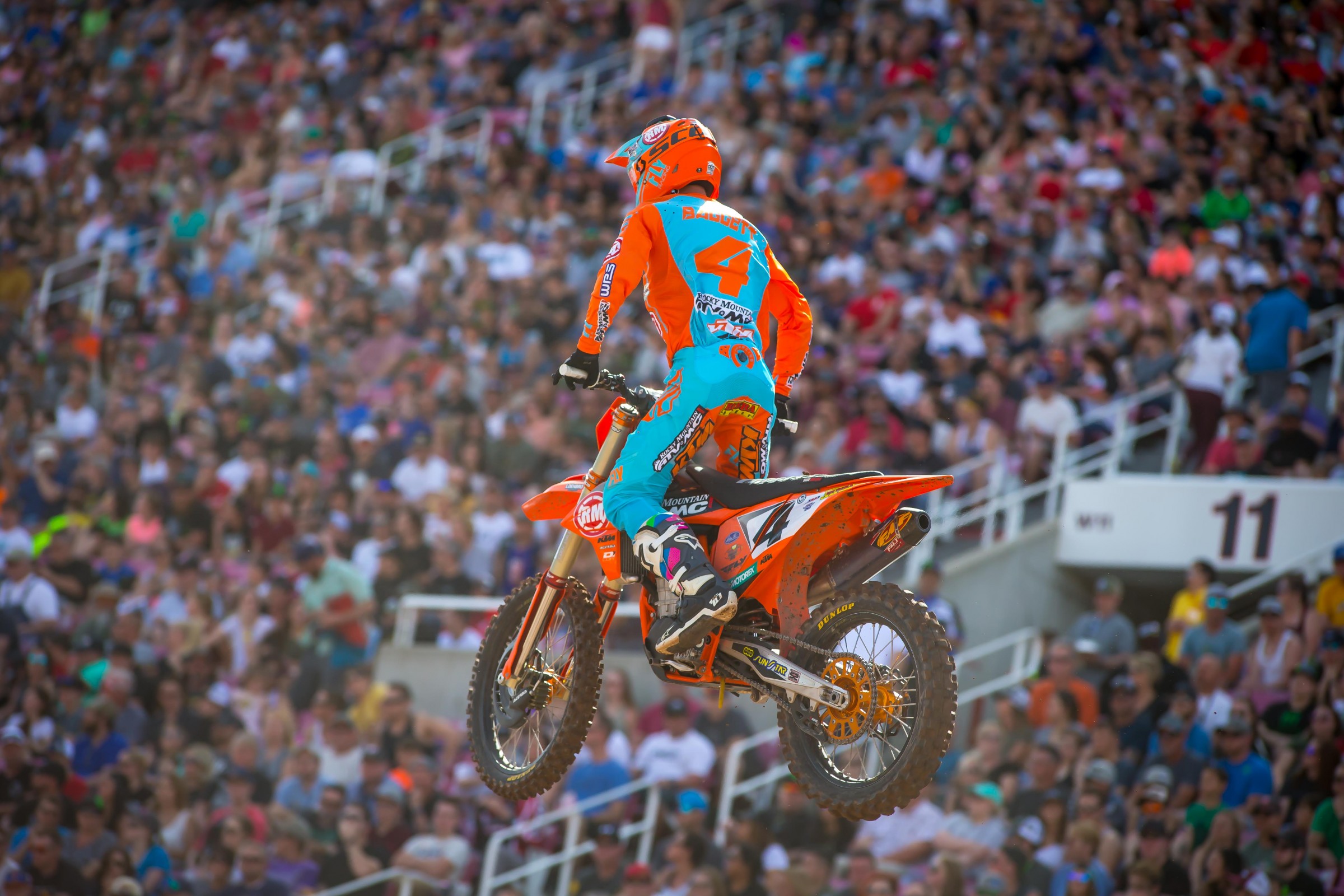 Eli, I know you didn't get the best start that you wanted. I was just curious on what happened on your start. What was it like when you were coming up through the pack?
Tomac: Yeah, it was just a bad day of starts for me. I actually felt Jason's front wheel go into my foot peg, so going down the first straightaway I was like, holy crap, what was that? Luckily, nothing happened there to my bike. Just shuffled too far back too early and Marv ran away with it.
Also, this is just kind of a side question a little bit. When Jason went in to change his wheel, obviously that was kind of a critical point in the race. They struggled just a little bit, had some problems getting the tire done quickly. Do you guys practice that kind of stuff? Put the bike on the stands and do tire, wheel changes and stuff like that, pretending it was in race conditions?
Tomac: I think these guys changed so many wheels in their life they're ready for it. They've got the little pit cart down there and they're ready for that situation. Obviously someone pulls in the pits, it's game time.
Musquin: That's a good point. It doesn't happen often, but when it happens, you got to get it done quick, especially in this situation with the championship on the line.
Eli, after crashing in that second corner, what was going through your head? Did you think you would be placing tonight?
Tomac: I was just hoping that my front end wasn't tweaked, and it was good, so luckily I was able to get up and get going and make that little charge back to second again.
Blake, you've been dealing with some sort of a wrist/thumb injury since Atlanta. How is that coming along?
Baggett: It's just the cards I'm dealt with. I have a partially fused wrist, my right wrist, my throttle hand. I was on Mitch's team in Pro Circuit in 2013, and then outdoors last year, I destroyed my thumb. I got two screws holding my thumb together. I don't have the greatest cards. If you go down or put that hand out, whatever happens, it takes a while to recover because it's pretty much damaged from the get-go. I've been struggling, but it's not an excuse. Everybody has ups and downs. Fourth last weekend, third this weekend. Just climb back up and get ready to race these guys outdoors.
Is it feeling better now?
Baggett: Yeah, it feels fine. On good days it's good, and other days it's not so good.