Salt Lake City, UT
Salt Lake City
Monster Energy AMA Supercross Championship
Thrilling, a letdown, exciting, a bummer. You can call the Salt Lake Supercross any of those things and make a case for why it's true, but the one thing you absolutely can't call it was boring. Close racing, crashes, multiple passes, and more all come together to create a seriously wild night of racing that didn't end how anyone thought. Let's get into what went down in Rice-Eccles Stadium right now, right here, in Saturday Night Live.
Let's deal with the Jason Anderson situation right away. The Rockstar Energy Husqvarna rider stood a good chance of clinching the title tonight. All he had to do was finish fourth or better, something he's done at every single race except Daytona, and the championship was his. But then he went down in the first turn. Not great, but at that point it still didn't seem like a major blow. After all, we've seen Anderson overcome terrible starts this season. No reason he couldn't do it again right? Well, turns out there was a reason, and it came in the form of broken spokes, a product of Anderson's wheel traveling right into Eli Tomac's footpeg. Afterward Tomac said he could hear Anderson's spokes catching on his footpeg. As a result, Anderson had to pull into the mechanic's area for a front wheel swap, which set him way, way back. He got back on the track, but he'd lost so much time seventeenth was the best he could muster. How crazy is it that on the night he could've notched by far the most important achievement of his career, he ends up having the worst night of the season?
After the race the mood over at the Rockstar Energy Husqvarna Factory Racing Rig wasn't exactly joyous, as you could imagine. We tried to get a word with team owner Bobby Hewitt to get his take on the situation but he was, not surprisingly, in a meeting. The good news is Anderson still has a pretty good points cushion, fourteen to be exact, and Salt Lake City would have been the worst possible place to clinch the title anyway. Why, you ask? Anderson suffers from altitude sickness, and in an effort to combat it he spends as little time at high altitude venues, like Salt Lake City, as possible. He flew in at ten on Friday night and had booked the earliest possible flight out, which means had he clinched, he wouldn't have been able to celebrate it anyway. Las Vegas is a much better place to celebrate winning one of the most important championships in all of motorcycling, right?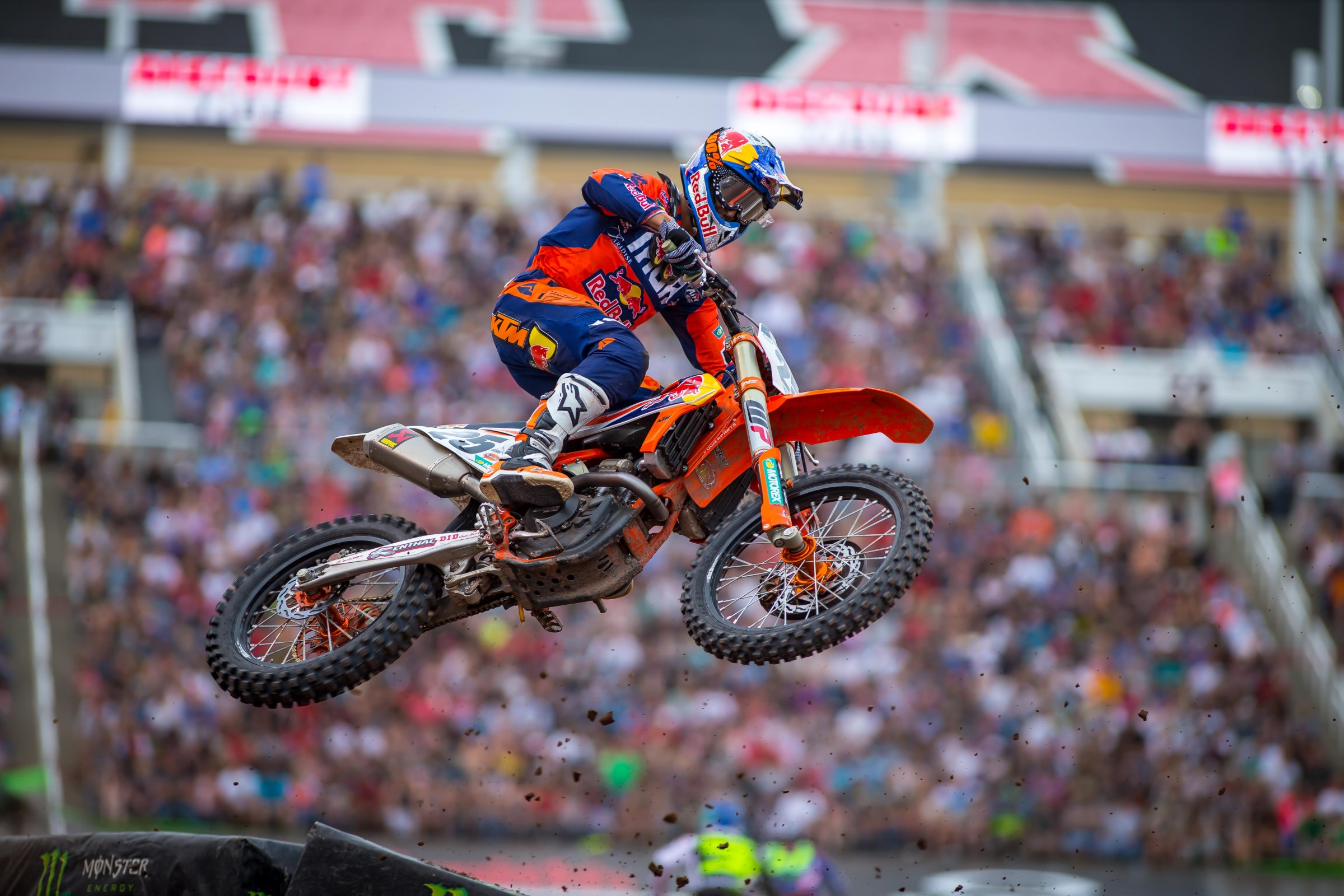 Moving on to Marvin Musquin. The Red Bull KTM rider wasn't the most popular rider in the stadium, and while he did get cheers, he got some boos too, a result most likely of the move he put on Eli Tomac last week in Foxborough. It didn't seem to affect him a whole lot though, as he rode great all day and crushed it in the main, winning by a pretty comfortable margin over Eli Tomac. Afterward he said while he was racing he had no idea Anderson had had problems.
"I knew Jason would kind of take it easy today and get the points he needed, but I didn't know until the race was over until Frankie [Latham] told me," Musquin said.
Tomac was fast all day, qualifying faster than everyone, but bad starts, and a small crash in the main, ruined his chances of winning. He finished just behind Weston Peick in his heat race and didn't have near enough time to catch Musquin in the 450SX Main, especially after going down while trying to pass Blake Baggett, which means we'll have to wait until Vegas to see if decides to dish out any payback.
"It was just a bad day of starts for me," Tomac said. "I actually felt Jason's front wheel go into my footpeg. Going down the straightaway I was like, 'Holy crap, what was that?' Luckily nothing happened there with my bike, but it just shuffled me too far back too early and Marv ran away with it."
Baggett was excellent in Salt Lake City, earning his first podium, a third place, since Arlington. He'll now head into the final round of the season tied with Justin Brayton for fourth
Great ride for Christian Craig, who holeshot last week's race only to throw it away with a crash. This week he started well, made a couple passes, and spent most of the race in third. A charging Tomac got by Craig, crashed, then got by him again, but Craig didn't seem to mind much afterward, pointing out that he started well and held position instead of fading or getting lucky because other guys crashed. He admitted it was tempting to try to drop the hammer to keep third when he saw Tomac coming for him the second time, but thought better of it due to extremely tough track conditions, which several riders likened to riding in a dry gravel pit.
Supercross
| | Rider | Time | Interval | Best Lap | Hometown | Bike |
| --- | --- | --- | --- | --- | --- | --- |
| 1 | Marvin Musquin | 48.402 | 26 Laps | | La Reole | KTM 450 SX-F |
| 2 | Eli Tomac | 48.631 | +06.067 | | Cortez, CO | Kawasaki KX450F |
| 3 | Blake Baggett | 48.872 | +10.970 | | Grand Terrace, CA | KTM 450 SX-F |
| 4 | Christian Craig | 49.232 | +16.898 | | Temecula, CA | Honda CRF450R |
| 5 | Justin Barcia | 49.122 | +21.098 | | Monroe, NY | Yamaha YZ450F |
Full Results
Last week we ran an article discussing a few different title scenarios, and even talked about the longshot ones. Well, we overlooked Shane McElrath, and boy did he make us pay for it by passing Adam Cianciarulo, Joey Savatgy, and Aaron Plessinger in Salt Lake City for the win. The battle up front was awesome, with all four riders going at it in the beginning phases of the race. And since Aaron Plessinger finished fourth, McElrath gained enough points on him to mathematically stay in this championship. He's down by twenty-four points, but he's still in it!
The win almost didn't happen though, as McElrath slowed in the final turn and ended up getting pinched off by a lapper. Adam Cianciarulo wasn't far behind and was nearly able to sneak in and steal one from McElrath, missing out by less than half a second.
"I knew he was close, but not really close enough to run it in," McElrath explained. "That's why I went to the inside. I heard him go to the outside so I was like, "Okay, don't waste time," but I kind of got pinched off by a lapper. It was pretty close, more so than I wanted it to be!"
Added Cianciarulo: "I gave it everything I had those last couple laps and I came pretty close at the end. That lapper was there, and it was one of those things where he [McElrath] knew he had it. But now I'm thinking to myself I should have just pinned it through those whoops on that last lap!"
Both Cianciarulo and his teammate, Joey Savatgy, gained points on Plessinger, which means, like McElrath, both of their championship hopes are still alive, although they're going to need some major help if they're going to catch Plessinger—Cianciarulo trails by thirteen, Savatgy by twenty-two. Of course, as we saw with Anderson today, anything can happen! Next week's 250SX race is an East/West Showdown too, which further adds to the number of things that could go down.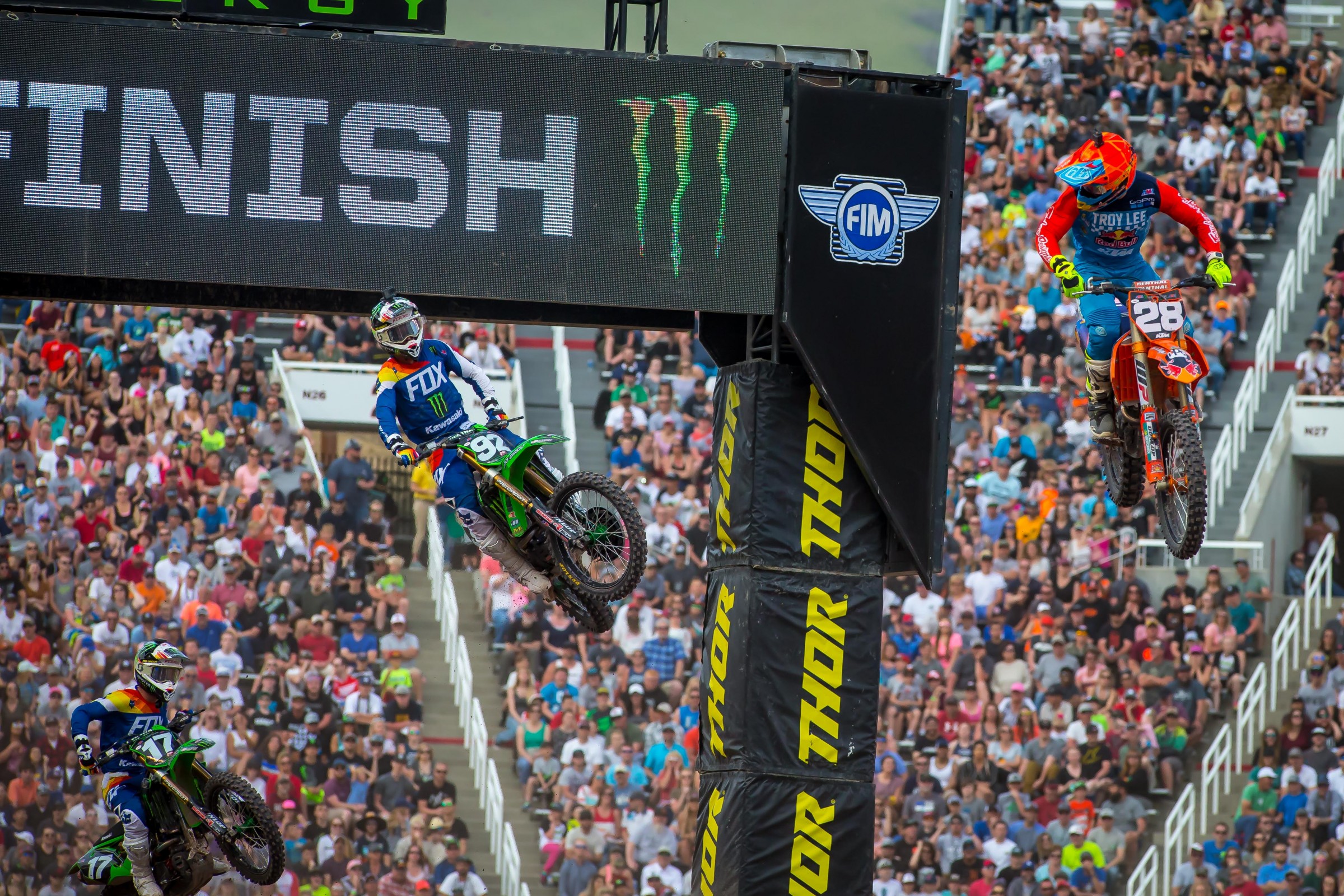 Elsewhere in the 250 Class, if you thought Justin Hill didn't look like himself out there, well, you'd be right. Hill cased a triple early in the first qualifier and badly sprained his right ankle, which limited his performance all day. That includes in the parking lot, where he was still walking with a substantial limp as he made his way to his car.
Pretty cool story on Cody Vanbuskirk, who drove solo all the way from Foxborough in his van, even sleeping in it, to race Salt Lake City. If you were watching Race Day Live, you saw co-host Jim Holley tell Vanbuskirk if he made the 450SX main, he'd give him $200. Well, he had to go through the LCQ to do it, but he made it. Pay up Hollywood!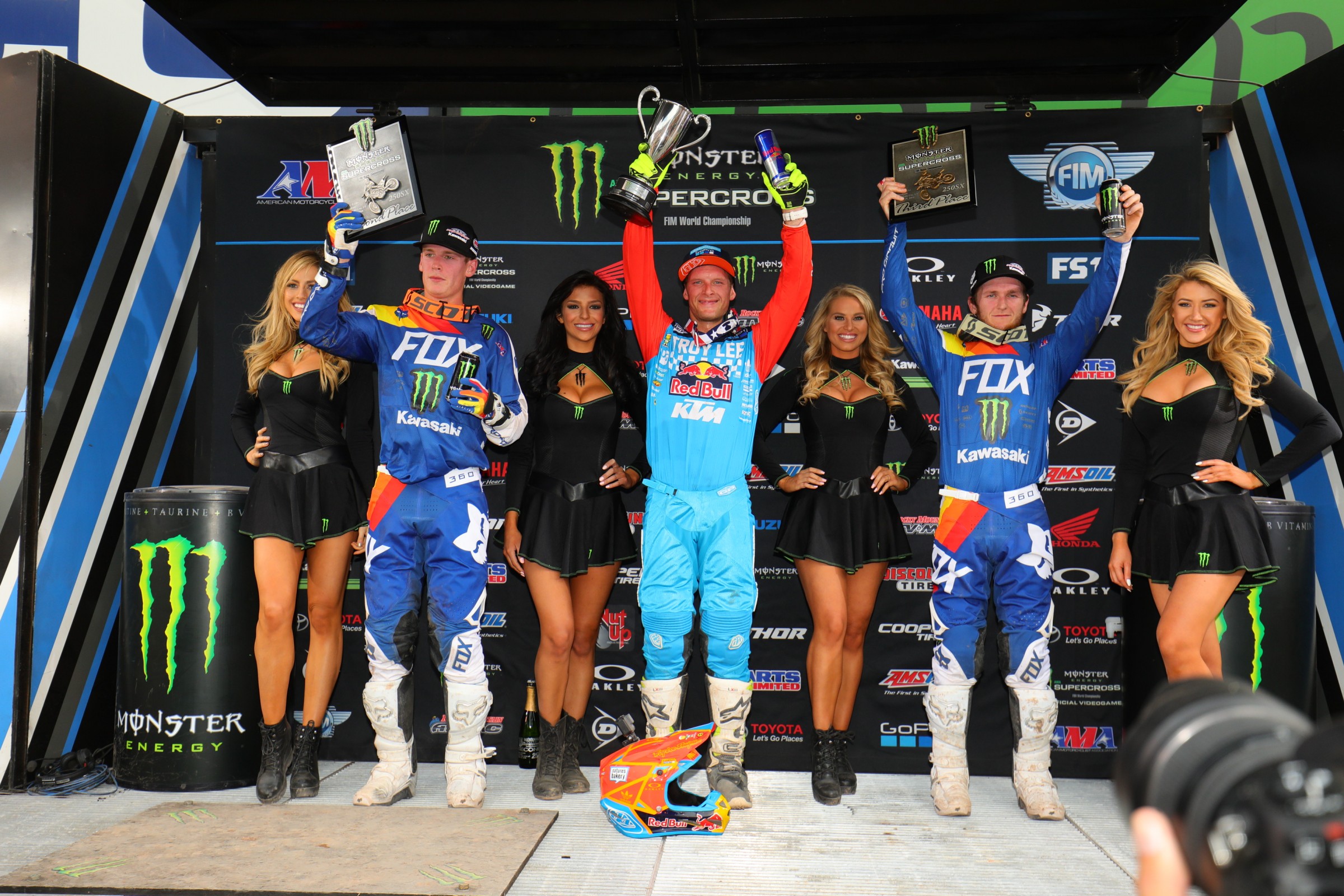 Supercross
| | Rider | Time | Interval | Best Lap | Hometown | Bike |
| --- | --- | --- | --- | --- | --- | --- |
| 1 | Shane McElrath | 49.606 | 19 Laps | | Canton, NC | KTM 250 SX-F |
| 2 | Adam Cianciarulo | 50.507 | +00.455 | | Port Orange, FL | Kawasaki KX250F |
| 3 | Joey Savatgy | 50.316 | +05.676 | | Thomasville, GA | Kawasaki KX250F |
| 4 | Aaron Plessinger | 50.208 | +09.040 | | Hamilton, OH | Yamaha YZ250F |
| 5 | Chase Sexton | 50.293 | +17.344 | | La Moille, IL | Honda CRF250R |
Full Results