Welcome to Racerhead. Tomorrow night marks the second-to-last round of the 2018 Monster Energy AMA Supercross Championship, and we will likely see a new champion crowned. Wait, of course we will see a new champion crowned—the last one, Ryan Dungey, retired shortly after winning his fourth career title last May. And with the exception of the timeless Chad Reed, all of the previous SX champions have retired from professional racing. Jason Anderson is about to join Reed as a "still-active" champion of AMA Supercross.
What will be new is the fact that Husqvarna will be the AMA Supercross Champion for the very first time. Bobby Hewitt's team was once a modest startup out of Texas called Xtreme Team Green Kawasaki, and its first big sponsor was Canidae Dog Foods. His early riders included his son Hunter, and yet they managed to win a 450 National early on with Tommy Hahn.
Over the years, the team has evolved, as has Hewitt as team manager/owner. They switched brands to Suzuki, then KTM, winning more and more. They found sexier sponsors like Rockstar Energy and were in the right place at the right time when KTM was looking for a good fit for the Husqvarna brand they'd just acquired. Hewitt also found riders in whom he not only saw great potential, but ones he liked—and ones who listened. Jason Anderson, someone he'd sponsored since his amateur days, landed Hewitt's team its first title in 2014 in the 250SX West Region, just before the switch to Husqvarna, then Zach Osborne got their second (250SX East Region) and third (250 Class MX) last summer. Osborne is poised to deliver another 250SX East Region title next week in Las Vegas, but Anderson is about to land them the biggest title of all.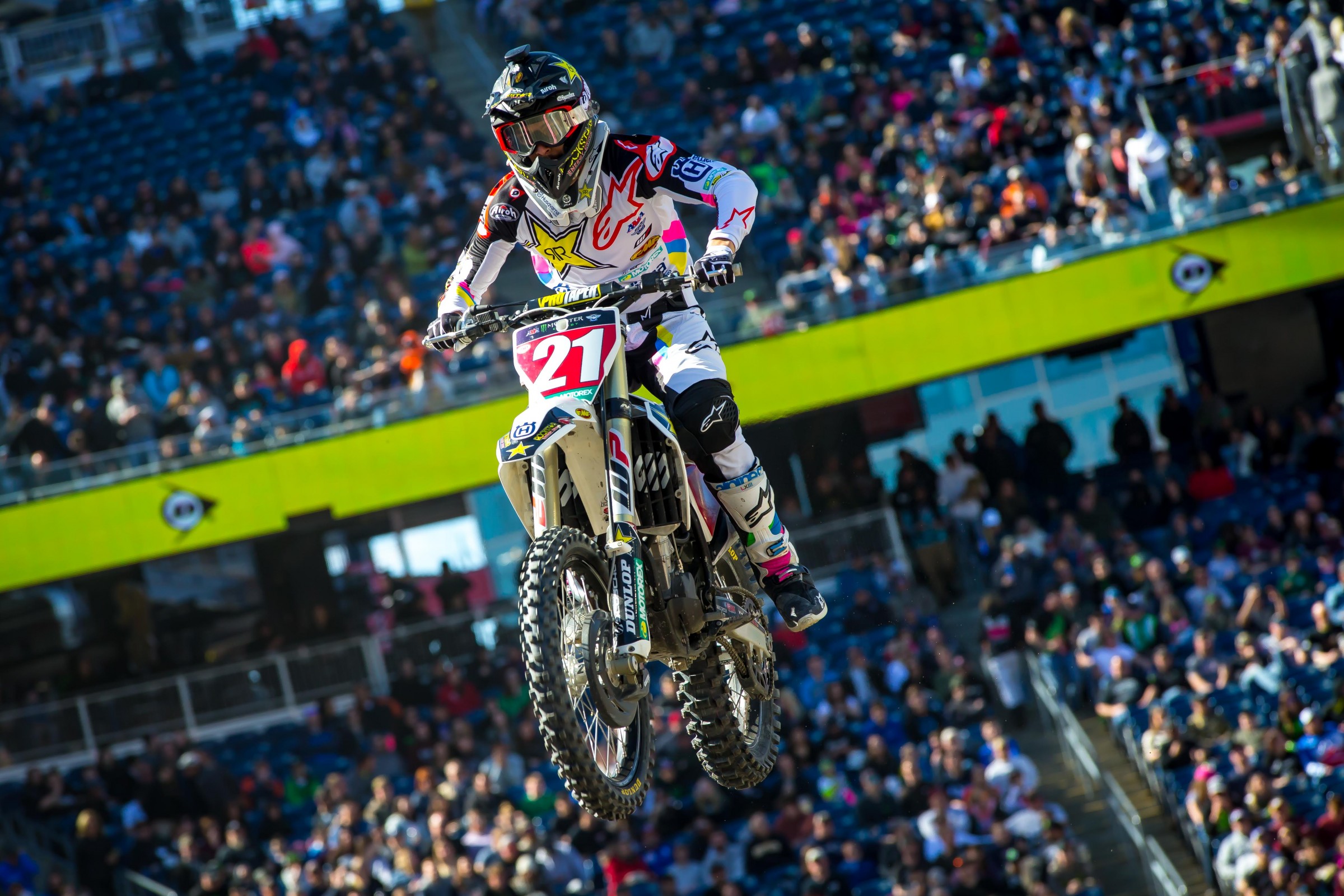 If all goes according to plan tomorrow night in Salt Lake City, Anderson will become the first Husqvarna rider ever to win the AMA Supercross Championship, and this will mark the first time that Husqvarna has ever won two SX championships in a single season.
Which brings it all full circle. All the way back in 1971, at the first Daytona "Motocross" race at the speedway, before there ever was an AMA Supercross Series, or even the Superbowl of Motocross at the Los Angeles Coliseum—which we consider the first "supercross" as we know it—the two classes were won by Bryan Kenney (500) and Gunnar Lindstrom (250).
Both were riding Husqvarnas, just like Anderson and Osborne. In other words, it was a pair of titles 47 years in the making.
Let's start Racerhead right here with a word from the King of Supercross….
The King's Speech (Jason Weigandt)
I love the drama, but man, by Wednesday morning I was officially over the Musquin-Tomac deal from Saturday. Most likely, Musquin and Tomac are also tired of all the talk. Our comment section was just getting crushed by back-and-forth arguments over "The Pass," and there really seemed to be no limits. Surely any opinion on this topic had been exhausted at that point.
I thought everyone had weighed in on this until I received a text from the King of Supercross, Jeremy McGrath, on Wednesday night. He watched the How to Argue Block Passing video we posted and thought it was funny. Probably helps that I used MC as an all-time reference in block-passing battles. For every "Bob Hannah would have rammed his grandpa off the track" argument, you get a "Jeremy McGrath never had to ram people to win." This is the stuff you hear every time something controversial happens on the track.
MC mentioned something interesting in his text to me. He thinks we shouldn't even be using the term "block pass" in this situation, but rather "T-bone." McGrath feels like a block pass is when two riders are going the same angle into a turn, and a T-bone is when they're going two different directions. He puts the Foxborough move by Marvin into the T-bone category and thinks calling it a block pass makes it sound cleaner than it is.
Again, opinions are all over the map when something like this happens, but it's always good to hear the opinion of the best supercross racer ever. Plus, MC is just a really cool guy.
It's pretty amazing how quickly the news changes in one week. Last Friday, Broc Tickle's suspension due to a failed drug test was all the rage. After Musquin/Tomac, everyone moved on. Of course, there will soon be speculation over who will ride Broc's bike in Lucas Oil Pro Motocross, but I think KTM might not fill that spot and just head into the outdoors with Musquin only.
The upcoming week's news will probably focus on Jason Anderson, who needs a fourth or better to clinch the Monster Energy Supercross Championship this weekend. Anderson absolutely earned it this year, no doubt, because even when the full field was healthy and ready at the start of the season, he was ripping. Anderson went 2-1 in the first two races of the year, compared to Tomac earning a single point in the same frame and Musquin crashing out of the second round after winning the first, and his come-from-behind charge in Oakland was amazing. He can't help that most of the contenders blew a few races—avoiding trouble is job number one in winning this title, and Anderson was ready to battle everyone when they were healthy and ready.
I don't think anyone will take anything away from Anderson's title this year; he's been great. The only problem for Anderson is that he's following this great pantheon of multi-time champions in the ledger. The last six supercross champions are McGrath, Ricky Carmichael, Chad Reed, James Stewart, Ryan Villopoto, and Ryan Dungey. These dudes are complete legends, they are the top six in all-time supercross wins, and each has more than one title. Will Anderson have similar stats when his career is over?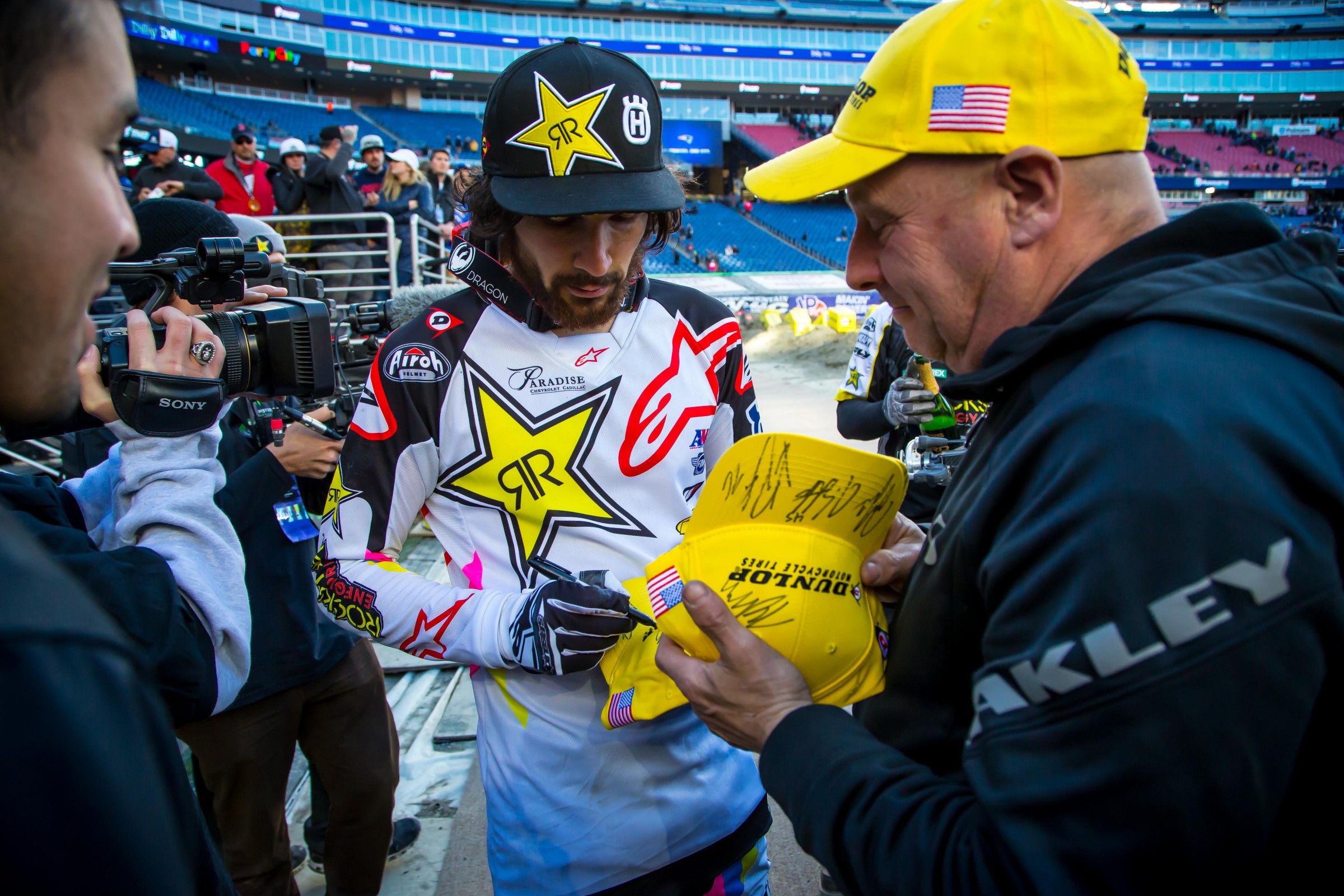 Here's the key part: Anderson doesn't care. Some riders, even decades after retirement, are still interested in where they rank in history, what the stat book looks like, and more. We'll probably get some grief from retired racers as we roll through our 30 Greatest AMA Motocrossers countdown, for example. You'll never hear such complaints from Anderson.
I got to hang out with him and his team a lot at Foxborough to see how they operate. I also spent the entire day inside the team truck in Detroit last year. I've watched how Anderson goes about his business, and I can tell you that Jason just wants to be himself. He's not really interested in image or perception; he just does whatever he wants, says what he thinks, and moves on. There's virtually no difference between points leader Jason Anderson and fourth-in points Jason Anderson. He's cool with his team and that's about all he's worried about. Legacy? History? He just wants to do well, cash the checks, have fun, and move on. After so many years of high-stress, super-serious supercross championship drives, it's kind of refreshing to see someone have so much fun with the process, and not let the process change who they are.
Osborne (Andras Hegyi)
Rockstar Energy Husqvarna's Zach Osborne had a very memorable race in Foxborough for several reasons. First of all, in getting his third win this year, he took huge steps to repeat as 250SX East Region Champion. With one round to go last season, he was second overall with a one-point deficit, but in 2018, he can wait for the last round as a points leader, with 15 points over second-place chaser Jordon Smith.
For Osborne, it was also an unusual victory, as for the first time ever in his 250SX career, he got a wire-to-wire victory. He collected the tenth win for Husqvarna in the history of AMA 125/250 Supercross. That victory also means the 50th win for the non-Japanese brands in the small-bore supercross class.
So far there have been 541 races in all in the 125/250 SX division that started in 1985. Japanese bikes have taken 491 wins. The first of those 50 winners in the saddle of a non-Japanese bike was Travis Preston, who won in the Houston Astrodome in 2001 with Husqvarna. The most successful motocrosser riding a non-Japanese bike is Marvin Musquin, who has 11 wins in all. Last Saturday afternoon, Osborne became the second most successful riding a non-Japanese bike by earning his seventh victory, overtaking Ken Roczen on that list.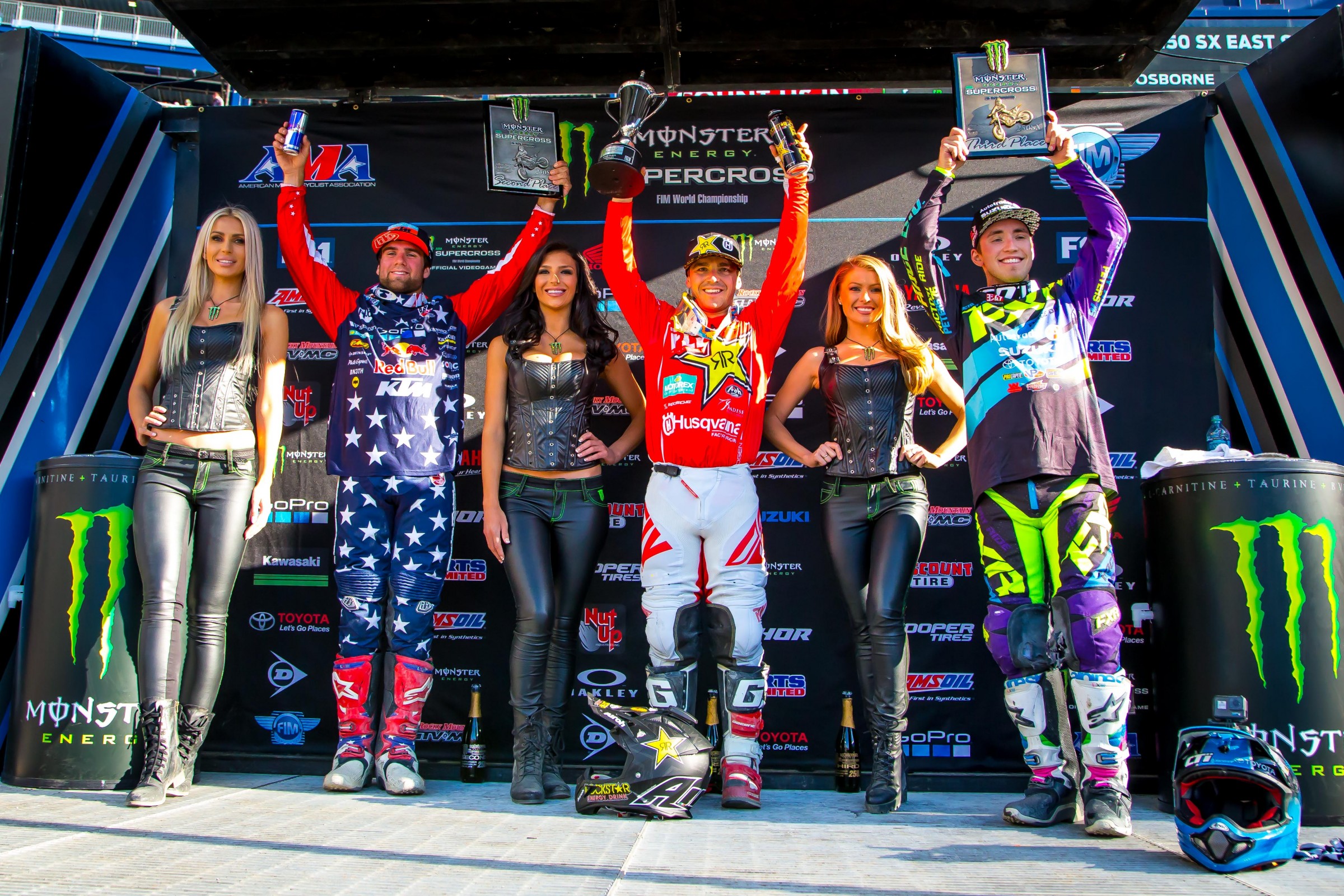 So far there have been 15 riders in all to win in the saddle of a KTM or Husqvarna. (And remember, Austrian brand KTM bought Sweden-born, Italy-purchased Husky in 2013, and since then, the brand has been living a new heyday in motocross/supercross.)
The 50 Victories with Non-Japanese Bikes in AMA 125/250 Supercross
| | | |
| --- | --- | --- |
| Rider | Brand | Wins |
| Marvin Musquin | KTM | 11 |
| Zach Osborne | Husqvarna | 7 |
| Ken Roczen | KTM | 6 |
| Nathan Ramsey | KTM | 5 |
| Jason Anderson | KTM | 4 |
| Shane McElrath | KTM | 4 |
| Josh Hansen | KTM | 3 |
| Martin Davalos | Husqvarna | 2 |
| Travis Preston | Husqvarna | 2 |
| Justin Hill | KTM | 1 |
| Grant Langston | KTM | 1 |
| David Pingree | KTM | 1 |
| Brock Sellards | KTM | 1 |
| Jessy Neslon | KTM | 1 |
Bobby Hewitt Called This Title (Chase Stallo)
Earlier this week, Jason Weigandt and I were bench racing about Jason Anderson's title run this year. We began talking about team manager Bobby Hewitt and how he turned what was once just an amateur team for his son Hunter into a bona fide factory effort that, year-in and year-out, contends for titles. Hewitt, a former Texas businessman, is one of the more interesting people in the pits and arguably the most patient with his riders. He always talks about his four-year plans for riders. I won't dive into this too much, because Weigandt did an interesting podcast with Hewitt, which you can listen to below or on your favorite podcast service (search for "The Racer X Podcast Network").
Anyway, while we were talking, I remembered back in 2015 when I was doing a feature on Hewitt for Racer X Illustrated (we'll be releasing it online next week, so check back) that he basically called this championship for Anderson. While the quote didn't make the story, I went back through my interview with him and found this gem (emphasis mine):
"With Jason being consistently in the top ten and fifth in the points, that is a success story all by itself for a rookie to come in and do that. I think that that's four or five years in the working. That's not just something that he woke up this year and was able to do. And then last year, him winning the championship, it was a three-year process. I jumped out on a limb last year when I said Jason will win the championship and he will win it this year. I said it before the season started.
"I get to work with him each day, and I get to work with the riders week-in and week-out, and we see the progression they're making and their time to shine. I would predict Jason will win or be competing for the championship in his second or third year in the 450 class. I would say his third year is probably his best year to win it. It just takes some time to make that transition. Everything I do, I think long-term and make baby steps towards the goal. I think his third goal in the 450 class is when you'll really see him shine. A lot of things play into that. Injuries play into it, a lot of combinations, but I would think that's probably going to be when he's going to be at his best."
Well, Bobby was a year off—Anderson is in his fourth year in the 450 class—but if Anderson clinches this weekend, that's still pretty damn close. And Bobby "Nostradamus" Hewitt saw it coming.
A Dubious Stat (Andras Hegyi)
Last Saturday in Foxborough, even though he didn't win, Monster Energy Kawasaki's Eli Tomac wrapped up the "most wins" category for the 2018 season, which he also did in 2017. But despite getting the most wins again, Tomac will not be champion in 2018, nor was he last year. And that means Tomac is the first rider ever to have the most wins and not be champion in two consecutive seasons.
This is the 11th season in which the rider or riders with the most wins could not be champions, the others being 1976, '83, '85, '87, '90, '92, 2003, '06, '10, and '17 (Jimmy Ellis, Marty Smith, Bob Hannah, Ron Lechien, Ricky Johnson, Damon Bradshaw, Jean-Michel Bayle, Chad Reed, James Stewart, Ryan Villopoto, and Tomac, respectively). Among them, Tomac and Bradshaw are the only ones with the most wins and no titles in two different seasons. The difference is that Bradshaw was not champion both in 1990 and 1992, but in between, in 1991, JMB took the most wins and the title.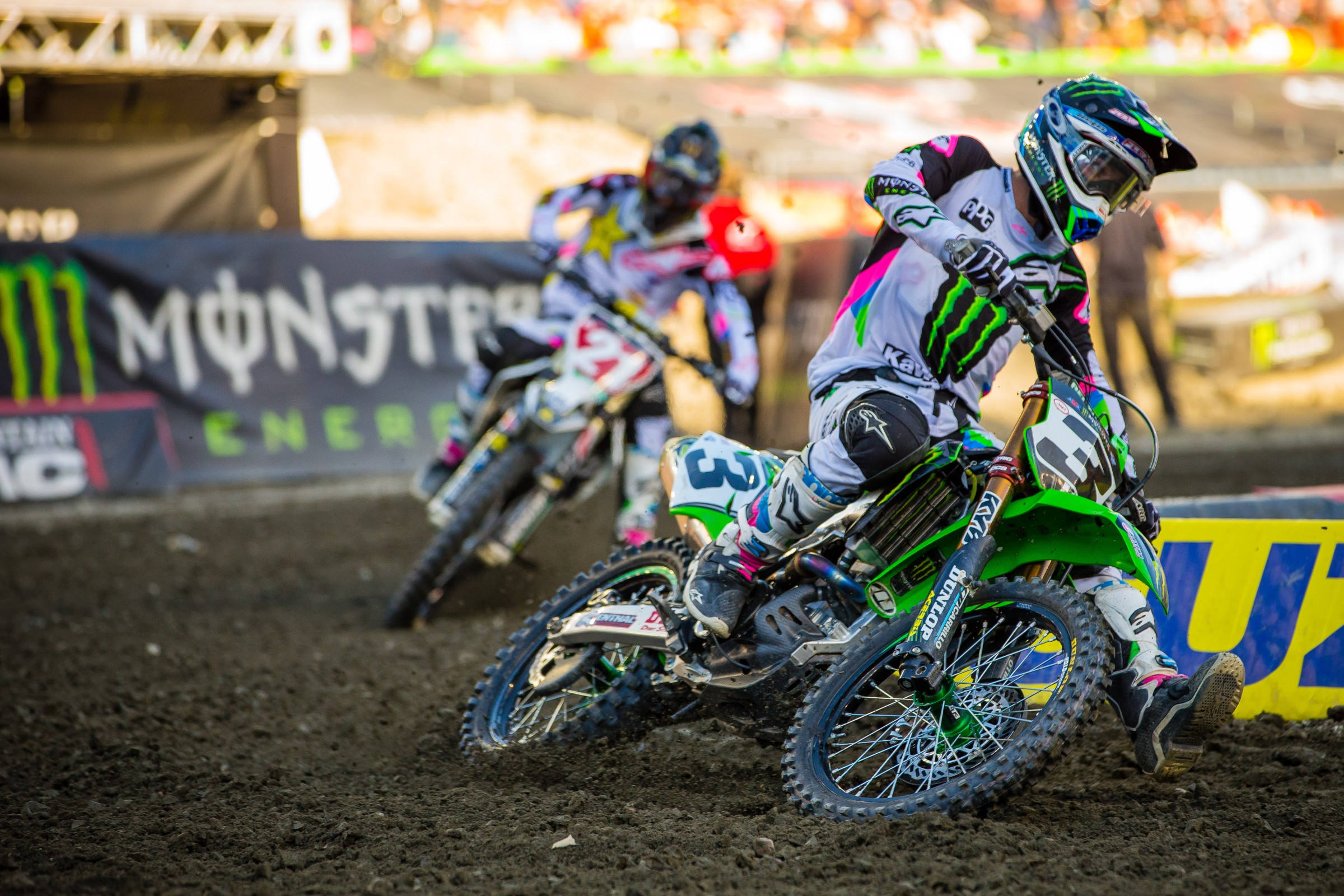 FROM RUSSIA (Adam Wheeler)
Fans of Grand Prix will do well to find the results of round six this weekend. The Grand Prix of Russia actually takes place on Tuesday. May 1 is the Labor Day holiday in the country, and organizers of the second edition of the event (just the fourth Russian FIM MX fixture this century) at Orlyonok, on the bank of the Black Sea, are taking advantage of extra potential tourism in the area.
While Russia is rarely far from the top story slots on most news websites—and in less than seven weeks will host one of the biggest sporting gatherings with the FIFA World Cup (which England are naturally going to win…where is an emoji when you need one?)—there is an air of positivity about Orlyonok. A skeptical paddock encountered a decent track, infrastructure, and picturesque setting 130 miles south of Sochi (home of Russian F1 and the 2014 Winter Olympics) and an enthusiastic club, as well as public reception this time last year. The 2,000-mile hike from central Europe means that most teams treat this race as a flyaway, and there are hopes that the weather does not offer a repeat of 2017, where torrential rains turned the facility's inauguration into an authentic mudder.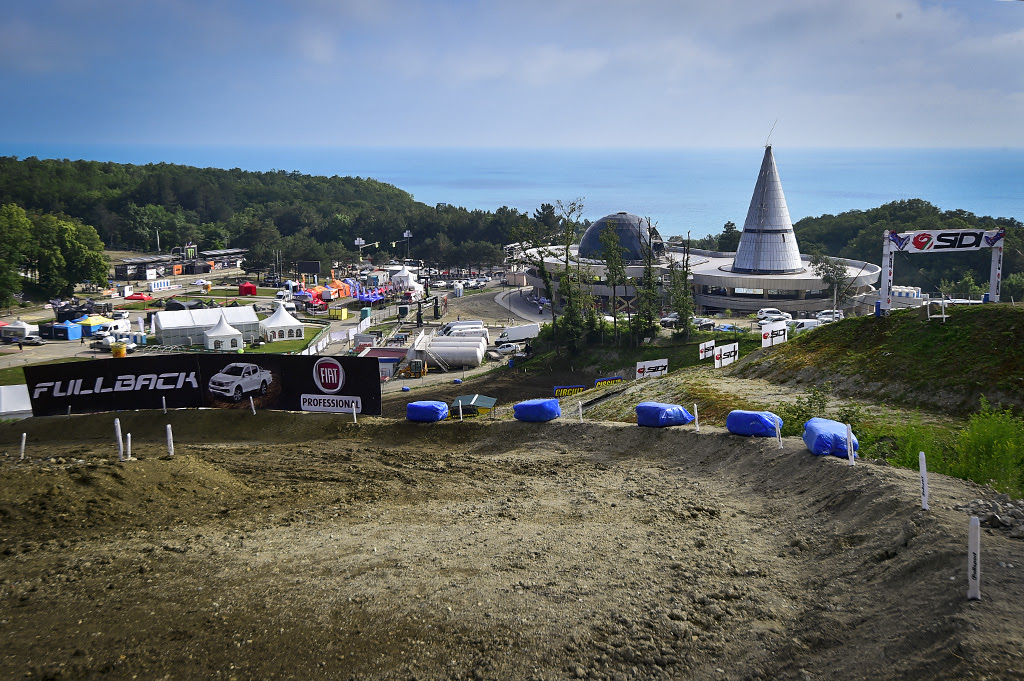 Russian interest will center on the presence of Evgeny Bobryshev, forging results in the top ten of MXGP after losing his HRC saddle last term but making the best of his situation with the BOS privateer Suzuki setup. Kemea Yamaha's Vsevolod Brylyakov shone with fourth place overall at the Grand Prix of Trentino last month, and the Orlyonok hard-pack is not too dissimilar to the Italian sweeps and climbs. Brylyakov is negotiating his last season in the MX2 class and still looking to return to former speed after a badly injured left shoulder last summer. The likeable athlete is an outside bet at the podium in MX2. Sadly, Alex Tonkov, one of the country's most promising MXGP racers, is not included on any entry list since being lost to the FIM Motocross World Championship for a visa issue at the end of 2016, and an erratic but eminently watchable talent remains in career limbo. He recently commented to Moto-Magazine.RU that he hoped to return to MXGP, but it could be another year and a half before he can consider residence outside of Russia.
Orlyonok 2017 was the scene of Clement Desalle's second victory with the Monster Energy Kawasaki team. If the Belgian manages a repeat, then he'll be the first to break the Red Bull KTM monopoly (which exists in both classes) this year.
American participation in Grand Prix hangs by a knife-thread. I saw Thomas Covington at the Dutch round of World Superbike at Assen last weekend (the famous circuit is a matter of weeks away from confirming their firm bid for the 2019 Motocross of Nations) and he said the left knee injury he sustained in Portugal was not as bad as first feared, but the Rockstar Energy Husqvarna racer still damaged ligaments and part of the meniscus. He was able to walk and has been training away from the FC 250. He's hoping to gauge his potential in the first sessions in Orlyonok and also be able to judge whether the 2018 campaign can continue or whether he'll face more medical assessment. Bike It DRT Kawasaki's Darian Sanayei is in the same boat in terms of seeing if his knee ailment will allow him to throttle the KX250F.
SX HURTS (Matthes)
We've got a 450SX title most likely being wrapped up this weekend with Rockstar Energy Husqvarna's Jason Anderson, and both Monster Energy/Yamalube/Star Racing Yamaha's Aaron Plessinger and Anderson's teammate Zach Osborne have 15-point leads in their series and look good to win. Last year was an absolutely epic year in Monster Energy Supercross, but this year, injuries and some consistently excellent riders by the riders listed above have made this year...non-epic with one round left. Hey, it happens. If I had the answer to preventing rider injuries in the sport (it's not all on four-strokes, people, go ahead and look at some of the two-stroke years), I'd be rich. It happens, man—supercross is very dangerous.
Anyway, so how many injuries did we actually have? Well, in mainstream sports, there's this thing called man-games lost to calculate how hard a team got hit with injuries. I decided to look back to see what 2018 looked like compared to 2017.
As far as I can tell, we've had 43 races lost to injury inside the top 20 in points in the 450SX Class in 2018, compared to 42 in 2017.
This doesn't include suspended Broc Tickle or riders like Jake Weimer that started the season on the DL.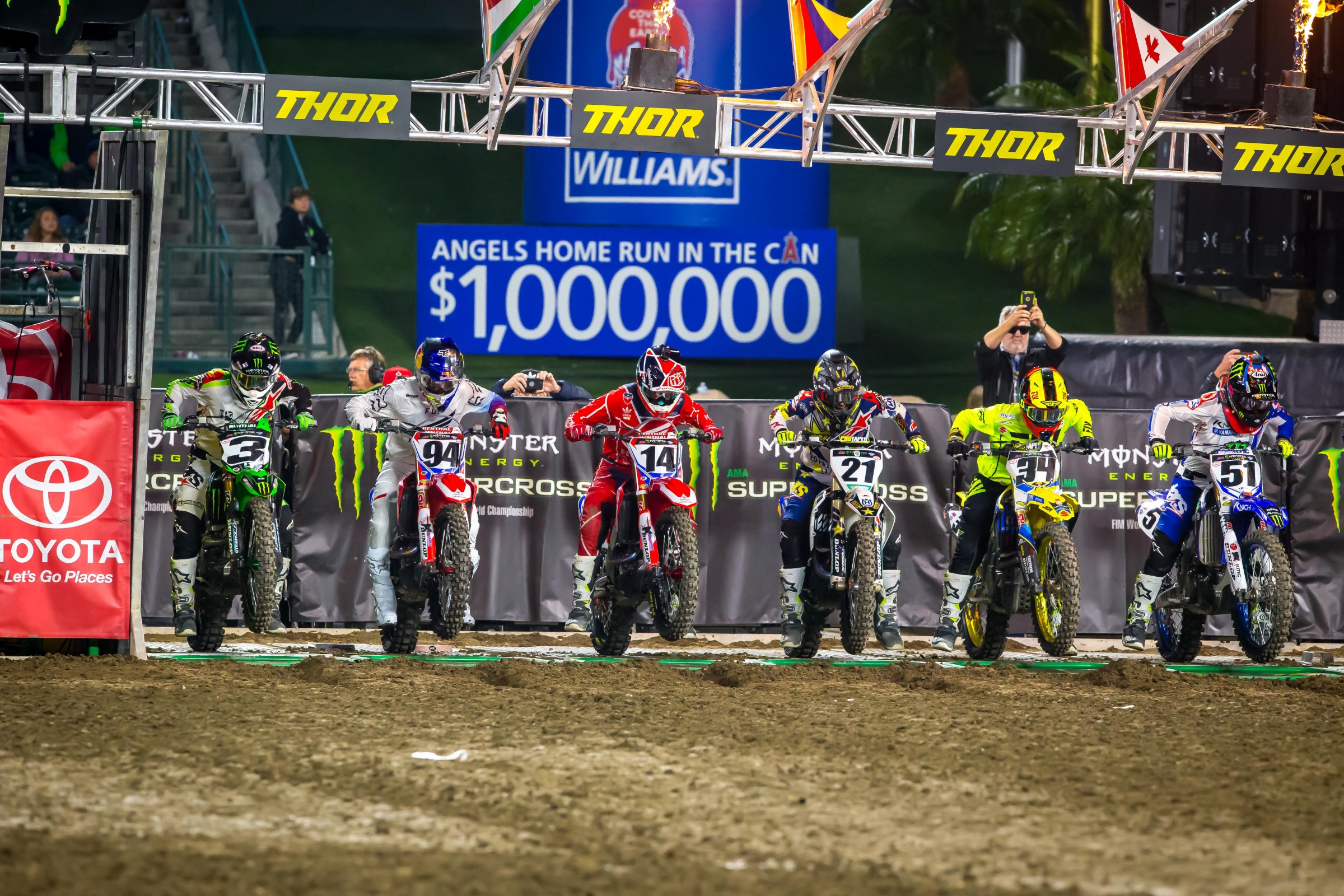 We've also had 28 races lost in the 250SX East Region this year, compared to 22 last year (top 20 in points).
And seven races lost in the 250SX West Region, compared to 20 last year (top 20 in points).
To go further, this year we have six riders who were in the main at Anaheim 1 in the 450SX Class out (including Tickle), while Yamaha's Justin Barcia went out and came back in this time.
We have seven riders from the 250SX East first main event now out of the series (including three out of the top four from Dallas).
250SX West has been spared a bit this entire year.
So while it's not scientific, there are some stats to compare to last season, which we all loved and seemed to have most of the racers at most of the events, right? Numbers say it's close (outside of 250SX East) to the same. Again, Eli Tomac and Marvin Musquin both missing a race at the second round due to injuries really hurt the title chase, as did Kenny Roczen exiting right after that.
Go read PulpMX.com once you're done here, yeah? It's got Kris Keefer, David Vuillemin and Swizcore all talking about "the pass" while Moser texts back and forth with Bubba Pauli—that's SOME reading right there.
Recommended Reading
CREATORS (Matthes)
Something I decided to do recently was take some older podcasts from years ago and highlight them for people who are new to our shows. I mean, just 'cause they're older doesn't make them less interesting or whatever. The eras we're talking about haven't changed since we did the shows.
I decided to take the podcasts I've done with key industry people who have built the iconic brands that we've all used since we were kids and get them back out there. Some of my favorite shows were the ones where I heard the stories behind the names, the products, the riders, or whatever. Also, because my audio equipment is so much better now than back then, I tried to fix the shows by remastering them with the settings I have now.
First up is JT Racing's John Gregory, the empire that he built, and his decision to walk away from it all. You can get it wherever you get podcasts from, or click here to listen.
READERS WRITE
Dear Clifford "The Flyin' Hawaiian" Adoptante,
My name is Matt, and I have watched you growing up through the ranks as a youngster. Racing with my siblings with our dad was some of the best times of my life. After a long day sitting in the camper no matter where, we were we'd watch old Crusty and freestyle videos. You were always my favorite to watch. As a father now, my little ones get to watch the old VHS tapes we used while I was racing and they light up. Be strong, you're always a hero to me and my youngsters.
Matthew Gillespie
Rome, GA
Hey, Watch It!
Racer X Films: 2018 Pro Motocross Prep at Glen Helen
(Check out photos from Glen Helen in the Random Notes section below.)
Some more outdoor prep going on at Pala, courtesy of Vital MX:
For the Love of 2 Strokes—The Last Ride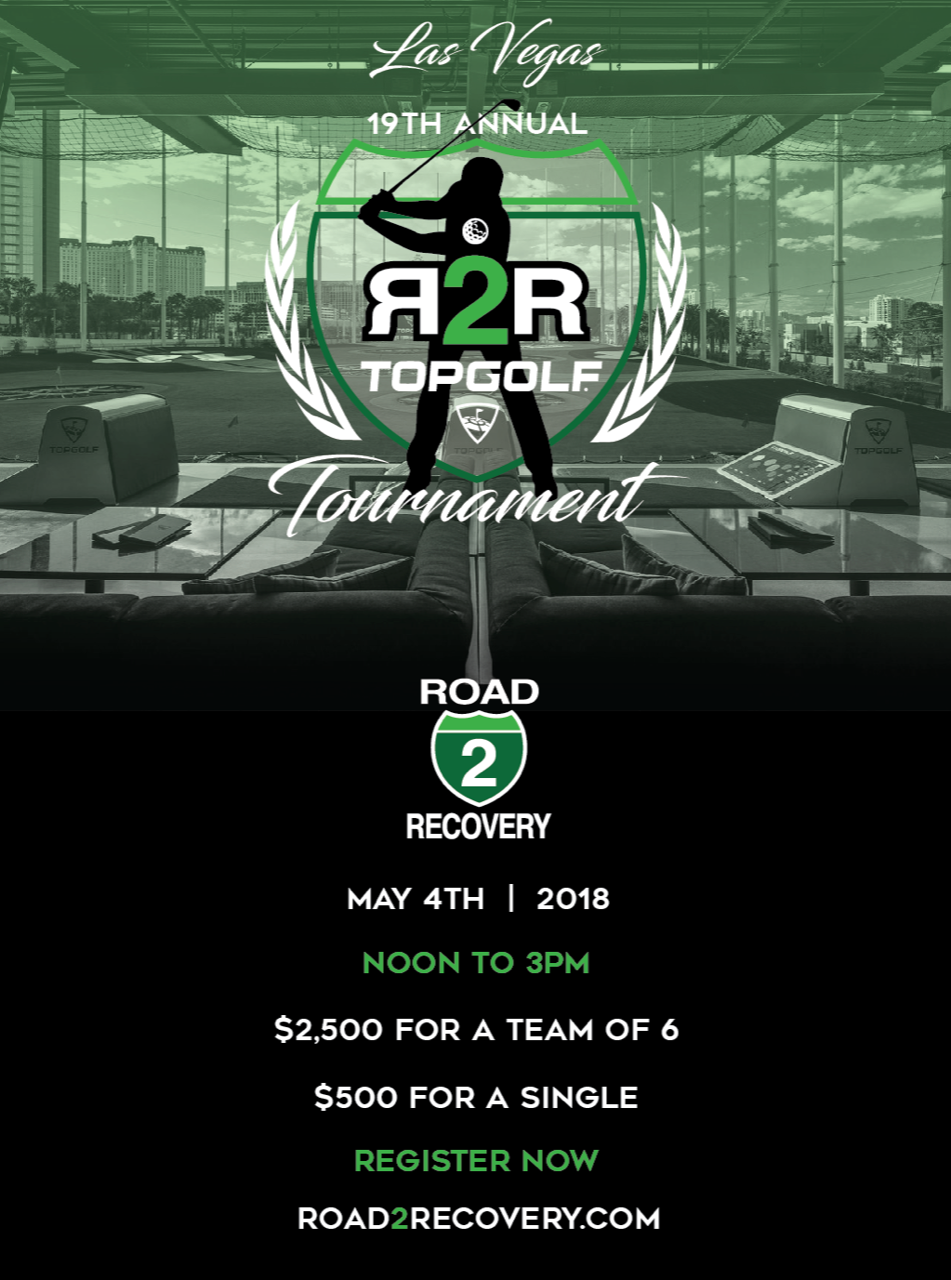 The 2018 Lucas Oil Pro Motocross Championship is less than a month away, and Racer X's Simon Cudby was out at Glen Helen on Thursday to catch some heavy-hitters preparing for the season. Riders included Eli Tomac, Justin Barcia, Dean Wilson, Jeremy Martin, Alex Martin, RJ Hampshire, Jordon Smith, Michael Mosiman, and Garrett Marchbanks. Check out some photos below and more at this link:
Subscribe Now And Get A Free FXR T-Shirt
Subscribe now for as low as $9.98 and receive a free FXR t-shirt, plus access to our digital edition.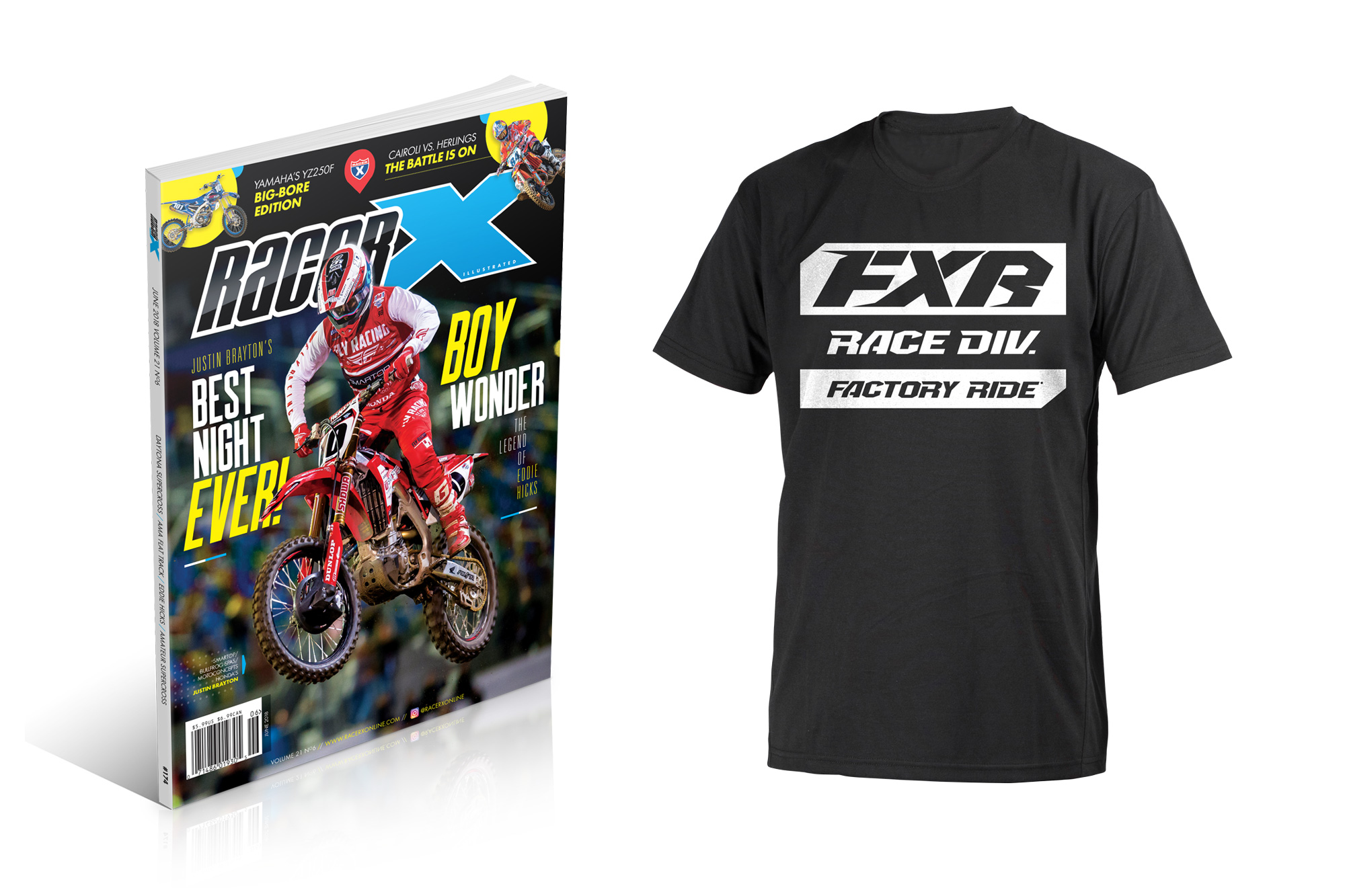 Racer X Brand | New Releases
Be sure to head over to Racer X Brand and check out our New Releases section to see what's fresh in the shop. Also check out our Best Sellers section to see what everyone else is getting and what you should be getting, too.
That's all for this week—thanks for reading Racerhead. See you at the races.