Red Bull KTM Announces American Flat Track Team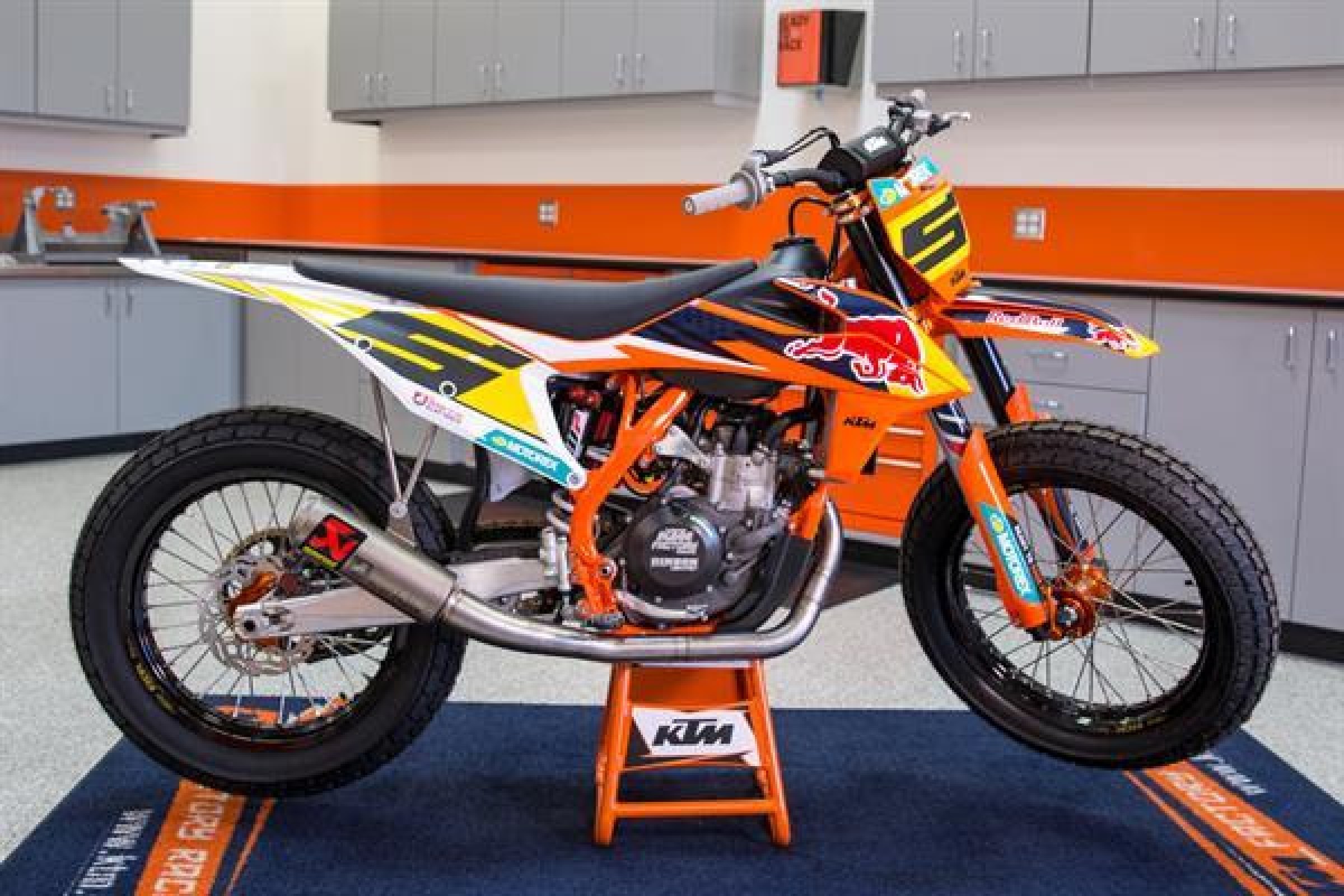 The American Flat Track (AFT) Championship just took another big leap with Red Bull KTM's announcement today of a factory flat track racing team for 2019. In KTM's announcement today, which took place at the MotoGP event at Circuit of the Americas in Texas, the brand says it plans to race the AFT Singles Class next year, but even further, left no doubts that its upcoming new 790 twin-cylinder Duke will be used as a racing platform for the AFT Twins class in the future. In AFT, the single-cylinder bikes and twin-cylinder bikes make up a two-class structure similar to 250s and 450s in the motocross and supercross ranks.
No riders were announced for the team yet. KTM has appointed former HMC KTM Factory Superbike racer and Brand Ambassador, Chris Fillmore, as the new Flat Track and Road Racing Team Manager to oversee its racing efforts in the U.S.
The full KTM PR is below.
MURRIETA, Calif. – Building upon its racing success in the offroad and motocross segments, as well as the continued commitment to American Road Racing at the junior level, KTM Motorsports is pleased to announce its plan to go racing in the 2019 American Flat Track Championship.
American Flat Track is America's original extreme sport. At its core, it's a highly competitive, adrenaline-fueled motorsport, featuring specialized motorcycles and piloted by young world-class athletes. With history dating back to the first two-wheel racers in the 1920s, American Flat Track is widely regarded as the most prestigious and competitive form of dirt track motorcycle racing in the world.
John Hinz, President, KTM North America, Inc.: "We have been following the changes happening to the racing in American Flat Track and the excitement it's produced, so as a READY TO RACE company it was natural for KTM to want to be involved. I am proud to continue a long-standing relationship with Chris Fillmore as the new Team Manager for our Flat Track and Road Racing efforts. Chris has a history with KTM beginning in 2003 when he rode on KTM's first Super Moto team before leading our RC8R Sport Bike effort in Road Racing, and most recently setting the World record on a 1290 SUPER DUKE R at Pikes Peak. Chris has been working with the MotoAmerica RC Cup racers and is currently heading the Orange Brigade Road Racing Team with two young riders in the MotoAmerica Junior Cup so we're confident in his abilities to take on this exciting project."
For 2019, KTM will field a race team to compete in the AFT Singles Class aboard the championship-proven 450 SX-F FACTORY EDITION. The future is poised to bring even more excitement in the AFT Twins class with the upcoming 2019 KTM 790 DUKE.
Chris Fillmore: "It's pretty exciting to work on this new project to go racing in the American Flat Track Championship. We have the full support of KTM's global motorsports team with Pit Beirer, Roger De Coster, Ian Harrison and the Austrian R&D department which provides a wealth of knowledge and experience behind us. Our goal is to use 2019 as a building year to create our structure and race team in the AFT Singles Class and the 450 SX-F FACTORY EDITION is a championship-proven race bike and the perfect platform for KTM to engage with the new American Flat Track series. We're well aware that KTM's new 790 DUKE has the perfect power plant to compete in the AFT Twins class and we're excited to see what the future brings in this new journey."
The 2018 American Flat Track Championship is underway with the first two rounds complete. KTM-mounted rider Dan Bromley has gotten off to a great start as he currently leads the AFT Single class on a privateer-backed KTM 450 SX-F. For more information on the American Flat Track Championship, please visit their website www.americanflattrack.com.