Gillette Stadium
Foxborough

,

MA
Foxborough
Monster Energy AMA Supercross Championship
The Closing Window
The window of opportunity to compete for the 250SX East Region championship slammed shut for Austin Forkner last week and narrowed somewhat for Jordon Smith, who finished third, one spot behind championship leader Zach Osborne. Smith, who now trails Osborne by 12 points, is still in it, but he's going to need to win the final two races and have Osborne finish off the podium. If Smith lets Osborne finish in front of him in Foxborough, it'll make it all but impossible to catch him in Vegas. —Aaron Hansel
Hitting the Triple
Don't let the 19 points Jeremy Martin was credited with in Indianapolis fool you—he won that race (he was penalized seven points for jumping on a medical flag), and he won again last week in front of his home crowd in Minneapolis. Clearly, rumors of the death of Martin's supercross skills have been greatly exaggerated. He's trailing Zach Osborne by 16 points with two 250SX East Region races remaining, making the championship seem like a long shot—but that doesn't mean he's done winning. We'll see if he can go three-in-a-row this weekend. —Hansel
Where'd That Come From?
You wouldn't think a rider whose best finish of the season before Minneapolis was 18th could come out and take sixth, but that's exactly what Josh Osby did. The privateer used the Triple Crown format to log what was by far the best result of his season and only fifth 250SX main event of his career. You've got to think a performance like that would be followed by a big boost of confidence—can he use it to his advantage in Foxborough? —Hansel
Close 'em Out
With a daunting 65-point deficit to Jason Anderson, Eli Tomac isn't technically out of the championship, but he might as well be (and likely will be following Foxborough). To get back in it, he'd need both Anderson and Marvin Musquin to have multiple catastrophic nights, and that's just not going to happen. But he can still finish the season on a high note by running the table at the remaining rounds. He's riding a two-race win streak right now; will he make it three in Foxborough? —Hansel
Back in the Flow
You don't usually expect a rider who's been injured to go out and kill it on his first race back—getting back in action initially is more about finding the flow. That said, Justin Barcia was pretty darn good in his first race back since injuring his hand in Arlington. Barcia logged solid 3-7-4 (Triple Crown format) results to snag fifth overall. Now that he's got a night of racing under his belt, we'll see how well he can do this weekend. And remember, Barcia's pretty good in the mud, so if the skies open up, it wouldn't at all be surprising to see him do extremely well. —Hansel
New Bike, Who Dis
Earlier this week, Chad Reed posted a photo with the following caption: "@thereal_goose Soooo.. I'm glad ya didn't build after last weekend Gotchya a new bike on the way.. Needs a little work." Yesterday on the Fly Moto: 60 Show, Steve Matthes, Jason Thomas, and Dan Truman talked about the decision by Reed to buy a new Husqvarna 450 Factory Edition, which he'll compete on this weekend. Apparently, Reed had to pay to ship the bike to Foxborough for the weekend because his truck was already there. Reed probably doesn't have much time on the new bike, but we'll see what difference it makes this weekend. —Chase Stallo
Gonna Give It Go
Moto guys are tough. I know, I know, telling me something I don't know, you say. Well, Kyle Peters is definitely taking home the "Tough Man" award this weekend. Last weekend, Peters crashed on a patch of ice outside U.S. Bank Stadium en route to practice. Unfortunately for Peters, tests confirmed he sustained a torn ACL and MCL in his left knee in the incident. Surprisingly, it won't keep him out of action this weekend, as JGR announced yesterday he's going to try and race Saturday, and—depending on how he feels—the season-finale in Las Vegas as well, after which he will have surgery to repair the damage. Dang! —Stallo
Bright and Early
Hopefully riders bring enough coffee (not too much, though—WADA is watching) this weekend, as track walk begins bright and early at 6:30 a.m. EDT. Practice starts at 8:00 a.m., with the first heat scheduled for 3:11 p.m. To give you an idea on how this affects riders' schedules, track walk typically begins at 10:30 a.m. EDT, with practice at noon (EDT) and heats beginning around 7:09 p.m. (EDT). We'll see which riders make the adjustment to the early schedule very early Saturday morning. —Stallo
Let's Try This Again
When a rider has a breakout ride like Luke Renzland did in Indianapolis, we tend to look at this next race to see if it was a one-time deal or a sign of things to come. In the case of Renzland, we're gonna have to throw out Minneapolis. The Traders Racing Yamaha rider woke up Saturday morning with "some kind of food poisoning or something along those lines" and was only able to compete in one race of three (where he finished tenth). We'll see if the Jersey boy can get back on the podium close to home. —Stallo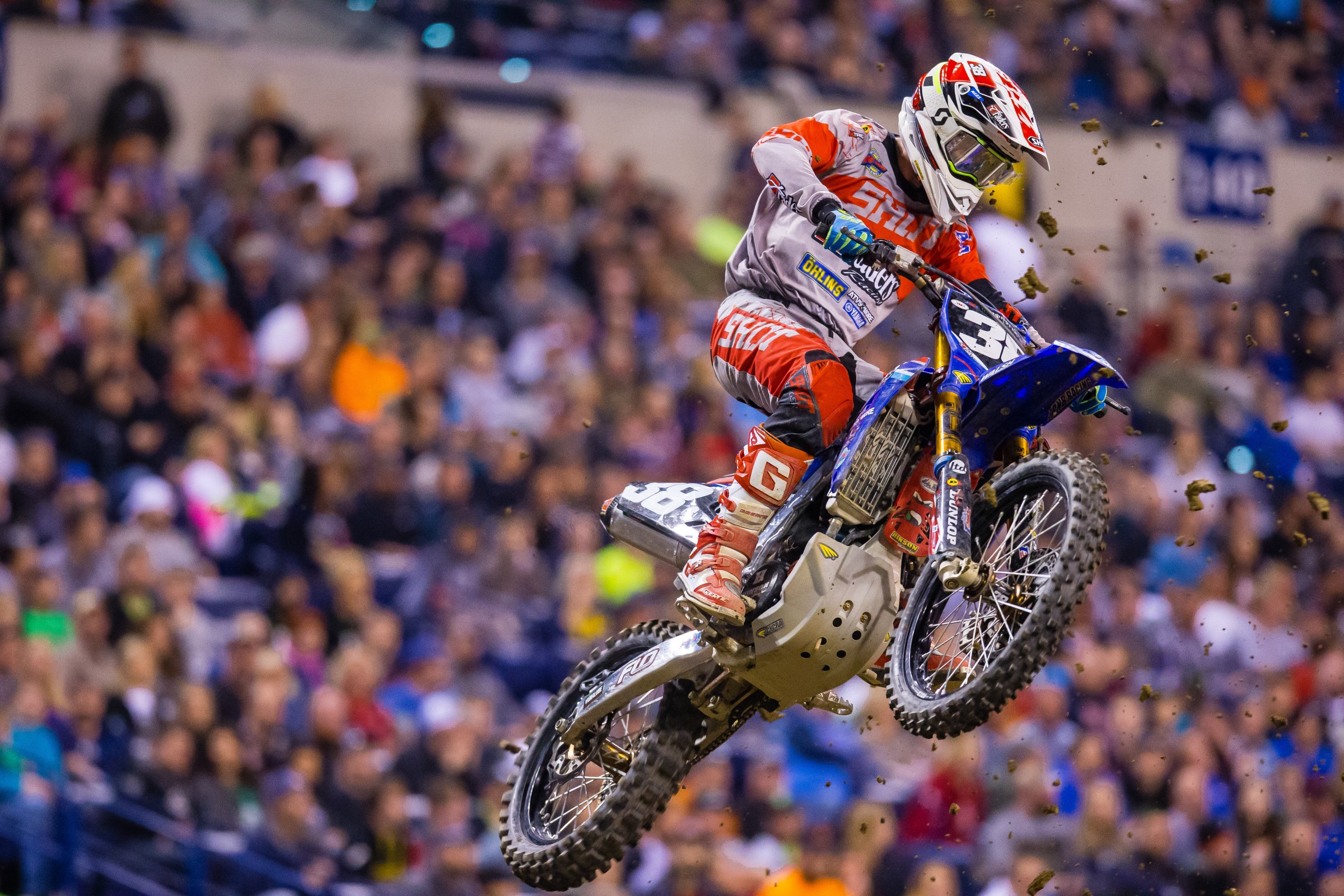 The Track
Monster Energy Supercross has only been to Foxborough once since 1990, and that was in 2016. This is what Steve Matthes wrote after that race about the track:
One practice was cancelled and the other two were a mess as a light rain fell. The track was slick, muddy, and most 250Fs weren't even tripling. It was going to be a disaster for the riders and teams. Seriously, it was like a mudder at Southwick, with that kind of nasty drizzle. The opposite of the drizzle they put on your sundae.
But then the rain stopped, the sun came out, and the track was pretty good (although a bit soft, obviously) for the night show. How good? They actually had to lay water down on the start straight! Much like Indianapolis, this track got rough, rutty and tricky, so it really taxed the riders' fitness and skills. The whoops were left big ,and when you add that to the tough conditions, you could see why even some of the best riders struggled. But, hey, it could have been so much worse.
Rain is not forecasted for this weekend, so we should get a good, clean track in New England. Let's see how it develops and if it favors guys like Marvin Musquin. —Stallo