U.S. Bank Stadium
Minneapolis

,

MN
Minneapolis
Monster Energy AMA Supercross Championship
Racer X: This is now your second Triple Crown. What's your thoughts now that you've been able to experience it twice and kind of learn the format, understand the format and prepare for it? What's your feelings? Jordon, I'll start with you.
Jordon Smith: It's a tough night for sure, especially with both of the Triple Crowns being at tracks that deteriorate a bit more. So, a lot of laps. It's tough getting re-energized in-between the motos. Especially tonight, we were just kind of pitting down here in the tunnel with all the snow outside. It's interesting and it takes a lot of physical fitness and mental toughness to get through the day, but I like it.
Zach Osborne: For me, I like the Triple Crown format. I think it's a good change. I liked it in Atlanta. The only thing that I wish is that the points were not Olympic-style. I wish it was the same as normal, even if it didn't pay points, if it was scored that way just because the win is a big difference. That's the only drawback for me. Other than that, I think it's really good.
Jeremy Martin: It's good if you have a terrible first main event, or like a second terrible main event. You get to go redeem yourself. You get three chances to get a good result. Sometimes we build all day through practice and then we hang out, and then we do the heat race and then it's all in the main. Then if you get a bad start and go down, it's like, well, dude. We flew all the way here and what a shitty night. So, it's nice that way to have three chances to try to redeem yourself.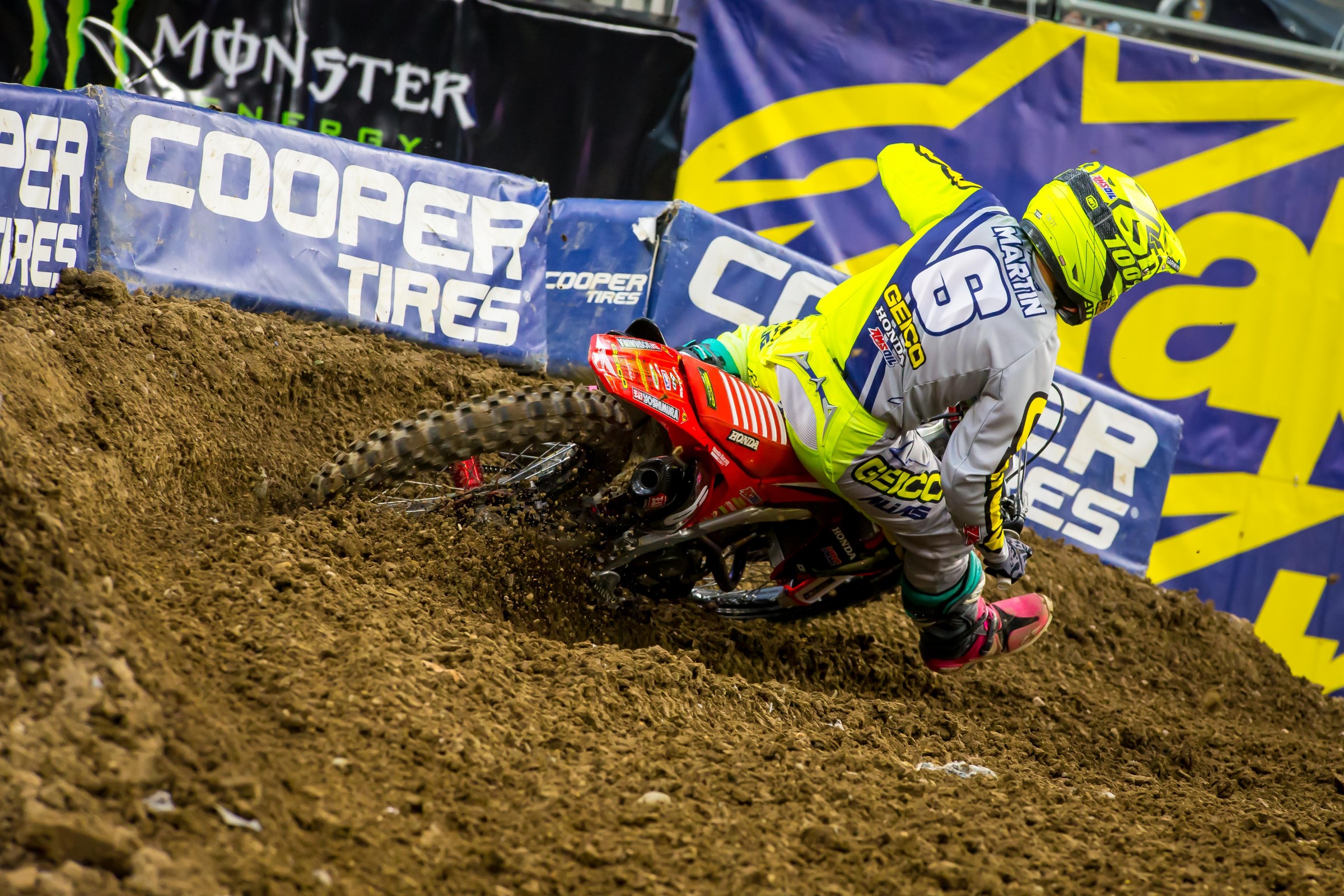 Zach, you may have not won the overall tonight, but I believe you gained some points. Maybe you could kind of touch on the fact of gaining points.
Osborne: Yeah, the fact is I wanted that last main event pretty bad. Yeah, I made some points up and spread it out a little bit, but at the end of the day, I only made up two points on Jordon. I wanted that three-point gap to really give myself a boost. It was a good night. I rode, like, really bad in the first main event. Just got off to a bad start and got a mediocre fourth. It was pretty bad. Then to come back in the second main event and ride really well, get a win. Then in the third main event, I got off to a good start, but I couldn't get past the guy in front me on the first lap. Then they both passed me, so I had to do some work there. Then Jordon and I had a little run-in in the first turn and that gave Jeremy a little gap. Then I had to make that up. I just got to a point there three or four minutes to go where I was feeling pretty good about my position. I looked up and there were three lappers between us. It was over at that point. I don't know if he got to them in the whoops or on the start straight or what, but that broke me.
Jeremy, on the Triple Crown, you're essentially out there twice as long as you would be normally on a main event. Do you feel like it should pay more points overall because you did spend 30 minutes on the track versus 15, with three starts? There's the same money, right?
Martin: I don't think about it like that. We're here to race. These guys are trying something new with the schedule and it's out of our control. There's nothing that we can do about it. We ride dirt bikes and we all train a lot during the week and we put a lot of time in during the week on the bike. So, we're ready for less time or more time or whatever comes.
Jeremy, I was really impressed by the fans just constantly cheering you on. I know this is your home state. Can you hear that when you're riding? Is that something that fires you up? Is it something more meaningful to get a win here?
Martin: Yeah, for sure. I was pretty excited obviously that I won. To win in front of the hometown crowd, I was kind of going a little nuts after the race. But it's an opportunity of a lifetime to be able to race here, and to get the win was unreal. I wear earplugs when I moto, so I could hear them through the earplugs and over my dirt bike, so I was like, my god, it was loud.
Zach, can you just take me through the early laps of your races? You didn't necessarily get good starts, but you were able to make moves happen in the first lap or two a couple times.
Osborne: Yeah. The first start I felt like I was pretty good going into the first turn. Then I came out eighth or ninth, and that just set me way back. I've worked so hard on my starts in recent weeks and I was just pretty demoralized. I got fourth. Then in the second main, I got crossed up pretty bad by someone to the right of me. That was that one. But I was pretty ticked off. I went into the second turn hot and came out pretty good. That was good. In the third main, like I said, I got off to a good start and I messed up passing [Josh] Osby and then they both passed me, so that was that. I wish just one time I could get off to a holeshot and just make tracks.
Jeremy, you've spent the last few months training with Eli [Tomac]. As a guy that typically in the past has trained by yourself and done an isolated program, how is it for you to finally work with someone that's at the top tier and guys can match each other's pace and push?
Martin: I think it's pretty good. I really enjoy it. I think out of all the places I've been, it's the most fun I've had. We're just doing our thing in Cortez, Colorado. I just dig it. I'm fortunate enough to stay out at the parents' guest house there. I get to work on the track. I just live a country lifestyle. Eli and I do our work. We just work.
Jeremy, just talk about your improvement here in supercross. The beginning of the year wasn't, I'm sure, what you wanted. Last year was rough for sure. What's turned around here this last month or so?
Martin: I just kept grinding and kept working. We got the bike a lot better. We're figuring some stuff out and it's really showing here. It gets a little frustrating when people say I can't rider supercross. A lot of people say I can't ride supercross, but all I got to say is, you can put that in your pipe and smoke it.
Jordon, you and Zach were battling there in that last one and you ended up going over the high side. Just talk about that battle there.
Smith: Yeah. I kind of made a mistake coming out of the whoops. I saw replay of it. There were sparks flying and stuff off of my bike. Jeremy got around me and pushed me pretty wide, and that allowed Zach to come up the inside. I came in there a little hot. We kind of got locked together there. I couldn't get my bike leaned to the inside, and just like you said, high-sided over. Zach said that I ripped a hole in his pants, so I told him he could just invoice TK for that one.
Zach, before the third main event, they made a major track change by switching the split lane there. What'd you think of that? Does it bother you when they do that before a main?
Osborne: It wasn't ideal, just because that was the race line like the whole night. When I went around the parade lap, they said that they had steepened up the table top, which was already like a wall. So, I was kind of confused. So then when I go around on the parade lap and it's like a big roller that's completely out of the question whether we're going to go on-off or go inside and roll table single, it was kind of silly. I guess they did that to stop it being so one-lined, but then it's one-lined the other way. So, I don't really understand that. But it is what it is. It's not ideal before the last main event of the night once we've ridden the track the other way the entire day.