It's been an up and down Monster Energy Supercross campaign for Troy Lee Designs/Red Bull KTM rookie Sean Cantrell. The California native has three finishes inside the top ten, but also two finishes outside the top 20, one of which came at the East/West Showdown in Indianapolis when he had a big get-off in the main event. Fortunately, Cantrell walked away with just a black eye and DNF.
We recently had the chance to talk with Cantrell—who sits seventh in East Region points—about his rookie season, testing for his second year in Lucas Oil Pro Motocross, and more.
Racer X: We're out here at Milestone today. Looks like you're doing some outdoor testing?
Sean Cantrell: Yeah. Everyone has a weekend off this week. It's the West Coast guys' turn, so I have two weeks of outdoor prep before we get back into supercross.
You started outdoors last year as a rookie, but this is your rookie year of supercross. Supercross has kind of been up and down for you this year. How would you say it's going?
A lot of ups and downs, like I expected. Unfortunately, not as many highs as I would like, but it's all part of the game. It's all part of the learning curve and rookie season. Got a few more supercross rounds to keep the ball rolling and make a name for myself. Then onto more of my style of racing is outdoors, so I'm excited for that. I'll know what to expect. I've already got a whole outdoor season under my belt. Just excited for the next couple weeks and the next couple years.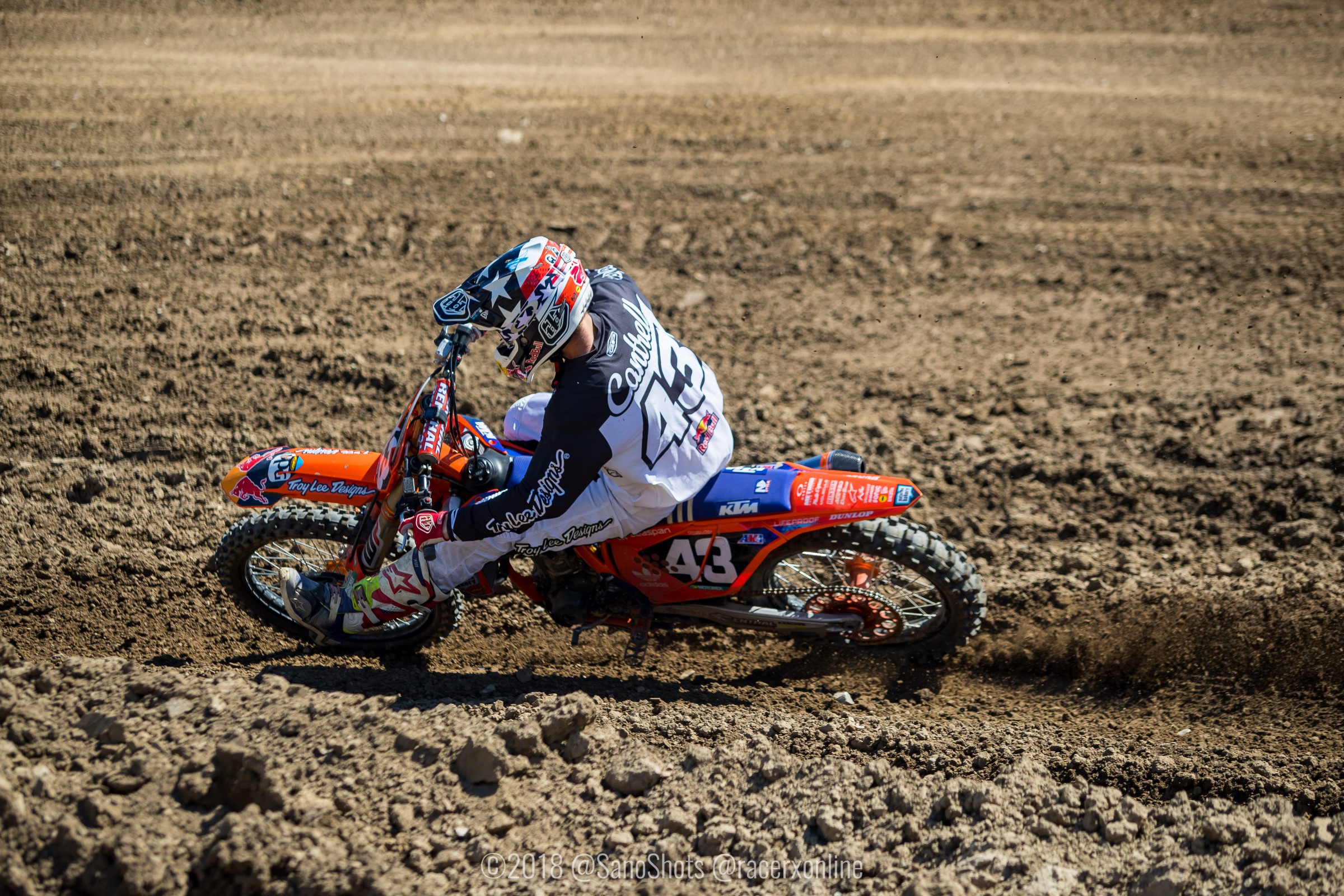 What's the team been saying with supercross? What's their response been with everything?
They've kind of just been letting me learn on my own. I always ask questions. I have Jordon Smith on the team. A guy like that is very special. I'm always learning. I'm always watching film and watching him, watching myself. A lot of learning. Everybody on the team has been doing this for years. Definitely in good hands with them. They're just letting me learn on my own, and if I have any questions or if I need any help, they're always there for me.
You definitely have had the speed, it just hasn't really all come together in the racing situations.
Yeah. I feel good during the mains. Just in practice and the heat races, I'm kind of struggling. During the week, I feel awesome. I get to the race and I'm tight. I feel like that's everyone's excuse, I guess you could say. Just got to put all the pieces together and ride like I do during the week and we'll be where we want. Unfortunately, that's probably the hardest thing for me and every other rider in the sport. We have a couple more supercross races this season, and just want to get up front and ride like I know how to ride, of course, and things will be good. Everyone will be happy.
This is your first full year as a pro, but you've been with the TLD team for quite a while. How many years has it been now?
Yeah, this is my fourth year on the team. I started as an intermediate rider on amateurs.
I know you're just starting with outdoor testing, but what's the mindset going into year two of outdoors?
We're still learning. I don't have any really expectations right now. I just want to get comfortable with high speeds again. I'm a lot more comfortable with outdoors. That's pretty much our main priority through amateurs. I know the tracks now and I know the whole circuit. Going in a lot more comfortable this year. I didn't know what to expect last year, and this year we kind of know what to expect. Position-wise, we're not making any expectations yet, but as the weeks go on, we'll start making goals and strive for those.
Which outdoor race are you looking forward to the most?
They're all pretty unique in every way. Definitely the last round, Ironman, was pretty cool. That was probably my favorite track all around. I want to get some redemption on Glen Helen, my home track, again. That track was brutal last year. Just excited for all the rounds. Can't wait to do them over because I know what to expect this year.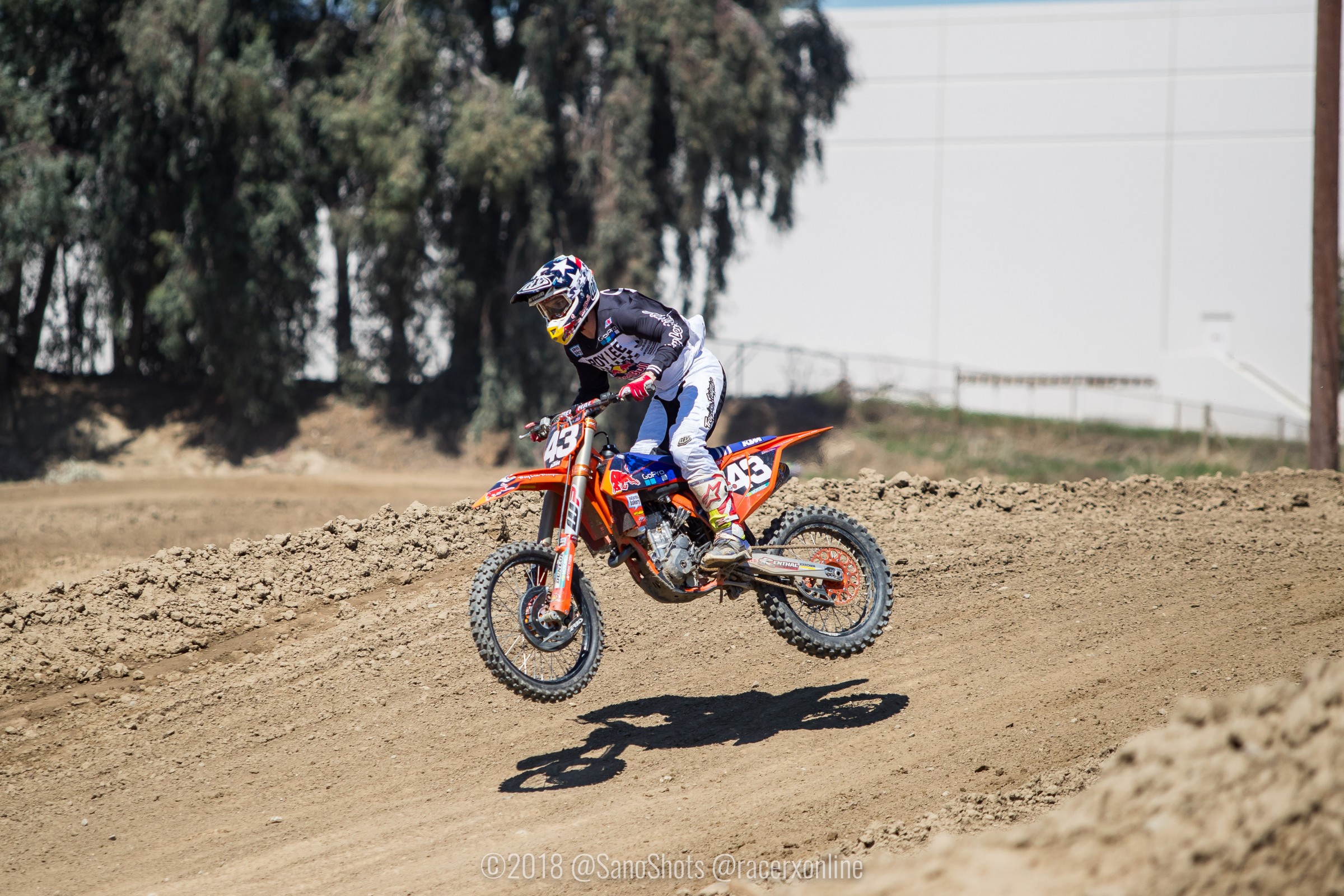 You've got a little black eye right now. Last weekend was especially rough on you. Can you walk us through what happened?
Yeah. I feel like Indiana was rough for everybody, except for the guys who won, obviously. I went down in the heat race in the whoops. A couple guys came into my line and we both went down, so I was a little sore from that. Then in the main event, Shane [McElrath] was coming underneath me and I cut down. We were going off the triple together and I might have clicked neutral or something and hit the eject button. Had to jump off the bike. I got off pretty easy just for the black eye. I couldn't be any luckier. Definitely sore, but we're walking, so we're good.
Where did you land in that incident?
I went straight into the base of the third landing. I didn't get off too easy, but injury-wise I couldn't have been any luckier.