Castellón, Spain
MXGP of La Comunitat Valenciana
FIM Motocross World Championship
Hot (or is that warmer?) on the heels of the freezing Grand Prix of Europe came a trip to the east coast of Spain and the Comunitat Valenciana for the third test of 2018 MXGP. The fast, wide, and slightly sandy Redsand circuit welcomed the FIM Motocross World Championship for the first time, and although the theater was new, the current lead actors remained very much front stage.
1. The Orange Machine
Three Grands Prix and six motos into the season and Red Bull KTM just won't budge. Antonio Cairoli made good on his starts and passes on both Romain Febvre and Gautier Paulin to run to his first 1-1 of 2018, his 84th win and to establish a winning career of 15 years (one victory every term since 2004). The Sicilian also reached a staggering total of 300 top-three moto finishes.
"I think I'm happy… thanks for making me feel old!" he joked afterward.
Unlike in Argentina and Holland, Cairoli was not hounded and pressurised by teammate Jeffrey Herlings. The Dutchman said "this was not a good weekend at all" upon reflection of a bad first moto start and a tumble while fourth on the opening lap of the second race. Another pair of comeback performances ensued, and although Herlings again chopped seconds away from Cairoli's lead on both occasions—and set the fastest lap both times while doing so—he ran out of time for a hat trick of GP wins and was firmly runner-up with a 2-2. The KTM duo both have the same points, same chequered flags, same second positions. This means that Cairoli inherits the red plate as the victor of the most recent race; the distance between the two is now being reduced to rare technicalities and dusty corners of the FIM rulebook.
In MX2, World Champion Pauls Jonass is producing invincible and error-free form. His 100 percent record is the first time a rider other than Herlings has won six MX2 motos on the bounce this decade. Such a streak has not occurred since the summer of 2016. Jorge Prado, the darling of the crowd, was a pushy second in the first moto. The Latvian winner was hassled by Rockstar Energy Husqvarna's Thomas Kjer Olsen and a thumping Bike It Kawasaki Dixon Racing's Darian Sanayei in the next dash, but never looked vulnerable.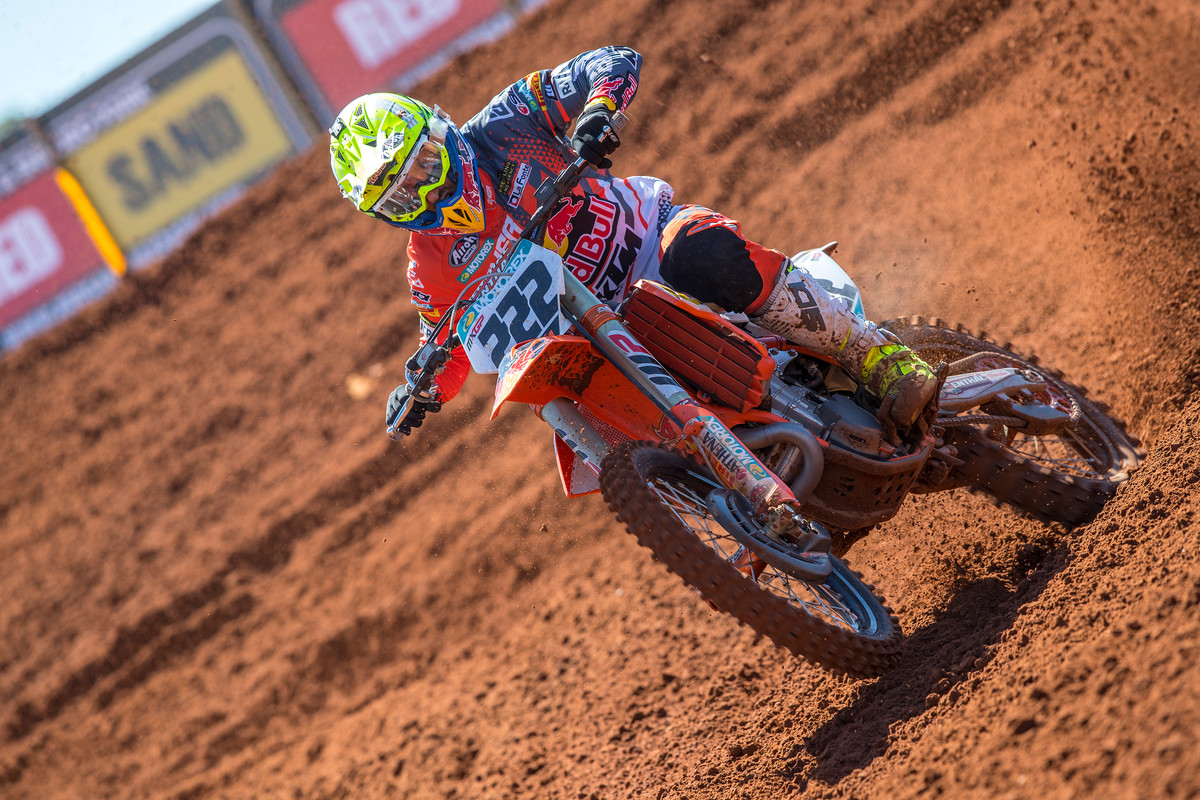 The formbook is all orange with little in the way of competition, particularly in the MXGP division where the likes of Paulin and Monster Energy Kawasaki's Clement Desalle and Monster Energy Yamaha duo Romain Febvre and Jeremy Van Horebeek are starting to take out some frustrations among themselves. The Cairoli-Herlings dynamic rumbles on. Noises from both athletes about new parts for the factory 450SX-Fs (Cairoli claiming some modifications helped in his Spanish assault and Herlings saying fresh parts could help banish some of his starting woes) indicate that the technical staff around each racer are already mobilising fast to try and gain some inch of advantage. For MXGP, their to-ing-and-fro-ing is keeping eyeballs on the tracks and screens.
"I think it is good, especially for KTM," Herlings said. "They are dominating MX2, and, until now, MXGP. It is a great advertisement and it is fun for Tony and me as well, although we should not underestimate the competition even if until now we have been the strongest. On Mondays on social media now, I see comments like, 'Can't wait for the next one to see the battle continue.' There are fans with love-hate affairs, but that's normal. It is going to be a long year, though, and 17 more races like this will be intense."
KTM Motorsports director Pit Beirer, the man behind the KTM racing empire as it stands now across the seas and on tarmac as well as dirt, gave some wider perspective.
"I am definitely proud of this fantastic team because they put in some incredible work, but the outcome is amazing; I've never seen a motocross team on this level," the German said. "Having two riders who are so strong fighting for the win every weekend and for the points lead in both classes is outstanding. I hope we can keep these boys healthy and go through the season. For sure there will be some up and downs, but we have to enjoy these moments."
2. New Home for Spanish MX?
Redsand was new to the series, but Grand Prix riders were—for the most part—not new to Redsand. For a number of years, the distinctive red dirt has been a popular draw for elite motocrossers looking to escape the ravishing effects of winter in northern Europe, and the soft terrain is renowned as a bumpy and inviting test.
Alterations to the track included more jumps and some eager maintenance that leveled sections that riders were asking to be left rougher and more technical. The course was more of a challenge on Sunday and permitted plenty of interpretation.
"I had so much fun on this track," Olsen said, who was on the MX2 box for the third time after just two podium finishes in his rookie term in 2017. "It was a little bit difficult to pass sometimes because many guys were so fast, but at the same time, there were so many different lines and things to try. It was a lot of fun racing."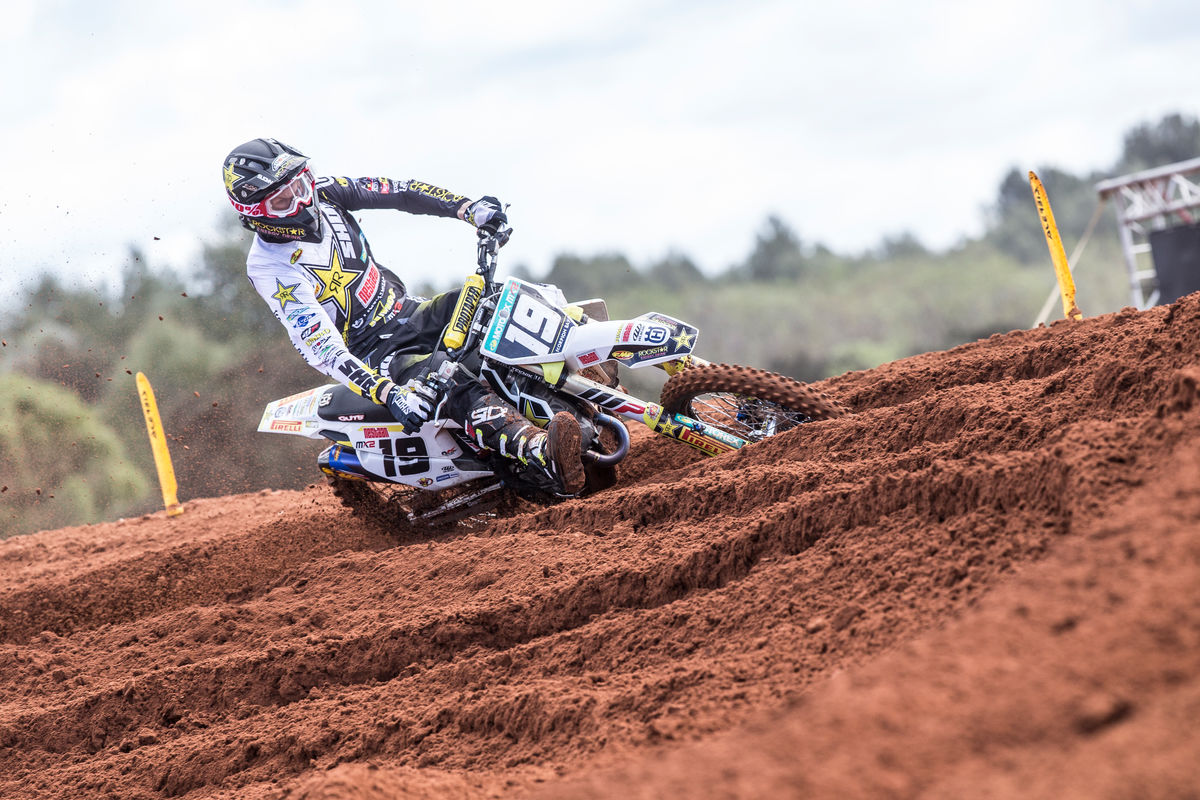 After the sub-zero temperatures in Holland seven days previously, the weather still wasn't easy in Spain. Strong winds created a very dusty and dirty track environment on Saturday, and even though the gusts died down for Sunday it was still a chilly way to welcome the spring. Prado's progress at least warmed the vocal chords.
"I didn't expect the Grand Prix to be this good," the teenager said. "The organization was good and the track was amazing. I'm really happy the GP is here, and I hope it stays in the calendar for the next few years."
The official crowd figure was pegged at 26,000 for the weekend, but Juanjo Gimeno, owner of the organisation group Intur Sports and the power behind Redsand, said he "was expecting more." The motocross fan and previous personal sponsor of Stefan Everts commented that the event was a success in terms of sporting spectacle, but that methods of communication and other promotional channels will have to be looked at for the reason to miss the desire attendance figure.
Gimeno also commented that a two-week breakdown and analysis will follow the debut, and that political backing (that helped fund the fixture and explains the unusual event name) provided positive feedback. Gimeno also pointed out that Redsand have now begun the first of their multi-year contract with Youthstream, so Spain has a home for the foreseeable future and, in Prado, an athlete and potential hero around which to orientate a fresh boom for the sport. Interesting times.
3. Cairoli Indifferent?
There is a slightly odd aura around Antonio Cairoli these days. Preseason, the 32-year-old was not keen to provide interviews, and the defending champion is also deflecting media questions without much regard. On the other hand, he was happy to state that the prospect of his home Grand Prix in two weeks time at Arco di Trento (the scene of that epic comeback 12 months ago that kicked his title drive into another gear) being broadcast live on a major Italian TV channel was reason for excitement.
Late last year, Cairoli confided that he was weary of leading the cause to boost MXGP's profile in his home country. It seemed that his efforts with a steadfast and wide social media strategy; his own brand exercises in goggles, clothes, and sunglasses; and a capable management team were not yielding the results that he wanted. Frustration in the reluctance of Italian mainstream media to embrace a sports star that rivals Valentino Rossi for achievement and any other national athlete at the very top of their pastime was evident, with some biting comments about how easy it was for media outlets to ignore motocross and wallow in traditional pursuits like F1.
"I am a bit annoyed about pushing, and I find that people tend to know me more than the sport," he said on the eve of winning his 2017 title at Assen. "This is because I do a lot of work. We don't have motocross on TV in Italy, and people are not interested. The format is wrong and people don't push to make it easier to see. I'm quite sad because I believed for a lot of years it would become better, but…nothing."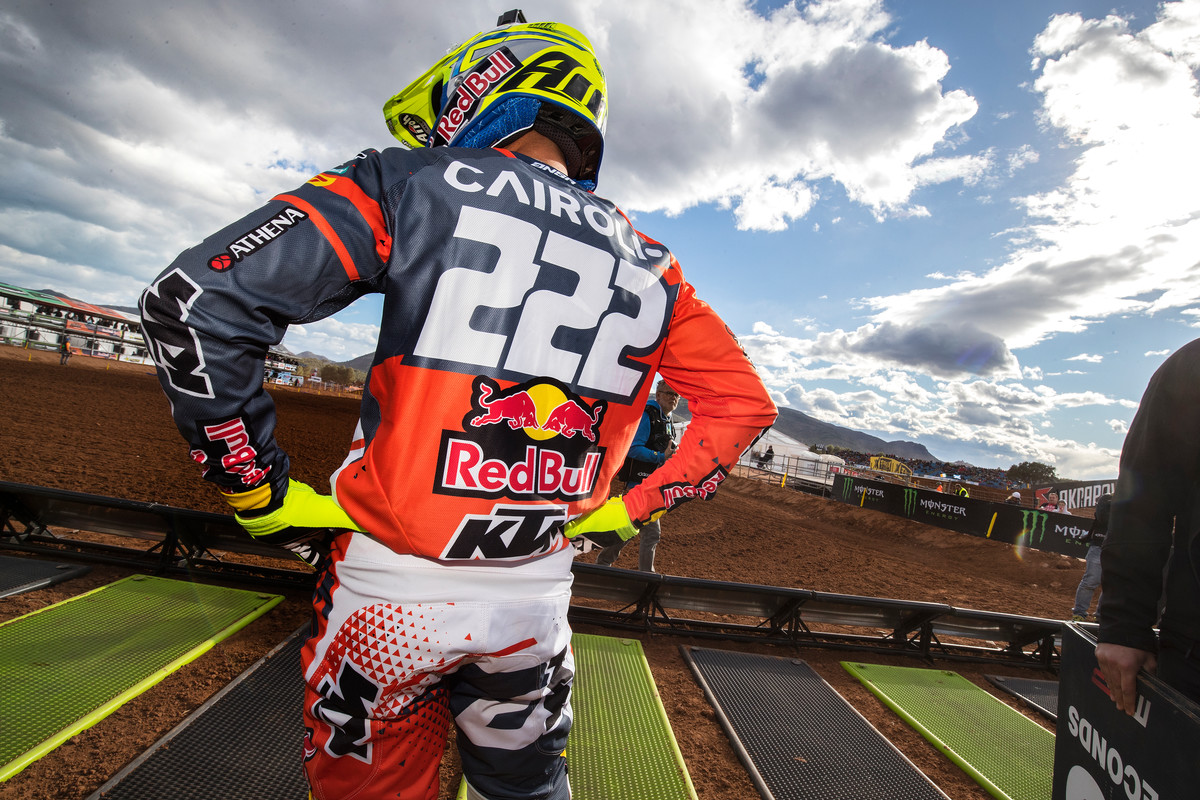 Tony's faction within Red Bull KTM is tighter than a family group, and with the immediate threat of Jeffrey Herlings, it almost feels like the crew have closed ranks further; there is even more secrecy over methods and preparation and carefully measured words about their nearest threat.
Part of Cairoli's power is his personal motivation for betterment and his zeal for the racing and the lifestyle it involves. He does not need to compete or have a day job, and Stefan Everts' records of 10 titles and 101 GP wins (Tony has nine and now 84) lurk on the horizon, but he repeatedly denies they are not much of a carrot on a string. His recent KTM contract renewal means he'll be in the premier class when he hits his 35th birthday. It is unclear how much he actually relishes the Herlings duel, but from a wider narrative viewpoint, some of that enlargement of MXGP he craves would come from the drama of such a battle.
4. The Progression of Sanayei
While Thomas Covington was frustrated by his starts and an early second moto crash that left him far adrift of the field (he went 17-19 for a very uncharacteristic day), it was countryman Darian Sanayei who grabbed attention with his energetic charge to be the one to dethrone Pauls Jonass.
The Kawasaki man almost reached a position where he showed the Latvian his front wheel, but a 6-2 scorecard regardless marked an early highpoint of the season. Sanayei is wading through his second Grand Prix term and already looks leaner and stronger than the athlete that occasionally appeared overawed by the level in 2017. The Bike It Dixon Racing team are a satellite setup; Dixon's technical nuance means some radical ideas with the KX250F to save weight and boost power, but the tuning experiments don't always go to plan. The mechanics had more late night rebuilds in Spain to provide their rider with a rare race bike that is arguably one of the most competitive of the Japanese flock against the KTMs and Husqvarnas.
"I've been working hard this winter, and I feel confident and like I should be at the front," Sanayei said post-race and with the glare of annoyance. "Unfortunately, we had some things happen in the first couple of rounds that didn't let me finish for a couple of motos, but the race bike made both races today, and both times I had the fastest lap time, which was pretty cool. It was a bit of a bummer to make life so hard for myself in the first moto by coming up to sixth. In the second one I made a real hard push to get Jonass, but just missed out.
"Six-2 for fourth overall and I'm pretty pissed, actually. I wanted that spot [first place], and I felt like I had the speed. I gave everything I had; if Jonass went inside, I went outside, and if he went inside, I went outside. I don't think it really mattered on this track, as long as you worked it and carried momentum."
Sanayei is no half-weight. He transferred into MX2 for 2017 on the back of comfortable wins in the EMX250 European Championship feeder series and knows how to get the job done. He experienced the diversity and full cultural scale of the world championship last season and appears to now have the experience and tools to be competitive—as well as the motorcycle.
"On the dyno, they said the race bike is about five-horsepower difference over my second bike. I can feel it, definitely," he said. "It pulls good and I don't feel like I am lacking with the other guys.
"It is coming, for sure," he summarized. "I don't just want to be on the podium; I want to win. That's what I am going for. I'll be happy with the podium, but I'm shooting for wins."
Start the clock now. Aside from Olsen and perhaps Prado, Pauls Jonass does not have a more current potent threat.
5. Hints of the Strain?
Redsand pushed riders to within fractions of a second of their lap time, which meant that overtaking options could be limited and very close. Some of the cordiality of the opening Grands Prix and the realisation that MXGP still has a busy six months ahead faded in Spain with several heavy moves and words swapped once past the finish line. Close calls and altercations between the likes of Jeremy Van Horebeek, Jeremy Seewer, Tim Gasjer, Gautier Paulin, Clement Desalle, and Romain Febvre only added to the action outside of the Red Bull KTM narrative.
Paulin, in particular, was quick and determined, seeking a result to boost his Rockstar Energy IceOne Husqvarna squad after a warm-up crash for Max Anstie left the Brit on the sidelines but without significant injury. Cairoli accused the Frenchman of "being very aggressive" with his move past the champion early in the second moto.
In that same race, both Febvre and Desalle had a scrap for fourth position that the latter described as "intense." The nature of the track played a part, but perhaps a small dose of anxiety to up performance levels and take the MXGP spotlight away from Cairoli-Herlings is also a factor. If so, then Grand Prix will get only more fascinating with trips to Arco di Trento and Agueda, Portugal, in the coming weeks.