Indianapolis, IN
Indianapolis
Monster Energy AMA Supercross Championship
"There could be 26 250 factory riders at Indy," Jeff Majkrzak, one of the principles at GEICO Honda, explained to me a few weeks ago. That's an impressive sum of the parts involved with this weekend's 250SX East/West Showdown in Indianapolis. True, we've had a Dave Coombs Sr. East/West Showdown in Las Vegas for years, but the Vegas numbers are often skewed because it's the end of the season and many riders are licking their wounds waiting for Lucas Oil Pro Motocross or simply out of title contention. At the midway point, everyone still believes they're in the hunt. They're going to be going for it on Saturday.
Injuries have thinned that factory rider count to about 18 (by my math, looking at the current entry list), as riders such as Martin Davalos, Alex Martin, RJ Hampshire, Cameron McAdoo, and Jimmy Decotis are out, and Christian Craig has been bumped to 450SX. That's still a lot of talent, though, and unlike the Nationals, where you pile 18 factory bikes into a 40-rider gate, you're looking at the chance a title contender doesn't even make the main event at Indy. And once they do make it in, you're looking at pure chaos.
This 250SX East Region is fresh in our mind, and just a week ago Austin Forkner and Zach Osborne were tied at the top, with Jordon Smith just eight points behind. Osborne now sports an eight-point gap on Forkner, which is certainly still close. Consider, though, that the 250SX West Region gap is half that, with Joey Savatgy down just four points on Aaron Plessinger. Savatgy appears to be gearing up for yet another emotionally draining high-drama championship fight, which has become a hallmark of his career. He's experienced both victory and heartbreak in Vegas East/West Showdowns before (in 2016, he got both on the same night). Things could be just as crazy this year. Osborne's eight-point lead and Plessinger's four-point gap is tiny, and you have twice as many spoilers in the mix. If you're second in points, like Forkner, this is a great opportunity.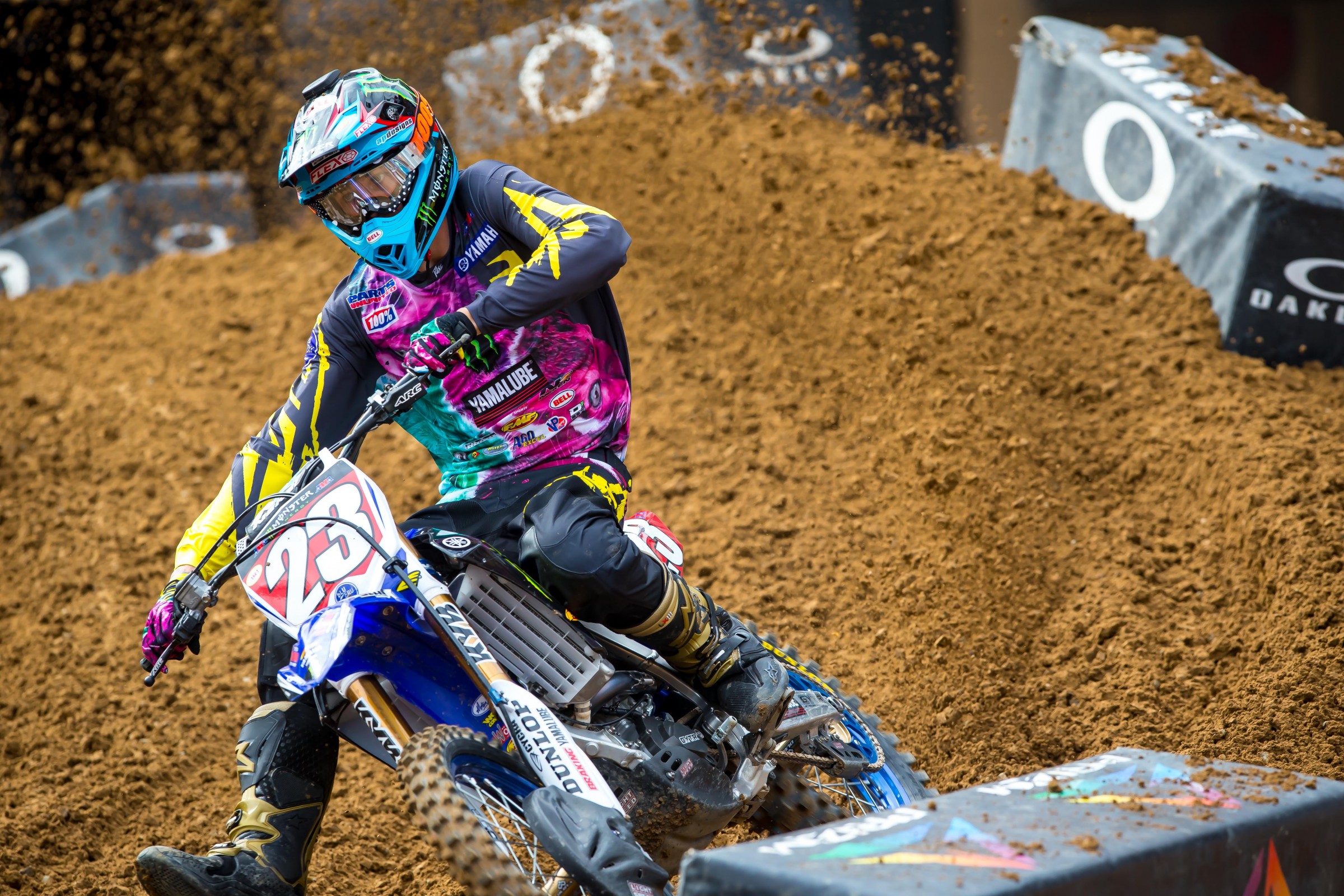 "This season has taught me a lot so far, and I'd say that the first race and the last race has helped show me that I can't ever quit until the checkered flag," Forkner said this week. "I'm still in this points battle, and it would be nice to capitalize on an interesting format this weekend. I know what I have to do, so we'll try to learn from the mistakes and get the win."
Further, Indy is the place where others can make up ground and get back in this. Shane McElrath (down 16 in West) Adam Cianciarulo (down 17), and even defending champion Justin Hill (down 28, but the winner of the last race in San Diego) have to be hoping for a miracle this weekend. Hill's team says he's healed up from his injuries sustained in the 450SX race in Atlanta, and is hoping to use this weekend to make up more ground.
Same thing can happen in the East. Someone to take advantage could be Smith, now down 13 points, or even Jeremy Martin, who is surging but down 23 points. No lead is truly safe in 250SX—crashes and points swings are common even when you don't get a nutball event like this. We're not just points racing here, either. Everyone wants to win whenever they line up—if a dude is in second and has a shot, he's going to take it, regardless of who is in front of him or what coast that rider races.
To drive this point home, the Vegas East/West race is very often won by a non-champion. That includes Cianciarulo last year and Savatgy in 2016.
Oh, want more mixup? The East riders have raced for five straight weeks, and the West riders haven't since San Diego on February 10. How will that impact the riders?
Want more? Indy's soft dirt usually gets rutted, which means more mistakes.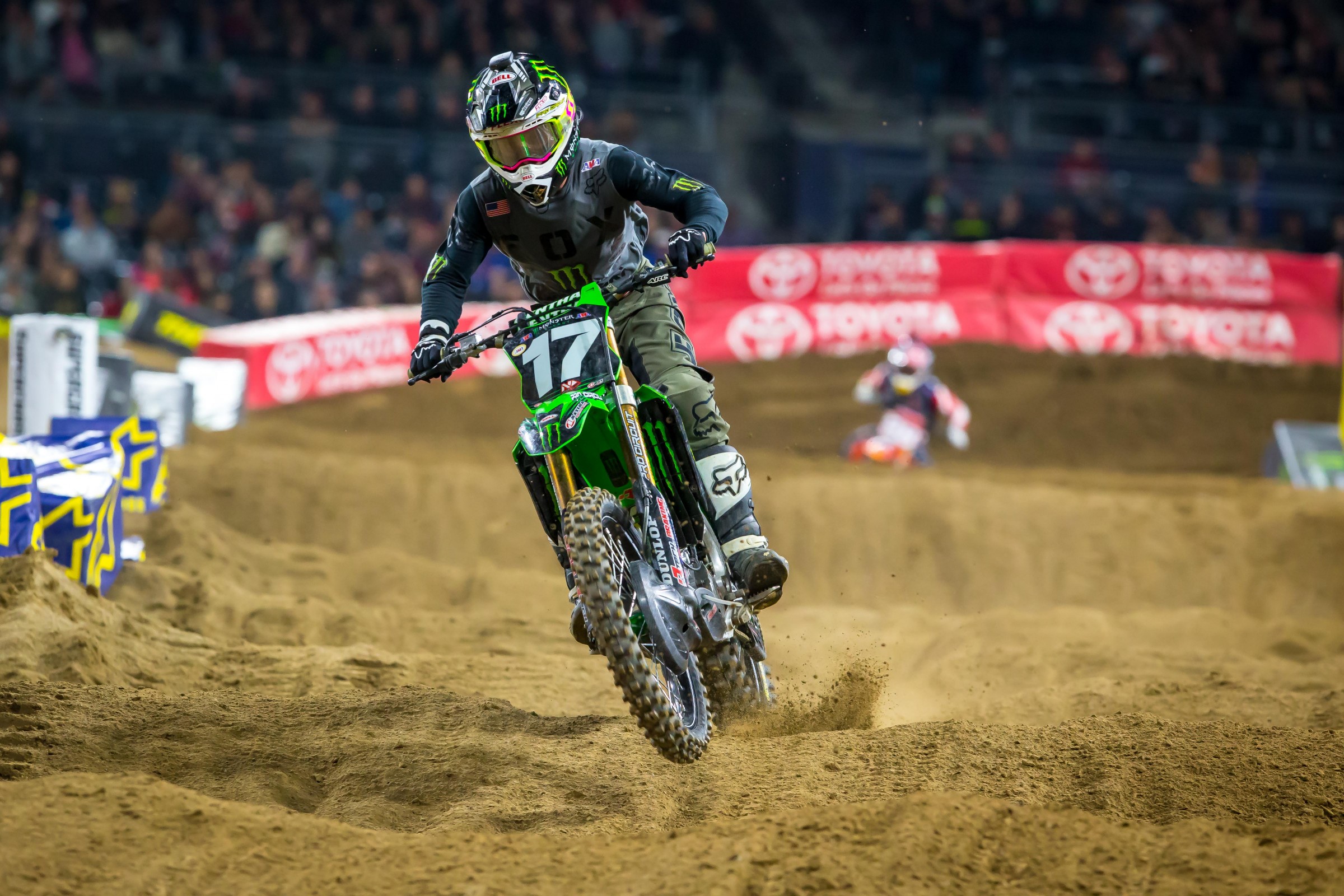 "I'm hoping our downtime won't be a factor when it comes to this weekend, but more of a benefit that we are well-rested and ready to go," Savatgy said. "It's been nice having some time away from traveling, and I think that will help us this weekend. Indy is notorious for being rutted, but I was able to get second last year so I'm excited to go back and see what we can do."
Indianapolis calls itself the "Crossroads of America." This weekend, it's the crossroads of two separate 250SX Championships. Should be quite a showdown, indeed.
---
Check out Racer X Brand's new styles, like the Moto Mag Blue T-shirt, the Maroon Shield T-shirt, and new hats now available for purchase. Also, take free shipping on orders over $40 this week only with coupon code FREESHIP.