Welcome to Racerhead, coming to you from the mothership in Morgantown after five days of fun (okay, work) at Daytona Bike Week. We were lucky enough to get to see an epic Monster Energy Daytona Supercross, the Ricky Carmichael Amateur SX, the Grand National Cross Country Series, and last night Weege was still there for the opening round of the American Flat Track, which was placed right where Saturday night's supercross start was. And, of course, there were all of the usual visits to Main Street and more, though we didn't get down there at night as things started ratcheting up.
Let's begin with a tip of the visor to Justin Brayton, who had the race of his life on Saturday night and set a whole bunch of standards along the way. One of the all-time good guys in professional motocross, it was great to see him finally bag an AMA Supercross win—and a big one at that. He's now the oldest, most seasoned first-time winner ever, and he and his family celebrated his 34th birthday on Wednesday. Andras Hegyi will have more stats on Brayton's breakthrough down below.
But I can't quite figure out who I am happier for, Justin Brayton the rider or the whole Smartop/Bullfrog Spas/MotoConcepts Honda team, especially team manager Tony Alessi and team owner Mike Genova. Everyone knows how much passion both of these men have for racing and how far this team has come over the years. Tony tried hard for more than two decades to shape and groom and guide his sons to an AMA Supercross win and it never quite happened. When they teamed up with Genova, it gave them both the right platform to get there—a talent like Mike Alessi and a team like MCR—but it was too late in the career of #800 and that SX window had closed. I might have said the same for Brayton after he went off to places like Australia to race, but when 2018 started, the whole team looked more professional, more prepared, and more confident than ever. Though Mike Alessi was done with supercross and Jake Weimer was injured, Justin Brayton started strong and stayed strong (and Vince Freise was still grinding out fast races, too). Brayton's race win in the first main event at Atlanta must have seemed like the absolute zenith for everyone under the awning, but that was just a precursor of what was to come at Daytona.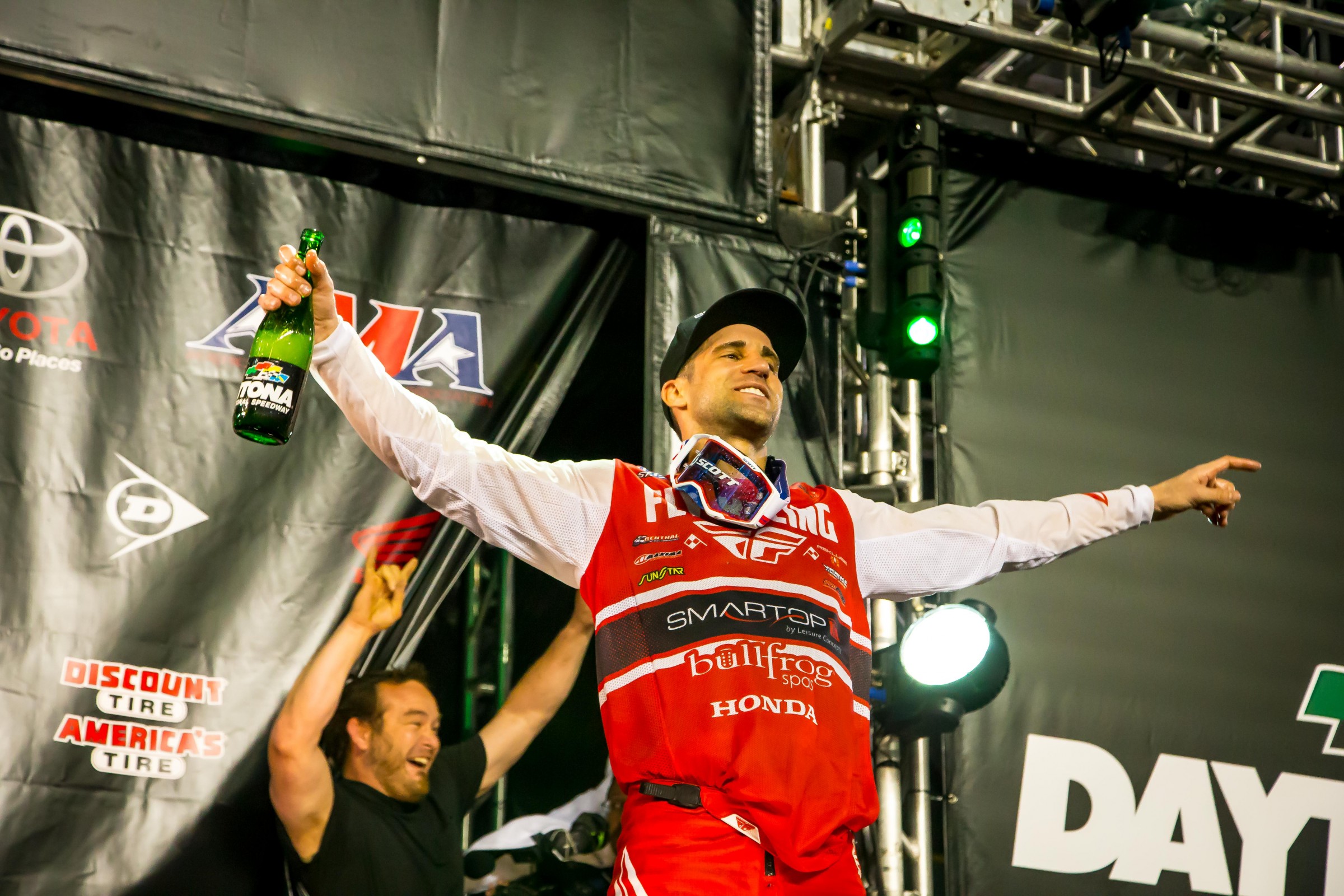 Sure, Brayton got some breaks in the main event in the mistakes made by others, but Daytona has always been like that. You have to be fast, strong, smart, and consistent, and #10 had all four of those boxes checked off that night. And when everyone's pre-race favorite Eli Tomac seemed to get a hook in Justin toward the end, I admittedly found myself leaning over the bicycle rack on pit row screaming for Brayton along with everyone else around me—including JH Leale and floor announcer "Hot" Rob Buydos. It wasn't that we didn't want Eli to win, but he's been there many times, and he will get there many more times to come. Brayton was older than anyone who had ever won an AMA Supercross, so it seemed at that moment like it was now or never for the veteran from Cedar Rapids, Iowa.
Turns out it was now. Justin earned the win in the way he hunkered down, dug in, and kept clicking off the laps despite the approaching Monster Energy Kawasaki of Tomac. And when Justin crossed the finish line with a huge sigh of relief and a long-overdue win, I couldn't help but think of how happy I was for Tony, Mike, and the whole Smartop/Bullfrog Spas/MotoConcepts crew. And Justin's mechanic, Tony Berlutti, he's on the same level of truly good dude as Brayton is. The enthusiasm for all of them showed on the podium, and it made this Daytona Supercross one of the more special ones I have attended.
And hats off to Troy Lee Designs/Red Bull KTM's Jordon Smith, while I'm at it. He also rode maybe the race of his life, despite the fact that he's won before, and he held off Jeremy Martin's relentless attack the whole way through. Those were two very fine main events, followed by dozens of amateur races the next couple of days, and then ATVs, and then flat track.... You get the picture.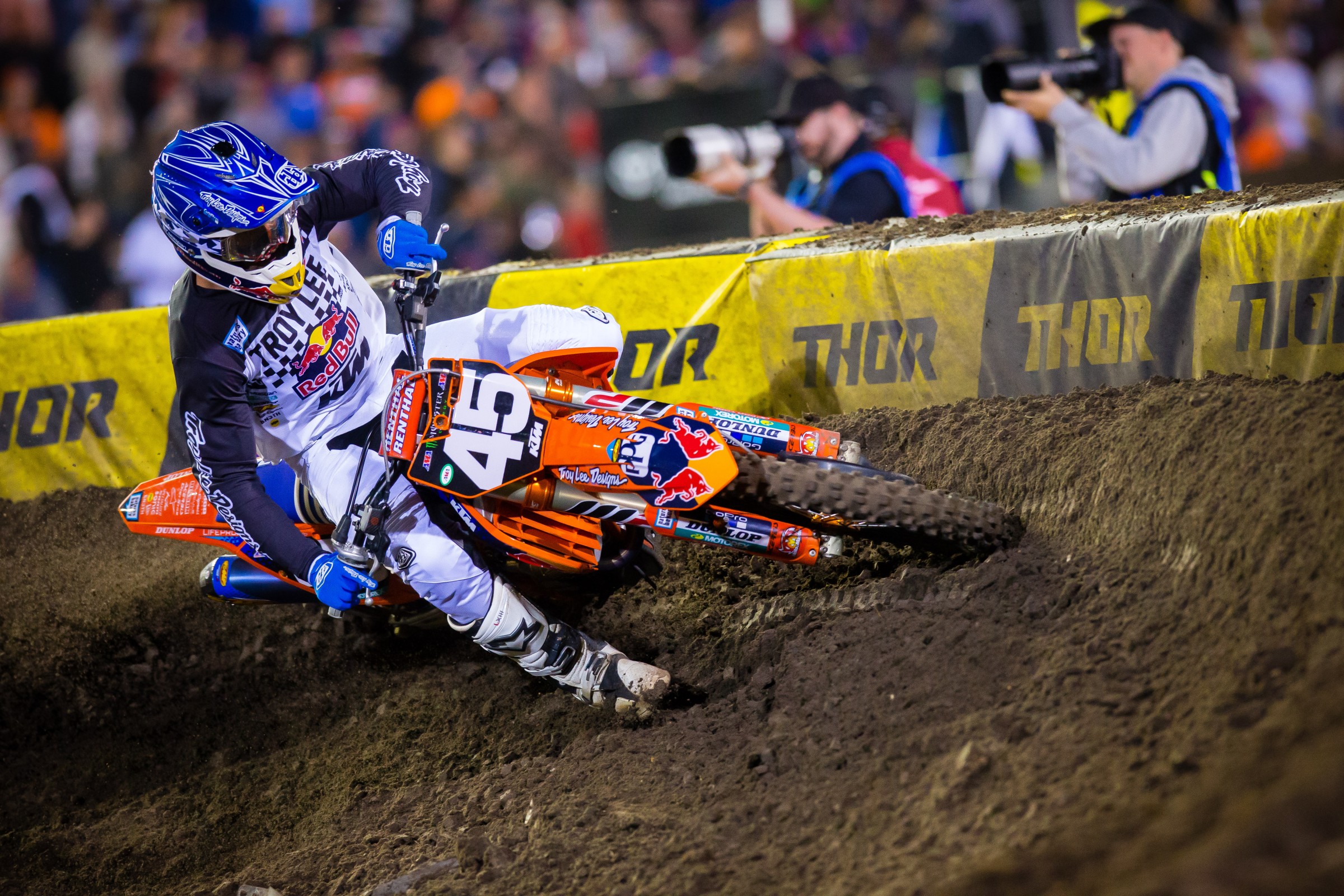 Now the series heads back indoors to a more "traditional" setting in St. Louis, and the pursuit of Rockstar Energy Husqvarna's Jason Anderson begins anew in 450SX. I'm not sure how much Saturday night changed Justin Brayton's life, but it sure changed his career, as well as his team's legacy. I don't know if he will do it again, but I certainly wouldn't be surprised!
QUOTE OF THE WEEK: "Where is Alessi Weekly when you need it? Certainly Brayton's win qualifies for a special edition newsletter, even if Mike and Jeff are both retired? I mean, Tony FINALLY won a 450 main! Sheesh…" @mxnick
131 (Andras Hegyi)
One race can truly change your career, maybe even your life. Before Daytona, Smartop/Bullfrog Spas/MotoConcepts Honda's Justin Brayton was a well-known, highly respected pro, but also something of a journeyman, with no major wins on the AMA circuit. He won the Bercy Supercross in Paris in 2009, the number one supercross event in Europe and got two consecutive SX titles in Australia in 2016 and '17. He had 13 podiums in all the AMA Championships: seven podiums in 450SX, three podiums in the 450 Class (Lucas Oil Pro Motocross), and three podiums in 250SX. Before Daytona, his last podium came in 2014, when he was second at Phoenix Supercross.
Brayton debuted back in 2002 and has been in the SX premier class since 2008. With this very first triumph, he become the 62nd winner in the history of the AMA Supercross premier class. He's also the oldest winner ever in 250/450 supercross history, winning Daytona four days before turning 34. And regarding both the number of starts and seasons, Brayton has set new all-time records there, too. Brayton needed the most starts and seasons to get his maiden victory in the supercross premier class. On April 21, 2012, in Seattle, Chaparral Honda's Andrew Short got his maiden 450SX victory in his 87th race and ninth season. Brayton celebrated his maiden 450SX victory in his 131st race and 11th season. Good things often come to those who wait!
Dates of when winners got their first victory in SX premier class
| | | | |
| --- | --- | --- | --- |
| Rider | Race | Season | Championships Won |
| Justin Barcia | 2nd | 1st | |
| Joshua Grant | 2nd | 2nd | |
| Damon Bradshaw | 2nd | 2nd | |
| Sebastien Tortelli | 2nd | 2nd | |
| James Stewart | 3rd | 1st | 2 |
| Bob Hannah | 4th | 3rd | 3 |
| Ryan Dungey | 5th | 2nd | 4 |
| Chad Reed | 5th | 2nd | 2 |
| Ken Roczen | 5th | 4th | |
| Broc Glover | 8th | 3rd | |
| David Vuillemin | 8th | 2nd | |
| Jeremy McGrath | 9th | 2nd | 7 |
| Kevin Windham | 9th | 2nd | |
| Ron Lechien | 9th | 1st | |
| Mark Barnett | 9th | 2nd | |
| Mike Bell | 10th | 3rd | 1 |
| Ryan Villopoto | 11th | 1st | 4 |
| Joshua Hill | 11th | 1st | |
| Larry Ward | 11th | 2nd | |
| Trey Canard | 12th | 2nd | |
| Jean-Michel Bayle | 14th | 2nd | 1 |
| Jeff Matiasevich | 15th | 3rd | |
| Jason Anderson | 17th | 2nd | |
| Davi Millsaps | 17th | 2nd | |
| David Bailey | 17th | 4th | 1 |
| Chuck Sun | 19th | 5th | |
| Ricky Carmichael | 21st | 2nd | 5 |
| Nathan Ramsey | 22nd | 4th | |
| Greg Albertyn | 22nd | 3rd | |
| Gaylon Mosier | 22nd | 4th | |
| Darrell Shultz | 23rd | 4th | |
| Damon Huffman | 24th | 4th | |
| Eli Tomac | 25th | 3rd | |
| Cole Seely | 25th | 4th | |
| Donnie Hansen | 25th | 4th | 1 |
| Jeff Stanton | 26th | 3rd | 3 |
| Ricky Johnson | 26th | 4th | 2 |
| Marvin Musquin | 26th | 3rd | |
| Rex Staten | 26th | 3rd | |
| Steve Wise | 27th | 5th | |
| Doug Henry | 30th | 3rd | |
| Rick Ryan | 30th | 5th | |
| Michael Craig | 30th | 5th | |
| Mike LaRocco | 33rd | 3rd | |
| Johnny O'Mara | 33rd | 4th | 1 |
| John Dowd | 35th | 7th | |
| Kent Howerton | 38th | 6th | |
| Ezra Lusk | 40th | 5th | |
| Jeff Ward | 46th | 6th | 2 |
| Doug Dubach | 54th | 6th | |
| Mike Kiedrowski | 60th | 4th | |
| Jeff Emig | 66th | 6th | 1 |
| Andrew Short | 87th | 9th | |
| Justin Brayton | 131st | 11th | |
(*Because the series started in 1974, we decided to take out the very early years when guys like Pierre Karsmakers, Jim Pomeroy, Jaroslav Falta, and more were winning their first or second time out because it skews the accomplishments of guys in later years who really had to break through history. So, we begin instead with first wins since 1977.)
40 Orange Wins (Andras Hegyi)
KTM has held a unique record in 250SX since 2011—it's the only brand to have won in every season. Kawasaki did not win in '15, Honda did not win in '17 (and so far, it has not done so this season), Yamaha had no wins in '13, and Suzuki did not have any in '11 nor between 2014-'17, while Husqvarna did not get any wins between '11 and '15. This consistency also yielded KTM's 40th victory in the 125/250 supercross classes, thanks to Jordon Smith's first win in 2018 at last Saturday night's Daytona SX.
The Austrian KTM got its first triumph in small-bore supercross back in 2001, with the South African Grant Langston. The most successful KTM winner is Marvin Musquin, who won 11 times. So far, KTM has collected 22 wins in the West Region, while Smith's win was KTM's 18th victory in the East Region. KTM also took its second Daytona victory; Musquin got the first one in '15.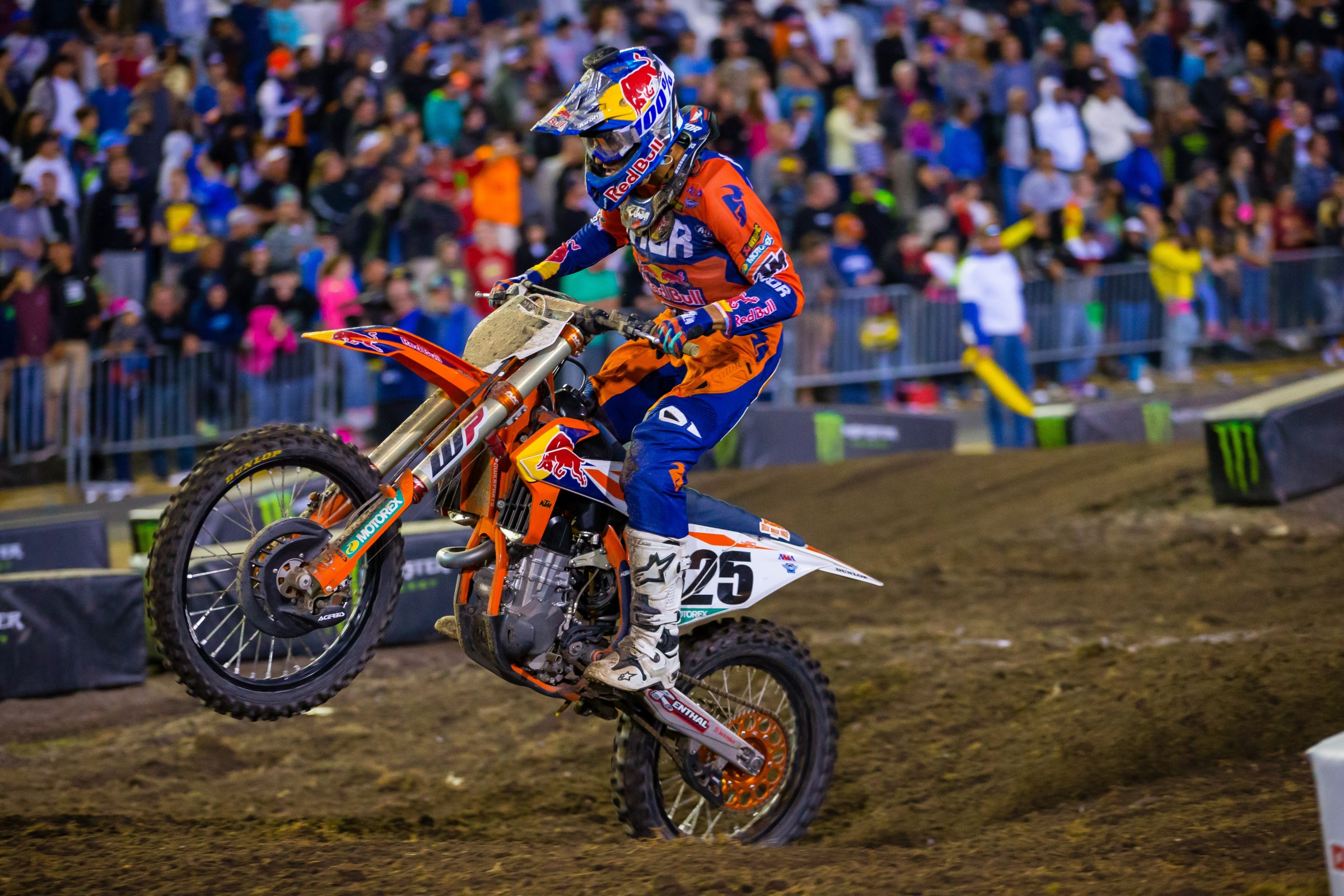 KTM winners in small-bore supercross
Marvin Musquin (11 wins)
Ken Roczen (6)
Nathan Ramsey (5)
Jason Anderson (4)
Shane McElrath (4)
Jordon Smith (3)
Josh Hansen (2)
Grant Langston, David Pingree, Brock Sellards, Jessy Nelson, Justin Hill (1 each)
THE BATTLE FOR VALKENSWAARD (DC)
The big race here in America is on Saturday night in St. Louis, but there's another big one in Europe on Sunday that should be worth getting up early for and tuning in to www.mxgp-tv.com. It's the MXGP of Europe from the Netherlands and the second round of Jeffrey Herlings versus Tony Cairoli. Herlings has only lost once at the sandy Valkenswaard circuit in his home country in his entire career, and that was last year when he was still coming to terms with his move to the 450. Meanwhile, Cairoli has just gotten better and better in the sand throughout his career, and after having lost the overall at the opening round in Argentina to Herlings, he will likely be motivated to be the one to keep the red plate here. Look on www.mxgp-tv.com for the times, though you don't have to watch live—everything is posted almost immediately after each race. And if you don't want to pay the fee to watch, you can see the second motos on the CBS Sports Network (delayed) on Sunday. The MX2 Race 2 is 1:00 p.m. EDT (10 :00 a.m. PDT) and MXGP Race 2 will be shown at 2:00 pm EDT (11.00 a.m. PDT).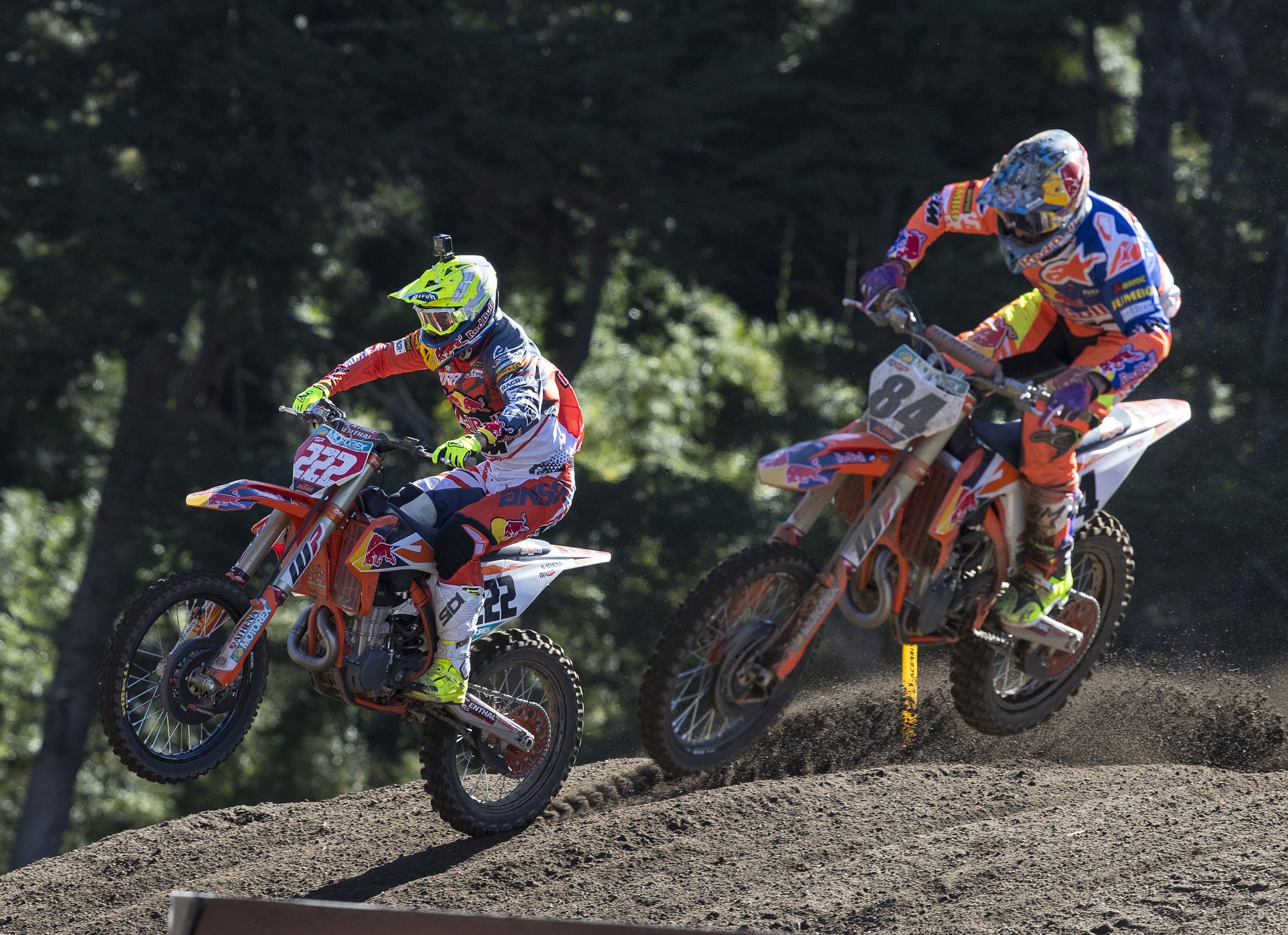 PENTON AT 50 (DC)
"Just want to give a short update with the Penton 50th Anniversary gathering that was held here at the office on Sat and Sun this past weekend. It was a truly great event with 500 people that signed in when entering the door. On Sat we gave tours of the entire office and warehouse. Mark, Jerry and I did the torus from 11:00 until I almost could not talk anymore ! The tour groups were very large and everyone really enjoyed them.
"Sat was filled with plenty of things to do for everyone from talking to some very fast ex-racers too just looking at some of the best bikes that they made "back in the day" ! Pentons of every year were here on display and to wrap up the day to watch the Penton movie.
"Carol and Brian Dorn worked the Gift Shop from 11:00 ~ and were able to sell over $5K of Apparel and Gifts.
"I must say this was a great day for all that attended!
Robert Pearce"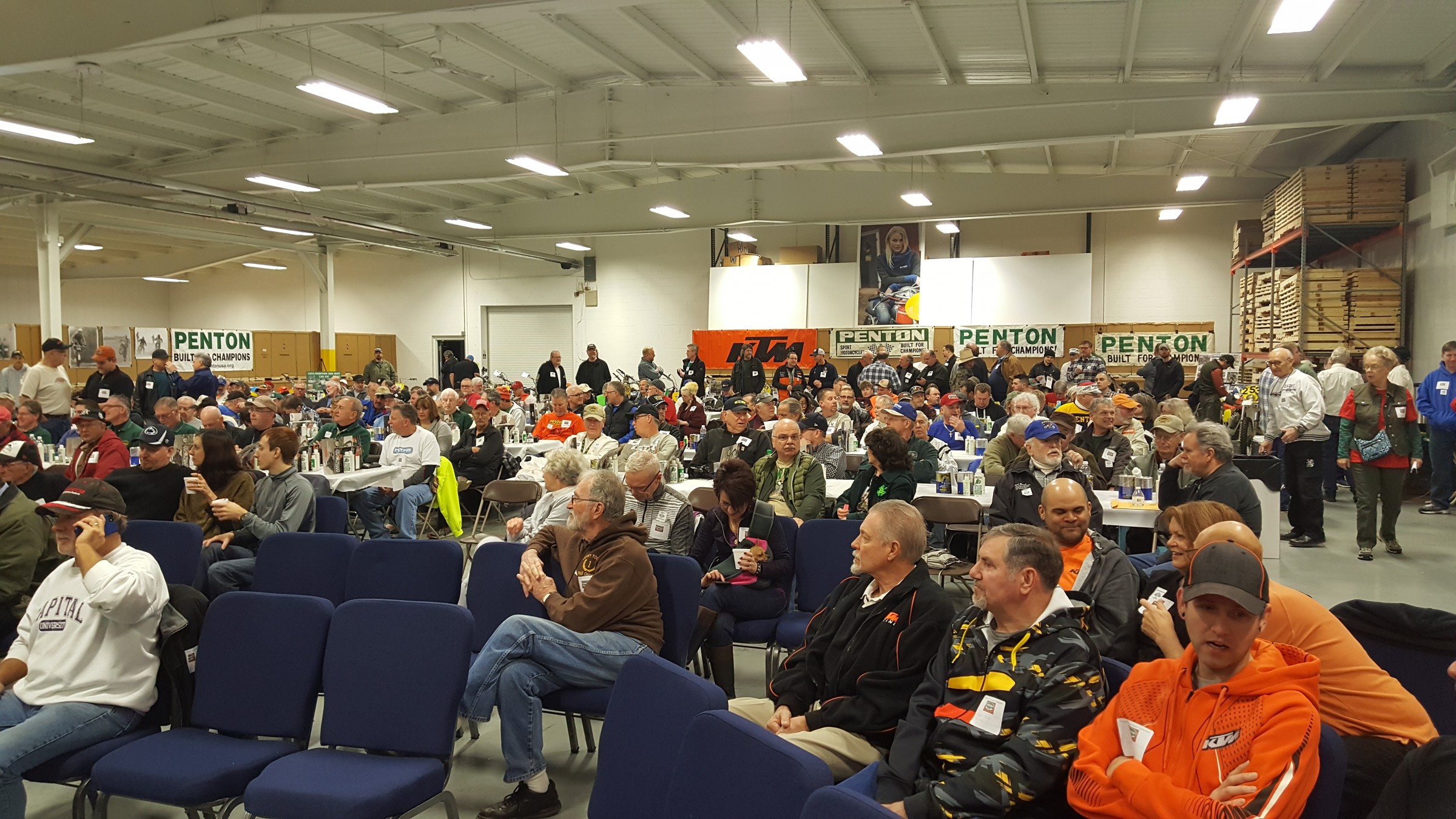 "Ladies and Gentlemen,
Just wanted to follow up on what took place at the KTM Amherst office this past weekend. March 10 1968 was the first time Penton Motorcycles were raced at a Nat Enduro and it took place in Stone Mt Georgia with 6 Penton Motorcycles entered in the race. 50 years later to the date they hosted the 50thPenton anniversary at KTM in Amherst. They were expecting to have just over 200 people show up and we had 500!!! In attendance were past champions, factory riders, dealers, Penton owners and many motorcycle enthusiast from all over the USA. We had a bunch of ISDT/ISDE riders, National Enduro and Reliability Enduro winners and 9 Blackwater 100 winners at the event. You can't tell the US KTM story without talking about the influence John Penton had on our company.
John passes his passion for racing and motorcycles onto everyone he meets and if you worked or rode for him you got an even bigger dose. From John Penton to Rod Bush to Jon-Erik Burleson to John Hinz there has always been someone leading the way at KTM that has that passion. Even though this was a Penton event we used that tie to tell the KTM story as well on the tours we did so everyone could see where we came from and where we were going. We had 100's of people on the tours and they were amazed with what they saw. We had some KTM dealers, non-KTM dealers, KTM customers and a bunch of motorcycle enthusiast that got to see behind the curtain a little and they were very impressed. Just seeing the size of the parts warehouse was amazing for most of the people on the tour. Seeing all the championship bikes, jerseys and pictures was also amazing. One place that I always stopped at when I did my tours was the picture of the KTM staff and our first semi and then tell everyone we now have 9 semis!!
While this was the Penton Family and Penton M/C day it was still cool to see how KTM has taken what John started in the USA and taken it to a level no one expected. Also when we finished the tours everyone ended up in the gift shop and kept Carol super busy. It was great to see Brian Doran jump in and help Carol or she would still might be there. While we are on that subject a big thank you to Robert and the Amherst staff. The place looked great and they put in a lot of extra work to make sure the event was top shelf. I had so many people say thank you and really appreciated the work KTM put into this event to make it special.
Mark Hyde"
MCR BOSS SAYS THANKS (DC)
A word from Mike Genova:
"I would like to take this opportunity to publicly express how proud and happy I am for Justin Brayton, the whole MCR team and all of our great sponsors for this past weekends win in Daytona. The accomplishment of winning Daytona is gigantic for any team, as it's the most prestigious, difficult and prolific race in SX, so when our team builds a bike that captures its first win at the beast they call Daytona, is even that much sweeter for many reasons.
The #10 was astonishing in so many ways. Of course, Justin is #10 but add to that it was March 10, the 10th race of the year, Justin's transponder ended in the number 10, his frame number ended in 10 and this is MCR's 10th year racing.
I guess you could say it was a perfect 10 of a night for Justin and the team, inclusive of a winning the heat and main event.
The outpouring of congratulations, compliments, happiness and joy that people have expressed towards Justin and the team has been more than we ever could have imagined and for that I would like to offer a huge Thank You to all of our sponsors including but not limited to, Bullfrog Spas, American Honda, Rekluse, Yoshimura, XPR Engines, fans and supporters who believe in us."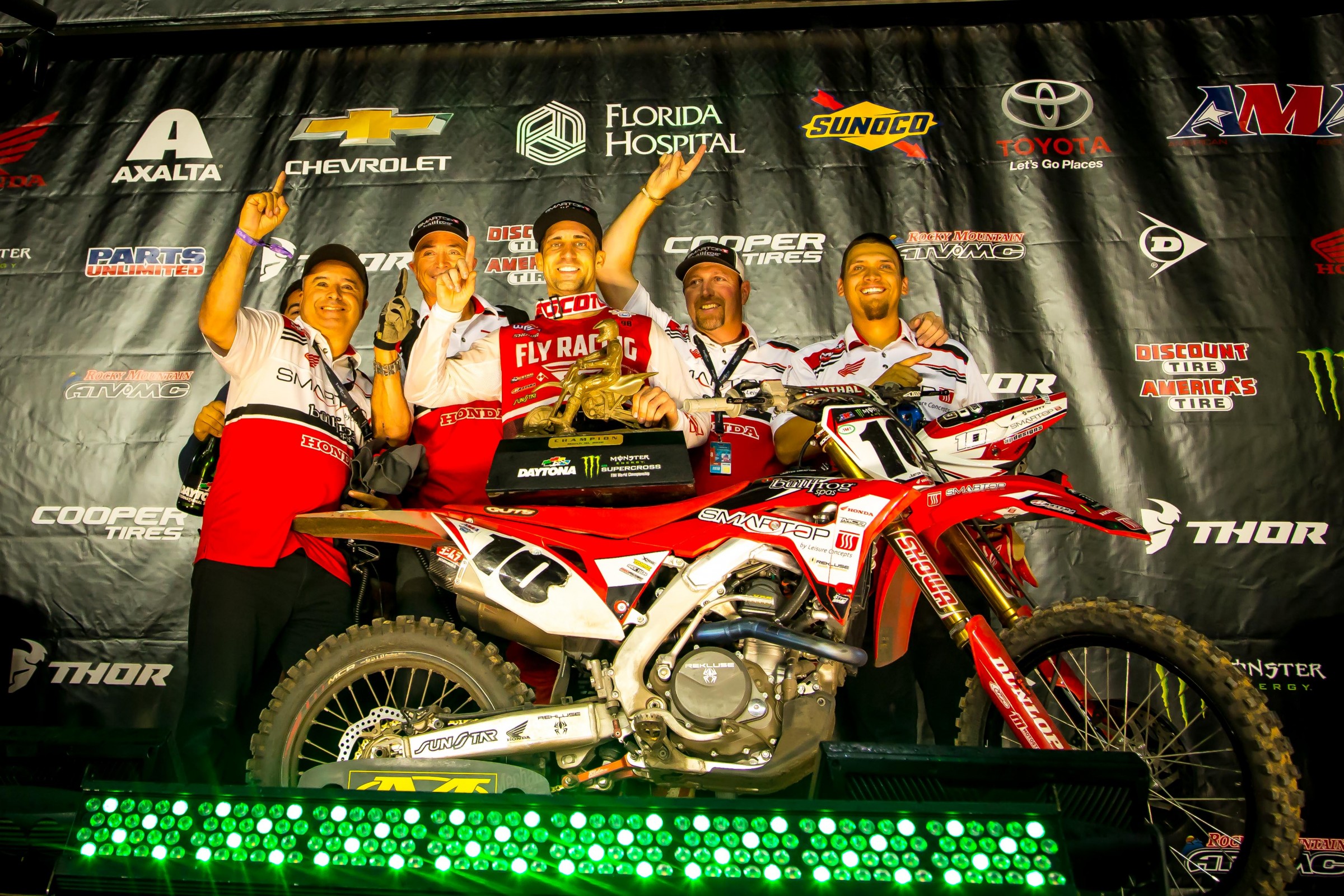 MC SPEAKS (Matthes)
We had seven-time SX champion Jeremy McGrath on the Fly Racing Moto:60 Show yesterday to talk about SX and a new tire by Maxxis coming out that he helped develop. MC was, as usual, a great interview and talked about how he's as mystified as anyone over Eli Tomac's small mistakes out on the track. Tomac's Daytona ride was amazing and could've been even better, had he passed for the lead, but that first lap mistake cost him. McGrath had some interesting things to say about Cooper Webb and some of his moves out there, saying he'd always rather have stayed away from any controversy and have any of the other riders not like him. It was an interesting chat that you can catch here.
WELCOME BACK WHARTON (Matthes)
Blake Wharton is making a comeback to racing with the IB Corp Yamaha team, and his first race will be at Indy next weekend. After being out for a long time, Blake's jumping into the deep end since it's an East/West Showdown, but as he told us on the Race Tech/FXR Racing Privateer Island Podcast, why not just jump right in? Wharton was all set to ride a Husky for Munn Racing until this deal came up, and so far, he says he's been happy with his comeback and hopes to get into the top ten to start. Wharton also said that the ride is for the rest of the supercross and the few West Coast Lucas Oil Pro Motocross Championship races the team does. He's stoked to be working with Ryan Hughes, and look for the #741 with the hair hanging out the back of the helmet at Indy!
Hey, Watch It!
Adam Cianciarulo's video vlog:
Er, well, listen to it: Weege and DC sat down for the first Racer Exhaust Podcast on the long, strange history of the Daytona Supercross, which you can hear right here as you prep for St. Louis. Catch more episodes by subscribing via iTunes.
Racer X Films: Hunter Yoder Full Moto at RCSX
Racer X Films: Zach Osborne Helmet Cam at Baker's Factory
Head-Scratching Headlines of the Week
"HERLINGS SHOWS MUSCLE BALLS AT DUTCH MASTERS OF MOTOCROSS IN MARKELO" — Translation of a PR from the Dutch Motocross Championship after Jeffrey Herlings' win at the opening round last weekend.
"Triple Threat Bubba Blackwell to Jump, Flag, and Talk His Way Through DAYTONA TT" — PR from American Flat Track about the veteran daredevil
Random Notes
Rob Kinsey just finished his latest oils of stretched canvas commission for Mike Tucker, 2017 Clubman Twinshock Champion.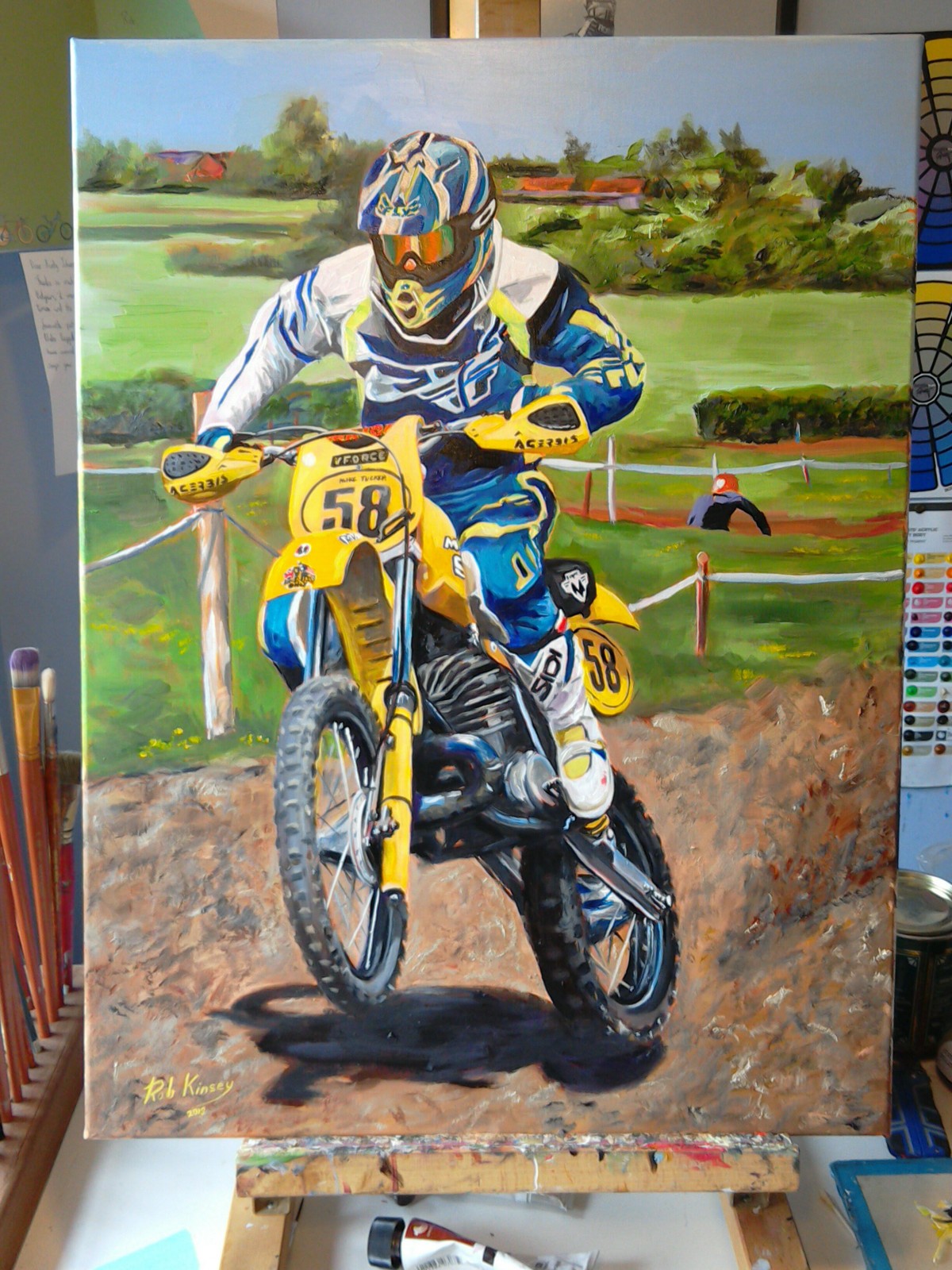 Going to be in town for St. Louis Supercross? Check out the Before and After Supercross open practice at Archview MX.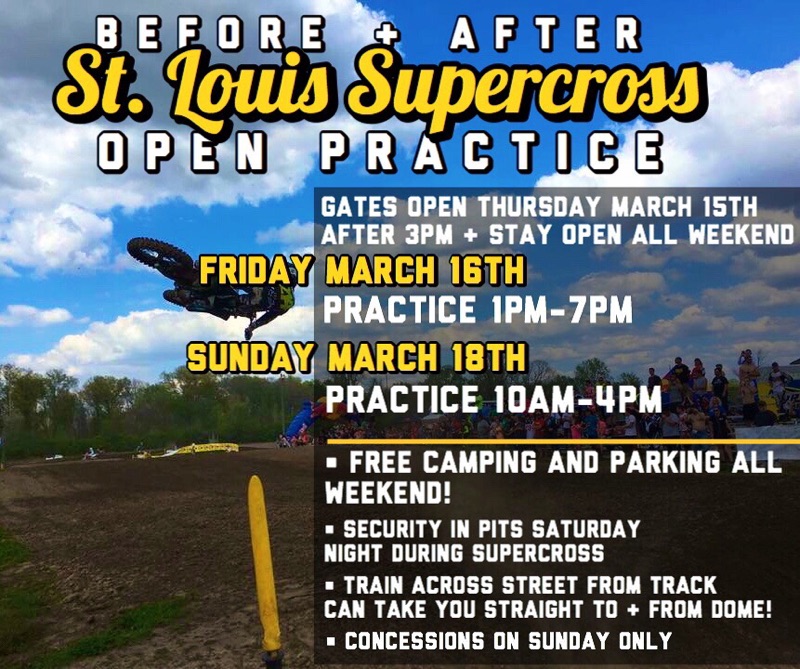 Our friend and fellow colleague Bayo Olukotun has a cool review up on Medium on the new Monster Energy Supercross The Official Videogame that you can check out right here.
Are you a fan of Husqvarna motorcycles? You have seen On Any Sunday, haven't you? If so, you NEED to be at Cahuilla Creek Motocross Park the weekend of March 24-25 for the Second Annual Husky World Championships. Two Days of Peace & Wheelies! Classes for all ages of Husqvarna motorcycles and their riders: vintage to modern, kids to vets, and women too! Bike show on the start straight Saturday morning, practice on the Vet track Saturday afternoon, a BBQ and Supercross Viewing Party Saturday evening, and racing all day Sunday. Admission is just $15 per day. Details at www.HuskyWC.com or on our Husky World Championships Facebook group page. Don't forget your camera—you never know who will show up!
Supercross Hangout with Matthes, Weege and/or Jason Thomas
Subscribe today for as low as $9.98 for a chance to win two free tickets and all-day pit access to the following Monster Energy Supercross event of your choice: Seattle, Minneapolis, Foxboro, Salt Lake City, or Las Vegas. You'll get to hang out with Steve Matthes as well as Racer X's Jason Weigandt or Fly Racing's Jason Thomas for part of the day, which could include scouring the pits for free lunch and a brief tour of some race rigs—basically, whatever Matthes, Weege, or JT get themselves into on a normal day at the races. Weigandt will be available to attend Foxboro and Las Vegas; Thomas will be at Minneapolis, Seattle, and Salt Lake City. Matthes is there no matter what .
Races include Seattle, Minneapolis, Foxboro, Salt Lake City, and Las Vegas.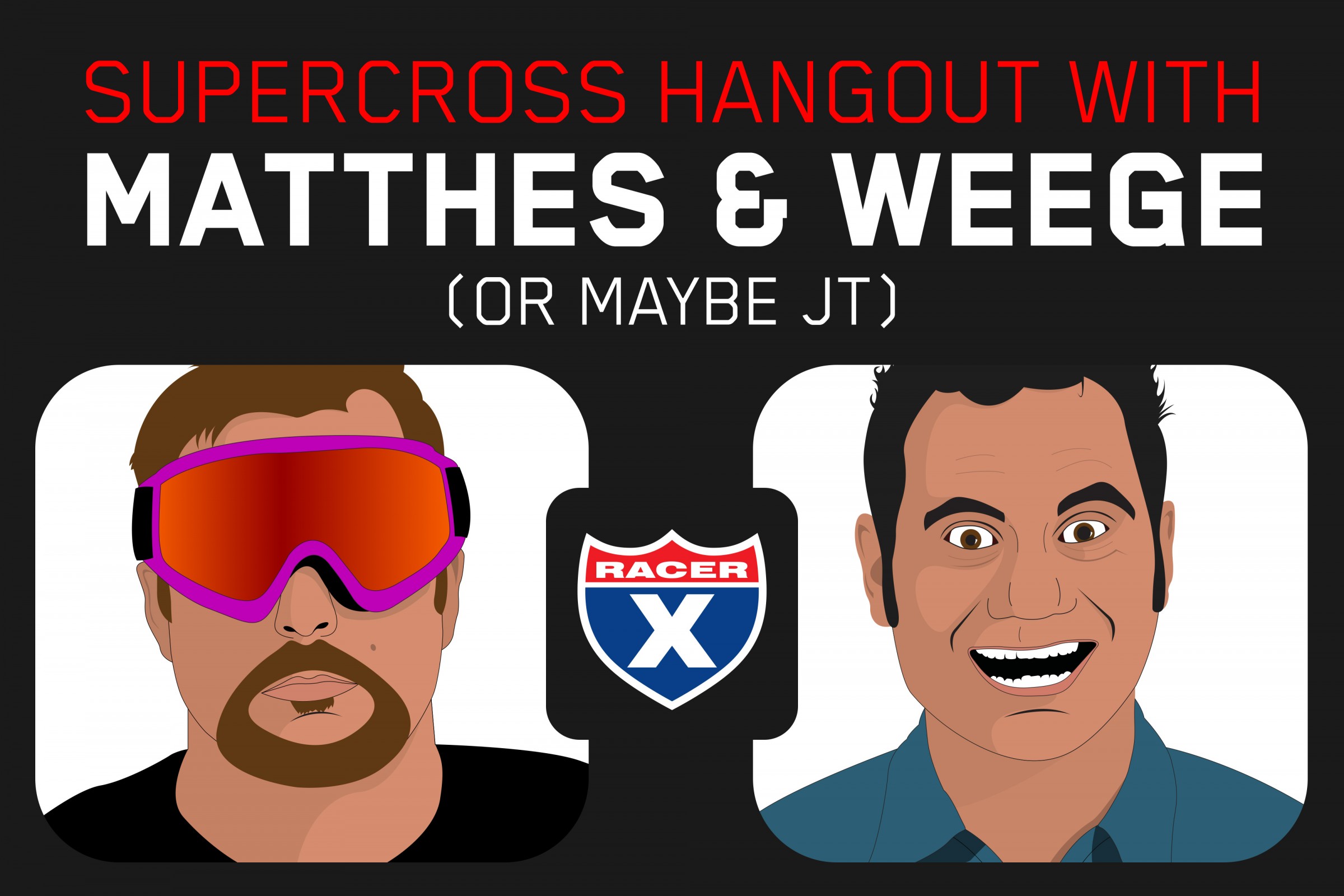 Head over to Racer X Brand and check out our new line for Spring. Free shipping on orders over $40 with code FREESHIP.
That's all for this week. Thanks for reading Racerhead. See you at the races.