Exclusive: MX vs. ATV All Out Preview and Game Trailer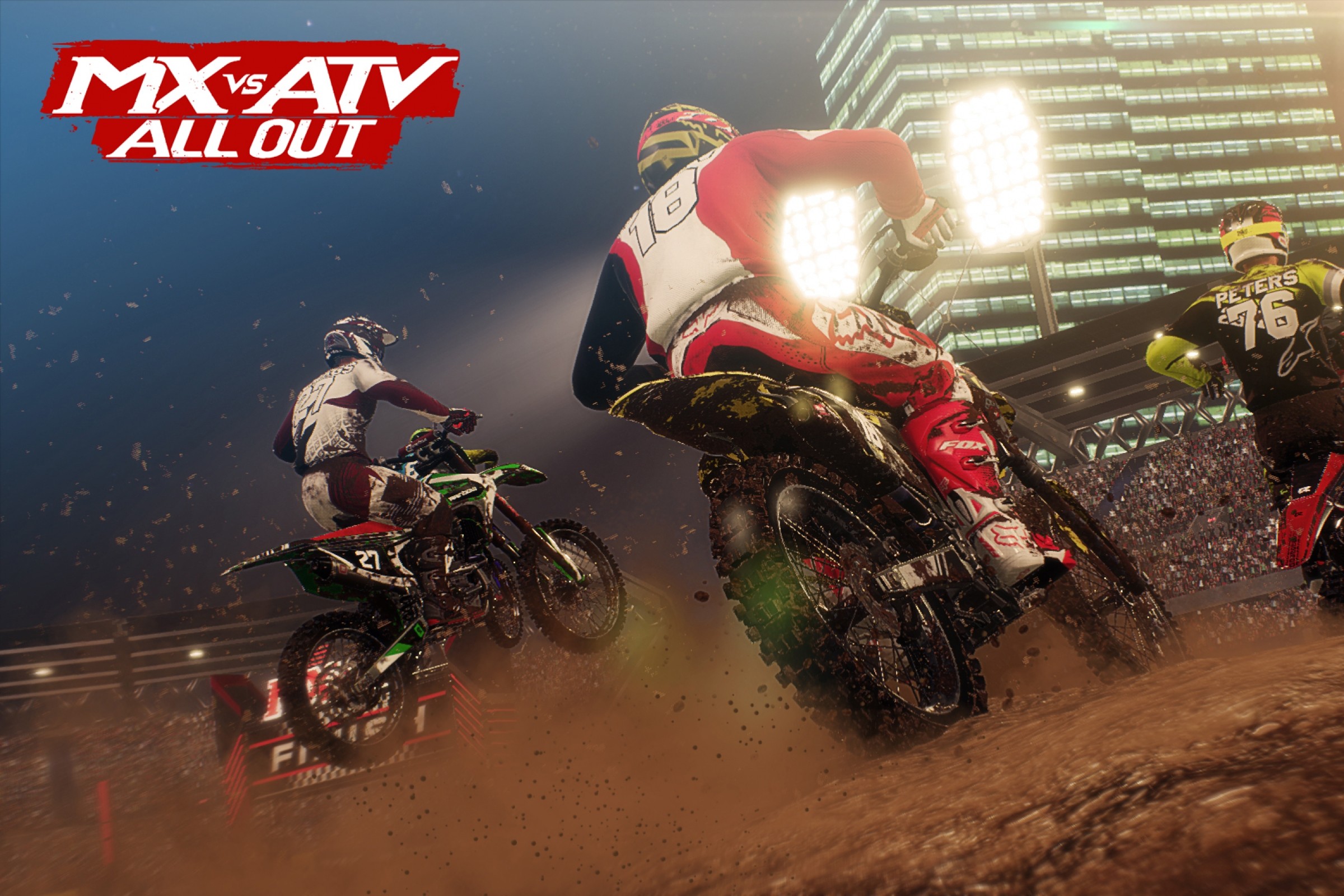 The video game series MX vs ATV is coming out with its latest iteration, MX vs ATV All Out, on March 27. It will be available on PS4, Xbox One, and PC.
Rainbow Studios has been hard at work for more than two years on the game, and it was definitely worth the wait. They've really stepped it up this time, with a huge rider lineup consisting of current top pros and privateers, former pros, FMX riders, female MX athletes, arenacross riders, and ATV riders. With tons of supercross and motocross tracks to choose from, MX vs ATV All Out is endless hours of all-out fun.
When you first launch, you're not taken to some menu; instead, you're taken to your "compound," which is a basically a huge world to freeride in—you're on a bike and ready to rip. Within this world there is a supercross track, motocross track, freestyle ramps, and freeriding area you can get lost in with endless flowing lines. What I really like is that if you do get lost, you can pull up the map and spawn to any other part of the map instantly without having to retrace your ruts.
Speaking of ruts, the track deformation is something former pro Stephane Roncada has put a lot of effort into. The lines and ruts form and break down just like in real life. You can even get cross-rutted going off a jump if you get too squirrely.
The physics have been improved and give the rider a nice flow when riding and throwing some huge whips, flips, and tricks. The game is all about the trick compounds this time around, if you're into that. UTVs have also been added to the lineup of vehicles to choose from, and you can really huck it over some big dunes or even line up on a supercross track.
They don't have the official supercross tracks from the schedule this year, but they do have a bunch to choose from, plus the option to add qualifying rounds to get into the main events.
With so many options to choose from, the customization of rider gear, bike parts, and pieces is like walking into your local dealer. There are over 30 of the top gear companies in the game, including Troy Lee Designs, Thor, Fox Racing, and Fly Racing, to name a few.
The graphics really blew me away; from seeing the roost coming off the bikes to being able to zoom in to the threads of the gear, the attention to detail is great. After picking your "kit," you can head over to the bike customizer, where there are an equal amount of hard parts to choose from and use to set up your bike for motos.
We're just weeks away from the launch of the game on March 27. You can pre-order here. Stayed tuned to Racer X Online and Racer X Illustrated for more on the new game.
Check out a Racer X exclusive trailer for the game: