Welcome to Racerhead, coming to you from a very busy media center here at Daytona International Speedway. The first really, really busy weekend of the year is here for everyone at MX Sports and Racer Productions, as the Daytona Supercross is tomorrow; the Ricky Carmichael Daytona Amateur Supercross is on Sunday and Monday; the Fly Racing ATV Supercross is Tuesday; and the Grand National Cross Country Series runs concurrently over in Palatka starting tomorrow. Add it all up and we will probably see 4,000 competitors cycle through and around Daytona and Palatka, and to start it all off we had a meeting with all of the professional teams here at 3 p.m. to talk about Lucas Oil Pro Motocross and the 12 rounds of that series that will begin with the 50th Hangtown National in May.
Needless to say, I'm pretty busy down here, so I need to cut my end of Racerhead short and turn it over to the rest of the gang. Wish me luck on the next five days (and, more importantly, good weather!). Daytona is always a blast, but it's anything but spring break for this crew!
Riders Speak on Daytona (Jason Weigandt)
Welcome to the Daytona Monster Energy Supercross. Honda has moved on from its longtime title sponsorship and now Daytona sports a look more familiar to the other 16 supercross rounds, not only with the Monster Energy colors and logos but even some of Feld's track structures. This includes the finish line and the team managers tower, which came straight from Atlanta last weekend. Also, Daytona adopts the now-normal 20-plus one and 15-plus one main event formats. Last year Daytona stuck with the old 20-lap/15-lap mains. The folks from Feld Motor Sports are now more involved with this event than before. Daytona International Speedway still operates this race, but there will be more similarities in sponsors, logos, and the show in general.
That's just business stuff, though. Daytona is still very unique as far as the track is concerned. The layout is much different than last year, with the start in a new spot. Ricky Carmichael, who designed the layout, says his goal was to make the track busy and give it long lanes. Since the race is guaranteed to be 20 minutes no matter what, they no longer needed to build a layout to extend the lap times. Those lanes will have lots of obstacles, and Blake Baggett told me today that the jump faces are very, very steep—even steeper than most normal supercross tracks. That's probably a built-in compensation for when the track breaks down and the faces begin to round off. Carmichael says they brought in much more sand this year, so there are now some jump faces made of sand rather than clay. Sand won't hold up as well, so these obstacles are going to change a lot throughout the race—this is a more old-school Daytona challenge. There are two wall jumps and a tricky double dragon's back heading to the finish. Carmichael says the back side of those wall jumps will get ready eaten up, and the rider who can handle those conditions best will have a big advantage.
Christian Craig previewed the track for us at press day today:
Chad Reed once loved Daytona more than any other track, then became critical of the designs over the last few years. He said today that this was a step in the right direction—he likes the longer lanes, and getting rid of all those S-turns that just end up becoming one-lined on the inside. But with Carmichael within earshot, he had to remind the GOAT of the time he beat him down in 2005, and also about the cruddy track designs of the past few years. It's funny to see how these two treat each other these days—they bust on each other like buddies. Back in 2005, there was absolutely no love lost.
Reed did not build a special Daytona section at his supercross track this year. He's still only now getting his racing legs back under him and didn't want to change things. Reed says he's felt much better riding at home for the last month, but Atlanta was the first time he felt those improvements manifesting themselves on race day, also. He's encouraged with how much better things went last weekend.
Most of the other riders did build Daytona sections for practice this week. Honda guys rode motos at The Nest. Christian Craig didn't even plan on coming to Florida at all, but after getting the 450 slot at Honda, he hastily made the move last Monday (with his wife and son with him) and took up residence at Cole Seely's place. Cooper Webb rode at Justin Barcia's, and Barcia built a Daytona section into his regular supercross track (by the way, I hear Barcia has been cleared to ride but still felt his hand was too sore to get on a bike this week. Should be coming soon, though). Aldon Baker's place added a sand section into the regular supercross track, and Eli Tomac says he got to play on his favorite track at home in Colorado, his big sand wash.
What's interesting is that while Daytona will probably take the most energy of any race this year, the riders still see it as a break. It's the halfway point in the season, and riders have been pounding traditional supercross laps since October. All of them say there were just happy to get on something different this week.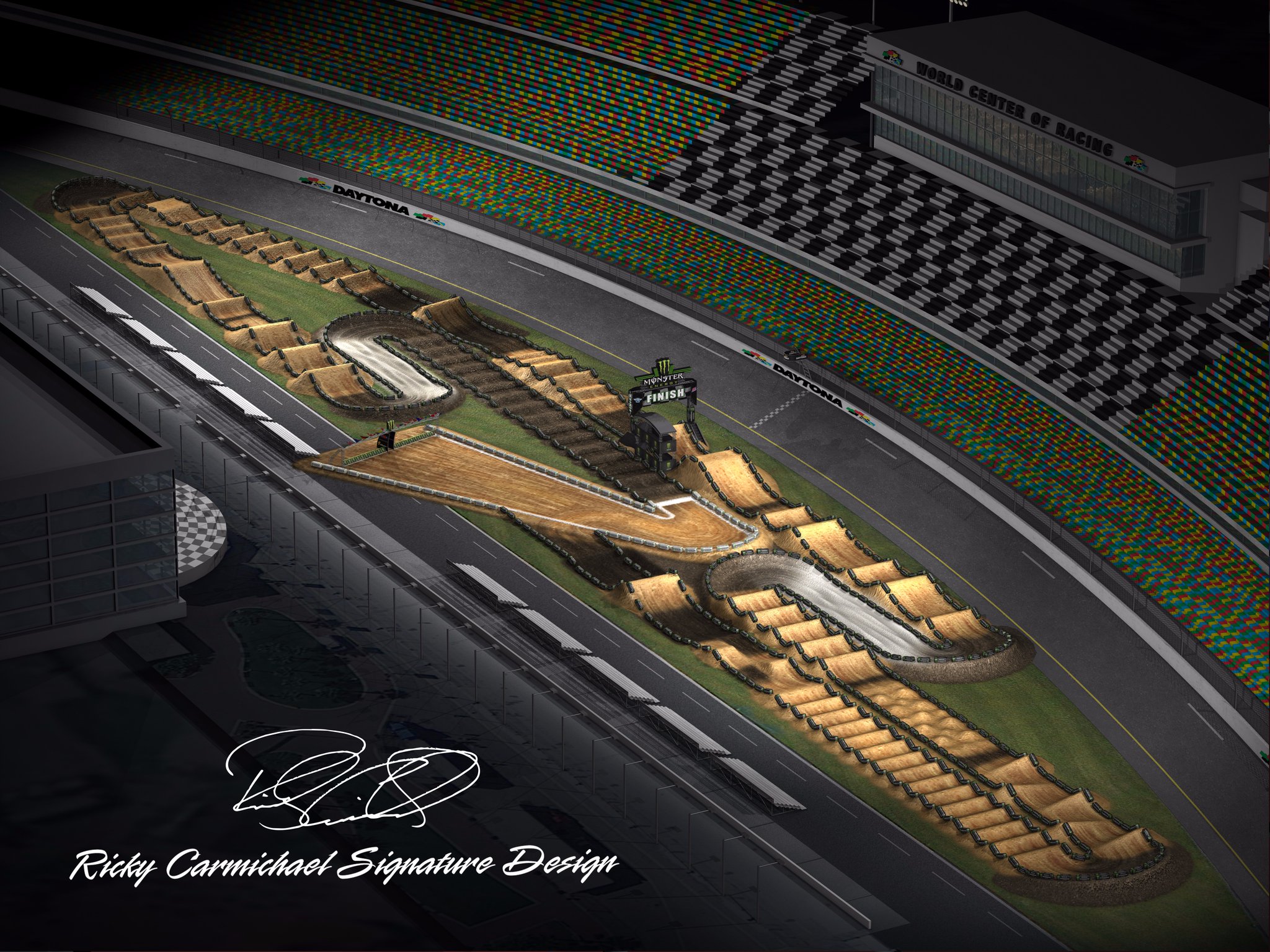 Some injury news in the 250 class, as Colt Nichols crashed while practicing this week and broke his humerus again. Poor Colt. Last year he battled back from a broken femur to make the 250SX East Region opener and rode well, only to tear up his knee just before Daytona. This year he battled back from the arm injury to make the opener and ride well—only to hurt his arm before Daytona. This injury shouldn't require surgery and Colt could be back in time for Hangtown. Man, he's had a rough go of it.
Also, Martin Davalos told me today that he has several compressed and bulging discs in his neck and back after that hard first-turn crash in Arlington. He has so many pinched nerves that he has very little feeling in his left hand. That's why he crashed twice last week while in position to win—his left side basically gave out. Martin can't ride much during the week and is instead focused on recovery. He said he will have to manage his energy throughout practice and qualifying and save something for the main event. Poor Marty—if it's not visa issues while holding the points lead or bike malfunctions while holding the points lead, it's a big first-turn crash at the season opener (after logging the fastest practice times and winning his heat). Marty things just always happen to Marty!
PRO PERSPECTIVE (David Pingree and Jason Thomas)
Ping: I raced Daytona several times, twice on a 250 and once on a 125. Each trip was fun, but my experience there in 1997 taught me so many lessons about that particular race. This was back when it was "old-school" Daytona, being run during the heat of the day and the track was longer and much rougher than it is now. I had broken a finger the weekend prior at Gainesville, and I wasn't sure I was going to race. I was staying with Ricky Carmichael at the time and wasn't able to practice all week. When the weekend came, Mitch Payton told me to tape it up and try to ride. Of course, I ended up pulling the holeshot and taking off. Ricky, my teammate, went into the first turn hell-bent on winning his home race, and he ended up going down in a pile. His over-exuberance would cost him, as he fell multiple times that day and finished well off the podium. Daytona demands respect and a certain amount of patience, and Ricky learned that the hard way.
Out front, I was feeling great. At the halfway mark, I had a nice lead and felt like I had control of the race. But I had been prepping for 15-minute finals, and this one was going to go well past 20 minutes. The heat, humidity, and long laps began to take their toll. Meanwhile, John Dowd and Timmy Ferry, two of the toughest competitors I know, were pushing their way toward me. With two laps to go, I made a mistake, and that was all they needed to go by. I would hold on for a podium, but Dowd put his name in the record books that day as the winner. Daytona is rough and nasty like an outdoor track, but you still must have impeccable timing and rhythm to get through the jump sections. Between that and the softer, varied soil, it's a mashup of both SX and MX disciplines, and it requires the character to excel in both. Who will shine this weekend? The outdoor specialists always rise to the top, so expect to see Jeremy Martin, Blake Baggett, and Eli Tomac at the pointy end of the field. To win, they will need a little patience, a lot of grit, and a decent helping of luck.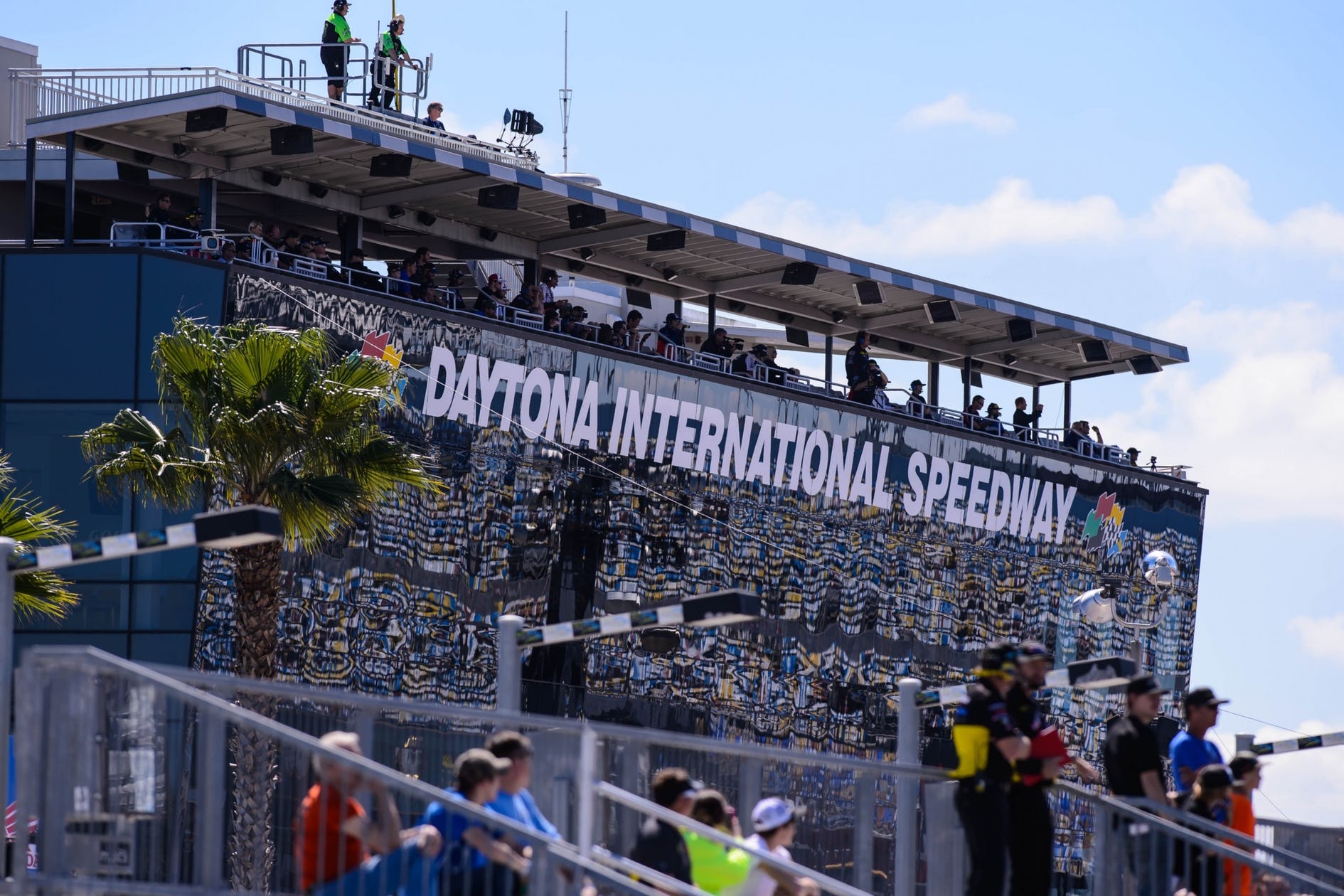 JT: I raced Daytona 16 times. Throughout that time, it changed a lot. The format, time of day, length of main event, and dirt composition all varied. That 1997 Daytona edition that Ping mentioned was my first year. Needing every dollar available as both a high-school student and full privateer, I rode both classes and coincidentally qualified for both main events that day. With the national points only paid in the premier class in those days, and the bigger slice of the purse there also, I decided to put my efforts toward that. Twenty laps of hell greeted me and the rest of the main-event contenders. Those 20 laps equated to 34 minutes or so—basically an outdoor national moto on a Daytona Supercross track. I can remember the last few laps just being pure survival, but I did manage to score my first national point. Sunday morning, I woke up incredibly sore but with a huge sense of satisfaction. Couple that with the fact that I was now financially set for life (or so I thought as a high-school senior) after my $1,300 day, and it was all good. Daytona has many special memories for me, but that was the first and one of the best.
SE7EN (Andras Hegyi)
This season, Rockstar Husqvarna's Jason Anderson is going up on the all-time supercross wins list. Before Atlanta, Anderson was able to overtake two former champions, Jimmy Weinert and Donnie Hansen. Both champions have four wins each. By Atlanta, Anderson would catch up with two more former champions, Jeff Emig and Johnny O'Mara, getting his seventh victory in what's now the 450 class. If Anderson can continue his winning ways this season, he may be able to pass at least three other three past champions: Jimmy Ellis, Mike Bell, and David Bailey.
Emig's Seven wins
Jeremy McGrath's main rival in the nineties, the 1997 AMA Supercross Champion raced in supercross' top category between 1990 and '99. Jeff Emig took part in 115 races in all. Fro won all of his races between 1995 and '97. He got his very first win in his 66th race in 1995, and he took his last one in his 94th race in 1997. Emig won his maiden victory with Yamaha, while his other six victories came with Kawasaki.
O'Mara's SEven wins
The O'Show performed in supercross' premier class between 1981 and '90, racing in 118 events in all. He got wins in 1984 and '85 and took his first victory in his 33rd race, in 1984, while he got his last one in his 59th race in '85. The 1984 AMA Supercross Champion got all of his wins with Honda.
Anderson's Seven wins
The current AMA Supercross points leader debuted in 450SX in 2015. Since 2016, he has been able to win in each season. Jason Anderson took his maiden win in his 17th race, in 2016, while he got his seventh success in his 59th race. He collected it in the same number of races as O'Mara, and all of them came on Husqvarna, making him the all-time leader in wins for this brand in AMA Supercross. Actually, he's the only winner for this brand, just as Jimmy Ellis is for Can-Am.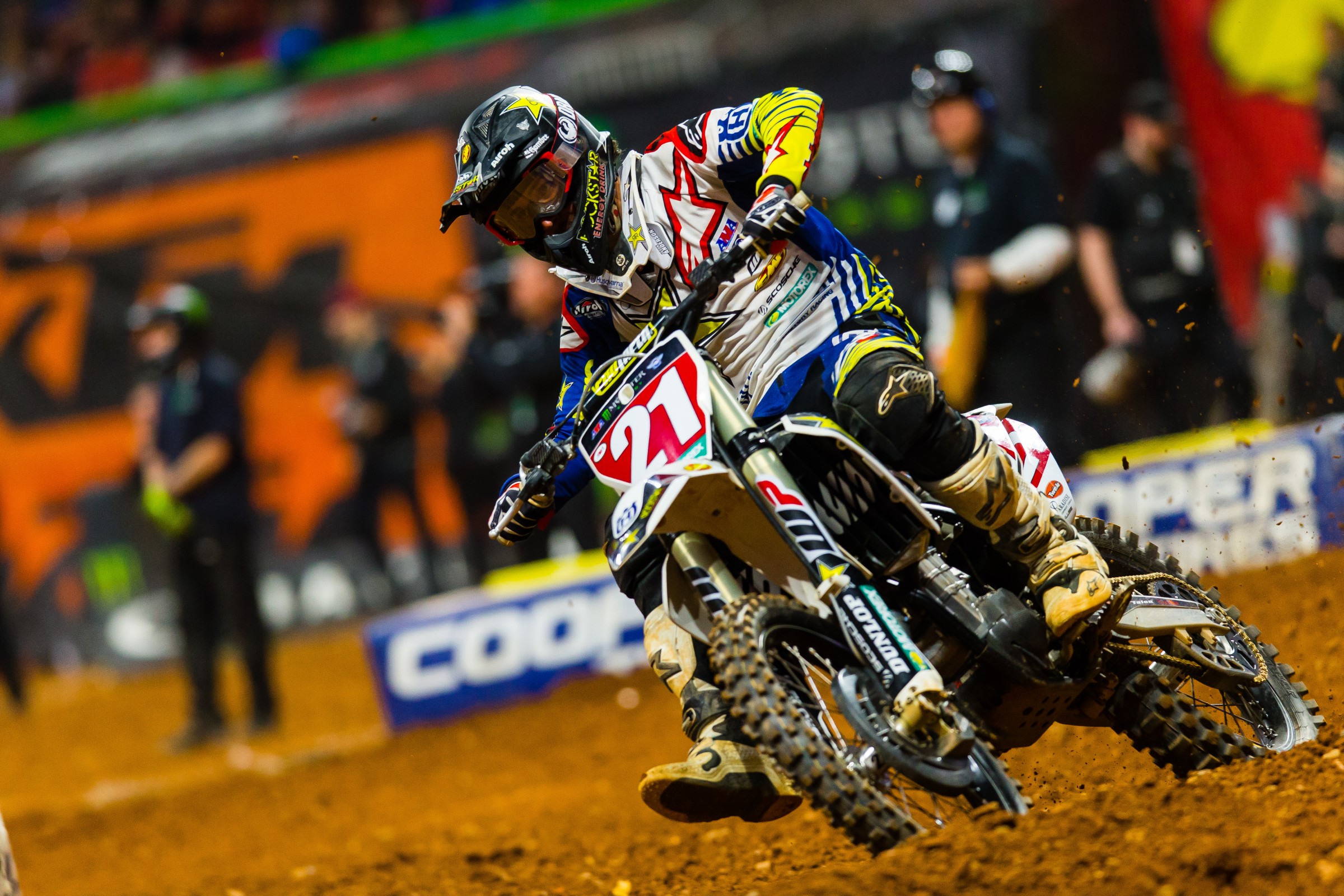 Perfect Jonass (Andras Hegyi)
Pauls Jonass is the only Latvian moto winner and GP winner and also the only FIM Motocross World Champion from the small European country. KTM's Jonass also got a new personal record in the 2018 MX2 season opener at the Grand Prix of Argentina. Last season Jonass collected six GP wins in all, but he was not "perfect" in any of them. But after this 2018 Argentinian GP, Jonass could be totally perfect for the first time ever, winning all the sections of the GP: the free practice, the timed practice, the qualification race, the warm-up, and both motos. And he is now one of only two riders to get double moto wins in two consecutive season openers in the 125/MX2 class. Jeffrey Herlings got two moto wins in the 2012 and '13, then again in the 2015 and '16 season openers. Now Jonass has done it, last year in Qatar and this time in Argentina.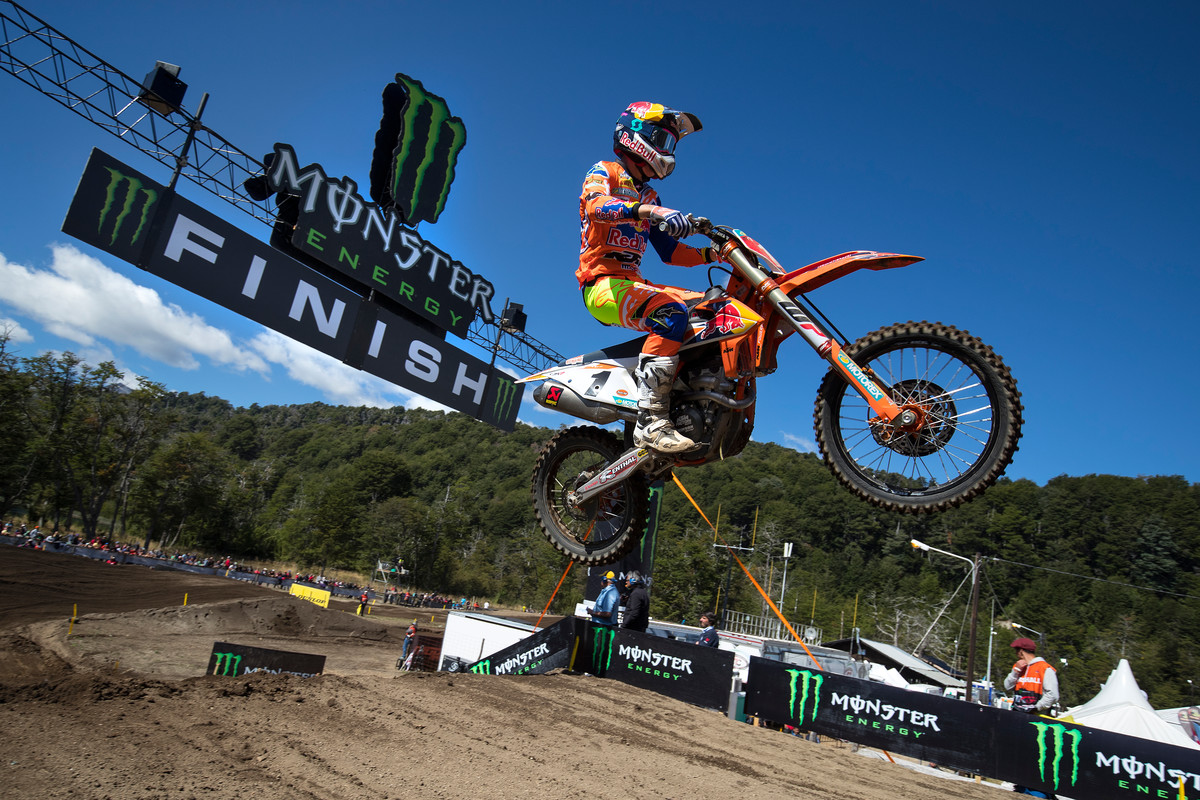 THE NUMBER: 2 (Andras Hegyi)
One week after his maiden 250SX win, Austin Forkner was able to win again immediately. Forkner has become the 17th Kawasaki rider to get at least two consecutive wins in a small-bore supercross season. The Kawasaki record-holder is Ricky Carmichael, who managed to get nine consecutive wins in 1998. That record is also an absolute record in the 125/250 SX.
Kawasaki riders to get at least two consecutive wins in a 125/250 supercross season:
Ricky Carmichael: The most successful American motocrosser would win every race in 1998. First, he won the East Region 125 SX Championship, winning all eight rounds. Then Carmichael took also the season finale East-West Shootout in Las Vegas.
James Stewart: Bubba was able to win at least two consecutive victories in three different seasons during his 125 supercross career. In his debut season in 2002 he got two straight wins, but he was not champion in the West. In '03, he took a succession of seven wins and was crowned the West Region Champion. In '04 he set four wins in a row and also became champion in the East.
Ryan Villopoto: The nine-time AMA SX/MX Champion got six consecutive wins in 2007 and became champion in the West Region. In '08 Villopoto won three straight times, but he was not champion in the East.
Nathan Ramsey: Nate Dog made a train of five wins in the West Region in 1999, and he became champion.
Ivan Tedesco: Hot Sauce won five times in a row in 2004 on his way to West Region #1.
Justin Hill: The younger Hill brother had a chain of four wins in 2017 on his way to the West Region #1.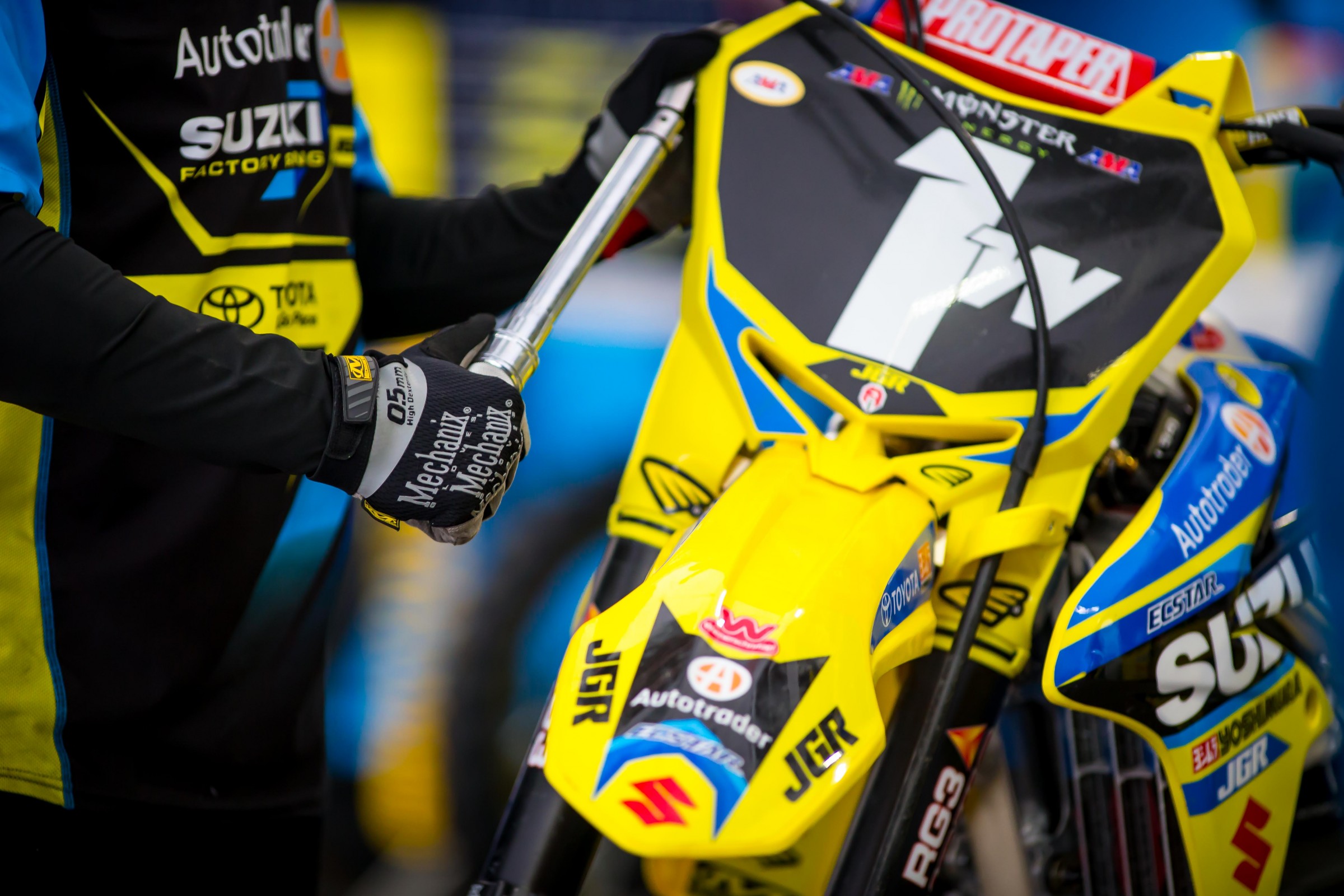 Eddie Warren: "Fast Eddie" was the very first Kawasaki rider to get at least two consecutive wins. In 1985 he got three successive victories, and he was East champion.
Mickael Pichon: The French motocrosser had a series of three consecutive wins in 1996 and became champion in the East.
Christophe Pourcel: Pichon's compatriot Pourcel was able to get a sequence of at least two wins and a set of at least three wins in both 2009 and 2010. In both seasons, he was East Region champion.
Jeff Matiasevich: The Chicken got three consecutive wins in 1988 and got four straight wins in '89. In both seasons, he was West Region Champion.
Jake Weimer: Weimer joined together a sequence of two wins in '09, but did not take home the title. But in 2010, he made a succession of three wins and became champion in the West.
Dean Wilson: The Scot got two wins in a row in 2011, but was not champion in the East.
Ben Townley: The New Zealander took two straight wins in '07, becoming East Champion even after failing to qualify at the series opener.
Josh Hansen: Donnie Hansen's son won two consecutive times in 2011, but was not champion in the West.
Grant Langston: The South African fit together two wins in a row in '05 on his way to the East title.
Shae Bentley: Bentley made a series of two wins in 2000, making him a West Region Champion.
Austin Forkner: Kawasaki's new 250SX star first got his maiden victory, then immediately took his second win. He has become one of the strong candidates to be champion, too.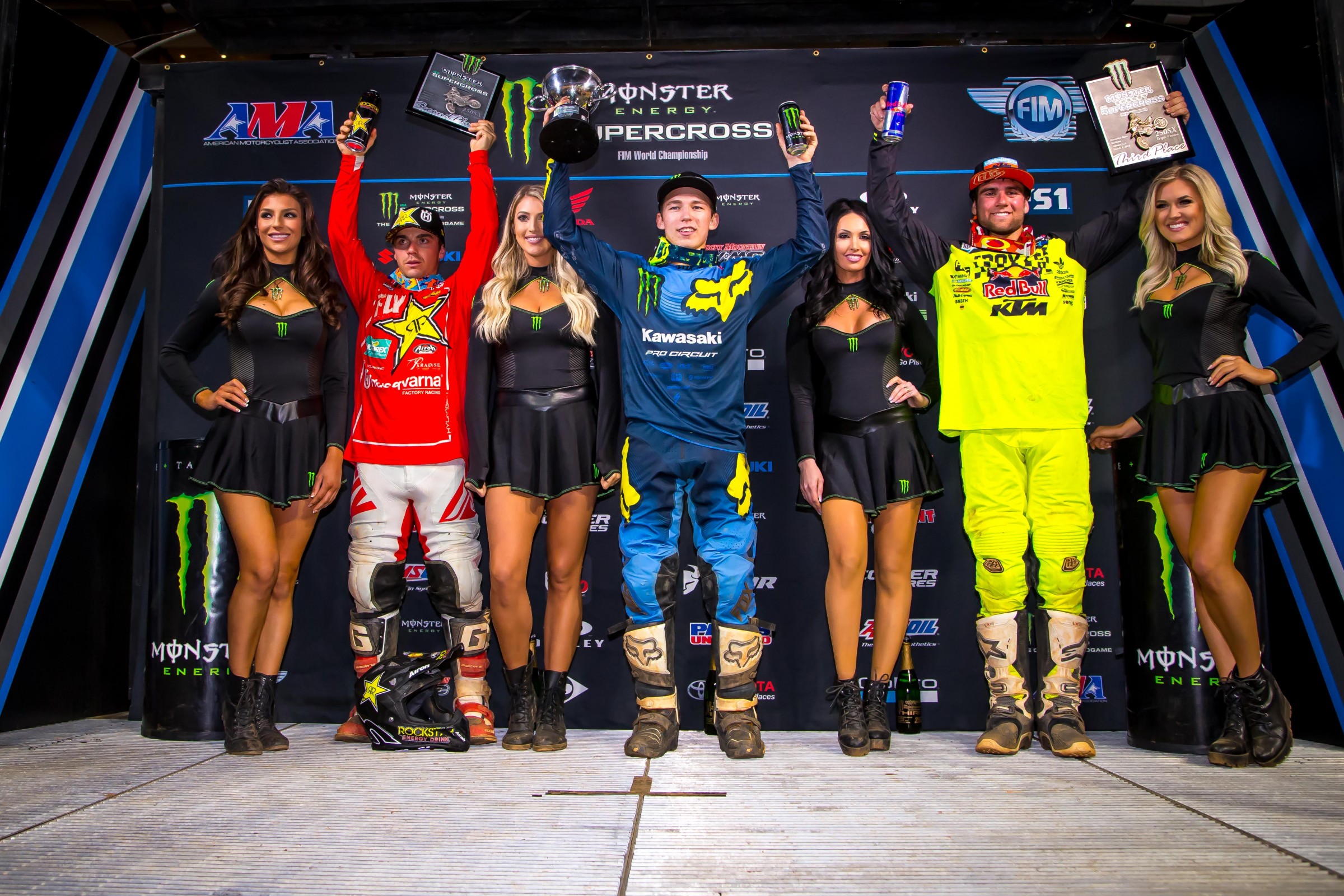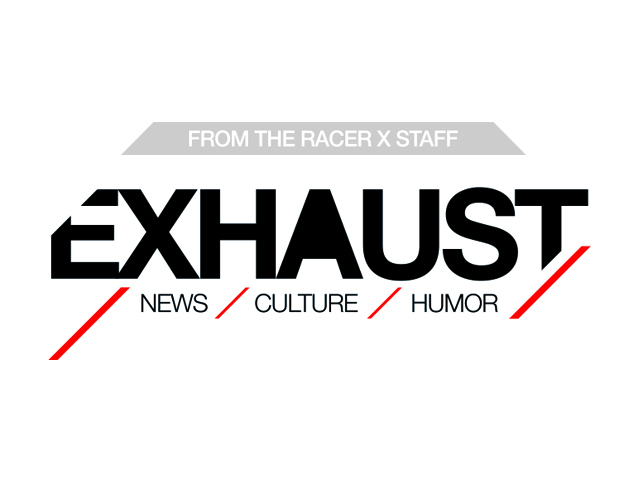 Hey, Watch It!
2018 Ride Engineering RM-Z450
Here's what the Daytona Supercross looked like in 1975, through the lens of someone with then-Husqvarna factory rider Mike Hartwig:
Racer X Films: Jalek Swoll
Racer X Films: Garage Build 2018 Husqvarna FC 450
Racer X Films: Blake Wharton | IB Corp Racing
We received this cool note from John Steiner at MX Track Builders earlier this week. John is helping the United States military by turning a military base into a motocross track. Check out the note and photos of the build below.
2018 marks the third consecutive year that MX Track Builders will build for our United States Military. In less than a week, MX Track Builders will mobilize to the Marine Corps Air Ground Combat Center in Twentynine Palms, California. In just under three days, their team of motocross track builders will turn the military base into an all-out, bar banging, motocross battlefield. In addition to the professional motocross race, a concert and a freestyle motocross show are put on for members of the military and their families living on base.
"It's an honor to be part of this event and an incredible opportunity for us to be able to give back to some of our men and women who serve." —John Steiner, MX Track Builders
MX Track Builders began shaping the earth's surface in 2006, creating the North American motocross landscape one track at a time. Established as a racetrack design and construction company, MX Track Builders provides professional service for the construction of high quality motocross, supercross, and arenacross tracks.
For more information, visit us online at www.mxtrackbuilders.com.
Looking for some cool old-school reads? Check out @wewentfast and their new website, by our friend and contributor Brett Smith. The story on the epic finish of the '93 Gatorback National with Erik Kehoe's launch to stay ahead of Jeremy McGrath is excellent!
The wait is over: New Ray Toys' Team Honda HRC 1:12 die-cast replicas are available for both Cole Seely and Ken Roczen. Grab them at your local Honda dealer or parts and accessories shop. If you're looking to get them online, check these guys out:
https://www.motocross-atv.com/
Remember that homeless encampment outside of Angel Stadium? They are finally getting it all cleaned up, and some of the details of what the public works crew found there are staggering: the Orange County Register wrote that Orange County collected 404 tons of debris, 13,950 needles, and 5,279 pounds of human waste during a massive overhaul between January 22 and March 3. Ugh.
Subscribe Now and Get a Free FXR T-Shirt
Subscribe now for as low as $9.98 and receive a FREE FXR t-shirt, plus access to our digital edition.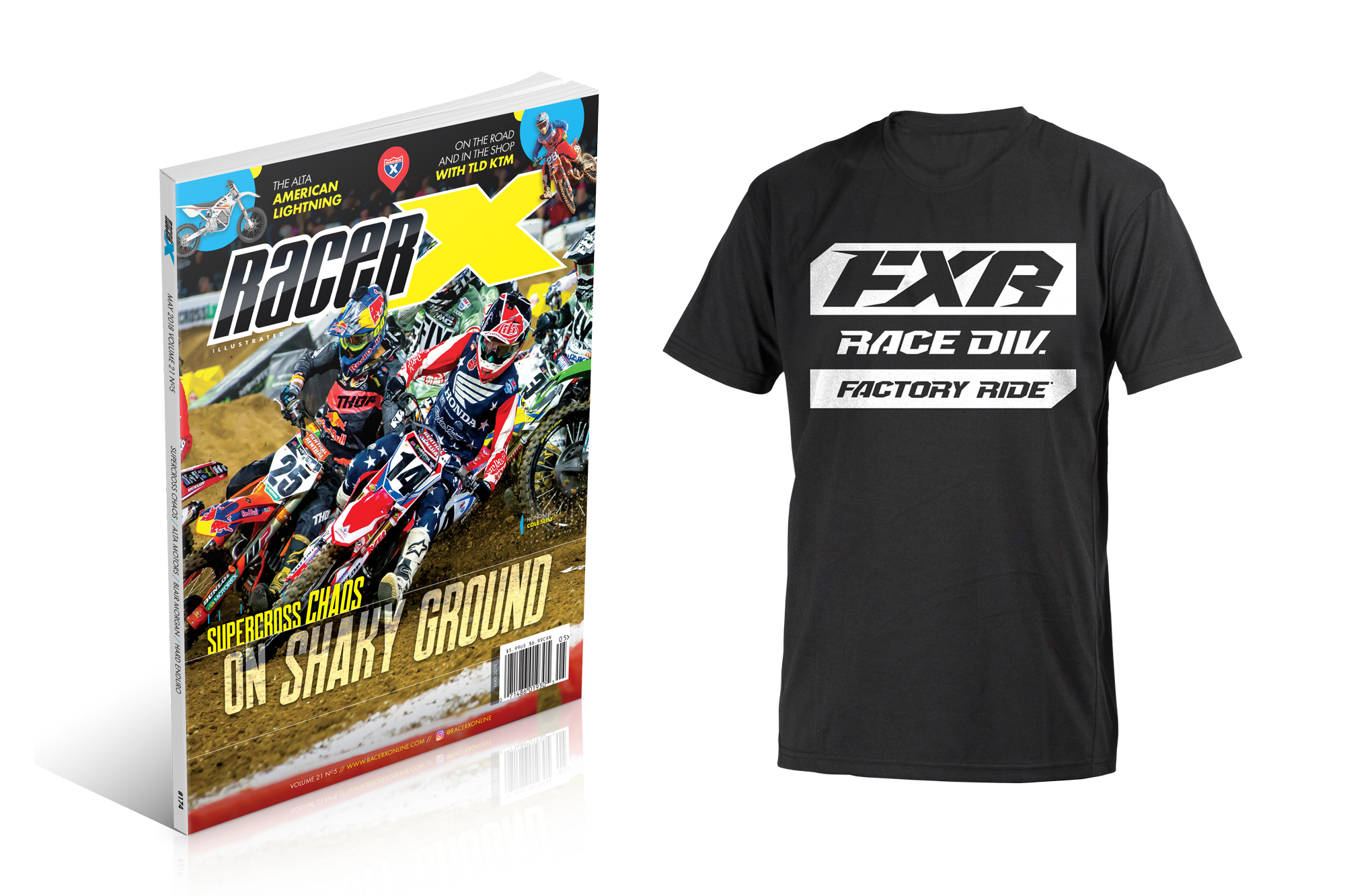 May 2018 Issue of Racer X Illustrated Digital Edition Now Available
Pick up your copy now and read about what it takes to win championships and stay healthy in Monster Energy AMA Supercross, Alta Motors and their American-made electric motocross game-changer, and Blair Morgan's return to racing after a horrific injury. Also read about what the Troy Lee Designs/Red Bull KTM team does behind the scenes every day of the week and the rising popularity of Hard Enduro-style races, where just finishing is a great accomplishment.
Supercross Hangout with Matthes, Weege and/or Jason Thomas
Subscribe today for as low as $9.98 for a chance to win two free tickets and all-day pit access to the following Monster Energy Supercross event of your choice: Seattle, Minneapolis, Foxboro, Salt Lake City, or Las Vegas. You'll get to hang out with Steve Matthes, as well as Racer X's Jason Weigandt or Fly Racing's Jason Thomas for part of the day, which could include scouring the pits for a free lunch and a brief tour of some race rigs—basically whatever Matthes, Weege, or JT get themselves into on a normal day at the races. Weigandt will be available to attend Foxboro and Las Vegas; Thomas will be at Minneapolis, Seattle, and Salt Lake City. Matthes is there no matter what.
The Supercross Hangout winner will be randomly chosen and contacted the Monday before the Seattle Supercross. Upon being contacted, the winner will choose their preferred event: Seattle, Minneapolis, Foxboro, Salt Lake City, or Las Vegas. If the winner fails to respond within 24 hours, a new winner will be chosen. The winner will also be announced on the Fly Racing/Racer X Podcast) during the week leading up to the Seattle SX. For questions and concerns, email online@racerxonline.com or harass Weege, Matthes, or JT on social media. Travel and hotel accommodations not included.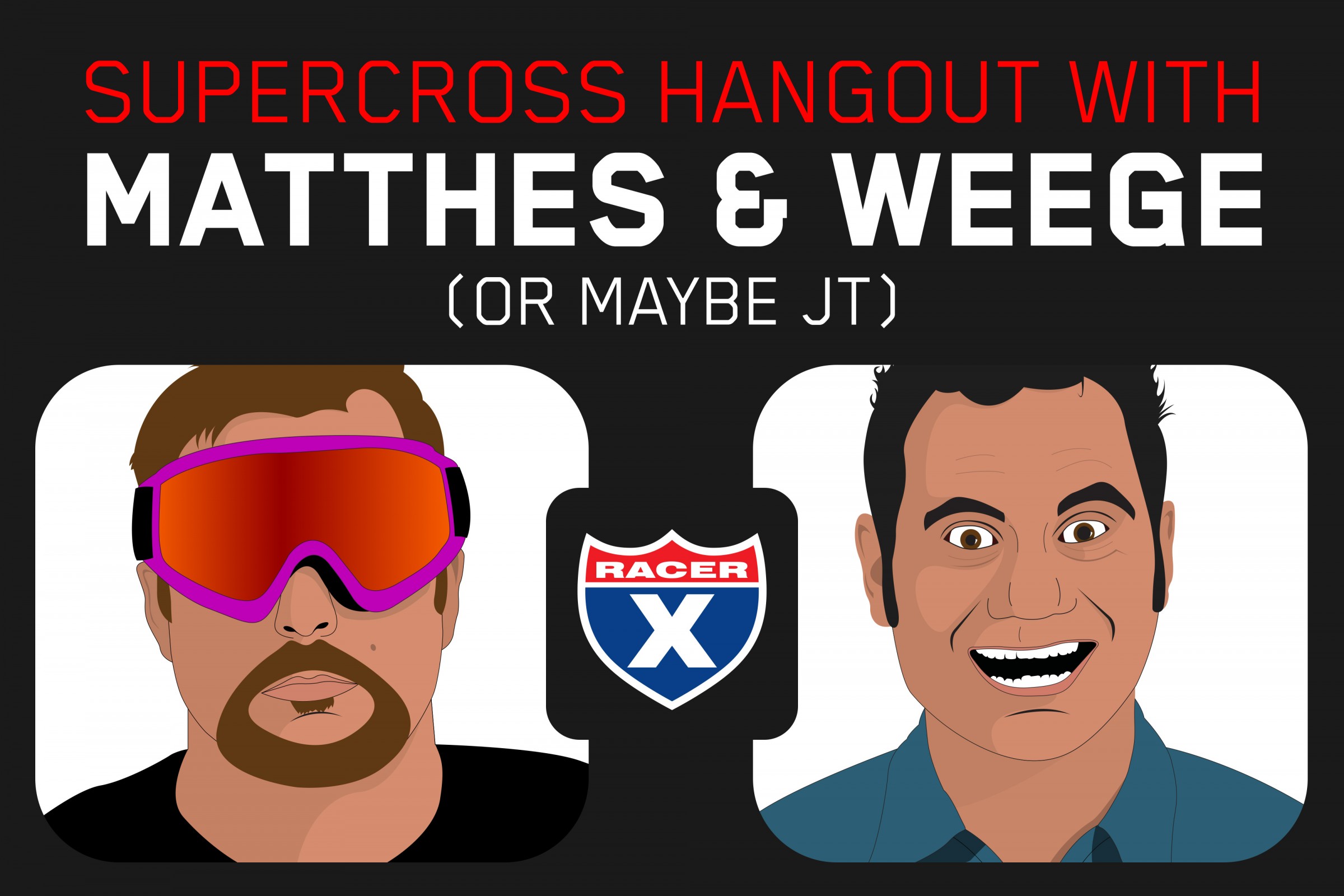 PRE-ORDER NOW | '89 High Point Tee
Don't forget to pre-order the shirt your daddy wore at the races 30 years ago on Racer X Brand now. This retro throwback is a remake of the 1989 High Point National t-shirt, with the actual photo being taken at the off-season Tokyo Supercross in 1988. The pre-order option ends on March 12. Please allow three to four weeks to receive shipment while the shirt is on pre-order status. Relaxed fit, 100 percent cotton.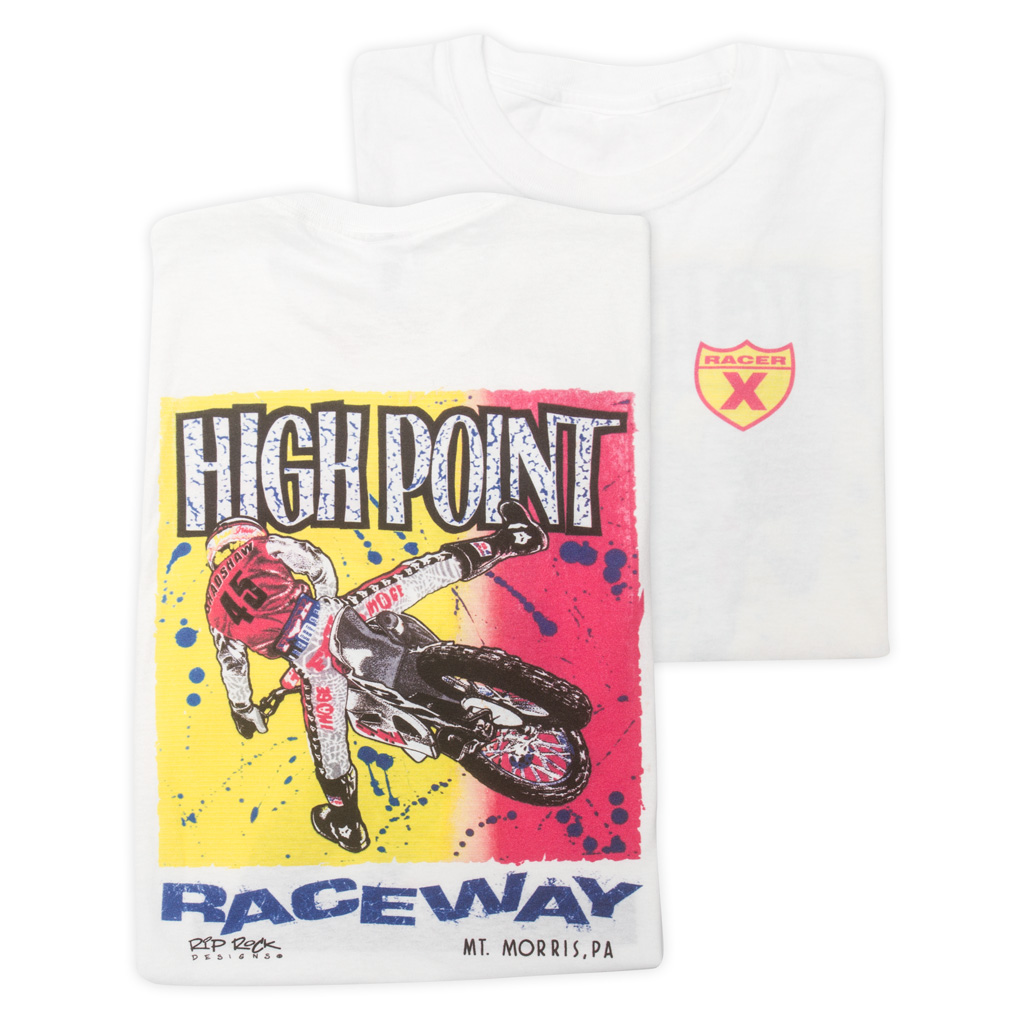 Special Edition April 2018 Lego Posters Now Available on Racer X Brand
Remember that sweet mock-up cover we did with @lego.mx? Guess what, we decided to make a cover poster of it. Get your Special Edition April 2018 Lego Cover Poster now on Racer X Brand for only $7.00, less than what you pay for your daily lunch.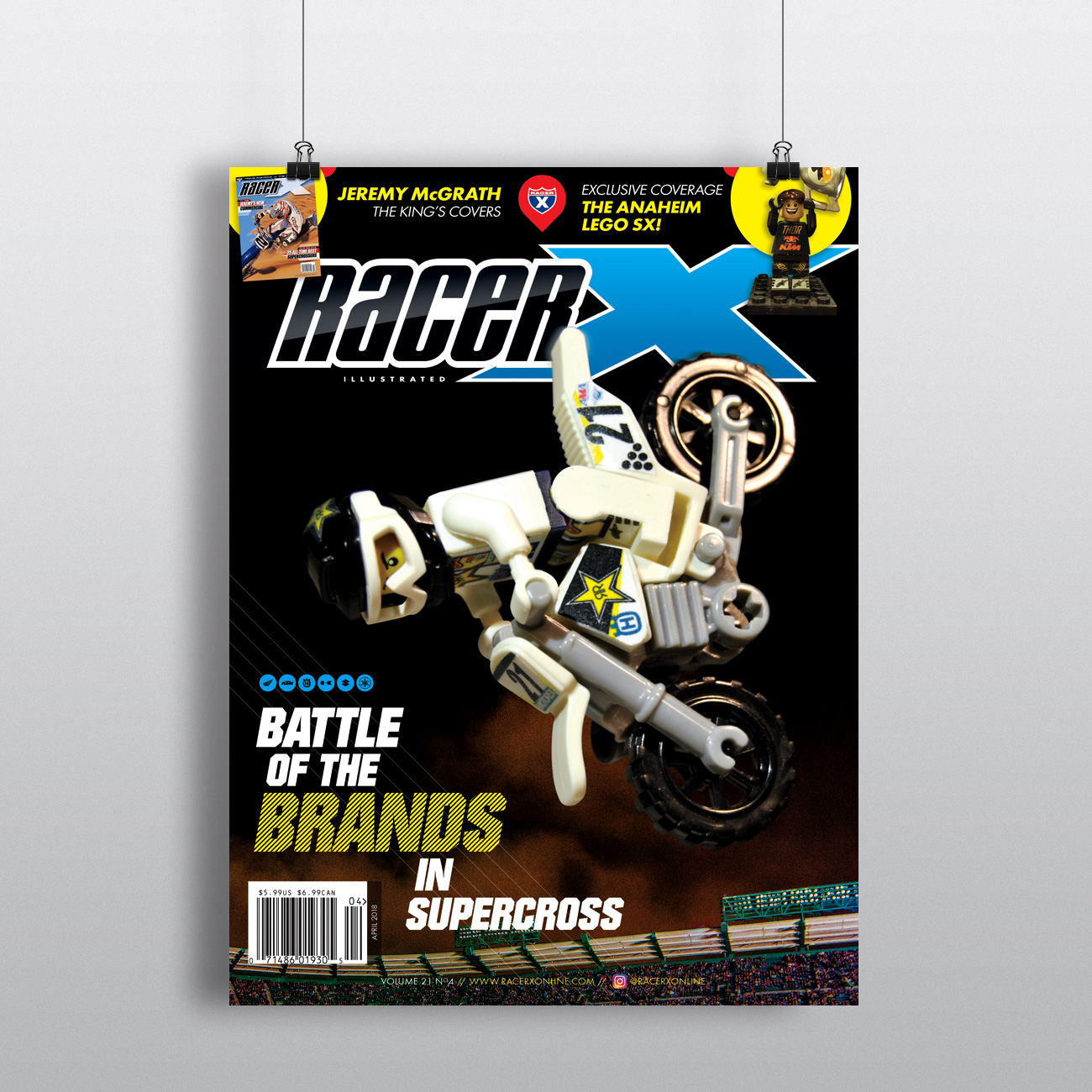 That's all for this week. Thanks for reading Racerhead. See you at the races.