Welcome to Racerhead, where we're still scratching our heads. Last weekend at Tampa we saw another top contender's season end in a hurry when Honda HRC's Cole Seely had that brutal crash, his bike slamming down on him after he crashed in a rhythm section. Cole was having an excellent season, holding second in the points, when he joined his teammate Ken Roczen on the sidelines for at least the rest of Monster Energy AMA Supercross with a fractured pelvis and tailbone. Everyone here at Racer X exchanged quick "uh-oh" texts because we felt horrible for Seely and also knew what was coming next: another round of hearing about the Racer X Cover Curse.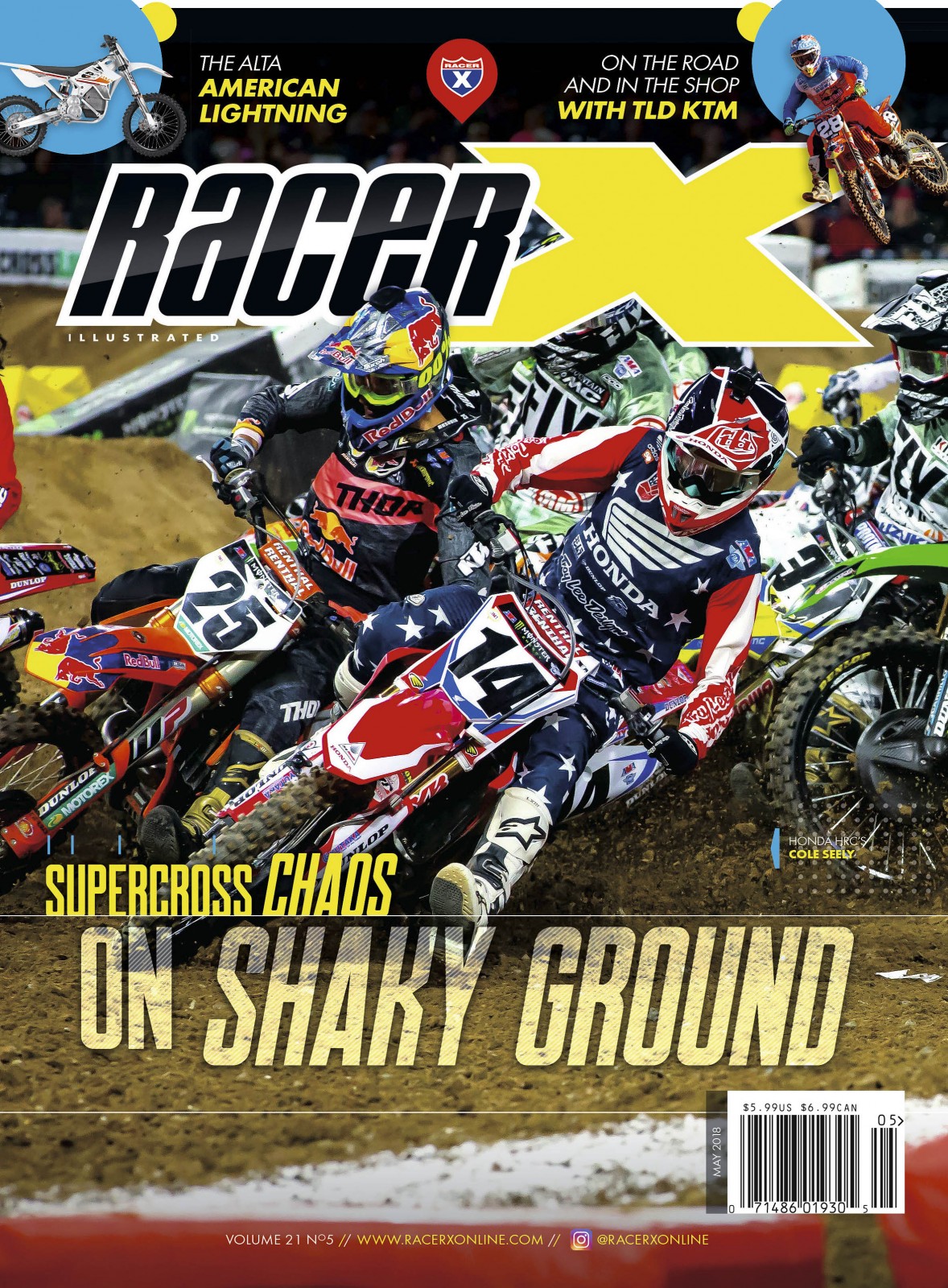 Last Thursday, 48 hours before Cole's crash, we hit send on the next issue of Racer X Illustrated. We all felt that Cole deserved the cover, given how well he was doing and the fact that points leader Jason Anderson is on the current cover, and it's been a while for Seely on Page One. Fast-forward to Saturday…. How can it be a cover curse if it's still on the presses when the subject goes down like that? Supercross/motocross is a rough business, and sooner or later, every rider is going to go down. It's just a bummer that it often seems to happen right when they get on our cover. Sorry, Cole, but if it's any consolation, some cover posters for your walls are coming soon. And get well soon from everyone at Racer X Illustrated.
Looking ahead to this weekend, we're headed to the brand new Mercedes-Benz Stadium in Atlanta, the Triple Crown format is back, Eli Tomac and Marvin Musquin are both healthy again, the 250SX East Region is already heating up, and MXGP is starting up in Argentina, which means we get to watch qualifying tomorrow from Argentina on MXGP-TV.com and then motos all day long on Sunday. We will get our first glimpse at Antonio Cairoli vs. Jeffrey Herlings, Thomas Covington and Darian Sanyei's respective bids to become America's first FIM Motocross World Champion since 1994, not to mention one of the most beautiful tracks in the world.
Now, let's go back three weeks ago….
Cooper Webb on the Roczen crash (Jason Weigandt)
Somehow everyone forgot to ask Cooper Webb about his perspective on that wild incident with Ken Roczen from back in San Diego. Webb passed Roczen in a corner and then Roczen tried to get him back in the next turn, came in hot, lost control, and looped out. Both riders went down, and Roczen ended up getting his hand caught in Webb's rear tire, resulting in a hand injury that ended his supercross season.
Webb was here today for press day, so myself and DMXS Radio's David Izer asked him about it.
Racer X: So what happened from your perspective in San Diego?
Cooper Webb: I had a good start, and then I got pushed to the bales and stalled. I started getting into a groove and came through, and I caught him from a pretty good ways back. I felt like I was faster, so I made the pass before the whoops. I think he didn't like that I passed him. He definitely ran it in a little hot—then I don't know what happened. I didn't know what happened until I watched the video—at first I thought he ghost-rode the bike into me. I looked at the video, and it looked like he stopped or tried to stop, got off balance or whatever, and took us both out. I think he was lucky that he didn't have even more damage to his arm from the rear wheel and all that. It definitely sucked. It damaged my bike, and obviously he's out now. I came into the mechanics' area and changed triple clamps—lots of damage there. At first, before I saw the video, I thought he hit me, but watching the video after the race I saw it was his bike that took me out. I was lucky to be all right—was still able to get 19th or 18th or whatever. It definitely sucked, because I had won the heat race, but it was my fault because I stalled and was back there.
David Izer: Do you think the contact he made, you were fine with?
I mean, I definitely think he was going for retaliation, but I think at the last minute he realized he wasn't close enough. I was at the top of the berm and he tried to correct it, and that's what happened. He was definitely trying to pass me back, for sure.
Izer: Did you see his arm after the crash?
I didn't see anything. His bike actually hit my head. I just heard somebody on my inside, the throttle wide open, and then I got hit. At first I thought things had got very crazy. I couldn't see. I was dazed, too. I was just trying to get my bike, and my bars were about to fall off!
Racer X: Did you hear him coming through the whoops?
Obviously I heard him, and I think he even kind of gave me a rev to kind of spook me a little bit. I hit that top line; the line that he was in was the line I always hit. So I knew he was going to try to make the pass back, so I went a little higher. Luckily, I wasn't in that line, or things would have been pretty bad for both of us.
Same Format, Better Track (Weigandt)
Another test of the Triple Crown format this weekend, and most likely a better one, because the track at Anaheim 2 was universally not loved by the riders. In contrast, this track in Atlanta is a tough one. It's tight, it's busy, and it will also likely get rutted. Right now, on press day, the dirt is exceptionally soft and fluffy in spots, and I was amazed how deep the ruts got after just 14 riders logged some laps today. The dirt will likely be harder by tomorrow, but when you put full gates on the track at race intensity, it's going to get hammered. That's going to create the type of separation the riders wished they had at Anaheim 2.
"Anaheim 2, I called that motorcycle cop riding," Broc Tickle told me today, referencing how A2 was like riding on a freeway.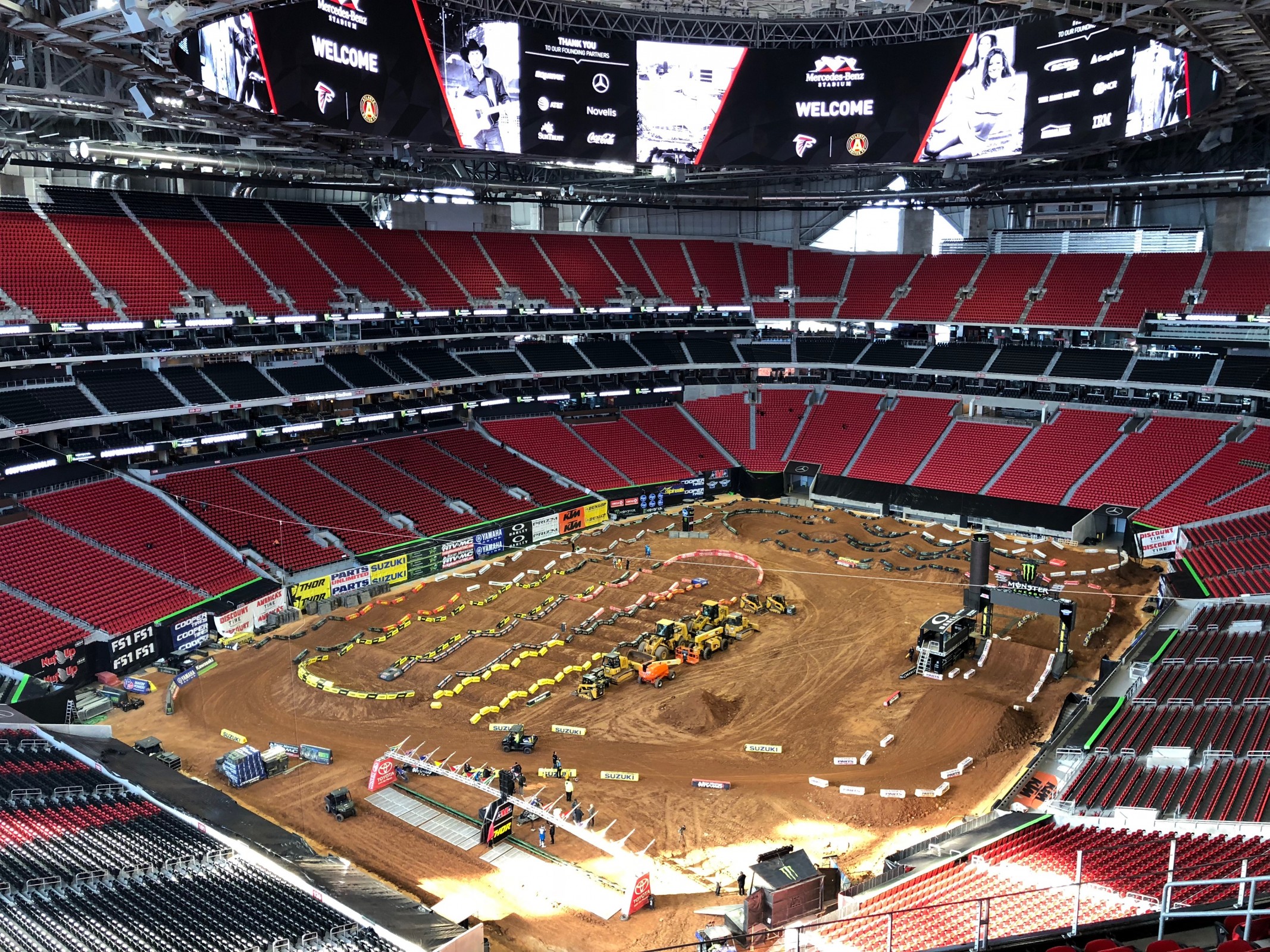 Tickle is especially happy with this track because the ruts are his strength. He says with the Triple Crown and the shorter races, the track might not take as much of a beating, but it's still "going to get hammered." He's happy with that. Overall, the riders all told me this track is busy—more jumps and turns than usual. Justin Hill told me it's very similar to the JGR test track, and that's not a coincidence. When JGR rebuilt their track this off season, Hill told them to make it busy, because that takes more energy and would make for better training. That's the type of track we have here. Let's see how a different track impacts the Triple Crown format tomorrow night.
Sweet Seventeen (Andras Hegyi)
Monster Energy Kawasaki's Eli Tomac is still managing to go up on the all-time premier class wins list. At the eighth round of this year's series in Tampa, he was able to catch up with Mark Barnett and Jeff Stanton, getting his 17th win in the 450SX class.
Stanton's 17
"Six-Time" raced in the premier class between 1987 and '94. He took part in 113 races in all during his career. He got his maiden victory in his 26th race in 1989, at the Atlanta SX. Stanton took his last win in his 99th race in 1993 (Las Vegas). Stanton would win only in the saddle of Honda, and his 17 wins were enough to get three AMA Camel Supercross Championships. Among the champions who have at least three titles, Stanton has the fewest victories. His calling card was consistency, not domination.
Barnett's 17
The four-time AMA SX/MX Champion known as The Bomber raced in the supercross premier class between 1978 and '85. Barnett participated in 91 races in all. He got his very first win in his ninth race in 1979 (Los Angeles). He would celebrate his last victory in his 86th race in 1985 (Atlanta). Mark Barnett would get 16 wins with Suzuki and one win with Kawasaki—the last one. Barnett's 17 successes were enough to get one championship title. Among the one-time AMA Supercross Champions, Barnett has the most victories.
Tomac's 17
Within two rounds, Eli Tomac caught up to three former supercross premier-class champions. Last week it was the French legend Jean-Michel Bayle, and now it's Stanton and Barnett. Compared to the latter two, Tomac was able to reach the 17th victory sooner. But in contrast to them (and also to Bayle), Tomac still does not have any championship titles in the supercross premier class just yet. Eli got his 17th success in his 72nd race.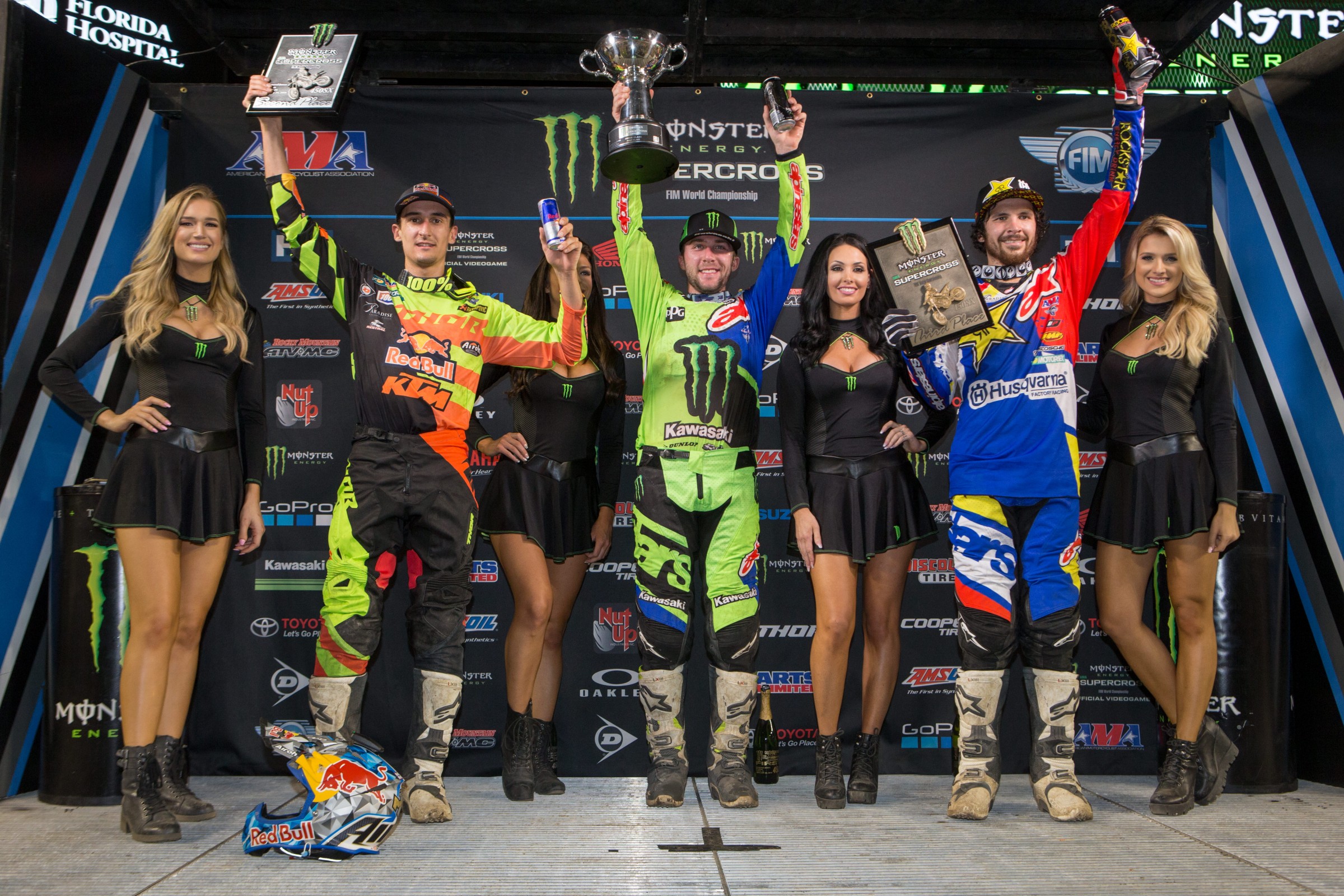 MXGP Opener (Adam Wheeler)
We're here at an immaculate-looking Neuquen circuit for the fourth year in a row for the Grand Prix of Patagonia-Argentina. Truthfully speaking, there are fewer beautiful places to begin another term of racing than the scenic Villa de Angostura, a short distance from the border with Chile. The volcanic earth terrain of a fast and jumpy track means this round is something of a unique test on the MXGP calendar; the ground is sandy but thicker with a hard base. It has been known to bamboozle riders in the past in terms of setup, traction, and feeling, but those who find grip and groove tend to wax lyrical about the place.
Later this afternoon, Youthstream and the FIM will hold their traditional opening press conference and could well confirm or dispel rumors that this will be the last Grand Prix at Neuquen for the time being. Gossip has passed through the paddock that the championship could move north, closer to the capital, Buenos Aires, or even to the city of Cordoba—a hotspot of motorcycling in the country and location of the finish arch of the 2018 Dakar Rally less than two months ago.
Practice and qualification gets underway tomorrow with a splendid weather forecast, and there is a feeling of relief around the facility that most of the European teams managed to escape Storm Emma that is coating great areas of the continent in white and with subzero temperatures.
MXGP has lost the presence of Suzuki, and HRC are badly hit, with injuries forcing the absence of 2016 World Champion Tim Gajser and Dutch rookie Brian Bogers (with a badly broken foot), but the premier class counts on a total of 19 former Grand Prix winners. Argentina should see the first episode of the anticipated title dispute between Red Bull KTM duo Antonio Cairoli (seeking a tenth world championship) and 2017 runner-up and Ironman National vanquisher Jeffrey Herlings. The Dutchman won the MX2 class in 2016 here, while Cairoli has had relatively little success in Argentina, taking just one podium finish in 2015. Gajser has been the undoubted star on the "ash" with three of the six motos. Next up is German Max Nagl, winner of the inaugural round in 2015 (and two motos) and now facing an interesting challenge by heading the small Italian marque TM. Could Sunday be a landmark date for the team?
MX2 sees the presence of the #1 plate in the FIM Motocross World Championship for the first time since 2015, with Red Bull KTM's Pauls Jonass attempting to be the third double champ for the brand since 2009 (Marvin Musquin and Herlings are the others). The likeable Latvian faces his toughest affront with opposition on similar machinery, with Rockstar Energy Husqvarna's Thomas Kjer Olsen chief among those while Thomas Covington and Jorge Prado rush to recover from knee and right elbow problems, respectively. The 2019 GEICO Honda signing and current 114 Motorsports representative Hunter Lawrence is also one to watch. The 18-year-old Australian is attempting his second GP year and won two of the last three rounds in 2017. He is also in a hurry with the coming 19 rounds, 38 motos, and 57 starts (qualification heats) representing a narrow window for his MX2 goals before he moves to America.
The race will be screened on CBS Sports Network at 7 p.m. EST Sunday for MX2 and 2 a.m. EST Monday for MXGP. Fans can also sign up to watch on www.mxgp-tv.com.
Missing In Argentina (Andras Hegyi)
This weekend the 62nd Annual FIM Motocross World Championship is starting, with Antonio Cairoli going for a record-tying tenth title and young Pauls Jonass wearing the #1 plate as he defends his MX2 world title, both taking challenges from deep and talented fields. But not everyone will be there. For one, there's the injured Tim Gajser, the 2016 MXGP champion, who broke his jaw in a crash during a preseason race. And there is another very big name who will be absent from the scene—a very illustrious man, though he hasn't raced in a decade. Still, he is one of the greatest figures in the history of Grand Prix motocross. Ten-time FIM World Champion and all-time wins leader Stefan Everts from Belgium will be conspicuously absent. This will end a 29-year era in which Everts has been a regular participant, as a rider or advisor or team manager, between 1989 and 2017. And before '89, he was around the Grand Prix scene as the son of a four-time FIM World Champion, Harry Everts, who began racing in the early seventies.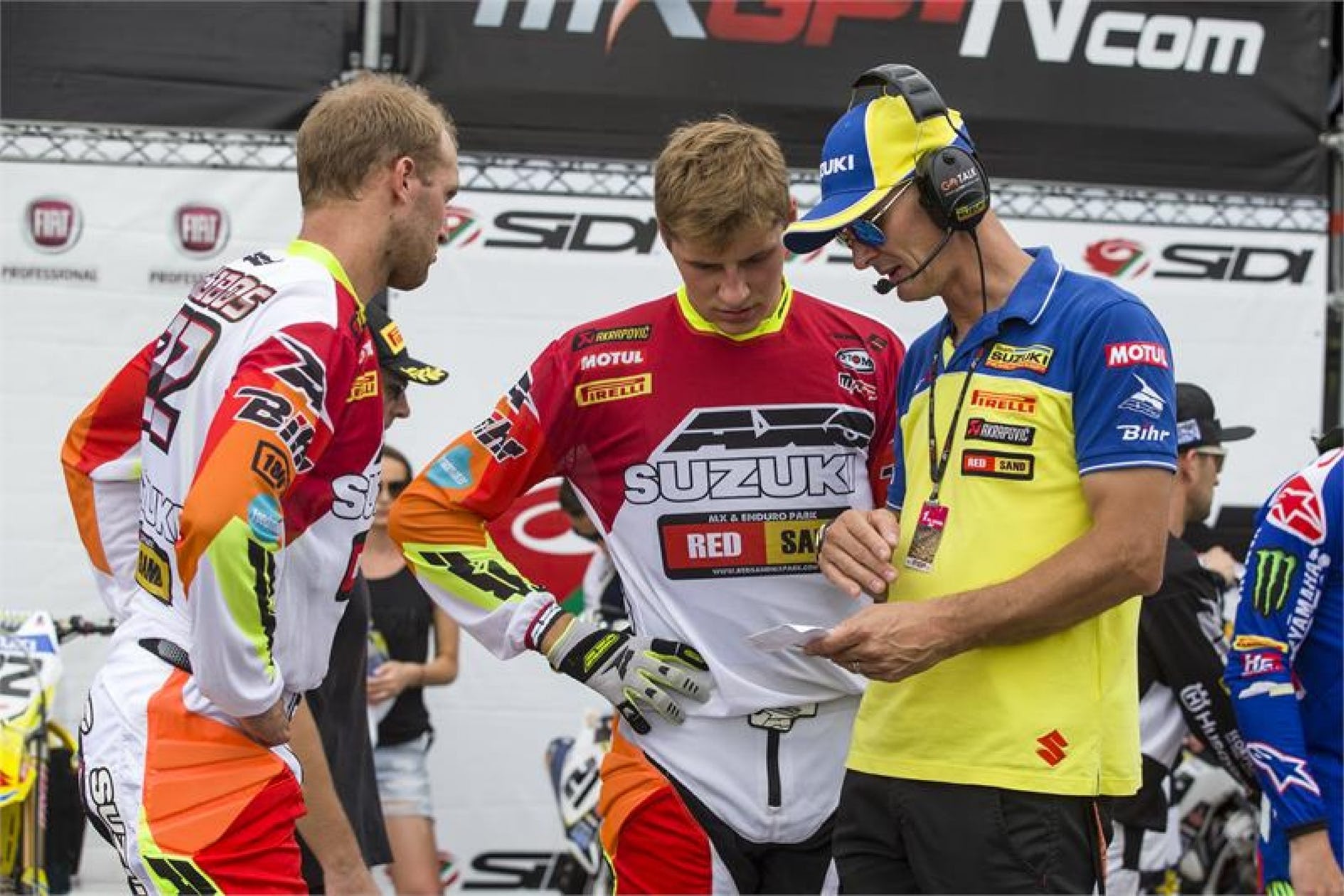 First Stefan was a racer, then he became a manager, and then a team owner. Everts debuted in the 125cc class for Bieffe Suzuki in 1989 and he raced until 2006, with only 1999 being out with a broken leg during his brief tenure with the old Husqvarna. After his racing career, Everts continued as a manager. He was one of the KTM bosses between 2007 and 2015, helping to get many World Championship titles. Then he became the boss of the factory Suzuki team between 2016 and '17, challenging for world titles. Unfortunately, Suzuki left MXGP unexpectedly, leaving Everts without a team. After Suzuki's surprising decision, Everts has decided to take off a year in 2018. He mainly wants to spend his time with his son, Liam, and his own fledgling career. That means that for the first time since 1988 that the FIM World Motocross Championship will start without its king, Stefan Everts.
SHOCKED (Steve Matthes)
I saw with interest that Harley-Davidson had invested in Alta, the electric bike company, to share technology and help H-D work on an e-bike of their own. I'm very interested to see how this Alta thing plays out over time. I was skeptical of the bike, because I had ridden the KTM e-bike before, and although that thing is fun, it's hardly ready to be raced. Even when Kris Keefer, my co-host on the PulpMX Show, told me he had been testing with the company and it was a legit bike, I still had my doubts.
Then I rode one.
And I'm all in! Seriously, it's amazing how good the bike is, and more importantly, how much fun it is! It's got power comparable to a 250F, and it's heavier than any 450 out there, but you don't feel it. The lack of parts moving inside the motor makes it seem light. There are four ignition maps on the bike, and I enjoyed three; the ultra-aggressive map four was too much for me—it really pulled hard! It's super weird to not have a clutch and a shifter, but that allows you to not worry about shifting (which takes ten minutes before you stop moving your foot, by the way) and have more fun. The fact that all you can hear is your chain slap and people talking alongside the track is also super weird.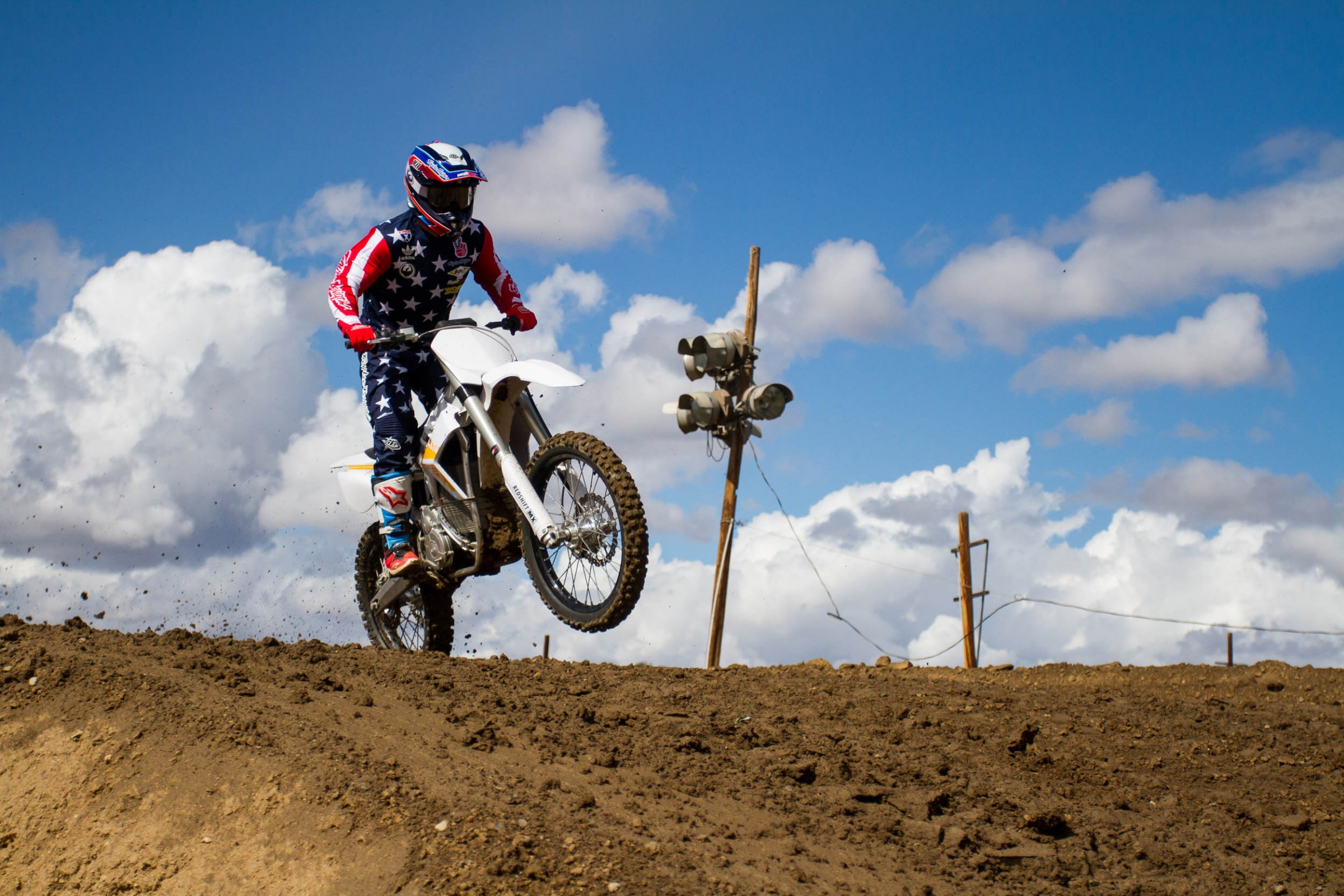 But I'm telling you, there's something here with the Alta. What, I'm not exactly sure. The other OEMs that pay into pro SX and MX will eventually have to play nice and allow the Alta into their playground, but when you do allow them in, what class are they in? I know Alta wants to be inserted into the 250 class, and I guess they could do that, but I'm not so sure. The other companies probably all have Altas now and are breaking them down to see if they want to offer an e-bike. So maybe there's an Alta-only class for a few years while the other companies play catch-up? I don't know, but I'd definitely like them to be included in pro racing. They're that good!
Here's a video that Kyle Scott made on Ping's experience with the Alta; look for an online feature next week.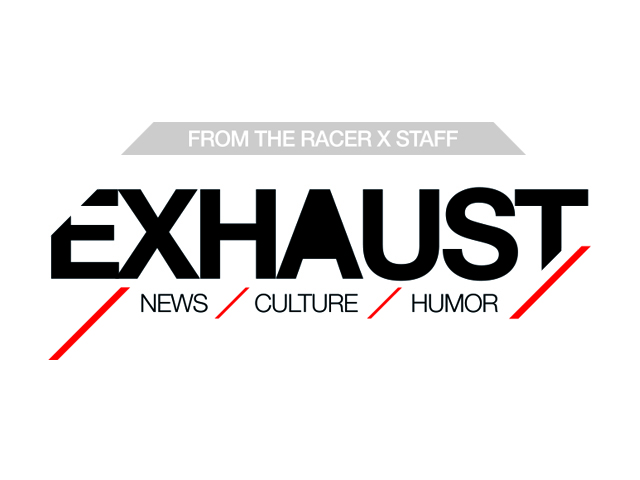 PULP SHOW STUFF (Matthes)
David Vuillemin was in-studio for Monday's PulpMX Show, and he was great. He talked about working with Dylan Ferrandis this year and trying to get him to improve his technique. We had Chad Reed on, who said that he thinks he'll be racing in 2019 and how he's getting a bit frustrated on not doing better now, but his injury prevented him from getting a good base going. After that, Blake Baggett called in to talk about his venture into the Steve Matthes Memorial Nets at Tampa and how that felt. He said he gassed it at the bottom of the berm because if he was going over, at least he'd make a jump out of it. The next lap after his net adventure, he jumped the 92-foot quad again! We also had Nick Wey on to talk to DV about MDK Honda and working with AC and Teds. Wey's great on the show every time. If you want to listen, go can to PulpMXshow.com and grab it there.
HOT FRESH PULP LINKS
"The Ins and Outs of being a Test Rider" by Kris Keefer.
Ron "The Dogger" Lechien was a bad dude on the bike and always looked the part as well. I gave him some photos and had him tell me the story of the gear he wore in them here.
Cedric Soubeyras is here for a few races, and our own Corey Moser caught up to him in the way he does to talk about his Tampa SX, coming up Just Short and more here.
40 On Green (Andras Hegyi)
The 250SX class got a brand-new winner in 20-year-old Austin Forkner, who collected his maiden supercross victory in Tampa last Saturday night. Forkner, one of Monster Energy/Pro Circuit Kawasaki's most promising young talents, became the 40th Kawasaki winner in the small-bore supercross. Kawasaki is the most successful brand in the 125/250 supercross history, and Forkner's win was the 171st victory for Kawasaki in the class, beginning with the very first 125 SX back in 1985, when Todd Campbell won.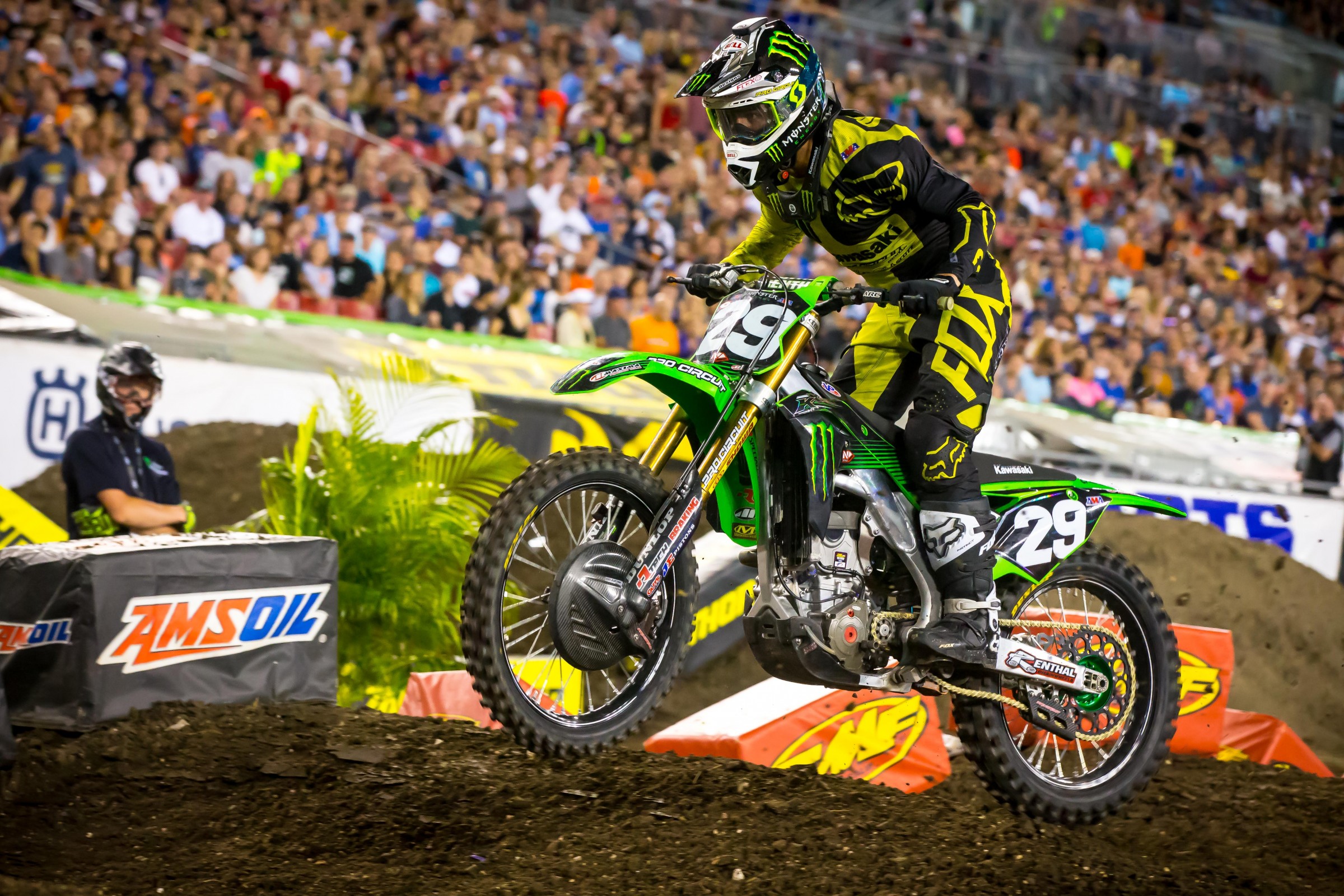 Here are the all-time Kawasaki winners in the 125/250 supercross:
18 wins: James Stewart
12 wins: Ricky Carmichael, Christophe Pourcel
11 wins: Ryan Villopoto, Jeff Matiasevich
9 wins: Mickael Pichon, Ivan Tedesco
8 wins: Dean Wilson, Jake Weimer
6 wins: Justin Hill, Grant Langston, Nathan Ramsey
5 wins: Joey Savatgy, Adam Cianciarulo
4 wins: Joshua Hansen, Ryan Hughes
3 wins: Eddie Warren, Austin Stroupe, Ben Townley, Blake Baggett
2 wins: Martin Davalos, Jeff Emig, Tallon Vohland, Shae Bentley, Donny Schmit
1 win: Todd Campbell, Bader Manneh, Tyson Vohland, Michael Craig, Jeremy McGrath, Pedro Gonzalez, David Pingree, Matt Walker, Brock Tickle, Ron Tichenor, Mike Brown, Darryn Durham, Tyler Bowers, Jimmy Gaddis, Austin Forkner
Next Chapter (DC)
Remember Paul Coates? He was the British-born privateer who made a dent on the AMA circuit but never quite got the traction to reach his full potential. Well, he and his wife, Lindsay, are now expanding his family business—Creative RV—here in the States, which includes converting Mercedes Sprinters into race vans. The vans are definitely a hot item here around here with racers, and we've seen some Coates' work, which you can see below.
Paul posted this on the website:
"We are a small family-run business that specializes in the fabrication of bespoke motor homes for touring and sports enthusiast. We are expanding our very successful business from across the 'pond' in the UK. Our family was able to grow this business over the last 17 years due to our intimate connection with sports enthusiasts, and personal experience in the motorcycle community. We also have a great deal of experience building luxury party buses, tool vans, and concession trailers."
If you have a Mercedes Sprinter van or Toy-Hauler and are looking for some moto-related mods from a fellow racer, check out Creative RV right here or call 352-457-7721.
Check out a full interview Steve Matthes did with Coates about why he quit racing, what the Creative RV business is all about, and much more in our May issue of Racer X Illustrated, which will be shipping next week.
FLAT TRACK
The fastest-growing action sport on two wheels returns to Daytona International Speedway on Thursday, March 15, for a bigger, better, faster #DAYTONATT. Don't miss this! Event info and tickets available here.
HENNY RAY ABRAMS (DC)
We've been having fun working on the series On This Day in Moto, where we go back through the record books, the Cycle News Archives, old magazines, and pretty much anything we can get our hands on to chart out a few highlights of the events that happened on each calendar day going back in the history of motocross. Race results, news developments, birthdays, deaths—whatever is interesting and happened on whatever day it is. Obviously, some things fall through the cracks, and two days ago, we overlooked a big one. As a matter of fact, I didn't realize yesterday was the fifth anniversary of the passing of Henny Ray Abrams, the Cycle News scribe/photographer who had a front-row seat to three decades of racing in both SX/MX and road racing, until I saw this post by Nick McCabe:
On a more serious note, I just realized that sometime yesterday or today marks the five-year passing of my friend Henny Ray Abrams. H-Ray was one of the top motorcycle journalists and photographers of the '80s, '90s and 2000s. Five years ago, he missed what was probably his first deadline and was soon found slumped over his computer. He was a great friend to many, a true New Yorker and an all-around good guy—and wielded a sharp pen when provoked (Darwin would be proud...)
I found these shots on the web. Certainly not his best, but representative of his work over the various decades. RIP H-Ray, and thanks for helping to edit all those press releases! Hopefully your weekly dinner parties are still going strong...
Abrams was there when Team USA stunned the rest of the world in the 1981 Trophee and Motocross des Nations, he was there in '82 when "Bad" Brad Lackey became the first American to win a world motocross title, and he was there on the AMA beat right up to the last day of his life. I'm sorry I forgot to include that day in On This Day in Moto.
Hey, Watch It!
Racer X Films: Alta Motors 2018 Redshift MX and MXR
The GOAT's tribute to his old rival and new Iron Man:
Another spectacular edition of DMXS Radio's Civil-War documentary inspired motocross series, Stories from the Front Lines. These are hilarious. This week, Austin Forkner. Seriously, watch this.
Kailub's GNCC win got him another Cycle News cover.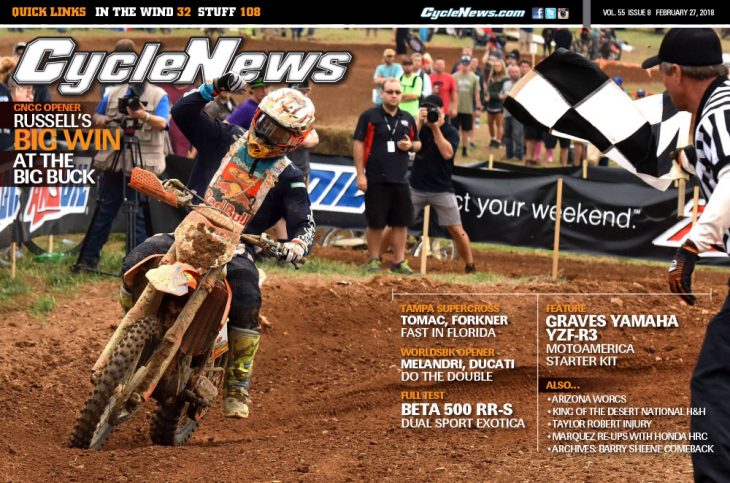 Did you hear about Heather Locklear getting arrested for domestic violence after police were called to her house over a dispute between the actress and her boyfriend? They referred to the guy in pretty much every report as an ex-motocrosser, and they were right—he's Chris Heisser, a former SoCal fast guy with a couple top-five 125 National finishes. Here are all of his finishes in The Vault.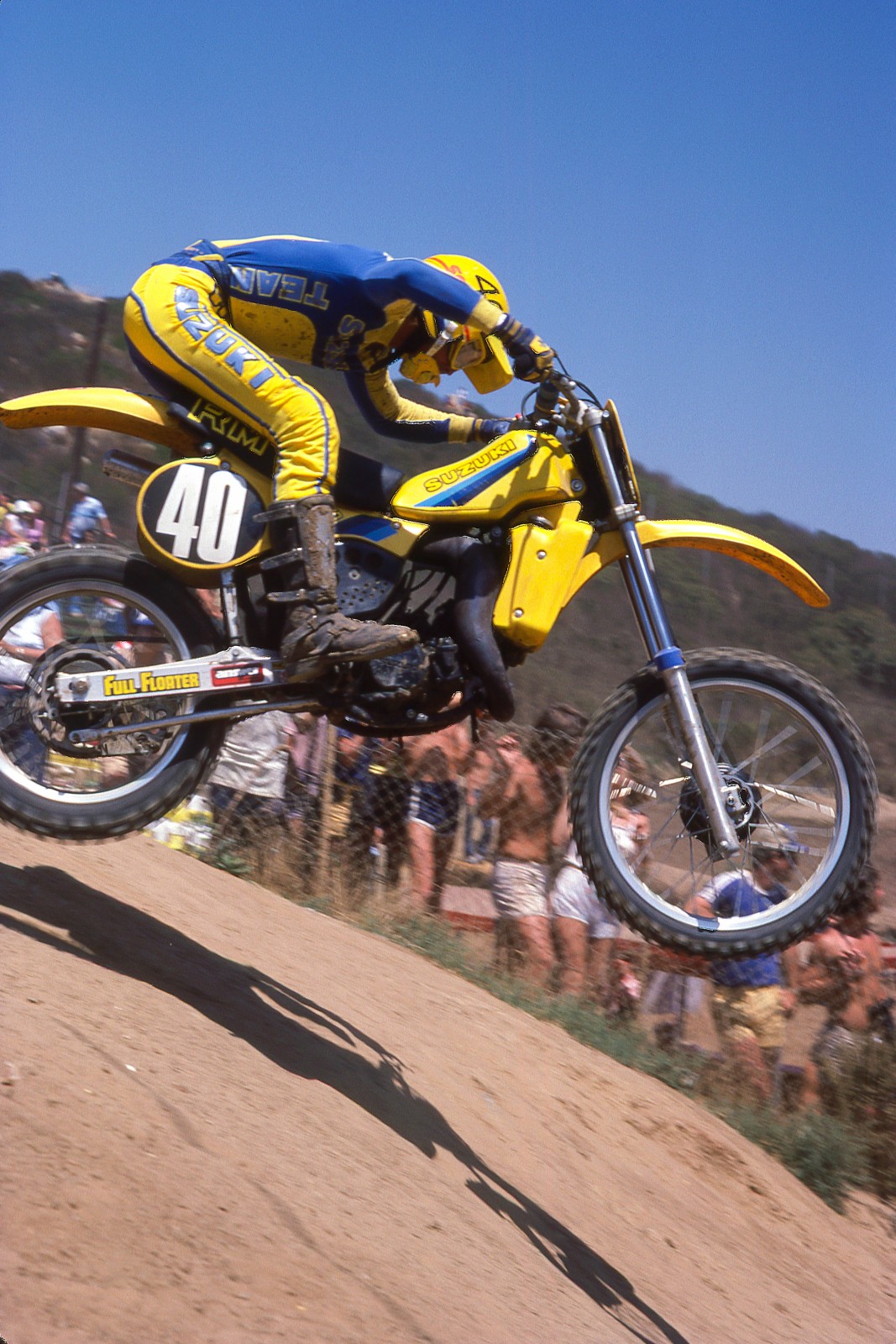 Jordan Burns, the OG drummer for Strung Out and the founder of Moto XXX, is no longer with the punk band he helped start some 25 years ago. Burns posted a lengthy statement about the falling-out on his Facebook page, which you can read right here:
Former 250SX, 250MX, and Motocross of Nations champion Trey Canard confirmed his involvement with JuniorMotoX 2018. Trey will assist with track design and building, plus be on hand throughout the event to interact with the racing families.
Racing Standard, the organization founded by Trey in 2017, is based on the premise of helping motocross and supercross athletes stay healthier and compete at the highest level by making the racing environment safer. When Eric Peronnard initially considered the JuniorMotoX concept it was done with the idea of a safe race that allowed amateurs to experience a supercross type event. That idea of safety is what drives the JuniorMotoX team today.
For more info on the event and Trey's involvement, visit www.juniormotox.com, and read the full press release here.
PRE-ORDER NOW | '89 High Point Tee
Pre-order the shirt your daddy wore at the races 30 years ago on Racer X Brand now. This retro throwback is a remake of the 1989 High Point National t-shirt, with the actual photo being taken at the off-season Tokyo Supercross in 1988. Please allow up to 3-4 weeks to receive shipment while the shirt is on pre-order status. 100% Cotton. Relaxed Fit.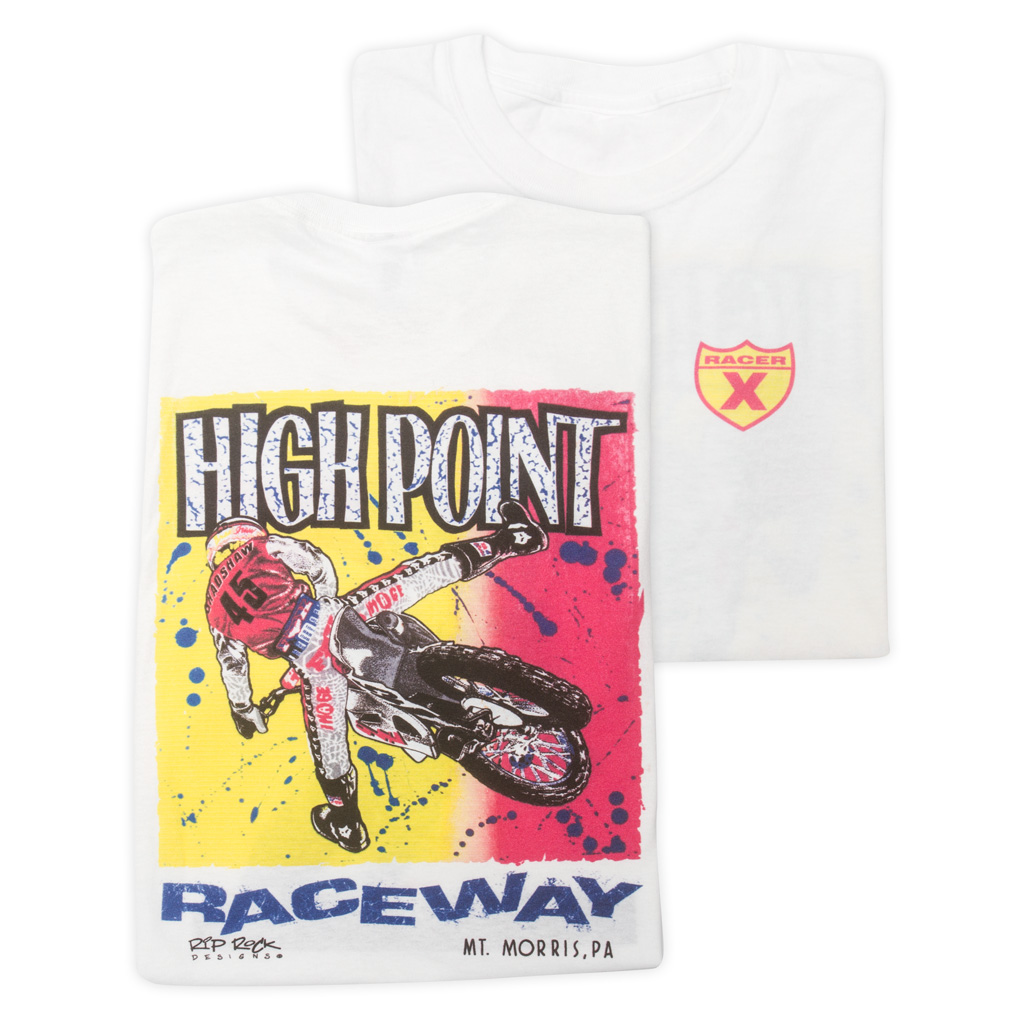 SPECIAL EDITION APRIL 2018 LEGO COVER POSTER
Remember that sweet mock-up cover we did with @lego.mx? Guess what, we decided to make a cover poster of it. Get your Special Edition April 2018 Lego Cover Poster now on Racer X Brand for only $7.00, less than what you pay for your daily lunch.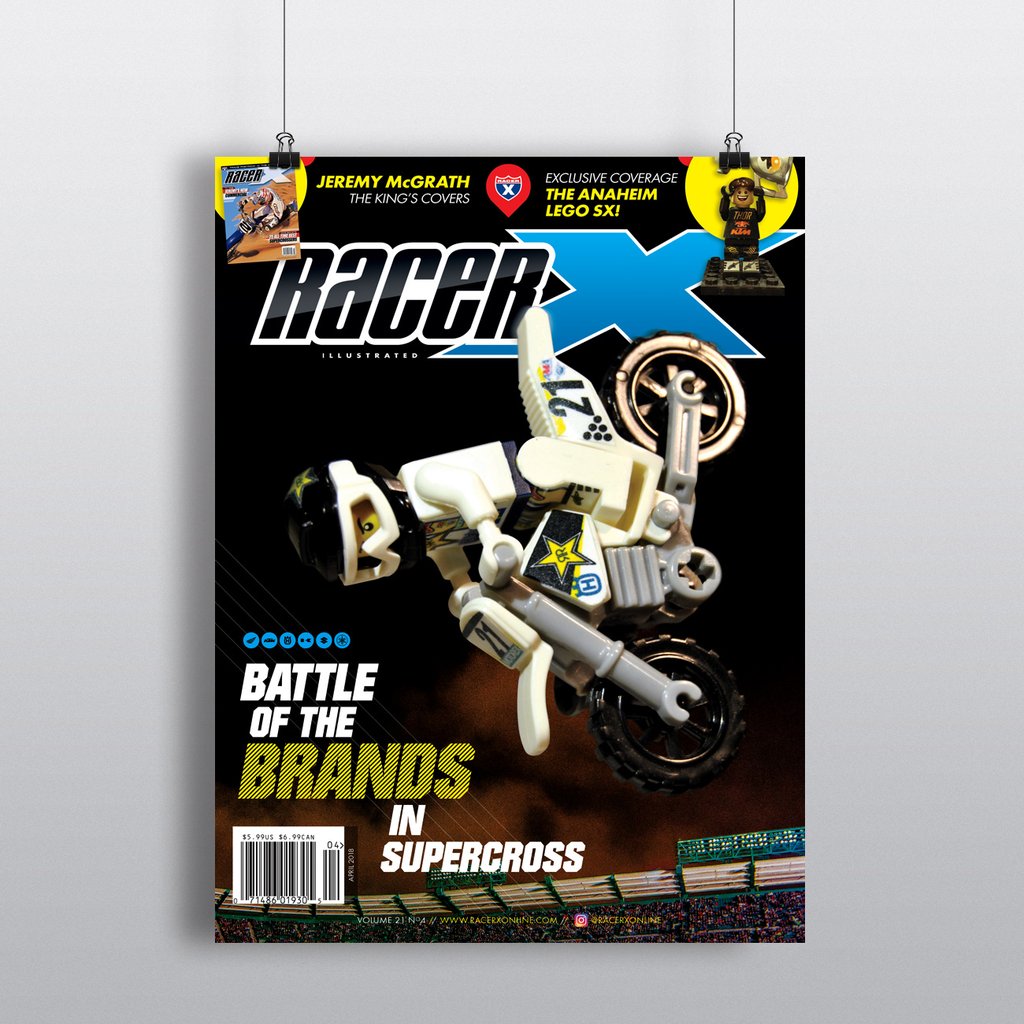 Subscribe Now and Get a Free EVS Gift Pack
Subscribe now for as low as $9.98 and receive a FREE EVS Gift Pack, plus access to our digital edition.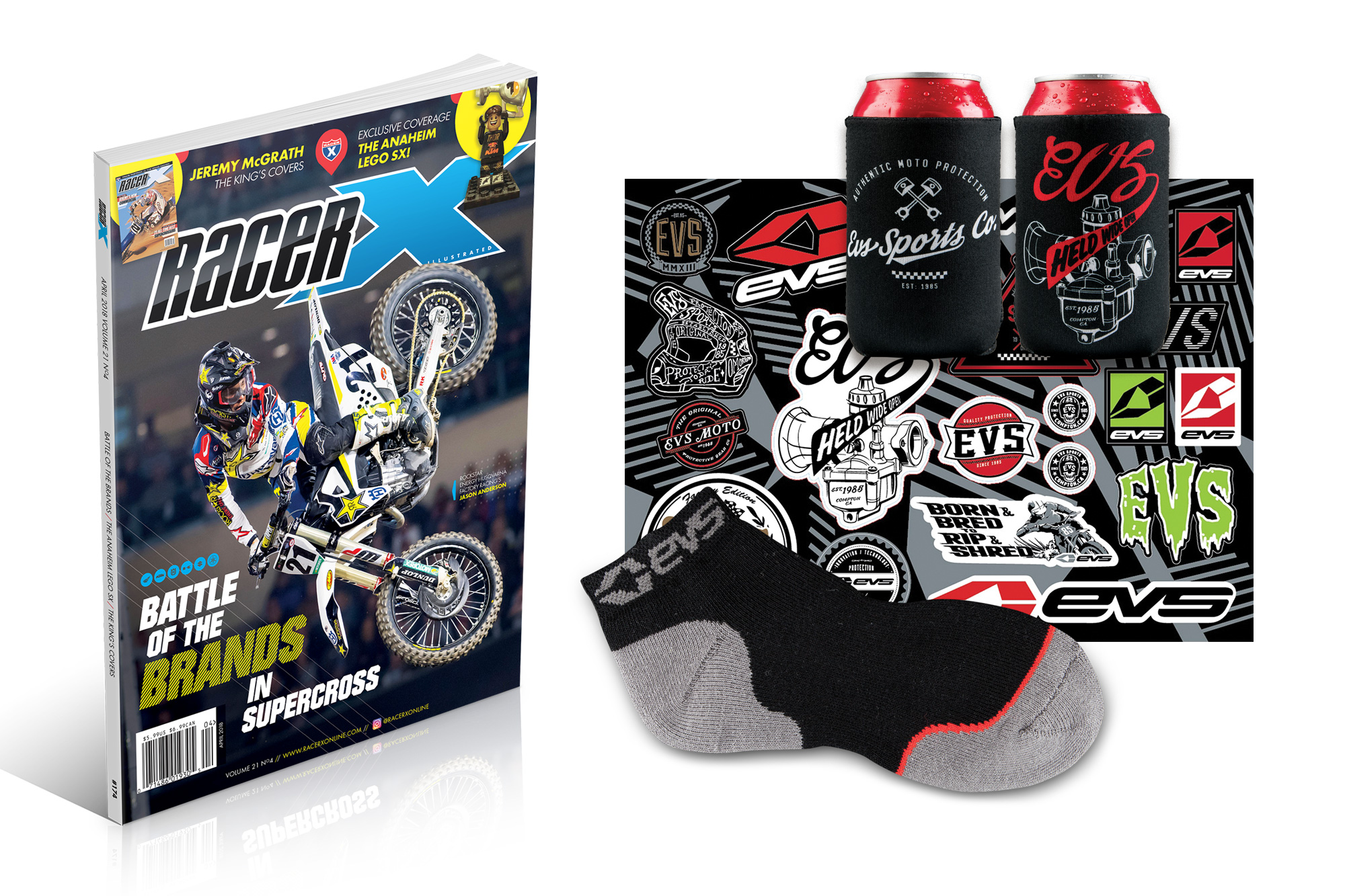 Supercross Hangout with Matthes, Weege and/or Jason Thomas
Subscribe today for as low as $9.98 for a chance to win two free tickets and all-day pit access to the following Monster Energy Supercross event of your choice: Seattle, Minneapolis, Foxboro, Salt Lake City, or Las Vegas. You'll get to hang out with Steve Matthes as well as Racer X's Jason Weigandt or Fly Racing's Jason Thomas for part of the day, which could include scouring the pits for free lunch and a brief tour of some race rigs—basically, whatever Matthes, Weege, or JT get themselves into on a normal day at the races. Weigandt will be available to attend Foxboro and Las Vegas; Thomas will be at Minneapolis, Seattle, and Salt Lake City. Matthes is there no matter what.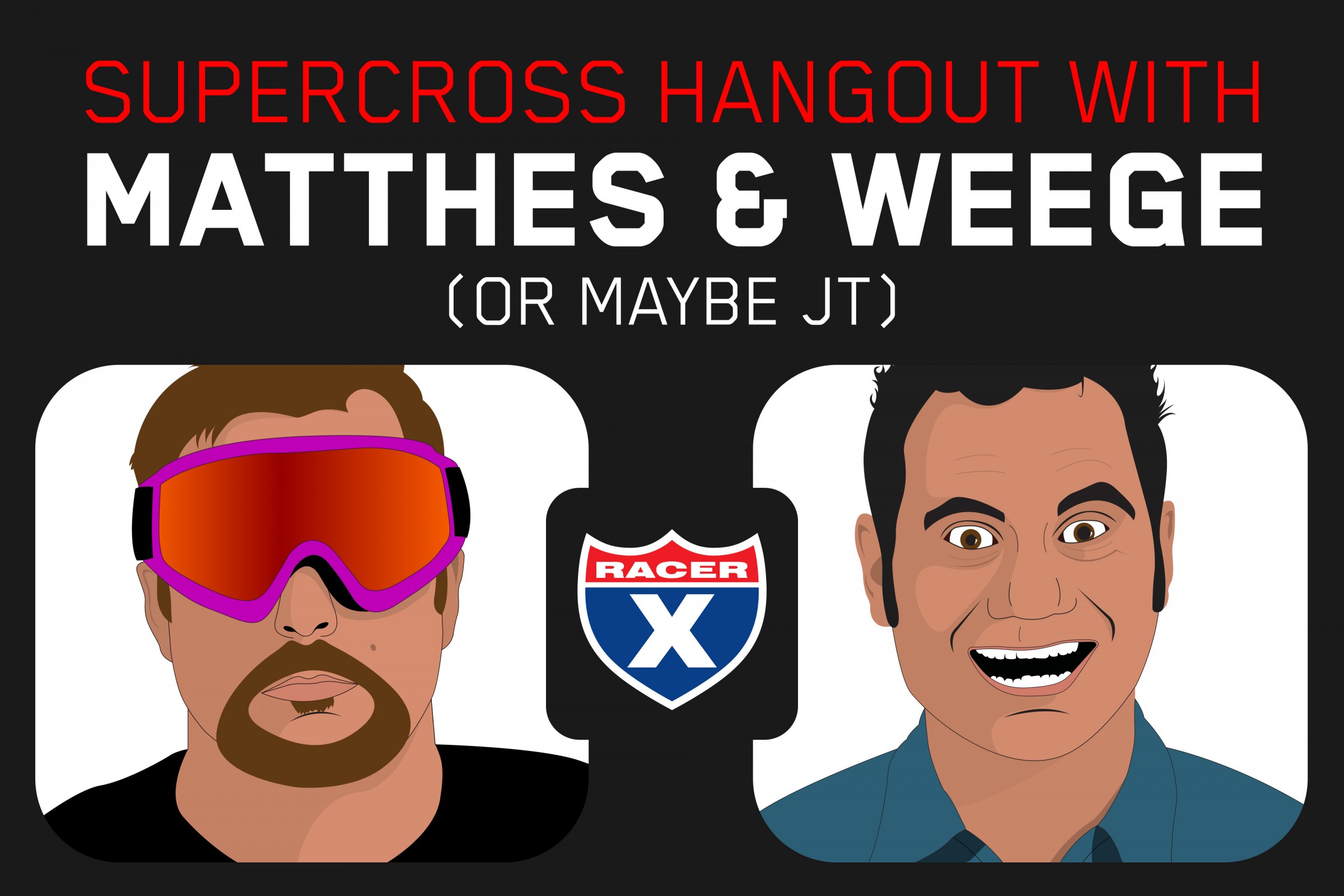 Seattle, Minneapolis, Foxboro, Salt Lake City, or Las Vegas
The Supercross Hangout winner will be randomly chosen and contacted the Monday before the Seattle Supercross. Upon being contacted, the winner will choose their preferred event: Seattle, Minneapolis, Foxboro, Salt Lake City, or Las Vegas. If the winner fails to respond within 24 hours, a new winner will be chosen. The winner will also be announced on the Fly Racing/Racer X Podcast during the week leading up to the Seattle SX. For questions and concerns, email online@racerxonline.com or harass Weege, Matthes, or JT on social media. Travel and hotel accommodations not included.
And this, sourced from the American Academy of Orthopaedic Surgeons:
"Motocross is growing in popularity around the country," says Amy McIntosh, MD, lead author of the review article and orthopaedic surgeon at Scottish Rite Hospital in Dallas, Texas. "When weighing the benefits of the sport for adolescents, parents should be aware of the potential risk of severe injury, and factor in the missed academic time and cost of medical treatment."
Finally, before we leave, we want to send a get-well-soon to Suzuki's Chris Wheeler, who had a bad crash last week. He'll be out of action for some time, but thankfully he's on the road to recovery. Feel better, Chris!
That's it—thanks for reading Racerhead. Enjoy a full weekend of big motos. See you at the races!