Antonio Cairoli Signs Two-Year Extension with Red Bull KTM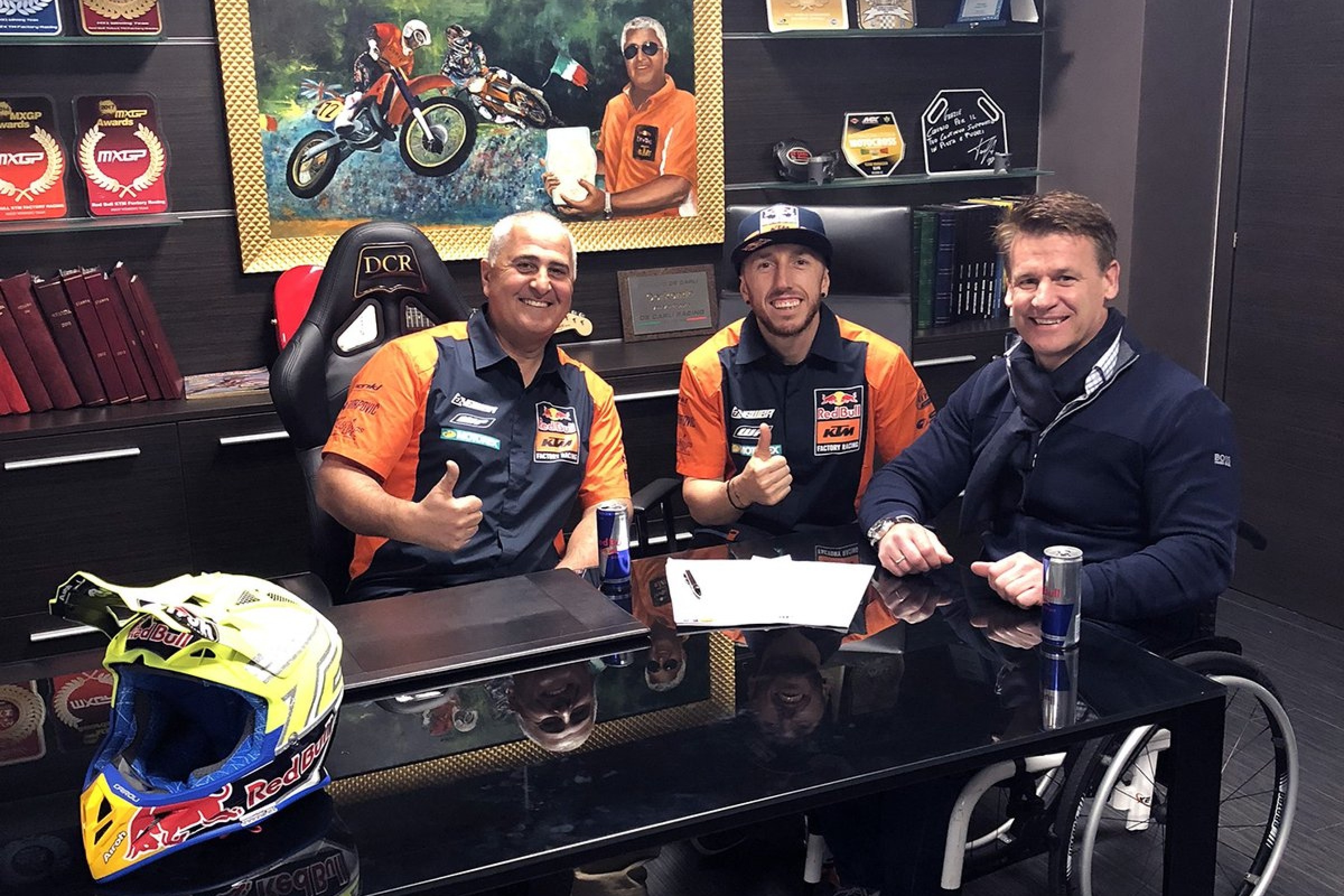 Neuquén, Argentina
MXGP of Argentina
FIM Motocross World Championship
Red Bull Factory KTM announced today that nine-time, and defending FIM Motocross World Champion, Antonio Cairoli has signed a two-year extension to stay with the team through 2020.
Cairoli, 32, enters the 2018 MXGP season opener next weekend in Argentina seeking a tenth world title, which would tie Stefan Everts for most all time.
"I'm really happy to announce this because we already made history in 2010 with the KTM 350 SX-F against the 450s and succeeded with that challenge. I feel a part of KTM because of that success and since then the company has grown a lot," commented Cairoli. "I put in a lot of effort to bring titles and I feel very proud to be part of the company. They invest a lot and do a lot of work in development and you see the result because it is the top off-road manufacturer in the world. I'm happy to continue and to do another two years and to try for more titles. I'm fully motivated for the upcoming seasons."
This year will mark Cairoli's 15th term as a full-time GP rider and his ninth with Red Bull KTM. The Italian enters the 2018 season with nine titles (seven in the premier class since 2009, six with SX-F technology), 213 GP appearances, 83 career wins and 145 podiums (with 163 moto victories).
"Around two years ago people were already saying that Tony was getting too old to stay at the top and I took that moment to declare that we had full trust in his skills and capabilities. He had two tough seasons but it was amazing how he bounced back in 2017 and showed that we were absolutely right," said Pit Beirer. "It made me happy and very proud that he wanted to continue and he wants to keep pushing. I believe Tony has found the right balance in his life – personally and professionally – to keep racing and wanting to achieve. He is very passionate about it and this is why he continues to be so strong. I'm only too happy to make this strong commitment to Tony and very pleased that our MXGP story will go on. I also want to thank and pay credit to Claudio De Carli and his role. He has had a big say in the Cairoli-KTM success over the years and long may it last."
Cairoli is entering the season in fine form after dominating the three round Italian Motocross Championship, clinching his tenth title in the series last weekend.
The 19-round 2018 FIM Motocross World Championship kicks off next weekend in Argentina. You can watch the action live on MXGP-TV.com.