AT&T Stadium
Arlington

,

TX
Arlington (Dallas)
Monster Energy AMA Supercross Championship
Welcome to the Racer X Race Day Feed, coming to you from AT&T Stadium in Arlington. With such a fantastic season unfolding you'll be sure to want to stay on top of the action all day, and right here is where you can do it. We'll be updating this page all day, so be sure to check back frequently. For even more updates, be sure to keep up with us on Twitter, Instagram, and Facebook. Posts are in chronological order, so for the latest news scroll to the bottom.
Pre-Race Report
This is one of the strangest Monster Energy Supercross Championships we can remember. Jason Anderson is sitting on a Rockstar Energy Husqvarna, a two-race win streak and a 28-point lead. Eli Tomac and Marvin Musquin, who have combined to win the three races this season that Anderson has not, are still racing—although probably too far back in points to catch Anderson. Or, maybe they're not? Is this season weird enough for them to get back into it? Could second-ranked Justin Barcia, third ranked Cole Seely or fifth-ranked Blake Baggett get back in this? Baggett is 42 points down, for example. Anything seems possible in this wild season, unless Anderson is truly ready to lock everything down.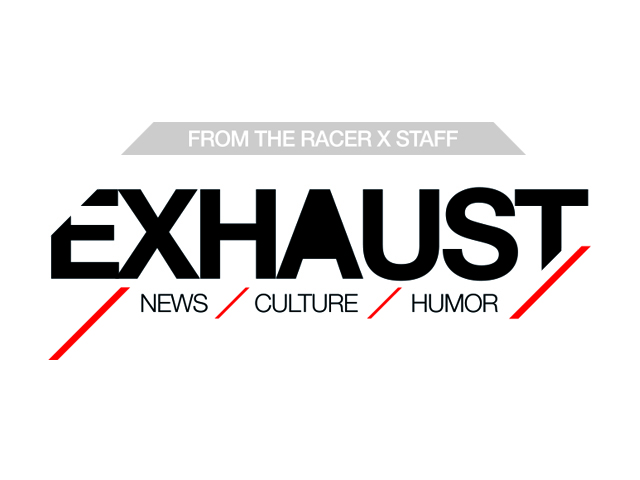 This seventh round in Arlington could prove pivotal. If Anderson makes it three-straight, it will be a major sign of what's to come. If Barcia gets a win, it could signal a response.
We'll be here to keep you up to date.
Meanwhile 250SX East is ready to go, with Zach Osborne (Anderson's teammate) sporting the number-one plate and heavy odds to repeat, but several riders are probably motivated because of that. Jeremy Martin, for example, has always shown supercross speed but has never been able to solve the riddle in terms of a championship. In a short series, anything can happen and Martin and others know it.
First Timed Practices
The Arlington track looks big but fast, the jumps and landings don't seem as peaked out as some other events this year. There are two whoop sections but they're not difficult—yet. The dirt here is softer and tackier than last year, so those whoops will probably get rutted and cupped out before it's over. Still, the track is fairly basic. Could this be because it's the 250SX East opener? Sometimes the privateer riders need a little bit easier track to get up to speed in their first race of the season…but this year that doesn't seem to be the case. The first untimed 250SX East practices looked pretty normal, while in some years it's a complete mess out there of downed riders and bikes. Especially in the whoops. This time, everyone looks to be in mid-season form.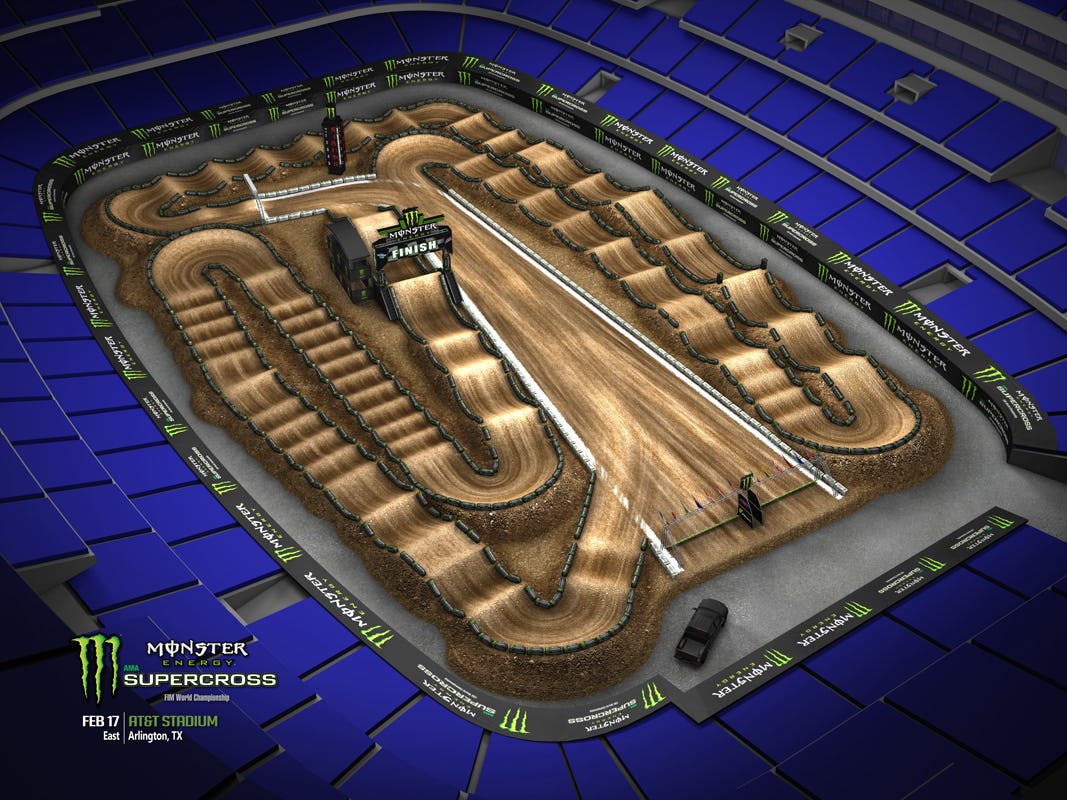 Martin Davalos had the fastest time in the untimed 250SX seeded session, but the intensity ratcheted up when the riders hit the track for the first timed session. It looked like a main event early in the first timed practice session, as Martin Davalos and Zach Osborne traded fast laps and the front spot of the pack on the track. Then other contenders jumped in on that train, as Dylan Ferrandis and Jordon Smith followed right behind them. Ferrandis then took control of the top of the board until Davalos launched a late fast one to get the spot back. Ferrandis and Osborne both pushed to try to get the spot back, but they couldn't get it done and Davalos clinched the top lap time.
Arlington (Dallas) - 250SX East Group A Qualifying 1
Full Results
Arlington (Dallas) - 250SX East Group B Qualifying 1
Full Results
450
The 450 riders started experimenting with a big rhythm two turns after the start. The main line is to go inside, roll, double-over-table-triple-triple. But the outside line holds promise to go triple-over-table-triple-triple. Jason Anderson started pulling the trigger on it and it was fast, but it appears the time lost going wide in the corner and setting up for the big leap is a big tradeoff. This line looks big and fast, but might not be much better—plus, it will be hard to do consistently.
Anderson spent a lot of this session experimenting with that jump. If everyone decides not to do it, this race will be won and lost in the corners, especially the tricky left-right after the finish line landing. Blake Baggett put his KTM to the top of the board for most of the session, but late in it Cooper Webb jumped up to the top. This was Webb's first session this year on top of the 450SX charts. Is it starting to come around for the sophomore?
Arlington (Dallas) - 450SX Group A Qualifying 1
Full Results
Arlington (Dallas) - 450SX Group B Qualifying 1
Full Results
Arlington (Dallas) - 450SX Group C Qualifying 1
Full Results
Second Timed Practices
The 250SX East division has been hit by a sharknado! In each of the practices today, Dylan Ferrandis and Martin Davalos spent the session battling for the top spot, and they even spent some time battling on the track and running nearly side-by-side. Ferrandis had the top spot in this one for a bit, then Davalos got it.
What about defending champion Zach Osborne? He finally showed his fangs by getting to the top late in the session. But guess what? The Sharknado came back! Davalos would not be denied and neither would Ferrandis, who ended up 1-2. It's a tornado and a shark. A sharknado!
Arlington (Dallas) - 250SX East Group A Qualifying 2
Full Results
Arlington (Dallas) - 250SX East Group B Qualifying 2
Full Results
Arlington (Dallas) - 250SX East Combined Qualifying
Full Results
We checked in with a few 250 teams this afternoon. Jimmy Decotis is aggressive and quick on his Autotrader.com/Yoshimura Suzuki, and his team was happy. Jimmy D was right in the hunt, he was second behind Osborne briefly in this final session.
Bruce Stjernstrom from Kawasaki tells us Austin Forkner is close to 100 percent, but not quite, after a big wrist injury suffered in the off-season.
Colt Nichols makes an annual deal out of getting hurt badly in the off-season and then made his way back for the East opener. And he's usually fast! Last year he was podium-level at the east opener. He says last year's femur injury was actually a little easier to deal with than this year's broken humerus, and he's not sure how he'll do tonight.
Jeremy Martin looked plenty fast on his GEICO Honda except in the whoops, and that held back his lap times. J-Mart told us he's feeling good but just dealing with a little arm pump. Meanwhile his teammate RJ Hampshire is happy to be here healthy. RJ has come into a supercross opener carrying an injury each year of his career. This time he's really ready.
450
This track is basic and it would appear there's not much to separate in the 450 class. Somehow, Eli Tomac found a way to do it, as he dominated this session. Eli's time went to the top of the charts, and then he kept logging laps faster than anyone else--even his second fastest time was better than anyone else's best.
Cooper Webb backed up his top qualifying time in the first session with a good one here, he was second. This could really be something. On the other end, Webb's teammate Justin Barcia was quiet all afternoon, he was just inside the top ten.
Jason Anderson, Marvin Musquin and Blake Baggett rounded out the top five in the second session. The track is getting faster so the times from this session will likely be the fastest overall for the day.
Arlington (Dallas) - 450SX Group A Qualifying 2
Full Results
Arlington (Dallas) - 450SX Group B Qualifying 2
Full Results
250 Heat 1
Austin Forkner had the holeshot but RJ Hampshire slammed him on the inside in turn two to get the lead. Forkner was not happy. He tried to pay it back in the turn before the start. Forkner gave him another shot before the whoops and slid out, nearly went down. Forkner tried again! In a bowl turn after a rhythm lane he nearly made the move, then finally finished it off to get the lead. Dylan Ferrandis was right back there in third watching, and then with two minutes left he started closing on Hampshire. Jon Ames got a good start but Jimmy Decotis and Colt Nichols were able to get by him. With two to go, Hampshire crashed in a corner, and Ferrandis took second.
The battle for the final transfer was nuts, with Anthony Rodriguez block passing Jon Ames in the last turn for the last spot. Ames went off the track and into an oncoming lane, and Chaz Braden had nowhere to go and hit him head on. Ames got up but Braden had to be taken off in the Aplinestars Medic Mule.
Arlington (Dallas) - 250SX East Heat 1
Full Results
250 Heat 2
Sean Cantrell nearly pulled the holeshot in his first race ever, but Martin Davalos snuck ahead in the second turn. Jeremy Martin was next and then Jordon Smith and Zach Osborne had a big battle. Osborne got going and was a house of fire, getting past Martin and Cantrell and then setting sail after Davalos. Davalos was too strong, though, and won by six seconds. So Martin was fastest in all three practices and won his heat big. This is a Davalos kind of night—but we know how that works, when he's a heat race hero it often doesn't work in the main event. What's going to happen?
Jordon Smith stalked Jeremy Martin the whole way then pulled a late block pass for third. Cameron McAdoo spent most of the race trying to get around Cantrell, and when he finally did Kyle Peters followed him through. Cody Vanbuskirk and Nick Gaines rounded out the field.
Arlington (Dallas) - 250SX East Heat 2
Full Results
450 Heat 1
This one was crazy. Justin Barcia grabbed the holeshot but jumped too far into the face of a triple and had to double it. Tyler Bowers was in the air with nowhere to go and clipped Barcia's arm, sending Justin to the ground. He walked off—let's hope he hasn't broken his wrist or hand.
Somehow through all of this, Vince Friese led and Tyler Bowers was right behind him. Bowers then took the lead and led several laps! Weston Peick wasn't happy about this. He plowed through Marvin Musquin and Friese, then waited for an opening with Bowers to get the lead. He would go on to grab the win.
Bowers held on for second while Cole Seely picked his way through for third. Late in the race Musquin and Webb got into a big cat-and-mouse battle for seventh, and Marvin came out on top.
Arlington (Dallas) - 450SX Heat 1
Full Results
UPDATE: We now hear Barcia has a broken ring finger.
450 Heat 2
Eli Tomac holeshot this heat and it was over….he checked out. Dean Wilson was second but his teammate Jason Anderson was able to get back by him. Blake Baggett was right there also but then fell down, and Brayton snuck through for fourth.
Arlington (Dallas) - 450SX Heat 2
Full Results
250 LCQ
Lane Shaw took the holeshot in the 250 LCQ over Jayce Pennington, both are making their SX debut. Challen Tennant, also in his first SX, moved to second around Pennington with Lorenzo Locurcio in fourth. Locurcio got in the groove and marched his way forward to get all the way to the lead, getting past Shaw in the whoops. John Short, a Texan, was also on the move and made his way past Tennant to get into third. On the last lap Shaw got bumped off the track and then slid out on the concrete and went down…..that's your heart breaker right there, as Shaw goes from leading the LCQ at one point to not making the main. Pennington picked up the final spot.
Arlington (Dallas) - 250SX East LCQ
Full Results
450 LCQ
This race started with the pileup to end all pileups, with about 12 dudes down in the second turn. Even the pileups are bigger in Texas! AJ Catanzaro got the lead on his Kawasaki but Ben Lamay snuck at the end of the first lap. Henry Miller and Tevin Tapia were next, but Kyle Cunningham worked his way past them to get the last spot.
Arlington (Dallas) - 450SX LCQ
Full Results
250 Main Event
Here's what we wrote about the heat race: This is a Davalos kind of night—but we know how that works, when he's a heat race hero it often doesn't work in the main event.
So here's what happened: Davalos appeared to have the holeshot in hand as the pack raced down the start straight, but he got clipped from the inside by Josh Osby and Jordon Smith, and he went flying. This ignited a giant pileup, with Smith, Osby and other contenders like Dylan Ferrandis in the pile. Austin Forkner went down later in lap one, and then Zach Osborne, running third, fell. Crazy!
This left RJ Hampshire in the lead, ahead of rookie Sean Cantrell. Hampshire inched away while Osborne started moving forward. Took Osborne awhile to get Cantrell for second, and the rookie even fought back and momentarily re-passed the champ! Osborne locked it down and set off after Hampshire. Colt Nichols then made a move for third on Cantrell, and Cantrell got sideways in the whoops and shot off the track.
Up ahead, Osborne finally got to Hampshire and made the move for the lead. A lap later Hampshire crashed in the whoops and Nichols, who was barely back on the bike in time for this race after a brutal arm injury in the offseason, took over second. Then Hampshire bobbled in the whoops again and Jimmy Decotis got by for the final podium spot, the first of his career. Hampshire would take fourth after leading most of the main.
Jordon Smith spent the whole race trying to catch Jeremy Martin as they worked forward from the crazy first-turn crash. On the last lap, trying to get fifth, he tried a hard block pass on Martin and they both went down, and it was a race to see who could get up first. Martin did and held onto the spot, but Smith made one last charge on him on the final lap, but came up half a bike short.
Meanwhile, Davalos ended up with a DNF. Ferrandis was 19th and Forkner made a last-lap pass on Brandon Hartranft to get seventh.
Arlington (Dallas) - 250SX East Main Event
Full Results
450 Main Event
It was just Eli Tomac's night. We don't know when those nights are coming from the most unpredictable man in Monster Energy Supercross, but tonight was one of them. He holeshot this main and checked out, just like he did in his heat race. He rode incredibly well, just like he did in the other two races he won this year. The other three races he did not win? Well, he'd rather not talk about those.
Jason Anderson started second and the fans were perhaps looking forward to a battle between he and Tomac, but Tomac pulled away and then Anderson tipped over in a corner and went back to seventh. Marvin Musquin sliced past Blake Baggett for second but had no chance of running down Tomac. Baggett made a run later in the race to try to close back in on Musquin, but he couldn't seal the deal.
Anderson started working his way back forward after the crash, eventually battling past Weston Peick and Cole Seely to net fourth. That's a tie for his worst result of the season, and if fourth if your worst and the rest of the competition is crashing themselves out all around you, that's fine. Seely was fifth. Seely passed Cooper Webb on the second lap when Webb bobbled, and Webb spent the entire race digging to get him back. He couldn't quite get there and Seely held on for fifth. Peick and Dean Wilson were next. Broc Tickle came around the first lap in last and battled all the way back for ninth. Justin Brayton was tenth.
Arlington (Dallas) - 450SX Main Event
Full Results